.....

Result and details of the Wednesday August 9, 2017 USL game between
Toronto FC II and Charlotte Independence played at BMO Field in Toronto at 8:00pm.
Toronto FC II (all red, white names and numbers)
...................40 Mark Pais
46 Jordan McCrary...52 Julian Dunn-Johnson...42 Mitchell Taintor (cpt)...49 Robert Boskovic
5 Ashtone Morgan...9 Tsubasa Endoh...55 Adan Daniels...63 Liam Fraser
..........19 Ben Spencer...22 Jordan Hamilton
Subs:...80 Angelo Cavalluzo (gk)...32 Brandon Aubreay (def)...36 Brian James (mid)...48 Dante Campbell (mid)
...54 Ryan Telfer (fwd)...56 Malik Johnson (mid)...64 Shaan Hundai (fwd)
team officials:...manager Jason Bent
Charlotte Independence (all white, blue names and numbers)
...................1 Cody Mizell
22 Joel Johnson...3 Bilal Duckett (cpt)...33 Donald Smith...25 Henry Kalungi
5 Callum Ross...7 Yann Ekra...6 Jun Marques Davidson...17 David Spies
..............32 Jaime Siaj...9 Casey Townsend
Subs:...12 Kainoa Likewise (gk)...10 Jorge Herrera (mid)...11 David Estrada (mid)...13 Austin Yearwood (def)
...14 Lewis Hilton (mid)...15 Luke Waechter (def)
team officials:...manager Mike jeffries
Game officials:...rereree David Barrie...referee's assistants Charntal Boudreau and Gianni Facchini
fourth official Marie-Soleiil Beaudoin...(teal shirts, black shorts and socks)
1st Half:...game starts 8:08pm...TFC defends south end on this mild evening with the sun setting in the north west
and is already below the stands.
2 min...CI Johnson cornerkick from left has CI Townsend take mid-air 18 yard shot high and wide right of net.
4 min...TFC Morgan rolls 25 yard shot from left that goalie picks up.
6 min...TFC Hamilton run in on left to get ball and dekes goalie but goalie dives back and gets hand to it at 15 yards. Hamilton
is surrounded and taps ball back to TFC Daniels who fires 25 yarder down middle over net.
11 min...CI Siaj rolls cross in from 25 yards on left but defender clears in middle of box.
11 min...CI Johnson cross from 25 yards on right has CI Siaj take back-header from 8 yards in middle that just misses
top left corner of goal.
13 min...TFC Endoh cross from 28 yards on right has TFC Hamilton leap and head 8 yarder down middle over bar.
15 min...CI Ross passes through ball to CI Johnson who from 30 yards on left cuts in to middle and 20 yard shot
has goalie at 10 yards palm ball over net.
16 min...CI Smith cornerkick from right has defender head ball away on left side of box.
21 min...CI Smith freekick from 28 yards near left sideline has ball headed through box. CI Siaj has 12 yard
shot blocked on right and defender clears off endline.
24 min...CI Smith rush on left and low cross through 6 yard box wins cornerkick on right.
24 min...CI Smith cornerkick on right is caught by goalie on right post.
26 min...TFC Hamilton taps ball to left and TFC Morgan cross from left for TFC Endoh on right and he crosses into box.
TFC Spencer and CI Duckett are both hurt in clash of heads jumping for ball at 10 yards in middle of box and need trainers.
30 min...TFC Hamilton dribbles down left outdueling CI Duckett and takes 22 yard shot over net.
32 min...TFC sub...Hundall replaces Spencer who'd already gone to the dressing room.
33 min...TFC Endoh reoovers partial clearance and blasts shot from 25 yards down middle and over net and wins cornerkick.
33 min...TFC Endoh cornerkick from right is over box and cleared up left wing for CI fast break.
35 min...CI Ekra 12 yard shot ricochets off sliding defender and back off him and deflects out for goalkick.
35 min...TFC Hundal 15 yard shot up middle deflects off defender and pops up and wide right.
36 min...TFC Endoh cornerkick from right is cleared in box.
37 min...TFC Endoh 33 yard cross from right is just a step ahead of TFC Hundal on left post.
40 min...TFC Hamilton receives low centering pass and deflects off defender and his low shot taken from 22 yards that
goalie smothers.
41 min...CI Townsend low 25 yard shot from right is smothered by goalie on right post.
43 min...TFC Endoh cornerkick from left has defender on left head ball away but whistle was blown anyway.
44 min...TFC Morgan cross from 25 yards on left and TFC McCrary shoots 8 yarder on right that has shot deflected over net.
44 min...TFC Endoh cornerkick from left has defender head over net by CI Duckett.
45 min...TFC Endoh cornerkick from right has TFC Hamilton leap and head 6 yarder from right wide left of post.
46 min...half ends 8:54pm.
Halftime Entertainment: An Anthony's Espresso coffee supplies package is given to one fan. That company is a regular
sponsor up at The Soccer Centre. A 3 v 3 game of bubble soccer is held in the center circle. That's equipment that they don't
have up at their usual home stadium. The game is stopped early when the south side has a 6-0 lead.
2nd Half:...starts 9:11pm.
45 min...CI Spies run down middle and 25 yards shot is deflected and another defender clears near the right endline off
a CI player for a goalkick.
48 min...TFC Jordan Hamilton GOAL...TFC Aidan Daniels intercepts pass at 35 yards and runs up right even with post
to 18 yards and has shot blocked. He then rolls ball to middle for TFC Tsubasa Endoh who dribbles forward a few steps
to defender and taps to left for Hamilton who runs to top left of 6 yard box and rolls ball past another defender and sliding
goalie into right corner of net.
51 min...TFC Hundall is tapped back pass and 22 yard shot from left is over net.
52 min...CI Johnson chips cross from 15 yards on right end line has defender concede cornerkick.
53 min...CI Smith cornerkick from left is whistled down in box.
54 min...TFC Boskovic slides to concede cornerkick at 8 yards on low CI cross from left.
55 min...CI player cornerkick from left is cleared on right side of box.
56 min...TFC McCrary shoots 20 yarder from right into right side outside webbing of net.
56 min...CI sub...Herrera replaces Townsend.
58 min...TFC McCrary low cross wins cornerkick on right.
59 min...TFC Endoh cornerkick from right has nearest defender head ball down and clear.
59 min...CI sub...Estrada replaces Spies.
60 min...TFC Endoh 45 yard freekick from right is headed away just inside box.
61 min...Charlotte (TFC own goal) GOAL...CI Joel Johnson rushes up right to end line and low 22 yard cross just before
TFC Ashton Morgan slide can deflect it behind line has CI David Estrada and TFC Mitchell Taintor with legs up lunge
for it at 8 yards along line and ball bounces at 2 yards and TFC goalie Mark Pais on right post gets hand to but steers
it into own net. [the goal was announced as scored by Joel Johnson over the PA but USL records changed it to an own goal.]
64 min...CI Johnson cross from 25 yards on right has CI Siaj leap and 12 yard header from left is caught by goalie.
64 min...Charlotte RED card...Donald Smith earns it as he and TFC Jordan McCrary slide from opposite directions for a loose
ball at TFC 35 yard line and Smith studs catch chin of McCrary injuring him. McCrary had got foot to ball first to clear.
67 min...TFC Hundal on 2 on 1 with TFC Hamilton runs up right and low 25 yard shot is stopped by sliding goalie.
69 min...CI Johnson run on rght and 28 yard cross is over box.
70 min...TFC Hundal is surrounded in CI box and taps from 10 yards and TFC Hamilton shoots 20 yard roller that goalie smothers.
71 min...CI sub...Yearwood replaces Duckett. Herrera becomes captain.
72 min...CI Ross pushes TFC Hundal to get to clear ball on edge of box.
73 min...TFC sub...James replaces Boskovic.
74 min...TFC McCrary cross from 30 yards on right has defender at 7 yards on left kick ball over end line.
74 min...TFC Endoh cornerkick from left has defenders clear ball from box.
75 min...TFC Fraser chips pass forward from 22 yards and TFC Hundal heads 10 yarder wide right of post.
75 min...TFC Endoh cross from 45 yards on left finds TFC James and his 20 yard shot up middle is batted down and picked up by goalie.
76 min...CI Siaj has long run down wing but can't get around TFC Dunn-Johnson so crosses from 20 yards
near left end line has TFC McCrary on right post at 4 yards heads ball forward. CI Ekra recovers
at 25 yards in middle and taps ball over to CI Estrada and his 20 yard roller hits the outside of left post.
77 min...TFC Hamilton can't win freekick on edge of CI box when he's stripped by multiple defenders.
78 min...Charlotte Jaime Siaj GOAL...TFC Jordan Hamilton is stripped of ball from behind by CI Yann Elva in middle on edge
of CI box. CI Henry Kalungi is given short pass and he dribbles upfield on left and sends pass forward from CI 50 yard line to Siaj
running up sideline to get ball at TFC 30 yard line. He dribbles forward and ahead of TFC Julian Dunn-Johnson and cuts towards
goal and shoots low 10 yarder from left into right corner of net past sliding goalie on left edge of 6 yard box.
80 min...TFC McCrary cross from 35 yards on right is well over net.
83 min...TFC sub...Johnson replaces Daniels.
83 min...TFC Johnson is tapped over pass from middle and his low 22 yard shot from left is wide riight of post.
84 min...CI YELLOW card...Estrada earns if for kicking ball away when TFC awarded freekick at CI 50 yard line.
86 min...CI Ekra bashes up middle from 45 yards and TFC Dunn-Johnson checks him off ball just outside the box with sliding tackle.
86 min...TFC YELLOW card...Fraser earns it at 50 yards on delayed pushing call upfield in CI end.
87 min...TFC Endoh 40 yard freekick up middle has defender just inside box knock ball away. Dunn-Johnson at 20 yards taps ball
to middle for TFC Hundal and he whiffs at 15 yards and defender clears.
88 min...CI Yellow card...goalie Mizell earns it for time wasting taking a goal kick.
89 min...TFC Endoh is checked off ball just inside left side of box.
90 min...TFC James is tapped over centering pass by TFC Hamilton and he shoots 20 yarder over net.
91 min...CI Johnson gets away shot at 15 yards on left as TFC Dunn-Johnson runs by him and shot is just wide right of post.
91 min...TFC Jordan Hamilton GOAL...Hamilton at 35 yards in middle rolls pass to TFC Ashtone Morgan on left sideline past
slide of CI David Estrada. Morgan at 25 yard line runs forward to 15 yard line then rolls ball back to TFC Liam Fraser and his
cross from 35 yards on left finds Hamilton who chests ball down at 12 yards on right and steps to center to get shot around
CI Austin Yearwood and curl it into left corner of net.
92 min...CI Johnson 40 yard freekick from right has defender head ball away just inside left side of box.
93 min...game ends 9:59pm.
Final Score:...Toronto FC II.....2......Charlotte Independence....2...

Attendance started at 1000 which was about half the crowd that had watched 
the TFC first team Open Practice that ended at 7:10pm. (more on that 
at the bottom of this report). By halftime that had dropped to 750 and 
down to less than 500 after Charlotte took the lead. Fans were squeezed 
into the 100 sections of the East stands except for a small supporters group 
who were allowed to move to the south endzone. About 200 Army cadets seated 
together in the main stands started their own cheers at different times 
of the game.

Referee David Barrie who switched places after the warm up from fourth 
official to replace Marie-Soleil Beaudoin. He gave out three Yellow cards 
late in the game (two to Charlotte for time-wasting) and the one 
straight Red.

Two changes to the TFC lineup that surprised me because of their huge upset 
win over the then Eastern Conference leaders Charleston Battery were that 
Mark Pais was given the start in goal after Angelo Cavalluzo had registered  
a shutout in that game. Also the only goal scorer in that game, 
Shaan Hundal started on the bench in favour of Ben Spencer but was subbed 
in at 32 minutes after Spencer and CI Bilal Duckett crashed heads jumping 
for a ball in the CI box six minutes earlier.

The Independence had an unusual lineup in that their two leading scorers 
(with 12 goals each) did not start. Enzo Martinez was suspended for two 
Yellow cards on the weekend—the second of which was from what I've heard 
was pulling off his shirt celebrating his hat trick. (He was named 
USL Player of the Week for that performance). George Herrara was the other 
but he did sub in at 56 minutes. [Today, Thursday he was just awarded 
USL Player of the Month for July].

Jordan Hamilton scored both goals for TFC II. I don't know if this 
is enough to get him back onto the MLS roster but if the coaches hung 
around after the practice they could see for themselves. Tsubasa Endoh 
and Ashtone Morgan are also players who shuffle back and forth between 
the two teams. They also played well tonight. Seventeen year old 
Julian Dunn-Johnson continues to hang on to his starting position 
in defence over TFC draft pick NCAA grad Brandon Aubrey. 86 minutes 
had Dunn-Johnson make a sliding tackle just outside the box 
on Yann Ekra who had gotten the ball at 45 yards and bashed up the 
middle and was winding up for a shot and possible insurance goal. 
None of the players in this game was part of the TFC Open Practice 
held a few hours earlier.

TFC II had beaten the first place team on Saturday night in their 
victory over Charleston Battery (Jordan Hamilton was not in their 
lineup that night) and now have a result over the new leaders 
Charlotte who took over that same night.

The tie improves TFC II's record to 4 wins, 12 losses, 6 ties 
for 18 points and fourteenth place in the fifteen team Eastern 
Conference. It is only the second game they have scored at least 
two goals this season. A tie is not really good enough at this stage 
of the season to climb into eighth place for the last playoff spot. 
Sportsclubstats.com has their weighted average chances of making 
the playoffs down to 0.2%.

The tie improves Charlotte's record to 11 wins, 3 losses, 7 ties 
for 40 points and keeps them in first place in the East. They extend 
their unbeaten streak to twelve games but would really have loved 
to stretch their lead further in first place after taking over last 
weekend for the first time this season.

Charlotte Independence is a rather newly formed team (2014) and took 
the place of Charlotte Eagles who dropped to the PDL because of them. 
Eagles just won the PDL Championship a few weeks ago in the playoff 
final over Thunder Bay. They are not related. Two great teams! 
Woooh! I believe the wrestlers Ric Flair and his daughter are also 
from that city.

xxxxxxxxxxxxxxxxxxxxxxxxxxxxxxxxxxxxxxxxxxxxxxxxxxxx

The Toronto FC Open practice:

This was an event scheduled on a few weeks notice with invitations 
sent out for TFC Season Ticket Holders to come and watch. I expect 
this has replaced the annual BBQ held on a summer weekend at the 
KIA Training Ground. That event has proven so popular that it was 
available by lottery last year and I was not chosen to go. 
BBQs were fun but it wasn't a time to meet the players as the MLS 
team was usually out of town on that weekend. Sometimes injured 
players were signing autographs. Yesterday's event also has probably 
replaced the Open practice that was held for schoolkids as I haven't 
hear of this year.  Everything today was General Admission 
but only the 100 levels on the East side were opened up. I sat 
in my usual SSH seat.

There was really nothing very interesting for me to watch. I always 
try to get to the games before the gates open so I get to see the 
players warm up for half hour before the match. There were a few 
Q&A sessions—with microphones being passed around and a text address 
to ask questions. They were all softballs about the main team 
so there was no news discovered. The only question that interested 
me was about the heart monitors/GPS system bibs that the players 
wear. It turns out ALL their players wear them—some like to wear 
it over their t-shirts and some under—I had believed only the over 
the t-shirt wearers were participants. Fans from the supporter 
groups chanted between breaks in the Q&A periods.

Recovering midfielder Steven Beitashour was practicing some running 
drills away from the main practice and drew cheers when he ran 
by our sideline later on.

They held a 20 minute 9 on 9 scrimmage game with goals 
at the 25 yard lines and narrowed the field with pylons 7 yards 
inward between first team players.

After practice Tosaint Ricketts and Jay Chapman were part of another 
Q&A with just more softballs and nothing about the national team.

The schedule for me was going to be Open practice, dinner, and 
TFC II game. It turned out since I wandered in through my usual 
gate which was unguarded when I got there, I didn't get a voucher 
for food. When I saw the vouchers that others had I didn't want 
to lose my spot so didn't leave to come in through the proper gate. 
I didn't want to buy anything...$6.00 for a slice of pizza...that 
makes a good story about TFC's president Bill Manning comparing the 
Toronto market with a pizza restaurant and only having enough room 
for one in the city when he was initially questioned about the 
upstart Canadian Premier League earlier this year. 

Fans were encouraged to stay in their seats for the TFC II game 
for free which would start within an hour later. I brought 
my TFC II ticket with me anyway so it was no freebie for me.

xxxxxxxxxxxxxxxxxxxxxxxxxxxxxxxxxxxxxxxxxxxxxxxxx

It was nice to get to get out of there and onto a half 
empty streetcar. Also the Blue Jays baseball game was still 
going on so I was able to get out of Union Station 
on the subway without having to fight their fans for a seat.

TFC II's next game is Sunday against Bethlehem Steel to start 
a three game road trip. Their next home game is Wednesday 
August 30 against Saint Louis at their more familiar home 
Ontario Soccer Centre in Vaughan.

Rocket Robin
robing@eol.ca
twitter RocketRobin01



Toronto FC II starters


Charlotte Independence starters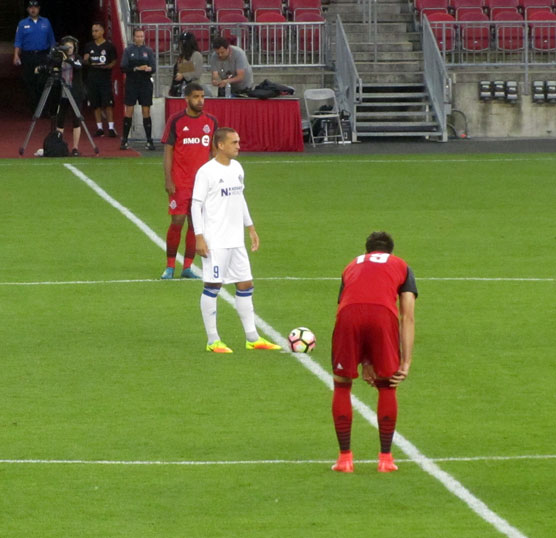 Charlotte Casey Townsend (9) takes opening kickoff.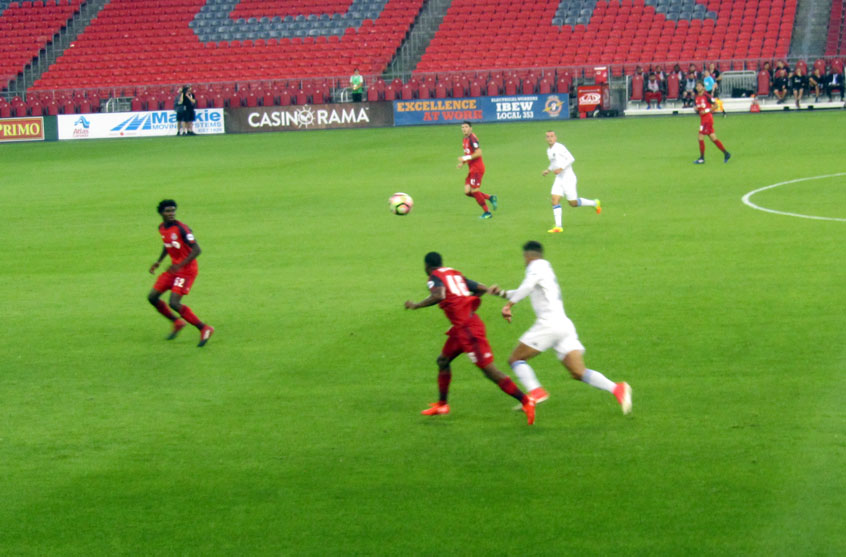 TFC Jordan McCrary (46) heads ball back to TFC Julian Dunn-Johnson (52).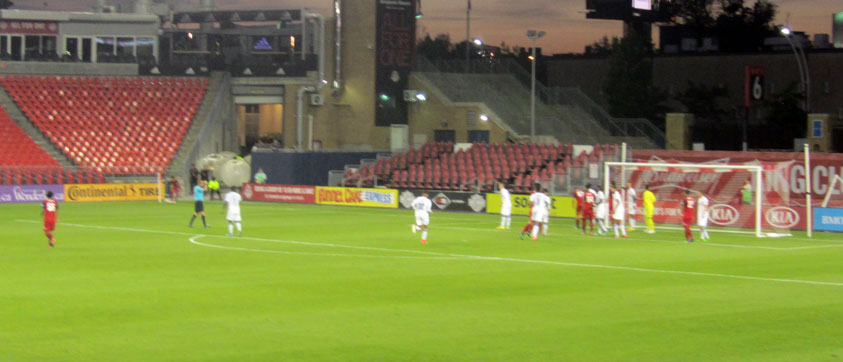 TFC cornerkick from left.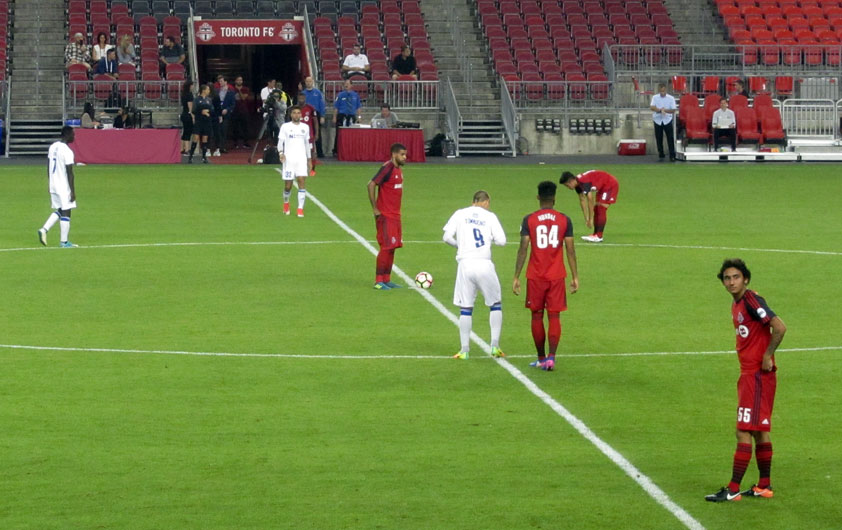 TFC Jordan Hamilton (22) takes second half kickoff.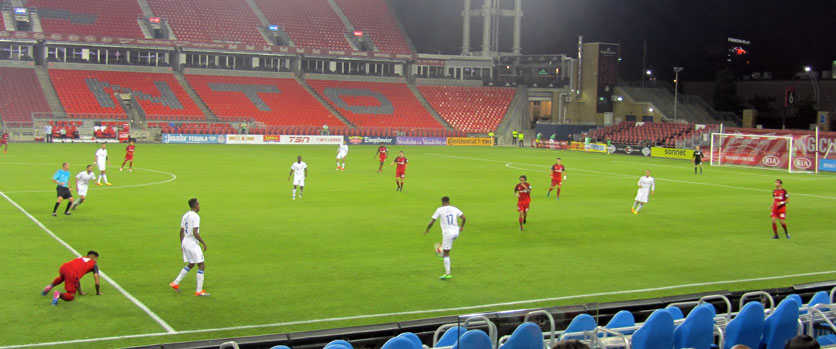 Charlotte David Spies (17) juggles ball.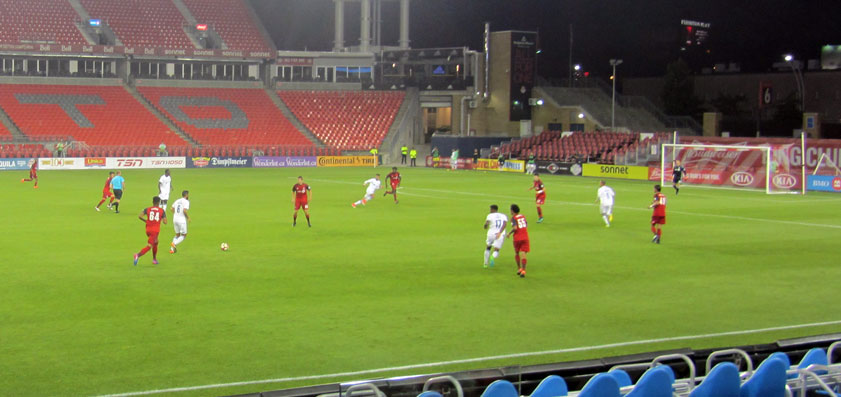 Charlotte Jun Marques Davidson (6) on rush.


TFC cornerkick from right.
.
.