.....

Result and details of the Saturday August 5, 2017 USL game between Toronto FC II
and Charleston Battery played at The Soccer Centre in Vaughan at 4:30pm.
Toronto FC II (all red, white names and numbers)
.................80 Angelo Cavalluzzo
52 Julian Dunn-Johnson...42 Mitchell Taintor (cpt)...49 Robert Boskovic
46 Jordan McCrary...9 Tsubasa Endoh...63 Liam Fraser...55 Aidan Daniels...54 Ryan Telfer
............64 Shaan Hundal...56 Malik Johnson
Subs:...40 Mark Pais (gk)...20 Sergio Camargo (mid)...32 Brandon Aubrey (def)...36 Brian James (mid)
...43 Aikim Andrews (fwd)...48 Dante Campbell (mid)...51 Ricardo John (fwd)
team officials: manager Jason Bent
Charleston Battery (black socks, shorts, names and numbers, white shirts)
.................23 Odisnel Cooper
6 Skylar Thomas...4 Taylor Mueller (cpt)...3 Forrest Lasso...11 Quinton Griffith
8 Neveal Hackshaw...22 Tah Anunga...20 Justin Portillo...25 Kotaro Higashi
...........10 Ataulla Guerra...17 Ricky Garbanzo
Subs:...1 Alex Tambakis (gk)...5 Jarad van Schaik (mid)...16 Heviel Cordoves (fwd)...24 Nchaolas Rittmeyer (mid)
...28 Ryan Arambula (mid)
team officials:...manager Michael Anhaeuser
Game officials:...referee Chris Grabus...referee's assistants Peter Pendli and Stephanie Fortin
...fourth official Armando Pereiira...(yellow shirts, black shorts and socks)
1st Half:...game starts 4:36pm. TFC defends north end on this mild and mostly cloudy late afternoon
with a strong gusty wind from the west.
2 min...CB Portillo 33 yard freekick from left is headed away in right side of box.
8 min...TFC Johnson low 25 yard kick up middle between player is wide left of net.
8 min...TFC Endoh 33 yard freekick from left into wind doesn't even make edge of box.
10 min...TFC Endoh gets pass at 15 yard line but pushes ball over end line.
12 min...Telfer run on left and low cross from 25 yards is cleared from box.
14 min...TFC player's 35 yard freekick from right is just steps ahead of charging TFC player on left post.
15 min...TFC Telfer 35 yard shot down middle is just over bar.
16 min...CB YELLOW card...Garbanzo earns it for complaining about a call or it was a delayed call on him
given 50 yards away from play.
17 min...CB Portillo 40 yard freekick from right has TFC player knock ball wide left for cornerkick.
18 min...CB Portillo cornekrick from left is whistled down in box.
20 min...CB Griffith chips 30 yarder into box and cleared at 15 yards.
22 min...CB Portillo freekick from 60 yards on right has CB player head down at 15 yards but defender clears.
24 min...CB Griffith cross from 25 yards on left to center and CB player heads down and teammate's 15 yard
shot is blocked.
25 min...CB Guerra 22 yard shot up middle is just over top left corner.
28 min...CB Hackshaw on give and go has defender slip up inside box and rolls cross into 6 yard box from right
has goalie step forward and pick up.
30 min...CB Portillo cornerkick from right has defender pop up at 15 yards on right and teammate clears.
31 min...TFC McCrary low 35 yard shoot/cross from right has goalie bat ball down and pick up.
32 min...TFC Fraser 33 yard threaded low pass up mddle between TFC players and wide left of net.
35 min...TFC Boskovic muscles CB Garbanzo off ball on right edge of TFC box and clears.
35 min...CB Garbanzo rolls pass from riight into crowd in box but defenders clear.
37 min...CB Garbanzo feeds pass forward to CB Hackshaw from 30 yards and Hackshaw runs into box and 15 yard
shot is straight to goalie and caught at chest height.
37 min...CB defenders clear scramble in box.
38 min...TFC McCrary rushes for ball down right wing and crosses high through 6 yard box over goalie and out
for goalkick.
40 min...TFC Hundal taps pass and teammate takes 20 yard shot which is a weak chip for goalie to catch.
41 min...TFC Hundal steps around defender to roll 22 yard shot from left just wide left of post. CB goalie
is injured on dive he missed.
43 min...TFC goalie out of box to make clearance that TFC Dunn-Johnson held back CB forward from playing.
44 min...CB Hackshaw at 35 yards taps pass to CB Portillo on left who rolls forward to CB Higashi who taps ball
forward to charging CB Griffith and his 12 yard shot has goalie sprawl to save and CB Griffith retreats to left
to get to rebound and 12 yard shot is blocked by defender and TFC McCrary clears near left end line.
44 min...CB Higashi beats TFC Dunn-Johnson down left end line and cuts into box and roller into 6 yard box is cleared.
44 min...CB Griffith wins throw-in on 8 yard shot that he can't get away.
46 min...half ends 5:22pm.
Halftime Entertainment: A contestant is presented a car key that may open a KIA car at the end of the season.
Four kids are timed to score three times on a mini net and between shots have to run back around a pylon. Between one
boy and three girls, the last girl wins in 16 seconds.
2nd Half:...starts 5:39pm. It's stll very windy from the west.
45 min...TFC McCrary wins cornerkick on low cross from right.
46 min...TFC Endoh cornerkick from right has TFC player head ball off defender and ball flies away.
47 min...CB Higashi on run from center line on left at TFC 40 yards in middle rolls ball forward to CB Guerra running
to edge of box to get to ball, eludes sliding tackle of TFC Dunn-Johnson at 10 yards and 10 yard shot from left
is just over top right corner.
48 min...CB Portillo receives pass forward on left and shots 22 yarder over net.
49 min...TFC Telfer is injured on run at CB 50 yards and wins freekick on left.
51 min...TFC Shaan Hundal GOAL...CB Skylar Thomas in TFC end blasts a 35 yard shot from right that's
blocked and now he's out of position. TFC Tsubasa Endoh sends pass forward on left to charging Hundal
at 35 yards between two other defenders CB Forrest Lasso and CB Taylor Mueller and he runs to just inside
left side of box and rolls 18 yard shot into right corner of net with goalie Odisnel Cooper sliding at 8 yards.
54 min...CB sub...Cordoves replaces Guerra.
57 min...TFC Hundal traps ball at 40 yards and taps pass over to TFC Johnson who runs forward and rolls 15 yard
shot that goalie slides to save at 8 yards.
57 min...CB Cordoves can't win Penalty kick on check in TFC box.
60 min...TFC Telfer rush on left and slips up trying to get around CB Thomas and rolls ball over end line.
61 min...TFC sub...James replaces Daniels.
62 min...TFC McCrary wins cornerkick after long run on left and cross near end line.
62 min...TFC Endoh cornerkick from left is eventually passed back to him and he wins another cornerkick.
63 min...TFC Endoh cornerkick from left wins another cornerkick on right.
63 min...TFC Endoh cornerkick from right blows behind net.
65 min...CB Garbanzo can't win freekick on edge of TFC box.
66 min...CB Mueller through ball pass to CB Garbanzo at 25 yards but TFC Taintor checks him off ball.
67 min...CB Garbanzo cross from 25 yards on right has defender head ball away.
68 min...CB sub...Rittmeyer replaces Hackshaw.
68 min...CB player's shot from 12 yards on left is deflected to right.
70 min...TFC goalie charges between crowd to pick up 10 yard bouncer into box.
71 min...TFC Johnson can't win freekick when tripped up on rush down middle at CB 22 yard line. He needs
trainer for his injury.
74 min...TFC sub...Camargo replaces injured Johnson (who after the game I saw leaving for the dressing room
with an ice pack on his leg).
74 min...CB Thomas long threaded pass up right from 60 yard line to CB Griffith but checked off ball before
he can cross.
74 min...CB sub...van Schaik replaces Thomas.
77 min...TFC Endoh cross from 25 yards on left is over box and out right for throw-in.
78 min...TFC Endoh run on left and rolls ball into box but stopped.
80 min...CB cornerkick from right has CB Mueller head ball from 7 yards over to right and CB Garbanzo shot
from left at 12 yards and ball is palmed over net by flying goalie.
81 min...CB player's cornerkick from right is over to CB Garbanzo and his 15 yard shot from left has goalie catch.
81 min...TFC sub...Campbell replaces McCrary.
82 min...CB Griffith 40 yard cross from right is through box unplayed.
83 min...TFC goalie catches 30 yard shot between players on one bounce. CB Griffith is injured away from play.
87 min...CB players have some tries at shot from left inside of box but nothing reaches goalie.
89 min...CB Cordoves spins and has 15 yard shot from left is blocked.
92 min...TFC sub...Dunn-Johnson earns it for time wasting on throw-in.
93 min...TFC goalie picks up weak 25 yard roller from left.
94 min...CB player's midair chip from 15 yards down middle getting to pass is caught by goalie.
95 min...CB van Schaik 60 yard freekick down middle has TFC goalie in a crowd of players in the box even with right post
palms ball into own net but referee whistles play down as CB player had ran into him. The goalie is injured on the play.
97 min...TFC Taintor takes goalkick in first action since goalie's injury.
97 min...game ends 6:31pm.
Final Score:...Toronto FC II.......1......Charleston Battery.....0....

Attendance was announced as 1145 on this mild and partly cloudy day. 
The sun must have been out more than I thought as most of my game 
notes were converted from wristwatch time as the sun was shining 
on the scoreboard. It was also windy the whole game with crossfield 
gusts from the west making high passes and clearance either die 
or blow out of bounds. Only way to beat that was to keep the 
ball on the ground although both teams did not follow that rule.

The attendance was excellent (relative to TFC II's other home games) 
as they haven't played a home game since their win against Ottawa 
on July 8. Since then their three game road trip they lost all 
three without scoring. It had rained twice earlier in the 
day and the MLS team's game away in Washington DC was starting 
half hour after this game ended.

Man of the Match (who is always a TFC II player) was named 
as Tsubasa Endoh. Just at that time I was over at the player's 
gate asking Shaan Hundal to fill me in on the assist on his 
goal...Ok it was Endoh. I had been marking Endoh as someone who 
was among the worst at judging the wind with a cornerkick flying 
from one side over the box and out for a throw-in and 
a weak 33 yard freekick into the wind that didn't even make 
the edge of the box. Only place windier than here is their 
KIA Training Centre so they all should be quicker at adapting 
than any visiting team. I said to Hundai that he should have 
won the coffee product prize today.

Angelo Cavalluzzo earned the shutout for TFC. It was his tenth 
start of the season. He hadn't been starting for about a month 
with Mark Pais getting all the games. He had a few key saves 
to make. Best was at 80 minutes when a Battery cornerkick from 
the right had CB Taylor Mueller head the ball from 7 yards 
on the right over to the left and CB Ricky Garbanzo took 
a 12 yard shot that Cavalluzzo flew over to just under the bar 
and palmed it over the top right corner. There was a big scare 
in the last minute of injury time when CB Jarad van Schaik took 
a 60 yard freekick down the middle and Cavalluzzo at 8 yards 
even with the right post in a crowd of players in the box looked 
like he palmed the ball into his own net but the referee 
whistled play down as a CB player ran into him.

The 80 minute save is the kind that should be nominated for 
Save-of-the-Week because of its importance. I was still 
getting tweets and e-mails yesterday to vote for Mark Pais 
for last week. Sure it looked better but if he hadn't stopped 
it they would have lost 3-0 instead of 2-0.

Referee Chris Grabus (who I can't remember ever seeing before) 
gave out two Yellow cards—one to each team. CB Ricky Garbanza 
either on a delayed call or talking away from the play 
at 17 minutes and TFC Julian Dunn-Johnson in second half injury
time for stalling around taking a throw-in. The game didn't
look rough at all.  An official monitoring the game answered 
me that Grabus was from Montreal.  

Starting Canadians (seven!) on TFC included goalie Cavalluzzo, 
defender Julian Dunn-Johnson (age 17, I think I've had that 
wrong in my last few reports), midfielders Ryan Telfer, 
Liam Fraser and Aidan Daniels, and forwards Hundal and 
Malik Johnson. Johnson was subbed out at 74 minutes with 
a leg injury and replaced by Canadian Sergio Camargo. Daniels 
lasted 62 minutes. New 'pro signing' from their academy 18 year 
old midfielder Dante Campbell came in at 82 minutes. 
Luca Uccello is injured and didn't play today.

Battery defender Skylar Thomas played the first 76 minutes. 
The Canadian played for TFC II last year. He mostly stayed 
in the back but could be criticized for coming too far forward 
on the TFC goal. Last year he was often in the opposition box 
on corner kicks because he's 6'3".

The Battery got by without their top scorer Romario Williams 
who has scored 14 goals this season which is higher than 
the 11 that TFC have scored all season even after today. 
He is back from the Gold Cup where Jamaica made the final 
but missed today's game from what I read because of Yellow 
card accumulation. Williams scored what turned out to be the 
winner in the quarterfinal game against Canada.

[Late news:  The Battery Twitter account at @Chas_Battery 
put out a tweet that four players Romario Williams, 
O'Brian Woodbine, Jeffrey Obiiteyt Otoo, and Maikel Chang 
(first two Jamaicans, Ghanian, Cuban) were held at the border 
on visa issues.  That would account for only a five player bench.  
Meanwhile in downtown Toronto, hundreds of thousands were 
at the Caribana parade.]    

It was a good result for TFC who avenge their worst loss 
of the year when they traveled to Charleston and lost 6-1 
on June 24.

The result improves TFC's record to 4 wins, 12 losses, 5 ties 
for 17 points. They move from fifteenth (last in the 
Eastern Conference) to fourteenth (if Richmond Kickers 
don't get a result this weekend).

Charleston was in first place in the East but now have 
a record of 10 wins, 5 losses, 7 ties for 37 points and 
may be passed by one or two teams this weekend. Their 
last six results have been tie, loss, loss, tie, tie, 
and now loss to show they've really cooled down.

Next game for TFC II is on Wednesday and it has been moved 
to BMO Field so they can bookend it after the 
Toronto FC (MLS) first team practice and have a season 
ticket holder's meal between the two events. I suspect 
this has replaced the picnic at the KIA Training Centre 
which had limited space and last year my invitation 
was declined. The opponent on Wednesday 
is Charlotte Independence who were second at the start 
of the day on a ten game unbeaten streak. There is a good 
chance they could be the first place team by the time 
of that game.

Rocket Robin
robing@eol.ca
twitter@RocketRobin01



Toronto FC II starters


Charleston Battery starters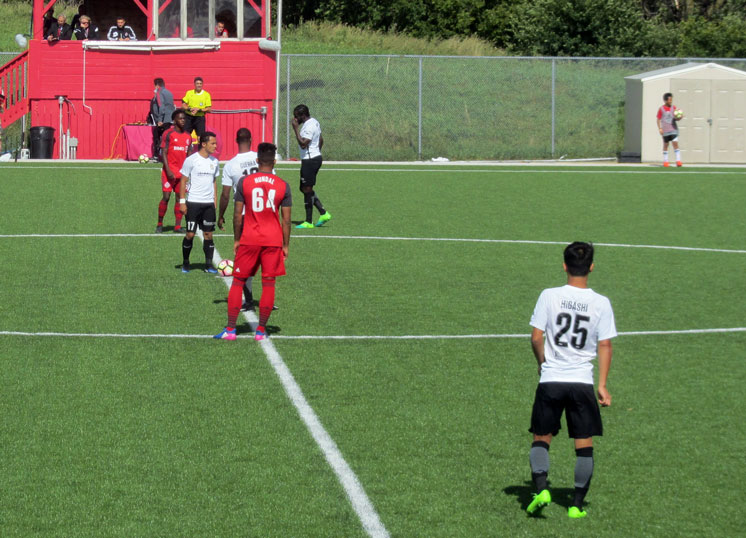 Charleston Ricky Garbanzo (17) and Ataulla Guerra (10) take opening kickoff.


Battery Ataulla Guerra (10) heads back in front of TFC Robert Boskovic (49).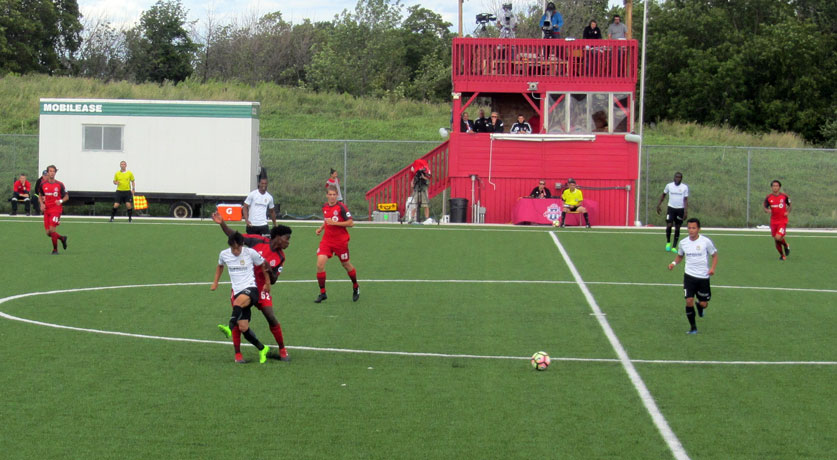 TFC Julian Dunn-Johnson (52) (who would be named to USL's Team of the Week) tangles up Battery Kotaro Higashi (25)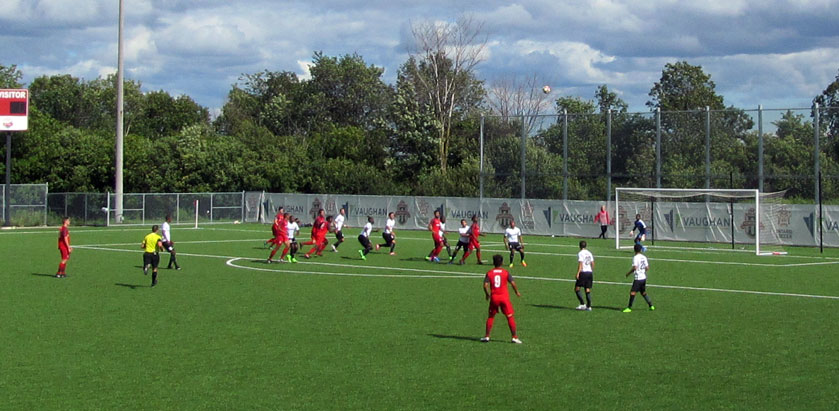 TFC Tsubasa Endoh (9) chips freekick into Battery box.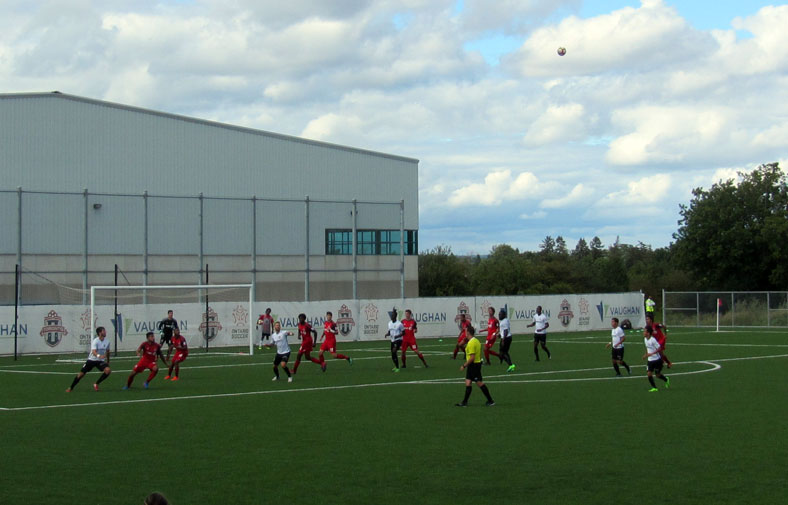 Battery freekick chipped into TFC box.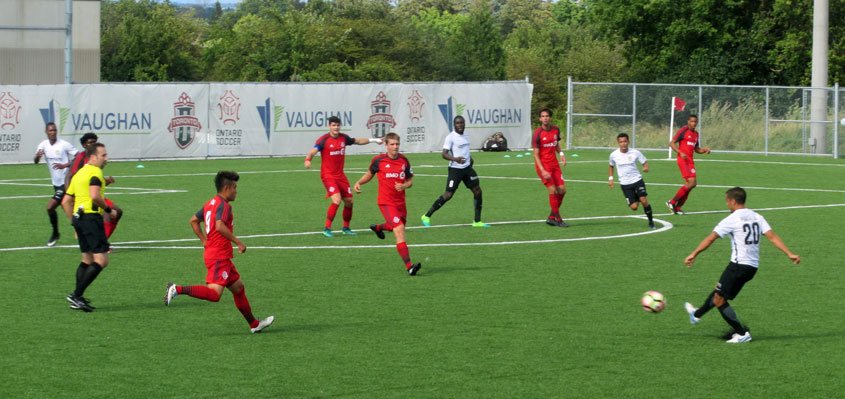 Battery Justin Portillo (20) sends ball up middle.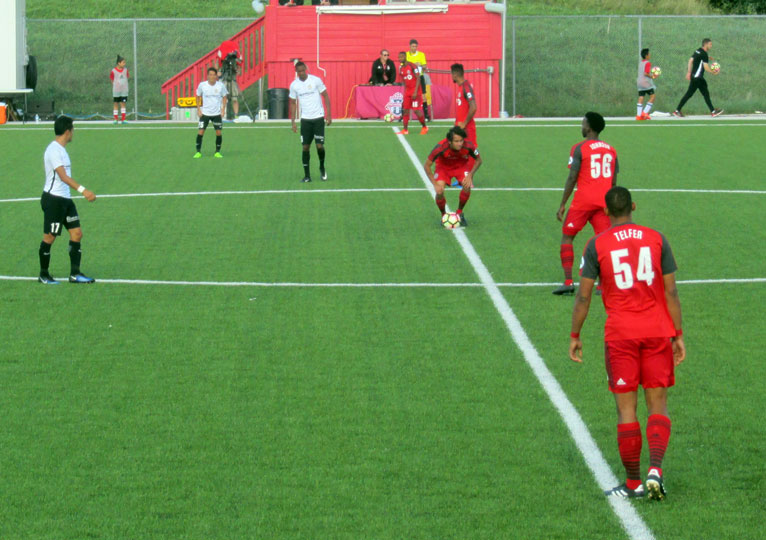 TFC Aidan Daniels (55) flexes before taking second half kickoff.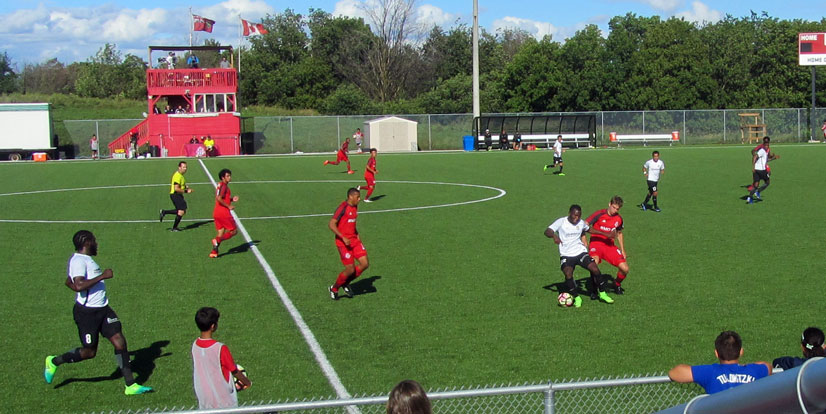 Battery Tah Anuanga (22) and TFC Liam Fraser (63) battle for ball.


TFC Aidan Daniels (55) cuts to middle.
.
.