.....

Result and details of the Saturday July 8, 2017 USL game between
Toronto FC II and Ottawa Fury played at the Ontario Soccer Centre in Vaughan at 7:30pm.
Toronto FC II (all red, white names and numbers)
................40 Mark Pais
.........52 Julian Dunn-Johnson...42 Mitchell Taintor (cpt)...49 Robert Boskovic
48 Dante Campbell...63 Liam Fraser...36 Brian James...9 Tsubasa Endoh...54 Ryan Telfer
...........45 Luca Uccello...19 Ben Spencer
Subs:...80 Angelo Cavalluzzo (gk)...32 Brandon Aubrey (def)...43 Akim Andrews (fwd)...46 Jordan McCrary (mid)
...55 Aidan Daniels (mid)...56 Malik Johnson (mid)...77 Brandon Onkony (def)
team officials:...head coach Jason Bent
Ottawa Fury FC (all white, black names and numbers and shoulders, red trim)
..................1 Callum Irving
........6 Shane McEleney...4 Ramon Martin Del Campo...3...Eddie Edward
22 Jamar Dixon...25 Lance Rozeboom (cpt)...7 Ryan Williams...10 Gerardo Bruna...12 Andre Campbell
.............9 Carl Haworth...8 Steevan Dos Santos
Subs:...70 David Paulmin (gk)...2 Jonathan Barden (mid)...5 Kyle Venter (def)...11 Sito Seoane (fwd)
...18 Tucker Hume (fwd)...28 Sergio Manesio (mid)...30 Adonijah Reid (fwd)
team officials:...head coach Paul Dalglish
Game officials:...referee Davd Barrie, referee's assistants Peter Pendli and Graham Forsyth
...fourth officials Yusri Rudolf...(teal shirts, black shorts and socks)
1st Half:...starts 7:38pm...TFC defends south end on this bright sun in north west with a strong wind
from the north.
7 min...OF Williams low shot from 28 yards up middle is caught by goalie.
8 min...OF Bruna rolls 18 yard shot from left that goalie smothers.
9 min...OF Dos Santos long throw-in from left is headed away.
9 min...OF Haworth cornerkick from right is cleared and OF Williams blasts 30 yarder up middle that goalie
flies to push wide right of post.
10 min...OF player's cornerkick from right has defender head away on left side of box. TFC player is knocked
over when OFs work it in again so wins freekick.
12 min...TFC goalie is out to smother ball at 10 yards when two OF players hesitate to run for pass into box
on left.
15 min...TFC Boskovic holds off OF Dixon and lets ball roll for goalkick. Dixon can't win freekick on right.
18 min...OF Haworth cornerkick from left has goalie punch away but OF win another cornerkick.
19 min...OF Haworth cornerkick from left has TFC Spencer jump to head away and is injured when OF player lands
on his foot but another player clears.
21 min...TFC Endoh has two OF players get ball away from him on run down left.
23 min...OF Haworth has attempted shot disrupted twice by retreating players on his run up middle and TFC
wins goalkick on left.
24 min...TFC Uccello run alont right endn loine but defender checks and clears.
25 min...TFC James cornerkiick from right has TFC Spencer pushed off ball missing getting away 20 yard
shot up middle.
27 min...OF Dos Santos rolls 20 yarder into right side of net but the offside flag is up.
31 min...OF Haworth run into box and pushes defender over so TFC win freekick in own box.
32 min...OF Dos Santos 50 yard freekick from left has goalie rush to catch at 15 yards between crowd
of players.
33 min...TFC Telfer beats defender on left end lne and passes through 6 yard box unplayed. TFC Campbell
brings ball back from rght but pushes over end line.
36 min...TFC YELLOW card...Dante Campbell earns it for knocking over OF Andrea Campbell on left edge of box.
37 min...OF Bruna lobs 25 yard freeekick from left edge of box and defenders leap to head away at 10 yards
in middle.
38 min...OF Andrae Campbell taps centering pass to OF Bruna who has 17 yard shot blocked by defender.
42 min...OF Dxon rush to ball on right and cross has ball cleared for cornerkick.
43 min...OF player's cornerkick from right has OF De Campo twist header from 8 yards that goalie saves.
44 min...OF Haworth cornerkick has OF Dos Santos 15 yard header up middle downward and diving goalie pushes
ball wide left.
44 min...OF Haworth cornerkick from left has goalie punch ball wide left.
45 min...OF Haworth cornerkick has goalie punch forward. OF Williams shoots clearance from 25 yards iin middle
through crowd of players that goalie catches.
47 min...half ends 8:25pm.
Halftime Entertainment: there's a mini-game with kids from Vaughan SC 8 v 8 with all the kids mobbing the ball.
No one stays in either net and the game ends 1-1.
2nd Half:...starts 8:42pm...the weather is cooling and the sun is setting in the north west. It's the first time
I can read the numbers on the scoreboard.
45 min...OF Williams rolls 20 yard shot wide left of net.
47 min...TFC James chips 40 yard shot from right that goalie steps forward to catch.
48 min...TFC Endoh 40 yard freekick down middle is tapped around and wasted.
49 min...TFC Campbell low cross from near cornerflag has defender at 10 yards clear.
50 min...OF Bruna chips 25 yarder has jumping TFC Taintor head away at 10 yards.
51 min...TFC Telfer run up left and wins cornerkick on check from behind in box.
51 min...TFC Uccello cornerkick from left is rolled back to him and his cross is caught by goalie in front of left post.
53 min...TFC James 45 yard freekick is tap back and sent into box.
55 min...TFC James chip from 40 yards but defenders check TFC player off ball on edge of box.
56 min...OF YELLOW card...Dixon earns it for knocking over TFC Telfer on left on 25 yard line.
57 min...TFC Endoh 30 yard freekick from left has goalie punch ball away in crowd of players but ball bounces
for cornerkick on right.
58 min...TFC James blasts partially cleared cornerkick up middle but wide right from 30 yards.
59 min...OF Andrae Campbell rush to ball on left and 15 yard shot is high and wide right is rushed by defender closing
even with him.
60 min...OF YELLOW card...Andrae Campbell earns if for tackle on TFC Dante Campbell injurying him on right sideline
at 35 yard line. TFC's freekick is then wasted.
62 min...TFC Fraser 40 yard cross from right has OF Dos Santos make big save.
63 min...OF Andrae Campbell run down left and cross from 20 yards near 6 yard box has OF Dos Santos head wide right
from 7 yards on right.
64 min...OF Bruna falls over TFC goalie who smothers ball at 15 yards.
65 min...OF Edward flies to scissor kick ball away that had been sent into OF box at 8 yards.
66 min...TFC sub...McCrary replaces Dante Campbell.
67 min...OF Andrae Campbell cross from near left end line is headed back to him and he then wns cornerkick.
68 min...OF Haworth cornerkick from left has defender head out rght side of box.
68 min...TFC goalie catches popped up header over head at 3 yards.
69 min...OF Haworth 30 yard freekick from left has TFC Dunn-Johnson head away. OF players work ball into box but
TFC defender slides at 8 yards to stop.
70 min...TFC Telfer long rush up left and gets away 15 yard roller that goalie dives forward to smother.
72 min...OF Haworth cornerkick from left is over players in box.
72 min...TFC Luca Uccello GOAL...TFC Brian James stops his own run and passes from 60 yards
on left that finds Uccello running on the right at 35 yard line and he runs forward and gets shot around
OF Andrae Campbell at 25 yards on right and over goalie Callum Irving at 6 yards in center of goal and ball
drops into left corner of net.
74 min...TFC goalie runs to edge of box to catch ball in front of charging OF Andrae Campbell.
75 min...OF Dos Santos gets by falling defender but can't get away shot.
75 min...OF sub...Sedane replaces Dixon.
76 min...OF Dos Santos has goal but play is whistled down for offside.
77 min...TFC Telfer cross from 25 yards near left end line is caught by goalie.
78 min...OF Williams 35 yard freek8ck down middle is caught by goalie.
79 min...TFC McCrary makes key header on left side of TFC box to break up play.
80 min...TFC sub...Andrews replaces Spencer.
81 min...OF goalie catches 60 yard freekick up middle well wide right of net.
82 min...TFC Dunn-Johnson chests down ball and clears from TFC box.
83 min...OF Rozeboom cross from right into box and OF Haworth can't get away shot in mass of defenders
in box on left.
84 min...OF Bruna chips ball from 30 yards on left into box and OF player whiffs on ball at 8 yards and
OF Haworth shoots low 8 yarder forward and and wide left but play was flagged offside.
84 min...OF sub...Hume replaces Bruna.
........OF sub...Manesio replaces replaces Williams.
85 min...TFC Uccello is injured at TFC 45 yard line.
86 min...OF Andrae Campbell runs into TFC box but play is whistled down for him pushing down TFC McCrary.
87 min...TFC Boskovic 55 yard freekick is well wide right of net.
88 min...OF Seoane works ball to right edge of box and centers pass to OF Manesio who does splits to try to pass
forward to Seoane from 20 yards but defenders block and clear for TFC fast break.
88 min...TFC Uccello run on right and 22 yard shot is deflected up and over to goalie by TFC Andrews pop
up at 15 yards.
89 min...TFC players cornerkick from right is tapped around to waste time.
91 min...TFC sub...Daniels replaces Endoh.
92 min...TFC YELLOW card...Andrews earns it for time wasting.
93 min...OF Hume 16 yard shot up middle has goalie make huge save at 3 yards in middle to dive and push
ball to right. OF Dos Santos gets to ball and low 8 yard shot from right is stopped by TFC Dunn-Johnson
at 3 yards on right post.
93 min...OF goalie lifts 70 yard freekick high to edge of TFC box where in crowd of players OF Hume can't get away
shot after bashint through to 8 yard line. A defender clears.
93 min...OF RED card...Andrae Campbell earns his second Yellow card for tripping TFC Luca Uccello who was
breaking out of TFC box with ball after frantic scramble in box.

Final Score:......Toronto FC II......1......Ottawa Fury.......0......

Attendance was announced as 1007. That was more than six times more 
than last Saturday night against Harrisburg City. This was the 
largest crowd of the season here except for the two matinee school 
day games packed with middle school students and the game played 
down at BMO Field on May 13 when they were able to hang onto just 
over 10% of their MLS crowd. Tonight was a warm evening but people 
left to get windbreakers from their cars at halftime as it was 
cooling off quickly.

Last week was a holiday weekend that would have cut into their numbers. 
Also there was no threat of rain like a week ago when there were two 
storms on game day. Last Saturday also had the TFC MLS team playing 
away in Dallas with kickoff only thirty minutes after the USL game 
ended. A lot of fans probably stayed home. I think the biggest rivalry 
was that this week's team was Ottawa...a team new to the USL this year 
after a history with NASL and this year for the first time, an opponent 
drawn for the MLS team for the semi-final of the Canadian Championships. 
The Fury won the first game in Ottawa 2-1 before being overpowered 
4-0 a week later in Toronto when TFC used more of their MLS lineup. 
Tonight's game wouldn't have Sebastian Giovinco coming in off the bench.

I didn't know how many marginal MLS players might make their way into 
tonight's lineup because the MLS team has the week off and their 
manager Greg Vanney might want to keep them sharp. Also at the other 
end, Toronto FC III of League 1 Ontario had a key game earlier in the 
day against Vaughan Azzurri (ironically youth players from Vaughan 
Soccer Club were the ball kids for today) so that would limit teenage 
players 'brought up' from that squad for this game. It turned out only 
midfielder Tsubasa Endoh (who has recently been getting some MLS 
minutes including starts) and little used forward Ben Spencer were 
their only MLS roster players. I thought I saw goalie Clint Irwin 
warming up in net but it must have been regular Mark Pais with 
Angelo Cavalluzzo as backup. Cavalluzzo shut out the Fury on April 22 
in USL action in Ottawa in a 0-0 draw.

Ottawa is the only other Canadian team in the Eastern Conference 
so the game day staff had thirteen kids hold one large Canadian flag 
as they were not needed to split between two medium sized Canadian 
and American flags.

Man of the Match (who is always a TFC II player) was announced 
as Luca Uccello for the obvious reason as he scored the game's only 
goal. I'd say it was between him and goalie Mark Pais who had to make 
some spectacular saves early to keep them in the game and late 
to hold on to the lead. Uccello won last week too but 
as I straightened up last week Anthony's Espresso is a coffee 
supplier not the maker of coffee machines so it's the coffee 
that's the prize each game.

Mark Pais earned the shutout for TFC. He was always the busier 
man in net right from the start of the game. Fury really turned 
up the pressure after the TFC goal. At 75 minutes 
OF Steevan Dos Santos got by a falling defender at 75 minutes 
but couldn't get away a shot. A minute later a goal by him was 
whistled down as offside. 78 minutes had OF Ryan Williams send 
a 35 yard freekick down the middle that Pais caught. A minute 
later TFC Jordan McCrary made a key header on the left side 
of the box to break up a play. 82 minutes had 
TFC Julian Dunn-Johnson chest down a ball and clear from 
their box. A minute later OF Lance Rozeboom crossed from the 
right side of the box and OF Carl Haworth couldn't get away 
a shot in a mass of defenders on the left side of the box. 
84 minutes had OF Gerardo Bruna chip a ball from 30 yards on the 
left into the box and an OF player whiffed on the ball 
at 8 yards and Haworth shot a low 8 yarder forward and wide 
left of the post but the play was flagged offside. 86 minutes 
had OF Andrae Campbell run into the box but the play was whistled 
down for him pushing down McCrary. 88 minutes had 
OF Sito Seoane work a ball to the right edge of the box and 
centered a pass to OF Sergio Manesio who did the splits to try 
to pass forward to Seoane from 20 yards but a defender blocked 
and cleared for a fast break. 93 minutes had OF Tucker Hume 
take a 16 yard shot up the middle that had the goalie make 
a huge save at 3 yards in the middle of goal to dive and push 
the ball to the right. Dos Santos got to the ball and his 
low 8 yard shot from the right was stopped 
by TFC Julian Dunn-Johnson at 3 yards on the right post. 
That same minute the OF goalie lofted a 70 yard freekick high 
to the edge of the box where in a crowd of players had Hume 
not able to get away a shot after bashing through 
to the 8 yard line then a defender cleared and TFC Luca Uccello 
was tripped up breaking out of the box by Campbell resulting 
in his second Yellow.

Fury had 'goals' at 27 minutes and 76 minutes ruled offside.

Julian Dunn-Johnson was a starting defender for TFC and played 
well. He is the only Canadian defender on the team and more 
impressive he is only age 15 and it's tough with the team 
playing like their MLS parent with only three men in the back. 
Brandon Aubrey who was credited with an own goal last week was 
glued to the bench. Dunn-Johnson subbed for him at 71 minutes 
last week and isn't giving up that spot yet.

Referee David Barrie gave out five Yellow cards tonight 
(three to the Fury—and two to Andrae Campbell). Campbell's 
second which was the last play of the game was to prevent 
a TFC breakout with all the Fury players forward for a last 
minute scramble in the box and he was preventing a breakout 
which would have been an open space 80 yard dash downfield. 
I had been critical while watching a halftime 8 v 8 mini-game 
between kids in the center circle with no-one holding their 
positions. I asked a soccer mom beside me "How old are kids 
when they are taught to hold their positions?" Well this late 
scramble was one time those kids hopefully never forget.

It was another Young Reds Day (as was last week) with under 
age 14 fans being able to take Penalty kicks after the game 
if their parents signed a waiver. Players came over to the 
sidelines to greet the fans and sign autographs after the game 
unlike last week when they lost and fled as soon 
as the whistle blew.

Before the game I asked questions to new Fury signing 
Adonijah Reid who was suddenly on their roster within the 
last three days after being drafted by MLS FC Dallas earlier 
this year as a Generation Adidas player. This was a former 
League 1 Ontario co-leading goalscorer (with Filipe Vijela 
of Oakville) for ANB Futbol with 20 goals in the 2015 season 
when he was only age 15. He is still only 17! He answered 
me that he is still with FC Dallas who can recall him but 
since they don't have a USL team they've placed him with 
Ottawa to get more playing time.

TFC won at home for just the second time this season. 
They looked good at beating another fringe playoff team 
like when they edged Orlando City B last month. 
Sportsclubstats.com now has TFC II climbing from 0.2 % 
to exactly 1.0% chance for making the USL playoffs. Their 
record improves to 3 wins, 9 losses, 5 ties for 14 points 
and they climb out of the basement (fifteenth) up to fourteenth.

Fury's record falls to 5 wins, 6 losses, 5 ties for 
20 points and are tied for tenth place. Top eight earn 
a playoff spot.

TFC now have a weekend off before playing two in a week 
on the road against New York Red Bulls II and Rochester 
Rhinos then finish with another road game against Ottawa 
(their third league meeting this season—unusual based 
on the number of teams and games but done to build rivalries). 
Next home game isn't until August 5 against the current 
first place Charleston Battery who beat TFC 6-1 two weeks ago.

Rocket Robin
robing@eol.ca
twitter RocketRobin01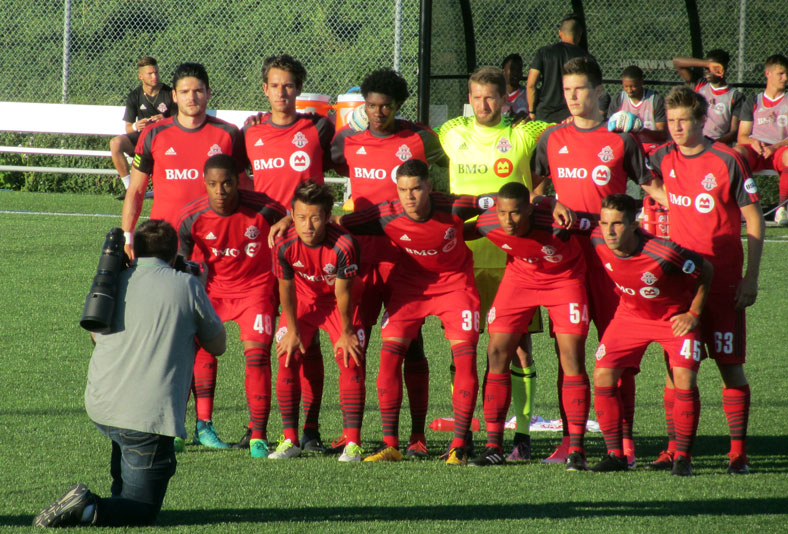 Toronto FC II starters


Ottawa Fury starters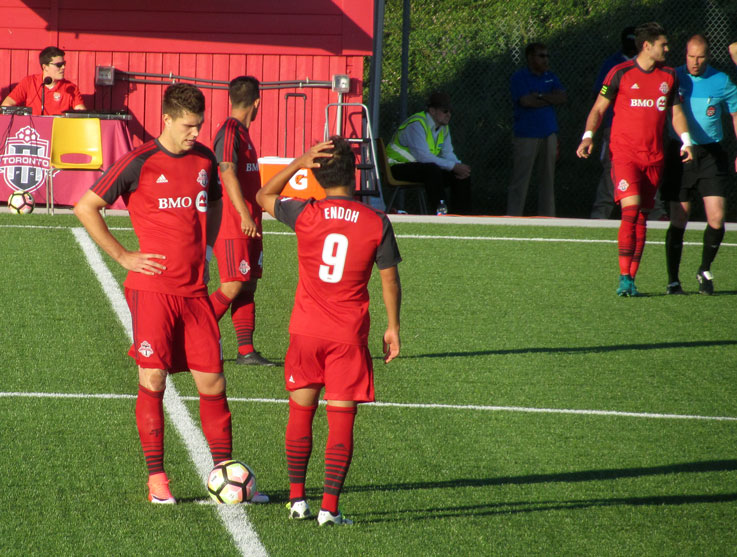 TFC Ben Spencer (19) and Tsubasa Endoh (9) take opening kickoff.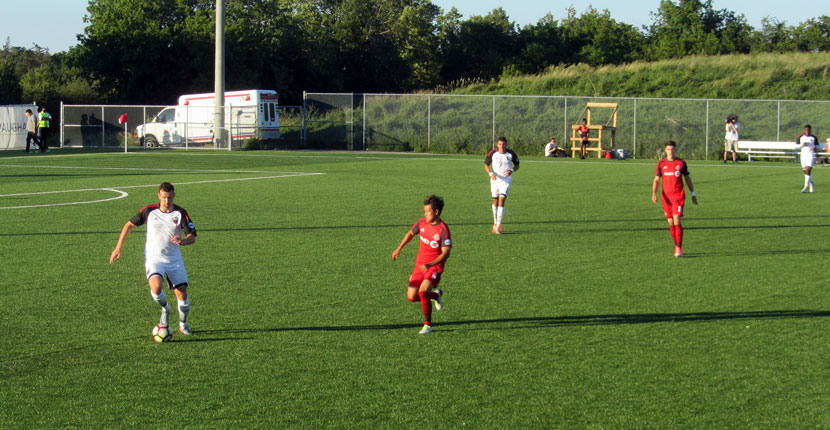 Fury Shane McEleney (6) dribbles out of own end watched by TFC Tsubasa Endoh (9).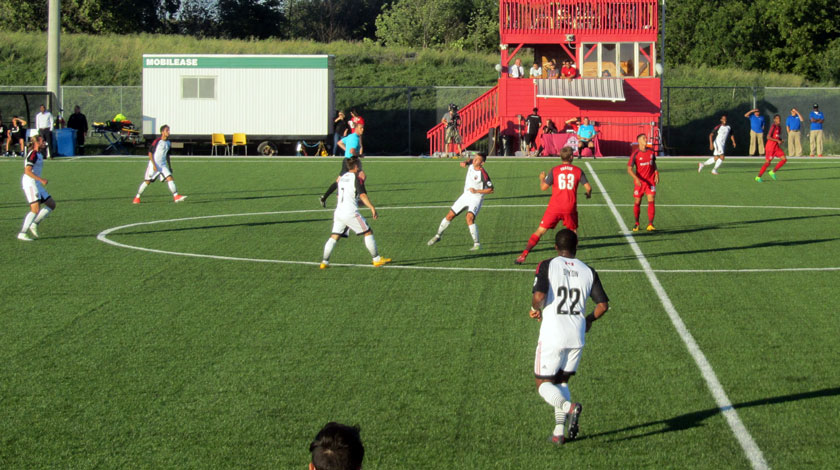 ball is popped up in center circle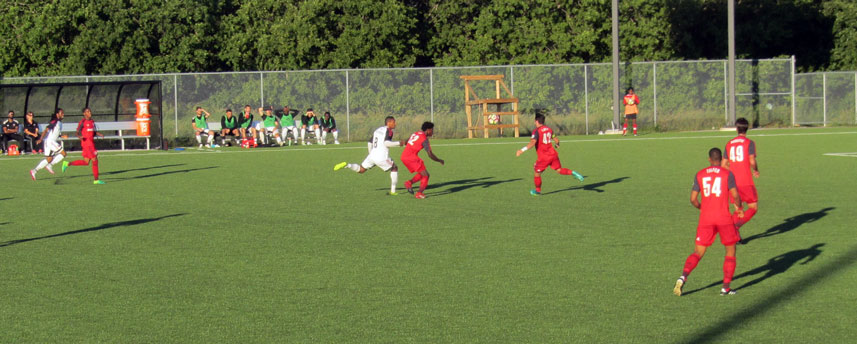 TFC Julian Dunn-Johnson (52) shadows Fury Steevan Dos Santos (8) allowing TFC Mitchell Taintor (42) to clear.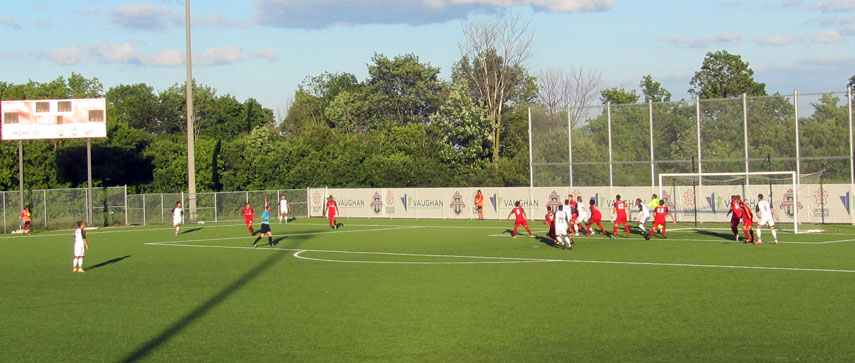 Fury cornerkick is into TFC box.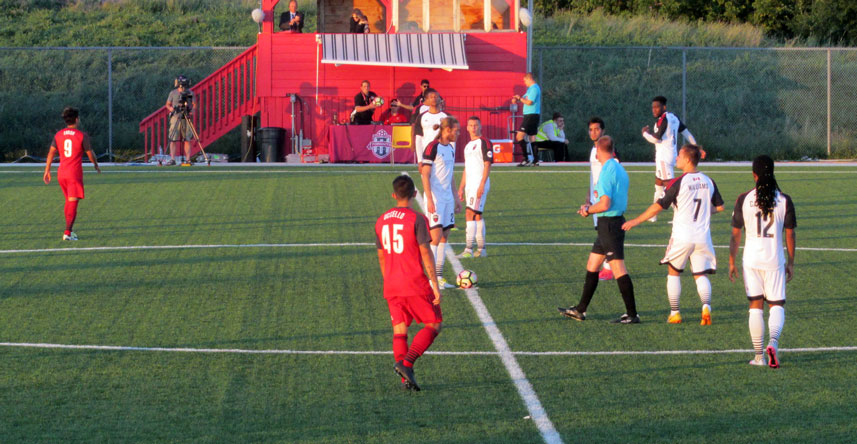 Fury Lance Rozeboom (25) and Gerardo Bruna (10) take second half kickoff.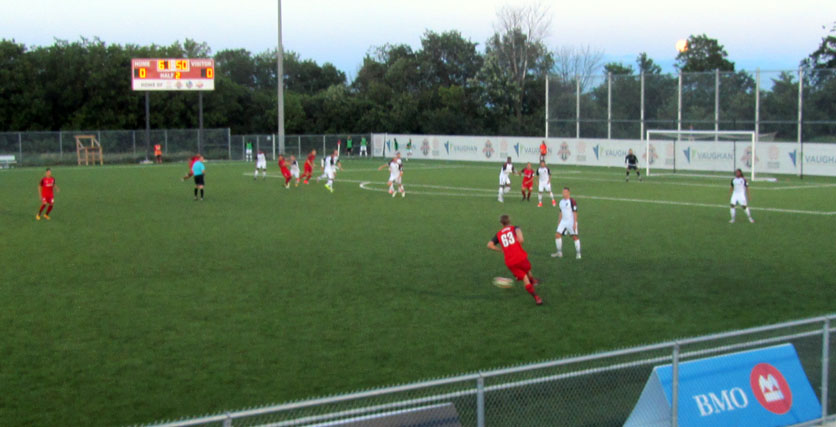 TFC Liam Fraser (63) cuts to middle.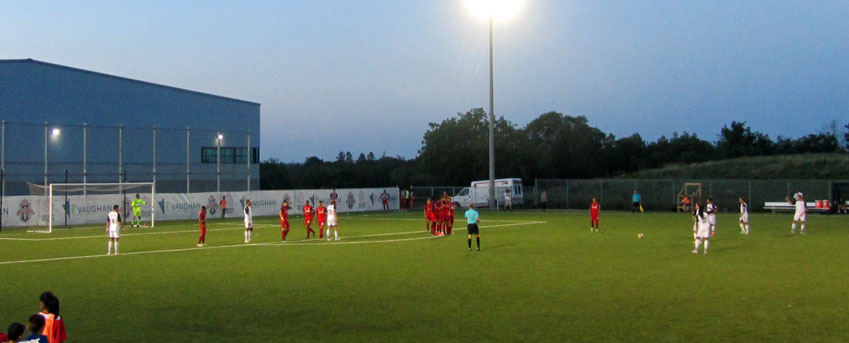 another late Fury freekick up middle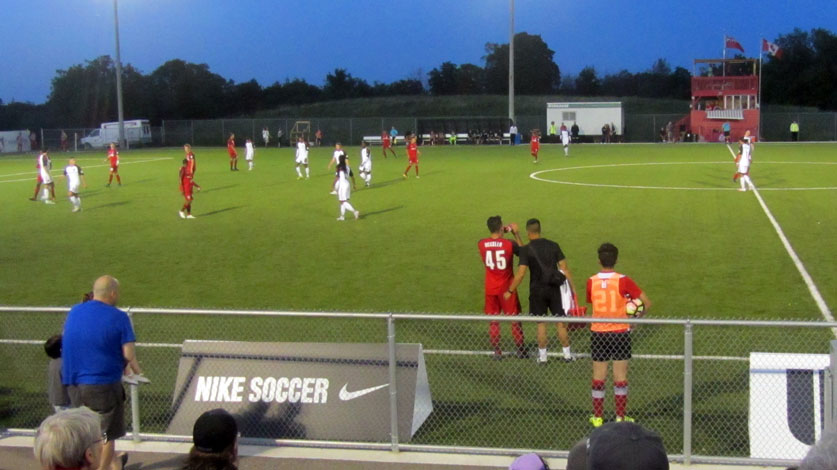 TFC Luca Uccello (45) on sideline after treatment for injury at 85 minutes.
.
.