..................

Result and details of the Saturday July 1, 2007 USL game between
Toronto FC II and Harrisburg City Islanders played at the Ontario Soccer Centre in Vaughan at 5:00pm.
Toronto FC II (all red, white names and numbers)
.......................40 Mark Pais
.........42 Mitchell Taintor (cpt)...32 Brandon Aubrey...77 Brandon Onkony
48 Dante Campbell...45 Luca Uccello...36 Brian James...63 Liam Fraser...54 Ryan Telfer
...............43 Aikim Andrews...55 Aidan Daniels
Subs:...80 Angelo Cavalluzzo (gk)...49 Robert Boskovic (def)...50 Mathew Srbely (mid)...51 Ricardo John (mid)
...52 Julian Dunn-Johnson (def)...56 Malik Johnson (mid)...57 Andrew Dias (--)
team officials:...head coach Jason Bent
Harrisburg City Islanders (all navy, white names and numbers)
.......................33 Brandon Mlller
5 Tago Calvano (cpt)...4 Travis Brent...18 Abass Mohammed...23 Shawn McLaws
17 James Thomas...12 Rasheed Olabiyi...8 Mouhamed Dabo...16 Jake Bond
................30 Pedro Ribeiro...14 Danny DiPrima
Subs:...21 Sean Lewis (gk)...2 Griffin Libhart (def)...13 Michael Olla (fwd)...15 Lee Nishanian (def)
19 Cardel Benbow (mid)...25 Ropapa Mensah (fwd)...60 Frederick Opoku (fwd)
team officials:...head coach Bill Becher
Game officials:...referee Yusri Rudolf...referee's assistants Marie-Han Gagnon Chretien and Chantal Boudreau
...fourth official Jessca Patton...(teal shirts, black shorts and socks)
1st Half:...game starts 5:09pm...TFC defends south end on this mild and mostly overcast evening.
30 sec...TFC Campbell 35 yard shot from right is well over net.
7 min...HCI Ribeiro low 22 yard shot up middle is saved by sprawling goalie at 10 yards. HCI Thomas shoots
low rebound from 15 yards wide left.
9 min...TFC Onkony cross from 30 yards on left sideline is headed away.
11 min...TFC Campbell low cross from left is cleared.
12 min...HCI DiPrima cornerkick from right is headed away in hox.
14 min...HCI Olabiyi is injured at HCI 45 yard line.
.........TFC YELLOW card...Fraser earns it for the check that put him down.
19 min...HCI sub...Wilson replaces injured Olabiyi after playing short for 1 minute.
20 min...HCI Brent is injured near center line.
21 min...HCI Thomas wins freekick on edge of TFC box on knockdown by TFC Onkony hand to his face.
22 min...HCI Pedro Ribeiro GOAL...Ribeiro bends freekick from 20 yards on right
around player wall and flying goalie Mark Pais gets hands to but pushes ball into top
left corner of net.
24 min...TFC Uccello 45 yard freekick from right has TFC Aubrey duck and pop 15 yard header
up middle well over bar.
25 min...TFC Telfer long run down left and low cross from near cornerflag has ball cleared.
26 min...TFC Telfer on run cutting into left side of box and sliding block by defender to clear ball.
27 min...TFC Mitch Taintor GOAL...TFC Luca Uccello takes 30 yard freekick from right that
has ball land on left and charging Taintor boots in 8 yarder into top left just under bar.
28 min...HCI Wilson iis injured at TFC 45 yard line.
30 min...HCI Jake Bond GOAL...HCI Abass Mohammed boots chip from 75 yards downfield on left near
sideline. HCI Pedro Ribeiro receives it at TFC 25 yard line on left then he cuts around TFC Brandon Aubrey
to get to end line and sends low cross from 20 yards bouncing along 6 yard box where Bond waiting all
alone at 6 yards one-touches ball booting shot into short side of net beyond diving goalie.
32 min...TFC Onkony heads 12 yarder from cornerkick from right wide right of net.
34 min...TFC Luca Uccello GOAL...TFC Adan Daniels at 40 yards passes forward up middle to Uccello
in middle at 25 yards who touches ball left to TFC Aikim Andrews who eludes HCI Travis Brent's
sliding tackle on edge of box but that pops ball up. Andrews turns around for it and chips short pass
from 12 yards on left to Uccello at 7 yards with goalie Brandon Miller caught on left, Uccello kicks
in 6 yarder to middle of net with retreating HCI Jake Bond too late to keep it out.
35 min...HCI Bond rush down right and cross nto 6 yard box where charging HCI Thomas can't quite
turn 5 yard header.
36 min...HCI Mohammed is injured at TFC 40 yard line.
39 min...HCI Ribeiro is injured.
40 min...TFC Telfer rush down left and cuts into box and has 15 yard shot deflected over bar.
41 min...TFC Uccello low cornerkick from right is cleared by nearest defender on right.
42 min...TFC Uccello 40 yard freekick from rght has defender clear before it's inside box.
43 min...HCI Wilson lofts 20 yard shot down mddle that goalie flies backwards and right to palm ball to right.
43 min...HCI McLaws ends HCI pressure with cross near right cornerflag that drifts behind net.
47 min...TFC Telfer gets cross from rght and low 15 yard shot has goalie sprawl to push wide right and defender
clear for cornerkick.
48 min...TFC Andrews gets pass and heads 10 yarder wide right down middle.
49 min...half ends 5:58pm.
Halftime Entertainment: there's another obstacle relay race challenge of 2 vs 2 of boys that were about age ten.
2nd Half:...starts 6:13pm. There's now a hazy sun out.
45 min...TFC Campbell is muscled off ball in box by HCI Mohammed after long run up right.
47 min...HCI (TFC own goal) GOAL...HCI James Thomas makes low centering pass from 22 yard line on left that
finds HCI Jake Bond who runs up to 10 yards even with right post and shoots low that sprawling goalie on right
post gets hand to rolling it along 3 yard line and retreating TFC Brandon Aubrey kicks into own net off his shin
one step ahead of charging Thomas.
48 min...TFC Uccello cross from far right is crossed over players in box.
51 min...HCI Wilson long run up middle but pushes pass too far forward at 30 yards and goalie picks up.
53 min...HCI goalie long frteekicdk upfield has TFC player head backwards to TFC goalie.
54 min...TFC Onkony chips 40 yarder up middle through players that bounces to goalie.
57 min...HCI Paul Wilson GOAL...HCI Shawn McLaws is given pass and he runs down right wing to 25 yard line where
he sends low centering cross where HCI James Thomas on edge of box but he's marked by defender so he taps ball
to HCI Pedro Ribeiro running across from right. He controls and passes from 18 yards between two defenders for Thomas
who now is alone and takes 8 yard shot up middle that goalie dives forward to make point blank save at 7 yards and ball
pops over to right where Wilson beats retreating TFC Ryan Telfer to shoot tough angle 10 yarder from right into left side
of open net.
58 min...HCI Bond cross from 25 yards on far right has HCI Wilson pop header from left back to middle but ball is cleared.
59 min...HCI YELLOW card...Calvano earns it for sliding tackle injurying TFC Andrews.
61 min...TFC sub...Johns replaces Daniels.
63 min...TFC Telfer long run on left wins cornerkick.
63 min...TFC Uccello cornerkick from left has goalie punch away in crowd of players. Uccello has recross chip from 28 yards
from left is caught by goalie in crowd of players.
65 min...HCI defender heads away cross from left that was into 6 yard box. TFC Fraser blasts 25 yard partial clearance
from left is well over net.
70 min...HCI players turn to a 2 on 1 and pass is tapped to HCI DiPrima shoot 20 yarder that's deflected by goalie onto top
of net.
71 min...TFC sub...Dunn-Johnson replaces Aubrey.
71 min...HCI DiPrima cornerkick from right is cleared in crowd of players in box.
73 min...TFC Aikem Andrews GOAL...TFC Liam Fraser intercepts pass at HCI 50 yard line and passes forward for
TFC Ricardo John at 35 yard line who dribbles down middle and steps by HCI Tiago Calvano to 20 yards and taps pass
to right for Andrews to shoot 18 yarder from right into short top right corner of net.
73 min...HCI sub...Benbow replaces Bond.
76 min...TFC sub...Johnson replaces Fraser.
77 min...HCI YELLOW card...Thomas earns it for tackle on TFC Campbell injurying him at HCI 22 yard line.
77 min...HCI sub...Nishanian replaces Ribeiro.
78 min...TFC Uccello 25 yard low freekick from right is through hole in 3 man wall and wide left of post.
81 min...TFC Onkony cramps up away from play at HCI 50 yard line.
82 min...TFC Campbell gets pass on far rght and cross into box has defender boot over back fence.
83 min...TFC Uccello cornerkick from right has HCI player pop up header but play is whistled down.
84 min...HC Mohammed is injured but he gets told to get up by his teammates to help disrupt rush on TFC Andrews and force quick shot.
84 min...TFC Andrews rush on right and 12 yards shot has goalie make overhead catch to top left corner just under bar.
86 min...TFC Uccello cornerkick from left has leaping goalie catch above crowd of players.
87 min...HCI DiPrima is injured blocking TFC Taintor cross at 35 yards.
92 min...TFC James s tapped pass of partial clearance and 25 yard shot up middle bends wide left.
94 min...TFC Johnson gets cross from TFC Andrews sent in from 28 yards on right drops in middle of box but whiffs
on ball then shoots 12 yarder wide left.
94 min...game ends 7:02pm.
Final Score:.....Toronto FC II.........3.....Harrisburg City Islanders.....4........

Attendance was announced as 156 (that's one hundred fifty-six) 
on this warm afternoon with a pregame rain and the hazy sun 
actually coming out during the second half. I know it was 
a USL Cup game but USL conference rivals FC Cincinnati drew 
more that 32000 for a midweek game a few days ago against 
MLS opposition. For us....blah blah blah Canada Day holiday 
weekend, and pregame rain (actually there were two as there 
was an early morning rain as well) but I appreciate the 
PA announcer for an honest announcement.

Referee Yusri Rudolf gave out three Yellow cards today 
(two to HCI) in a game that wasn't rough but a lot of HCI players 
went down with injuries. Paul Wilson who would later score 
replaced Rasheed Olabiyi at 19 minutes when he couldn't continue. 
Some fans were saying about later injuries 'Get up' when other 
HCI players went down but funniest comment was at 84 minutes 
when HCI Abass Mohammed went down but play continued on into 
the TFC end. When the tide turned and TFC had a rush a teammate 
yelled out 'get up' and Mohammed got up to make TFC Aikim Andrews 
rush his shot from 12 yards that had the goalie make an overhead 
catch just under the bar. The tie was still waiting until almost 
the last kick of the game where TFC Dante Campbell got a cross 
drop into the middle but he whiffed on the ball at 12 yards 
then shot wide left of the net.

Mark Pais can't really be blamed for any of the HCI goals. 
On most of them he made the initial save and had no one to clear 
the rebounds. Angelo Cavalluzzo had played many games in a row 
but had been shelled for six goals last week against first place 
Charleston Battery so it gave Pais a chance to start again.

Harrisburg improves to 4 wins, 7 losses, 4 ties for 17 points 
and they climb up to twelve place in the Eastern Conference. 
It was their second win in a row.

TFC II's record falls to 2 wins, 9 losses, 5 ties for 11 points. 
They are in fifteenth (last) place in the East. Their three goals 
adds to the six goals they had scored all year up to now and the 
first time they have scored two goals in a game this season. 
The broadcast crew mentioned that Luca Uccello had taken the 
scoring lead for TFC II with his second goal of the season!

It must be tough on TFC head coach Jason Bent making a line 
up as this week TFC MLSers that at times have been loaned down 
were up with the big team in Dallas. Ashtone Morgan was a starter 
and Tsubasa Endoh, Jason Hernandez, Jay Chapman, Ben Spencer, 
and Jordan Hamilton were on the bench. Oyvind Alseth who has 
been a TFC II mainstay was also playing against Dallas and was 
a starter.

Some writers have been making these elaborate story-lines about 
how TFC II can climb to eighth to make the playoffs but I am 
more looking forward to watching young players getting their 
chances to get on the team and obtaining playing time. Guys like 
midfielders Dante Campbell and Malik Johnson I've had a chance 
to watch at TFC III in League 1 Ontario. Andrew Dias just 
joined from TFC III in the last week and Julian Dunn-Johnson 
bypassed the whole L1O team by joining TFC II from their academy 
last week. He is only age 15 and is the only Canadian defender 
on the team (OK Ashtone Morgan was really a drop-down from the 
MLS team). He replaced Brandon Aubrey at 71 minutes and didn't 
look out of place...(didn't give up an own goal).  I buy into 
what TFC general manager Tim Bezbatchenko answered me one or two 
years ago that the purpose of TFC II is to feed players to the 
MLS team so development is more important than results.

Man of the Match (who is always a TFC II player) was named 
as Luca Uccello and wins the prize from one of the team sponsors 
'Anthony's Espresso Equipment'. I saw his father on the way out 
and joked it must have been about the fourth time he won 
an espresso machine. He said it's only the supplies they give 
him like the reloads and not a new machine each time. 
I confirmed with the company who were putting away their demo 
equipment not so much for that but to say something friendly 
after snapping at them while standing on the other side 
of the gate in the pregame rain "You shouldn't give a prize 
when the team loses 6-1". The owner said "Why not? Winning 
isn't everything"...which makes a perfect loop of how I felt 
at the end of the game.

It was Canada Day and we were given a small nylon Canadian 
flag on a wooden stick which was nice and more permanent than 
the paper flags most cities give out at their festivals. 
We early arrivals (first 200 which meant everyone) were given 
a piece of cake on a stick. It was smaller than 
a golf ball—I asked for a second piece on my way out.

I didn't like how the team fled to the exits without coming 
to the fence to talk to their fans but I guess they were 
too upset by the loss.

Rocket Robin
robing@eol.ca
twitter @RocketRobin01



Toronto FC II starters

Harrisburg City Islanders starters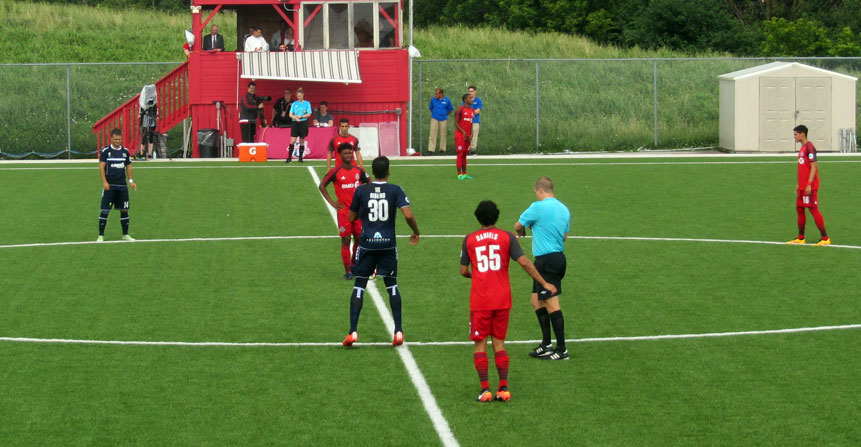 TFC Aikim Andrews (43) takes opening kickoff.


TFC Liam Fraser (63) cuts up middle.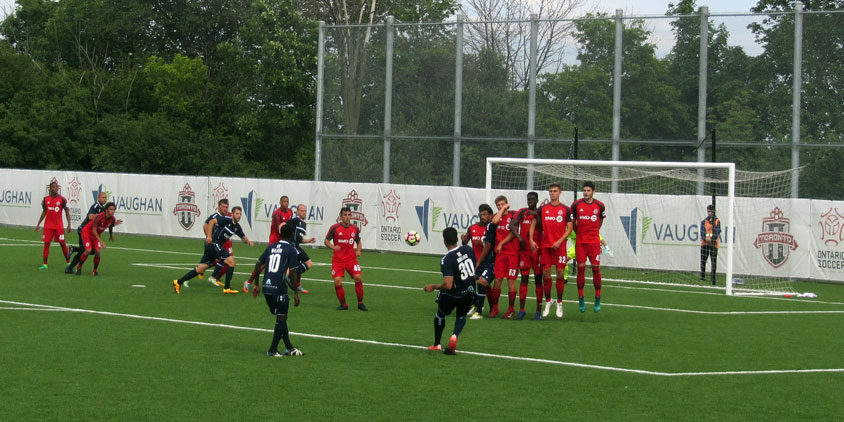 HCI Pedro Ribeiiro (30) bends this freekick into net.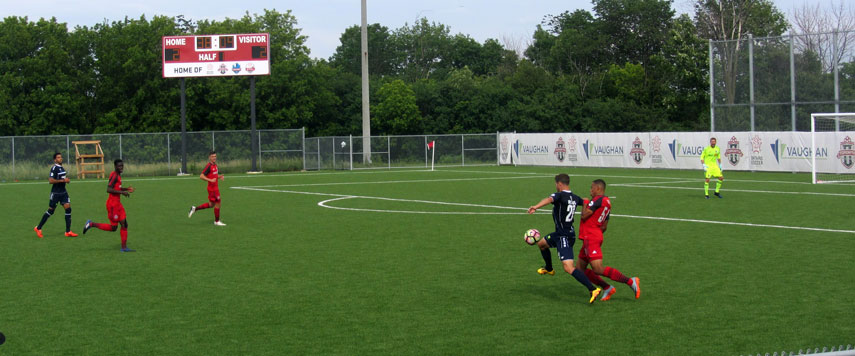 HC Shawn McLaws (23) tries to get around TFC Ryan Telfer (54).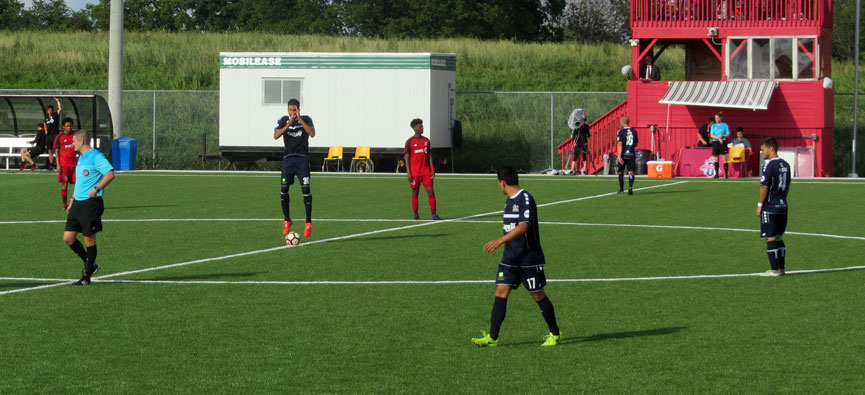 HCI Pedro Rbeiro (30) second half kickoff.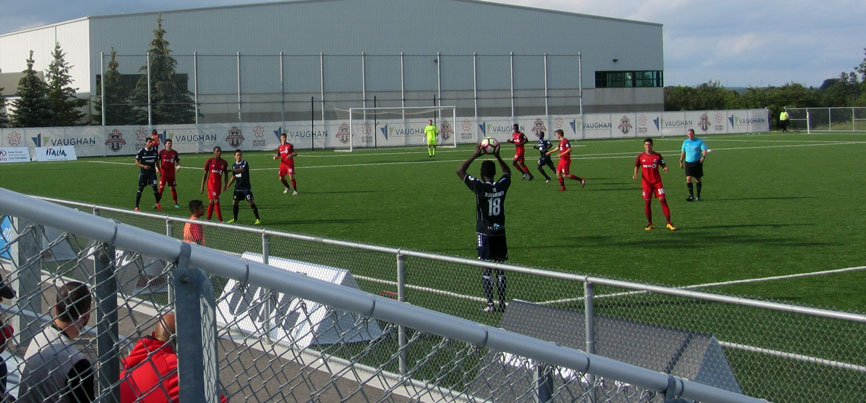 HCI Abass Mohammed (18) throw-in.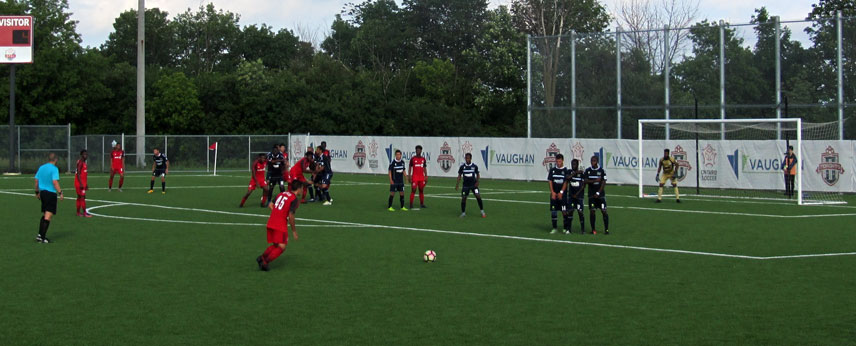 TFC Luca Uccello (45) will bend freekick just wide left.
.
.