..........

Result and details of the Wednesday June 14, 2017 USL game between
Toronto FC II and Orlando City B played at Ontario Soccer Centre at 12:00pm.
Toronto FC II (all red, white names and numbers)
....................80 Angelo Cavalluzzo
.....42 Mitchell Taintor (cpt)...32 Brandon Aubrey...49 Robert Boskovic
46 Jordan McCrary...63 Liam Fraser...36 Brian James...54 Ryan Telfer
......9 Tsubasa Endoh...22 Jordan Hamilton...20 Sergo Camargo
Subs:...40 Mark Pais (gk)...27 Oyvind Alseth (def)...45 Luca Uccello (mid)...55 Aidan Daniels (mid)
...56 Malik Johnson (mid)...64 Shaan Hundal (mid)...88 Luis Pereira (mid)
team officials:...head coach Jason Bent
Orlando City B (all white, purple names and numbers)
....................70 Jake Fenlason
........71 Zach Carroll...3 Seb Hines...63 Scott Thomsen
77 Austin Martz...42 Zachary Ellis-Hayden...41 Jordan Schweitzer...80 Ryley Kraft...54 David Loera
................99 Michael Cox...30 Danny Deakin
Subs:...60 Aaron Smith (gk)...22 Conor Donovan (def)...45 Ben Polk (fwd)...51 Jordi Avila (def)
...58 Allen Seal (--)...85 Rob Valentino (--)
team officials:...head coach Anthony Pulis
Game officials:...referee Pierre-Luc Lauziere...referee's assistants Fabrizio Stasolla and Melissa Snedden
...fourth official David Barrie...(yellow shirts, black shorts and socks)
1st Half:...Game starts 12:06pm...TFC defends north end on this warm and sunny day.
20 sec...OCB Hines does splits at center trying to play ball getting foot jammed in the turf and is hurt
at center line with a leg injury.
2 min...OCB sub...Donovan replaces injured Hines.
5 min...TFC goalie dives down to make stop at 7 yards.
6 min...TFC Endoh bounces low shot through crowd from 30 yards that goalie catches.
8 min...TFC Jordan Hamilton GOAL...TFC Liam Fraser sends low pass from right
near center line over to TFC Tsubasa Endoh at 35 yards in middle and he rolls ball
forward and left for charging TFC Ryan Telfer who crosses from 22 yards on left edge of box.
The ball is over the head of jumping OCB Conor Donovan in middle of box and Hamilton
chests it down at 6 yards even with right post and gets shot between Donovan and retreating
OCB Scott Thomsen and under sliding goalie Jake Fenlason.
11 min...TFC Camargo rush in from left has goalie take ball off his feet at 12 yards.
16 min...TFC Hamilton trips over sprawling goalie at 12 yards on run to left of box but can't
win Penalty kick.
17 min...TFC Fraser low cross from 25 yards on right has goalie catch in 6 yard box.
18 min...TFC McCrary long run down right to rescue ball but his slide pushes it over OCB end line.
18 min...TFC Telfer cuts in from left side of box and sliding OCB Donovan coming n from right upends
him getting to ball first.
20 min...TFC McCrary long run down right and wins cornerkick on blocked cross attempt.
21 min...TFC player's cornekrick from right is cleared from left side of box.
22 min...TFC Camargo has 7 yard shot blocked but wins cornerkick on right.
22 min...TFC Endoh cornerkick from right has TFC Telford play blown down for jumping on players
back for header.
25 min...OCB Fraser throw-in from near left corner flag is wasted as ball is not crossed into box.
26 min...TFC Taintor makes big clearance inside box to stop OCB pressure.
27 min...OCB Ells-Hayden cross from 40 yards on right bounces between crowd of players and goalie
picks up on left.
28 min...TFC Taintor long run on right and rolls pass forward to TFC Camargo and his cross into box
from right edge has TFC Endoh shoot 10 yarder high over net from middle.
30 min...TFC Hamilton can't win Penalty kick on crash with OCB Donovan on left side of box.
31 mn...referee calls water break.
33 min...TFC Hamilton waits too long on edge of box for shot then passes through on right past
TFC McCrary and out for goalkick.
34 min...TFC Telfer rush to left end lne and low cross is cleared by defender. TFC Camargo recovers
at 10 yards and crosses to TFC Fraser at 25 yards and he blasts from right that hits left post
and defenders clear.
36 min...TFC Hamilton is checked off ball on right side of box at 15 yards.
37 min...TFC McCrary cross from 25 yards on right has defender clear.
39 min...TFC McCrary low cross from 22 yards near right end line eludes two defenders but a third one
on the left makes clearance kick.
40 min...OCB Carroll rush on right and 15 yard shot wins cornerkick on deflection.
40 min...OCB Carroll cornerkick from right has leaping defender head ball away in crowd of players at 7 yards.
42 min...TFC Endoh 35 yard shot is over cross of players on left and caught by the goalie.
47 min...half ends 12:53pm.
Halftime Entertainment: there's two Freestylers Kevin and Swirl 'more energy' performing ball tricks
then they teach four boys some basic tricks.
2nd Half:...starts 1:12pm.
45 min...OCB play iis whistled down for hand ball in the TFC box on a cross in from the left.
48 min...TFC Telfer run up left and has shot partially blocked by sliding defender and goalie dives forward
to smother ahead of TFC Camargo at 12 yards.
50 min...OCB player's cornerkick from right has ball knocked around and OCB Cox headed ball that goalie
punched but but to foot of OCB player for goal but cleared from line by diving header of TFC Aubrey.
51 min...OCB Cox run down left but pushes ball over end lne trying to get by defender.
52 min...OCB Cox low shot from 25 yards is between defenders down middle and goalie dives to right side to catch.
54 min...OCB Ellis-Hayden 30 yard chipped cross from right is over head of jumping OCB player and outt
for goalkick.
55 min...TFC Endoh 35 yard freekick from left has TFC player pop 10 yarder from right end lne behind net.
55 min...OCB YELLOW card...Carroll earns it for tripping TFC player dribbling near sideline.
56 min...TFC Endoh 35 yard freekick from left sideline has TFC Taintor pop header over net from 10 yards on right.
57 min...TFC Camargo wns cornerkick on 15 yard rolled cross that defender slides to deflect out at 6 yards.
57 min...TFC Endoh cornerkick from right is cleared and chip back to box wins TFC freekick.
58 min...TFC Endoh 22 yard freekick blasted into wall and deflects wide left with TFC Taintor able to get to it but
called for OCB offside.
61 min...TFC Hamilton checked off ball just inside right side of box.
62 min...OCB sub...Polk replaces Martz.
65 min...OCB Polk long run up right and low cross from right is cleared away.
66 min...OCB Polk deflected shot from 22 yards wins cornerkick on left.
67 min...TFC sub...Uccello replaces Camargo.
68 min...OCB cornerkick from left has TFC Boskovic leap to head away on left.
68 min...OCB Deakin 25 yard shot from left between players is caught by goalie.
70 min...TFC Endoh 40 yard freekick from right has OCB goalie punch ball down in crowd of players. TFC players jab at it
on left and wide left on pop up for goalkick.
71 min...OCB defender gets back to break up TFC rush into box on right.
72 min...OCB Fraser cross from 28 yards on far left is over leaping goalie but ball is cleared on right end line.
74 min...TFC McCrary on run into right of box has slding defender poke ball away at 7 yards.
75 min...TFC sub...Hundall replaces Hamilton.
75 min...TFC Endoh 12 yard shot from right has flying goalie bat away at 5 yards. TFC Uccello follow up shot is a spinner
pop up from 12 yards that goalie catches.
80 min...OCB Fraser cross from 35 yards on left is whistled down in box after collision.
81 min...TFC Alseth replaces McCrary.
82 min...TFC Hundal gets break from center line but wins cornerkick when his 20 yard shot deflects off defender.
83 min...TFC Endoh cornerkick from left has TFC Taintor get two chances to cross in from left side of box but both blocked.
84 min...OCB YELLOW card...Donovan earns if for pushng over TFC Hundal cutting to middle at 25 yard line.
85 min...TFC Endoh 30 yard freekick from left bends and diving goalie pushes ball wide left of post.
86 min...OCB Thomsen pops TFC player's shot over net after TFC work out a short cornerkick from left.
87 min...TFC Endoh cornerkick from right is cleared. TFC Taintor rush on left and low cross along end line wins
another cornerkick.
87 min...TFC Endoh cornerkick from left is kicked around in box until it's blasted over net.
89 min...OCB Ellis-Hayden cross from 30 yards on right has leaping goalie catch over OCB Cox on left post.
92 min...TFC Aubrey makes key flying header at 8 yards to clear cross from left sent in by OCB Deakin.
TFC goalie catches routine cross from left end line 35 yards by OCB Deakin again.
93 min...TFC Hundal tries a little time wasting on short cornerkick.
93 min...game ends 2:00pm.
Final Score:.....Toronto FC II......1......Orlando City B......0.....

Attendance was announced as 1295 for this school day matinee. 
That was more than their previous school day game by more than 200. 
These are by far their biggest crowds of the season for any game 
held HERE as opposed to coasting off the TFC MLS fans who haven't 
already headed for the exits at BMO Field and would watch 
a USL game.

Referee Pierre-Luc Lauzere called only one Yellow card that I heard 
announced and that was to an OCB player at 55 minutes.

It also looked like he called a water break at 31 minutes but 
otherwise had not much to do.

Angelo Cavalluzzo earned the shutout for TFC II. Last week he was 
named to the USL Team of the Week as a bench player for a game in 
which he let in one game but where he practically had to stand on his 
head to tie Pittsburgh. Today he had not much to do and so will probably 
not win but I'm sure team officials like it this way as it shows that 
the defence of captain Mitchell Taintor, Brandon Aubrey, 
and Robert Boskovic kept most of the OCB shots when there were 
any at a comfortable distance.

Man of the Match (who is always a TFC II player) was named 
as Liam Fraser). He was in the midfield and started some rushes.
I don't remember him winning the espresso machine as the prize 
so far this year.

Only fringe TFC MLS players in the lineup were Jordan Hamilton 
and Tsubasa Endoh. I will expect they will get a call up soon 
as TFC has weekend games and two midweek games for the finals 
of the Canadian Championships against Montreal this month. Hamilton 
will be extremely important to make up the required Canadian content 
for those CC games.

Sergio Camargo got a start today and he looked good especially 
at the beginning of his 67 minute game. At 11 minutes he rushed 
in from the left and had the goalie dive and grab the ball 
off his feet at 12 yards. 22 minutes and he had a 7 yard shot 
blocked but won a cornerkick on the deflection. A similar play 
at 56 minutes but this time it was from 15 yards.

OCB really only looked good in the first 20 minutes of the 
second half. I was expecting more for a team on the margins 
of the playoffs. Their game started off badly as defender 
Seb Hines was injured at the 20 second mark when he appeared 
to do the splits getting his foot caught in the turf as he was 
trying to change direction and needed to be subbed off. 
Assuming their 'low uniform number' guy players are on their 
MLS roster this will be a big blow for both rosters if this 
is serious. It's also possible that Conor Donovan coming 
in cold at 2 minutes wasn't warmed up for his first calling 
on that goal at 8 minutes.  

OCB has on their roster Canadians Richie Laryea (not here
today), Micheal Cox a big forward who had a few chances 
(similar to big, bashing OC MLS teammate Cyle Larin) 
and Zachary Ellis-Hayden who was a winger and sent 
in some crosses to varying success. Cox had a three minute 
burst starting at 50 minutes when a cornerkick came in from 
the right and he headed a shot that Cavalluso punched away 
but straight to an OCB player who took a shot but it was 
saved by a diving header by defender Brandon Aubrey. 
Next minute Cox was on a run down the left but he pushed 
the ball over the end line as he was trying to round 
a defender. Next minute he got a low shot from 25 yards 
down the middle between the defenders and the goalie dove 
to the right side of the net to catch.

After the game, players came over to sign autographs. I got 
Jordan Hamilton to fill me in on who passed him the ball 
on his goal. Signing with a red marker on some kid's red 
baseball cap didn't show up too well and even on some kids 
arm who hadn't brought anything to sign. Down the line 
Tsubasa Endoh was signing autographs and some adult asked 
him to sign right on his TFC jersey—well he had a black marker. 
Too good to resist as the fan's back was turned I said 
'sign in Japanese' which made the fan flinch. Even some 
Orlando players were signing. From my notes I'd marked that 
Zachary Ellis-Hayden was a Canadian but I blacked out 
on what city. 'Kitchener' he said—then it came back to me 
that he'd played for K-W United when they used to come 
to town and beat the TFC PDL team when they had one until 
this year. So he played with Sergio Camargo? Yep he remembered 
that time well. When I got home someone had tweeted a photo 
of five K-W United guys from those days in a group shot today. 
Ellis-Hayden, Camargo, TFC II assistant coach Chris Pozniak 
(then on the KW coaching staff), and non-Canadians 
Oyvind Alseth of TFC and Ben Polk of OCB. That team won 
the PDL championship.

They didn't give the school kids Thundersticks to clap 
today but they were more annoying to me. About the same age 
as the last game, grades 5 and 6. I always sit in the back row 
of the aluminum stands so I can stand up and take pictures 
but today there were about two rows of kids staring my way 
for most of the game so they could look at the ice cream truck. 
The only time they turned around is when they were cued to scream 
for a t-shirt toss. The teacher finally bought them something 
but then with coke in hand the boys kept staring to beg for 
a hot dog. OK by 70 minutes they were gone as their class left 
for the school bus. When they get older they will make fine 
fans for Section 108 at BMO Field (my section) as that's about 
the time when the rows around me start heading for the exits.

The win moves TFC II's record in 14 games to 2 wins, 7 losses, 
5 ties for 11 points and moves them off last (15th) place into 
thirteenth of the time although they've played more games 
than the other teams. TFC ends a 12 game winless streak 
dating back to March 24 when they won their opening game 
on the road at Phoenix (before Drogba joined the team). 
They scored only their fifth goal of the season today--that's 
obviously what's been their problem. After the win the audio 
guy got to play the Depeche Mode song "Just Can't Get Enough" 
(just like their MLS counterparts) for just the first time 
this season. Their last 'home' win was their home season 
finale last year on September 11 against—Orlando City B.

OCB actually drop a position from eighth to ninth with 
the loss.  Their record now in 13 games is 4 wins, 5 losses, 
4 ties for 16 points which is technically a five way tie 
for sixth however with the tie breaker as wins, number 
of games played, and plus/minus goal differential, they drop 
out of the final playoff spot to Cincinnati with an equal 
record but OCB now has a '-1' goals against 
to Cincinnati's '0'.

TFC II now goes on the road to play first place 
Charleston Battery on Saturday June 24 and the next 
Saturday July 1, play at home at 5:00pm against 
Harrisburg City Islanders who TFC II pushed down 
to fourteenth. Hmm, they could win that!  

Rocket Robin
robing@eol.ca



Toronto FC II starters


Orlando City B starters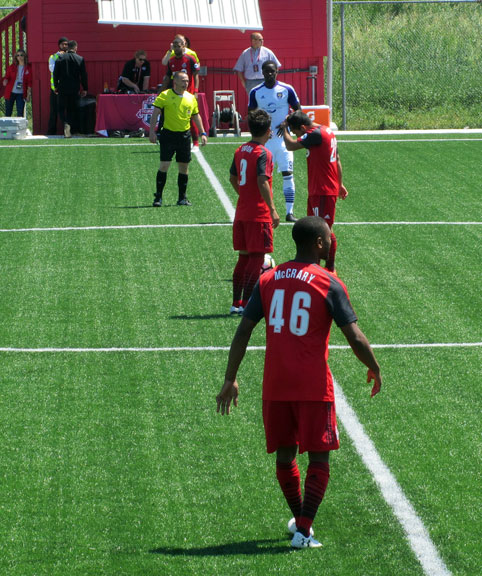 TFC Tsubasa Endoh (9) and Sergio Camargo (20) take opening kickoff.


OCB Danny Deakin (30) turns back for ball.


TFC II Jordan McCrary (46) has defender slide to block cross.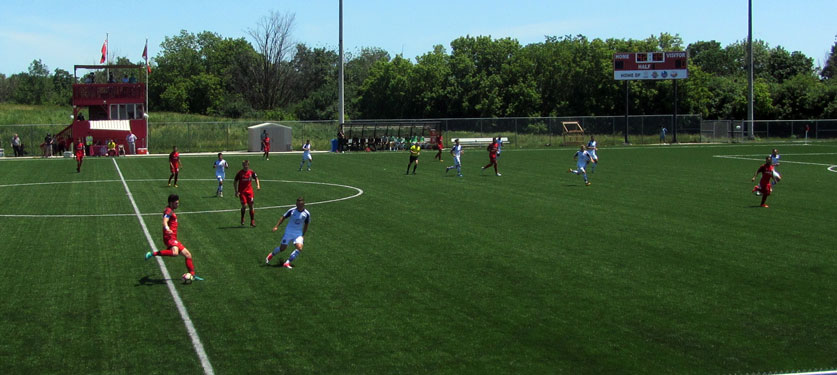 TFC II Mitchell Taintor (42) kicks ball upfield.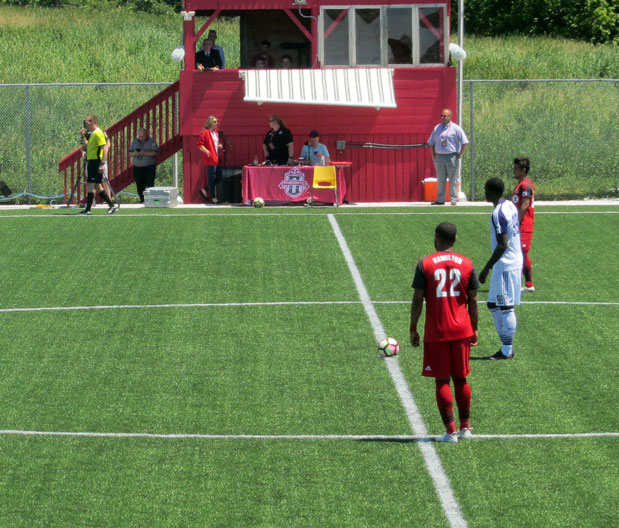 OCB Michael Cox (99) takes second half kickoff.


TFC Tsubasa Endoh (9) connects on freekick.


OCB player's cornerkick sails into TFC II box.


TFC II Shaan Hundal (64) turns back on two defenders.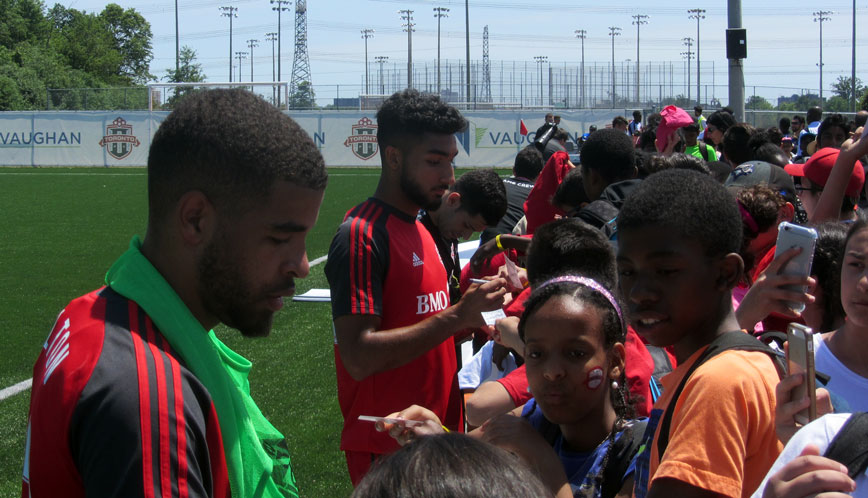 TFC II Jordan Hamilton and Shaan Hundal sign autographs after the game.
.
.