Result and details of the Saturday June 10, 2017 USL game between Toronto FC II
and Pittsburgh Riverhounds played at Ontario Soccer Centre in Vaughan at 7:30pm.
Toronto FC II (all red, white names and numbers)
.................80 Angelo Cavalluzzo
27 Oyvind Alseth...42 Mitchell Taintor (cpt)...32 Brandon Aubrey...49 Robert Boskovic
9 Tsubasa Endoh...36 Brian James...88 Luis Pereira...14 Jay Chapman...5 Ashtone Morgan
.................19 Ben Spencer
Subs:...40 Mark Pais (gk)...20 Sergio Camargo (mid)...45 Luca Uccello (mid)...46 Jordan McCrary (md)
...63 Liam Fraser (mid)...22 Jordan Hamilton (fwd)...54 Ryan Telfer (fwd)
team officials:...head coach Jason Bent
Pittsburgh Riverhounds (blue socks and shorts, black shirts, white names and numbers)
..................30 Trey Mitchell
23 Ritchie Duffie...20 Jamal Jack...29 Lalas Abubakar...4 Taylor Washington
25 Marshall Hollingsworth...10 Kevin Kerr (cpt)...7 Stephen Okai...3 Jack Thompson...36 Romeo Parkes
..................11 Corey Hertzog
Subs:...1 Keasel Brandt (gk)...8 Michael Green (def)...9 Chevaughan Walsh (fwd)...16 Danny Earls (mid)
...17 Kenroy Howell (mid)...21 Ben Fitzpatrick (mid)...27 Gale Agbossoumonde (def)
team officials:...manager Dave Brandt
Game officials:...referee Alex Vaughan...referee's assistants Peter Pendli and Gianni Facchini
fourth official Yusri Rudolph...(yellow shirts, black shorts and socks)
1st Half:...game starts 7:37pm...TFC defends south end on this warm sunny evening with a strong breeze
from the west.
4 min...TFC goalie caught out of net on rght and forced to clear ball off PR Hollingsworth.
6 min...PR Kerr 28 yard chip from left s caught by goalie on bounce.
9 min...PR Okai is touched back pass and he blasts 25 yarder down the middle over the net and the back fence!
10 min...TFC Chapman cross from 30 yards on left has TFC Endoh at 10 yards checked off ball by defender
conceding cornerkick.
11 min...TFC Endoh high cornerkick from left has TFC Spencer pop 12 yard header over net on right.
13 min...TFC Chapman rolls ball from 28 yards up middle forward and offside TFC Spencer freezes but defender
deflects ball off charging TFC Morgan on left for goalkick.
16 min...TFC Aubrey heads ball back to goalie to prevent PR Hertzog getting to long chipped ball.
19 min...TFC Chapman long run up middle and taps pass to TFC Endoh in box who is checked without getting shot.
21 min...TFC Endoh 40 yard freekick from left is over charging players at 12 yards on right and bounces
over for goalkick.
22 min...TFC Chapman rolls ball from across box from left but defender kicks clearance.
23 min...PR Parkes on give and go gets low 12 yard shot from right that sprawlng goalie saves.
24 min...TFC Morgan run on left and has defender deflect cross out for cornerkick.
25 min...TFC Endoh cornerkick from left has TFC Aubrey head 10 yarder in crowd of players and goalie catches.
25 min...TFC Morgan cross from 22 yards on left has defender head ball away at 5 yards.
26 min...PR Duffie chips 35 yarder from right that PR Hertzog heads over defender but goalie catches.
27 min...PR Hertzog intercepts and 20 yard shot on left hits top of bar.
27 min...TFC Chapman chips 22 yard cross from left over players and over end line on right.
28 min...TFC Endoh cornerkck from right short and eventually crossed high for TFC Taintor to head 7 yarder
on left off left post.
31 min...TFC Taintor heads back to goalie to break up pass play on edge of box.
33 min...TFC YELLOW card...James earns it for sliding on PR Parkes at TFC 45 yard line.
34 min...PR Hertzog midair shot of popped up ball at 20 yards is over net.
35 min...TFC Endoh chps short cross in middle for charging TFC Chapman but first touches 18 yarder on right
to goalie.
37 min...TFC Spencer rush 1 on 1 but defender concedes throw-in on left.
40 min...PR Hertzog chips pass over TFC players on edge of box but defender back to clear.
42 min...PR Hollingsworth squeezed between two defender getting to pass in middle near edge of box but
can't win freekick.
43 min...TFC defenders clear inside box on left side without allowing shot.
44 min...PR Thompson freekick from 35 yards on right is passed around and Thompson cross headed away on edge of box.
46 min...TFC Endoh 30 yard freekick on far left has defender pop away header on right sde of box.
46 min...half ends 8:23pm.
Halftime Entertainment: Luca Uccello's father (owns a home building company) and a guy from KIA cars
presented the first car key to some fan. The key might start a prize car on the last home game of the year.
A mini game in the center circle of musical soccer--something like musical chairs between five kids. When the music
stopped they had to kick a ball in a mini net and pick up a pylon/cone. The winner was given tickets to the Women's
Canada vs Costa Rica game tomorrow.
2nd Half:...starts 8:41pm...the sun is not on the field any longer and I can read the numbers on the scoreboard
instead of using my wristwatch.
45 min...TFC Pereira rolls quick freekick from 50 yards to TFC Chapman to TFC Spencer who shoot low 12 yarder that
diving goalie pushes wide left of post.
46 min...TFC Endoh cornerkick from left has TFC Spencer nod 10 yard header down middle over net.
47 min...TFC Endoh run down right and crosses over box.
51 min...TFC Alseth cross from right is over box.
52 min...PR player's pass to PR Hertzog on left and rolls 15 yarder wide left.
54 min...TFC Chapman long run on left but is checked off ball in box.
55 min...TFC Morgan 30 yard shot from far left is well over net.
58 min...TFC Tsubasa Endoh GOAL...TFC Oyvind Alseth rushes down right and sends
low cross and has Endoh on right while even with right post shoots 10 yarder
to top right corner of net beyond reach of goalie Trey Mitchell.
59 min...TFC sub...Hamilton replaces James.
61 min...PR Duffie shoots 8 yard loose ball over the net when ball in TFC box is not cleared.
62 min...PR Thompson chips cross from 25 yards forward that PR Hertzog heads wide right.
63 min...TFC Endoh cornerkick has goal run forward and punch away.
63 min...TFC YELLOW card...Aubrey earns it for sliding tackle on PR Washington while clearing
ball on edge of box.
64 min...TFC goalie jumps to catch long bouncer under bar.
65 min...TFC Endoh on right side of box wins cornerkick off defender.
65 min...TFC Endoh high cornerkick from right is over box.
66 min...TFC Taintor low cross from 20 yards on right has PR Abubakar duck and head ball away.
66 min...PR Abubakar checks TFC Hamilton off ball on run into left of box.
69 min...TFC Endoh cornerkick from left is headed away to start PR fast break. PR Parkes is given breakaway
at center line after PR player is flattened and he runs into TFC box and his 18 yard shot is stopped
point blank by sliding goalie.
.........TFC YELLOW card...Alseth earns it on a delayed call for his part in the last play.
71 min...TFC sub...McRary replaces Alseth.
72 min...PR sub...Howell replaces Thompson.
73 min...PR Parkes spins and gets away 30 yard shot that goalie catches just under top right corner.
74 min...TFC Hamilton shoots 25 yarder that dps just over bar.
74 min...TFC Endoh 22 yard cross from right has defender head back to goalie.
76 min...TFC YELLOW card...Hamilton earns it for what looks like delaying the game.
77 min...PR Hollingsworth and PR Parkes play give and go down the middle and Hollingsworth 15 yard shot has goalie stop.
78 min...TFC Spencer is tapped pass and shot on edge of box is blocked.
79 min...PR goale runs forward and smothers ball that's rolled into left side of box.
80 min...PR Parkes has 18 yard shot blocked and PR Kerr has 25 yard rebound shot is blocked.
81 min...PR Kerr conrerkick from right is tapped out and wasted not gettng nto box on a few blocked shots.
83 min...TFC Uccello cross from 25 yards on right has PR Aubakar head away at 8 yards.
84 min...PR YELLOW card...Kerr earns it for tckle on TFC Chapman near midfield.
85 min...PF Parkes wins freekick on edge of box on tackle.
86 min...PR Romeo Parkes GOAL...PR Kenroy Howell approaching freekick
at 22 yards in middle from right steps over ball. PR Corey Hertzog approaching
from left steps over ball. Parkes down middle bends low freekick around the
left side of TFC player wall and goalie Angelo Cavalluzzo dives to left post
and gets hand to but only pushes it higher into net.
87 min...TFC sub...Telfer replaces Morgan.
88 min...PR Parkes rolls pass forward to PR Hertzog but can't win Penalty kick when bumped
over at 12 yards.
90 min...PR Okai is injured in own end upfield and gets referee to stop play.
......PR YELLOW card...PR YELLOW card...Hertzog earns it for complaining about prevous non-call.
92 min...PR sub...Green replaces injured Okai.
93 min...TFC Endoh 25 yard freekick from left has nearest defender head away at 15 yards.
94 min...TFC Endoh 35 yard freekick down middle has TFC Aubrey at 15 yards on right has TFC Chapman
head 8 yard down middle off bar and then ball is cleared.
94 min...game ends 9:30pm.
Final Score:.....Toronto FC II........1.......Pittsburgh Riverhounds.....1....

Attendance was announced as 761 on this hot evening with the sun still out 
in the west and a wind from the west.  MLSE worked hard to sell this game.  
The theme was 'Young Reds Day'.  For an hour before game time MLS goalie 
Alex Bono was signing autographs (he started last year for TFC II).  Kids got 
a TFC wristband which the boys in my row started hitting each other with.  
After the game kids age 14 and under (had to sign a waiver first) got a chance 
to take Penalty kicks on a TFC II goalie.  I could see it wasn't 
Angelo Cavalluzzo nor Mark Pais and third stringer Brogan Engbers was away 
with TFC III as the backup goalie in a League 1 Ontario game against 
Windsor TFC. 

Man of the Match (who is always a TFC II player) was announced as goalie 
Angelo Cavalluzzo who was the obvious choice for all the spectacular 
saves he made through the game. With TFC outfield players only scoring 
four goals all season so far, he should be stockpiling the espresso 
machines they give to the MOTM winner and can re-gift them at Christmas time.

Referee Alexis Vaughan gave out five cards that I counted (three to TFC) 
in a game that was more wide open than rough. She didn't award 
PR Corey Hertzog a Penalty kick at 90 minutes when he was rolled a ball 
up the middle by Romeo Parkes but had a sliding TFC defender poke the ball 
away in the box. Two minutes later when she was calling in the trainer 
to help a seriously injured PR Stephen Okai injured way back in the PR end, 
when Hertzog kept yapping about it she gave him a Yellow card so he'd 
back off. Mike Green had to sub in for Okai.

With their MLS team with the week off, this was a game that TFC II would 
have the best chance of winning for only the second time all season. 
Their roster was stocked with their fringe players from the big club. 
Ashtone Morgan, Tsubasa Endoh, Jay Chapman, Ben Spencer, 
with Jordan Hamilton coming off the bench at 59 minutes. Their timing 
just seemed to be off along with a good Riverhounds defence mostly 
clearing the dangers into the box.  This team was strength-wise not 
that much weaker than the Canadian Championship first leg game 
in Ottawa which the Fury won 2-1. Hmm Fury will be here in less than 
a month to play TFC II in USL action!

TFC II season can be summarized with the last play of injury time chance 
where Tsubasa Endoh took a 35 yard freekick down the middle over 
to Brandon Aubrey at 15 yards on the right and he headed the ball 
across the box and Jay Chapman headed an 8 yarder down the middle that 
went off the bar and the defenders cleared. Well a tie was a fair result.

Biggest surprise of the night was seeing Romeo Parkes in the Riverhounds 
lineup. Last year he scored a goal in their match against TFC II but 
within a matter of weeks he had his contract terminated by the 
league and the team owner when he kicked (at the time) New York 
Red Bulls II Canadian international Karl Ouimette in the back after 
receiving a Red card and it made headlines around the world.  I thought 
Parkes would return to Jamaica and we'd never hear from him again 
or eventually play but never in Pittsburgh but he was tonight back 
at being their star. Both TFC II asssistant coach Chris Pozniak and 
play by play commentator Terry Dunfield said they had heard of the 
situation before I mentioned it. "Sometimes soccer can be very 
forgiving" is what Pozniak said to me.

Rivershounds before tonight were in a five way tie for fifth place 
so although now they are 4 wins, 5 losses, 4 ties for 16 points, 
not knowing how the other results went earlier in the day, they 
may have lost ground.

TFC II improve their record to 1 win, 7 losses, 5 ties for 8 points 
and are fifteenth (last) in the Eastern Conference. The site 
sportsclubstats.com has the MLS Toronto FC with a 98.5% chance 
of making the playoffs. Their USL calculations have TFC II with a less 
than 1% chance of finishing in the top eight in the East 
for playoff qualification.

TFC II's next game is this Wednesday at 12:00pm (Noon) in another 
school day game. The opponents will be Orlando City 'B'.

Rocket Robin
robing@eol.ca



Toronto FC II starters


Pittsburgh Riverhounds starters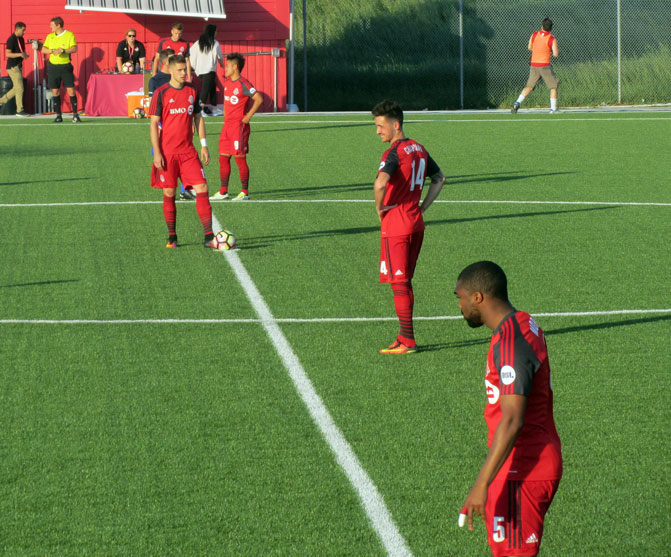 TFC Ben Spencer (19) takes opening kickoff.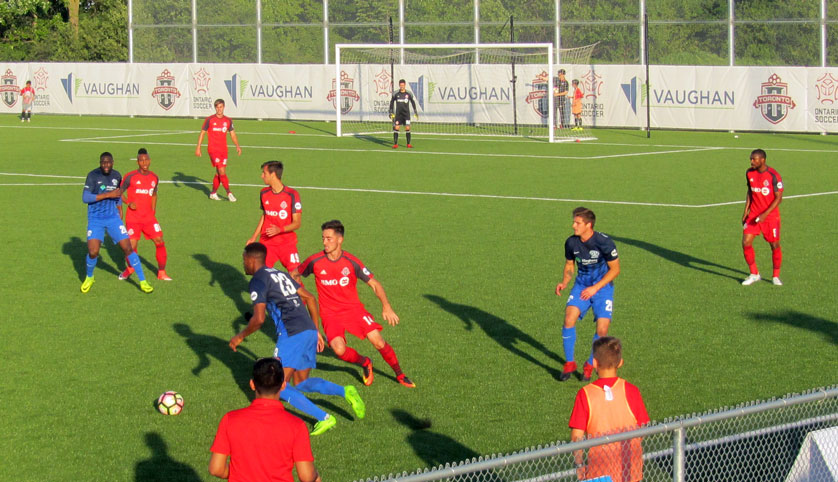 Riverhounds Ritchie Duffie (23) cuts towards center of field.


TFC Tsubasa Endoh (9) freekick is sent into Riverhounds box.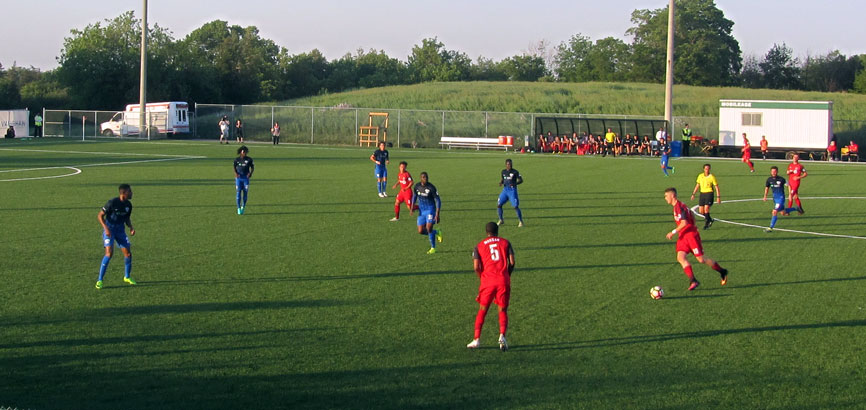 TFC Ben Spencer (19) dribbles downfield.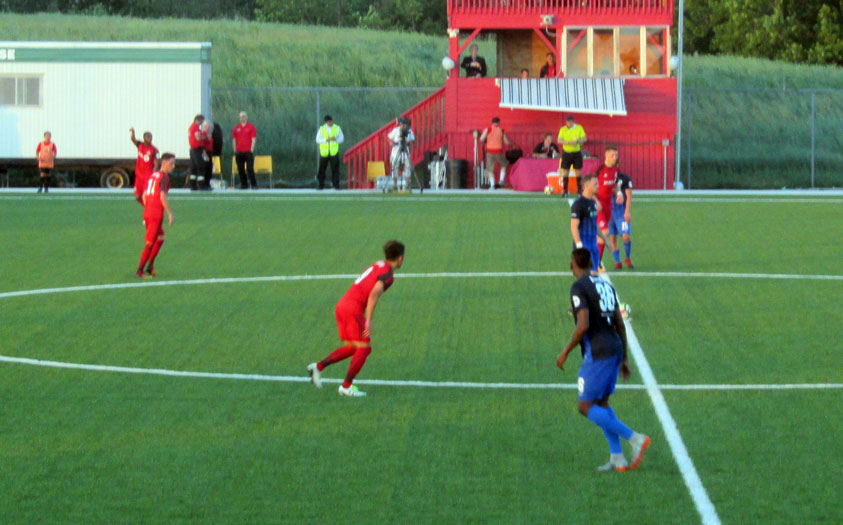 Riverhounds Corey Hertzog (11) takes second half kickoff.


Riverhounds players line up for freekick.


Rivershounds Romeo Parkes (36) scores on this freekick.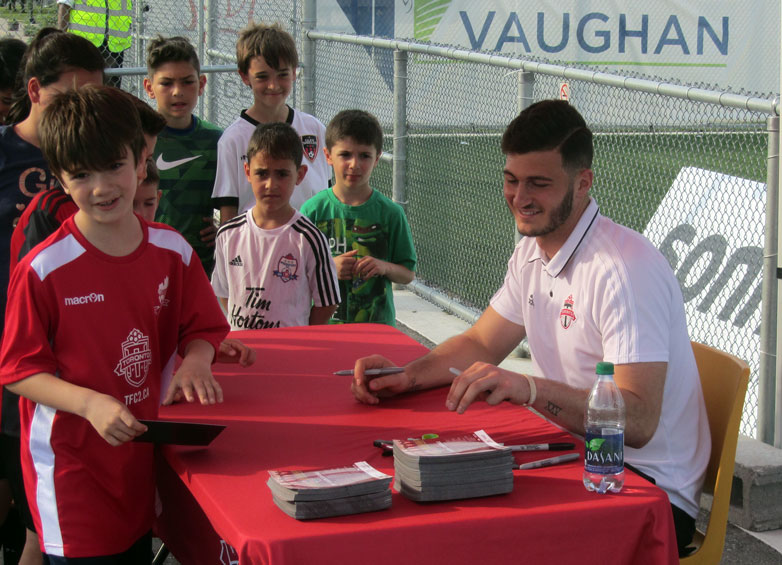 TFC Alex Bono signing pre-game autographs as part of Young Reds Day.
.
.