...........................

Result and details of the Wednesday May 24, 2017 USL game between
Toronto FC II and Richmond Kickers played at the Ontario Soccer Centre in Vaughan at 12:00pm.
Toronto FC II (all red, white names and numbers)
....................40 Mark Pais
.......77 Brandon Onkony...32 Brandon Aubrey...49 Robert Boskovic
46 Jordan McCrary...45 Luca Uccello...88 Luis Pereira...36 Brian James (cpt)...54 Ryan Telfer
...............43 Aikim Andrews...64 Shaan Hundal
Subs:...80 Angelo Cavalluzzo (gk)...47 Matthew Srbely (mid)...55 Aidan Daniels (mid)...56 Malik Johnson (mid)
...58 Anthony Osorio (mid)...63 Liam Hundal (mid)
team officials:...manager Jason Bent
Richmond Kickers (all white, black names, red numbers)
.....................30 Matt Turner
18 Alex Lee...5 Conor Shanosky...15 Mallan Roberts...31 Braeden Troyer
28 Samuel Asante...21 Christopher Durkin...27 Raul Gonzalez...14 Yudai Imura
................9 Oliver...20 Mikey Minutillo
Subs:...1 Marcel DeBellis (gk)...2 William Yomby (def)...4 Fred Owusu Sekyere (mid)...12 Finnlay Wyatt (mid)
...10 Sunny Jane (fwd)...71 Luiz Fernando (fwd)
team officials:...manager Leigh Cavlishaw
Game officials:...referee Silviu Petrescu...referee's assistants Steph Fortin and Fabrizio Stasolla
fourth official Armando Pereira...(blue shirts, black shorts and socks)
1st Half:...Game starts 12:06pm...TFC defend north end on this mild day that's cloudy with partial sun
and a breeze from the south.
2 min...TFC Uccello 40 yard freekick from right has goalie catch near left post.
4 min...RK Asante is off balance after dribbling into box then falls and ball is cleared.
5 min...TFC Andrews is one step behind cross from left at 8 yards.
6 min...TFC Uccello cornerkick from right has RK Troyer head ball away at 10 yards on right.
7 min...TFC Uccello chip from 25 yards has defender head away in box.
12 min...RK Gonzalez long throw-in into box from right is headed away.
14 min...RK Troyer bends cross from 35 yards on left into box and play is whistled down.
15 min...RK Shanosky makes huge check at 10 yards in RK box to break up TFC Telfer rush.
19 min...TFC Uccello 30 yard freekick from far right has defenders pop around headers
until ball cleared.
22 min...TFC Hundal rolls ball to RK goalie as he's trying to deke defender on left.
23 min...TFC Telfer cross from left is wide right but wins cornerkick.
23 min...TFC Uccello cornerkick from right has defender pop up ball and goalie catch.
24 min...RK Troyer cross from 25 yards on left has defender pop header and RK Imura
blast 20 yarder well high and wide right of net.
26 min...TFC YELLOW card...Pereira earns it for sliding tackle on RK Gonzalez on rush
at TFC 40 yard line.
27 min...RK Gonzalez 45 yard freekick from right has RK Minutillo head on left at 18 yards
and goalie dives to block.
28 min...RK YELLOW card...Shanosky earns it for trip at RK 30 yard line.
29 min...TFC Uccello 35 yard freekick from left has goalie punch away at 10 yards in crowd
of players.
30 min...RK Asante cross from 15 yards on left has RK Oliver cut in and head 8 yarder
as he flops on left post but can't turn ball.
32 min...RK Gonzalez turns and fires 30 yarder around defender on right and caught by goalie.
36 min...RK Lee 40 yard cross from right has RK Minutillo fly to head 10 yarder on left wide left.
40 min...RK Imura at 10 yards on left rolls cross into box but TFC Onkony splits his legs and stops.
RK Durkin shot through crowd has goalie dive and push ball wide left for cornerkick.
41 min...RK Gonzalez cornerkick from left has RK Durkin leap and heads 12 yarder that defender clears.
Durkin is injured on play and needs trainer.
43 min...RK Gonzalez long throw-in from left is headed back to him and cross is cleared.
45 min...RK player's 55 yard freekick down middle has TFC Aubrey head ball away at 10 yards.
46 min...RK Troyer 55 yard chip into box has goalie leap and beat RK player to ball.
47 min...half ends 12:53pm.
Halftime Entertainment: There's a 2 on 2 relay obstacle course challenge the same as Friday night.

2nd Half:...starts 1:10pm.
45 min...RK Lee ends RK passing play with 20 yard shot that goalie catches.
47 min...RK Lee cross from 25 yards on right has RK Minutillo slide and roll 8 yarder wide right of post.
48 min...RK Troyer cross from 15 yards on left end line is behind net.
49 min...RK Gonzalez cornerkick from right has nearest defender head ball away for throw-in.
50 min...RK Gonzalez cornerkick from right has RK Roberts on left head ball wide left from 10 yards.
51 min...RK Gonzalez 28 yard cross from right has goalie catch on bounce.
52 min...TFC Uccello back heel pass on edge of RK box has TFC Hundal blast 18 yarder well over net.
55 min...TFC Telfer feeds pass forward to TFC Uccello up middle but defenders check him off ball before
he can take shot.
58 min...RK sub...Sekyere replaces Asante.
58 min...TFC Pereira freekick from 35 yards down middle after double fake is straight into player wall.
58 min...TFC sub...Osorio replaces Andrews.
59 min...TFC II RED card...Anthony Osorio earns a direct ejection at RK 40 yard
line from referee Sylviu Petrescu. TFC Robert Boskovic makes a sliding tackle
which upends RK Oliver and rolls ball forward to Osorio who'd already fallen
on previous play. Osario pulls RK Alex Lee over him so he's out of way and
Boskovic can make run down line. The play carries on but Lee uses his hands
on ground to boost himself and puts foot on the back of Osorio. Osorio swings
like he was going to elbow Lee but misses as Lee is only on his knees but
Osorio also uses his foot to stamp on Lee's calf. The referee had turned
around to see this.
61 min...RK Gonzalez 35 yard freekick from right has goalie catch unchallenged.
62 min...RK Imura low 15 yard shot from left deflects for cornerkick.
63 min...RK Gonzalez cornerkick is whistled down in box.
63 min...TFC sub...Johnson replaces Boskovic.
66 min...RK Gonzalez is checked off ball in TFC box but wins cornerkick.
66 min...RK Gonzalez cornerkick on left is cleared on right side of box.
67 min...RK Lee cross from 50 yards has RK Minutillo head 15 yarder that goalie catches.
68 min...TFC goalie dives left to catch ball on left corner of post.
70 min...RK Imura receives pass between refs legs and he deflects shot just wide right of post.
70 min...TFC sub...Fraser replaces Pereira.
71 min...RK Telfer cross from 25 yards on far left has defender head ball through box.
72 min...RK Imura has 15 yard shot blocked on left to end RK threat.
73 min...RK sub...Jane replaces Oliver.
74 min...TFC Uccello 25 yard freekick from right has ball cleared on left.
76 min...RK Imura taps pass over to RK Minutillo whose 18 yard shot is caught by goalie.
77 min...TFC Hundal rush on right has trip up and pass tap to TFC Uccello who flubs shot
from 12 yards and ball cleared.
The kids in my section leave. Well got to get on that school bus! Is this how they train
TFC fans? I notice fans leave games at BMO Field from the 80 minute mark on!
80 min...RK Sekyere chips 28 yarder on right over players and goalie catches.
81 min...RK Jane rush down left wing but shoots 20 yarder forward and wide left.
81 min...RK sub...Wyatt replaces Lee.
83 min...RK Shanosky cross from 25 yards on right has defenders clear on left.
84 min...TFC YELLOW card...Fraser earns it for kicking ball away after whistle blown for being
called offside.
84 min...RK Durkin 50 yard chip over players is caught by goalie.
85 min...TFC goalie dives to forward to break up RK passing in box.
85 min...RK Imura cornerkick from left has defenders head away on left side of box.
87 min...RK Minutillo gets to loose bouncer on right side of box but kncks shot high and wide right.
89 min...RK player's cornerkick from left is short and worked out but when finally chipped into box
play is called offside.
91 min...TFC Johnson receives quick freekick up left and runs it to the cornerflag.
94 min...game ends 1:59pm.
Final Score:.....Toronto FC II.......0......Richmond Kickers......0....

Attendance was announced as 1074 which was the largest crowd of the season 
at Ontario Soccer Centre. The crowd was made up of school kids mostly 
at the Grade 7 and 8 age group. They were given thunder-sticks to bang 
together but mostly only screamed "TFC, TFC" when some game crew staff 
member stood on the sideline to threw t-shirts.

Something deja-vu about this game. I double checked after I got home and 
found it was the Kickers who were the matinee game opponent last May. 
Since-released Sal Bernal scored the TFC 1-0 winner late in that game. 
They didn't have the Freestylers doing ball tricks who stole the show 
last year and earned cheers louder than the players. They did have 
a motivational speaker and ex TFC defender/now broadcaster Steven Caldwell 
doing a pregame talk about exercise and nutrition with unseen to them 
behind the stands a 100 kids were lined up for the ice cream truck and 
barbecue tent. There was a respectful moment of silence for the victims 
of Monday's Manchester bombing. The kids here today would have been among 
the age of the fan base for Ariana Grande.

Anthony Osorio was subbed on at 58 minutes, had enough time to sprint 
to the opposite side of the field to wait for play to restart then take 
the Red card all within a minute. TFC II had struggled with getting 
scoring chances with eleven men and they only got worse. Kickers now could 
be a little more relaxed at the back and look to tee up chances in the 
scoring zone.

Mark Pais earned the shutout for TFC II and had to make only a few saves. 
He had been squeezed for playing time as he got the call-up to the MLS 
team to fill in for the injured Clint Irwin but didn't see any action. 
By the time he came back Angelo Cavalluzzo had taken his spot and was 
irremovable with 'save of the week' and 'stop of the month' adding 
to his resume. The TFC PA department has glossed this game over 
as 'another shutout to earn a point at home'.

Matt Turner earned the shutout for Richmond with not much work to do. 
Kickers defender Mallan Roberts has played every minute of the season.  
He is a Canadian from age 9 and played for FC Edmonton from 2012 to 2016 
and was on loan to Ottawa Fury for some of 2016.  He'd be the caliber 
of player that the new CanPL league will be looking for. 

Man of the Match (who is always a TFC II player) was named as defender 
Brandon Aubrey who commanded the backline. Things got tougher for him 
as not only were they a man down the last half hour, soon after the 
sending off, defender Robert Boskovic was replaced by forward Malik Johnson 
to try to give TFC a little more bite up front.

Referee Sylviu Petrescu gave out three Yellow cards (two to TFC II) and 
the Red in a game that wasn't rough except for that one moment. He must 
have found time in his schedule for today as he's one of the regular 
MLS referees.

Best scoring chances were at 27 minutes when RK Raul Gonzalez took 
a 45 yard freekick from the right that had RK Mikey Minutillo head 
the ball on a jump at 18 yards and the goalie dove to block near the line. 
29 minutes had TFC Luca Uccello take a 35 yard freekick from the left 
that had the goalie punch away at 10 yards in a crowd of players. 40 minutes 
had RK Christopher Durkin get a shot through a crowd of players and the 
goalie and pushed wide left of the post. 52 minutes had TFC Uccello 
backheel a pass on the edge of the box and TFC Shaan Hundal blasted 
a shot well over the net. 77 minutes had Hundal rush on the right and 
he was tripped up but tapped a pass to Uccello who flubbed a shot 
from 12 yards and the ball was cleared. Kickers had more shots on net 
but they were often from 25 yards or more out which meant easy catches 
for the goalie if they were even on target or a defender didn't clear away.

Toronto FC II had a makeshift lineup today as they supplied players 
to their MLS team to play in the Canadian Championship semi-final 
in Ottawa last night. They had some starters in that 
game...defender/captain Mitchell Taintor, midfielders Tsubasa Endoh, 
Jay Chapman, and Raheem Edwards played the whole ninety (Edwards was 
ejected in injury time), and forward Jordan Hamilton. Subs included 
defender Ashtone Morgan and Jason Hernandez. Even bench players who 
didn't see the field were defender Oyvind Alseth, and midfielders 
Ben Spencer and Sergio Camargo couldn't play today because some team 
officials were saying the MLS team didn't get back to Toronto until 
4:00am. (yes I realize Chapman, Edwards, Hernandez and Morgan have 
really transitioned to the MLS team). Also Hamilton hadn't played 
for neither TFC or TFC II until this last weekend.

To fill the roster, they brought some players up from their 
League 1 Ontario team. Robert Boskovic was a starter on defence and 
looked good. Midfielder Malik Johnson came into the game at 63 minutes. 
Matthew Srbely was not used today. The reason I mention them 
is Toronto FC III has a first round League 1 Ontario Cup game 
at 8:00pm tonight against rival Sigma FC. It's one game, straight 
to Penalty kicks if a tie to decide who moves on to the quarter finals. 
With almost a month between which dates teams picked to play their 
Cup game, and them 'hosting' the game in Downsview (not the KIA Centre 
because their turf field has no stadium lights) at an indoor 
stadium I wonder why they chose tonight to play.

This was not a game of league powerhouses. Richmond have now 
scored only 5 goals in 10 games and TFC II have scored 3 goals 
in 10 games. These are the two worst goals for records in the 
Eastern Conference. I think the game could have gone on another 
hour without any goals.

Kickers with that one point now have a record of 2 wins, 4 losses, 
and 4 ties for 10 points and actually move up to ninth place for 
now but have played more games than the teams behind them.

TFC II with their point move to a record of 1 win, 4 ties, 5 losses 
for 7 points and stay in fifteenth (last) place.

TFC II now go on the road for two games and will not be back 
until Saturday June 10 at 7:30pm against Pittsburgh Riverhounds.

Rocket Robin
robing@eol.ca
twitter RocketRobin01



Toronto FC II starters


Richmond Kickers starters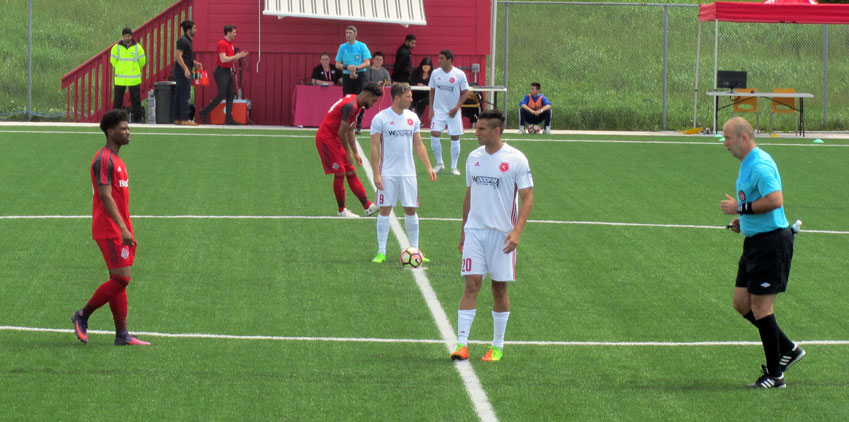 Kickers Oliver (9) takes opening kickoff.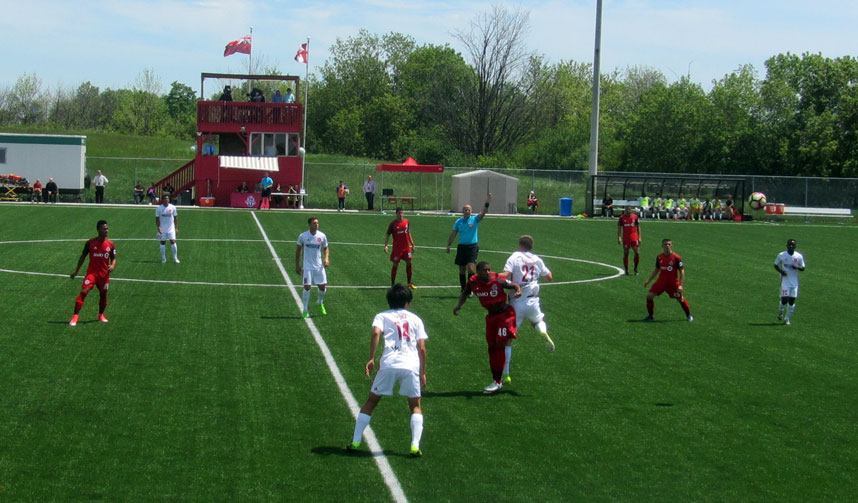 midfield action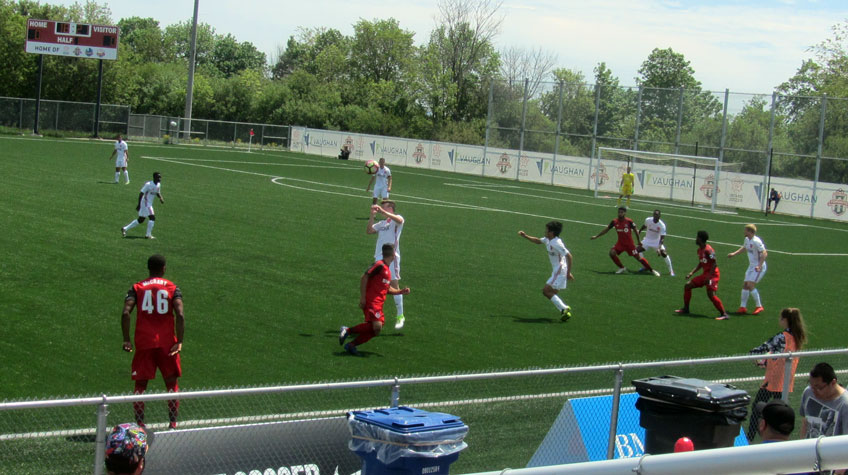 TFC Jordan McCrary (46) takes throw-in.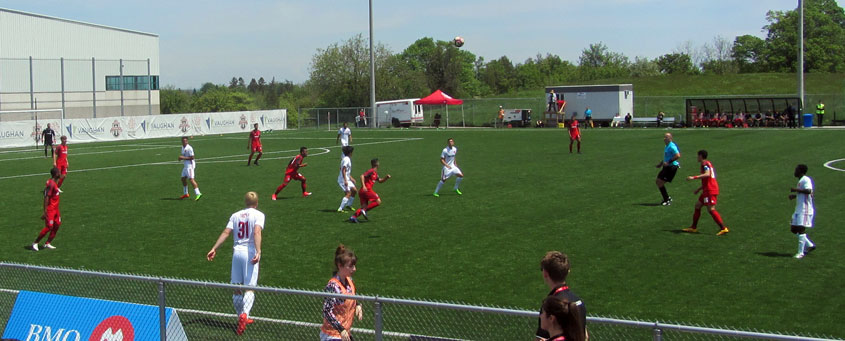 Kickers Braeden Troyer (31) takes throw-in.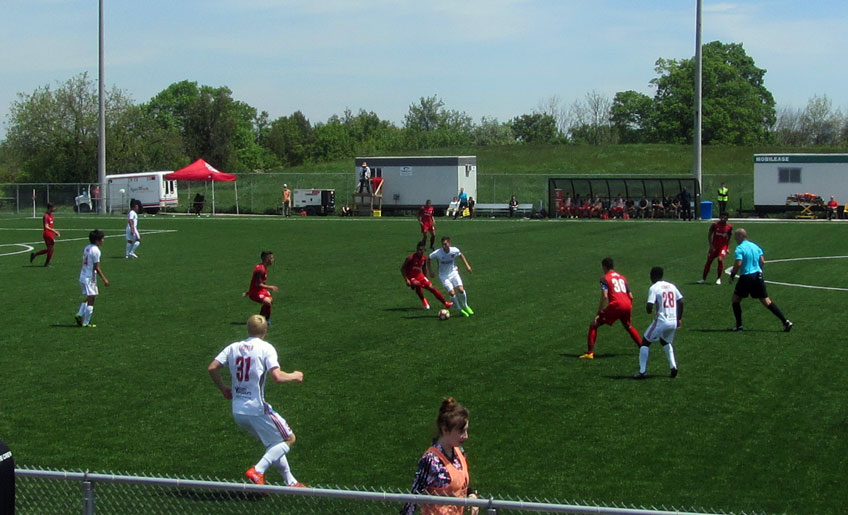 Kickers Oliver (9) dribbles ball.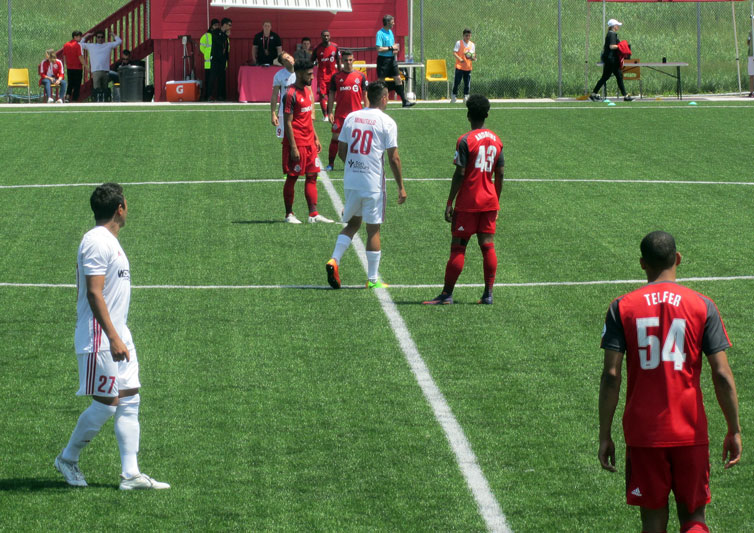 TFC Shaan Hundal (64) takes second half kickoff.


Kickers (9) Oliver looks to pass to Kickers Raul Gonzalez (27).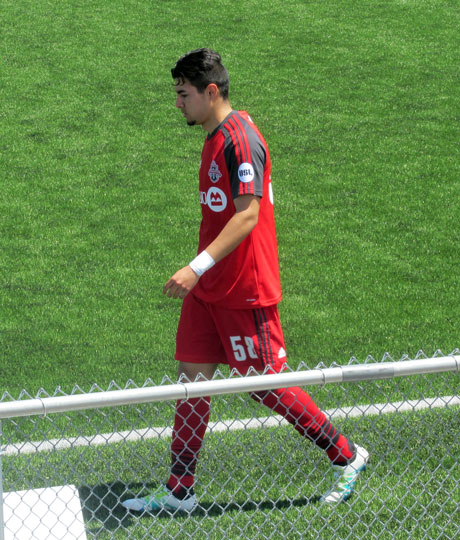 TFC Anthony Osorio (58) has just been Red carded after coming into match one minute earlier.


TFC freekick into Kickers box.
.
.