....................

Result and details of the Saturday May 13, 2017 USL game between
Toronto FC II and Bethlehem Steel FC played at BMO Field in Toronto at 6:00pm.
Toronto FC II (all red, white names and numbers)
...................80 Angelo Cavalluzzo
46 Jordan McCrary...27 Oyvind Alseth...42 Mitchell Taintor (cpt)...32 Brandon Aubrey
45 Luca Uccello...9 Tsubasa Endoh...63 Liam Fraser...5 Ashtone Morgan
............43 Aikim Andrews...19 Ben Spencer
Subs:...41 Mak Pais (gk)...77 Brandon Onkony (def)...20 Sergio Camargo (mid)...36 Brian James (mid)
...64 Shaan Hundal (mid)...88 Luis Pereira (mid)...54 Ryan Telfer (fwd)
team officials:...head coach Jason Bent
Bethlehem Steel FC (all white, black names and numbers)
...................29 Jake McGuire
19 Aaron Jones...42 Hugh Roberts...50 Mark McKenzie...47 Matthew Real
41 Cory Burke...43 Christopher Wingate...45 James Chambers (cpt)...20 Marcus Epps
...............36 Seku Conneh...37 Chris Nanco
Subs:...66 Jahmail Waite (gk)...48 Matthew Mahoney (def)...40 Josh Heard (mid)...49 Yosef Samuel (mid)
...38 Santi Moar (fwd)...39 Amoy Brown (fwd)
team officials:...head coach Brandan Burke
Game officials:...referee Pierre-Luc Lauziere...referee's assistants Gianni Facchini and Peter Pendli
...Alexis Vaughan...(yellow shirts, black shorts and socks)
1st Half:...game starts 6:08pm...TFC defends south end. It actually is raining when the game starts and
continues for the first 20 minutes.
35 sec...BS Nanco rush on left and cross has BS Burke head 12 yarder up middle that goalie catches.
3 min...TFC Chambers rush down right and cross into box is headed away.
3 min...BS goalie smothers 25 yard roller on left post.
5 min...BS Burke rush on right has low cross through box on 6 yard line that's a step ahead of charging
BS player in middle and BS Nanco on wide left of goal slips at 12 yards and doesn't get away a shot.
7 min...BS Cory Burke turns and rolls pass forward from 50 yard line up right
to BS Marcus Epps who receives it at 25 yards and cuts into top of the box on right.
He slows down at 15 yards when facing TFC Brandon Aubrey and TFC Mitch Taintor comes
up behind him and trips him up. Referee Pierre-Luc Lauzier awards BS a Penalty kick.
8 min...BS Cory Burke GOAL...Burke rolls Penalty kick to right side of net
as goalie Angelo Cavalluzzo dives to left.
10 min...BS Wingate cross into box from left after receiving pass is headed away.
12 min...TS Morgan cross from 35 yards on left has TFC Spenser flick 20 yard header forward that goalie catches.
14 min...TFC McCrary taps pass in middle that TFC 43 blasts roller from 25 yards between players that goalie smothers.
15 min...BS Wingate cornerkick from left has BS player on left post knock ball away and BS players can't get
it back to threaten.
19 min...BS Nanco rush up left and 15 yard shot is caught by goalie.
19 min...TFC Fraser blasts low shot up middle from 28 yards that deflects wide left after TFC Andrews can't
win Penalty kick.
20 min...TFC player's cornerkick from left is short upfield and cross into box is cleared.
21 min...TFC Andrews whifffs on low cross across box at 15 yards.
26 min...TFC Alseth 30 yard cross from right is bobbled and caught by goalie in crowd of players.
29 min...BS Burke is injured but unnoticed at BS 35 yard line.
30 min...BS Chambers takes 40 yard freekick from right that has BS Roberts at 12 yards head ball down middle wide left of net.
33 min...TFC Endoh rush on right and pulls up at 25 yards and crosses which is just a step ahead of sliding TFC Morgan
at 15 yards on left end line.
34 min...TFC McCrary rolls pass foward on right for TFC Uccello who sends low cross into box that defender clears for cornerkick.
35 min...TFC Endoh cornerkick from right is knocked down on edge of box but ball is cleared.
35 min...BS Burke is injured at BS 35 yard line.
38 min...BS Jones cornerkick from right is low to center and BS Chambers has 25 yard shot up middle blocked by charging defender.
40 min...TFC McCrary cross from 25 yards along right end line has TFC Spencer head ball down and goalie picks up.
42 min...BS Epps has shot blocked at 22 yards on right but recovers and cross is wide left a step ahead of player
on left end line.
43 min...BS Epps runs into right side of box and wins cornerkick.
44 min...BS Chambers cornerkick from right is short and gets ball back and chips 25 yard shot from right over net.
46 min...half ends 6:54pm.
Halftime Entertainment: The loudest fan is given an expresso machine. There's a bubble soccer game of 3 v 3 in the
center circle. They play highlights of the first half. There's a last call for beer.
2nd Half:...starts 7:11pm.
halftime sub:...TFC Telfer replaces Morgan.
47 min...TFC Endoh freekick from 35 yards on right has BS Roberts defender head away at 10 yards.
47 min...BS defender on left clears deflected shot from right.
49 min...TFC McCrary wins cornerkick on cross along right end line.
50 min...TFC Endoh cornerkick from right has TFC Andrews chest ball over end line from 12 yards on right.
51 min...TFC Spencer feeds ball througth up middle from 45 yards and TFC 45 rushes forward and shoots 20 yarder
well over net.
52 min...TFC Telfer intercepts near center line on left and races downfield and low 25 yard shot is smothered by goalie.
52 min...BS Burke blasts 35 yarder in middle well over net.
53 min...BS Nanco low 30 yarder from left bounces to goalie.
53 min...TFC Spencer given through ball and rushes up middle on slight left and rolls 22 yard shot directly to goalie.
55 min...BS Jones snakes 35 yard shot down middle just high and right of bar.
56 min...BS Nanco rolls centering cross from 28 yards on far left ball is cleared.
56 min...TFC Telfer cross from left has defender pop up header then kick away after TFC Spencer misses bicycle kick in box.
57 min...TFC Endoh 25 yard shot through crowd of players on right is wide left. TFC Andrews is injured in box on play.
59 min...TFC Hundal replaces Andrews.
60 min...BS Wingate slides to clear low cross from right.
61 min...TFC player sends low cross through box unplayed.
62 min...TFC Endoh 40 yard freekick from right has TFC Hundal chest down at 18 yards but defender clears.
63 min...BS Nanco long run down left and low cross is only partially cleared and Nanco has 25 yard shot stopped.
64 min...TFC Spencer rolls cross from right is too far for TFC Hundal on left side of box.
64 min...TFC Spencer shoots 15 yarder wide left of net.
65 min...BS YELLOW card...Nanco earns it for tackle at TFC 30 yard line.
66 min...BS sub...Moar replaces Nanco.
66 min...TFC Uccello blasts 28 yard shot from right off target.
68 min...TFC McCrary and BS Chambers are both injured when TFC 46 runs through him at TFC 30 yard line.
69 min...TFC Hundal long run down right and low cross is stopped and cleared by defender at 6 yards on BS post
69 min...TFC Hundal quick shot down middle from 20 yards that's wide left.
70 min...TFC McCrary rolls 25 yard shot on run on right that defenders clear.
71 min...TFC sub...Onkony replaces Taintor.
74 min...TFC Telfer high cross from 22 yards on left has ball bounce on right side of box and defender clears.
74 min...TFC Hundal wins cornerkick on run into box to 10 yards on left.
75 min...TFC Endoh cornerkick from left has TFC Telfer on righ post pop 7 yarder up and defender clears.
75 min...TFC Spencer low 20 yarder from right is into webbing of net.
77 min...BS sub...Heard replaces Epps.
77 min...TFC McCrary has TFC player hit him with shot but he eventually chips 12 yarder on right that goalie catches.
78 min...BS Conneh is injured at BS 40 yard line.
80 min...BS Burke is injured at TFC 40 yard line and needs help off the field.
82 min...BS sub...Mahoney replaces Real.
84 min...TFC Spencer knocks down chip pass at 20 yards but has defender check him off ball.
85 min...TFC Hundal blasts 15 yard shot on right that goalie can't hang onto but defender kicks ball
behind end line.
85 min...TFC Endoh cornerkick from left has defender head ball away.
87 min...BS Moar cross from 30 yards on far right has defender clear on right.
88 min...TFC Telfer wins cornerkick on defender checking ball away on run into box.
88 min...TFC Endoh cornerkick from left is cleared from box and starts fast BS breakout.
89 min...BS Moar cross from right end line is over box and cleared.
90 min...TFC Endoh cornerkick from right is cleared.
90 min...BS Conneh long run down left and blasts 20 yard shot that goalie pushes away on left post.
93 min...TFC Hundal pops header at 15 yards on cross from right that bounces for goalie catch wide left of post.
93 min...game ends 7:59pm.
Final Score:....Toronto FC II......0......Bethlehem Steel FC.....1...

TFC was marketing a shutout streak that had lasted a full
three games until their last game in Pittsburgh where they
lost 1-0. Their goalie Angelo Cavalluzzo had won Save of the
Week and Goalie of the Month during that time. The other
way of looking at it was during the last five games TFC has
not scored! Since losing 3-1 in Orlando (against Orlando City 'B')
on April 4, they played 0-0 against Rochester (TFC's only
home game), Ottawa, and Louisville, before the
Pittsburgh game.

Today was not a clash of powerhouses. TFC had a record
of 1 win, 3 losses, 3 ties for fifteenth (last) place in the East
and Bethlehem were until today 2 wins, 4 losses, 0 ties for
da-da....fourteenth place! They are the affiliate of
Philadelphia Union who are mired in last place in the MLS
league so if their team can't stock move on the big team
who are looking for improvements, the pickings must
be pretty slim.

On the visitor's side I was cheering for Chris Nanco who
I watched as recently as last year playing for League 1
Ontario side Sigma FC. He had a good game which was
running up the wing and getting crosses into the box
but also getting a few shots in.  He also earned the
only Yellow card of the game.  

I didn't realize until I was home but Josh Heard is a Welsh
born Canadian who played for PDL Victoria Highlanders
a few years ago and was subbed on today at 77 minutes.
Nanco wasn't even Sigma's best USL player today
as Richie Laryea scored for Orlando City B in their road win
in front of 19301 in Cincinnati.

TFC II had been reinforced by MLS contract players,
defender Ashtone Morgan, goalie Mark Pais, and forward
Ben Spencer. It wasn't a surprise to followers as they've all
been on the TFC II roster earlier this season. Morgan played
only the first half but he's been recovering from an injury for
what seems like a year. He was playing today as a winger.
Ryan Telfer took his place for the second half and played almost
as a forward. Pais filled in for the MLS team when Clint Irwin
was injured but didn't see any action and he won't get to play
with the Canadian Cavalluzzo playing so well this last month.

Tsubasa Endoh played almost all the freekicks and cornerkicks.
With the MLS team being so deep, he may not get back on
the main roster. Ben Spencer was just given an MLS contract
within the last two weeks but hasn't seen any action.

There's a group of Ben Spencer critics on-line. They are not
going to be pleased that he won and expresso machine as Man
of the Match (always a TFC II player). Laughable plays included
at 53 minutes when he was given a through ball and rushed up
the middle on the slight left and rolled a 22 yard shot directly
to the goalie. 75 minutes had him take a low 20 yard shot from
the right that was into the outside webbing of the net. 84 minutes
had Spencer knock down a chipped pass at 20 yards but had
a defender check him off the ball without getting away a shot.

TFC had three* Canadian starters and three on the bench getting
two of them into the game.

[*Correction:  four]

TFC head coach Greg Vanney was watching the game for the
West stands with one of his younger kids.

Bethlehem goalie Jake McGuire earned the shutout. He had
to make some key saves. He was sharp except on one play
at 85 minutes, Shaan Hundal blasted a shot from 15 yards that
he couldn't hang on to and a defender had to boot the rebound
behind the end line. Injury time had Hundal get to a cross and
pop a header from 15 yards on the right that bounced and the
goalie was able to catch it wide left of the post. Hundal only came
in at 59 minutes and he'd have been my 'Man of the Match'.
Last year he was the teams leading scorer and now it's hard for
the Canadian to find playing time.

Angelo Cavalluzzo played goal for TFC II. He didn't have much
to do which is good as having to make the 'save of the week'
means the defence is letting you down! Of course partly it's
on the visitors as #14 in the league tables until today.

Attendance was announced as 3033 which was certainly a season 
best for this team although it's only their second home game 
of the year and is likely not to be repeated as the team 
usually plays at the Ontario Soccer Centre in Vaughan just 
outside the city limits of Toronto. They were piggybacking 
off the MLS game that had finished an hour earlier in which 
Toronto FC beat Minnesota United 3-2 in front of 27,249. 
Another quarter of the fans who stayed for beginning of the 
USL game left by halftime.

The fans were corralled into the East stands except the 
supporter groups who were allowed to stay in the South—probably 
for the best as they don't mingle well with the families 
watching in the East. I wasn't taking anything for granted 
as I brought my TFC II ticket today too in case I ended 
up out in the parking lot. We had to wait 'upstairs' 
at the 200 level while the lower section was cleaned. 
TFC alumi Dwayne De Rosario was signing autographs and 
a DJ was playing songs. I didn't know that area was accessable 
from the lower deck from inside. This extra level 
in proportion looks like it has more washrooms than ours. 
At about 5:30pm we were allowed back down—general admission 
although my row hadn't been cleaned at all. The same beer 
sellers who had called last call at 65 minutes of the first 
game were back again selling until the end of the first half.

MLSE had really hit promoting this match hard. I heard about 
it through e-mail, team websites and twitter, and announcements 
today at the beginning, halftime, and end of the MSL game.

Production values were high with the same announcer as the 
MLS game, highlights on the video board after the first 
half of the game we were watching instead of another replay 
of the MLS game.

No excuses of people saying they didn't know about it. 
It will be interesting to see how the team uses these figures. 
They could say retaining just over 11% of the fans proves 
they should move the team to another city filling a roster 
of some CanPL team once that gets going. They cover the 
salaries of their players but don't have to cover stadium 
rental and staffing. Even today's total (if it were true) 
is triple last year's crowd in Vaughan for even 'good' 
weather days. This game had the first 20 minutes played 
in a light rain but fans were sheltered by the roof.

TFC II's next game is Friday May 19 at Ontario Soccer Centre 
with a 5:00pm kickoff. This game might start off with very 
low as most people are just getting off work at that time. 
The Rowdies are second in the East as of last week's 
standings and are aiming big trying to get an MLS franchise 
and just had their city agree to a stadium proposal.

Rocket Robin
robing@eol.ca
twitter @RocketRobin01

Game Summary from torontofc.ca)

Scoring Summary
BET – Cory Burke 8' (PK)

Misconduct Summary
BET – Chris Nanco 66' (Caution)

Records:
Toronto FC II (W-L-D):   1-4-3  6pts.
Bethlehem Steel (W-L-D):  3-4-0  9pts. 

Team Stats:

Toronto FC II                   Bethlehem Steel FC
Shots – 22                      Shots – 10
Shots on Target – 7             Shots on Target – 4
Blocked Shots – 4               Blocked Shots – 3
Possession – 59.6%              Possession – 40.4%
 
Lineups

Toronto FC II – 
Angelo Cavalluzzo; 
Mitchell Taintor ©( Brandon Onkony 71'), Brandon Aubrey, Oyvind Alseth; 
Jordan McCrary, Tsubasa Endoh, Ashtone Morgan (Ryan Telfer 45') , Liam Fraser; 
Luca Uccello, Ben Spencer, Aikim Andrews (Shaan Hundal 59')

Substitutes Not Used:  Mark Pais, Brian James, Sergio Camargo,

Bethlehem Steel FC – 
Jake McGuire; 
Aaron Jones, Matthew Real(Matthew Mahoney 83'), Hugh Roberts, Mark McKenzie; 
James Chambers©, Marcus Epps (Josh heard 78'), Christopher Wingate, Cory Burke, Chris Nanco (Santi Moar 67'); 
Seku Conneh

Substitutes Not Used: Jahmali Waite, Yosef Samuel, Amoy Brown



Toronto FC II starters


Bethlehem Steel FC starters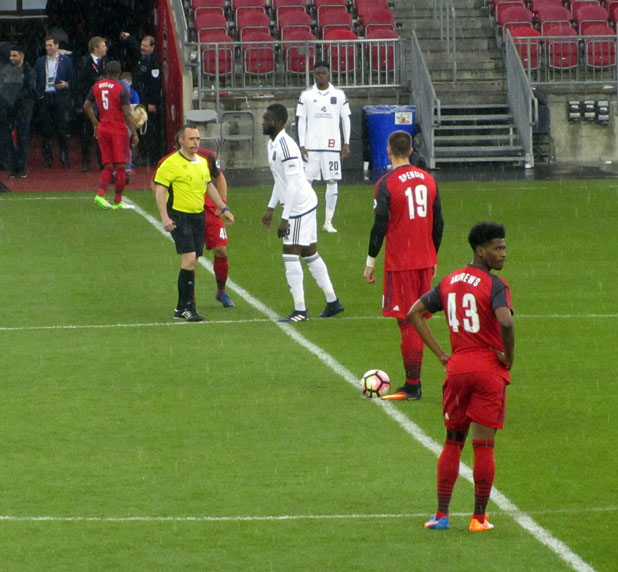 TFC Ben Spencer (19) takes opening kickoff.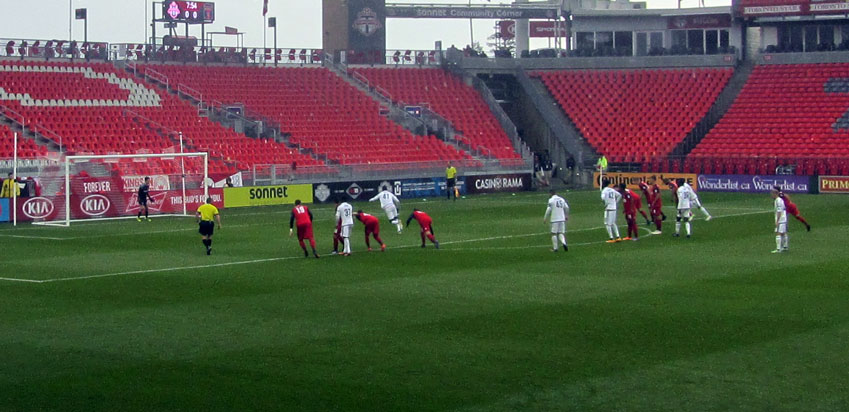 Steel Cory Burke (41) takes Penalty kick.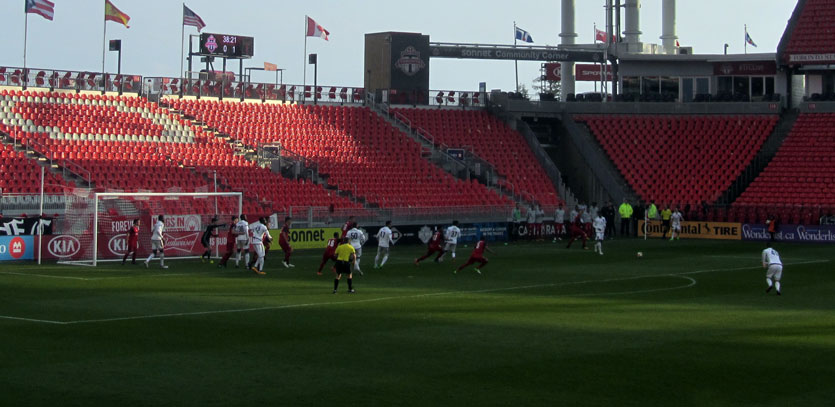 Steel player takes short cornerkick into TFC box.


TFC Ben Spencer (19) dribbles back back over center line.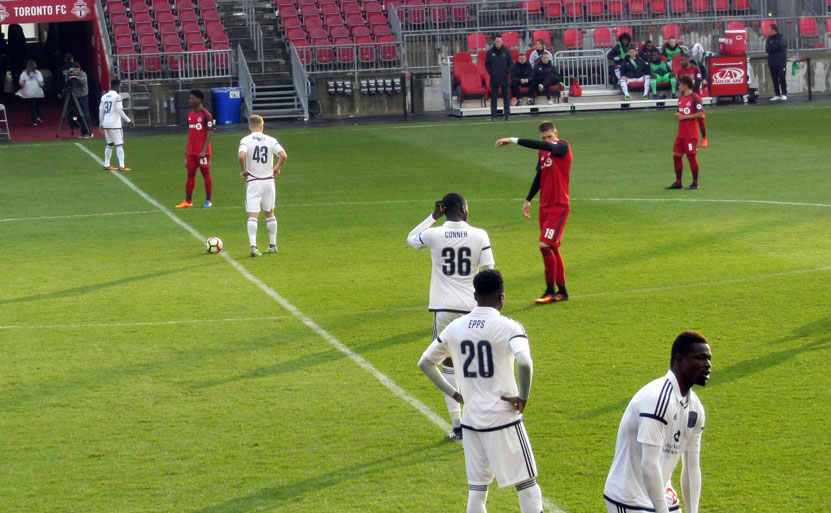 Steel Christopher Wingate (43) takes second half kickoff.


Steel defender makes clearance.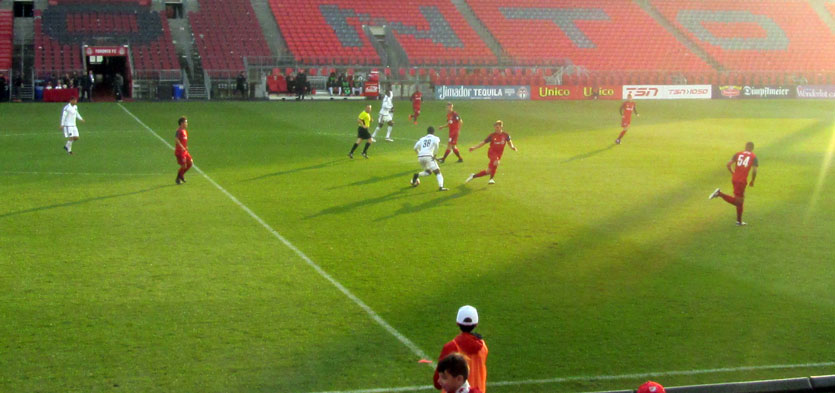 midfield action
.
.