April 7, 2017 Toronto FC USL--Toronto FC vs Rochester Rhinos (by Rocket Robin)
Result and details from the Friday April 7, 2017 USL game between Toronto FC II
and Rochester Rhinos played at the Ontario Soccer Centre in Vaughan at 7:30pm.
Toronto FC II (all red, black sleeves, white names and numbers)
.................80 Angelo Cavalluzo
......42 Mitchell Taintor (cpt)...32 Brandon Aubrey...72 Jelani Peters
27 Oyvind Alseth...9 Tsubasa Endoh...36 Brian James...56 Malik Johnson...54 Ryan Telfer
..............19 Ben Spencer...43 Aikim Andrews
Subs:...90 Brogan Engbers (gk)...20 Sergio Camargo (mid)...45 Luca Uccello (mid)...46 Jordan McCraray (mid)
...51 Ricardo John (mid)...58 Anthony Osorio (mid)...77 Brandon Onkony (def)
team officials:...head coach Jason Bent
Rochester Rhinos (all green, white names and numbers)
.................23 Tomas Gomez
5 Jordan Dover...15 Joseph Farrell...3 Ryan Felix...4 Bradley Kamdem-Fewo
22 Jalen Brown...17 Wal Fall...11 Kenardo Forbes (cpt)...7 Ryan James...8 Brandon Beresford
.................21 Darius Madison
Subs:...33 Daniel Lynd (gk)...2 Raymond Lee (def)...12 Jochen Graf (fwd)...13 Mike Garzi (mid)
...20 Todd Pratzner (def)...24 Rayane Boukemia (fwd)...25 Sergio Campbell (def)
team officials:...head ocach Bob Lilley
1st Half:...game starts 7:36pm. TFC defends north end on this evening with the bright
setting sun in the north west and a strong wind from the north.
54 sec...Retreating TFC defender heads ball away at 6 yards on cross by RR Dover at 20 yards on right.
3 min...RR Dover runs up middle and slides at 22 yards to get away shot and upends TFC Peters
who is injured at TFC 25 yard line and TFC wins freekick.
5 min...TFC Brian James bounces 40 yard freekick from left that's cleared on edge of box.
8 min...RR Madison is rolled through ball pass from 30 yards us middle and the rescues ball on right
endline and taps ball back to RR Forbes on right edge of box who crosses into 6 yard box and TFC Alseth
dives forward on left to head ball away.
9 min...TFC Endoh 20 yard freekick near right end line has TFC Aubrey head ball downwards at 7 yards
in middle. TFC Peters shoots loose ball up middle that deflects off defender's leg and flies wide left
of post.
10 min...TFC Endoh cornerkick from left has TFC Spencer at 10 yards near left post
head ball across box and wide right.
12 min...RR Fall blasts midair partial cleared ball from 22 yards down middle and over the net.
13 min...RR Ryan James and RR Brown work up give and go with Ryan James being fed through ball on right.
Ryan James rescues ball near end line and rolls ball through 6 yard box and TFC Taintor clears ball from
left side back across box. Ryan James chips cross from right across box and TFC Alseth heads
out left side of box.
14 min...RR Forbes cornerkick is low from right has RR Fall on short right side boot 12 yard shot over net.
18 min...TFC Taintor slides down to deflects RR Ryan James shot from 15 yards up middle over the net.
18 min...RR Forbes cornerkick from right is headed forward and TFC Peters head ball behind net.
18 min...RR Forbes cornerkick is short and wins another cornerkick.
19 min...RR Forbes cornerkick from right has RR Fall head ball forward and goalie goes to palm ball
but misses and ball hits the top of bar and flies over for goalkick.
22 min...TFC Endoh 35 yard freekick down middle is sent high over net.
23 min...TFC Endoh chips pass from 55 yards to TFC An43 who is jostled off ball by defender
and goalie smothers to right of goal.
27 min...TFC Taintor intercepts ball at TFC 30 yard line and plays give and go and RR Fall heads ball
behind own net on cross.
28 min...TFC Endoh cornerkick from right has RR Dover pop header over own net.
28 min...TFC Endoh another cornerkick from right has RR player pop header over own net.
29 min...TFC Endoh cornerkick from left is over players in box. TFC Brian James cross through 6 yard
box from 15 yards near right end line is unplayed and out for throw-in.
33 min...TFC Andrews is given pass up middle at 20 yards and rolls weak shot wide left.
35 min...RR Brown takes 20 yard shot from left that bends toward right side of net but goalie catches.
36 min...RR Kamdem-Fewo chips 35 yarder up left wing but too far forward for RR Brown and bounces
for goalkick.
37 min...RR Madison is checked off ball on edge of box after run up the middle.
37 min...TFC goalie catches 30 yard cross from right bent in by RR Dover.
40 min...TFC goalie beats RR Brown to long cross to 15 yards on left side of box.
41 min...TFC Andrews is bumped off ball at RR 22 yards by defender and waits for non-call.
43 min...RR Forbes 35 yard freekick from right has RR Madison running across box from left
head 7 yarder wide left of post.
45 min...RR Brown can't get to ball chipped up left side with TFC Taintor blocking him off ball.
46 min...half ends 8:21pm.
Halftime Entertainment: there's an introduction of the TFC Academy with boys who might have
been about 12 years old. There's a game of bubble soccer of just 1 v 1 with a relay race around
the center circle before the contestants could kick the ball into the net. It turned into
more of a bumping game rather than an effort to score.
2nd Half:...starts 8:40pm...now it's dark and the weather is even colder.
halftime subs:...TFC Onkony replaces Johnson.
.................TFC Camargo replaces Taintor.
46 min...TFC Camargo chips 22 yard shot down middle over players and goalie dives and stops
it at 3 yards near left post and has time to get up and smother it.
46 min...TFC Aubrey makes diving header back to goalie to beat RR Madison to ball just inside box.
47 min...TFC Andrews shoots 22 yarde roller from right well wide left of net.
48 min...TFC Endoh cornerkick from right has defenders clear on left side of box.
49 min...TFC Andrews wins cornerkick on run into RR box and has cross blocked and ball deflect out.
49 min...TFC Endoh cornerkick from right has defender head ball away.
50 min...TFC Spencer can't get away shot on left side of box.
51 min...TFC Spencer rolls pass left for charging TFC Telfer at 30 yard line
and he rolls cross and goalie beats TFC Andrews to dive on ball at 3 yards while even with left post.
51 min...RR Beresford 30 yard shot up middle bounces to goalie.
54 min...RR YELLOW card...Beresford earns it for tripping up TFC Telfer at TFC 25 yard
line just as he was breaking upfield.
60 min...TFC Camargo on give and go with TFC Telfer shoots 8 yarder from left that sprawling
goalie deflects wide left.
60 min...TFC Endoh cornerkick from left is rolled out and TFC Camargo has 20 yard shot
from left stopped.
61 min...RR sub...Garzi replaces Brown.
63 min...TFC Endoh crosses from 20 yards near right end line and RR defender beats TFC Andrews
to header at 12 yards on right giving up throw-in.
65 min...RR Forbes cornerkick from left lands on top of net.
67 min...RR sub...Graf replaces Madison.
69 min...TFC Peters does the splits to poke that ball away on through ball pass to RR Ryan James
at 20 yards injurying himself but he did stop the breakaway.
70 min...RR Beresford runs down left and low cross near end line has goalie pick up ball.
71 min...TFC Spencer blasts shot from 15 yards on left that goalie bats down and defender clears.
71 min...TFC Endoh 25 yard freekick from right has defender clear from box.
72 min...TFC goalie runs out to 25 yards to boot through ball away before RR Graf can get
to it on poor backpass from TFC Brian James.
73 min...RR Forbes is jostled off ball on dropped back pass but his 12 yard shot from right end line
has RR Graf on right shoot 8 yarder that hits sliding defender and deflects into outside webbing of net.
74 min...RR Forbes cornerkick from left has RR Felix head 12 yarder and TFC Alseth heads ball away
at 3 yards on right post.
74 min...RR sub...Boukemia replaces Beresford.
75 min...RR Graf 25 yard cross from right is over box.
76 min...RR player's cross from 28 yards on right has referee blow whistle for TFC freekick.
TFC Alseth is injured on edge of 6 yard box on left when pushed over by RR Garzi and they play
short for a few minutes.
79 min...TFC sub...McCrary replaces the injured Alseth.
79 min...TFC YELLOW card...Spencer earns it for pushing RR Kamdem-Fewo over after he'd already
passed away ball.
81 min...RR Forbes 28 yard freekick on left has defenders clear ball on right side of 6 yard box
after TFC goalie makes save on RR Fall's low shot from 5 yards on right post.
82 min...RR Graf is called offside at TFC 20 yard line charging for through ball pass.
83 min...TFC Telfer bursts up left and high cross near left end line has defender head ball up at 6 yards
to beat TFC Camargo and another defender bounces a header back to goalie.
84 min...TFC Spencer breaks in on through ball pass but RR Felix catches him and forces him left
and he passes roller to TFC Andrews who has 20 yard shot up the middle blocked.
86 min...RR Fall and RR Ryan James long run up right and Ryan James taps ball to RR Forbes for 22 yard shot
in middle for roller to goalie on left post.
88 min...RR Brown cornerkick from left has goalie leap to catch in crowd of players at 4 yards in middle of box.
89 min...TFC Telfer rush up left from 35 yards and rolls 22 yard shot that sliding defender pops ball up
at 15 yards and goalie catches.
89 min...TFC goalie catches 30 yard chip shot by RR Kamdem-Fewo from left.
90 min...RR Dover chips ball from 20 yards on right that goalie beats RR Boukemia to catch on left post.
91 min...RR Garzi cross from 12 yards near left end line is through players in box with TFC Peters ducking
and heading it out right side of box.
91 min...RR Garzi cross from 15 yards on left end line is over players in box.
91 min...RR YELLOW card...Fall earns it for sliding tackle at center line knocking down TFC Endoh.
92 min...TFC Telfer rolls 25 yard shot in middle just wide left of post.
93 min...game ends 9:28pm.
Final Score:.....Toronto FC II.......0......Rochester Rhinos.......0....

Attendance was announced as 523 on this brutally cold and windy evening.
Temperature was only + 3 Celsius. Toronto had an inch of snow fall overnight
and although it had melted by the late afternoon, because they must have shoveled
the turf, there was a border of snow just a few feet from the sideline and each
end zone. I figured about 100 fans or more left at halftime especially the ones with
young kids. Thankfully TFC II head coach Jason Bent gifted me a full length TFC parka
at the TFC II SSH event a week and a half ago so I didn't even mind the aluminum
benches that make up the stands.

Man of the Match (who I assume is always a TFC II player) was named as T&T defender
Jelani Peters. He had a few key stops by diving headers and a magnificent block
at 69 minutes by doing the splits to poke the ball away from RR Ryan James who otherwise
was in alone at 20 yards. He injured himself on that play but returned to the game.

Fellow TFC II T&T forward Aikim Andrews was fed passes but was either checked off the ball
before shooting or rolled softies to the goalie or wide of the net.

Goalies Angelo Cavalluzzo of TFC II and Tomas Gomez of Rhinos earned shutouts
for their teams.

Other best non-scoring chances were at 19 minutes with RR Kennardo Forbes taking
his third cornerkick from the right side within two minutes had RR Wal Fall head at 10 yards
up the middle that the goalie jumped for but the ball hit the top of the bar for a goal kick.

43 minutes had RR Kennardo Forbes take a 35 yard freekick from the right and
RR Darius Madison headed a 7 yarder wide left of the post.

51 minutes had TFC Ben Spencer roll a pass to his left for the charging Ryan Telfer
at the 30 yard line. He rolled a cross from near the end line and the goalie beat
Aikim Andrews to dive on the ball at 3 yards even with the left post.

74 minutes had RR Kenardo Forbes take a cornerkick from the left and RR Ryan Felix
headed a 12 yarder down the middle and TFC Dyvind Alseth headed the ball away
at 3 yards on the right post.

90 minutes had RR Jordan Dover chip a ball from 20 yards on the right that goalie
Angelo Cavalluzzo caught on the left post a split second before RR Rayane Boukemia
got his head to it from 3 yards.

Ryan Telfer had an injury time shot that he rolled down the middle from 20 yards
just wide left of the post.

Referee David Barrie gave out three Yellow cards and all in the second half
in a game that wasn't rough at all. I don't think any players felt like going in for
sliding tackles on the hard turf tonight.

TFC II list 14 Canadians on their roster out of 28 players listed. Sounds good
except that tonight there were only three of them starting (goalie Angelo Cavalluzo,
and midfielders Ryan Telfer and Malik Johnson). Midfielder Sergio Camargo came
in at halftime just as Johnson left.

The Rhinos have two Canadians on their roster and used both for the full 90 minutes.
Jordan Dover played well in defence. I watched him play the last two years with
Durham United in League 1 Ontario. I watched midfielder Ryan James back in 2012
when he played for TFC Academy in the CSL and for TFC in the MLS Reserve League.
[Added find from playback of YouTube broadcast of game:  Rhinos defender 
Bradley Kamdem Fewo was born in Paris France but went to high school in Calgary 
and played for Calgary Foothills of PDL in 2015]. 

TFC Academy kids were paraded to the center circle at halftime. They looked about
age 12. From the MLSE Presidents Breakfast it was mentioned that TFC won't be running
an academy for players under age 14 starting this year (except for the kids already in their
program). Sounded like the last player introduced was Mason(?) Vanney—ohoh probably
the MLS head coach Greg Vanney's son. Greg is the uncle of TFC defender Eric Zavaleta.

So not enough Canadian players got on the field for my liking. This year there are only
three subs allowed in USL games so that limits their opportunities. TFC is not operating
a PDL team any longer so although PDL rosters are mostly stocked with NCAA players
on summer break, TFC got a lot of minutes for TFC II and TFC Academy players. MLSE president
Bill Manning said he wants to help the proposed new Canadian league as long as it doesn't
operate in Toronto so what would be easier for him than announcing that TFC II is now known
as Winnipeg FC and they can dump the production of entertaining 500 fans expecting the
bumpkins not in the GTA to think this is the big league?

Tsubasa Endoh seems to be the only player from the MLS dump- down remaining with TFC II.
He took all the corners and most of the freekicks tonight with mixed success. Kennardo Forbes
did the same for the Rhinos.

TFC II captain this year is returning defender Mitch Taintor. He was featured on the two-page
match program but was subbed at halftime.

There was no weather advantage for the home team as Rochester is just across Lake Ontario
on the American side. Maybe MLS Atlanta will be at a disadvantage in the city tomorrow
but then they beat Minnesota in a snowstorm a few weeks ago!

TFC II's #1 goalie Mark Pais was recently signed by the MLS team because of the long term
injury to Clint Irwin. TFC didn't let Irwin just sit around. He'd been promoted all week by TFC
as a reason to come to tonight's game. He was in the autograph tent in the south end.
How would he sign a near black picture postcard? With a silver coloured Sharpie! I gave him
a list of game reports I'd written in 2011 when he played for Capital City FC (Ottawa) in their
one season of existence in the CSL. Most interesting will be his game against TFC Academy
when Jordan Hamilton scored on him and the opposing goalie Angelo Cavalluzzo was
Red carded. He was tonight's TFC II goalie.

Rhinos have replaced their forwards this season. Steevan Dos Santos now plays for Ottawa Fury
(oh-oh that's TFC II's next game!) Christian Volesky now plays for Saint Louis FC and last week
was named USL Player of the Week. His teammate includes Wesley Charpie who was a TFC II
defender last season. Mark Pais played for Saint Louis last year (not a trade between clubs).
I wonder if in the back of his mind he thought he'd have the chance of moving up to play
in the MLS by moving to an MLS 'II' team?

Fans were given a soccer ball keychain on the way in and a fridge magnet (comparable to the
one we were given last week at the MLS team's game) on the way out. Home team players
each threw a mini ball into the crowd after the national anthems.

This was the home opener for TFC II. This was freakishly cold but it can't be unexpected at this
time of year. Of course better weather would be certain if the game was played in the
daytime—this weekend as the MLS TFC team is playing Saturday, Sunday afternoon would have
been better.  TFC II opened with three games on the road to start the season—Arizona and
two games in Florida.  They now go on another three game road trip and aren't back until
Saturday May 13th when they play Bethlehem Steel at BMO Field at 6:00pm--right after
the MLS game.

Rocket Robin
robing@eol.ca


Game Summary from torontofc.ca)

Scoring Summary 
None

Misconduct Summary
RCH – Brandon Beresford 55'(caution)
TFC II – Ben Spencer 80' (caution)
RCH – Wal Fall 90' + 2' (caution)

Records:
Toronto FC II (W-D-L):     1-1-2   4pts.
Rochester Rhinos (W-D-L):  1-1-1   5pts.  

Team Stats:

Toronto FC II                   Rochester Rhinos
Shots – 12                      Shots – 12
Shots on Target – 3             Shots on Target – 2
Blocked Shots – 4               Blocked Shots – 4
Possession – 46%                Possession – 54%
 
Lineups

Toronto FC II – 
Angelo Cavalluzzo; 
Mitchell Taintor © (Brandon Onkony 45'), Brandon Aubrey, Jelani Peters; 
Oyvind Alseth (Jordan McCrary 80'), Tsubasa Endoh, Brian James, Malik Johnson (Sergio Camargo 45'), Ryan Telfer; 
Ben Spencer, Aikim Andrews      

Substitutes Not Used: Brogan Engbers, Anthony Osorio, Luca Uccello, Ricardo John

Rochester Rhinos – 
Tomas Gomez; 
Joe Farrell, Ryan Felix, Jordan Dover, Ryan James, Bradley Kamdem Fewo; 
Wal Fall, Kenardo Forbes, Jalen Brown (Mike Garzi 62'), Brandon Beresford (Rayane Boukemia 75'); 
Darius Madison (Jochen Graf 68')

Substitutes Not Used: Dan Lynd, Sergio Campbell, Todd Pratzner, Ray Lee

Attendance: 523



Toronto FC II starters


Rochester Rhinos starters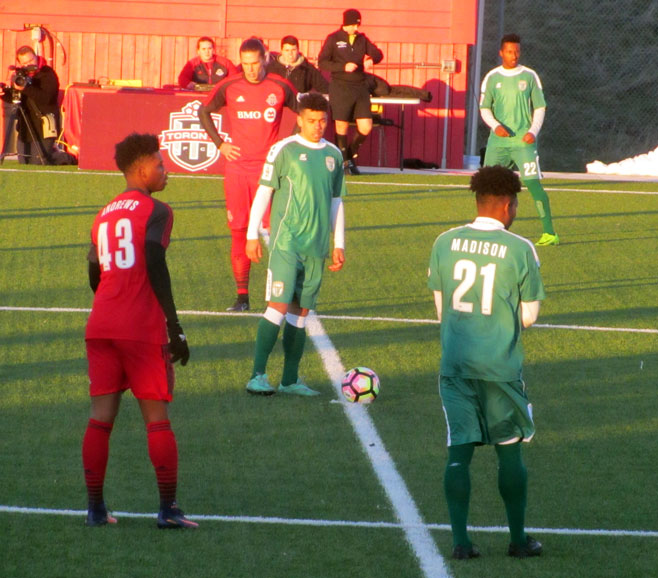 Rhinos Ryan James (7) takes opening kickoff


Rhinos Bradley Kamdem-Fewo (4) takes throw-in up sideline.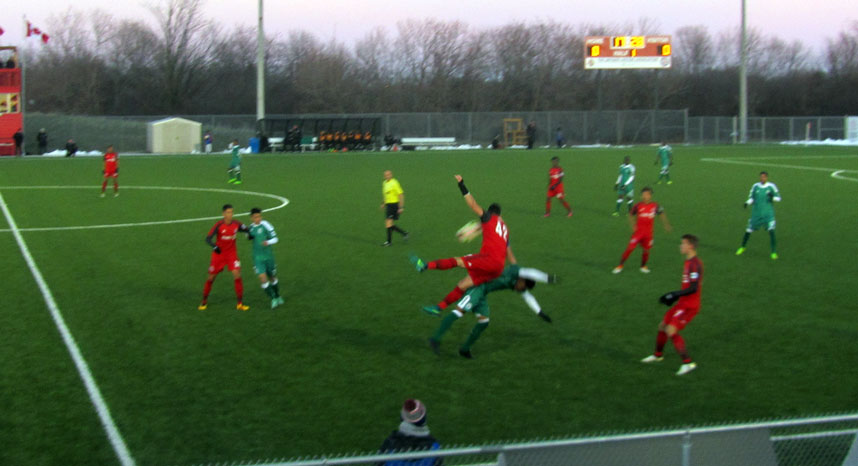 TFC Mitchell Taintor (42) crashes over Rhinos (21).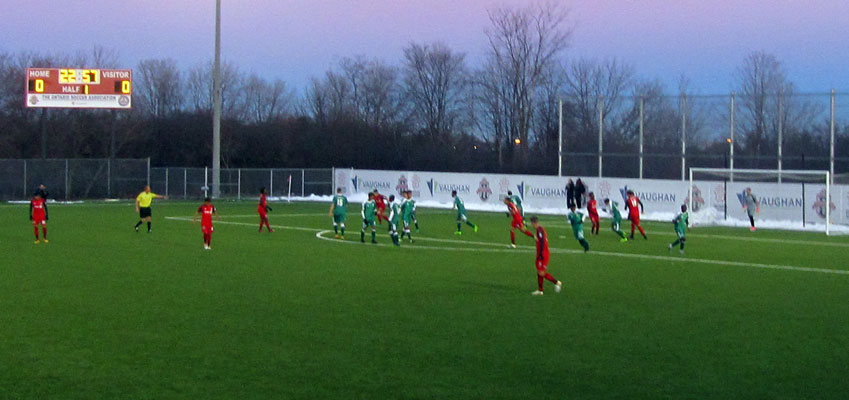 Referee whistles down play in Rhinos box.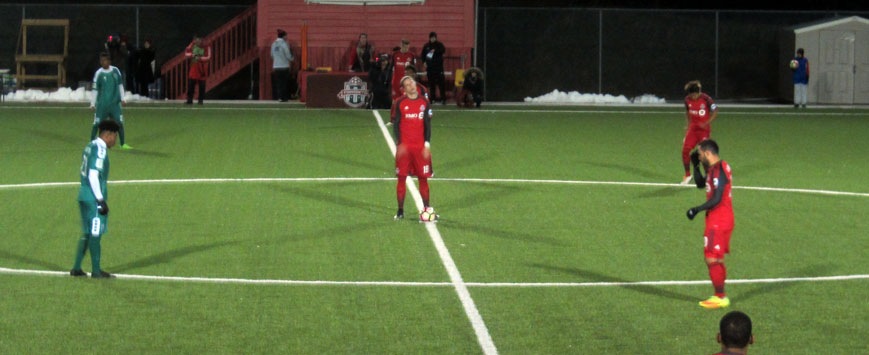 TFC Ben Spencer (19) takes second half kickoff.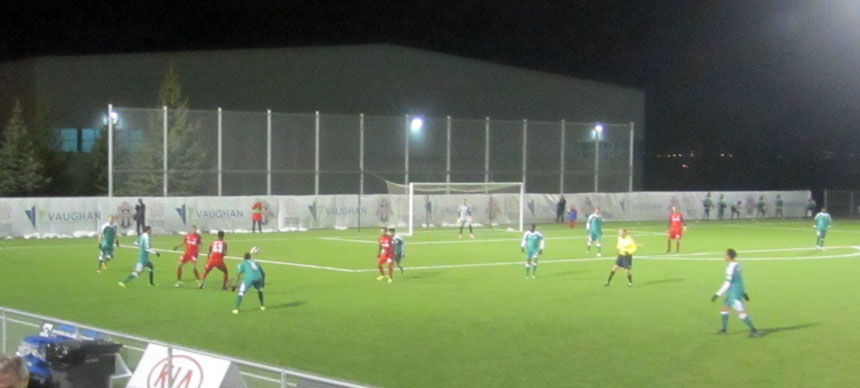 TFC defenders hold their ground on edge of box.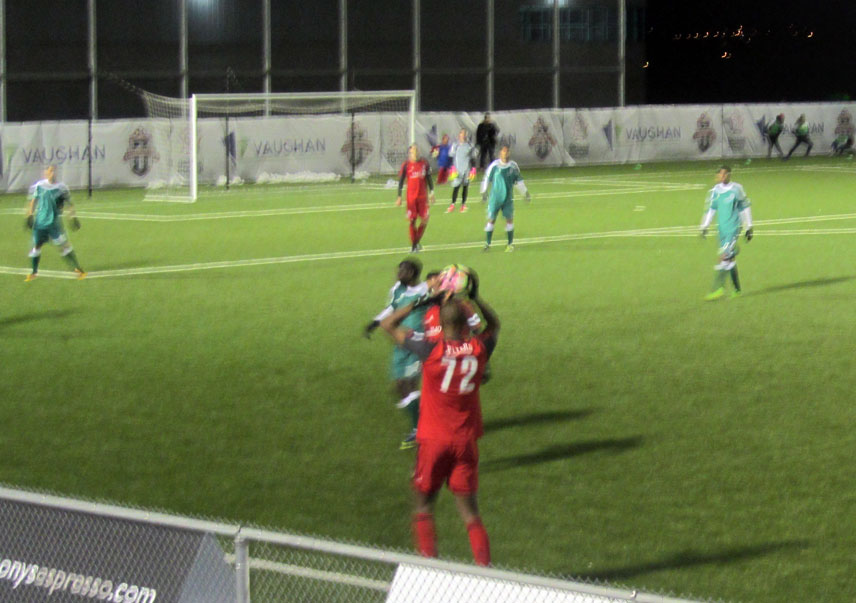 TFC Jelani Peters (72) takes throw-in.
.
.