Saturday Sepember 9, 2017--Toronto FC vs San Jose Earthquakes game review (by Rocket Robin)

..........................

I've found that I don't have the time to do a game play by play with all the writeups I'm doing
covering other leagues. I will skip the details and maybe do that after the season is over.

Result and details of the Saturday September 9, 2017 MLS game between Toronto FC and San Jose Earthquakes 
played at BMO Field in Toronto at 5:00pm.

24 min...TFC Victor Vazquez GOAL...TFC Steven Beitashour chips 35 yard cross from right that's over 
leaping goalie Andrew Tarbell at 7 yards and Vazquez behind him chests ball down and shoots 7 yarder 
into open net.

47 min...Jozy Altidore GOAL...TFC Victor Vazquez at 35 yard line on left rolls ball forward to Altidore 
who was running forward and across box from right to get away from defender Florian Jungwirth. Altidore 
gets pass at 12 yards and one-touch rolls it from left into right corner of net.

63 min...Jozy Altidore GOAL...TFC Victor Vazquez has cross from 12 yards on right blocked by sliding 
defender. The ball deflects out to Steven Beitashour on the far right at 15 yards and he crosses into box. 
The ball is over the head of leaping SJE Kofi Sarkodie in middle of box and Altidore waiting while in line 
with left post heads ball downward and it bounces at one yard over sliding goalie into right side of net.

66 min...Jonathan Osorio GOAL...Osorio on center line rolls pass across to TFC Chris Mavinga at SJE 45 yard 
line on left who rolls short pass across to streaking Osorio at 40 yard line on left and he runs forward 
and cutting to middle to elude SJE Victor Bernardez and rolls 23 yard shot into right corner of net beyond 
diving goalie.

71 min...SJE RED card...Darwin Ceren is first shown a Yellow card for knocking over TFC Marky Delgado with 
a body check at center line. Referee Jose Carlos Rivero then must receive a call from the VAR as he signals 
for a video review. The result when the replay showed he also stepped on his ankle is he turns 
it into a Red card.

Final Score:....Toronto FC....4...San Jose Earthquake....0...

Attendance was announced as another sellout of 29050. They announced that this was the sixth straight one. 
It was Canadian Armed Forces day with what they announced as 300 personnel and their families there because 
of donations of fans and the club. It looked like about 50 of them carried in a huge Canadian flag unfurled 
during the singing of 'O Canada'. Timed just right was a flyover of a CF-18.

Referee Jose Carlos Rivero gave out two Yellow cards and the straight Red (originally a Yellow). The video 
assistant referee system has only been in place in the MLS for less than a month but TFC fans must now love 
it as the first time it has been called upon, TFC ended up with a man advantage and it only took about two 
minutes added to the initial confusion of the incident. Four minutes was added to the second half and not 
all because of the VAR request. Previous to last month, Ceren would have been suspended sometime in the middle 
of the week but it wouldn't help TFC as he'd be on to the next town and it would only help the next SJE opponent.

I'm not sure who won the opening coin flip but SJE defended the south end to start and the goalie looked 
he lost the ball in the sun waving blindly on the first goal with Vazquez behind him waiting to tap into 
the empty net.

TFC shut this game down at the start of the second half with that second goal. This year there hasn't been 
a team that can fight back for a result with a two goal deficit. TFC remain unbeaten at home. 

Once again there were no Canadian starters on TFC but eventually Jonathan Osorio came on—the start of the second 
half to replace Sebastian Giovinco. The game was still in doubt at that point but it turned out later replacing 
Giovinco was taken as a precaution. Tosaint Ricketts came into the game just two minutes before Osorio's goal 
at 64 minutes but by then the result wasn't in doubt.

Canadians winning their game here last week against Jamaica while the USA lost to Costa Rica in New Jersey 
doesn't mean anything to the way Toronto FC assembles their team. Canadian men's team sub Jay Chapman wasn't 
even on the bench but started in the USL Toronto FC II game an hour after this game ended. 

The acrid red smoke let off in the south end stands after the third goal partially obscured our view of the 
Osorio goal as it was still drifting northwards.  

Man of the Match (who is always a TFC player) was named as Jozy Altidore which was an easy choice as he scored 
two goals. His second goal was his last action of the game as Tosaint Ricketts was going to take his place 
at 64 minutes.

Victor Vazquez increases his league leading number of assists to 15 with his effort today.

We didn't know at the end of the game but because of the result of the New England vs Montreal game, TFC became 
the first team in MLS to clinch a playoff spot. This goal hasn't been in doubt for a few months and they are 
looking ahead to try to win the Supporter's Shield for finishing first in the league. That will mean they can 
avoid the one game play-in round.

Toronto's record improves to 17 wins, 3 losses, 8 ties for 59 points. Later results in the night kept their 
lead in first place in the Eastern Confernceance at 9 points as New York City lost to fall further behind.

San Jose's record falls to 10 wins, 12 losses, 6 ties for 36 points. That keeps them in seventh place 
in the West.

Next week TFC flies out to Los Angeles to play the Galaxy on Saturday night.

Rocket Robin
robing@eol.ca
twitter @RocketRobin01


stats from MLSsoccer.com
Match Information

Goals and Assists
26'  TOR  Víctor Vázquez           Assisted By: Steven Beitashour 
48'  TOR  Jozy Altidore            Assisted By: Víctor Vázquez 
64'  TOR  Jozy Altidore            Assisted By: Steven Beitashour 
66'  TOR  Jonathan Osorio          Assisted By: Chris Mavinga 

Disciplinary
43'  SJE  Aníbal Godoy             Reason: Unsporting Behavior 
57'  SJE  Marco Ureña              Reason: Unsporting Behavior 
72'  SJE  Darwin Cerén             Reason: Serious Foul 

Lineup

Toronto FC 
10 F Sebastian Giovinco  (HT)
17 F Jozy Altidore       (65')
25 G Alexander Bono 
33 D Steven Beitashour 
15 D Eriq Zavaleta 
 3 D Drew Moor 
23 D Chris Mavinga 
 2 D Justin Morrow 
18 M Marco Delgado       (79')
 4 M Michael Bradley 
 7 M Víctor Vázquez 

Bench
 1 G Clint Irwin 
12 D Jason Hernandez 
26 D Nicolas Hasler 
31 M Armando Cooper      (79')
87 F Tosaint Ricketts    (65') 
21 F Jonathan Osorio     (HT)
44 F Raheem Edwards 

Manager  Greg Vanney  

San Jose Earthquakes 
21 F Marco Ureña        (73')
 8 F Chris Wondolowski 
28 G Andrew Tarbell 
 2 D Kofi Sarkodie 
 5 D Víctor Bernárdez 
23 D Florian Jungwirth 
 6 D Shea Salinas 
22 M Tommy Thompson 
17 M Darwin Cerén 
30 M Aníbal Godoy 
14 M Jackson Yueill      (83')

Bench
 1 G David Bingham 
15 D Andrés Imperiale 
18 D Kip Colvey 
10 M Jahmir Hyka          (83')
11 M Valeri Qazaishvili 
 9 F Danny Hoesen         (73')
25 F Quincy Amarikwa 

Manager  Chris Leitch 

Officials
Referee  José Carlos Rivero 
Assistant Referee  Logan Brown 
Assistant Referee  Adam Wienckowski 
Fourth Official  Juan Guzman Jr. 
Video Assistant Referee  Yusri Rudolf 

Match Information
MLS at BMO Field
Toronto, ON
Attendance 29050
Weather Clear

Team Statistics
TOR                        POR
 21     Shots                6 
 10     Shots on Target      3 
  8     Shots off Target     2 
  3     Blocked Shots        1 
  7     Corners              2 
 23     Crosses              7 
  2     Offsides             1 
 10     Fouls                8 
  0     Yellow Cards         2 
  0     Red Cards            1 
828     Total Passes       312 
 92 %   Passing Accuracy    74 % 
 72.6 % Possession          27.4 % 
 22     Duels Won           30 
  5     Tackles Won         10 
  3     Saves                6 
  5     Clearances          24 



Toronto FC starters


San Jose Earthquakes starters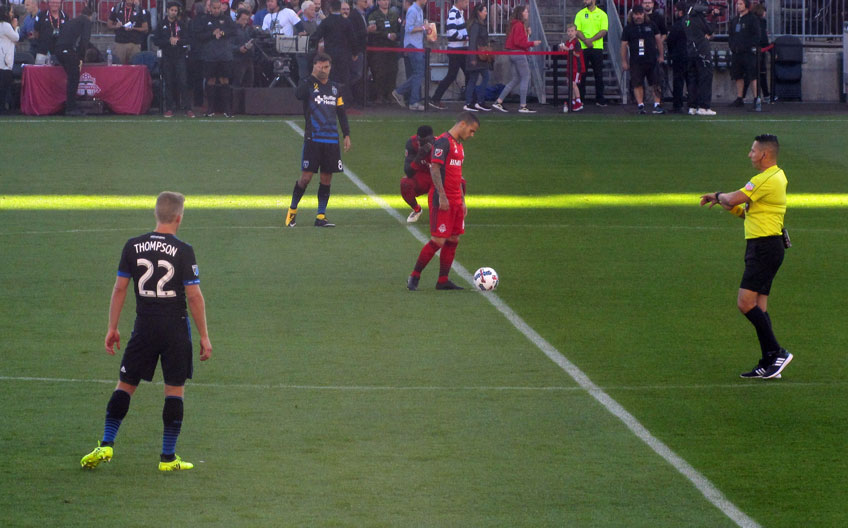 TFC Sebastian Giovinco (10) takes opening kickoff.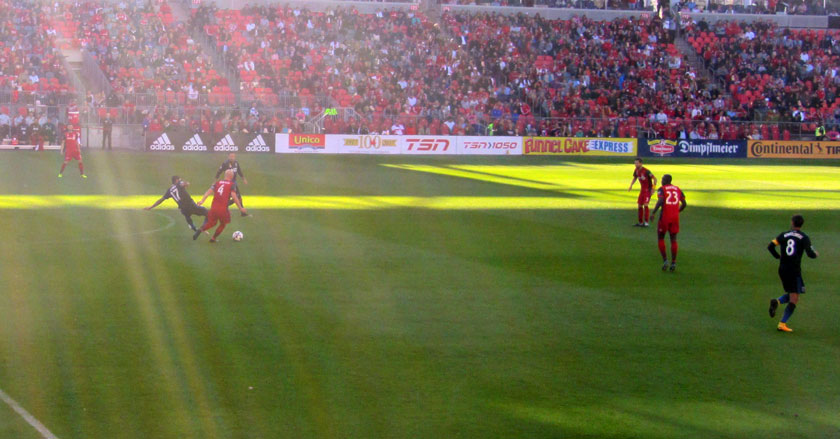 TFC Michael Bradley (4) eludes lunge of SJE Darwin Ceren (17).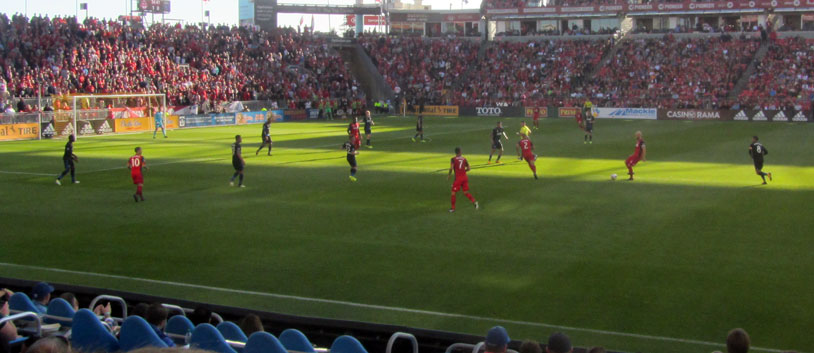 TFC Michael Bradley (4) rolls pass forward.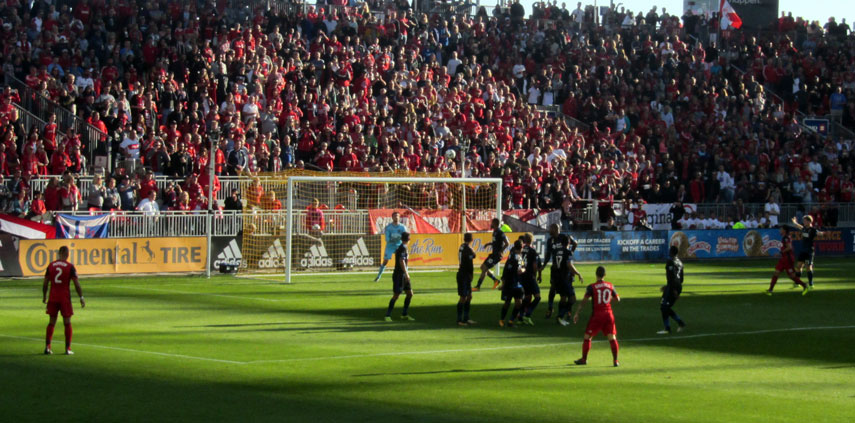 TFC Sebastian Giovinco (10) freekick had goalie punch ball over bar.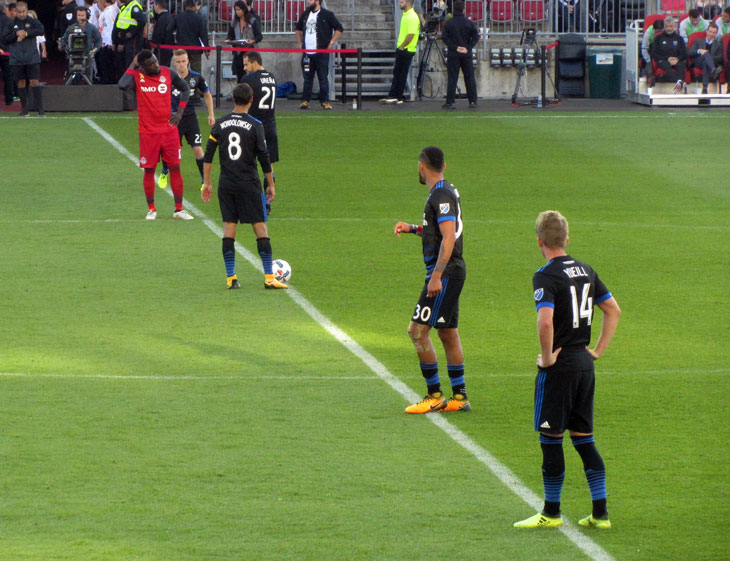 SJE Chris Wondolowski (8) takes second half kickoff.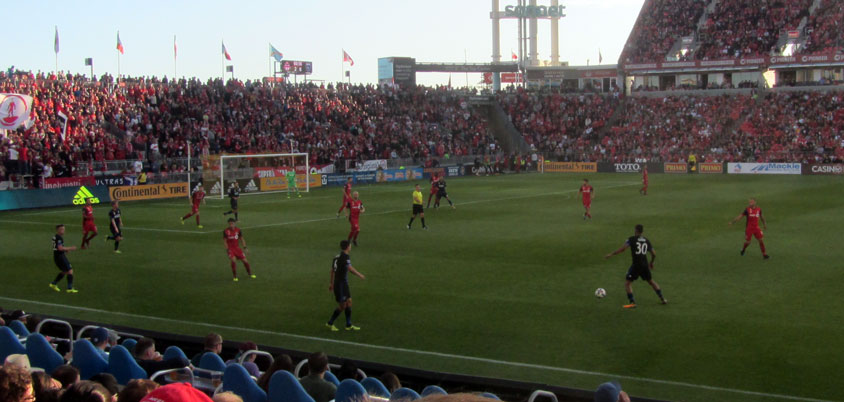 SJE Anibal Godoy (30) looks to make pass.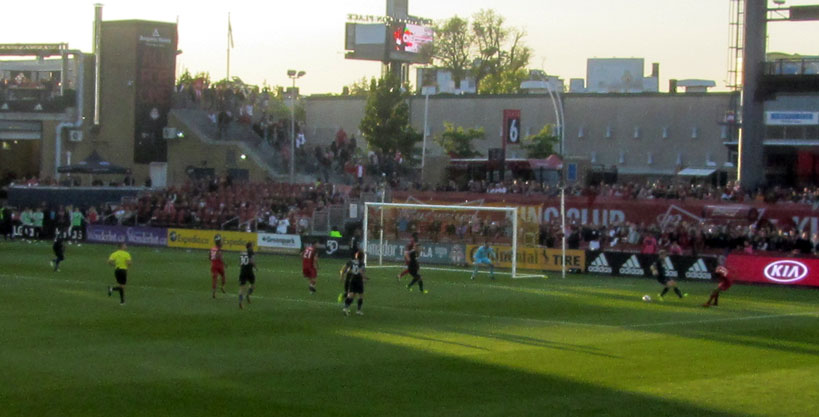 TFC Steven Beitashour (33) rolls ball across box.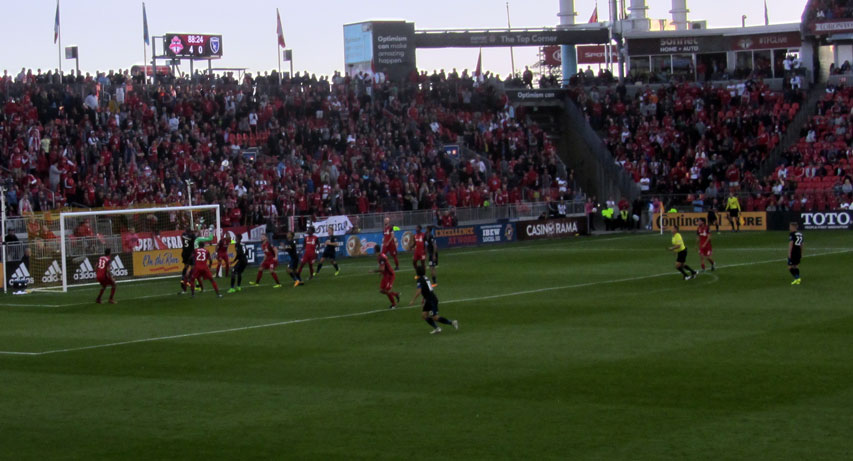 SJE Shea Salinas (6) cornerkick from right has goalie swat ball away.
back to TFC 2017 news and results
.
.