Wednesday August 23, 2017--Toronto FC vs Phladelphia Union game review (by Rocket Robin)

..........................

I've found that I don't have the time to do a game play by play with all the writeups I'm doing
covering other leagues. I will skip the details and maybe do that after the season is over.

Result and details of the Wednesday August 23, 2017 MLS game between 
Toronto FC and Philadelphia Union played at BMO Field at 8:00pm.

9 min...TFC Sebastian Giovinco GOAL...Giovinco 20 yard freekick from left is into top right corner
of goal with Andre Blake frozen in center of net.

29 min...TFC Nicolas Hasler GOAL...TFC Victor Vazquez cornerkick from right has Hasler head 10 yarder
from right while in alignment with right post to top left corner off underside of bar and drops
in for goal. 

56 min...TFC Jozy Altidore GOAL...TFC Jonathan Osorio recovers PU clearance at 35 yards in middle and
rolls ball forward and left for Altidore at PU 22 yard line.  He holds ball up on PU Raymon Gaddis and
rolls centering pass for TFC Victor Vazquez who taps ball forward and left through legs of PU defender
Jack Elliott for charging Altidore at 8 yards to roll ball past sliding goalie at 5 yards on left 
and into right corner of net.

Final Score:.....Toronto FC......3......Philadelphia Union......0.....

Attendance was announced as another sellout of 28645.   I had my doubts as a  saw a lot of empty seats but
that was probably from a lot of no shows.  This was a midweek game against not one of the league's
glamorous teams but most important I think is the Canadian National Exhibition is on and that means
a lot of fair goers were on the grounds and parking spots are limited and extra expensive.  

Man of the Match (who is always a TFC player) was named as Jonathan Osorio.  He was the only Canadian starter
and played the whole game but I didn't think he did anything outstanding.  I would have said 
Sebastian Giovinco because of his freekick goal and he was dangerous the whole game.  Maybe Victor Vazquez 
because of his two assists and other set up plays.  

One other Canadian made an appearance.  Jay Chapman got in at 78 minutes.  The other Canadians, 
Raheem Edwards and Tosaint Ricketts didn't get any action to warm up for their International friendly here
in another week and a half against Jamaica.  

Of course the US player like Michael Bradley, Jozy Altidore, and possibly Justin Morrow got a full game in
and finished uninjured as it's important as they have World Cup qualifying games in the next weeks in contrast
to Canada's one friendly.  I wonder if Union goalie Andre Blake well be here again playing for Jamaica.  
He suffered a hand injury in the gold medal Gold Cup game against the USA and this was his first MLS game 
back in action. 

Referee Armando Villarreal gave out one Yellow card to each team n a game that wasn't rough.  He didn't give 
either team a Penalty kick and I felt none were deserved.  He exaggerated his call on Giovinco to 'get up'
on a particularly lame fall at 82 minutes.  

TFC's Steven Beitashour got into the game for his first action at 71 minutes since he was injured in the 
Canadian Championship game here in Toronto on June 27th against Montreal Impact.  TFC had a big lead at the 
time and he wasn't their last sub was it wasn't at all risky.  

Union's Chris Pontius came in at 61 minutes and almost scored a minute later with a dangerous header 
on a corner kick that required a quick reaction save by Alex Bono.  Bono had few saves to make to earn another
shutout.  

Montreal Impact did not play tonight and should be well rested to host their Sunday game against TFC.  Impact
and TFC have not played a league game ths season (two Canadian Championship games not counted) yet have
three to play before the season ends with only eight TFC games left.  Impact are hot right now with four wins
in a row so this may be TFC's biggest challenge as they have pushed by everyone and have a big lead in the race
for the Supporter's Shield.  

On my way out  noticed for the first time a large plaque labelled 'The 2017 Toronto FC Members' board. 
All the season ticket holders names were on the list in alphabetical order but sorted by first names then
last names.  Company tickets were listed by company name and couples were sorted 'John and Mary surname'.
Still it was fun.  I don't know how many games this has been up.  I took a picture but wasn't sure my camera
would pick it up.  It reminded me of the Viet Nam War Memorial wall I saw in Washington DC in the late
1980s but this was so small the names I couldn't read until I was closer than 6 feet away.  

TFC's record improves to 15 wins, 3 losses, and 8 ties for 53 points.  They are first in the East and the
race for Supporter's Shield.  Their 52 goals for and 25 against are both best in the league.  

Union's record falls to 8 wins, 12 losses, 6 ties for 32 points.  That puts them in ninth place in the
Eastern Conference five points behind Montreal with one more game played.  

Rocket Robin
robing@eol.ca
twitter RocketRobin01


stats from MLSsoccer.com
Match Information

Goals and Assists
10' TOR Sebastian Giovinco 
30' TOR Nicolas Hasler       Assisted By: Víctor Vázquez 
57' TOR Jozy Altidore        Assisted By: Víctor Vázquez 

Disciplinary
28' PHI Fabinho              Reason: Unsporting Behavior 
67' TOR Nicolas Hasler       Reason: Unsporting Behavior 

Lineup

Toronto FC  
17 F Jozy Altidore 
10 F Sebastian Giovinco 
25 G Alexander Bono 
26 D Nicolas Hasler        (72')
 3 D Drew Moor 
23 D Chris Mavinga 
 2 D Justin Morrow 
18 M Marco Delgado         (68')
21 M Jonathan Osorio 
 4 M Michael Bradley 
 7 M Víctor Vázquez        (79')

Bench
 1 G Clint Irwin 
33 D Steven Beitashour     (72')
12 M Jason Hernandez       (68')
31 M Armando Cooper 
14 M Jay Chapman           (79')
87 F Tosaint Ricketts 
44 F Raheem Edwards 

Manager  Greg Vanney  

Philadelphia Union 
17 F C.J. Sapong         (72')
18 G Andre Blake 
28 D Raymon Gaddis 
 3 D Jack Elliott 
 5 D Oguchi Onyewu 
33 D Fabinho 
11 M Alejandro Bedoya    (79')
 6 M Haris Medunjanin 
20 M Marcus Epps 
25 M Ilsinho 
22 M Fabrice-Jean Picault (63') 

Bench

Bench
23 G John McCarthy 
12 D Keegan Rosenberry 
15 D Joshua Yaro 
13 M Chris Pontius       (63')
10 M Roland Alberg 
 2 M Warren Creavalle    (79')
27 F Jay Simpson         (72')

Manager Jim Curtin 

Officials
Referee  Armando Villarreal 
Assistant Referee  Peter Manikowski 
Assistant Referee  Corey Parker 
Fourth Official  Geoff Gamble 
Video Assistant Referee  Mark Geiger 

Match Information
MLS at BMO Field
Toronto, ON
Attendance 28645
Weather Cloudy

Team Statistics
TOR                        POR
  8     Shots               13 
  4     Shots on Target      2 
  3     Shots off Target     9 
  1     Blocked Shots        2 
  4     Corners              7 
 10     Crosses             17 
  3     Offsides             4 
  5     Fouls               10 
  1     Yellow Cards         1 
  0     Red Cards            0 
599     Total Passes       382 
 87 %   Passing Accuracy    83 % 
 60.3 % Possession          39.7 % 
 36     Duels Won           33 
 10     Tackles Won          9 
  2     Saves                1 
 13     Clearances          17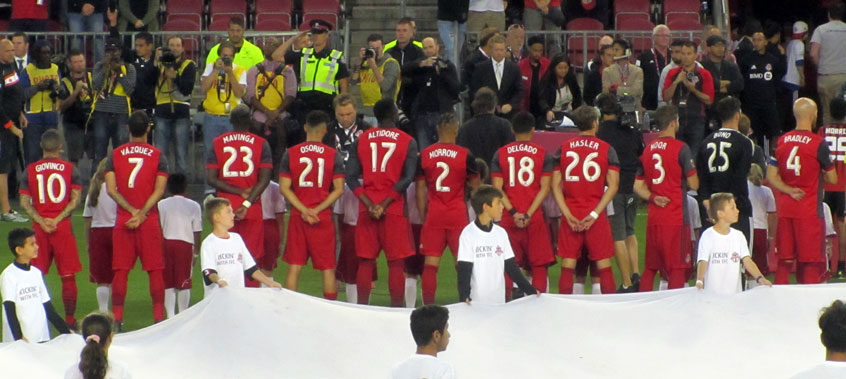 Toronto FC starters


Philadelphia Union starters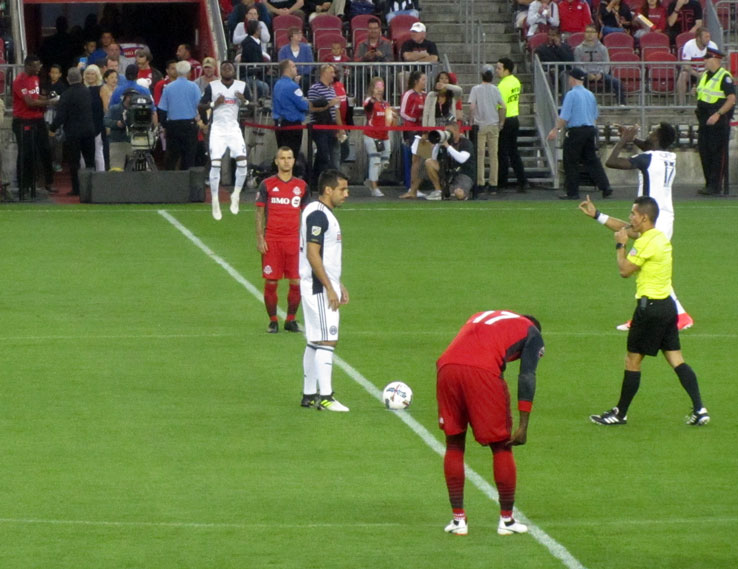 Union Ilsinho (25) takes opening kickoff.


TFC Victor Vazquez (7) cornerkick from left.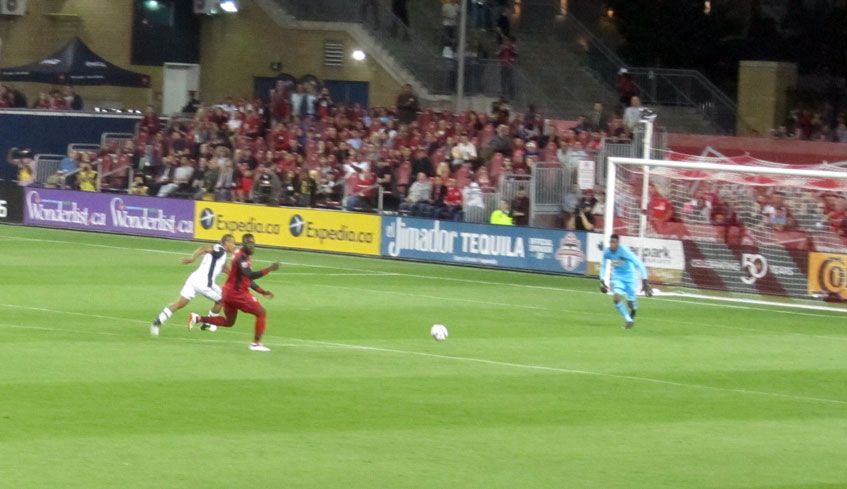 TFC Jozy Altidore (17) rushes into Unon box.


TFC Sebastian Giovinco (10) lines up freekick near edge of box.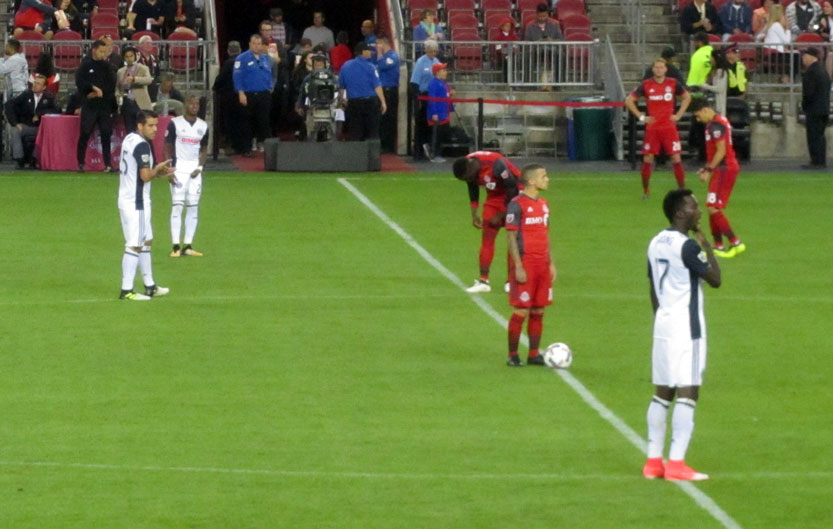 TFC Sebastian Giovnco (10) takes second half kickoff.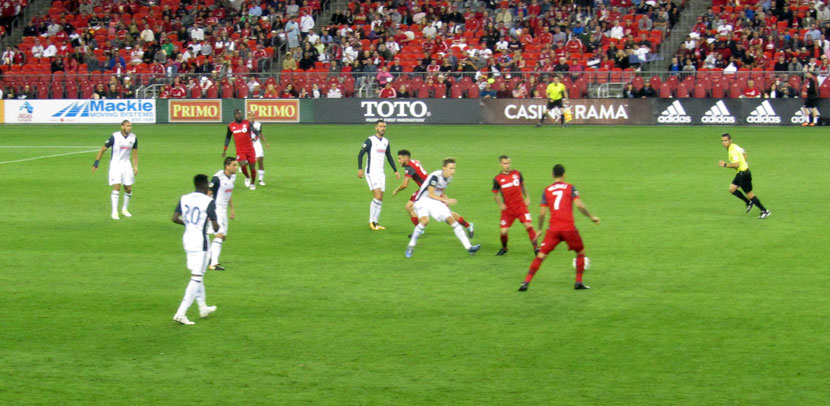 midfield action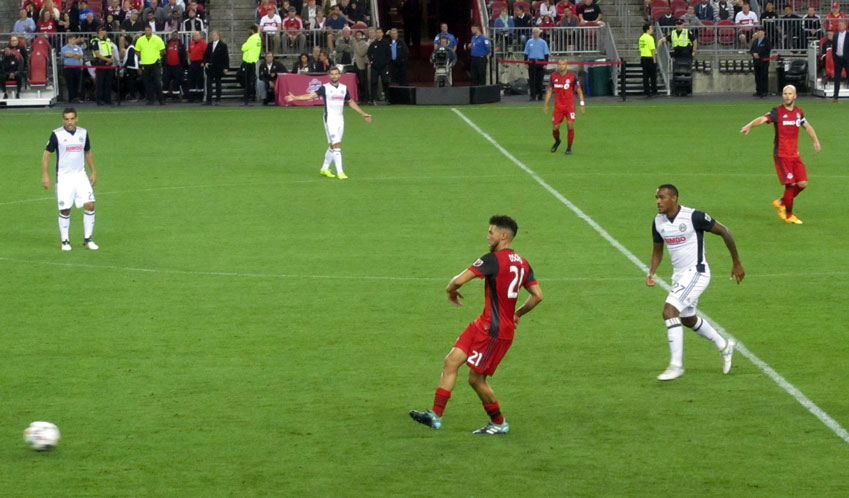 TFC Jonathan Osorio (21) passes ball forward.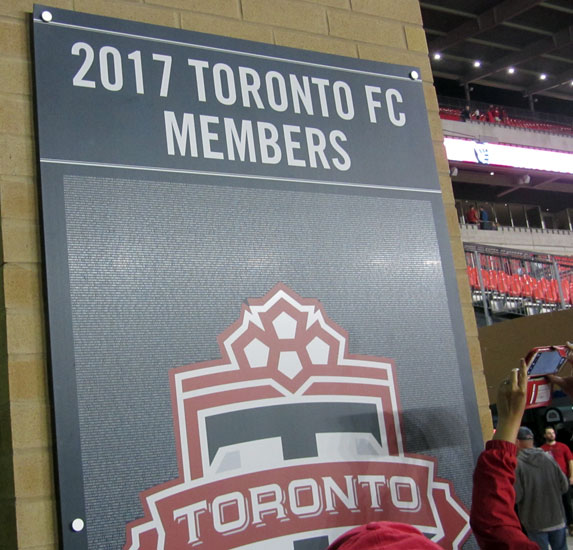 The 2017 Toronto FC Members board.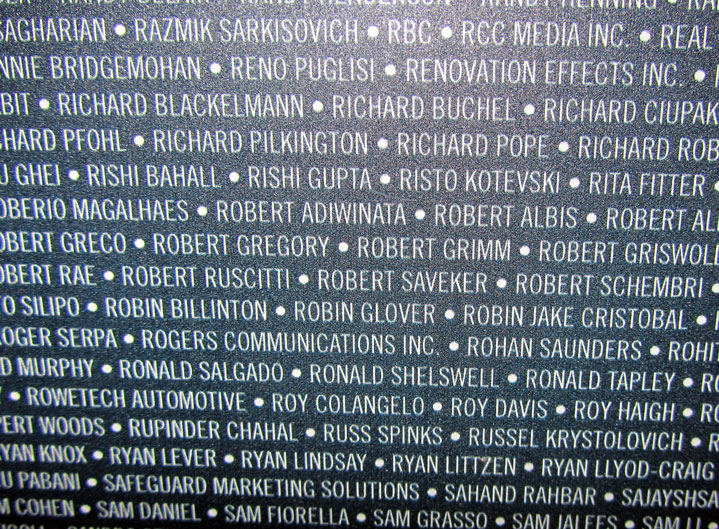 Hey my name is on here!
back to TFC 2017 news and results
.
.