Saturday August 12, 2017--Toronto FC vs Portland Timbers game review (by Rocket Robin)

..........................

I've found that I don't have the time to do a game play by play with all the writeups I'm doing
covering other leagues. I will skip the details and maybe do that after the season is over.

Result and details of the Saturday August 12, 2017 MLS game between 
Toronto FC and Portland Timbers played at BMO Field at 6:00pm.

57 min...TFC Justin Morrow GOAL...PT David Guzman takes cornerkick from left that has TFC goalie Alex Bono
catch head high at 2 yards in center of net.  He runs forward to edge of box and rolls ball to charging 
TFC Victor Vazquez at TFC 40 yard line in middle.  He taps ball forward to TFC Jozy Altidore at TFC 50
yard line and Altidore dribbles to PT 50 yard line and sends long pass forward and to right for charging
TFC Sebastian Giovinco who rescues ball on right sideline at 15 yard line.  Giovinco sends high centering
cross that Timbers players miss and ball hits arm/shoulder of PT Alvas Powell and rolls forward.  Morrow
on edge of box dribbles forward on left and shoots 8 yarder high into roof of center of net over sliding
PT Larrys Mabiala and sprawling goalie Jeff Attinella.

71 min...TFC Victor Vazquez GOAL...TFC Michael Bradley at TFC 35 yard line on right passes ball forward
to TFC Marky Delgado at PT 50 yard line.  He runs forward and to center and passes low to TFC Sebastian
Giovinco who recovers ball at 18 yard line on right.  He rolls centering pass and Vazquez is in alone 
from 6 yards just wide right of net one-touch kicks low to left corner of net.

75 min...TFC Justin Morrow GOAL...TFC Michael Bradley at 40 yard line on right receives ball passed back 
to him.  He rolls centering pass across to TFC Vazquez.  Vazquez taps pass foward and TFC Jozy Altidore 
touches it over for TFC Marky Delgado to rush forward on right and rolls centering pass and TFC Sebastian 
Giovinco dummies at 20 yards and ball rolls to Vazquez.  Vazquez sees his path is blocked on edge of box 
and backheels to Altidore.  Altidore steps through defenders but taps ball to Giovinco in middle.  
Giovinco rolls ball forward from 15 yards but defender gets leg out to push it to left.  Altidore would 
be offside but Morrow steps forward and blasts 10 yarder from middle into right side of net beyond 
flying goalie.

86 min...TFC Marky Delgado GOAL...TFC Justin Morrow on center line on left sideline rolls short pass to
TFC Jonathan Osorio at 50 yard line on left.  He one-touches pass forward and centered to TFC Sebastian
Giovinco at 45 yard line in middle.  Giovinco rolls pass forward to charging TFC Tosaint Ricketts who
is tripped up on edge of box by PT Larrys Mabiala but TFC Marky Delgado blasts loose ball from 15 yards
low to center of net over sprawling goalie.

88 min...Timbers Diego Valeri GOAL...TFC Michael Bradley has pass intercepted at center line on left by 
PT Jeremy Ebobisse.  He rolls pass from 50 yards forward to PT Diego Chara at 28 yards in middle.  He taps 
back to charging Valeri who runs up middle between three defenders at 15 yards including TFC Jason
Hernandez who stuck foot out and shoots 12 yarder between legs of sliding TFC Eriq Zavaleta over sliding
goalie at 7 yards and into right corner of net.

Final Score:.....Toronto FC......4......Portland Timbers......1.....

Attendance was announced as a sellout of 28415 on this hot and humid day.  It had rained on us while
the sun was still out more than an hour before the game, then when we got inside--well anyone like me
who sits from at least the seventh row forward.  It stopped before the game started and never did
start again.  It was so sunny it was hard to see the pregame fireworks.  

Man of the Match (who is always a TFC player) was announced as Justin Morrow.  He scored twice so
he was an easy choice. [Later in the week he was voted the MLS Player of the Week and put on the MLS
Team of the Week.     

TFC started tonight's game with no Canadians and subbed in their first one at 79 minutes with
Jonathan Osorio replacing Victor Vazquez.  By then the game was out of contention with TFC holding
a 3-0 lead.  Tosaint Ricketts came in at 82 minutes and it could be said he set up Justin Morrow's
second goal by falling but with him between ball and net and it made it easy for Morrow to blast
the open shot down the middle.  Meanwhile Nicolas Hasler from Liechtenstein who was signed ahead
of any North American player moving up from the TFC II team played the entire game.  

Tsubasa Endoh was on the bench today but didn't get into the game.  Jordan Hamilton was not.  Both
these players were in the USL game moved to this stadium on Wednesday and Hamilton scored two goals.
What does this Canadian have to do to earn a spot on the first team?    

Both teams had to make an early substitution at almost the same time.  Portland switched goalies
after Jake Gleeson rushed forward to catch a back pass header before Giovinco could get to it.  
He was down for about two minutes but played another two until he could be subbed off.  Between these
times TFC Nick Hagglund looked he did the splits to check PT Sebastian Blanco and poke the ball away.
He was subbed out for Jason Hernandez who played his spot on defence.  These both happened by the 20
minute mark.

We heard a short documentary on video replay as this was TFC's first home game since MLS invoked
the policy last week.  There wasn't anything close to controversial this week.

TFC and Portland had both scored 42 goals before today's game started.  That was tied for second in
the league behind Chicago Fire.  TFC had a better defensive record only conceding 23 while Timbers
had given 39 (so almost even with their goals scored).  A 0-0 score was not expected but that's how
the first half ended.  TFC were ten points better than Timbers in the stronger Eastern Conference
where they are in first.  Timbers were in a four way tie for second but ranked fifth on games played
and more losses that the others.  

TFC maintains first place in the East (me not knowing the later scores as they were one of the earliest
games played in the day.  

It wasn't Giovinco's best game with some missed opportunities but he did assist on the Vazquez goal.  

It would be hard to say if Timbers starting goalie Gleeson would have held off TFC scorers if he played
the full game as there were none that Attinella could be blamed for.  

The next TFC game is next weekend in Chicago in a game where first place may be up for grabs.  The
next TFC home game is Wednesday August 23rd against Philadelphia Union and our tickets provide free
admission to the Canadian National Exhibition.  

We were given Snickers bars on the way out. One of mine was labeled 'Snickers' and one said 'Confused'.

Rocket Robin
robing@eol.ca
twitter RocketRobin01


stats from MLSsoccer.com
Match Information

Goals and Assists
58' TOR Justin Morrow 
72' TOR Víctor Vázquez          Assisted By: Sebastian Giovinco, Marco Delgado 
76' TOR Justin Morrow              
87' TOR Marco Delgado 
89' POR Diego Valeri            Assisted By: Jeremy Ebobisse, Diego Chara 

Disciplinary
53' TOR Sebastian Giovinco      Reason: Dissent 

Lineup

Toronto FC 
10 F Sebastian Giovinco 
17 F Jozy Altidore      (83')
25 G Alexander Bono 
15 D Eriq Zavaleta 
 6 D Nick Hagglund      (19')
23 D Chris Mavinga 
26 M Nicolas Hasler 
18 M Marco Delgado 
 4 M Michael Bradley 
 7 M Víctor Vázquez     (80')
 2 M Justin Morrow 

Bench
 1 G Clint Irwin 
12 D Jason Hernandez     (19')
14 M Jay Chapman 
21 M Jonathan Osorio     (80')
87 F Tosaint Ricketts    (83')
 9 F Tsubasa Endoh 
44 F Raheem Edwards 

Manager  Greg Vanney   

Portland Timbers 
11 F Darren Mattocks          (75')
90 G Jake Gleeson             (18')
 2 D Alvas Powell 
33 D Larrys Mabiala 
13 D Lawrence Olum 
 5 D Vytautas Andriuskevicius 
21 M Diego Chara 
20 M David Guzmán              (72')
 6 M Darlington Nagbe 
 8 M Diego Valeri 
10 M Sebastián Blanco 

Bench
 1 G Jeff Attinella            (18')
16 D Zarek Valentin 
14 M Ben Zemanski 
27 M Dairon Asprilla           (72')
17 F Jeremy Ebobisse           (75')
18 M  Amobi Okugo 
19 F  Victor Arboleda 

Manager  Caleb Porter 

Officials
Referee  Kevin Stott 
Assistant Referee  Joe Fletcher 
Assistant Referee  Brian Poeschel 
Fourth Official  Sorin Stoica 
Video Assistant Referee  Silviu Petrescu 

Match Information
MLS at BMO Field
Toronto, ON
Attendance 28415
Weather Clear

Team Statistics
TOR                        POR
 13     Shots                9 
  6     Shots on Target      5 
  5     Shots off Target     4 
  2     Blocked Shots        0 
  7     Corners              5 
 19     Crosses             15 
  4     Offsides             3 
  7     Fouls                4 
  1     Yellow Cards         0 
  0     Red Cards            0 
464     Total Passes       469 
 79 %   Passing Accuracy    78 % 
 50 %   Possession          50 % 
 31     Duels Won           38 
  7     Tackles Won          9 
  4     Saves                2 
 14     Clearances          22 



Toronto FC starters


Portland Timber starters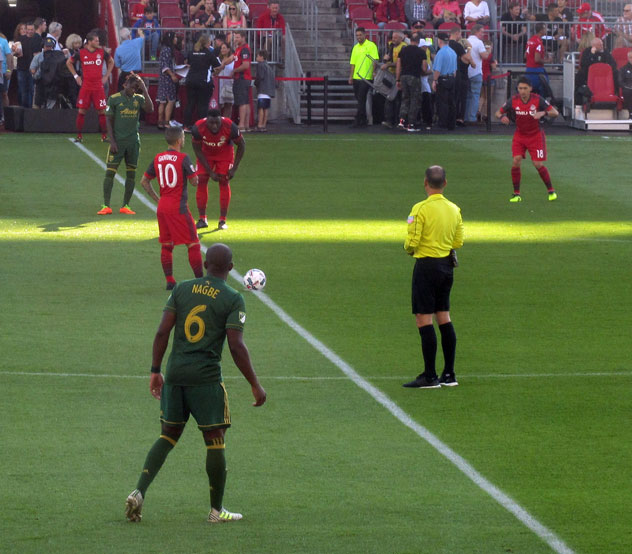 TFC Sebastian Giovinco (10) takes opening kickoff.


TFC Chris Mavinga (23) breaks down middle.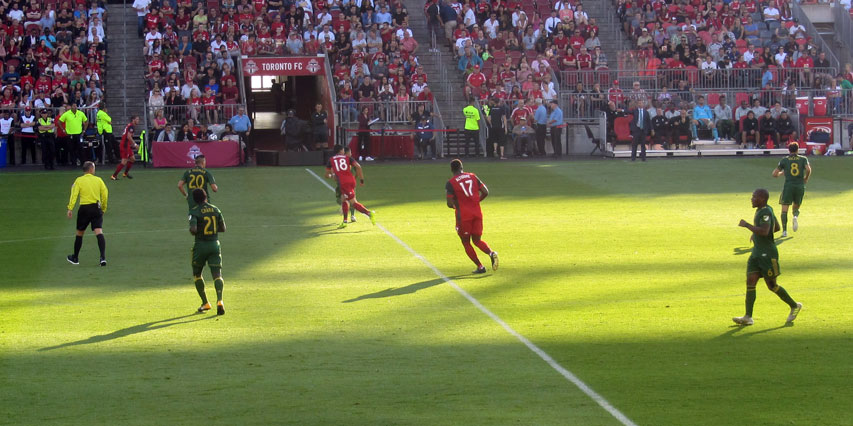 A cornerkick ball comes into Timbers box.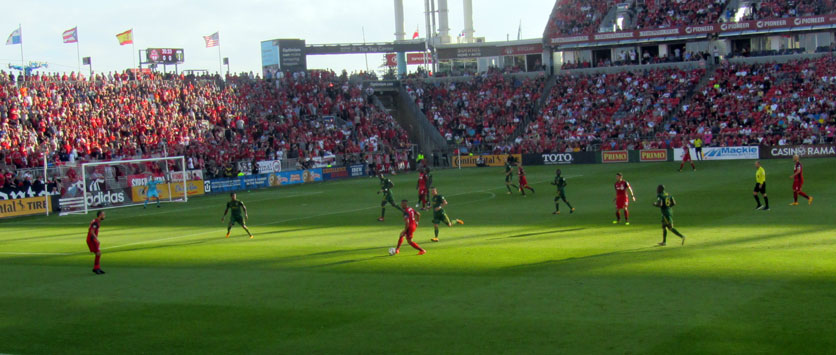 TFC Justin Morrow (2) pushes pass to TFC Victor Vasquez (7).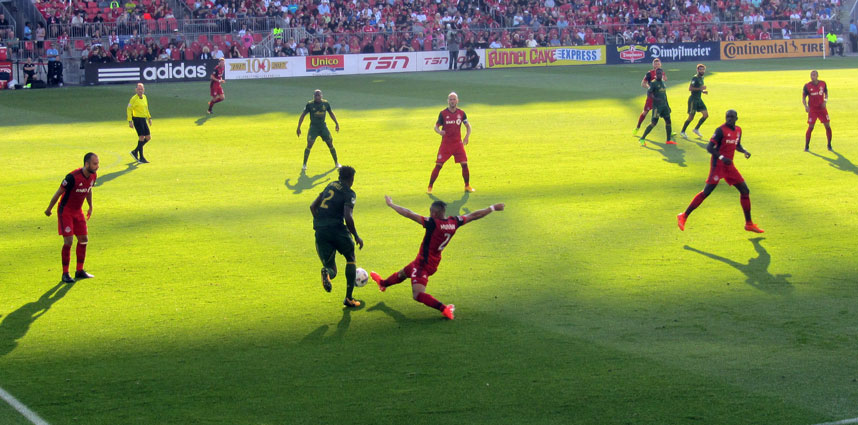 TFC Justin Morrow (2) lunges to check Timbers Alvas Powell (2).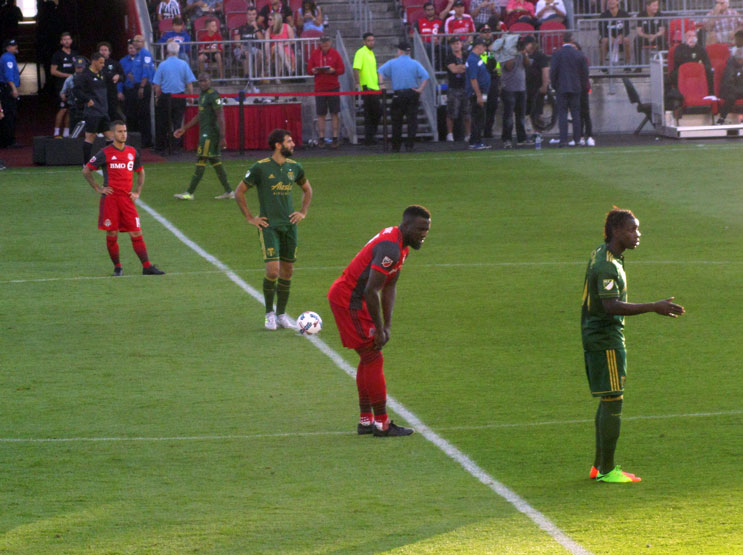 Timbers Diego Valeri (8) takes second half kickoff.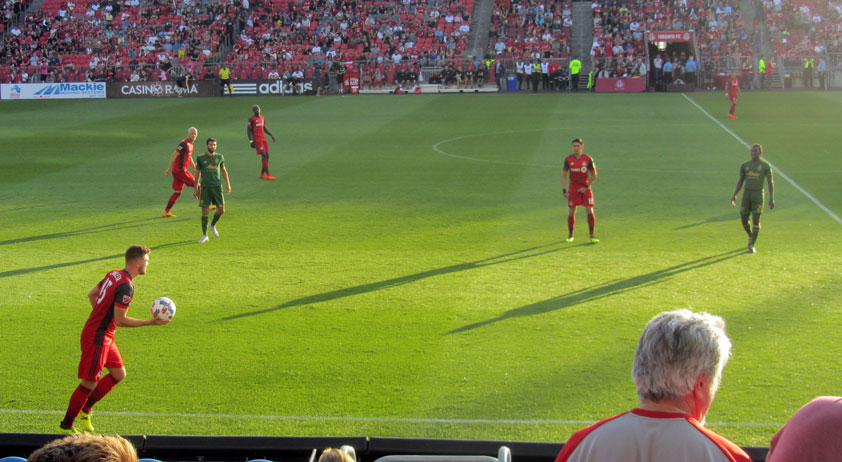 TFC Eriq Zavaleta (15) takes throw-in.


action on far sideline
back to TFC 2017 news and results
.
.