Saturday July 24, 2017--Toronto FC vs Colorado Rapids (by Rocket Robin)

..........................

I've found that I don't have the time to do a game play by play with all the writeups I'm doing
covering other leagues. I will skip the details and maybe do that after the season is over.

Result and details of the Friday June 23, 2017 MLS game between 
Toronto FC and New England Revolution played at BMO Field at 8:00pm.

4 min...TFC Jay Chapman GOAL...TFC Victor Vazquez rolls pass from 15 yards on right forward and defender
slides to poke it to left.  TFC Sebastian Giovinco charges forward and rescues ball on left end line and
runs further along line away from goal but turns and crosses from 16 yards over goalie Zac MacMath on left 
edge of 6 yard box. The ball falls and TFC Tsubasa Endoh slides forward to take 5 yard roller up middle that 
goalie slides to save at 1 yard.  The ball pops up and out where Chapman heads 5 yarder from right post 
over prone goalie into left side of open net that flying defender gets head to but pushes it to corner of net.

75 min...Rockies Dominique Badji GOAL...TFC Armando Cooper in middle passes from TFC 45 yard line that
deflects off CR player to CR Alan Gordon standing behind Cooper at 40 yard line and he rolls pass to right
for Badji who cuts towards goal from 35 yards on right hand gets shot between two defenders on edge of box
forward and into right side of net just inside post over diving goalie Clint Irwin. 

Final Score:.....Toronto FC......1......Colorado Rapids......1.....

Attendance was announced as 28060 for their first home game since June 23rd.  That's almost a month
because of a road trip and the break for the Gold Cup.  It was also threatening rain most of the evening
and there'd been some before the game started which might have scared off the walk up crowd.  
Also Rapids are not a glamourous team and are having a poor season in the Western Conference.  
The game ended and it did start to rain but not very hard.  Supposedly 2500 fans were here because of
sponsorship from the Central Ontario Building Trades organization/union.  

The Budweiser Man of the Match (who is always a TFC player) was announced as Tsubasa Endoh. 
He was given a lot of passes on the wing and sent in crosses early in the game but I felt was almost
forgotten in the second half.  

62 minutes had the Rapids sub in forward Alan Gordon, a tall forward who had a shot time for TFC
a few seasons ago to replace defender Eric Miller. It gave the Rapids more scoring opportunities
although it left them thinner at the back.  It made the game more end-to=end action but TFC were not
able to capitalize.  The risk for the Rapids is they could have given up more goals but it wouldn't
make a difference if they lost by more than one goal.  

Sebastian Giovinco played maybe his poorest game with off-target shots and freekicks and some poor
choices of passes.  Maybe he was still hurt after being subbed off in the first half of the NYCFC game
on Wednesday.  

Nick Hagglund made his first appearance in months and almost was the hero when he got in a flying header
off a cornerkick on the right that he connnected at 8 yards on the left and is just missed the top 
right corner.  

Victor Vazquez commanded the TFC midfield directiing players and passes. 

Marky Delgado blasted somewhere like three shots over the Rapids bar from outside the box.  

Robin Fraser acted as head coach for Greg Vanney who was suspended after the NYCFC game for comments 
to the officials. 

Jay Chapman scored his first MLS goal after one was called back in the NYCFC game that got Vanney ejected.  
He was injured and had to be subbed out at 72 minutes but fortunately TFC still had one sub left and
Armando Cooper replaced him.  TFC burned off their first sub at 30 minutes when Tosaint Ricketts came
in for the injured Benoit Cheyrou.  

TFC new defender signing Nicolas Hasler from Liechtenstein (small country in Europe) was not in the 
game nor on the bench.  I was on cell phone when my TFC ticket rep called to tell me that I had signed 
up to automatically renew my season tickets.  I had poor reception so I didn't rant about signing him 
rather than a player from their USL team (in particular a Canadian) at least until Steven Beitashour 
returns from injury.  On the other hand TFC II are trying to get us to vote for defender Brandon
Aubrey as both Defender and Rookie of the Year but he's lost his starting spot to 17 year old
Julian Dunn-Johnson who came up from the Toronto FC Academy (aka TFC III) from League 1 Ontario.  
Is there a future for TFC II?  The owners were ready to throw them away to be part of the new
Canadian Premier league so they'd have an interest in the league.  That couldn't have helped
team morale.    

The Rapids stalled for time with a series of injuries either feigned or exaggerated.  Even with five
minutes of injury time, TFC ddn't play much better with Rapids making blocks and clearances and
Giovinco shooting over the net from 10 yards.  

The CNE grounds still have some of the stands and cement barricades and fencing that they had for the 
Indy car races that were held last weekend.  At least the ones in the north leading to the transit stops
have been removed.  

TFC are already in first place as NYCFC beat second place Chicago this afternoon who were one point behind
TFC at the start of the day.  NYCFC helps TFC with that win but close in to three points and come to
play TFC next Sunday for a rematch of Wednesday's tie game in New York.  NYFC have never lost to TFC
in the regular season.  Chicago hold one game in hand on both teams so it's quite a tangle at the top.  

Rapids had not earned a point away from home this entire season.  The result helps them climb out of last
place in the West over Minnesota who lost at home to New York Red Bulls earlier this afternoon.  

We were given a Snickers bar on the way out and off the grounds a mini can of Coke Zero.  
The streetcars weren't too backed up and since the baseball team was out of town (as their
games seem to always end just after TFC games and their fans walk over to crowd the subway 
station), there was not a pushing match to get onto the train.  I was home in 90 minutes 
which must be a record.  

Rocket Robin
robing@eol.ca
twitter @RocketRobin01


stats from MLSsoccer.com
Match Information

Goals and Assists
 5'    TOR  Jay Chapman    
76'    COL  Dominique Badji          Assisted By: Alan Gordon 

Disciplinary
26'    TOR  Chris Mavinga            Reason: Unsporting Behavior 
44'    COL  Axel Sjoberg             Reason: Unsporting Behavior 
90'+5' COL  Marlon Hairston          Reason: Unsporting Behavior 

Lineup

Toronto FC  
10 F Sebastian Giovinco 
 1 G Clint Irwin 
 9 D Tsubasa Endoh 
15 D Eriq Zavaleta 
 6 D Nick Hagglund 
23 D Chris Mavinga 
44 D Raheem Edwards       (69')
14 M Jay Chapman          (73')
18 M Marco Delgado 
 8 M Benoit Cheyrou       (40')
 7 M Víctor Vázquez 

Bench
25 G Alexander Bono 
 3 D Drew Moor 
 5 D Ashtone Morgan        (69')
87 M Tosaint Ricketts      (40')
31 M Armando Cooper        (73')
22 F Jordan Hamilton 
27   Oyvind Alseth 

Manager  Greg Vanney  

Colorado Rapids 
14 F Dominique Badji 
 9 F Kevin Doyle 
18 G Zac MacMath 
 3 D Eric Miller        (63')
24 D Kortne Ford        (69')
44 D Axel Sjoberg 
 2 D Mike da Fonte 
94 M Marlon Hairston 
22 M Micheal Azira 
90 M Mohammed Saeid 
17 M Dillon Serna        (86')

Bench
12 G John Berner 
16 D Alan Gordon         (63')
33 D Jared Watts         (69')
26 D Dennis Castillo 
 8 M Dillon Powers 
21 M Bismark Boateng 
29 M Caleb Calvert        (86')

Manager  Pablo Mastroeni 

Officials
Referee  Juan Guzman Jr. 
Assistant Referee  Craig Lowry 
Assistant Referee  Peter Balciunas 
Fourth Official  Ricardo Salazar 

There must have been st least one change because I saw David Barrie as the fourth officials!   

Match Information
MLS at BMO Field
Toronto, ON
Attendance 28060
Weather Cloudy

Team Statistics
TOR                        NER
 15     Shots                9 
  4     Shots on Target      4 
  9     Shots off Target     4 
  2     Blocked Shots        1 
  3     Corners              3 
 14     Crosses             12 
  2     Offsides             3 
  7     Fouls               15 
  1     Yellow Cards         2 
  0     Red Cards            0 
544     Total Passes       382 
 84 %   Passing Accuracy    78 % 
 58.8 % Possession          41.2 % 
 59     Duels Won           35 
 14     Tackles Won          7 
  3     Saves                3 
 16     Clearances          16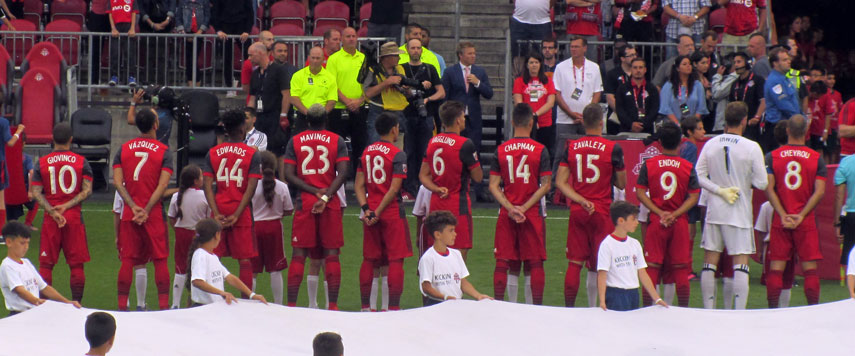 Toronto FC starters


Colorado Rapids starters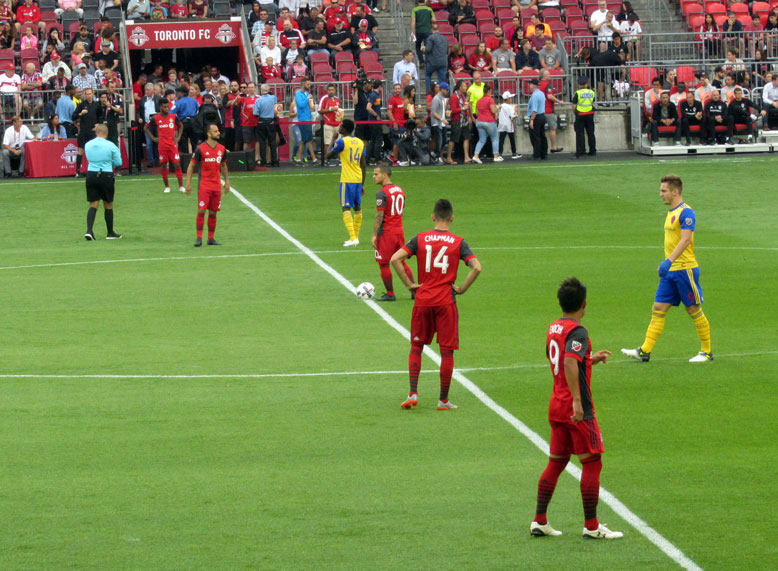 TFC Sebastian Giovinco (10) takes opening kickoff.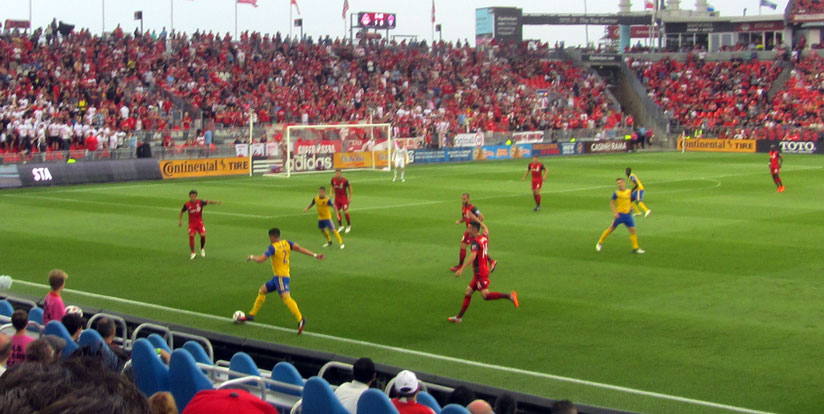 Rapids Mike Da Fonte (2) keeps ball in play.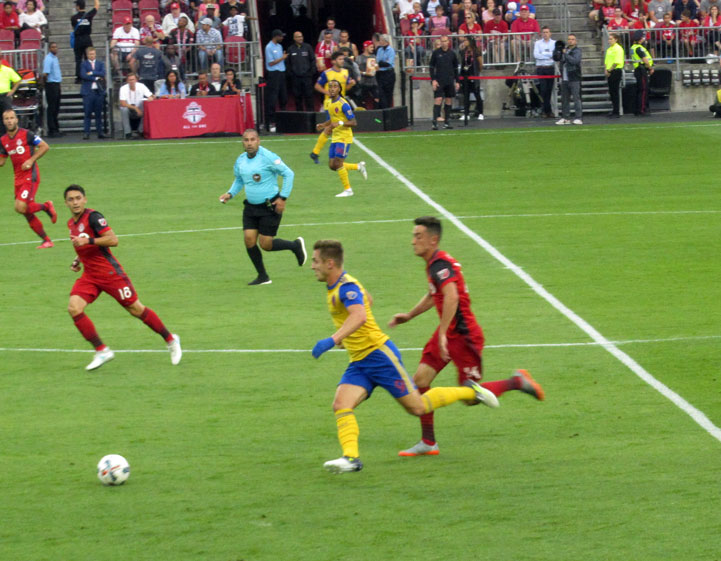 Rapids Kevin Doyle (9) dribbles across center.


TFC Marky Delgado (18) rushes up middle.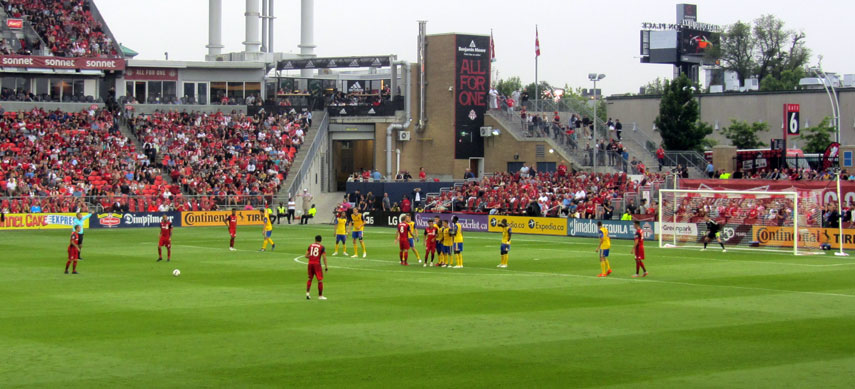 TFC Sebastian Giovinco (10) takes freekick up middle.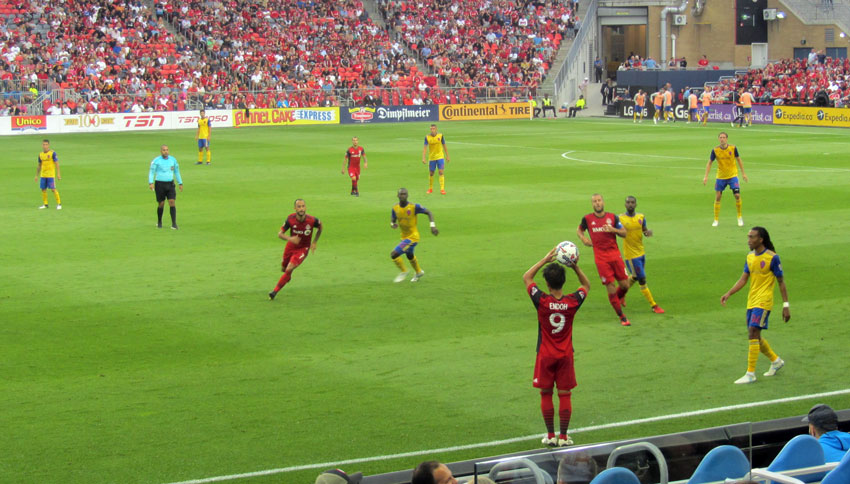 TFC Tsubasa Endoh (9) takes throw-in.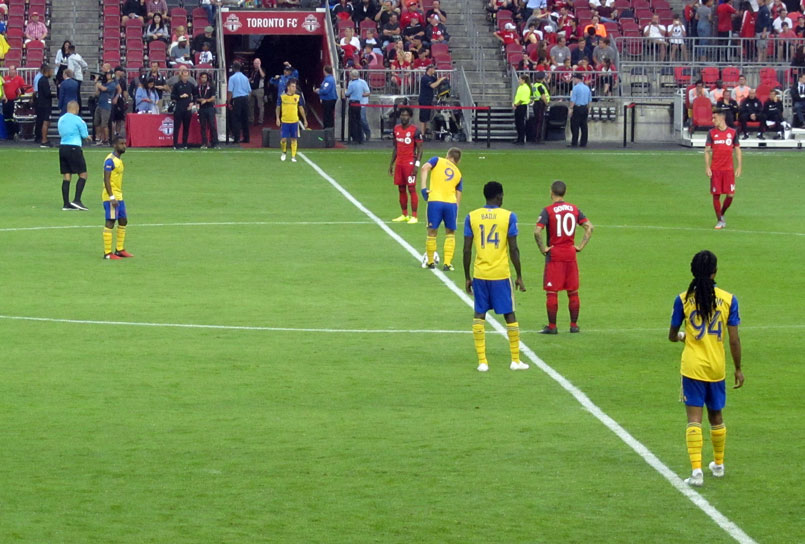 Rapids Kevin Doyle (9) takes second half kickoff.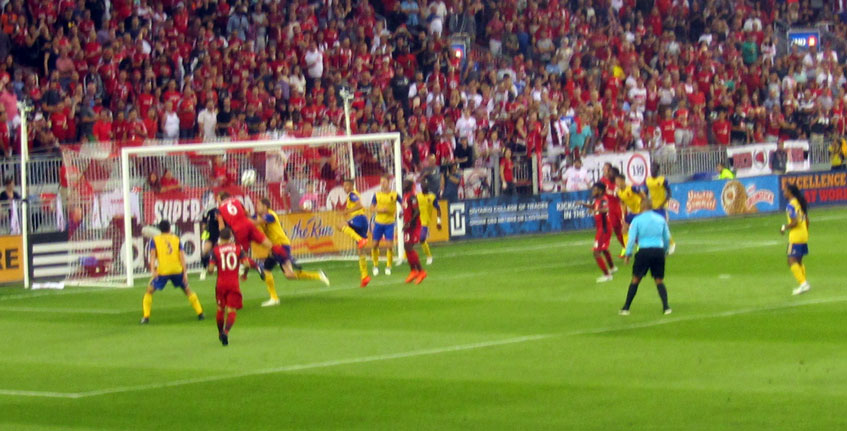 TFC Nick Hagglund (6) puts header just over bar.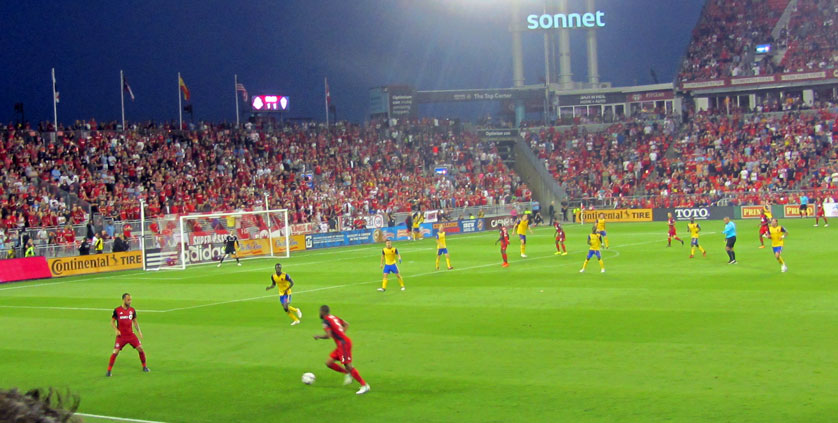 TFC Ashtone Morgan (5) on rush on left.
back to TFC 2017 news and results
.
.