Tuesday June 27, 2017--Toronto FC vs Montreal Impact (by Rocket Robin)

.......................... ...............

I've found that I don't have the time to do a game play by play with all the writeups I'm doing
covering other leagues. I will skip the details and maybe do that after the season is over.

Result and details of the Tuesday June 27, 2017 Canadian Championship Final 
between Toronto FC and Montreal Impact played at BMO Field at 7:30pm.

35 min...Impact Ballou Jean-Yves Tabla GOAL...Imp Blerim Dzemali has his 
rush from 55 yards up middle stopped by slide of TFC Chris Mavinga 
at TFC 33 yard line. The ball spins over Mavinga and now to Dzemali 
at 30 yard line and he taps pass to charging Tabla. Tabla blasts shot 
up middle from 20 yards between two defenders and into top left corner 
of net over flying goalie Clint Irwin.

53 min...TFC Sebastian Giovinco GOAL...TFC Marky Delgado intercepts pass 
attempt on center line and chips pass to left for TFC Michael Bradley 
at 40 yard line. Bradley sends long cross to Giovinco at 12 yards 
on right and he chests ball down and runs towards center of box and 
cuts low shot between two defenders and into right corner of net past 
diving goalie Maxime Crepeau.

88 min...Impact RED card...Patrice Bernier earns it for stealing ball off 
TFC Sebastian Giovinco on edge of Imp box and he starts weaving through 
challengers like TFC Michael Bradley who he turns to elude at 28 yards 
in middle and kicks ankle of TFC Marky Delgado injuring him although Bernier 
had one foot standing on the ball. A group of TFC players swarms the referee 
and Dave Gantar gives out a delayed Red card.

94 min (2nd half)...TFC Sebastian Giovinco GOAL...TFC Michael Bradley 
checks Imp Ballou Jean-Yvews Tabla off ball at Imp 40 yard line and 
Giovinco recovers and sidesteps sliding tackle at 35 yards and taps 
pass as Tabla grabs his shoulder but he bounces back up. 
TFC Victor Vazquez recovers ball at 35 yards on left and rolls it forward 
to charging TFC Raheem Edwards. Edwards at 18 yards on far left rolls 
centering pass through sliding defender's legs and Giovinco at 7 yards 
is even with left post kicks ball forward to left side of net.

After the goal, TFC players jump over the sign boards to celebrate with fans 
in the south end. Edwards is the first one over so earns a Yellow card 
for time-wasting.

96 min...Ball put back in play at center and whistle is blown to end the game.

Final Score:.....Toronto FC......2......Montreal Impact......1.....
(Toronto FC wins two game series 3-2 on aggregate)

The MVP of the tourney is TFC Sebastian Giovinco with the goal scoring 
lead of three goals. He only played three of the four TFC games and came 
in as halftime sub in the home game against Ottawa (and scored their 
fourth goal) and subbed in at 62 minutes in their away game in Montreal. 
Efficient! He was given a crystal vase, the George Gross Trophy—named 
for the late sportswriter.

Next was a medal presentation to TFC players and Michael Bradley accepted 
the Voyageurs Cup. I leaned over while we were waiting and told a fan 
in the row in front of me how I was one of the fans who paid to buy the 
trophy in 2001. The players went to the south end with their medals and 
the trophy and Giovinco led the Icelandic chant on the drum those fans 
provided. The players then continued and made a complete circle of the 
field with midfielder Chris Mavinga so we could applaud them too. 
Nice gesture even though half my row had headed for the exits.

Bet Mavinga never thought he'd be doing this when he was a boy in France. 
The lights went down and a fireworks display as promised for Canada Day 
this weekend was put on. How long did it last? Enough time to get through 
'Tom Sawyer' by Rush and 'Summer of '69' by Bryan Adams!

Now I left and stood for the entire streetcar route as expected but most 
of the subway route too as it was clogged with Blue Jays fans as their 
game had just ended (seems like this or Leaf hockey games back in the 
spring happens 50% of the time).

The TFC win saves me about $100 by NOT having to play a rather awkward 
play-in game on August 9th between the 2016 vs 2017 Canadian Championship 
winners for entry into the CONCACAF club championships next spring.  
I can spend that day with my $10 ticket to the TFC II vs Charlotte 
Independence game at the Ontario Soccer Centre.

From our seats in the East side, we don't get to see the active sign 
boards like you do on television so I didn't know Twitter had exploded 
with comments about the CSA (who host this competition) dropping ads 
for the Canadian Premier League during the game—something the TFC 
corporate owners would never approve during an MLS game. TFC made 
halftime subs taking out two of their three Canadians Tosaint Ricketts 
and Jonathan Osorio for Americans Jozy Altidore and Marky Delgado. 
I'm sure if this tourney wasn't mandated in insisting on a minimum 
of three starting Canadians, TFC wouldn't have started them at all. 
Two Canadians out before the second half starts happened in the home 
semi-final against Ottawa as well.  That's why we need that 
new Canadian league!

Bradley and Altidore were given extensions by the coach of the 
US National team to NOT play in the first round of the Gold Cup 
so they could play tonight and TFC's next two league games. 
Justin Morrow (midfielder) was chosen to play for the US in the 
first round so he's left already. The three players named to the 
Canadian team for the Gold Cup, Jonathan Osorio, Raheem Edwards 
and Tosaint Ricketts were allowed to stay with TFC until tomorrow.

I thought TFC started slowly and had a lot of broken plays. 
Even Giovinco kicked a freekick into a player wall. Once the Impact 
scored now TFC were in trouble as they would need to eventually score 
two goals to win. Impact defenders Laurent Ciman and Hassoun Camara 
had to make some big blocks and key clearances to prevent 
TFC break-ins.  TFC had more chances but Impact got 
by with counterattacks. 

I think the Red card was a make-up call for not awarding 
a Penalty kick to TFC when Giovinco was upended two minutes earlier.

Attendance of 26539 for a midweek game was pretty good.

Rocket Robin
robing@eol.ca
twitter RocketRobin01


stats from MLSsoccer.com
Match Information

Goals and Assists
36'      MON   Ballou Jean-Yves Tabla            Assisted By: Ignacio Piatti 
53'      TOR   Sebastian Giovinco                Assisted By: Michael Bradley 
90'+5'   TOR   Sebastian Giovinco                Assisted By: Raheem Edwards, Víctor Vázquez 

Disciplinary
45'+2'   MON   Kyle Fisher                       Reason: Unsporting Behavior 
59'      MON   Hernán Bernardello                Reason: Unsporting Behavior 
89'      MON   Patrice Bernier (RED card)        Reason: Serious Foul 
90'+6'   TOR   Raheem Edwards                    Reason: Time wasting 

Lineup

Toronto FC 
10 F Sebastian Giovinco 
87 F Tosaint Ricketts    (HT)  
 1 G Clint Irwin 
15 D Eriq Zavaleta 
 3 D Drew Moor 
23 D Chris Mavinga 
33 M Steven Beitashour 
 7 M Víctor Vázquez 
 4 M Michael Bradley 
21 M Jonathan Osorio     (HT) 
44 M Raheem Edwards 

Bench
25 G Alexander Bono 
12 D Jason Hernandez 
 5 D Ashtone Morgan 
 8 M Benoit Cheyrou 
31 M Armando Cooper 
18 M Marco Delgado       (HT)
17 F Jozy Altidore       (HT)

Manager  Greg Vanney  

Montreal Impact 
21 F Matteo Mancosu 
40 G Maxime Crépeau 
 6 D Hassoun Camara 
36 D Víctor Cabrera            (90'+1')
23 D Laurent Ciman 
26 D Kyle Fisher 
 8 M Patrice Bernier 
30 M Hernán Bernardello 
13 M Ballou Jean-Yves Tabla 
31 M Blerim Dzemaili 
10 M Ignacio Piatti            (80')

Bench
 1 G Evan Bush 
 5 D Wandrille Lefevre         (90'+1')
 7 F Dominic Oduro             (80')
16 M Calum Mallace 
27 F Nicholas DePuy 
24 F Anthony Jackson-Hamel 
19  Michael Salazar 

Manager  Mauro Biello 

Officials
Referee  David Gantar 
Assistant Referee  Philippe Briere 
Assistant Referee  Chris Wattam 
Fourth Official  Geoff Gamble 

Match Information
Canada Chmp at BMO Field
Toronto, ON
Attendance 26539
Weather Clear

Team Statistics
TOR                        MON
 13     Shots                7 
  7     Shots on Target      2 
  2     Shots off Target     4 
  4     Blocked Shots        1 
  5     Corners              3 
 24     Crosses              8 
  2     Offsides             2 
  8     Fouls               11 
  1     Yellow Cards         2 
  0     Red Cards            1 
500     Total Passes       400 
 81 %   Passing Accuracy    75 % 
 56.2 % Possession          43.8 % 
 49     Duels Won           46 
 18     Tackles Won         16 
  1     Saves                5 
 23     Clearances          21 



Toronto FC starters


Montreal Impact starters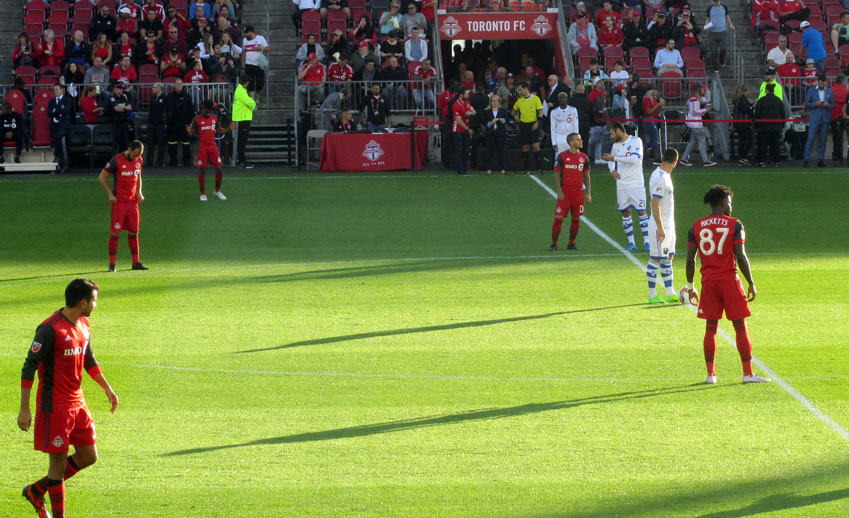 Impact Blerim Dzemali (31) takes opening kickoff.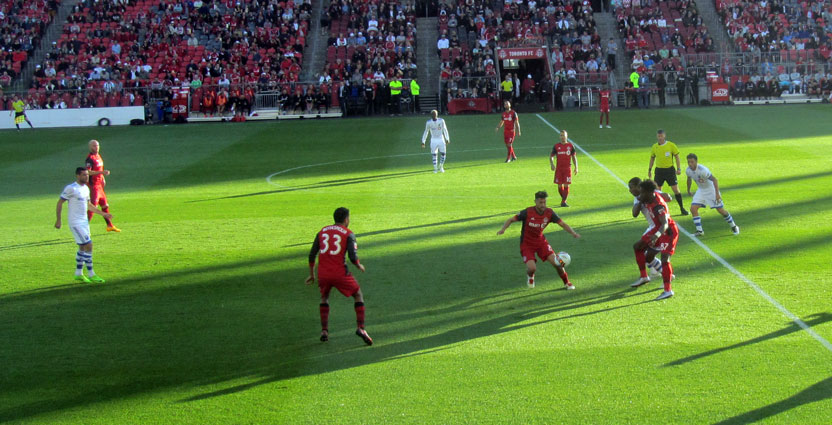 TFC Jonathan Osorio (21) and Tosaint Ricketts (87) surround ball.


Impact Blerim Dzemali (31) cornerkick has TFC Tosaint Ricketts (87) dive to clear.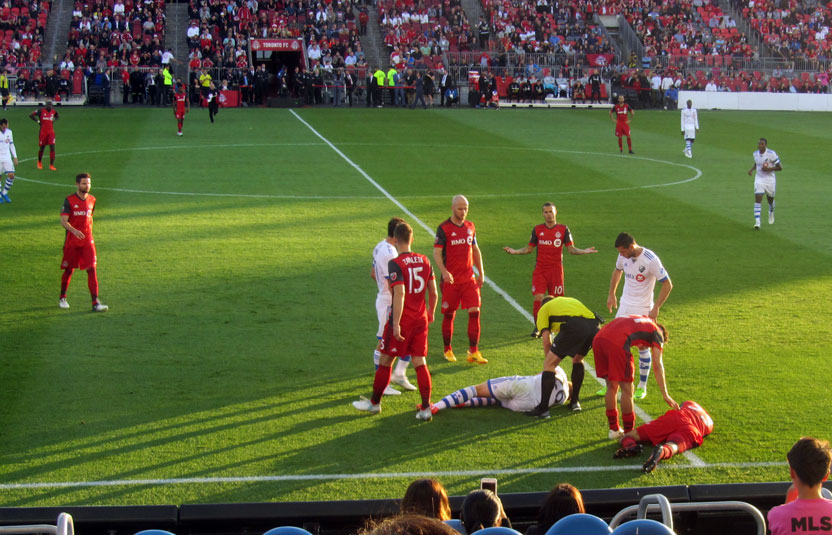 Impact Kyle Fisher (26) and TFC Steven Beitashour (33) are hurt in collision. Fisher earns a Yellow card.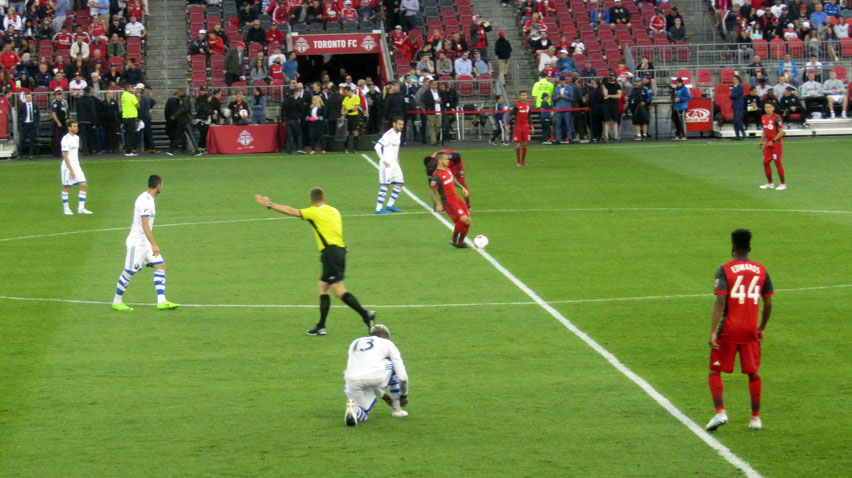 TFC Sebastian Giovinco (10) kicks off second half.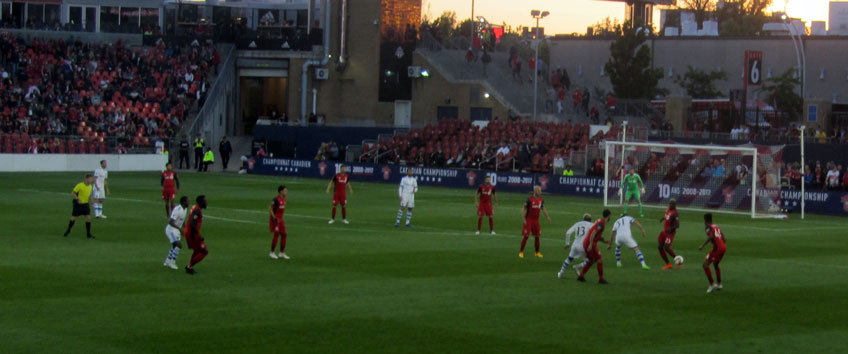 TFC Chris Mavinga (23) stops rush of Impact Blerim Dzemalii (31).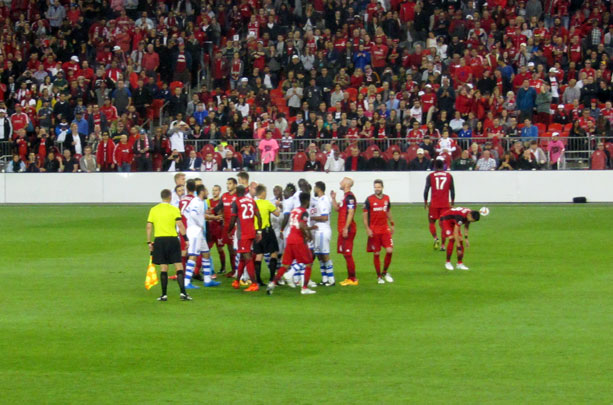 Did teams dust up 'convince' referee to Red card Imp Patrice Bernier?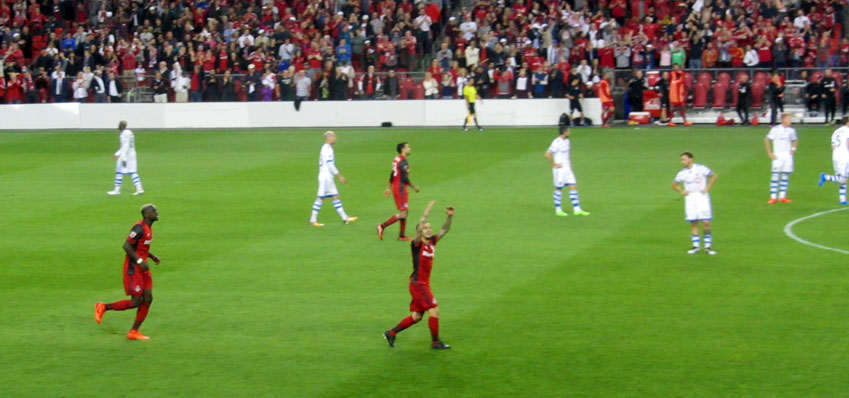 TFC Sebastian Gioviinco (10) has scored injury time goal.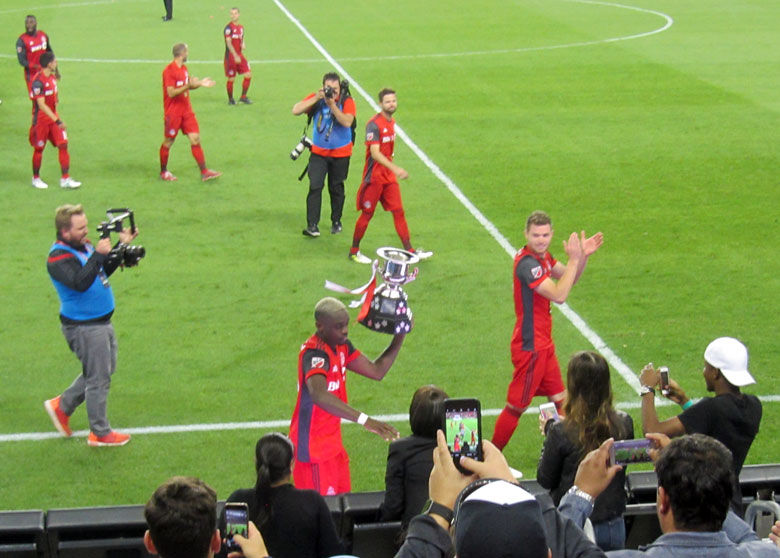 TFC Chris Mavinga (23) carries Voyageurs Cup trophy around field.
back to TFC 2017 news and results
.
.