Friday June 23, 2017--Toronto FC vs New England Revolution (by Rocket Robin)

.......................... ...............

I've found that I don't have the time to do a game play by play with all the writeups I'm doing
covering other leagues. I will skip the details and maybe do that after the season is over.

Result and details of the Friday June 23, 2017 MLS game between 
Toronto FC and New England Revolution played at BMO Field at 8:00pm.

10 mn...TFC Drew Moor GOAL...TFC Tsubasa Endoh on far right near sideline ceneter ball and
TFC Armando Cooper tips low shot from 20 yards on right that has sliding Moor redirect
ball in from 3 yards inside left corner of net leaving goalie Cody Cropper marooned in
center of net.

97 min...TFC Sebastian Giovinco GOAL...TFC Victor Vazquez sends long high pass from 60 yards on left
sideline downfield and to right where Giovinco gets to ball on bounce and is one on one with 
NER Benjamine Angoua at 25 yards.  He runs to center and cuts 15 yard roller into right corner of net.

Final Score:.....Toronto FC......2......New England Revolution......0.....

Attendance was announced as 27261 which was not quite a sellout like Saturday's game but still 
a big crowd.  It was Pride Night and rainvow coloured smoke was let off before the game in the 
south end.  

Toronto FC win again at home.  It is their seventh home win in a row and combined with their two home
ties to start, that makes nine home games undefeated.

It was the same scoreline as last Saturday's game against DC United and although they scored earlier
this game (only 10 minutes) rather that waiting until the second half, they ddn't put the game 
out of reach until well into injury time.  Also the Revs are a much more dangerous team than DCU.

There was six minutes of injury time athe the end of the second half as there were three injuries 
that needed to bring on a trainer.  A collision between two Revs players needed a stretcher 
for one of them.

Alex Bono earned the shutout again for TFC like last week.  Clint Irwin played the midweek Canadian
Championship game in Montreal.  Bono had little to do making maybe two good stops including the
leap to swat the Revs Alex Bunbury's header away from the top right corner of the the net at 87 minutes.

TFC once again started no Canadian but subbed in three during the second half.  Actually that's when 
I felt most mervous as I wondered if Revs would tie and we'd have a Canadian goat.  I am really going 
to be paying attention to the Canadian Premier League announcemenets to see if they start a franchise 
around the GTA for 2019.  Oh well 2018, I'll renew my TFC tickets to watch the foreigners.

Michael Bradley ddn't play today as he was servng a one game suspension for accumulating five Yellow cards.
How convenient he drew his fifth last Sautrday a day or so after complaining about fixture congestion.
This didn't effect him playing in Wednesday's Canadian Championship game.  Tonight Benoit Cheyrou
filled in admirally for him in his midfield spot and alos as captain.  It was another game without
all three DPs playing at the same time.

The Revs played bgetter in the second half and got off to a good start for the first five minutes 
of that half and then it was more even with lots of back and forth action.  Revs subbed off a defender
for a forward at 53 minutes to maintain their momentum.  Revs haven't won away from home this season.
Revs are one of the few teams that TFC has a losing record against in the last few years.

TFC will now get an extra day's rest on Montreal who travel to Columbus on Saturday and then play
here Tuesday for the second leg of the Canadian Championship final.

That late second goal (and the win) mean fans can get a free slice of pizza with the team sponsor 
Pizza Pizza tomorrow.

We were given an Oasis brand juicebox on our way out.

Rocket Robin
robing@eol.ca
twitter @RocketRobin01


stats from MLSsoccer.com
Match Information

Goals and Assists
11'     TOR  Drew Moor               Assisted By: Tsubasa Endoh, Armando Cooper 
90'+6'  TOR  Sebastian Giovinco      Assisted By: Víctor Vázquez 

Disciplinary
22'     TOR  Sebastian Giovinco      Reason: Unsporting Behavior 
50'     NER  Antonio Mlinar Delamea  Reason: Unsporting Behavior 
52'     TOR  Jozy Altidore           Reason: Unsporting Behavior 

Lineup

Toronto FC 
17 F Jozy Altidore 
10 F Sebastian Giovinco 
25 G Alexander Bono 
12 D Jason Hernandez 
 3 D Drew Moor 
23 D Chris Mavinga       (69')
 9 M Tsubasa Endoh       (78')
31 M Armando Cooper      (68')
 8 M Benoit Cheyrou 
 7 M Víctor Vázquez 
 2 M Justin Morrow 

Bench
 1 G Clint Irwin 
 5 D Ashtone Morgan       (69')
14 M Jay Chapman          (78') 
21 M Jonathan Osorio      (68')
87 F Tosaint Ricketts 
19 F Ben Spencer 
27 D  Oyvind Alseth 

Manager  Greg Vanney  

New England Revolution 
17 F Juan Agudelo 
 1 G Cody Cropper 
28 D London Woodberry        (70')
 4 D Benjamin Angoua 
19 D Antonio Mlinar Delamea  (80') 
 2 D Andrew Farrell 
 5 M Gershon Koffie 
15 M Je-Vaughn Watson        (54') 
24 M Lee Nguyen 
11 M Kelyn Rowe 
14 M Diego Fagundez 

Bench
18 G Brad Knighton 
 8 D Chris Tierney           (70')
10 D Teal Bunbury            (80')
27 D Joshua Smith 
23 M Kei Kamara              (54')
21 M Zachary Herivaux 
88 F Femi Hollinger-Janzen 

Manager  Jay Heaps 

Officials
Referee  Hilario Grajeda 
Assistant Referee  Claudiu Badea 
Assistant Referee  Gianni Facchini 
Fourth Official  Geoff Gamble 

Match Information
MLS at BMO Field
Toronto, ON
Attendance 27261
Weather Clear

Team Statistics
TOR                        NER
  9     Shots               12 
  4     Shots on Target      3 
  2     Shots off Target     5 
  3     Blocked Shots        4 
  5     Corners              6 
 12     Crosses             18 
  0     Offsides             2 
 10     Fouls               20 
  2     Yellow Cards         1 
  0     Red Cards            0 
412     Total Passes       396 
 79 %   Passing Accuracy    80 % 
 50.4 % Possession          49.6 % 
 59     Duels Won           33 
 15     Tackles Won          8 
  3     Saves                1 
 27     Clearances          24 



Toronto FC starters


New England Revolution starters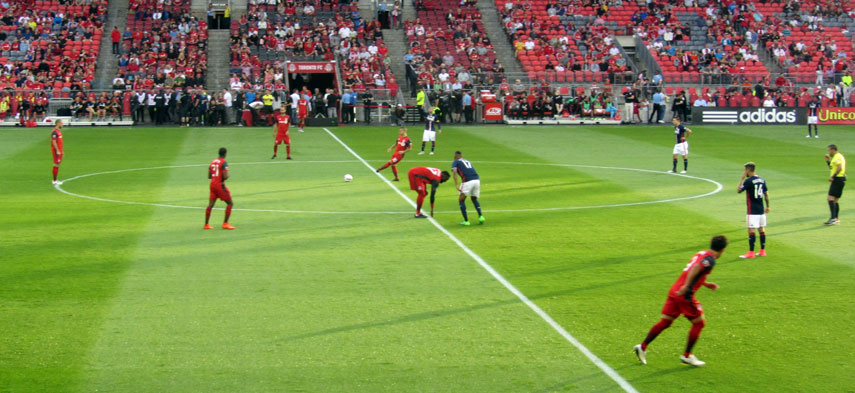 TFC Sebastian Giovinco (10) takes opening kickoff.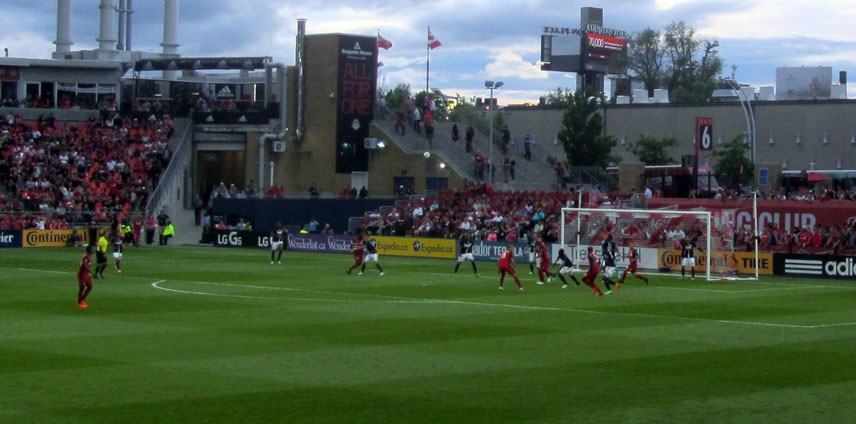 TFC Victor Vazquez (7) sends cornerkick into box.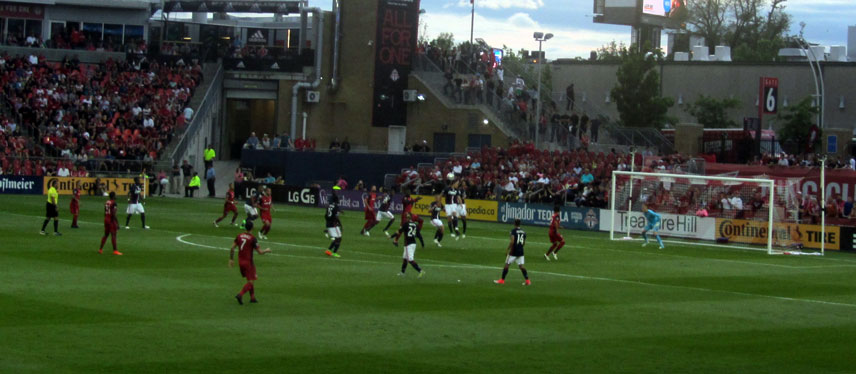 TFC Victor Vazquez (7) sends freekick into box.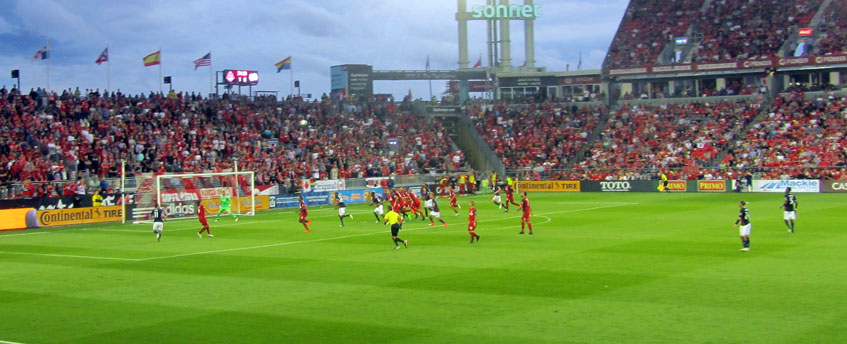 Revs Kelyn Rowe (11) charges towards left post for freekick coming into box.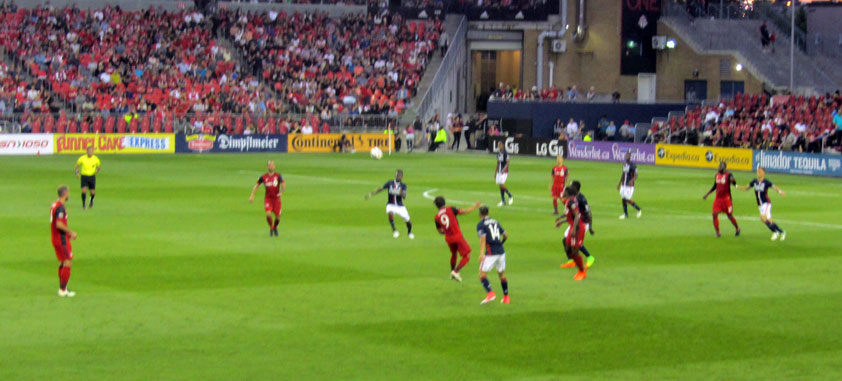 midfield action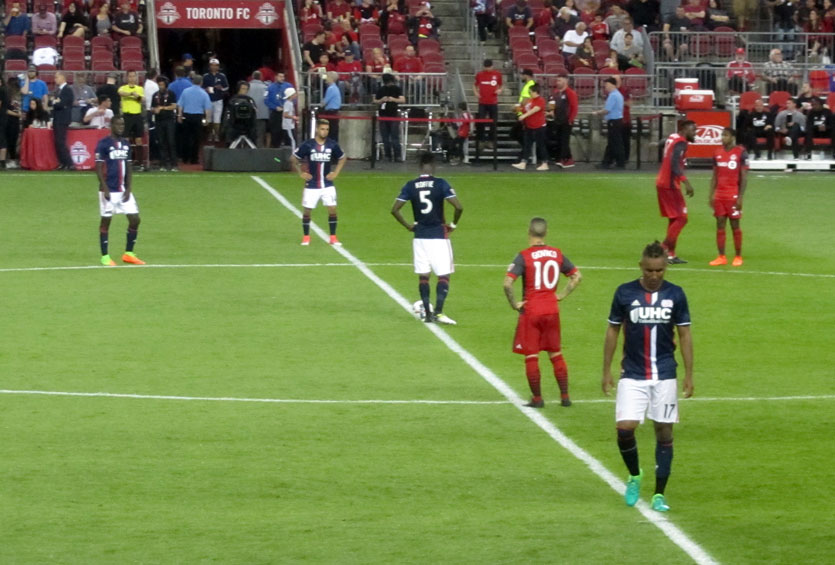 Revs Gershon Koffie (5) takes second half kickoff.


TFC Sebastian Giovinco (10) takes a freekick.

Revs London Woodbury (28) sends cross into box.


Multi-coloured smoke let off pregame as part of the Pride celebration.
back to TFC 2017 news and results
.
.