Saturday June 17, 2017--Toronto FC vs D.C. United (by Rocket Robin)

.......................... ...............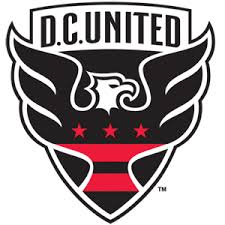 I've found that I don't have the time to do a game play by play with all the writeups I'm doing
covering other leagues. I will skip the details and maybe do that after the season is over.

Result and details of the Saturday June 17, 2017 MLS game between 
Toronto FC and D.C. United played at BMO Field at 8:00pm.

59 min...TFC Jozy Altidore GOAL...TFC Michael Bradley from 70 yards in middle sends low pass
to TFC Sebastian Giovinco at 45 yards on right.  Giovinco passes to Altidore at 25 yards
in middle and steps forward and shoots 18 yarder into left side of net past goalie Bill Hamid.

84 min...TFC Jordan Hamilton GOAL...TFC Sebastian Giovinco cornerkick from left has charging Hamilton
run across box from right and flick 7 yard header from left into top right corner of net 
on a tight angle.

Final Score:.....Toronto FC......2......D.C. United......0.....

Attendance was announced as a sellout tonight at 28,627.  The fans ddn't arrve early even though 
the tickets were printed back in February with a 7:30pm starting date and moved to half hour later
just a few weeks ago.  The game didn't kick off until 8:15pm.  I don't know why as TSN was committed
to the 10:00pm game of Vancouver Whitecaps hosting Dallas.  The game here didn't end until 10:06pm
plus commercials after that so they must have to delay the start or join it in progress with an
overflow TSN channel starting it on time.  

In a pregame ceremony there was a Father's Day celebration with TFC players with children shown
on the video board.  There was a burned out circuit in the scoreboard which was a distraction
for me.  

There were no Canadian starters in tonight's game.  They may be saving them all for the Canadian
Championship on Tuesday in Montreal when they'll be mandated to use three Canadian starters.  
There were four on the bench and the three subs that TFC made brought Raheem Edwards, 
Jordan Hamilton, and Jonathan Osorio into the game.  Hamilton rewarded them by scoring an insurance 
goal.  It was just on Wednesday afternoon when I watched him score the game's only goal for 
Toronto FC II in a USL game against Orlando City B.  It was only TFC II's fifth goal scored 
all season!    

Man of the Match (who is always a TFC player) was Michael Bradley.  Well it wasn't for his
shooting!  There was no US National team chipping the Mexican goalie from 40 yards, in fact
nothing he put on target in the few shots he took.  The Jozy Altidore and Sebastian Giovinco
pairing was off tonight as their passes to each other were too soon or too late and both had
shots blocked.  Giovinco's shots must be hard as at least twice a DCU defender was hurt.  

This was TFC's first use of their three Designated Players together since May 3rd because
of injuries, suspensions, and internationals.  That won't continue as Bradley's Yellow card
means he will miss Friday's home game against New England.  Watch him play in the Wednesday
Canadian Championship game instead.  

If Altidore was really injured (he collapsed at least twice on his own) he should have come off
sooner.  They left hm on and he drew a Yellow card on this third attempt to flatten a DCU player.
Victor Vazquez had to turn around and dribble back with Altidore sitting 30 yards upfield
well offside.

Alex Bono earned the shutout with a few key stops but mostly having to be alert to grab 
crosses into the box before they got dangerous.

DCU's scoring record is now only 10 goals n 15 games.  TFC leads the East with the losest amount
of goals conceded with only 15.  The DCU defence looked good enough with lots of blocked shots
and forcing rushed ones.  They were able to break up TFC's one-too-many pass plays.  Their
goalie, Bill Hamid, has been one of the league's best for the last few years.  

I didn't realize the Chicago game started earlier than this TFC one and today's win for the Fire
put them into first place for almost an hour until this game was over.  
 
Toronto FC now has a 2.00 points per game rate which is the best in the league.  (3.00 is perfect).
DCU has the second worst of 22 teams at exactly 1.00.  

Rocket Robin
robing@eol.ca
twitter @RocketRobin01


stats from MLSsoccer.com
Match Information

Goals and Assists
60' TOR Jozy Altidore             Assisted By: Sebastian Giovinco 
85' TOR Jordan Hamilton           Assisted By: Sebastian Giovinco 

Disciplinary
27' TOR Víctor Vázquez            Reason: Unsporting Behavior 
40' TOR Sebastian Giovinco        Reason: Dissent 
65' TOR Jozy Altidore             Reason: Unsporting Behavior 
72' DCU Kofi Opare                Reason: Unsporting Behavior 
83' DCU Ian Harkes                Reason: Unsporting Behavior 

Lineup

Toronto FC 
17 F Jozy Altidore        (78')
10 F Sebastian Giovinco 
25 G Alexander Bono 
15 D Eriq Zavaleta 
 3 D Drew Moor 
23 D Chris Mavinga 
33 M Steven Beitashour    (75') 
18 M Marco Delgado        (84')
 4 M Michael Bradley 
 7 M Víctor Vázquez 
 2 M Justin Morrow 

Bench
 1 G Clint Irwin 
12 D Jason Hernandez 
 8 M Benoit Cheyrou 
14 M Jay Chapman 
21 M Jonathan Osorio       (84')
44 M Raheem Edwards        (75')
22 F Jordan Hamilton       (78')

Manager  Greg Vanney  

D.C. United 
13 F Lamar Neagle 
28 G Bill Hamid 
22 D Chris Korb 
15 D Steve Birnbaum 
 6 D Kofi Opare 
 2 D Taylor Kemp 
25 M Jared Jeffrey         (82') 
23 M Ian Harkes 
 8 M Lloyd Sam             (85')
10 M Luciano Acosta 
12 M Patrick Nyarko        (78')

Bench
 1 G Travis Worra 
20 D Jalen Robinson 
 3 D Chris Odoi-Atsem 
11 M Sebastien Le Toux      (85')
 7 M Marcelo Sarvas 
33 M Julian Buescher        (82')
 9 M José Guillermo Ortiz   (78') 

Manager  Ben Olsen 

Officials
Referee  Jose Carlos Rivero 
Assistant Referee  Adam Wienckowski 
Assistant Referee  Matthew Nelson 
Fourth Official  Silviu Petrescu 

Match Information
MLS at BMO Field
Toronto, ON
Attendance 28627
Weather Clear

Team Statistics
TOR                        DCU
 21     Shots               10 
  7     Shots on Target      2 
  8     Shots off Target     5 
  6     Blocked Shots        3 
  6     Corners              3 
 15     Crosses             17 
  1     Offsides             2 
 14     Fouls               10 
  3     Yellow Cards         2 
  0     Red Cards            0 
470     Total Passes       364 
 79 %   Passing Accuracy    72 % 
 55.8 % Possession          44.2 % 
 44     Duels Won           37 
  8     Tackles Won          8 
  2     Saves                5 
 28     Clearances          23 



Toronto FC starters


D.C. United starters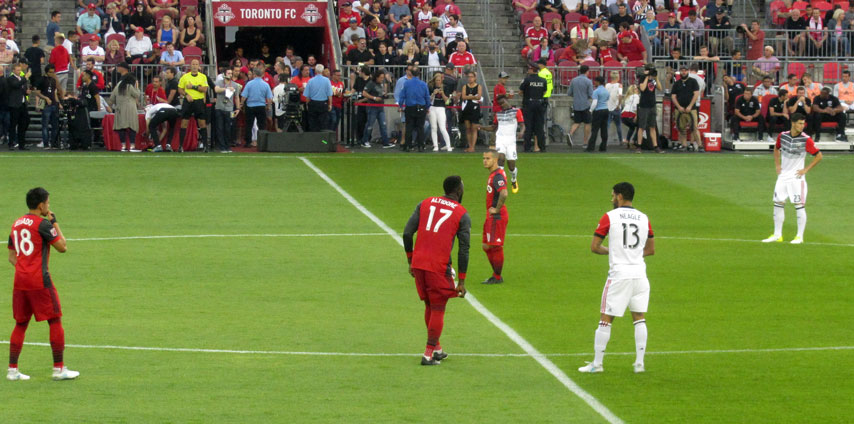 TFC Sebastian Giovinco (10) takes opening kickoff.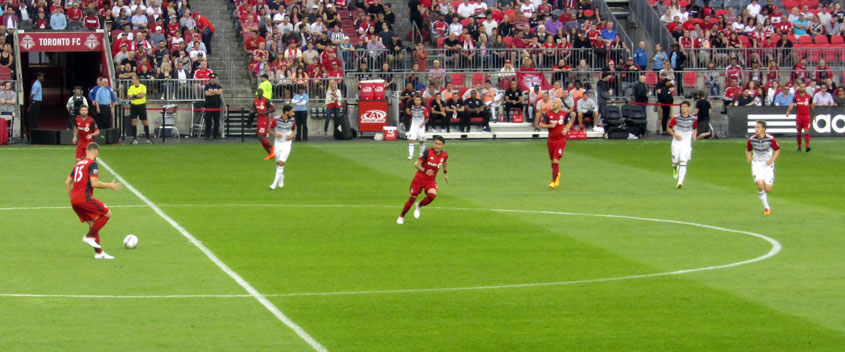 TFC Eriq Zavaleta (15) passes over center line.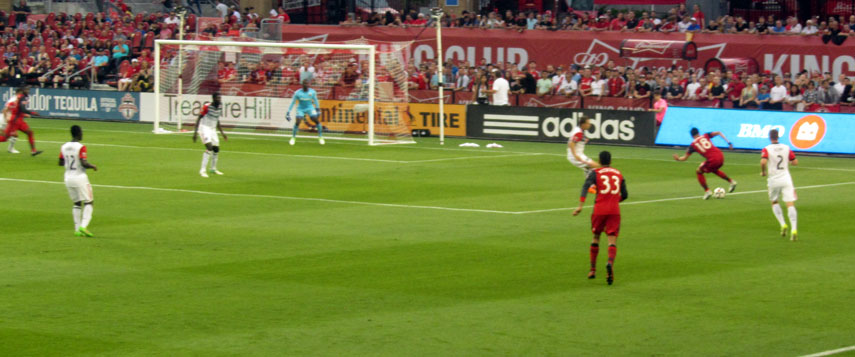 TFC Marky Delgado (18) cuts into box.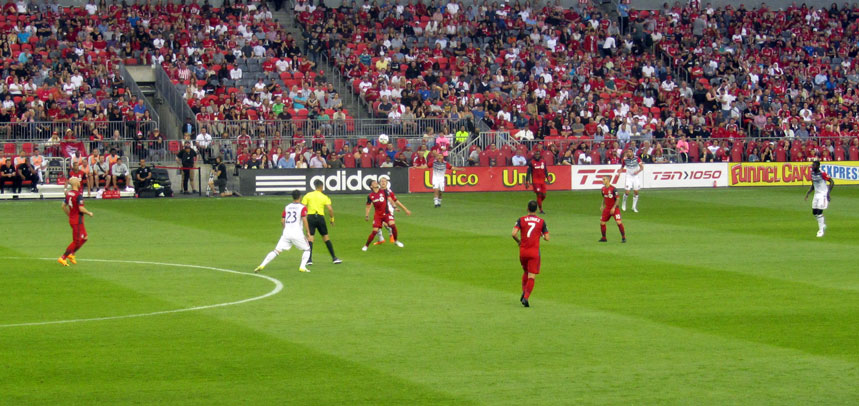 TFC Marky Delgado (18) waiting for header.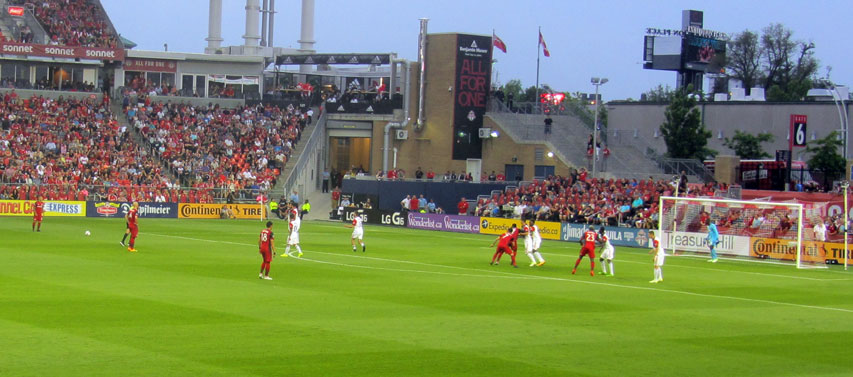 TFC Sebastian Giovinco (10) takes freekick.


DCU Taylor Kemp (2) throw-in.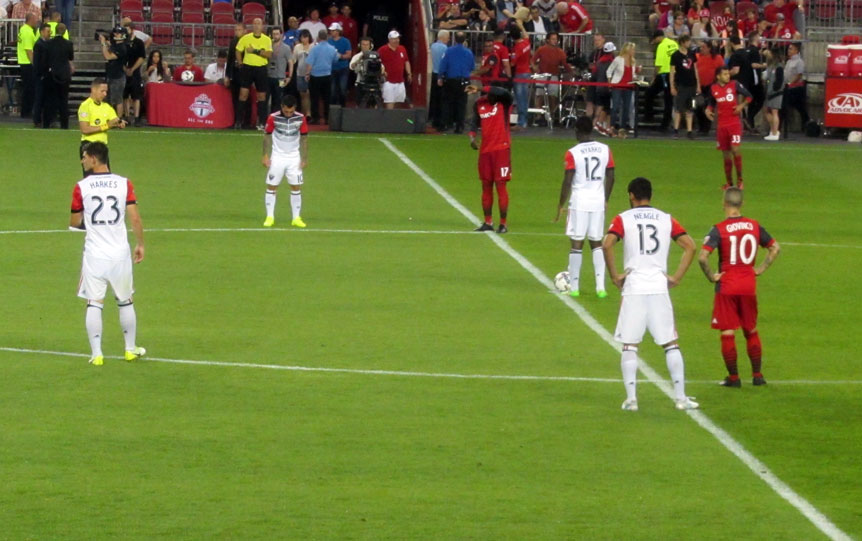 DCU Patrick Nyarko (12) takes second half kickoff.


midfield action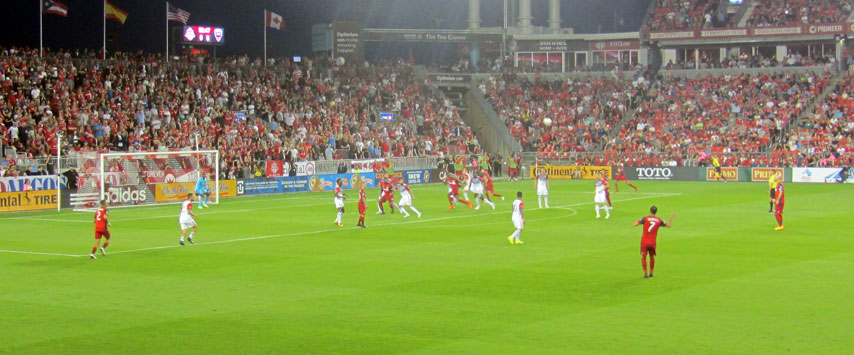 TFC Victor Vazquez (7) bends freekick into box.
back to TFC 2017 news and results
.
.