Saturday May 13, 2017--Toronto FC vs Minnesota United FC (by Rocket Robin)

.......................... ...............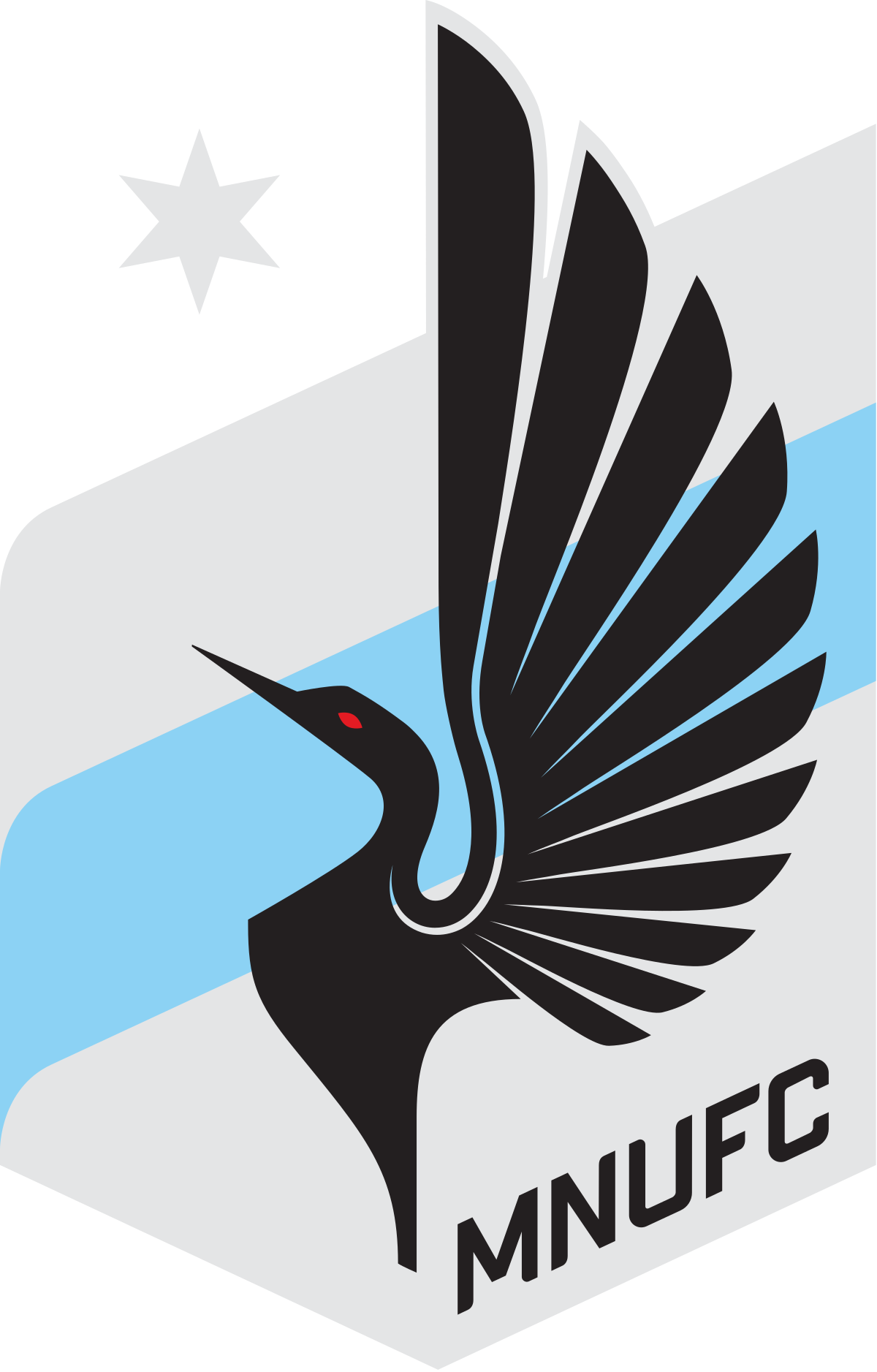 I've found that I don't have the time to do a game play by play with all the writeups I'm doing
covering other leagues. I will skip the details and maybe do that after the season is over.
18 min...TFC Raheem Edwards wins Penalty kick when tripped on left inside box.
19 min...TFC Sebastian Giovinco GOAL...Giovinco sends his Penalty kick low to left side of net
beyond diving goalie Bobby Shuttleworth.
51 min...Minn Kevin Molino GOAL...Minn Abu Danladi rolls pass forward that streaking Molino shoots 15 yarder down middle just under bar.
53 min...TFC (Christian Ramirez own goal) GOAL...TFC Michael Bradley takes 25 yard freekick from far left
that has TFC Chris Mavinga look like he knocked in a 3 yarder on the right post but replays how it was
deflected in by Ramirez.
61 min...Minn Kevin Molino GOAL...Molino rolls Penalty kick to left and goalie Alex Bono dives to stop on left post
but rebound rolls back to Molino who shoots low shot to right into open net as the defenders were slow to react.
76 min...TFC Tosaint Ricketts GOAL... TFC Jozy Altidore blocks clearance and gets to ball at 12 yards on left
and cross from near endline has Ricketts head in 5 yarder.
Final Score:.......Toronto FC.........3...........Minnesota United............2.............



Attendance was announced as 27,249.  

Man of the Match (who is always a TFC player) was announced as Raheem Edwards.  The TV crew 
picked Tosaint Ricketts.

TFC extends their winning streak to six games in a row!  The league record in the 'modern era' 
is only eight.  In earlier times it's about double that because there were no ties in the 
league's first years as tie games were settled by shootouts.

There will be concern about Giovinco who left before the end of the first half with an injury.  
What depth that TFC could sub in another designated player--Jozy Altidore.  Jason Hernandez 
did not come back after halftime. Later reports said it was food poisoning.  Jonathan Osorio 
had been sick and missed this game.  Nick Hagglund had to come off with a leg injury.  
Minnesota scored in the moments before TFC could warm up a sub for Hagglund.

Tosaint Ricketts proved he could play a full 90 minutes without tiring.  I always expected 
Altidore would sub in but throught he'd replace Ricketts, not Givoinco. 

I didn't notice Giovinco getting a shot at goal (except his Penalty kick) so maybe he was 
hurting much earlier that his 43 minute subbing off.

These six wins is more remarkable in that TFC only took 23 days to achieve it.  (the last 
five wins were in only 15 days!) Mentions in the press say coach Greg Vanney and captain 
Michael Bradley say their team is the deepest in the league and the rotation of the players 
has kept everyone sharp.  Most impressive to me is the two road wins within the same week.
TFC now gets a break until Friday when they're on the road to New York Red Bulls.

TFC continue to lead the East and open up a six point lead on their pursuers although 
there are three Eastern teams playing Sunday against Western conference teams.  

The Minnesota goals were both scored by Kevin Molino who played for Orlando City last year.  
MU coach Adrian Heath was coach of OC until partway through last season.  This year Heath 
has become the first coach of MU and probably insisted on a trade to acquire Molino at the 
start of the season.  Minnesota started the season with a dreadful record conceding 18 goals 
in their first four games before tightening up.  

Molino reacted calmly to having his Penalty kick saved by stepping forward and slotting 
home the rebound away from the fallen goalie into the open net before any TFC 
defenders reacted.  

Allen Chapman the referee gave out only one Yellow card and that was late in the second half 
injury time to Altidore for not giving ten yards on a freekick in the Minnesota end.

In warmups I didn't see Jozy Altidore in the starting eleven nor the subs although I saw 
there were only six subs.  With 11 minutes to go he came out to the field to join the subs.  
I've seen him do that here earlier this season.

Pregame highlights showed scenes from the Columbus road game including the Crew goal 
and Jozy Altidore having his Penalty kick saved so it wasn't just the TFC goals.  
Also since it's the Mother's Day weekend, there were videos shown of TFC players
thanking their mothers.  

The owners have been hitting the TFC II game here hard.  Promos, twitter messages, e-mails etc.  
Maybe I got them twice as I am a season ticket holder for both teams.  So now it's 
stay behind to catch the second game.  The USL match between TFC II and Bethlehem
Steel FC from Pennsylvania starts one hour after this game ends.

Rocket Robin
robing@eol.ca

stats from MLSsoccer.com
Match Information

Goals and Assists
20' TOR Sebastian Giovinco (PK) 
52' MIN Kevin Molino                Assisted By: Abu Danladi 
54' TOR Christian Ramirez (OG) 
62' MIN Kevin Molino 
77' TOR Tosaint Ricketts            Assisted By: Jozy Altidore 

Disciplinary
90'+3' TOR  Jozy Altidore           Reason: Not Retreating 

Lineup

Toronto FC 
87 F Tosaint Ricketts 
10 F Sebastian Giovinco  (44')
25 G Alexander Bono 
 6 D Nick Hagglund       (65')
12 D Jason Hernandez     (HT)
23 D Chris Mavinga 
 4 M Michael Bradley 
31 M Armando Cooper 
18 M Marco Delgado 
 8 M Benoit Cheyrou 
44 M Raheem Edwards 

Bench
 1 G Clint Irwin 
 7 D Víctor Vázquez       (65')
33 D Steven Beitashour 
 2 D Justin Morrow 
15 D Eriq Zavaleta        (HT)
14 M Jay Chapman 
17 F Jozy Altidore        (44')

Manager  Greg Vanney  

Minnesota United FC 
21 F Christian Ramirez 
33 G Bobby Shuttleworth 
 3 D Jerome Thiesson 
14 D Brent Kallman 
 5 D Francisco Calvo 
 8 D Marc Burch 
19 M Sam Cronin 
 7 M Ibson              (90')
 9 M Abu Danladi        (78')
18 M Kevin Molino 
10 M Miguel Ibarra      (79')

Bench
 1 G John Alvbage 
 4 D Jermaine Taylor 
 2 D Justin Davis 
20 M Rasmus Schüller 
26 M Collen Warner       (78')
15 M Ismaila Jome        (90')
11 M Johan Venegas       (79')

Manager   Adrian Heath 

Officials
Referee  Allen Chapman 
Assistant Referee  Adam Wienckowski 
Assistant Referee  Jeremy Hanson 
Fourth Official  David Gantar 
 
Match Information
MLS at BMO Field
Toronto, ON
Attendance 27249
Weather Clear 

Team Statistics
TOR                        MINN
 13     Shots                 9 
  3     Shots on Target       4 
  6     Shots off Target      4 
  4     Blocked Shots         1 
  8     Corners               3 
 17     Crosses              18 
  1     Offsides              0 
  9     Fouls                 8 
  1     Yellow Cards          0 
  0     Red Cards             0 
488     Total Passes        503 
 82 %   Passing Accuracy     84 % 
 49.2 % Possession           50.8 % 
 48     Duels Won            50 
 13     Tackles Won          17 
  2     Saves                 1 
 11     Clearances           13 



Toronto FC starters


Minnesota United starters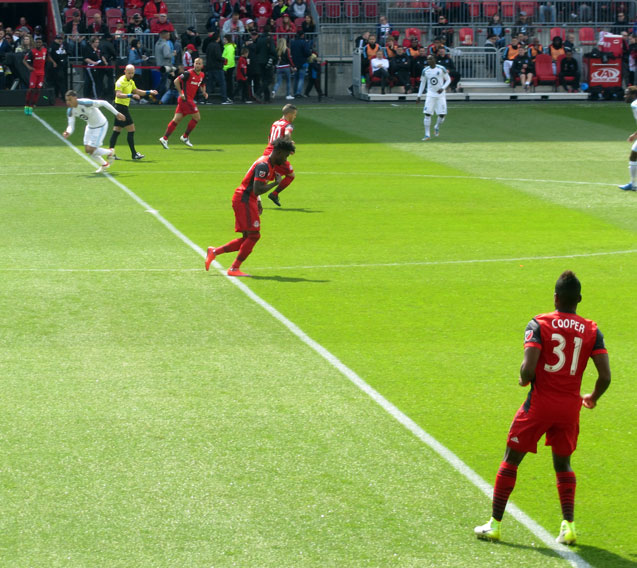 TFC Sebastian Giovinco (10) takes opening kickoff.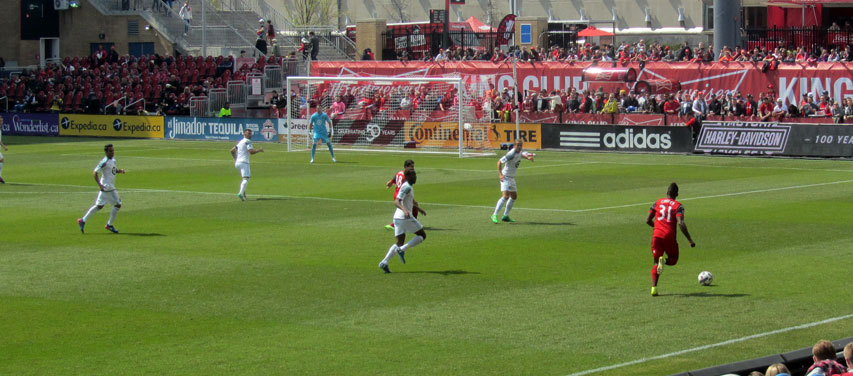 TFC Armando Cooper (31) rush down right wing.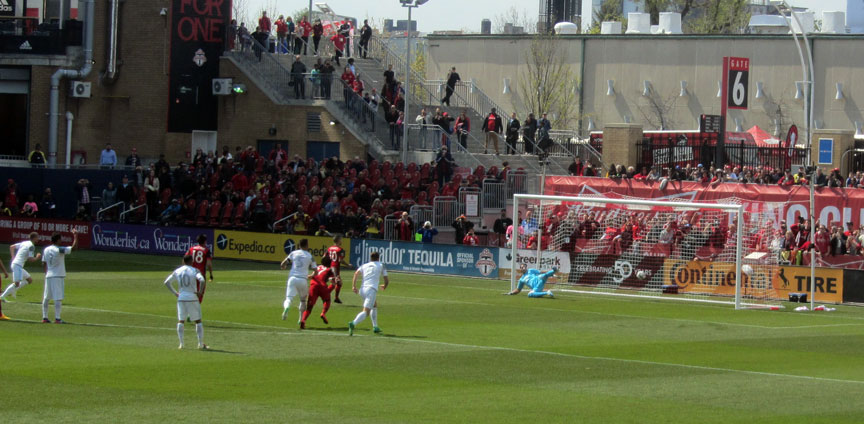 TFC Sebastian Giovinco (10) scores Penalty kick to right as goalie dives left.


Minnesota Francisco Calvo (5) takes freekick.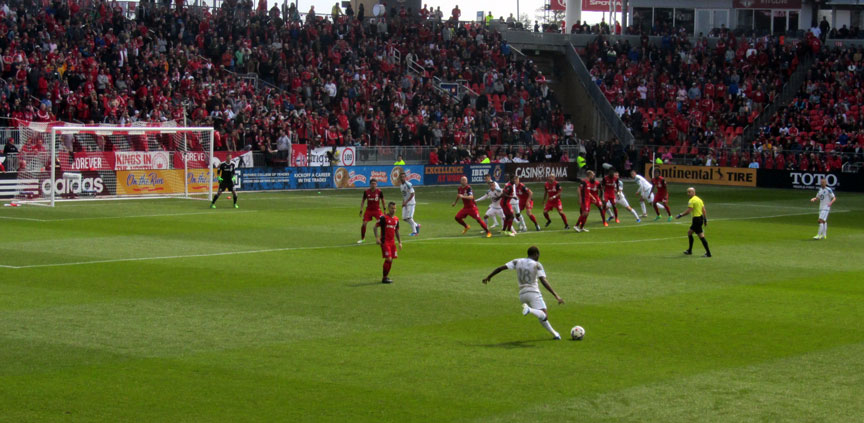 Minnesota Kevin Molino (18) takes freekick.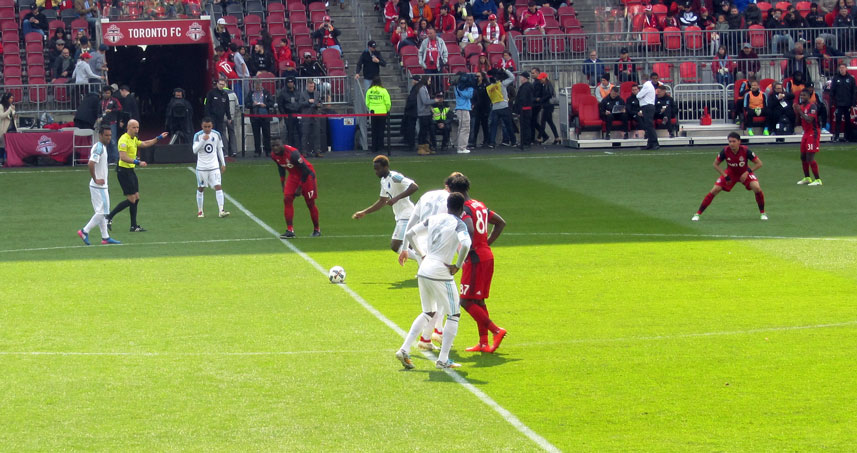 Minnesota Kevin Molino (18) takes second half kickoff.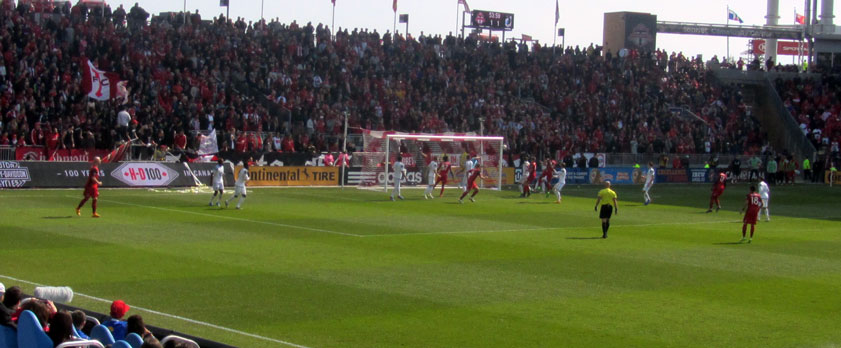 TFC Michael Bradley (4) freekick on this play results in an own goal.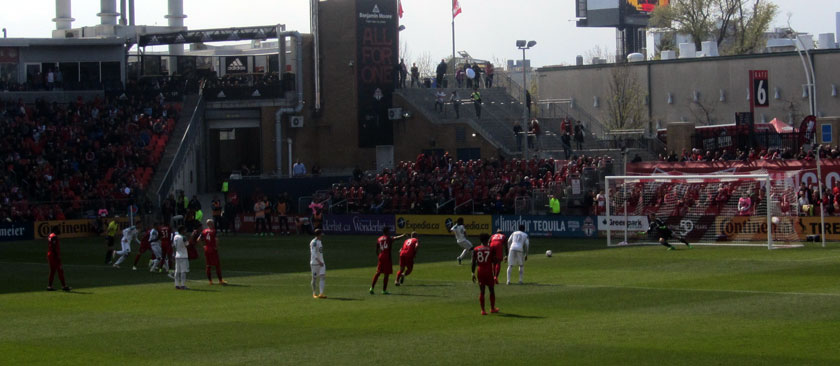 Minnesota Kevin Molino (18) Penalty kick is saved but he puts in rebound.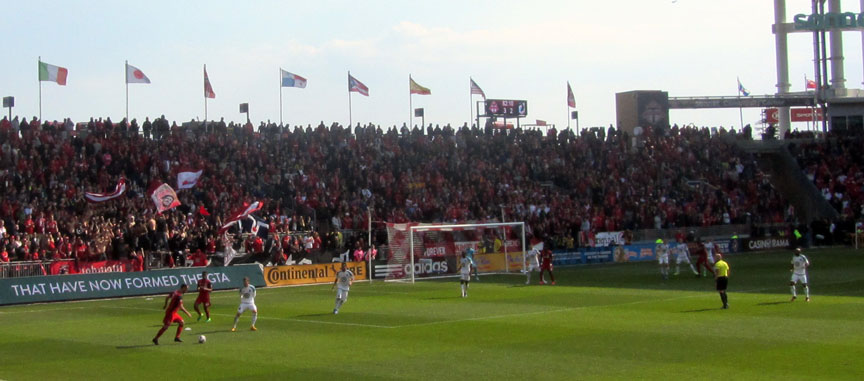 TFC Victor Vazquez (7) dribbles near Minnesota box.
back to TFC 2017 news and results
.
.