Wednesday May 3, 2017--Toronto FC vs Orlando City (by Rocket Robin)

.......................... ...............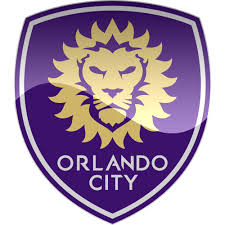 I've found that I don't have the time to do a game play by play with all the writeups I'm doing
covering other leagues. I will skip the details and maybe do that after the season is over.
8 min...TFC Sebastian Giovinco GOAL...TFC Raheem Edwards saves the ball on the left
sideline and dekes around OC Scott Sutter to get to left edge of box where sends in low cross from
18 yards on left that's partly tipped by defender's foot but TFC Jozy Altidore at 10 yards even with
left post touches ball upfield to Giovinco who at 17 yards takes a step to middle of box to elude defender
and rolls screened shot past defenders and diving goalie Joe Bendik into far left side of net.
37 min...TFC Sebastian Giovinco GOAL...TFC Steven Beitashour sends low cross from 22 yards
near right end line and goalie dives forward at 3 yards near right post to stop. TFC Victor Vasquez
with back to net beats retreating OC Luis Gil to ball and pokes rebound from 6 yards past defenders
over to right for Giovinco to shoot a 6 yarder into short right side of net past OC defender Jonathan Spector.

45 min...Orlando City Kaka GOAL...OC Carlos Rivas chips ball from 28 yards on left into box that OC Cyle Larin
at 8 yards on right heads across 6 yard box between two defenders and ball bounces for charging Kaka to blast
5 yarder from even with left post into top left corner of net past goalie Alex Bono.
Final Score:.......Toronto FC.........2...........Orlando City............1.............


Attendance was announced as 25200.  The weather was cold parka weather but the temperature 
didn't fall much further after the sun went down.  That is almost another 150 less than 
last Friday.  The next home game isn't until the middle of May and it's in the afternoon 
so the weather will finally be warmer, right? 
 
Man of the Match (who is always a TFC player) was named as Sebastian Giovinco for scoring 
both TFC goals.  It was an easy choice although Alex Bono's work in goal was worth considering.  

I will say now that Alex Bono deserves Save of the Week for his save on Cyle Larin as both 
were down in the box but Larin sprang up first for a tap-in but Bono reached back behind 
himself while still down and swatted the ball away from near the goal line at 58 minutes.  
That would have been the tieing goal.  With no other scoring in the game this preserved 
all three points for TFC. 

Giovinco stayed on the entire match in hope of scoring a hat trick.  It was Altidore who 
made way for Tosaint Ricketts at 82 minutes after he slowed down to a walk.  

Raheem Edwards, the lone Canadian TFC starter again for this game played well on the wing 
using his great speed on the left to run downfield and make crosses into the OC box.  
Jonathan Osorio at 64 minutes and Ricketts at 83 minutes added to the Canadian minutes.  

TFC will be forced to use more Canadians in the Canadian Championships because of CSA rules.  
That competition actually started tonight and while waiting for the streetcar home I found 
Ottawa Fury had won 1-0 in the home leg of their series against FC Edmonton with a goal 
at 89 minutes.  Ottawa couldn't even beat TFC II in a USL home game two weekends ago 
so I can't see them being much of a challenge.  

Orlando only played well in the second half with Kaka's goal in first half injury time 
inpiring the team.  Kaka was subbed out at 64 minutes.  

I was rooting for Cyle Larin to do well as I watch him play for Sigma in the first year 
of League 1 Ontario in 2014.  We were lucky to have Kaka in the game.  I can remember the 
last few seasons when either Kaka or Larin missed these games at BMO.  Kaka just returned 
from injury last week and scored a goal against Colorado.  Larin had a cast on his arm 
or wrist but it didn't seem to effect him.  

Canadian Will Johnson did not get into tonight's game or even make the OC bench.  
[Press reports say he was sidelined by stomach flu.]

Referee Baldomero Toledo had my section braying out for TFC calls.  They aren't the most 
knowledgeable and we're lucky there weren't Red cards as his reputation is giving out 
among the most in the league.  TFC goalie Bono was lucky he only picked up a Yellow card 
against Larin when he pushed him outside the box on a break.  

TFC go three wins in three games in completing their brief homestand and this victory 
was just what they needed for even more confidence by beating the first place team in the 
East who had a six win, one loss record coming into tonight's game.  

There are only two games in the MLS tonight and none until the weekend so tomorrow no other 
teams will play and knock their placings back down.  They move into a tie with 
New York Red Bulls for second place who lost in the other game tonight on the road against 
Kansas City.  TFC have one game in hand.  Orlando remains in first place by two points 
with one game in hand on TFC.  

TFC now goes on a short road trip.  This Saturday  they play Seattle in a rematch of last 
year's MLS Cup.  Next Wednesday they will be in Columbus for the second time within a month 
for a rematch with the Crew.  That has been their only loss of the season 2-1.  

Rocket Robin
robing@eol.ca

stats from MLSsoccer.com
Match Information

Goals and Assists
 9'    TOR Sebastian Giovinco     Assisted By: Jozy Altidore 
38'    TOR Sebastian Giovinco     Assisted By: Víctor Vázquez 
45'+1' ORL Kaká                   Assisted By: Cyle Larin, Carlos Rivas 

Disciplinary
50'    TOR Alexander Bono         Reason: Unsporting Behavior 
52'    TOR Jozy Altidore          Reason: Unsporting Behavior 
74'    ORL Jonathan Spector       Reason: Unsporting Behavior 
85'    ORL Cristian Higuita       Reason: Unsporting Behavior 
90'+3' TOR Michael Bradley        Reason: Dissent 

Lineup

Toronto FC  
17 F Jozy Altidore     (83')
10 F Sebastian Giovinco 
25 G Alexander Bono 
15 D Eriq Zavaleta 
 6 D Nick Hagglund 
 2 D Justin Morrow 
33 M Steven Beitashour 
18 M Marco Delgado 
 4 M Michael Bradley 
 7 M Víctor Vázquez     (65')
44 M Raheem Edwards     (79')

Bench
40 G Mark Pais 
23 D Chris Mavinga 
 8 M Benoit Cheyrou 
31 M Armando Cooper      (79')
21 M Jonathan Osorio     (65')
87 F Tosaint Ricketts    (83')
 9 F Tsubasa Endoh 

Manager  Greg Vanney  

Orlando City SC 
 9 F Cyle Larin 
11 F Carlos Rivas 
 1 G Joe Bendik 
21 D Scott Sutter 
29 D Tommy Redding 
 2 D Jonathan Spector 
25 D Donny Toia 
 5 M Servando Carrasco       (75')
 7 M Cristian Higuita        (87')
17 M Luis Gil 
10 M Kaká                    (65')

Bench
28 G Josh Saunders 
95 D Léo Pereira 
 4 D José Aja 
14 M Giles Barnes            (75')
32 M Matías Pérez García     (65')
16 M Tony Rocha              (87')
94 - Victor Pagliari Giro 

Manager  Jason Kreis 

Officials
Referee  Baldomero Toledo 
Assistant Referee  Gianni Facchini 
Assistant Referee  Peter Balciunas 
Fourth Official  Silviu Petrescu 

Match Information
MLS at BMO Field
Toronto, ON
Attendance 25200
Weather Clear

Team Statistics
TOR                         ORL
  6     Shots                 9 
  3     Shots on Target       3 
  2     Shots off Target      4 
  1     Blocked Shots         2 
  3     Corners               5 
 11     Crosses              27 
  1     Offsides              2 
 16     Fouls                13 
  3     Yellow Cards          2 
  0     Red Cards             0 
408     Total Passes        522 
 78 %   Passing Accuracy     84 % 
 43.3 % Possession           56.7 % 
 64     Duels Won            53 
 24     Tackles Won          20 
  2     Saves                 1 
 20     Clearances           11 



Toronto FC starters


Orlando City starters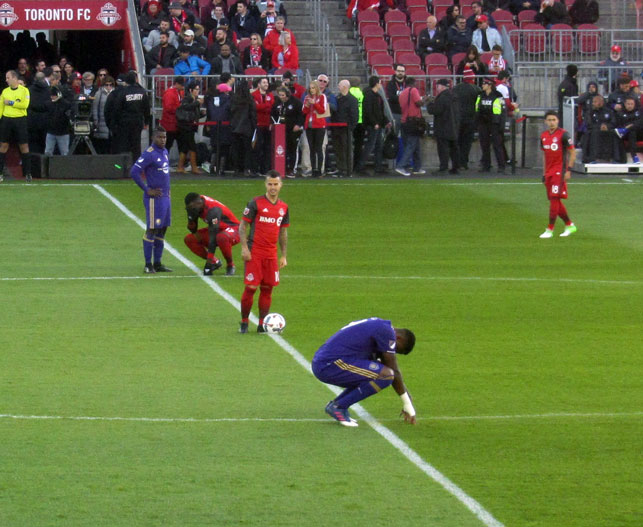 TFC Sebastian Giovinco (10) takes opening kickoff.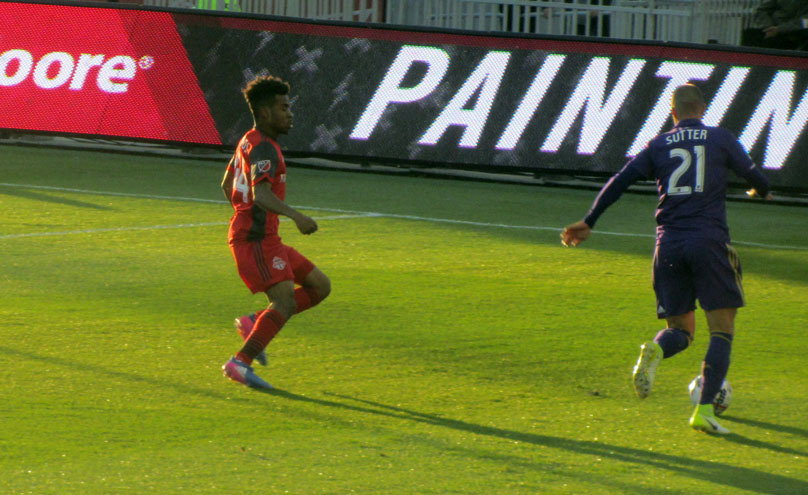 TFC Raheem Edwards (44) is cutting off OC Scott Sutter (21) down right.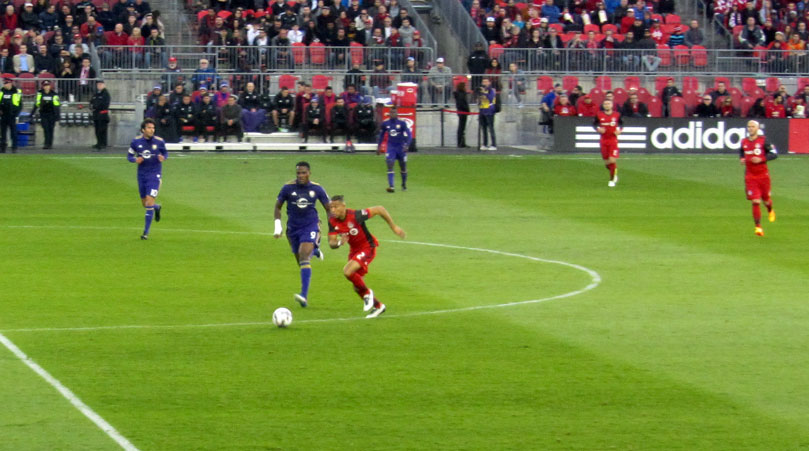 TFC Justin Morrow (2) dribbles ahead of OC Cyle Larin (9).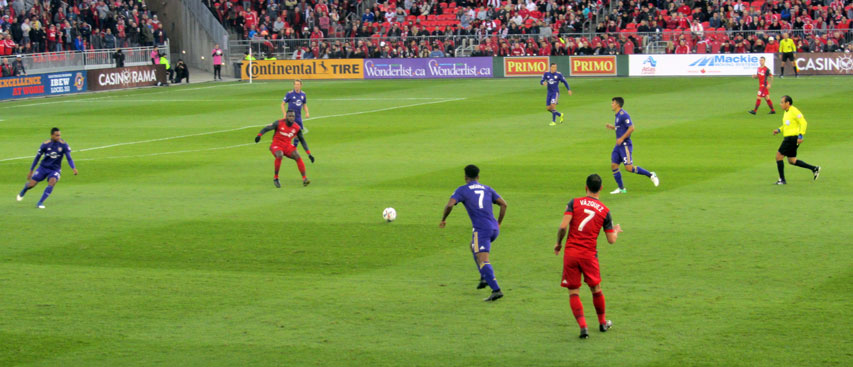 TFC Victor Vazquez (7) rolls pass forward to TFC Jozy Altidore (17).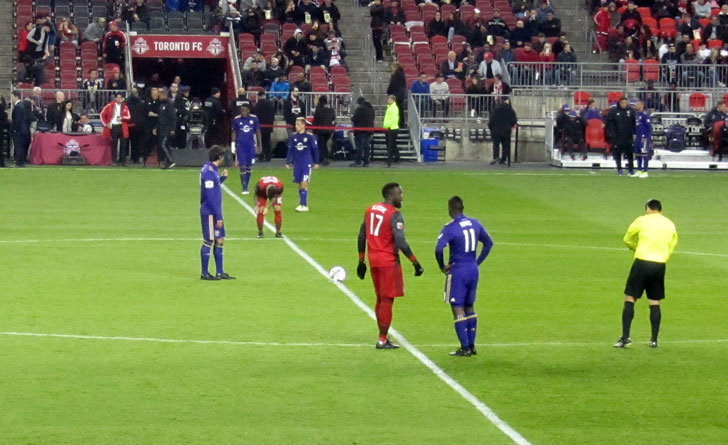 OC Kaka (10) takes second half kickoff.


OC Kaka (10) will blast freekick well over bar.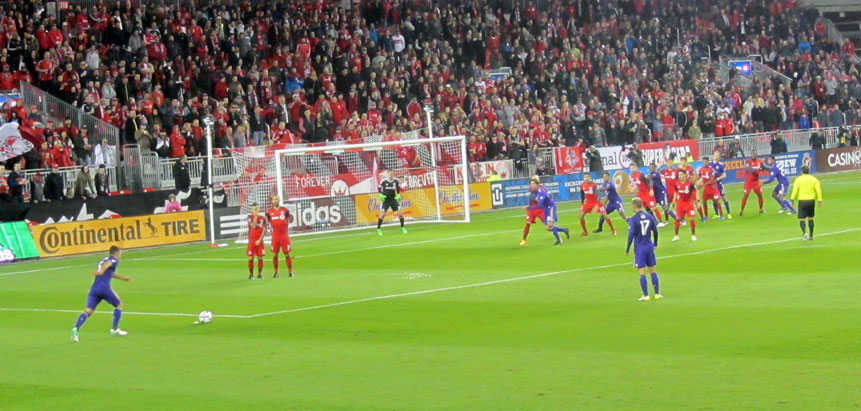 OC Servando Carrasco (5) takes freekick.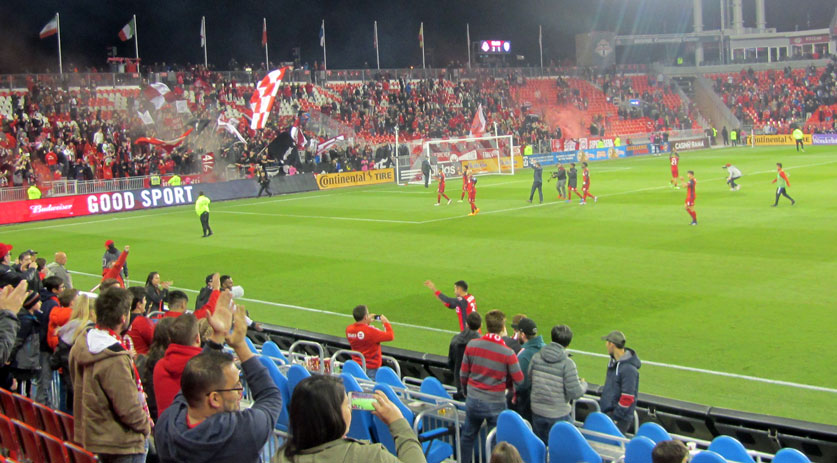 TFC Steven Beitashour (33) salutes fans in the eastern stands!
back to TFC 2017 news and results
.
.