Friday March 31, 2017--Toronto FC vs Sporting Kansas City (by Rocket Robin)

.......................... ...............

Toronto FC (all red, black sleeves, white names and numbers)
.................1 Clint Irwin
........15 Eriq Zavaleta...3 Drew Moor...6 Nick Hagglund
33 Steven Beitashour...21 Jonathan Osorio...4 Michael Bradley (cpt)...7 Victor Vazquez...44 Raheem Edwards
...........87 Tosaint Ricketts...10 Sebastian Giovinco
Subs:...25 Alex Bono (gk)...8 Benoit Cheyrou (mid)...14 Jay Chapman (mid)...17 Jozy Altidore (fwd)
...18 Marky Delgado (mid)...23 Chris Mavinga (def)...31 Armando Cooper (mid)
team officials:...head coach Greg Vanney
Sporting Kansas City (light blue socks and shirts, white shorts, navy names and numbers)
....................29 Tim Melia
8 Graham Zusi...3 Ike Opara...5 Matt Besler...15 Seth Sinovic
........27 Roger Espinoza...6 Ilie Sanchez...94 Jimmy Medranda
.........7 Gerso Fernandes...14 Dom Dwyer...22 Soony Saad
Subs:...1 Adrian Zendejas (gk)...4 Kevin Ellis (def)...9 Latif Blessing (fwd)...17 Saad Abdul-Salaam (def)
...30 Daniel Salloi (fwd)...29 Cameron Porter (fwd)...93 Soni Mustivar (mid)
team officials:...head coach Peter Vermes
Game officials:...referee Alan Kelly...referee's assistants Matthew Nelson and Logan Brown
...fourth official Silviu Petrescu...(yellow shirts, black shorts and socks)

1st Half:...game starts 7:49pm...TFC defends south end on this cold night and rainy (2oC) night.
40 sec...Fernandes cross from 22 yards on right has TFC Moor head away at 6 yards in middle. SKC Espinoza shoots
low 25 yarder in from right that goalie dives to forward to catch at 7 yards.
1 min...SKC Dwyer rushes up left wing and low cross from 25 yards on left has retreating TFC Hagglund slide
and clear at 6 yards in middle preventing SKC Fernandes from getting to ball. SKC Medranda recovers near left
cornerflag and dekes TFC Zavaleta and rolls pass from edge of box but retreating TFC Bradley stops and clears
from left side of box.
2 min...SKC Medranda rush up left sideline and cross from left cornerflag drifts behind net.
4 min...TFC Vazquez chip from 40 yards down middle and TFC Giovinco can't control ball near left end line although
referee whistled down play for him bumping SKC Opara.
9 min...TFC Giovinco at SKC 50 yard one on left taps pass forward for charging TFC Edwards and he rolls centering
pass from 35 yard line on left to TFC Osorio who cuts to middle and rolls pass from 25 yards over to right for
TFC Vazquez who taps ball forward to TFC Beitashour and from 10 yards on right he sends low cross through 6 yard
box unplayed as TFC Giovinco looked like he stepped over ball at 3 yards near right post.
12 min...SKC Saad 45 yard freekick down middle has TFC Zavaleta head ball away from left edge of box.
TFC defenders then make two blocks on edge of box and check finally check ball away and clear.
14 min...TFC Bradley backwards header to TFC goalie from 25 yards to prevent SKC Dwyer from getting to pass
down middle.
15 min...TFC player's 65 yard chip from right is over heads of players charging to edge of box and ball bounces to goalie.
17 min...SKC Dwyer 30 yard shot down middle deflects off TFC Moor and flies wide left for cornerkick.
18 min...SKC Saad cornerkick from left has SKC Opara charge to right and head ball wide from 5 yards on right.
19 min...TFC Edwards on run up left sideline rolls cross along 20 yard line and TFC Giovinco tangled up with defender
taps ball to middle and TFC Osorio blasts 22 yarder up middle well high and wide right.
22 min...SKC Medranda is injured near SKC sideline on right playing short throw-in and crashing with TFC Zavaleta.
25 min...TFC Edwards at 30 yard line on left rolls centering pass for TFC Giovinco in middle who eludes defender
to chip pass forward and right for charging TFC Beitashour near right end line and he taps pass upfield for
TFC Vazquez to blast shot from 12 yards on right but he slips and can't get to ball and defenders clear.
27 min...SKC Saad rolls 30 yard shot up middle between players and well wide right of goal.
27 min...TFC Edwards knocks over SKC Fernandes on run down right that gives up freekick.
28 min...SKC Saad freekick from 28 yards on right has TFC Bradley at 15 yards in middle head ball down.
SKC Espinoza recovers at 25 yards in middle and chips pass forward and to left too far for SKC Opara to rescue.
30 min...SKC Medranda 35 yard screen shot down middle is well over net.
31 min...TFC Vazquez and TFC Giovinco on give and go play has Giovinco chip ball up middle from 28 yards too far forward for TFC Ricketts and goalie picks up ball wide left of net in front of TFC Edwards.
33 min...TFC Osorio is tapped pass from TFC Beitashour who had just stopped SKC breakout and he shoots 28 yarder
in middle well right and high over net.
34 min...SKC Zusi heads long TFC chip back to goalie from 10 yards wide left of net so TFC Ricketts can't get to it.
35 min...SKC Fernandes on run down right holds off two defenders and retreats to 25 yards and rolls pass forward for
SKC Saad who is in alone on right and shoots 8 yarder that goalie makes point blank save wide right of net but is injured
on play and defender clears.
39 min...TFC sub...Bono replaces injured Irwin in goal.
42 min...TFC Hagglund receives long low pass on left wing from TFC Giovinco and runs down wing and crosses
from 25 yards near left end line. Ball flies over players in box and TFC Osorio knocks it down at 12 yards
and shoots high over top left corner.
43 min...SKC Zusi 45 yard freekick from right has header popped up in crowd of players on edge of box and partially
cleared up middle. SKC Saad blasts low 30 yard shot up middle between players and wide right of net.
44 min...TFC Edwards taps ball forward down left wing and TFC Ricketts is in alone and run down left while cutting
to middle and his 18 yard shot blocked on edge of box. Ricketts goes back for rebound and rolls centering pass
to TFC Vazquaez at 30 yards in middle. He rolls it to left for TFC Edwards and his 25 yard shot from left deflects off
chest of SKC Opara at 20 yards and bounces wide left for cornerkick.
45 min...TFC Vazquez cornerkick from left has TFC Zavaletta pop header over bar from 7 yards in crowd of players
on left over bar.
47 min...half ends 8:36pm after only 2 minutes of injury time yet the goalie switch alone took 4!
Halftime Entertainment: There's the Nestle Drumstick ice cream giveaway and Tony from Pizza Pizza slice giveaway
both to a different section and row in the stadium. That was unchanged from last year. There was a mini game
of 3 on 3 bubble soccer in the center circle between fans wearing the Loopyball outfits. There was a t-shirt throw
and a nephew of the guy who sits next to me caught one. He leaned over and it was likely that the seatmate would have
caught it but he'd gone to the concession stand.
2nd Half:...starts 8:53pm. It's still raining very hard on the field.
46 min...TFC Edwards run on left and 12 yard shot is high and wide left of net.
47 min...TFC Rickettw run down right wing and cross from 35 yards on right has goalie run forward and dive to catch
at 15 yards in middle of box.
48 min...TFC Beitashour cross from 30 yards on far right side has SKC Sinovic get raised foot to and pop up from right
edge of box across box and SKC Zusi on left side near 6 yard box pops up header which TFC Edwards shoots along
left end line from 10 yards and goalie dives forward to save on bounce.
52 min....TFC Beitashour chips 40 yards shot from right over charging players and ball bounces to goalie.
52 min...TFC Bradley at 18 yard line on far left rolls centering pass and SKC Meranda charging forward intercepts
and taps centering pass forward to SKC Dwyer and his 15 yard low shot up the middle is stopped point blank
by sprawling goalie at 8 yards. Medranda blasts 22 yard rebound from left that deflects off leg of TFC Zavaleta
at 18 yards and bounces wide right.
53 min...SKC players work out short cornerkick from right but effort is wasted before they reach edge of the box.
55 min...SKC Zusi 35 yard shot from right just misses top left corner of net.
57 min...TFC Giovinco is knocked down trying to cut around SKC Besler and wins freekick.
58 min...TFC Giovinco 33 yard freekick down middle hits the top of the bar near the rop left corner of net
as goalie flew to that side of net but ball was over him.
60 min...TFC Giovinco has attemp to poke ball forward on rush down middle blocked at 20 yards before reaching edge
of SKC box.
61 min...TFC Giovinco taps pass left to TFC Edwards at 25 yard line and he shanks cross forward and well wide left
of net.
61 min...TFC sub...Altidore replaces Ricketts.
63 min...SKC Espinoza cross from right at 18 yards near end line deflects off TFC Bradley at 12 yards on right
and bounces for TFC Moor and deflects off charging SKC Fernandes for goalkick.
64 min...SKC sub...Mustivar replaces Medranda.
66 min...TFC Giovinco taps pass forward from 20 yards but TFC Altidore has turned around to retreat and avoid offside call and no one is near ball on left and it rolls to goalkick.
68 min...SKC YELLOW card...Sanchez earns it for pulling down TFC Osorio at TFC 35 yard line.
69 min...SKC Sanchez long run up middle and passes forward to SKC Saad at 30 yards on left and he changes direction
to cut to center and rolls pass over to SKC Fernandes at 20 yards on right and his one-touch blast has goalie palm
over bar from 5 yards
70 min...SKC Saad cornerkick from left is headed away by TFC Altidore from left side of box.
70 min...SKC Dwyer rush in from left side and rolls ball behind SKC Fernandes and defenders dribble ball out of box.
71 min...TFC Giovinco cross from 30 yards on left has SKC Besler on edge of box in middle head ball away.
72 min...TFC Altidore in give and go play up middle with TFC Vazquez but last pass is too far over for Altidore and
goalie picks up ball.
72 min...TFC Edwards taps ball to TFC Giovinco and his 22 yard shot from left is stopped by defender in center of box
and TFC Vazquez follow up mid-air shot from 28 yards up middle deflects wide right of SKC Mustivar.
73 min...TFC Vazquez cornerkick from right is into crowd of players on right edge of 6 yard box and headed behind end
line for another cornerkick.
74 min...TFC Vazquez cornerkick from right has TFC Moor head ball forward from 12 yards on left but SKC Dwyer
shiffs clearance at 6 yards in middle high but but other defenders head ball around until they are awarded freekick in box.
75 min...TFC sub...Cooper replaces Osorio.
76 min...TFC Edwards given ball on left as TFC Altidore and TFC Giovinco rush broken up and he sends low cross
from 18 yards on left that sliding SKC Opara knockes behind own end line from 6 yards on left.
76 min...TFC Vazquez low cornerkick from left has defender knock down in crowd of players on left side of box and
SKC Saad clears from box.
78 min...TFC Vazquez rolls pass forward from 45 yards and TFC Giovinco at 22 yards turns around on SKC Opara
and slides to get away low shot that's smothered by goalie near left post.
79 min...TFC Giovinco at 30 yards running towards left rolls forward pass for charging TFC Edwards and he rolls cross
from 15 yards along 6 yard line and SKC Besler in middle of box has clearance kick deflect off another defender
and bounce wide left for cornerkick.
79 min...TFC Vazquez cornerkick from left is cleared to left and TFC Giovinco wins another cornerkick on deflected
cross from 28 yards on left.
79 min...TFC YELLOW card...Altidore earns it for something in the box before cornerkick was taken. We thought
it was to Bradley for complaining but as captain he got to argue the call.
80 min...TFC Vazquez cornerkick from left has goalie punch ball away at 6 yards in crowd of players.
82 min...SKC sub...Blessing replaces Saad.
83 min...TFC Zavaletta flattens SKC Blessing for SKC freekick at TFC 45 yard line.
84 min...TFC Cooper pulls down SKC Blessing on left side for another freekicks.
85 min...SKC Zusi freekick from 35 yards on left is caught by goalie at 8 yards as players charge into box
and he punts ball downfield for fast break try.
87 min...SKC Blessing eludes TFC Bradley after getting around TFC Zavaleta and shoots low 25 yard shot up the
middle that is saved by diving goalie near left post.
88 min...SKC Fernandes on run down right takes 35 yard shot that has TFC Hagglund slide to deflect shot wide
left of goal.
89 min...SKC Sanchez cornerkick from left ball drop into middle of 6 yard box and bounces towards right post
but retreating TFC Edwards heads ball forward at 1 yards as SKC Dwyer charges forward for header and pushes him
back of the net. TFC Beitashour punts away from left side of box.
91 min...TFC Vazquez 30 yard freekick from right is cleared away by defender's header on edge of box. TFC Cooper
blasts one-time bouncer from 40 yards down middle and that is stopped at 20 yards and cleared. (The freekick had
been delayed after TFC Altidore was pushed over but referee only talked to SKC Sinovic but did not give him
a Yellow card.)
93 min...game ends 9:41pm.
Final Score:.......Toronto FC.........0...........Sporting Kansas City............0.............


Attendance was announced as 27909. I had been hearing that there were only 500 more 
tickets available in some late tweets with two days to go but I expect that the rain 
killed the walk-up crowd. Even if their seats were in the covered stand, there'd still 
be the wet walk up and sitting/standing in the cold.  The temporary stands erected in the
south end during the 2016playoffs (really for the football Grey Cup) have been removed.  
There were a lot of fans who didn't show up tonight.

Man of the Match (who is always a TFC player) was named as goaltender Alex Bono who I'd 
agree with anytime when there's no goals scored. He had one spectacular save as did 
starter Clint Irwin who was injured on his fantastic save at 40 minutes and had 
to be subbed off.

It was a scoreless home opener after so much hype setting up this game. I expect the 
team's PR department will brag about TFC continuing to be unbeaten.

I expected the cold weather would have almost guaranteed a TFC win but maybe the wet 
weather played the great equalizer. It had been raining all day and continued through 
the game much harder but I was surprised that the roof offered so much shelter this 
time for us in the seventh row as only when the wind changed direction did it we catch 
any rain. I wasn't really worried about ruining my new pair of binoculars. It was 
only 2 degrees Celsius (34 Fahrenheit) but I was kept warm by my new TFC parka gifted 
to me by TFC II head coach Jason Bent. I didn't even notice it had a hood until today. 
So the month of March came in like a lion and went out like a.....lion!

I know SKC started their season with the same record as TFC. That was tie, tie, win, 
then week off. SKC had already burned off one of their home games. They have scored 
only two goals in four games but have only allowed one and their five points match 
TFC except they're in the Western Conference and won't meet again this season.

I felt TFC only had one fantastic chance and that was when Sebastian Giovinco had 
a freekick hit the top of the bar.

Jonathan Osorio had three clear chances that he hit or shanked off target. Newcomer 
Raheem Edwards shanked some crosses but had some good passing later in the game when 
he settled in plus a goalline header at 89 minutes to save the tie for TFC. 

TFC could only make two planned subs after having to use one up to replace goalies 
at 40 minutes when Clint Irwin was injured. Jozy Altidore replacing Tosaint Ricketts 
at 61 minutes was expected. 75 minutes had Armando Cooper replace Osorio. Altidore 
and Michael Bradley had played in World Cup Qualifying for the USA team earlier 
in the week. Cooper had played for Panama in their game against the USA! That must 
have been awkward.

I will expect next week Altidore and Cooper will start in place of Canadians Ricketts 
and Osorio and Justin Morrow will be back from his heel injury and start over 
Canadian Raheem Edwards so there may be no Canadian starters next week.

Bradley made about as many bad passes as good ones but played the full 90 minutes. 
Giovinco had some good dribbling moves but even some of his passes were intercepted. 
Giovinco had a few freekicks in his range but it was Victor Vasquez who took the 
cornerkicks tonight.

SKC played tonight without their star midfielder Benny Feilhaber who was out injured.

Referee Alan Kelly gave out only two Yellow cards tonight (one to each team). He was 
the referee in last year's MLS Cup right here in Toronto when TFC eventually lost 
to Seattle Sounders on Penalty kicks. He let a lot of things go in a game that wasn't 
rough and didn't fall for many freekicks and no Penalty kick protests.

It was newly TFC II promoted/hometown player Raheem Edwards as the first TFC player 
to come over and applaud the fans in the south end.

TFC now have to wait the rest of the weekend to see how are they fall in the 
Eastern standings. They will be cheering for ties so they don't lose ground.

On the way out were given calendar fridge magnets from BMO Bank. I have gotten used 
to that as the gift after every opening home game over the years have years going back 
to 2012 plus the 2008. I don't know where the other years are or whether I just went 
out the wrong gate at the time. This year Osorio, Altidore, Giovinco, Bradley, 
and Moor are pictured.

The streetcar ran right into the CNE grounds for this first time in two years saving 
an eight block walk from the drop off point last year. The track replacement has 
finally been completed. There was also good service as it was still the Friday 
afternoon rush hour. Next weekend for the Atlanta game it's back to subway track 
repairs so I've got to plan another route.

I got their earlier than expected and found shelter inside the Direct Energy Centre 
which was holding their 'One of a Kind' craft show.

I walked over to the stadium in time to get inside right at opening time—one hour 
before game time. So it was finally 6:30pm and...nothing. The gates weren't open, 
then ten minutes later one door for each gate instead of three were opened. 
Then I saw what was wrong as a guy brought over a cartoon of wands so security could 
do metal checks on ticket holders. It was an new security firm this year "Star Security" 
outside the gates and surprise--"Sword Security" (last year's security firm) were inside 
the gates doing their own security. I drifted about 50 yards west to get in Gate 3B 
as it was a shorter line than where I usually go through. Hundreds of people were 
getting restless. I timed myself that I was twenty minutes longer than usual 
getting to my seat.

The PA system was playing the newest Drake album which just came out last week 
so I expect we're be hearing our hometown hero all season. Drake is ambassador 
to MLSE's Toronto Raptors basketball team but I've never seen him do any promos 
for soccer.

Pizza Pizza have started a new promotion by offering a free slice of pizza the 
next day for our match ticket stub if TFC both score two goals AND win the game.

The pregame ball delivery was done by players of the TFC Academy age groups from 
their youngest age groups to their USL TFC II team. Representing TFC II was captain 
Mitch Taintor. That was a surprise as that team is down in Tampa Bay training 
for Saturday night's game. Only when I got home did I read about him still serving 
his suspension from last year. I was there for that home game against FC Montreal 
last August. So he didn't have anything better to do!

There was pregame fireworks display and the entire TFC roster was announced 
on the PA. Then the TFC bench and starters were announced before the game. 
No SKC lineups was read out unlike previous seasons. It was hard to determine 
who was on the roster until game time because the players warmed up in their rain 
pants and jackets.

A big banner stretched across us as the players came out. We couldn't see the field 
but then it was pulled back and put away before the national anthems.

Next week it's a home game on Saturday night at 7:30pm against Atlanta United who 
have lost their leading scorer through injury.

Rocket Robin
robing@eol.ca

stats from MLSsoccer.com
Match Information

Goals and Assists
None

Disciplinary
69'  SKC   Ilie Sánchez            Reason: Unsporting Behavior 
81'  TFC   Jozy Altidore           Reason: Unsporting Behavior 

Lineup

Toronto FC 
87 F Tosaint Ricketts    (62')
10 F Sebastian Giovinco 
 1 G Clint Irwin         (40')   
15 D Eriq Zavaleta 
 3 D Drew Moor 
 6 D Nick Hagglund 
33 M Steven Beitashour 
21 M Jonathan Osorio     (76')
 4 M Michael Bradley 
 7 M Víctor Vázquez 
44 M Raheem Edwards 

Bench
25 G Alexander Bono      (40')
23 D Chris Mavinga 
 8 M Benoit Cheyrou 
31 M Armando Cooper      (76')
14 M Jay Chapman 
18 M Marco Delgado 
17 F Jozy Altidore       (62')

Manager  Greg Vanney  

Sporting Kansas City 
 7 F Gerso Fernandes 
14 F Dominic Dwyer 
22 F Soony Saad         (83')
29 G Tim Melia 
 8 D Graham Zusi 
 3 D Ike Opara 
 5 D Matt Besler 
15 D Seth Sinovic 
27 M Roger Espinoza 
 6 M Ilie Sánchez 
94 M Jimmy Medranda      (65')

Bench
 1 G Adrián Zendejas 
 4 D Kevin Ellis 
17 D Saad Abdul-Salaam 
93 M Soni Mustivar       (65')
39 F Cameron Porter 
30 F Daniel Salloi 
 9 F Latif Blessing      (83')

Manager Peter Vermes 

Officials
Referee  Alan Kelly 
Assistant Referee  Matthew Nelson 
Assistant Referee  Logan Brown 
Fourth Official  Silviu Petrescu 
 
Match Information
MLS at BMO Field
Toronto, ON
Attendance 27909
Weather Clear 
 
Team Statistics
TOR                        SKC
 13     Shots               15 
  2     Shots on Target      5 
  6     Shots off Target     6 
  5     Blocked Shots        4 
  6     Corners              4 
 19     Crosses              9 
  0     Offsides             0 
 10     Fouls               11 
  1     Yellow Cards         1 
  0     Red Cards            0 
516     Total Passes       349 
 80 %   Passing Accuracy    70 % 
 59.6 % Possession          40.4 % 
 47     Duels Won           49 
 13     Tackles Won         10 
  5     Saves                2 
 16     Clearances          15 



Toronto FC starters


Sporting Kansas City starters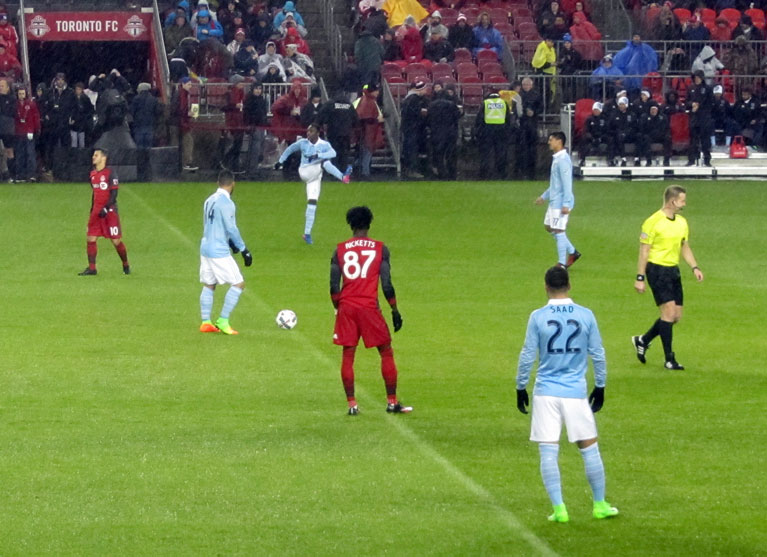 SKC Dom Dwyer (14) takes opening kickoff.


SKC Soony Saad (22) takes freekick.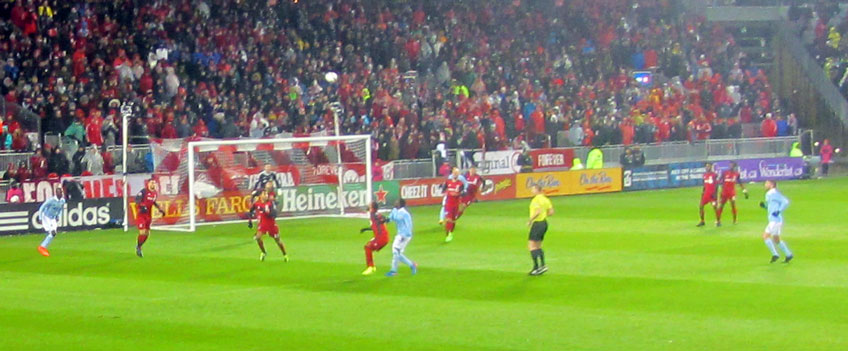 ball popped up in TFC box.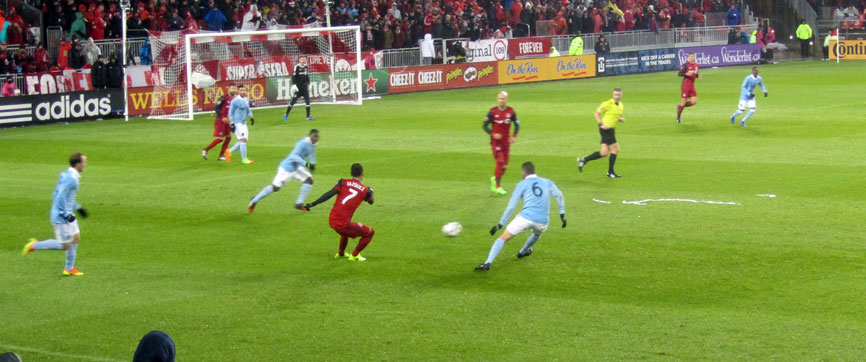 TFC Victor Vasquez (7) clears ball from own end.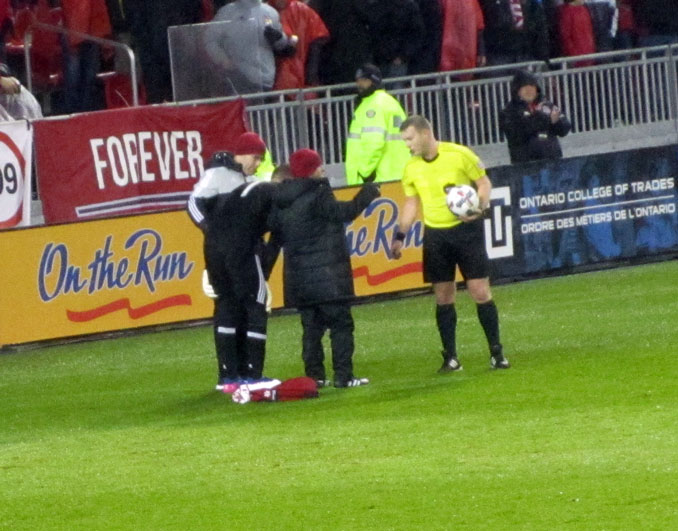 TFC goalie Clint Irwin (1) is treated for his injury.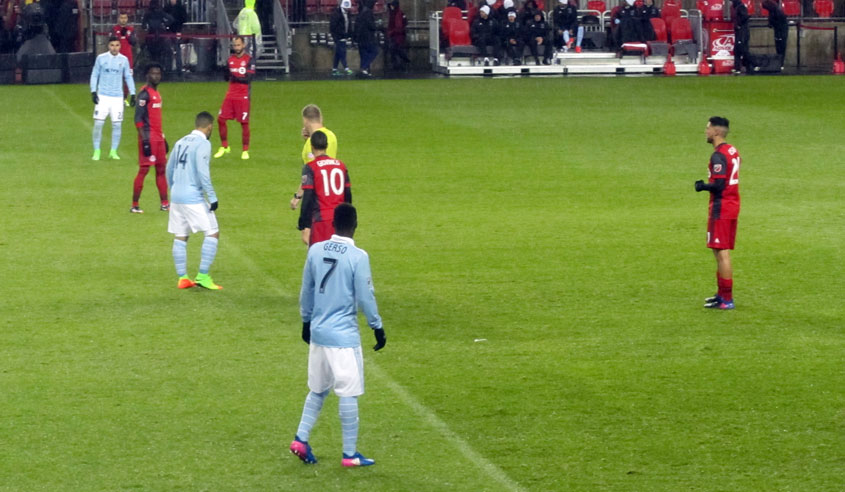 TFC Tosaint Ricketts (87) takes second half kick off.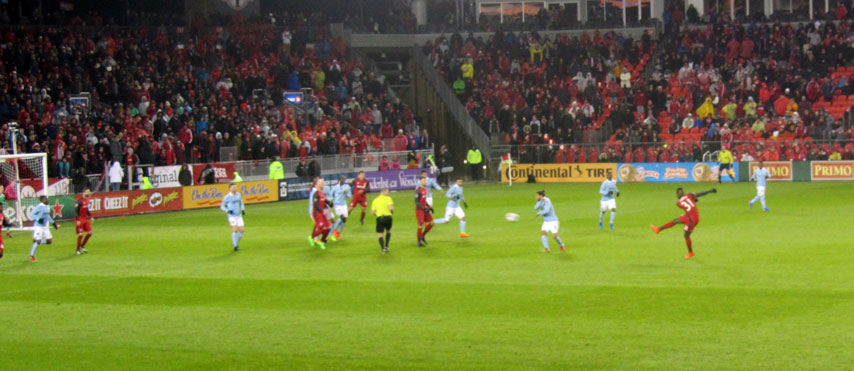 TFC Armando Cooper (31) blasts rebound up middle.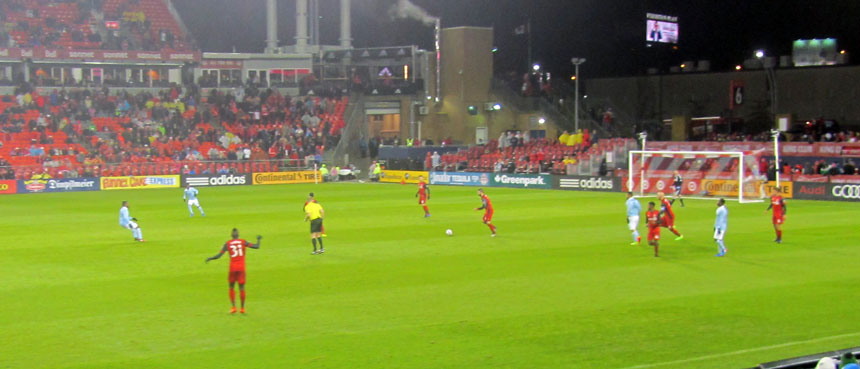 TFC Drew Moor (3) clears ball.
back to TFC 2017 news and results
.
.