.............................

Result and details of the Sunday October 4, 2015 League 1 Ontario game between Toronto FC Academy and Woodbridge Strikers played at the KIA Centre in Downsview at 1:45pm.
Toronto FC Academy (all black, white numbers, red trim)
...................30 Brogan Engbers
4 Nikola Stakic...7 Steven Furlano (cpt)...6 Thomas Mickoski...17 Andrew Dias
3 Leonard Sohn...21 Matthew Srbely...13 Aidan Daniels...15 Cyrus Rollocks
...............9 Martin Davis...10 Tristan Borges
Subs:...40 Nikita Degtyar (gk)...8 Nicholas Osori...14 Robert Boskovic...18 Alexander Zis...20 Marc Gallo
...24 Reshon Phillip
team officials:...team head coach Stuart Neely (not seen today)...assistant coaches Rick Titus, Michael Stefano, Fabian Casal, Alec Dufty
...manager Mairin Scanell
Woodbridge Strikers (all white, blue numbers)
..................23 Matt George
2 Jesse Andoh...4 Gabriel Sosa 5 Cameron Brooks...3 Kyle Watson
7 Jonathan Parolini...8 Victor Munoz...10 Christian Cavallini...6 Andrew Derayeh (cpt)
.............11 Emannuel Esho...9 Nicholas Chiarot
Subs:...1 Rocco Strazzella (gk)...14 Adrian Gallo...16 Darian Bygrave...18 Farhad-Ali Raheemi...20 Stefano Voci
...24 Joseph Jackson
team officials:...team head coach Peter Pinizzoto...assistant coach Sam Medeiros...manager John Scarlato...equipment manager Eric Mokri
...therapist Kevin Halford
Game officials:...referee Micheal Stenbring...referee's assistants Ben Jacobs and Afshin Behpour...fourth official Alec Hearn
...(yellow shirts, black shorts and socks)
1st Half:...game starts 1:53pm...TFCA defends north end on this sunny but cool afternoon with a wind from the east.
2 min...WS goalie catches 30 yard shot down middle.
4 min...WS Sosa 35 yard freekick from left has goalie fly and push wide right of post.
5 min...WS player's cornerkick from right has defender head ball away
5 min...TFCA Borges run up middle and 25 yard shot is well wide left.
6 min...WS Parolini run down right wing and cross is over box.
8 min...TFCA Srbely dribbles over to middle and cuts 22 yard roller wide left.
10 min...TFCA Srbely cross from near right cornerflag and goalie steps forward to catch behind crowd of players.
12 min...TFCA Rollocks and Davis give andgo up left is broken up by defenders just inside box.
14 min...WS sub...Gallo replaces Munoz.
15 min...TFCA Srbely 22 yard freekick from right edge of box is headed away by nearest defender.
17 min...TFCA Rollocks low 18 yarder from even with left post has diving goalie push wide left.
18 min...TFCA Borges blasts 20 yard shot from left off defender and WS Watson chest ball back to goalie.
20 min...WS Andoh from near right cornerflag after run crosses well over box.
21 min...TFCA Davis pops shot off defender and ball deflects high for goalie to catch.
22 min...TFCA Cyrus Rollocks GOAL...TFCA Tristan Borges and Rollocks bash through defenders in middle and Rollocks takes low 12 yard shot up middle over sprawling goalie Matt George and into left corner of net.
26 min...WS Cavallini is injured in face at TFCA 40 yard line.
27 min...TFCA Sohn rolls pass forward and left for TFCA Rollocks who shoots and goalie saves.
27 min...WS Chiarot rush on far right and shot is wide left from 18 yards.
28 min...TFCA Sohn 25 yarder low through crowd up middle and diving goalie pushes ball wide right of post.
28 min...TFCA Borges cornerkick short and cross back has nearest defender head away.
32 min...WS Gallo blasts 25 yard freekick from left well high and wide right of net.
32 min...WS Brooks breaks uplowcross at 8 yards in middle of box.
33 min...TFCA Srbely cornerkick from left has ball headed wide right for throw-in as players jump for ball.
35 min...WS Parolini long run up right but sliding cross from right end line is already over line.
38 min...TFCA Furlano low cross from right has defender clear away.
41 min...WS Esho steps by TFCA Daniels and 25 yard shot from right is wide right.
43 min...WS Chiarot ends good pressure and blocked shots with 15 yarder from right and low shot deflects wide left for cornerkick.
44 min...WS Gallo cornerkick from left is knocked back to him and recross from 22 yards is popped upon header and WS Andoh is over head boot backwards has ball land on top of net from 8 yards.
46 min...half ends 2:39pm.
Halftime Entertainment: there's a raffle for tickets to the MLS Toronto FC vs Columbus Crew game.
2nd Half:...starts 2:55pm...the weather is getting colder and it's now overcast.
49 min...TFCA Daniels 25 yard freekick from far left is through box and TFCA Davis 15 yard shot from far right is wide left of post.
53 min...TFCA Daniels 25 yard freekick from left bends from inward right and goalie catches.
56 min...WS Chiarot shot from 20 yards on left is wide right.
57 min...TFCA sub...Osorio replaces Srbely.
.........WS sub...Voci replaces Parolini.
58 min...TFCA Dias rush on far left and high cross hangs in wind and defenders clear.
60 min...WS GAllo 40 yard freekick from left has TFCA Furlano head ball away on edge of box.
62 min...TFCA Rollocks flicks ball forward to charging TFCA Dias on left but too far ahead and goalie picks up.
63 min...TFCA goalie out to head away at 25 yards to beat WS Esho to ball.
63 min...TFCA sub...Phillip replaces Sohn.
.........WS sub...Jackson replaces Esho.
64 min...TFCA goalie to right edge of box to beat WS Jackson to ball.
65 min...TFCA Borges 25 yard chip down middle between crowd of players is over net.
66 min...TFCA YELLOW card...Furlano earns it for pulling down player at TFCA 25 yard line.
67 min...WS player taps freekick from 28 yards and shot is blocked by charging TFCA players.
70 min...TFCA Martin Davis GOAL...A TFCA player steals the ball off WS defender Cameron Brooks who'd slipped and couldn't control the ball while fallen at WS 30 yard line on right side. A quick pass forward for TFCA Aidan Daniels who dribbled and sent low pass from 20 yards on right over to open Davis who was even with left post and his 20 yard shot was into the left corner of net beyond the diving goalie.
70 min...WS sub...Raheemi replaces Chiarot.
71 min...WS YELLOW card...Watson earns it for tackle at WS 45 yard line.
72 min...WS Voci chips pass from 30 yards forward but charging goalie beats WS player to left to catch on bounce.
76 min...WS YELLOW card...Gallo earns it for tackle at TFCA 30 yard line.
79 min...TFCA Borges long run on right turns into 2 on 1 but shoots 18 yarder from right wide left of net.
80 min...TFCA sub...Zis replaces Rollocks.
81 min...TFCA Furlano rush up right and low cross to TFCA Borges in middle and 25 yard shot is low and wide right of net.
85 min...WS Voci high cross from 20 yards on right has TFCA Zis clear.
86 min...TFCA Phillip low 25 yard shot up middle hits left post and is cleared.
87 min...WS Stefano Voci GOAL...WS Joseph Jackson low cross pass from 15 yards on right has Voci at 10 yards step around defender for clear shot into top center of net over goalie Brogan Engbers.
88 min...TFCA Davis chips 25 yard ball that goalie catches on right side of box.
91 min...TFCA sub...Boskovic replaces Dias.
92 min...WS goalie 60 yard freekick from right is caught by TFCA goalie.
92 min...TFCA Borges shoots 22 yarder up middle and over net.
93 min...WS flurry of play. WS player's cross from right has WS Derayeh shot partially blocked and WS Gallo has shot partially blocked. TFCA Daniels is injured on play.
93 min...WS YELLOW card...Sosa earns it for his part in last play.
95 min...game ends 3:45pm.
Final Score:.........Toronto FC Academy.......2.......Woodbridge Strikers.......1.....
Attendance was about 50 on this cool sunny afternoon with a strong crossfield wind from the East which turned by the second half to overcast and even colder.
Woodbridge rarely ventured into the TFCA end for large stretches of the game rushing in on two v six so as to have enough players back to cover TFCA break-ins. WS have only allowed 16 goals in 21 games. WS were mostly kept at least 25 yards away from goal. A club official answered my question after the game that the players were disheartened by the result last night where Oakville clinched the championship. Strikers had won their last eight games in a row with a lot of midweek games to play to make up for weather and Cup game rescheduling as they clawed their way up the standings playing these games in hand. Today, however, it reminded me of the MLS TFC vs Philadelphia game I saw last night (without the rain).
Referee Michael Stenbring gave out four Yellow cards (three to Woodbridge) and they were all after 65 minutes in a game that got rough in spots. He gave out a lot of warnings and waved a lot of advantage calls.
Best non-scoring chances were at 4 minutes when WS Gabriel Sosa took a 35 yard freekick from the left that the goalie flew to the right to push the ball wide of the post. 17 minutes had TFCA Cyrus Rollocks take a low 18 yard shot while even with the left post that the diving goalie pushed wide left of the post. 28 minutes had TFCA Leonard Sohn take a low 25 yard shot through a crowd of players up the middle and the diving goalie pushed wide right. 44 minutes had WS Adrian Gallo get a chance to recross his cornerkick from 22 yards on the left and the ball was popped up on a header in the box and WS Jesse Andoh with his back go goal took an overhead shot from 8 yards that landed on top of the net. 86 minutes had TFCA Reshon Phillip take a low 25 yard shot up the middle that hit the left post and was cleared. 93 minutes had a WS flurry with a player's cross from the right having WS Andrew Derayeh then Adrian Gallo have their shots partially blocked. Aidan Daniels was injured on the play and WS Sosa drew a Yellow card.
Toronto FC Academy finish their season on a nine game winning streak (last week I had miscounted and had them at seven). Their record in the 22 game league schedule is 13 wins, 1 draw, 8 losses for 40 points. Their win today vaults them over ANB Futbol into fifth place.
Woodbridge's record falls to 15 wins, 1 draw, 5 losses for 46 points and they are locked into second place after Oakville Blue Devils clinched the league championship with a win last night. Strikers still have one make-up game to play against Windsor but are seven points behind OBD.
So the League 1 Ontario season is over except for what looks like three make up games still to be rescheduled. I attended 45 games in the men's league. I don't expect to see any more except maybe the Interprovincial Cup with Oakville Blue Devils playing the best team from the equivalent league in Quebec. I'll write a year end editorial after that and the end of the TFC run in the MLS.
Rocket Robin
robing@eol.ca
twitter @RocketRobin01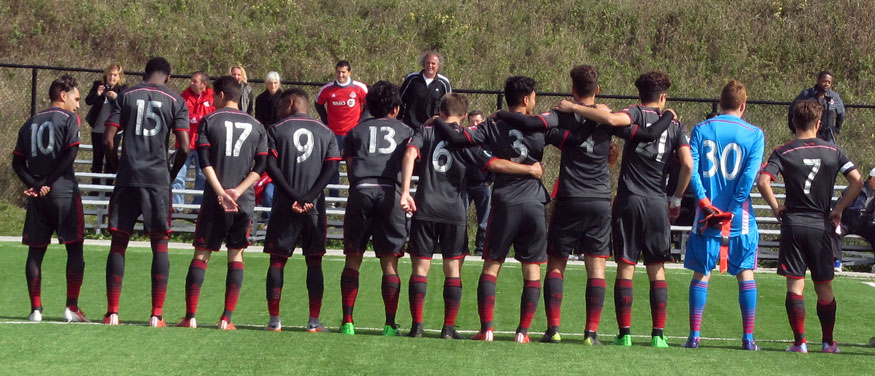 Toronto FC Academy starters


Woodbridge Strikers starters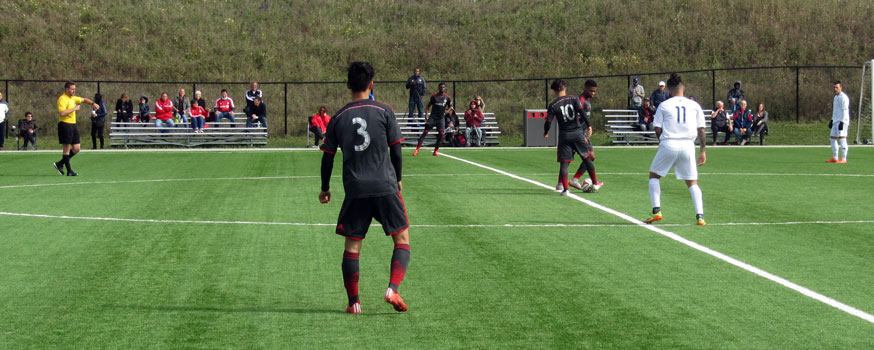 TFCA Tristan Borges (10) and Martin Davis (9) take opening kickoff.


TFCA Nikola Stakic (4) rushes over center line.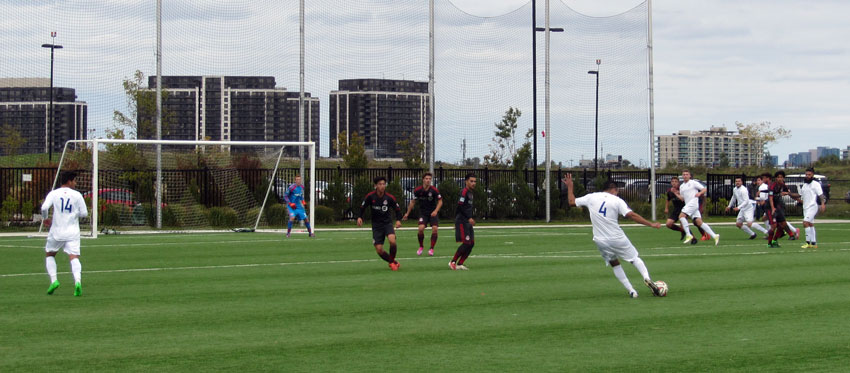 Strikers Gabriel Sosa (4) takes freekick.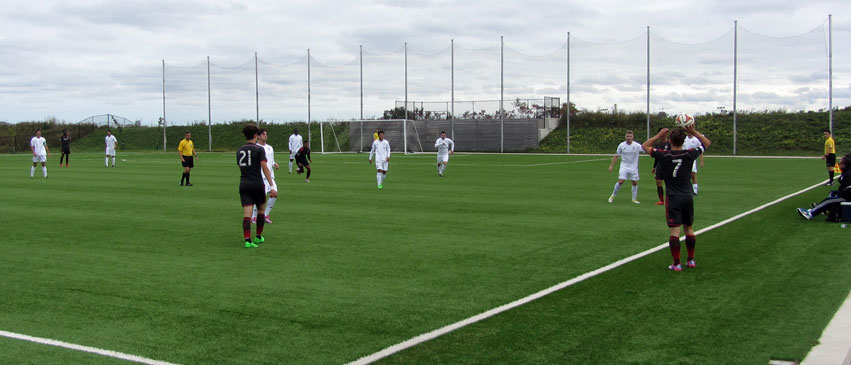 TFCA Steven Furlano (7) takes throw-in.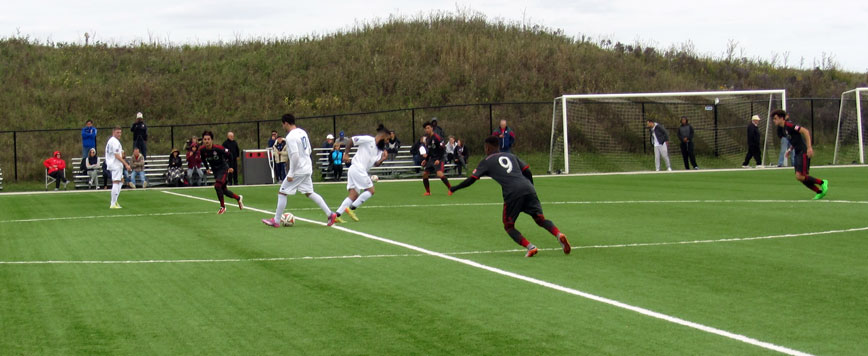 Strikers Christian Cavallini (10) and Emmanuel Esho (11) take seocnd half kickoff.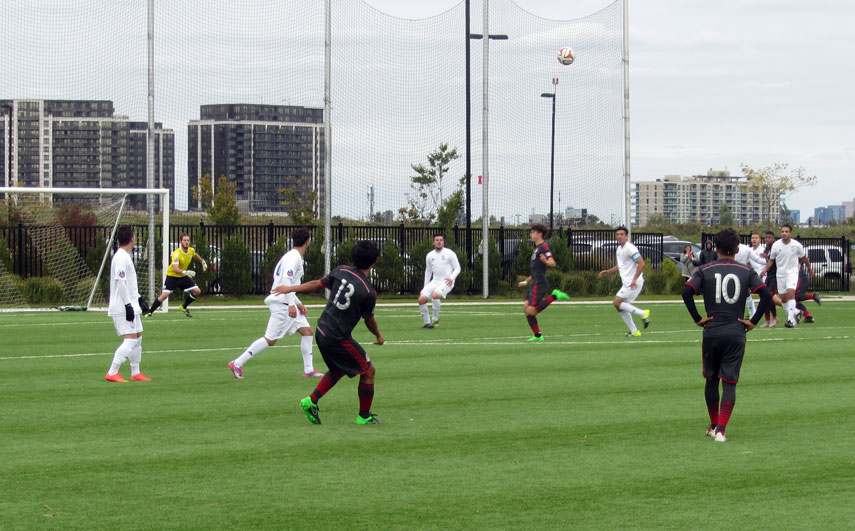 TFCA Aidan Daniels (13) takes freekick.
back to 2015 League 1 Ontario Men's index
.
.