...............................

Result and details of the Wednesday September 30, 2015 League 1 Ontario game between Durham United FC and Woodbridge Strikers played at the Pickering Soccer Centre at 9:00pm.
Durham United FC (navy socks and backs, red shorts, navy & red striped chests, yellow numbers)
........................1 Eugene Alves
15 Gary Canam...5 Joe Zupo (cpt)...4 Hameez Farrell...12 Bruce Cullen
17 Joseph Roccasalva...10 Mark Tarazhi...6 Matt Stowell...3 Tajmir Ashraq
..............14 Kristian Lee-him...9 Le Rohne Young
Subs:...0 Peter Katasaras (gk)...7 Christian Moncrieffe...18 Taejon Mikle...13 Justin Gordon...16 Kashiff De Jonge
...8 someone not listed.
team officials:...head coach Sanford Carabin...team officials Ron Clarke, Corrado Roccasalva, and Dr Alex Hawkins
Woodbridge Strikers (all white, blue numbers)
......................23 Matt George
16 Darlan Bygrave...2 Jesse Andoh...5 Cameron Brooks...3 Kyle Watson
7 Jonathan Parolini...6 Andrew Derayeh (cpt)... 8 Victor Munoz...9 Nicholas Chiarot
.............10 Christian Cavallini...24 Joseph Jackson
Subs:...1 Eugenio Garro (gk)...11 Emmanuel Esho...14 Adrian Gallo...18 Farhad-Ali Raheemi...19 Damion Scott
...20 Stefano Voci
team officials:...team head coach Peter Pinizzoto...assistant coach Sam Medeiros...manager John Scarlato...equipment manager Eric Mokri
...therapist Kevin Halford
Game officials:...referee Ben Jacobs...referee's assistants Fabrizio Stasola and Adam Devenyi...fourth official Anthony D'Ambro
...(teal shirts, black shorts and socks)
1st Half:...game starts 9:01pm...DUFC defends east end in this indoor facility.
2 min...WS Jesse Andoh GOAL...WS Victor Munoz cornerkick from right has leaping Andoh even with left post in crowd of players head 7 yarder into right side of net.
8 min...DUFC Stowell 40 yard freekick from right is low and cleared on edge of box.
14 min...DUFC Cullen low pass from 30 yards forward to DUFC Tarazhi on right but too far and ball rolls out over endline.
14 min...there's an announcement over the PA that the DUFC Women have just won the league championship beating ANB Futbol 4-0.
16 min...WS players are called offside twice within a minute.
19 min...WS Munoz pushes ball forward from 30 yards and WS Cavallini backheelpass on edge of box deflects for cornerkick.
20 min...WS Munoz cornerkick from right has two defenders pop up headers to clear. WS Brooks shoot 30 yard partial clearance up middle between players wide right of net.
21 min...DUFC Cullen is injured in collision into DUFC player bench.
22 min...WS YELLOW card...Parolini earns it for something.
23 min...DUFC goalie 80 yard freeekick has defender flick header back to WS goalie.
24 min...WS Bygrave makes long diagonal run from 60 yards on right and rolls pass forward and left for WS Chiarot who has 15 yard shot saved point blank by goalie. Chiarot gets up and whistle is blown for Penalty kick but linesman overrules as he saw a handball white Chiarot was on the ground.
28 min...DUFC YELLOW card...Stowell earns it for kicking at a player.
29 min...WS Christian Cavallini rushes into box on right and is pulled down by DUFC Bruce Cullen.
.........DUFC YELLOW card...Cullen earns it for last play. Referee Ben Jacobs gives Cullen a Yellow card and awards WS a Penalty kick.
30 min...WS Victor Munoz GOAL...Munoz takes low Penalty kick to left that's stopped by sprawling goalie Eugene Alves and ball pops up and Munoz unchallenged heads rebound from 8 yards over flying goalie into right side of net.
32 min...WS Watson throw-in from left bounces through box as both offensive and defensive players miss connecting.
34 min...WS goalie picks up partially blocked shot on right side of box.
36 min...WS Cavallini injured at DUFC 50 yard line on check that wins him freekick.
39 min...DUFC Stowell wins cornerkick on pass from left for defender concedes.
39 min...DUFC player's cornerkick from right has DUFC Farrell on left head across box that DUFC Lee-him takes 10 yard header that goalie sprawls to catch.
40 min...WS Bygrave finishes rush with 22 yard shot from right on cross field pass that's just wide left of net.
40 min...WS Cavallini leaves field again with injury.
42 min...WS sub...Esho replaces injured Cavallini.
47 min...DUFC Zupo 30 yard freekick fromleft is shot over net.
47 min...half ends 9:48pm.
2nd Half:...starts 10:01pm.
halftime sub:...DUFC Mikle replaces Ashraq.
48 min...DUFC Young cuts over to center from right and shoots 25 yarder over net.
48 min...DUFC Cullen 35 yard freekick from left has defender head ball away on right edge of box.
49 min...DUFC Cullen blasts 25 yarder from left wide right.
49 min...WS sub...Gallo replaces Jackson.
50 min...WS Esho on left cross from left side of box has WS Derayeh shoot 22 yarder up middle that defender blocks at 15 yards. WS Munoz blasts low rebound from 25 yards just wide right.
51 min...WS sub...Voci replaces Chiarot.
54 min...DUFC Cullen 35 yard freekick up middle is blasted well over net.
55 min...DUFC Lee-him gets ball in middle and shoots 30 yarder well wide right of net.
56 min...WS Esho rolls centering pass across from 20 yard line and WS Derayeh blasts 20 yarder high and wide right.
58 min...WS Voci receives long cross from WS Bygrave across box on left and passes to WS Gallo who shoots over net from 18 yards.
60 min...DUFC Lee-him receives drop pass and takes midair 30 yard blast down middle that's over net.
62 min...WS 25 yard shot up middle pops up off defender and bounces to goalie.
63 min...DUFC sub...De Jonge replaces Tarazhi.
65 min...WS Voci cross from 15 yards on left end line over to WS Parolini on right who taps pass for WS Derayeh to blasts 15 yarder over net.
66 min...WS sub...Raheemi replaces Parolini.
66 min...DUFC RED card...Matt Stowell earns his second Yellow card (his first was at 28 minutes for kicking out at a player) for slashing at WS Adrian Gallo injurying him at center line. Stowell seeing that he drew the card then charged back at Gallo which started a dust up between both teams that took all the game officials to break up.
69 min...DUFC De Jonge long run up right on 1 on 2 including step overs but eventually checked off ball in box.
69 min...WS Munoz is injured at DUFC 35 yard line and needs trainer.
72 min...WS Mikle 30 yards rolls pass but WS Esho is not able to get to through ball at 15 yards.
72 min...DUFC Young gets long pass down middle and 25 yard low shot rolls to goalie.
74 min...DUFC Mikle on left edge of box rolls pass across to DUFC Lee-him but 20 yard shot is blocked by defender.
75 min...WS Derayeh on run down middle from 40 yards taps left to WS Voci who shoots wide left from 20 yards.
76 min...WS sub...Raheemi replaces Munoz.
78 min...DUFC Bygrave rush to edge of box but his shot is blocked by sliding defender.
80 min...DUFC Cullen 20 yard freekick from right is crossed over and DUFC Roccasalva gets tapped pass but blasts 22 yarder down middle well high and wide left of net.
82 min...WS Esho 22 yard shot from left bounces to goalie.
83 min...DUFC Zupo 30 yard blast wins cornerkick on left on deflection.
84 min...DUFC Cullen cornerkick from left has ball knocked down and DUFC Young pokes 12 yards hot over bar.
84 min...DUFC sub...# 8 replaces Lee-him.
85 min...DUFC Mikle rush to ball on right and low cross to center and WS Andoh stops andwins freekick on check.
87 min...WS Derayeh pass forward to WS Scott (when did he come in?) who taps ball to WS Raheemi who shoots 20 yarder from even with right post just wide right of post.
88 min...WS Scott rolls ball on rush on right too far found and goalie picks up ball.
89 min...DUFC Canam cross from 25 yards on right is caught by charging goalie at 12 yards.
92 min...DUFC Young taps pass to DUFC Cullen and his 22 yard shot deflects off defender and spins back to goalie.
93 min...WS goalie spooks DUFC #18 by sliding to right and pushes ball over end line.
93 min...game ends 10:49pm.

Final Score:.....Durham United FC........0........Woodbridge Strikers........2......
Attendance was about 40 on this game that had been rescheduled from Friday August 7th so Woodbridge could play in the Cup Final on Sunday of that weekend. The game was moved and the time was changed again just today. I kept up on it by checking their Twitter account but it was supposed to be at 8:00pm at Kinsmen Park in Pickering but the Pickering Soccer Centre was better for me as it was an indoor facility. Glad as it's getting very cold outside.
Matt George earned the shutout for Woodbridge with a few routine shots. While both teams could have used some more accurate shooting, Strikers defenders made quite a few blocks in their box to make sure many shots never reached the goalie. Darian Bygrave, Jesse Andoh, Cameron Brooks, and Kyle Watson built this defensive wall. The team has allowed only 14 goals in 20 league games to be the stingiest team in the league.
Best DUFC chance was at 39 minutes when a cornerkick was sent in from the right that DUFC Hameez Farrell on the left headed the ball back across the box and DUFC Kristian Lee-him sent a 10 yard header that the goalie sprawled to catch.
Referee Ben Jacobs gave out four Yellow cards--(three to DUFC including two to Matt Stowell) in a game that was rough in parts but never out of hand. He had to put up with player calls of "Hand ball" on everything above the knees. Best response was DUFC Bruce Cullen drawing the Yellow and Penalty kick and yelling out "I didn't touch him" and an official on his own bench yelling back "You grabbed his shirt". Best officials using teamwork was when WS Darian Bygrave made a long diagonal run from 60 yards on the right and he rolled a pass forward to WS Nicholas Chiarot who had a 15 yard shot saved point blank by the goalie. Chiarot got up and the whistle was blown for a Penalty kick but the referee's assistant signalled to consult that he'd seen a handball on Chiarot when he was down and the call was overturned into a DUFC freekick.
Strikers Christian Cavallini was injured at 36 minutes and continued another four minutes before leaving for good.
DUFC continued to threaten even after going down a man. It could be said they practiced during their last game in Windsor by only taking nine players and still earning a 1-1 tie.
Woodbridge stays on course to win the League Championship with two games to go. Their record improves to 15 wins, 1 draw, and 4 losses for 46 points. They have a game on Sunday afternoon at KIA Training Ground against the hot Toronto FC Academy who have been 7-0-0 in their last games and a still to be scheduled date away in Windsor.
Oakville Blue Devils are still in first with a record of 16 wins, 2 draws, and 3 losses for 50 points with one game to go—on Saturday evening away to Pro Stars FC. Oakville could have wrapped up the title last Sunday but they were beaten by Toronto FC Academy.
Durham United FC finished their season tonight with a record of 11 wins, 3 draws, and 8 losses for 36 points and seventh place.
Announced at the 14 minute mark of this game was that the Durham United FC Women's team had beaten ANB Futbol 4-0 and wrapped up the League 1 Ontario Women's Championship. At the end of the game three of their team had driven from King City with the trophy to show the fans at tonight's men's game. Ahh. I feel slightly guilty by attending 44 League 1 Ontario men's games and only 1 women's game.
Rocket Robin
robing@eol.ca
twitter @RocketRobin01


Durham United FC starters


Woodbridge Strikers starters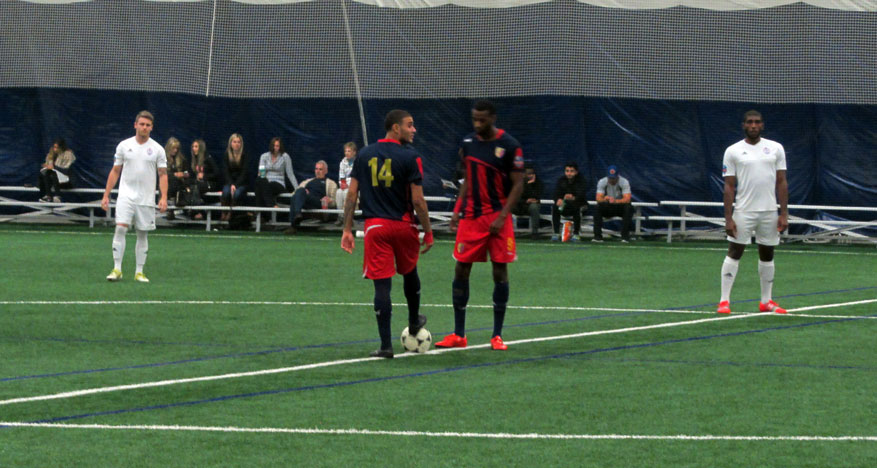 DUFC Kristian Lee-him (14) and Le Rohne Young (9) take opening kickoff.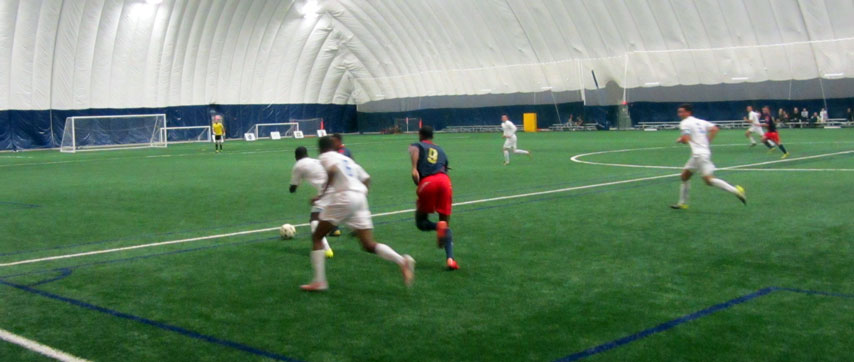 DUFC Tajmir Ashraq (3) leads rush up left wing.


WS Victor Munoz (8) steps up to take Penalty kick.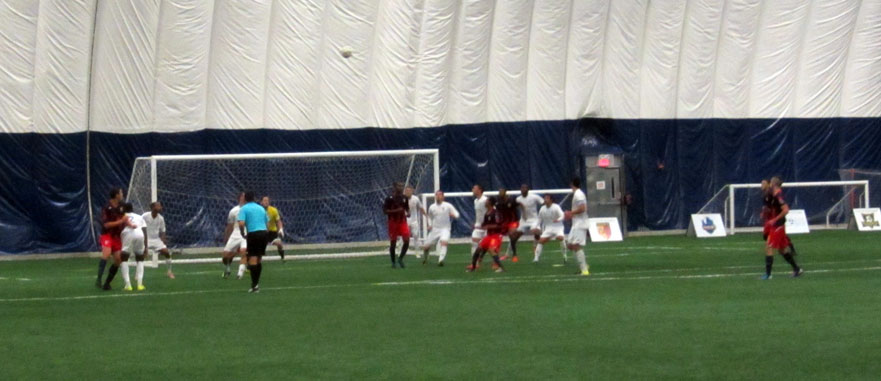 ball pops up into WS box.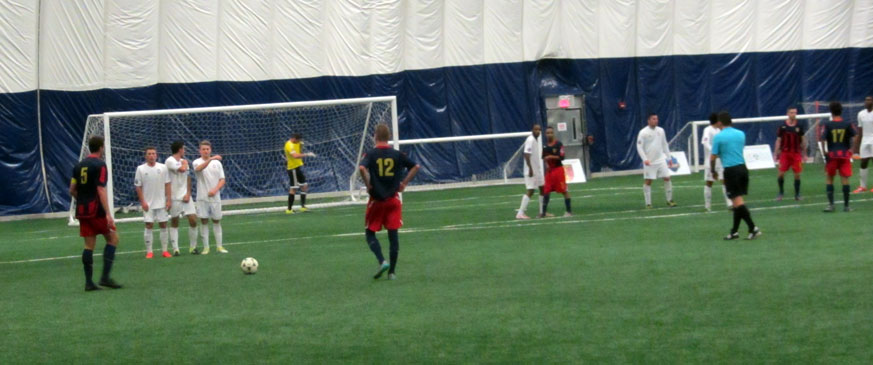 DUFC Joe Zupo (5) and Bruce Cullen (12) line up freekick.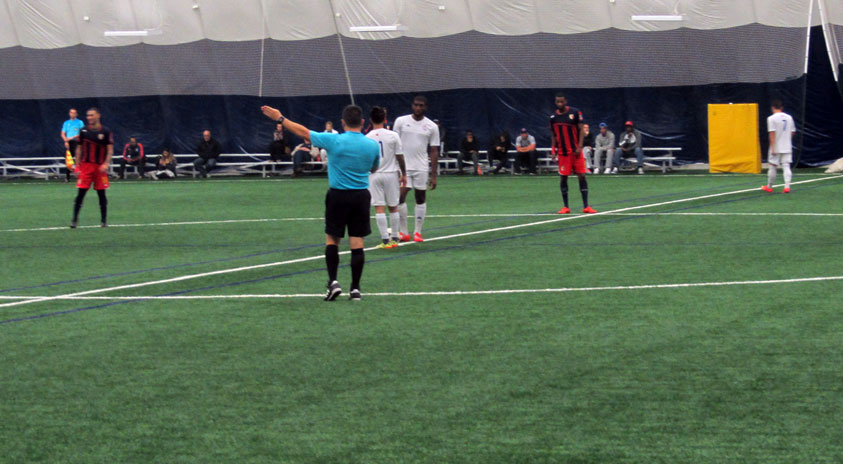 WS Emmanuel Esho (11) and Joseph Jackson (24) starts second half.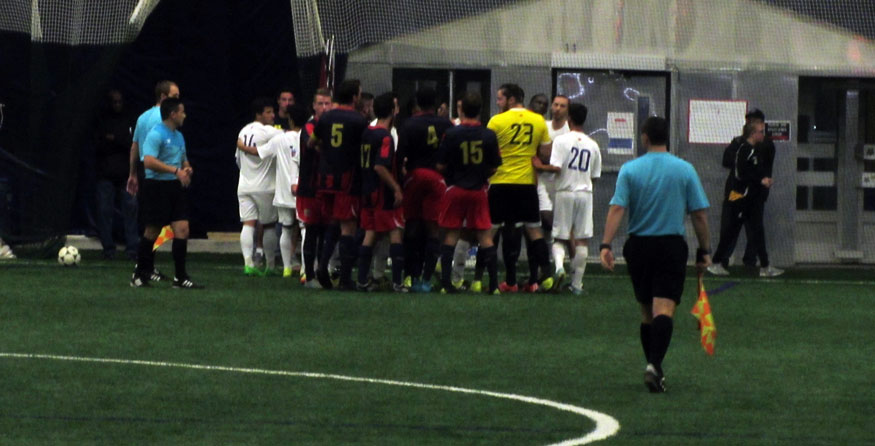 dust up between the two teams at 66 minutes.


action in WS box.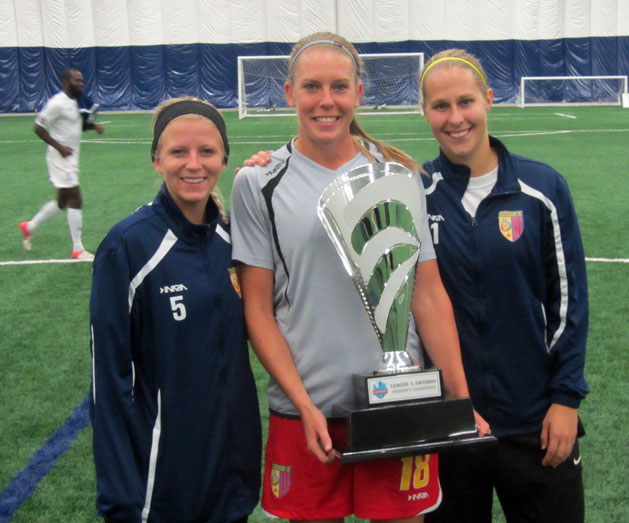 Members of DUFC Womens championship team Hollie Babut (5), Taylor Potts (18), and another player with trophy.
back to 2015 League 1 Ontario Men's index
.
.