............................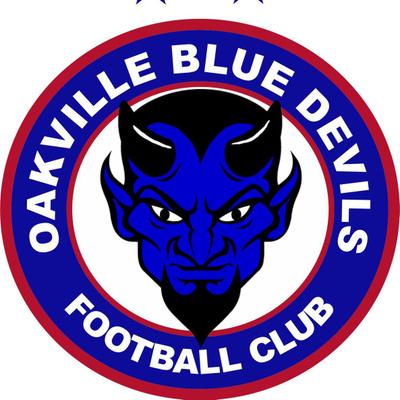 Result and details of the Sunday September 27, 2015 League 1 Ontario game between Toronto FC Academy and Oakville Blue Devils played at KIA Training Ground in Downsview at 1:45pm.
Toronto FC Academy (all red, white numbers)
.....................40 Nikita Degtyar
7 Steven Furlano(cpt)...4 Nikola Stakic...6 Thomas Mickoski...3 Leonard Sohn
11 Richie Ennin...21 Matthew Srbely...13 Aidan Daniels...15 Cyrus Rollocks
...........24 Reshon Phillip...10 Tristan Borges
Subs:...50 Felippo DiBennardo (gk)...5 Jordan Johnson...8 Nicholas Osorio...9 Martin Davis...14 Robert Boskovic
...18 Alexander Zis
team officials:...team head coach Stuart Neely...assistant coaches Rick Titus and Fabian Casal...manager Mairin Scannell
Oakville Blue Devils (all navy, white numbers)
...................1 Karman Saini
20 Hitesh Joshi...12 Tevin Wynter...5 Nick Muth...22 Al James
15 Anthony Doran...8 Gary Giffin...14 Taylor (Mikael) McNamara (cpt)...11 Tyler Wason
................17 Brandon Duarte...9 Filipe Vilela
Subs:...24 Zach Soroka (gk)...2 Adam Gould...6 Chris Mitchell...7 Judah Hernandez...16 Khody Ellis
...18 Christian Young...23 Roman Young
team officials:...team head coach Duncan Wilde...assistant coaches Billy Steele and Brett Mosen...manager Kim Ashton
...equipment manager Glenn McNamara
Game officials:...referee Hassan Rifai...referee's assistants Jose Sanchez and Isabelle Senecal...fourth officials Zac Taylor
...(teal shirts, black shorts and socks)
1st Half:...game starts 1:48pm...TFCA defends north end on this warm and sunny afternoon.
2 min...TFCA Furlano is injured on tackle by OBD Wason at TFCA 45 yard line.
3 min...OBD Wason cross is deflected from 20 yards near left endline for goalkick.
4 min...OBD Wason holds up ball at TFCA 20 yard lineandrollstap to charging OBD McNamara who rolls 20 yarder that goalie smothers.
5 min...TFCA Rollocks rush on left to 22 yards cutting in but flubs shot that rolls to goalie.
5 min...TFCA Furlano rolls ball forward from right and TFCA player's 18 yard shot is wide right of net.
6 min...TFCA player's cornerkick from right is cleared and OBD Vilela has shot blocked by TFC Mickoski on left.
7 min...OBD Doran cornerkick from left is over player's in box.
8 min...TFCA Ennin cuts around defender and bends 15 yarder up middle that goalie palms over net.
8 min...TFCA player's cornerkick from left has ball crossed over box and TFCA Stakic slides and 5 yard shot is over net.
12 min...OBD Doran cornerkick from right drifts behind endline high over net.
16 min...TFCA Rollocks wins cornerkick on deflection of cross.
16 min...TFCA player's cornerkick from left is cleared.
17 min...TFCA goalie beats OBD Wason to through ball pass to left edge of box.
18 min...OBD Joshi cross from 25 yards on right is behind net.
19 min...TFCA Phillip shot from 15 yards up middle is wide left of net.
21 min...TFCA Borges rolls ball forward and TFCA Ennin rounds goalie at 12 yards and pushes ball over endline.
24 min...OBD McNamara 50 yard freekick from right is caught by goalie.
25 min...TFCA Borges blasts tapped freekick from 22 yards that deflects off defender at 15 yards and following defender heads ball away.
28 min...TFCA players are again called offside for about the fourth time this half.
28 min...OBD Wason rush for ball and dribbles in from 25 yards but sliding TFCA Stakic pokes ball away at 17 yards.
29 min...TFCA Ennin cross from 18 yards on right has goalie dives forward and punches punch ball away.
30 min...TFCA Daniels gets rebound and rolls 25 yarder wide left.
31 min...OBD James blocks shot from 22 yards then clears ball for cornerkick.
32 min...TFCA Borges cornerkick from right deflects around and is eventually cleared from box.
33 min...OBD James throw-in from left has defenders clear in box.
35 min...TFCA Mickoski bastes OBD Vilela breaking out but only a freekick is given just behind the center line.
35 min...The referee pulls up with a hamstring injury and player take a water break while the TFC trainer administers first aid.
39 min...OBD Vilela pushes ball forward to OBD Wason but goalie beats him to dive at 15 yards and knock ball away.
40 min...OBD Vilela cuts towards box from left but pushes ball top far forward and defender shields it for goalie to smother.
42 min...TFCA Daniels long rush up left but passes too far for TFCA Furlano who can't keep ball in play.
45 min...TFCA Rollocks runs up left and OBD Wynter prevents him from getting away shot at 15 yards and ball rolls to goalie.
46 min...half ends 2:34pm.
2nd Half:...starts 2:52pm...the referees are switched with Jose Sanchez switching from referee's assistant to referee, Zac Taylor replacing him on the line, and Hassan Rifai taking over as the fourth official.
halftime sub:...TFCA Davis replaces Phillip.
46 min...TFCA Furlano cross from 22 yards on right has defender head ball away.
47 min...TFCA Ennin has 20 yard shot blocked, TFCA Stakic shoots 30 yard rebound up middle low and wide left.
48 min...OBD Doran crosses from 25 yards on right and goalie on left post punches ball away in crowd of players.
48 min...OBD Wason turns andfires 22 yarder that deflects off defender and pops up behind goalie who dives back and catches at 2 yards.
51 min...OBD YELLOW card...McNamara earns it for bashing TFCA Ennin at center line.
53 min...OBD Wynter chips pass forward from 35 yards and OBD Duarte one-touches 22 yarder high and wide right of net.
54 min...TFCA Daniels is injured on check at TFCA 50 yard line.
56 min...OBD Vilela dribbles in from 25 yards on left sideline and chips ball from 22 yards down middle and OBD Wason chests ball up at 12 yards and goalie runs forward but misses on lunge to catch as Wason pups up header. TFCA Furlano punts ball high and away at 8 yards.
57 min...TFCA Davis rolls ball forward between TFCA players and goalie picks up.
58 min...TFCA Martin Davis GOAL...Davis at OBD 45 yard line in center rolls pass to right for charging TFCA Richie Ennin at 40 yard line who runs forward to OBD 22 yard line and centers pass through four defenders along 22 yard line and Davis receives pass in open at OBD 15 yards in middle and he steps forward and shoots low 10 yarder to right corner of net past sliding goalie Karman Saini at 3 yards in center.
59 min...TFCA YELLOW card...Stakic earns it for tripping OBD Vilela on left edge of box.
60 min...OBD James yard freekick from left edge of box has OBD Vilela on right near right post not able to turn header.
61 min...TFCA sub...Zis replaces Daniels.
62 min...TFC Tristan Borges GOAL...Borges gets pass at OBD 45 yard line while running towards right sideline and he rolls ball forward down sideline to TFCA Steven Furlano at OBD 35 yard line who runs down sideline until turning back at OBD 25 yard line and tapping pass back to Borges at 35 yard line who dribbles towards middle and rolls pass towards center but ball hits defender and pops back for Borges still on run who chests down at OBD 28 yards. Borges taps centering ball and calls off TFCA Cyrus Rollocks and takes 12 yard shot down middle over sprawling goalie at 6 yards into top center of net.
62 min...TFCA sub...Boskovic replaces Stakic.
.........OBD sub...Ellis replaces Duarte.
64 min...TFCA Rollocks sends low cross from 20 yards through 6 yard box but ball unplayed.
65 min...TFCA sub...Osorio replaces Rollocks.
66 min...OBD Giffin gets pass at 22 yards but is checked off ball on edge of box by TFCA Boskovic.
68 min...TFCA Ennin low 20 yard shot is crowd up middle and diving goalie saves on right post.
70 min...OBD goalie beats sliding TFCA Davis to smother at 8 yards in middle on low cross from 22 yards from right.
72 min...OBD sub...Gould replaces Doran.
73 min...TFCA Ennin low rush on left and rolls centering cross that OBD Muth kicks behind endline.
73 min...TFCA sub...Johnson replaces Ennin.
73 min...TFCA players work out short cornerkick from left but effort wasted.
74 min...OBD goalie makes awkward clearance off a pass back tap.
74 min...OBD sub...Mitchell replaces Giffin.
77 min...OBD McNamara is injured at TFCA 30 yard line.
78 min...OBD sub...Hernandez replaces injured McNamara before play resumes. Muth becomes captain.
81 min...OBD Joshi throw-in from right has OBD Vilela shoot 12 yarder along endline that deflects for cornerkick.
81 min...OBD Hernandez cornerkick from right has defenders clear for fast breakout. OBD goalie downfield later in play has to punch ball away at 10 yards to get through box.
84 min...OBD Mitchell is injured at OBD 40 yard line and needs trainer.
85 min...OBD sub...Roman Young replaces Mitchell before play resumes.
88 min...TFCA Sohn rolls centering pass from left has TFCA Davis shoot 22 yarder that goalie catches.
89 min...TFCA Davis low 20 yard shot from left has goalie smother.
90 min...TFCA defender clears ball for throw-in to prevent OBD Vilela from getting ball at 20 yards.
92 min...OBD James long throw-in from left is partially cleared and OBD Wynter blasts 25 yarder up middle that's stopped.
93 min...OBD Hernandez 25 yard freekick from left has flying goalie push ball wide right.
93 min...OBD Hernandez cornerkick from left has OBD Muth header deflect away off defender.
94 min...game ends 3:41pm.
Final Score:.......Toronto FC Academy..........2........Oakville Blue Devils.....0....
Attendance was about 80 on this warm and sunny day.
Nikita Degtyar earned the shutout for TFCA by making some key saves when called upon. OBD didn't have a lot of time to get away shots as most were from counterattacks as TFCA had the majority of play. OBD goalie Karman Saini had some crucial saves to keep the game scoreless in the first half.
Best non scoring chances were at 8 minutes when TFCA Richie Ennin cut around a defender and bent a 15 yarder up the middle that the goalie palmed over the net. The resulting cornerkick from the left was short and the ball was then crossed over the box and TFCA Nikola Stakic slid forward on the right post and shot over the net from 5 yards. 21 minutes had TFCA Tristan Borges roll a pass forward and Ennin rounded the goalie at 12 yards but had pushed the ball too far and it rolled over the end line. 48 minutes had OBD Anthony Doran cross from 25 yards on the right send in a cross that the goalie in a crowd of players on the left post punch the ball away and OBD Tyler Wason recovered at 22 yards and turned and fired a low shot that popped up off a defender and behind the goalie who dove back and caught the ball at the 2 yard line.
Referee Jose Sanchez gave out two Yellow cards (one to each team) in a game that some close checks. Actually Hassan Rifai started as the referee but pulled up with a hamstring injury at 35 minutes and after some treatment by the TFCA trainer finished out the half. Sanchez moved from the line for the second half, with Zac Taylor moving from fourth official to the line and Rifai took over as fourth wearing a large ice bag below his knee.
TFCA are the hottest team in the league and wins their *eighth* [*CORRECTION*] game in a row. I asked head coach Stuart Neely after the game why the team is performing so much better than at the start of the season and he listed a number of reasons including a change in formation, better fitness, and playing a faster tempo game now as well as the maturing of the players. With the splitting of the squads (last year TFCA were unbeaten in league play) into TFC II and PDL squads, this League 1 team are their Under 17s.
The win improves TFCA's record to 12 wins, 1 draw, 8 losses for 37 points and moves them up to sixth place passing Durham United with one game left.
Oakville hangs on to first but their record falls to 16 wins, 2 draws, 3 losses for 50 points. They've only conceded 18 goals in 21 league games. They have to wait a while longer to clinch the league championship. League 1 Chairman Dino Rossi Jr and OSA President Ron Smale were in attendance and the trophy was here for presentation if the Blue Devils had won today. The trophy will reappear next Saturday for their final game against Pro Stars FC.
Second place Woodbridge Strikers still have a chance. Their record is 14 wins, 1 draw, 4 losses for 43 points with three games to go. They have a midweek game away to Durham United then come to KIA Training Ground next Sunday for a game against TFCA. (An away game against Windsor Stars awaits rescheduling).
Rocket Robin
robing@eol.ca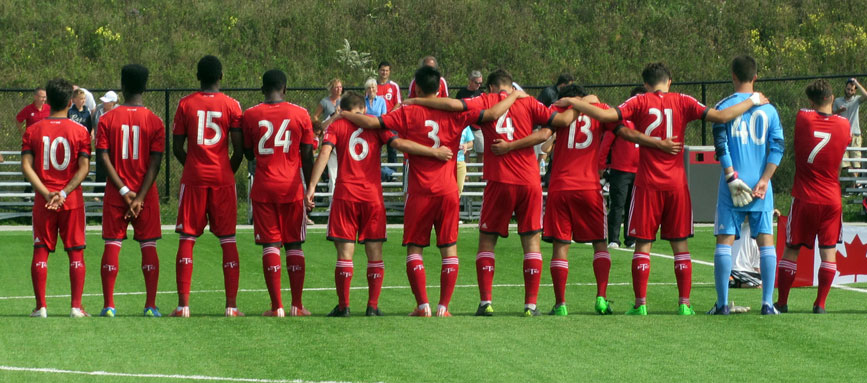 Toronto FC Academy starters


Oakville Blue Devils starters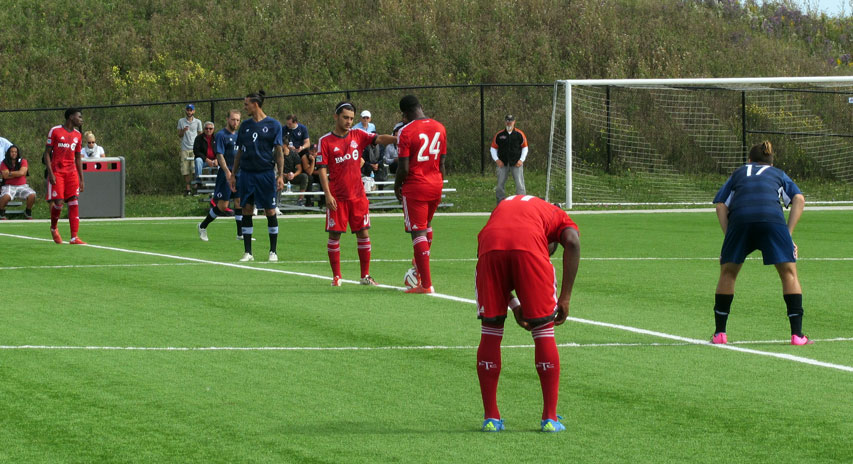 TFCA Tristan Borges (10) and Reshon Phillip (24) take opening kickoff.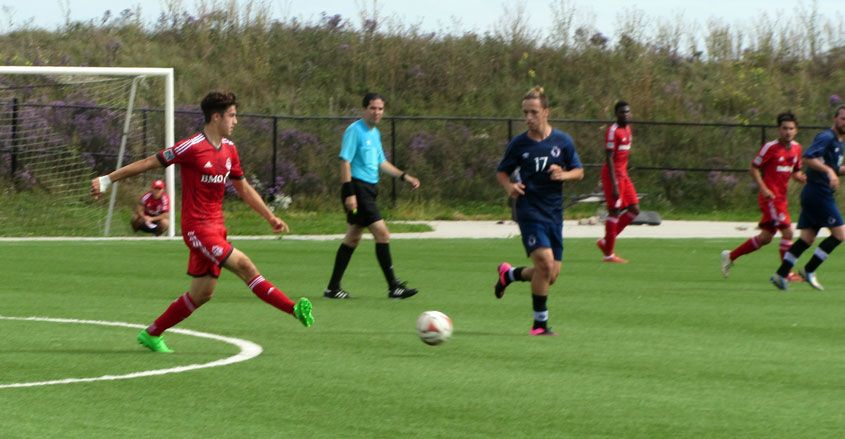 TFCA Matthew Srbely (21) passes ball.


TFCA goalie Nikita Degtyar will catch this high freekick.


TFCA Aidan Daniels (13) lines up freekick.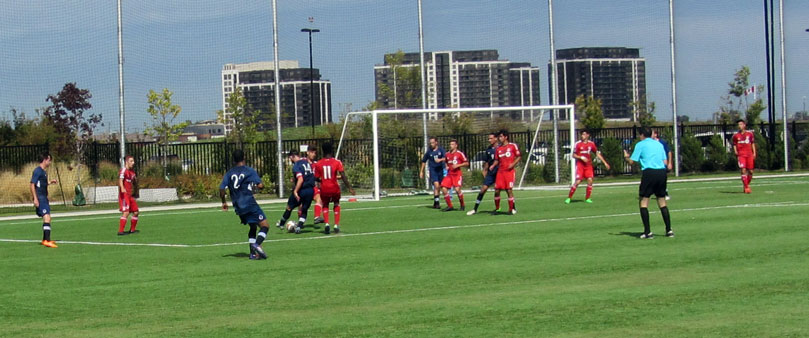 OBD Taylor McNamara (14) dribbles into box.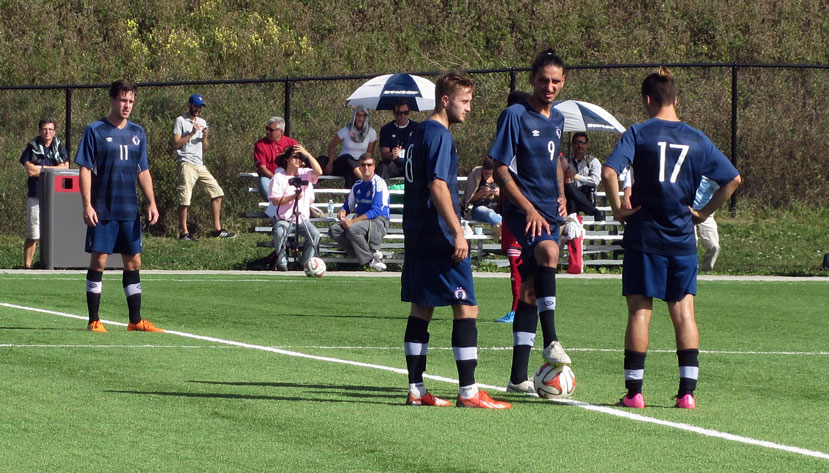 OBD Gary Giffin (8), Filipe Vilela (9), and Brandon Duarte (17) line up for second half kickoff.


TFCA Alexander Zis (18) looks over to pass to TFCA Jordan Johnson (5).


OBD Judah Hernandez (7) lines up freekick.
back to 2015 League 1 Ontario Men's index
.
.