............................

Result and details of the Saturday September 12, 2015 League 1 Ontario game between Sigma FC vs Vaughan Azzurri game played at Hershey Fields in Mississauga at 8:00pm.
Sigma FC (blue socks and shirts, black shorts, white numbers)
........................1 Corey Marques
2 Jamal Joseph...3 Reggie Laryea...4 Nolan Holdridge (cpt)...5 Aaron D'Souza
7 Kadell Thomas...12 Nico Correa...8 Manvir Brar...11 Marcel Zajac
..............10 Paticio Espin...9 Jordan Kalonji
Subs:...31 David Igreja (gk)...16 Faisal Giaffur...17 Daniel Oginni...19 Christopher Jagganath...20 Andrei Pogan
...21 Lucas Ferritto...22 Nichoals Pasutto
someone entered in second half injury time wearing #24.
team officials:...head coach Bobby Smyrniotis...team officials Philip Opassinis, James Haloulos, and Ken Peter
Vaughan Azzurri (white socks and shirts, red shorts, navy numbers)
..........................1 Andrew D'Souza
11 Nick Luccheto...6 Alistair Johnson...7 Parmvir Sekhom...3 Joseph Amato
20 Darren Gertiesingh...10 Munir Saleh...4 Arthur Casupanan...16 Edward Lay
..................13 Maurizio Ragone...15 Massimo Ferrin
Subs:...12 Jared Brown (gk)...5 Adam Giorgio...8 Tommy Bielanski...9 Shane Lammie...17 Luka Milidragovic
18 Christian Copetti...19 Dwayne Ewart
team officials:...head coach Carmine Isacco...team officials Patrice Gheisar, Luca Forno, Tony De Palma, and Maria Bianchi
Game officials:...referee David Barrie...referee's assistants Melissa Snedden and Nicholas Piperno...fourth official Kulza Weekes
...(yellow shirts, black shorts and socks)
1st Half:...game starts 8:01pm...Sigma defends east end on this coold night with a very hard rain. The sun is actually visible in the distance and is setting.
1 min...Sigma player's 25 yard shot from far left is over net.
2 min...Sigma Kalonji 20 yard shot down middle hits right post and ball is cleared.
13 min...Sigma Espin 28 yard freekick from right has charging Sigma Joseph miss header at 5 yards on left.
14 min...VA Saleh is injured on trip at Sigma 45 yard line and wins freekick.
15 min...VA Casupanan 50 yard freekick from left is over players on right and out right end line.
16 min...Sigma Kalonji blasts low 30 yard shot that pops off defenders foot at 25 yards and goalie catches at 8 yards as it drops.
17 min...VA sub...Ewart replaces injured Saleh.
18 min...Sigma Kalonji on rush on right shoots 25 yard shot over net.
19 min...VA Ragone 25 yard freekick from right is blocked in player wall in box. Ragone gets another low kick on rebound that deflects for cornerkick on right.
20 min...VA Ferrin taps midair ball from left side and VA Sekhom 8 yard shot at left post is cleared by defender.
25 min...Sigma Correa low 30 yard screen shot up middle is wide left of net.
26 min...Sigma Zajac 22 yard shot is wide right.
28 min...Sigma Kalonji has pop header from15 yards on cross from left.
29 min...Sigma Espin low 20 yard shot has sprawling goalie stop at 8 yards and defender clears rebound.
32 min...VA Ferrin low 22 yard shot from left is past diving goalie but wide right of post.
33 min...VA Lay dribbles down right and shoots 25 yarder wide left of net.
35 min...VA Ferrin rush down left and rolls 20 yard shot around defender and goalie stops.
36 min...Sigma Joseph at 5 yards in box heads away VA player's cross from right.
37 min...VA goalie is caught out of net at 30 yards but defender concedes cornerkick on shot.
38 min...Sigma cornerkick from left is cleared.
39 min...Sigma Joseph has VA Ferrin intercept at 20 yards and pops ball over him and 15 yard shot is over net.
39 min...VA Ferrin at 20 yards on left shoots between box and VA player shoots 12 yarder from right wide left of net.
40 min...VA Ewart tips 10 yard shot up middle wide left of net.
43 min...VA Ewart on far right after run crosses from 25 yards near end line has VA Lay pop up header at 5 yards that lands just behind line wide right.
45 min...VA Lay cornerkick from left has defender pop up header.
45 min...half ends 8:46pm.
2nd Half:...starts 9:02pm.
47 min...Sigma Marcel Zajac GOAL...Sigma Patricio Espin passes to Zajac who rolls 18 yard shot from right into left side of net past goalie Andrew D'Souza sliding at 10 yards.
49 min...VA Gertiesingh cross from 20 yards on right is over box and VA Ferrin cross from 22 yards on left is over box and cleared.
51 min...VA goalie runs to right edge of box to beat Sigma Kalonji to through ball pass.
55 min...VA sub...Giorgio replaces Luccheto.
56 min...Sigma Holdridge shoots 28 yard freekick from right that's well over net.
57 min...Sigma Brar 25 yard shot from left has Sigma Zajac try to jump out the way at 10 yards but tips ball wide right.
58 min...Sigma sub...Ferritto replaces Kalonji.
it's almost stopped raining.
58 min...Sigma Kadell Thomas GOAL...Sigma Aaron D'Souza low cross from 15 yard line on left has ball go between a Sigma and a VA player tangled while in line with post and Thomas at 15 yards in middle shoots low shot to left corner of goal.
61 min...Sigma Thomas can't win Penalty kick when knocked over.
62 min...VA Lay turns and fires 28 yarder down middle wide left.
63 min...VA sub...Bielanski replaces Gertiesingh.
66 min...VA goalie pokes ball away from Sigma forward who can't win penalty kick.
67 min...VA YELLOW card...Casupanan earns it for tripping Sigma Thomas at VA 40 yard line.
68 min...Sigma D'Souza receives backheel and crosses to Sigma Ferritto who has shot blocked.
69 min...Sigma Lucas Ferritto GOAL...Sigma Patricio Espin on run down right passes forward to Ferritto who rolls 15 yard shot from right into left corner of net.
71 min...Sigma Thomas eludes goalie on 12 yard roller from right but defender clears at 2 yards.
73 min...Sigma Zajac blasts off balance 25 yarder from left high and wide right of net.
75 min...VA sub...Copetti replaces Ragone.
.........VA sub...Milidragovic replaces Casupanan.
now there's no rain.
76 min...Sigma Kalonji run on right and 22 yard shot has goalie make stop at 12 yards and defender clears.
77 min...Sigma Ferritto 22 yard shot has goalie make stop at 12 yards and defender clears.
78 min...VA Copetti cornerkick from right is cleared in box.
79 min...Sigma Zajac 18 yard low chip blocked and picked up by goalie at 6 yards.
80 min...Sigma Kalonji 20 yard cross from far right has defender tip up on block and goalie picks up bouncer.
81 min...Sigma sub...Jaggarnath replaces Espin.
81 min...VA Ragone 45 yard freekick from left has defender head ball wide of net.
82 min...VA Copetti cornerkick from right has VA Sekhom not able to turn header.
83 min...VA Ferrin 25 yard shot up middle is deflected wide left for cornerkick.
84 min...VA Dwayne Ewart GOAL...VA Massimo Ferrin cornerkick from left has Ewart have open header from 10 yards on left into right side of net with goalie stuck to left post.
86 min...VA Ferrin can't win Penalty kick on run when spun around just inside box.
89 min...VA Ewart blasts 25 yarder over net and back fence.
91 min...VA YELLOW card...goalie Andrew D'Souza earns it for complaining about VA defender being pulled down.
92 min...Sigma sub...#24 replaces Thomas.
92 min...Sigma Brar and Ferritto tap in goal is called back offside.
93 min...Sigma sub...Pasutto replaces Zajac.
94 min...VA Christian Copetti GOAL...VA Adam Giorgio runs down right to 22 yard line and rolls cross after turning defender and Copetti fires low laser shot from 25 yards between players to left corner beyond diving goalie Corey Marques.
94 min...game ends 9:51pm.
Final Score:......Sigma FC.........3.........Vaughan Azzurri.........2.......
Attendance was about 70 on this rainy night. It surprised even team officials that so many fans were out as we're talking sheets of rain for the first 65 minutes of the game. The rain slowed then stopped for a few minutes before starting again slowly by the end of the game.
This game had the second place Vaughan against sixth place Sigma with both teams having a chance to finish first place. Should be good but referee David Barrie warned me before the game about the absence of players. Sigma had six players who'd gone back to school he said and since York University (#1 ranked men's soccer team in Canada who have quite a few Vaughan players) played on Thursday beating #2 McMaster Marauders and play tomorrow afternoon against Guelph Gryphons, they'd be missing the stars that I know. That certainly looked true. Glad I had the game sheets. Seeing a big guy wear #9 or #25 maybe is familiar because those uniforms are the largest size but these weren't the players we're used to watching.
Barrie gave out only two Yellow cards during the game that I counted—both to Vaughan with one to the goalie for mouthing off during injury time.
The artificial turf wasn't flooded although there was a lot of rain that fell. The ball didn't noticeably skip out of bounds for throw-ins or goal and corner kicks any more than a normal game. The players didn't overcompensate with sliding tackles.
Vaughan almost had scored one minute earlier than their first goal then couldn't win a Penalty kick two minutes after that goal. Sigma had a goal called back for offside two minutes before the Vaughan second goal. Vaughan just ran out of time. Why hadn't they started playing like this earlier?
The win improves Sigma's record to 11 wins, 4 draws, 3 losses for 37 points in 18 games. They slingshot from sixth to third place in just one game passing Woodbridge Strikers, Durham United FC, and ANB Futbol.
The loss for Vaughan leaves them in second place with a record of 11 wins, 6 draws, and 3 losses for 39 points in 20 games but they can now NOT win the championship (in the 22 game schedule) because they can't catch leaders Oakville Blue Devils who already have 46 points.
I wouldn't have been able to take notes like I did without being allowed under the PA systems guys' canopy which they built today with two tents--twice as large as usual to shelter the speakers. Juggling binoculars, pen and notebook, and taking pictures while holding an umbrella in driving rain wasn't something I was looking forward to. Thanks Sigma staff!
I wasn't expecting to be at this game. I had planned to go to the Pro Stars FC vs Kingston Clippers game and drove to Victoria Park Stadium in Brampton not realizing the game was cancelled. That wouldn't be a surprize as the City of Brampton has been very protective of this real grass field over the years dating back to my days falling the CSL. Still a sign would have been nice on the gates to go along with the obvious clue of an empty parking lot. I'd left my cell phone at home by accident recharging after the Toronto FC SSH BBQ and left in a hurry without it. I happened to remember this other game was taking place an hour later. It took me an hour to drive to Brampton but only 20 minutes to come the extra few miles and be entertained. Great to live in the GTA! A league official said tweets were sent out cancelling the game but I'm home now reading the schedule. Last tweet to remind us to go was at 1pm. I'd been faked out the night before with a change of venue and time and now it's happened again.
Rocket Robin
robing@eol.ca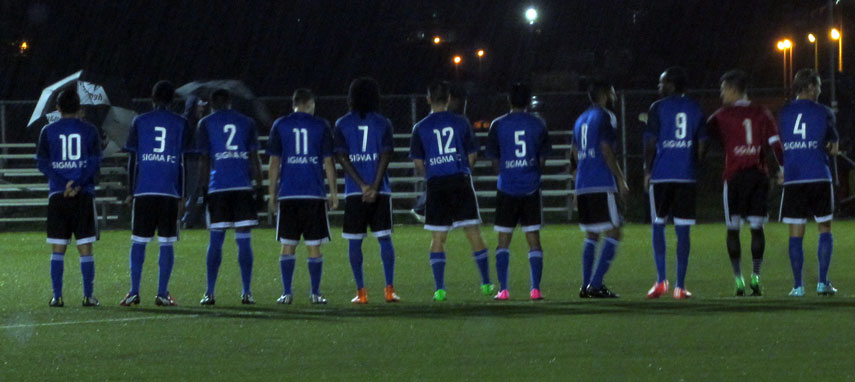 Sigma FC starters


Vaughan Azzurri starters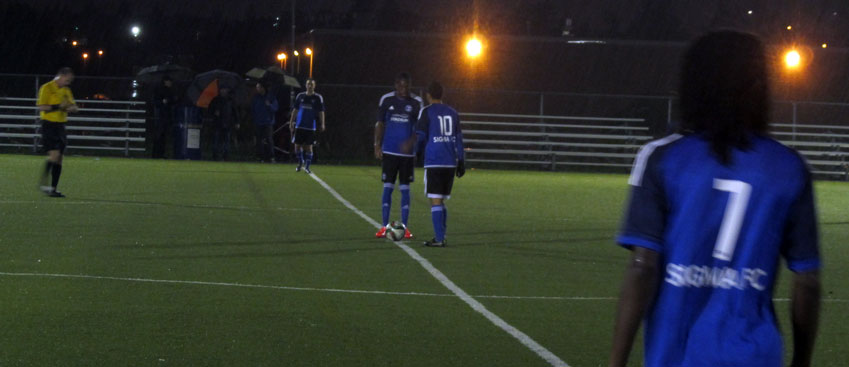 Sigma Jordan Kalonji (9) and Patricio Espin (10) take opening kickoff.

VA Munir Saleh (10) is down injured and will be subbed off.

VA Maurizio Ragone (13) sets up for freekick.


Sigma Patricio Espin (10) dribbles over center line.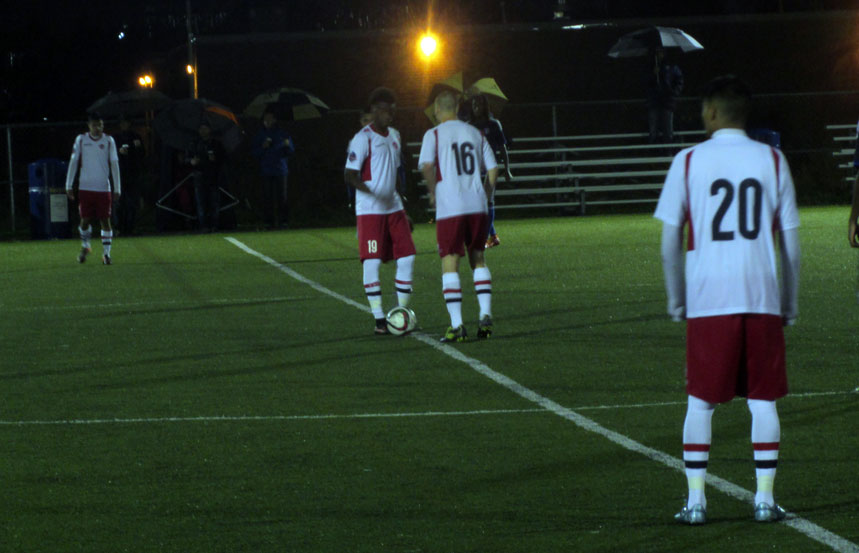 VA Dwayne Ewart (19) and Edward Lay (16) take second half kickoff.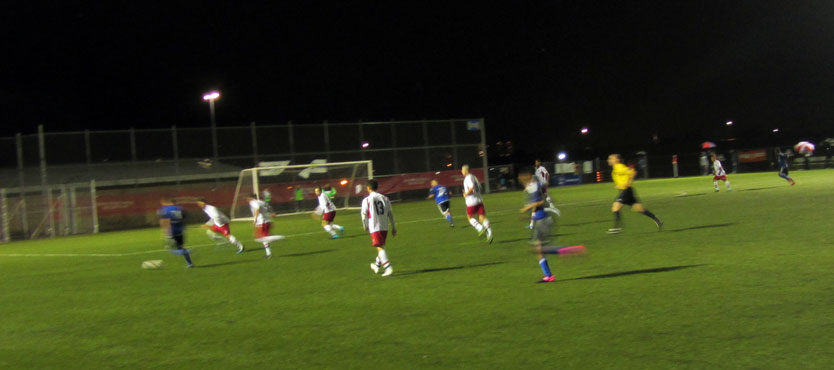 Sigma player rushes down left side.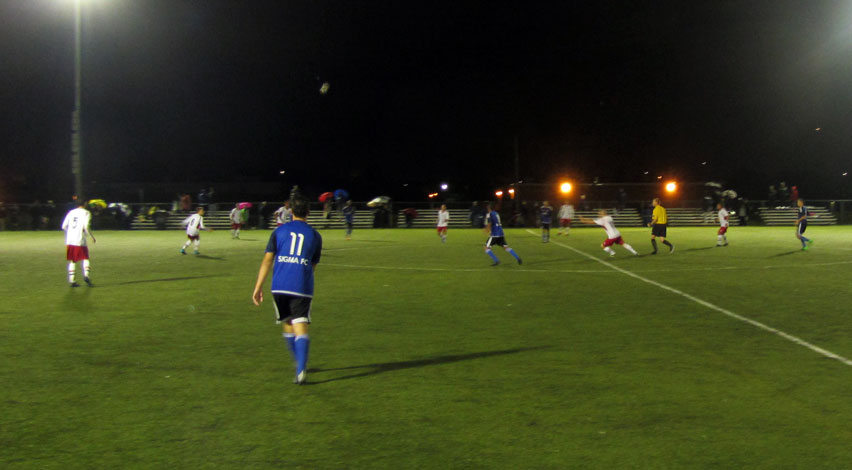 ball popped up in center circle
back to 2015 League 1 Ontario Men's index
.
.