.....................................

Result and details of the Friday September 11, 2015 League 1 Ontario game between Durham United FC and Master's FA Saints played at Pickering Soccer Centre in Pickering at 7:00pm.*
Durham United FC (navy socks and backs, red shorts, yellow numbers, red & navy chested striped shirts)
......................0 Peter Katasaras
15 Gary Canam...5 Joe Zupo...4 Hameez Farrell...12 Bruce Cullen
16 Kashiff De Jonge...14 Kristian Lee-him...8 Taylor Lord (cpt)...6 Matt Stowell
..............17 Joseph Roccasalva...13 Justin Gordon
Subs:...1 Eugene Alves (gk)...18 Taejon Mikle...3 Tajmir Ashraq...10 Miguel Oliveira
team officials:...head coach Sanford Carabin...team officials Corrado Roccasalva and Dr Alex Hawkins
DUFC also had a #9 (I'm pretty sure) who wasn't on the game sheet that I mention a few times. In other games that's been forward Le Rohne Young.
Masters FA (white socks, shorts, and numbers, black shirts)
......................0 Shane Lopez
15 Michael Valenti...6 Deo-Daniel Nash...16 Aayrn Massy...3 Darnell Peterkin
.........13 Tyrell Rayne...30 Kamran Salehi...17 Levonte Brown...11 Kamden Holder
...............8 Levonte Johnson...20 Nima Najafi
Subs:...99 Alex Jakma (gk)...4 Adam Waithe...7 Conroy Henry...12 Michael Avila...19 Daniel Lynch
...5 Addison Clarke
team officials:...team head coach Andrey Savlev...coach Junir Groves...manager Stephen Blackburn
Game officials:...referee Jonathan Carter...referee's assistants Anthony D'Ambro and Slava Lukash...fourth official Afshin Behpour
(teal shirts, black shorts and socks)
1st Half:...I got here late and missed the first half so can't provide a detailed recap.
.
12th min...DUFC Justin Gordon GOAL...DUFC Kashiff De Jonge on the left side shoots ball and Gordon redirects ball from 6 yards into right side of net.
.
40th min...DUFC Matt Stowell GOAL...Stowell shoots Penalty kick to bottom left corner as goalie Shane Lopez dives right.
.
42 min...MFA YELLOW card...Nash earns it for something.
.
DUFC Oliveira must have subbed in sometime in the first half.
2nd Half:...starts 8:08pm. DUFC defends west end of this indoor facility.
46 min...DUFC goalie runs to edge of box to smother ball ahead of MFA Najafi.
47 min...DUFC Kristian Lee-him GOAL...DUFC Joseph Roccasalva rolls pass in middle from 28 yards and Lee-him fires shot up middle low to right corner of goal past diving goalie.
48 min...MFA Najafi on left rolls 10 yard shot wide left. MFA Brown was injured on the play.
48 min...MFA sub...Avila replaces Salehi.
49 min...MFA sub...Lynch replaces Nash.
52 min...MFA Tyrell Rayne GOAL...Rayne on run down right blasts 28 yard shot to top left corner of net over goalie Eugene Alves.
53 min...MFA sub...Waithe replaces injured Brown.
53 min...DUFC #9 blasts 18 yard shot up middle that goalie stops point blank after bad defensive pass.
54 min...DUFC Stowell taps pass forward to DUFC Lee-him who shoots low 20 yarder that diving goalie pushes away at 12 yards.
55 min...MFA sub...Clarke replaces Massy.
58 min...DUFC #9 taps centering pass to DUFC Roccasalva who shoots low 20 yarder that diving goalie pushes wide right of post.
58 min...DUFC Lord recovers DUFC Roccasalva partially cleared cornerkick from right and his low 22 yard shot deflects for goalie to smother on left post.
60 min...MFA Levonte Johnson GOAL...MAF Nima Najafi cornerkick from left has Johnson head 8 yarder up middle just under bar in center of net.
62 min...MFA Adam Waithe GOAL...MAF Darnell Peterkin rolls pass forward from 25 yards up middle that Waithe shoots low 15 yard shot into right side of net.
63 min...DUFC Roccasalva low 22 yard shot has goalie stop.
64 min...MFA Avila 20 yard shot from left has flying goalie catch on left post.
66 min...DUFC sub...Ashraq replaces Stowell.
67 min...DUFC Lee-him 22 yard shot from right is over net.
68 min...DUFC player 25 yard shot from left is high and wide right of net.
69 min...DUFC Ashraq cross from 28 yards on far right and DUFC #9 with back to goal hooks 12 yard shot that goalie catches.
70 min...MFA Avila is injured in MFA box deflecting a DUFC player's shot safely over own net.
71 min...DUFC (MFA own goal) GOAL...DUFC Bruce Cullen from right has MFA defender head 8 yarder from right backwards into own net just under bar.
73 min...DUFC Oliveira rush on right to ball and shoots 15 yarder off bar.
75 min...DUFC goalie catches high bouncer at 15 yards in crowd of players.
75 min...MFA Holder 45 yard chip has MFA Rayne head 20 yarder on right that goalie catches.
76 min...DUFC Lord cornerkick from left is upfield for DUFC Cullen who chips 28 yard shot and defender head ball away at 12 yards.
77 min...MFA YELLOW card...Avila earns it for pushing DUFC Oliveira out of bounds on ruh up side line at 28 yards.
79 min...MFA Waithe cornerkick from right has ball tipped for another cornerkick.
79 min...MFA player's cornerkick from left has MFA Waithe on run up sideline at 28 yards.
80 min...MFA Waithe cornerkick from left has DUFC Zupo head ball away.
81 min...MFA sub...Henry replaces Johnson.
81 min...DUFC Cullen 22 yard freekick on right edge of box has DUFC Zupo head ball from 10 yards on left that goalie catches on left post.
83 min...DUFC Oliveira chases ball on right but crosses behind end line.
86 min...DUFC sub...Mikle replaces Canam.
86 min...DUFC Mikle 55 yard freekick from right is high and caught by goalie.
87 min...DUFC Lee-him 25 yard shot up middle bounces wide left of post.
88 min...DUFC Cullen 55 yard freekick fromleft is caught by goalie.
92 min...DUFC Lord chips pass from 35 yards in middle to right and DUFC Oliveira runs downfield and crosses behind net.
93 min...MFA RED card...Michael Valenti earns his second Yellow card for dissent. (Referee Jonathan Carter answered me after the game that his first Yellow card was also earned for dissent).
94 min...game ends 8:57pm as an MFA player is injured on a check at center line.
Final Score:.......Durham United.........4.......Master's FA Saints.......3.......
*I only saw the second half of this game as I drove to Kinsmen Park in Pickering and found there was no one on the soccer field where they often play. Somewhere between a 11:00am league tweet and a new tweet at 12:00pm the venue was changed. So it happened for my 38th League 1 Ontario game that I get faked out to the wrong stadium or a cancelled game. Thanks for some parents, team officials and game officials for helping me piece together the first half.
Attendance was about 80 people on this evening game. As an indoor facility there was no concern about the weather although a light rain did start outside soon after the game ended. Another clue I should have taken from certain tweets was the announced post game fundraiser '9pm presentation "JERASSIC WORLD"' (sic) which would have been tough to pull off outdoors except at a drive-in theatre.
Master's scored three times in ten minutes in the second half in a concentration lapse by DUFC. DUFC were able to swing the momentum back in their favour but the own goal seemed to deflate Master's and DUFC had the best chances after that to increase their lead with some counterattacks caused by Master's pressing for a tieing goal.
The win moves Durham up to fourth place with a record of 11 wins, 2 draws and 7 losses for 35 points in 20 games. Tonight they rise from seventh passing Sigma FC and Woodbridge Strikers. They have only two games left so can't pass Oakville Blue Devils who have 46 points and are the strong favourites for the championship.
Master's record falls to 0 wins, 3 ties, and 15 losses. They are tied for eleventh in the twelve team league with Sanjaxx Lions. Sanjaxx have one win for 3 points and that was over Master's. Those teams are scheduled to play each other once again on October 3rd which will decide the wooden spoon if there is one.
Rocket Robin
robing@eol.ca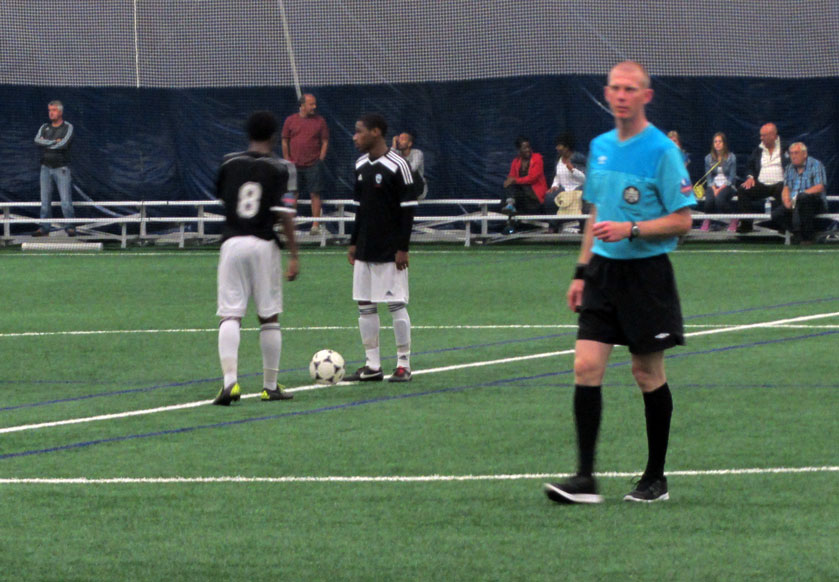 Master's FA Saints Levonte Johnson (8) and Devonte Brown (17) take second half kickoff.


MFA Levonte Johnson (8) is squeezed off ball by defenders.


DUFC Tajmir Ashraq (3) rushes up right.


DUFC players line up to wait for cornerkick.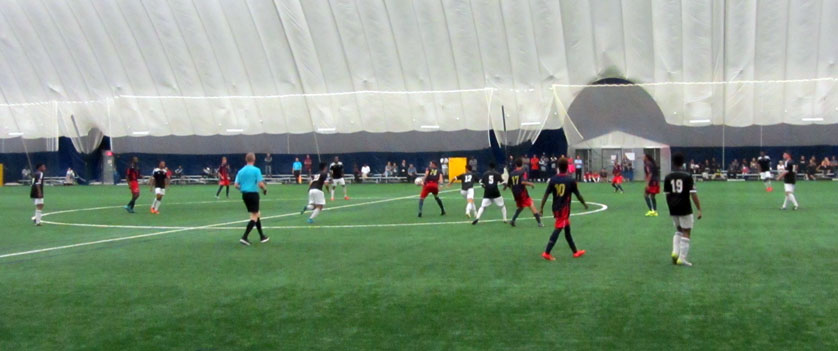 action inside center circle


MFA cornerkick from right flies into box.
back to 2015 League 1 Ontario Men's index
.
.