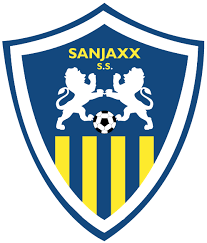 ...................

Result and details of the Sunday July 12, 2015 League 1 Ontario game between Sanjaxx Lions and Sigma FC played at Esther Shiner Stadium in North York at 9:00pm.
Sanjaxx Lions (navy socks and shorts, yellow shirts, white numbers)
...................01 Matthew Zaikos (cpt)
3 Robert Baxter Dennis...15 Frantz Bill...5 Mohamed Diaby...9 Jahvar Douglas
..........14 Aidan Cooper Zuccatti...21 Fabio Vilaca...6 Joshua Bowyer
.........7 Dawit Tekie...20 Darren Billy...12 Stefan Nikolic
Subs:...1 Tayjon Campbell (gk)...2 Yosias Kibreab...4 Yan Mone...10 Shaquore Rousse...17 Joel Anderson
...16 Joseph Ikhuiwu...19 David Tavares...22 Jacob Kulpa
team officials:...head coach Patrick Lowe...team officials:...Nicoletta Bonafede, Gavin Henry, Devon Porter,
Maureen Van Wart, and Ramon McIntosh.
Sigma FC (all white, navy numbers)
..................1 Triston Henry
2 Jamal Joseph...3 Dominic Samuel...4 Nolan Holdridge (cpt)...5 Duran Lee
6 Manny Morgado...11 Marcel Zajac...20 Christian Samaniego...8 Richmond Laryea
..............10 Alex Halis...9 Marcus Hanson
Subs:...12 Arlick Ntabana...15 Kyle Walton...21 Manvir Brar...7 Dion Stergiotis...14 Jordan Stoddart
...22 Kadell Thomas...31 Joseph Kuta
team officials:...head coach Bobby Smyrniotis...team officials:...John Zervos, James Haloulos, and Ken Peter
Game officials:...referee David Barrie...referee's assistants Scott Decker and Marc Henoud...fourth official Natalie Ford
...(teal shirts, black shorts and socks)
1st Half:...game starts 9:00pm...Sanjaxx defends east end.
2 min...Sigma Samaniego cornerkick from left has nearest defender clear on left.
3 min...Sigma Alex Halis GOAL...Sigma Marcus Hanson rushes up middle from 35 yards rolls pass forward to Halis up middle who runs to 12 yards and taps ball to right corner of net past sprawling goalie Matthew Zaikos.
5 min...Sigma Zajac rush up right and low cross from 15 yards along end line has goalie dive forward to partially stop but ball rolls through and defender clears on left.
9 min...Sigma players called offside on chipped goal from 25 yards.
10 min...Lions Nikolic 25 yard shot from left is just wide left of net.
11 min...Lions Billy cross from middle 20 yards is over to left and out for throw-in.
14 min...Sigma Hanson rush to Sanjaxx end line on left and cross is rolled into box that goalie grabs.
14 min...Sigma goalie is out of box but his headed clearing attmpt is off Lions Billy and goalie and defender blocks his shot up middle from 22 yards.
15 min...Sigma Richmond Laryea GOAL...Sigma Marcel Zajac rushes to right end line and rolls cross from 20 yards. Laryea takes 12 yard shot up middle that deflects off leg of defender and into low left side of net.
16 min...Lions Baxter Dennis 40 yard freekick from right has defender head ball down at 20 yards and a Lions Vilaca has two shot attempts blocked.
23 min...Lions Nikolic rolls pass from left to center and Lions Billy has shot blocked.
24 min...Sigma Samaniego pass forward from 30 yards on left has Sigma Zajac rush forward and shoots low 12 yarder wide right.
27 min...Sigma Samaniego cornerkick from left has defender pop up header at 8 yards and another defender clears.
29 min...Sigma Samaniego 30 yard freekick from left sideline has defender boot away from 10 yards.
30 min...Lions Nikolic cornekrick from left has Lions Billy flick header from left through box. Lions Vilaca cross from left end line has defender leap to kick away 5 yards on left.
32 min...Sigma Halis rush down left near sideline from 40 yard and rolls centering pass along 12 yard line to Sigma Zajac who shoots wide left from 12 yards on short left.
33 min...Lions goalie charges forward to catch pop up at 15 yards down middle.
35 min...Sigma YELLOW card...Lee earns it for spinning around Lions Baxter Dennis at Lions 35 yard line.
37 min...Lions Diaby checks Sigma Laryea off ball at 8 yards on end line.
39 min...Sigma Zajac cornerkick from left is cleared and Sigma Morgado chips 35 yarder down middle over net.
40 min...Sigma Morgado rush on right and pushes ball over end line trying to deke defender.
40 min...Sigma Halis given through ball and goalie makes sliding save at 12 yards.
41 min...Lions Tekie 45 yard cross from right is caught by goalie.
42 min...Sigma Zajac on left makes long run on left and jabs 12 yard shot from sharp left into outside webbing of net.
42 min...Sigma Halis rush to ball on left and sliding goalie deflects his 18 yard shot from left is wide left for cornerkick.
44 min...Sigma goalie catches 25 yard shot from left.
46 min...Sigma Morgado 28 yard freekick from left is bent over net.
46 min...half ends 9:46pm.
2nd Half:...starts 10:04pm.
45 min...Sigma Laryea rushes on right to through ball and low cross from 20 yards is cleared by defender on left.
46 min...Sigma Laryea low 15 yarder along right end line is through 6 yard box unplayed.
47 min...Sigma Halis on left shoots 15 yarder well over net when Sigma player taps him back pass from near left end line.
52 min...Sigma Marcel Zajac GOAL...Sigma Christian Samaniego runs along 5 yard line from left and taps pass as he's being knocked over. Zajac shoots low 8 yarder from left into right side of net.
54 min...Lions sub...Tavares replaces Billy.
56 min...Sigma Zajac rush up field and low 28 yard shot up middle has goalie smother.
58 min...Sigma Samaniego cornerkick from right is chested down by Sigma player in crwd at 7 yards but partially cleared. Sigma Morgado rolls 25 yard shot between defender and goalie smothers.
60 min...Lions Tekie cornerkick from left has goalie palm ball through box.
60 min...Lions Tavares 25 yard shot has goalie block at 7 yards then charge forward to pick up at 12 yards.
62 min...Lions YELLOW card...Tavares earns it for tripping Sigma player at center line.
63 min...Sigma sub...Thomas replaces Hanson.
67 min...Sigma Thomas rush down right and cross from 20 yards on sharp angle has goalie catch at 5 yards on left.
69 min...Sigma sub...Brar replaces Samaniego.
.........Sigma sub...Walton replaces Lee.
.........Lions sub...Ikhuiwu replaces Cooper Zuccatti.
.........Lions sub...Kulpa replaces Vilaca.
73 min...Sigma goalie to edge of box in front of crowd of players to catch Lions cross from 30 yards on right.
74 min...Sigma player's cornerkick is worked out from left but checked before getting into box.
74 min...Sigma sub...Ntabana replaces Joseph.
77 min...Sigma Walton run up left and high cross from 25 yards is out left side of box.
78 min...Lions sub...Rousse replaces Tekie.
78 min...Sigma Zajac 22 yard shot deflects off defender and bounces to goalie.
81 min...Sigma sub...Stoddart replaces Zajac.
83 min...Lions Kulpa 26 yard freekick from slight left is low and hit into player wall. Kulpa has rebound shot also blocked.
85 min...Lions Baxter Dennis makes sliding poke check on Sigma Thomas to clear ball at 10 yards on left.
87 min...Sigma Stoddart rush to right end likne and cross from 15 yards is behind end line.
88 min...Sigma Kulpa can't draw Penalty kick when checked at 15 yards on left.
92 min...game ends 10:51pm.
Final Score:.....Sanjaxx Lions.......0.......Sigma FC.......3.......
Attendance was about 50 on this hot and humid evening with the sun already down far enough that it was not a factor.
Sigma scored early and did more than just hang on—they looked like they'd increase their lead but had a lot of off target shooting and good saves made by Lions goalie Matthew Zaikos or this game would have got out of hand. Sigma head coach Bobby Smymiotis said his team "had a lot of missed chances..but that's been the story of our season".
Referee David Barrie gave out only two Yellow cards that I counted—one to each team—in a game that wasn't rough with a lot of end to end action. He didn't fall for any of the appeals for Penalty kicks by either team.
Triston Henry earned the shutout for Sigma having to make a few saves. His defenders made more saves and blocks than he had to make.
Sanjaxx's record falls to 1 win, 0 draws, 11 losses and they sit in eleventh place in the twelve team league. Sigma improves to 6 wins, 3 ties, 2 losses which based on other scores earlier in the day should keep them in third place.
A Lions official made my reporting difficult by refusing to give me a game sheet for her team (which I asked for both before and again after the game). Her reasoning was because of my negative reporting of her team providing the example of my mentioning that they didn't bring a full bench nor a trainer to their game last week against Sigma and had to use the Sigma trainer (now that was a rough game!) and I shouldn't be so negative against a first year team.
My next game will be Tuesday when I've been given press accreditation to cover the Gold Cup games in Toronto. Men's National team games between El Salvador vs Jamaica and Canada vs Costa Rica. I think someone at the CSA likes my work over all these years standing on the sidelines on cold nights in October writing about these local leagues. Just think I'll be watching Cyle Larin on the Canadian team who just one year ago I watched play on Sigma FC!
Rocket Robin
robing@eol.ca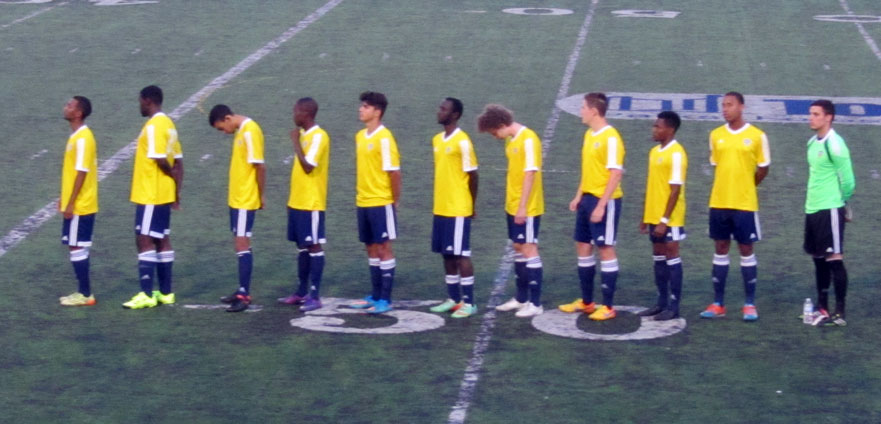 Sanjaxx Lions starters


Sigma FC starters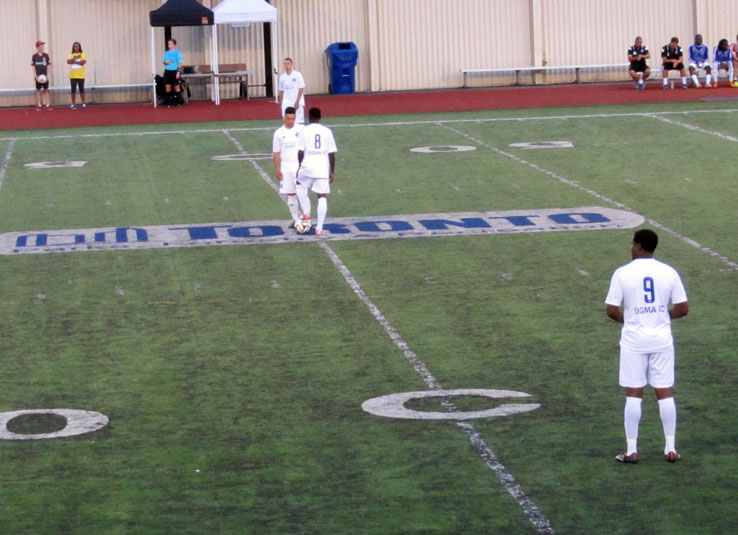 Sigma Alex Halis (10) and Richmond Laryea (8) take opening kickoff.


action near sideline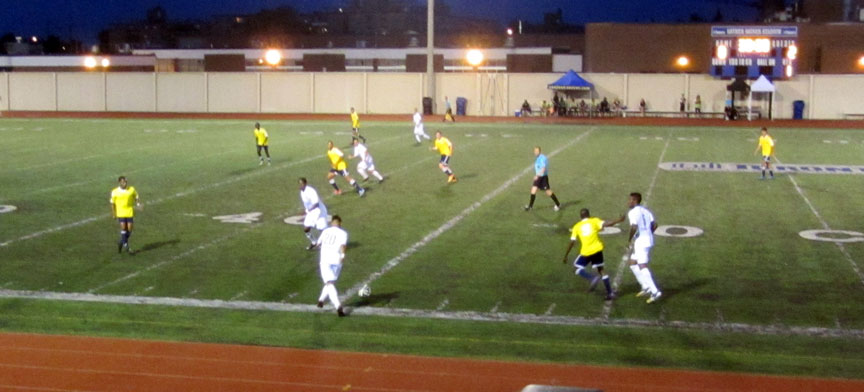 Sigma Christian Samaniego (20) on rush.


Sigma Manny Morgado (6) takes freekick.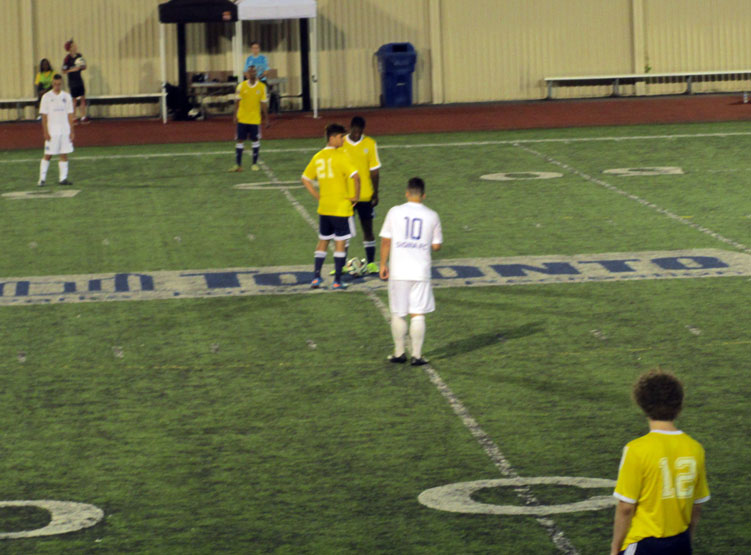 Sanjaxx Fabio Vilaca (21) and Darren Billy (20) take second half kickoff.


Sanjaxx players work ball out from own end.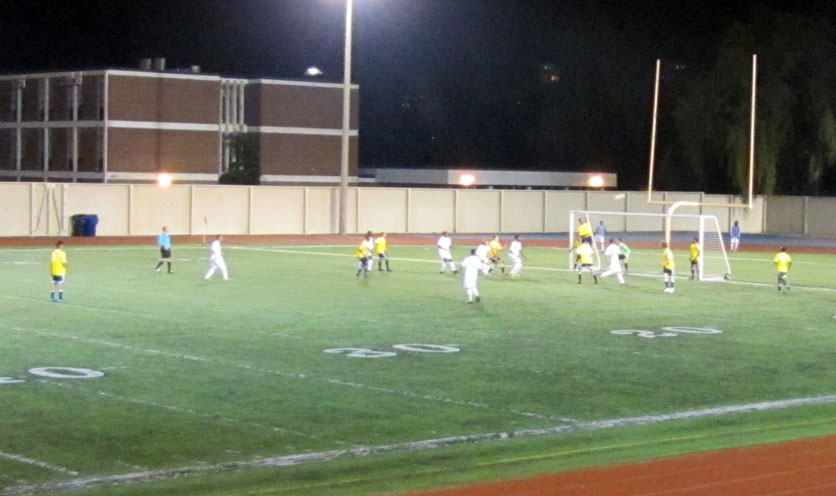 Sanjaxx players defend cornerkick.
back to 2015 League 1 Ontario Men's index
.
.