...........................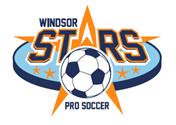 Results and details of the Friday July 10, 2015 League 1 Ontario game between Durham United FC and Windsor Stars played at Oshawa Civic Centre in Oshawa at 8:00pm.
Durham United FC (navy socks and backs, red shorts, yellow numbers, red & navy striped chests)
....................1 Ben Cowman
12 Shane Satar...5 Joe Zupo (cpt)...4 Hameez Farrell...15 Jordan Dover
..........17 Joseph Roccasalva...7 Christian Moncrieffe...14 Kristian Lee-him
..........11 Zackariae Mahrady...9 Le Rohne Young...10 Miguel Oliveira
Subs:...00 Peter Katasaras (gk)...8 Jordan Roberts...19 Kashiff De Jonge...3 Jacob Sooklal...16 Mark Tarazhi
...18 Justin Gordon...2 Taejon Mikle-Ryan
team officials:...head coach Sanford Carabin...team officials Ron Clarke, Eugene Alves, Corrado Roccasalva,
Connor Schmitt, Dr Alex Hawkins
Windsor Stars (all white, black numbers)
...................1 Kyle Vizirakis
4 Derrick Amankwa...18 Brendan Woodfull...3 Jamar Kelley...17 Stefan Zastavnikovic
13 Stefan Milidrag...7 Erik Cirovski...10 Michael Pio...8 Ciprian Codea
............9 Stephen Ademolu (cpt)...15 Noah Pio
Subs:...16 Dreydon Kelley...14 Elijah Dunn...11 Luis Cortes...27 Shane Beaton...--Will Al-Youssef
team officials:...team head coach Shane Topalovic...manager Megan Topalovic
Game officials:...referee Geoff Gamble...referee's assistants Ben Jacobs and Joe D'Onofrio...fourth official Adam Kanji
...(teal shirts, black shorts and socks)
1st Half:...game starts 8:02pm...DUFC defends south end on this hot and humid evening with a bright sun setting in the north-west.
90 seconds...DUFC Kristian Lee-him GOAL...Lee-him takes 20 yard blast up middle between players low and into left side of net with goalie Kyle Vizirakis not moving.
There is nothing but midfield action and offside calls for the next several minutes.
14 min...WS Codea rolls ball forward from 40 yards, WS Michael Pio short pass to WS Noah Pio who shoots wide right from 18 yards on left.
15 min...DUFC Moncrieffe is injured at DUFC 50 yard line.
18 min...DUFC Dover passes from middle at 35 yards to right and charging DUFC Mahrady runs to end line and low cross is cleared.
19 min...WS Noah Pio rush to right end line and rolls cross from 15 yards that goalie picks up on right post.
20 min...WS Noah Pio wins cornerkick on cross from 20 yards that deflects off defender.
20 min...WS Noah Pio cornerkick from left has leaping DUFC Zupo heads out of box at 10 yards.
20 min...DUFC Mahrady low cross from 18 yards on right is cleared in middle of box.
21 min...DUFC Mahrady cross from 20 yards on far right has DUFC Lee-him duck and flick 12 yard header over net.
22 min...DUFC Mahrady low 25 yard shot is through players and caught by goalie.
24 min...WS Michael Pio 25 yard freekick from right is into player wall and rebound is also shot into wall.
25 min...WS Codea 20 yard freekick (after a handball call) hits the player wall. WS Michael Pio rushes to end line and cross deflects off defender and off right post. WS Woodfull has shot cleared.
26 min...DUFC Mahrady gets pass on left and cross to DUFC Roccasalva who has shot that goalie slides to block at 8 yards. DUFC Oliveira rolls scissor kick wide right from 15 yards.
29 min...DUFC Mahrady chip of partial clearance from 18 yards up middle is caught by goalie.
32 min...WS RED card...Brendan Woodfull earns a direct ejection from referee Geoff Gamble for pulling down DUFC Zackariae Mahrady just inside the box who was waiting for short chipped forward pass even with last defenders. The referee also awards DUFC a Penalty kick.
33 min...DUFC Kristian Lee-him blasts Penalty kick that diving goalie blocks in center of net. The ball rebounds for Lee-him to head from 12 yards and his attempt is caught by goalie who has gotten back up to make an easy catch.
33 min...WS YELLOW card...Zastavnikovic earns it for complaining about the Penalty call after shot.
37 min...WS Michael Pio 22 yard freekick down middle is just over bar.
39 min...DUFC Roccasalva 33 yard freekick down middle hits player and DUFC Mahrady has shot blocked at 18 yards.
40 min...WS Michael Pio rush on left from 50 yards and at 12 yards on left let's defender overrun him and shoots 10 yard shot off near post and defender concedes cornerkick.
40 min...WS Noah Pio cornerkick from left has goalie catch.
41 min...DUFC Lee-him gets to chipped ball sent in from 25 yards on right and heads 8 yarder that goalie catches.
42 min...WS Noah Pio GOAL...Noah Pio bursts through defenders at 25 yards to get to ball sent up middle by WS Stephen Ademolu and takes low 15 yard shot that's blocked by sliding goalie Ben Cowman but the ball backspins through his hands and past him into left corner of net.
47 min...half ends 8:49pm.
2nd Half:...starts 9:05pm.
47 min...WS Michael Pio rush on right and rolls cross from end line and defender clears.
48 min...DUFC Oliveira gets through ball pass and pushes ball past diving goalie on right but over end line before he can rolls cross from 7 yards along line.
49 min...WS Michael Pio blasts 20 yard shot up middle that flying goalie pushes wide right of post.
50 min...WS Milidrag cornerkick from right bouncers between players and WS Noah Pio 12 yard shot from left is rolled wide left of net.
53 min...DUFC sub...Roberts replaces Mahrady.
57 min...DUFC YELLOW card...Young earns it for knocking down WS Amankwa at WS 30 yard line.
57 min...WS Codea 31 yard freekick down middle deflected high and wide, just over net for cornerkick.
58 min...WS Noah Pio cornerkick from left has goalie catch on right post.
60 min...WS Amankwa sliding check to stop DUFC Oliveira on rush on right.
60 min...DUFC Dover 50 yard chip shot from left is well wide right of net.
62 min...WS Michael Pio 25 yard chip from right bounces for goalie.
64 min...DUFC Oliveira 30 yard freekick from right hits player wall.
65 min...WS Zastavnikovic keeps DUFC Oliveira from getting clear shot on right and ball is tipped to goalie on right post.
66 min...DUFC sub...Tarazhi replaces Oliveira.
67 min...DUFC Roccasalva cornerkick from left has ball headed twice by WS defenders on pop ups and wins freekick.
68 min...DUFC player's 32 yard freekick from middle is tapped around and worked around outside of box but ball is cleared.
71 min...DUFC Moncrieffe 25 yard freekick from far right is through players charging to left post and ball is cleared.
73 min...DUFC Roccasalva cornerkick from left has DUFC Tarazhi get to ball at 20 yards on right but is checked off ball.
74 min...DUFC sub...De Jonge replaces Young.
76 min...DUFC Lee-him 28 yard freekick up middle is high wide right of net.
77 min...WS sub...Cortes replaces Noah Pio.
79 min...WS Michael Pio GOAL...WS Luis Cortes at 28 yard line on left rolls pass forward to Michael Pio at 20 yards on left and he shoots low 12 yarder between sprawling goalie and short side of post.
81 min...DUFC sub...Sooklal replaces Mahrady.
83 min...WS YELLOW card...Ademolu earns it for either complaining about not giving 10 yards on a DUFC freekick deep in the DUFC end. The ball deflects into the end zone.
84 min...DUFC Roberts cross from 25 yards on right has WS Codea clear at 15 yards in middle of box.
86 min...DUFC Sooklal low cross from 22 yards on right is cleared.
86 min...WS goalie charges out to 15 yards to dive on ball before DUFC De Jonge can get to it.
87 min...DUFC De Jonge gets ball to DUFC Dover who blasts 12 yard shot that goalie blocks on left post.
89 min...WS sub...Kelley replaces Codea.
89 min...DUFC Roccasalva cocrnerkick from left has DUFC Tarazhi pop up header at 12 yards on right and goalie outjumps DUFC player to swat ball away at 6 yards.
92 min...DUFC Dover is centered ball and his 18 yard shot up middle is wide right.
94 min...WS Michael Pio 25 yard freekick from left hits player in wall.
94 min...DUFC Tarazhi 10 yard low shot is blocked.
95 min...WS Amankwa on left post saves 20 yard shot up middle that had got past goalie.
95 min...game ends 9:55pm.
Final Score:...Durham United FC......1.......Windsor Stars......2.......
Attendance eventually climbed to about 40 in this stadium as DUFC still hasn't gotten to play at Kinsmen Park in Pickering because of field conditions. Expect the next DUFC game next Friday to be played at the Pickering Soccer Centre indoor facility. A DUFC official said that it's their mandate to spread the games throughout the Durham region. I was at a game at the Oshawa Civic Centre earlier this year but it a fenced off field with a few rows of portable aluminum stands (Civic Field #5). I hadn't been to this concrete stadium in a few years. They've moved the scoreboard from the north side to the east side but it's still a football scoreboard with a count-downward clock. It has a capacity of 2000 so looked cavernous with tonight's crowd.
This result was a complete surprise to me. Windsor looked like they would have no bench strength. After the game a team official said they'd set off at 1:00pm and were still getting here at 7:10pm. Oshawa is about 50 kms east of the center of Toronto. Windsor is west of Toronto and across the river from Detroit. Windsor to Oshawa distance--415 km. The players came separately so couldn't make use of the HOV minimum-three-person-in-a-vehicle lanes that have been set up for the Pan Am games. It may take them half that time to get back after the game as the rush hour is over.
It looked like there were four players on the bench. Put a shorthanded team in a situation where they had to play a man down including injury time for over an hour, 1-0 down after only 90 seconds and this was a character building game. I thought they would tire in the second half with DUFC swapping in four substitutes in the second half but stood up to the DUFC pressure.
Stars had a very strong defence with goalie Kyle Vizirakis making some key saves and defenders Derrick Amankwa, Jamar Kelley, and Stefan Zastavnikovic (other defender Breadan Woodfull was sent off) always back to make clearances or tackles to prevent all but rushed shots. Very appropriate that the final kick of the game at 95 minutes had Amankwa stop a 20 yard shot sent up the middle through a maze of players that beat the goalie but had Amankwa standing just inside the left post to ensure Windsor took home all the points.
The Pio brothers, Noah and Michael, scored the goals for Windsor.
Referee Geoff Gamble gave out three Yellow cards—two to Windsor (along with the Red) in a game that wasn't rough. I was surprised to see Gamble here as he's refereed MLS games but he said this year he's on a sabbatical from MLS and enjoying the time with his family and running his business.
Windsor and Oshawa are both auto industry towns. Windsor makes Chryslers, Oshawa makes G.M.s. 'Windstar' mini vans are actually Fords and that would be Oakville Blue Devils—another League 1 Ontario team who are in first place in their first year in this league.
The win moves Windsor into a tie for fourth place with a record of 5 wins, 2 draws, 4 losses for 17 points. That record is exactly equal to Durham United. ANB Futbol, the other fourth place team has two games in hand on both these teams.
Rocket Robin
robing@eol.ca


Durham United FC starters


Windsor Stars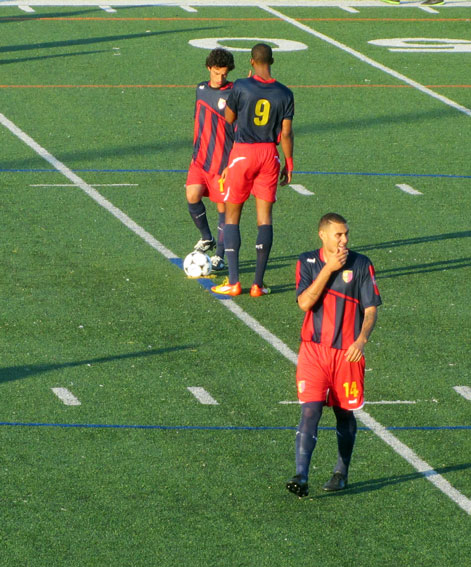 DUFC Joseph Roccasalva (17) and Le Rohne Young (9) take opening kickoff.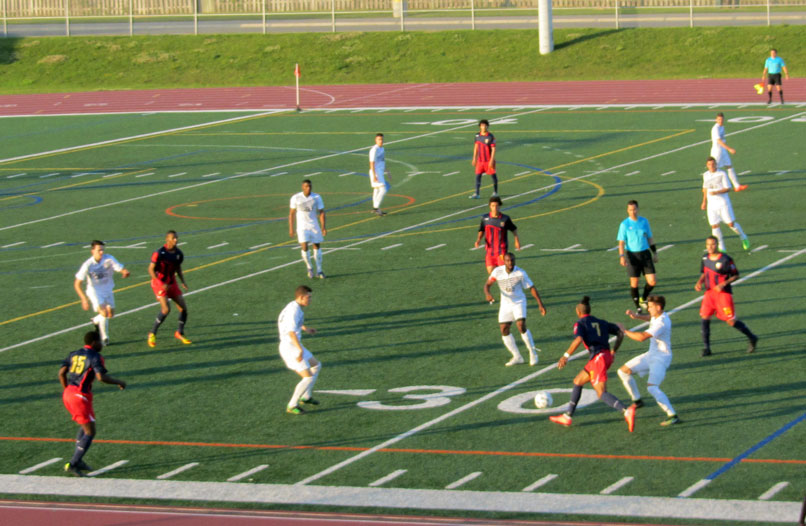 DUFC Christian Moncrieffe (7) dribbles down left wing.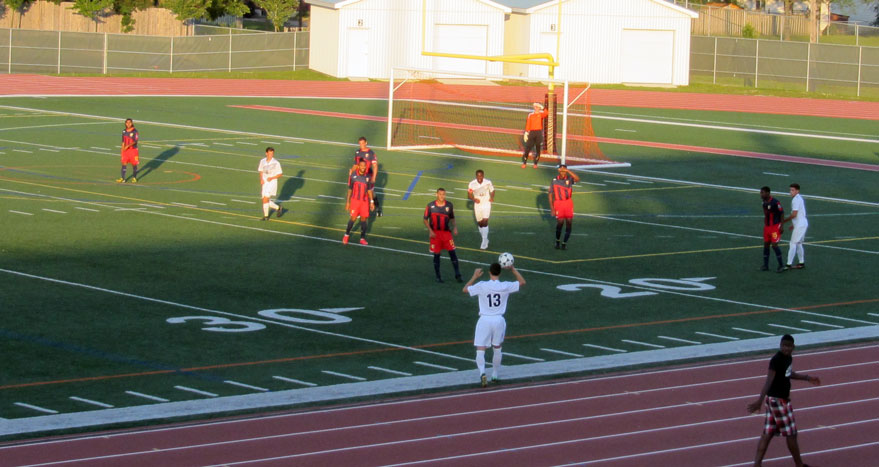 Stars Stefan Milidrag (13) throw-in.


Stars Michael Pio (10) freekick.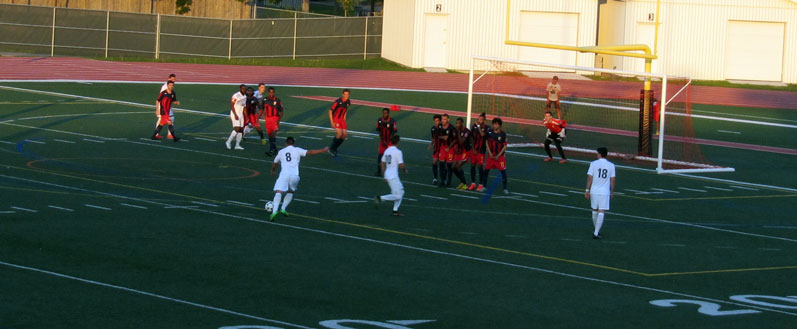 Stars Ciprian Codea (8) freekick.


DUFC Kristian Lee-him (14) shot has goalie dive to save.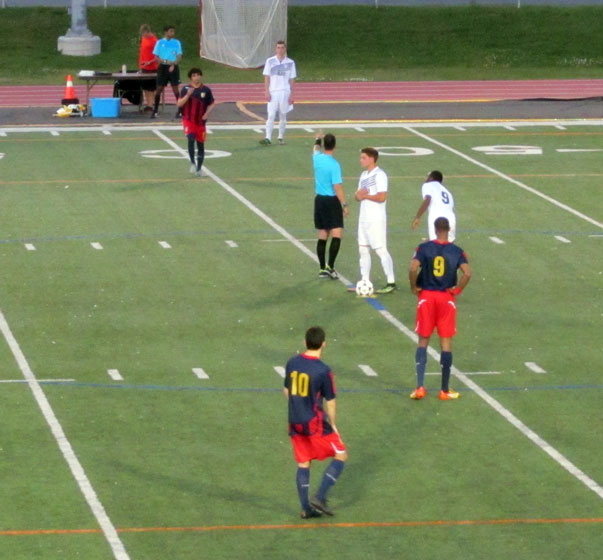 Stars Michael Pio (10) and Stephen Ademolu (9) take second hlaf kickoff.


Stars Michael Pio (10) freekick.
back to 2015 League 1 Ontario Men's index
.
.