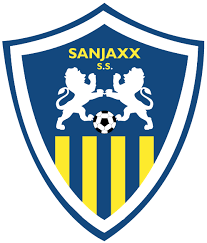 .....................

Results and details of the Sunday June 14, 2015 League 1 Ontario game between Sanjaxx Lions and Vaughan Azzurri played at Esther Shiner Stadium in North York at 7:00pm.
Sanjaxx Lions (navy socks and shorts, yellow shirts, white numbers)
....................1 Tayjon Campbell
17 Nicholas Degrave...13 Jacob O'Connor (cpt)...5 Mohammed Diaby...4 Joshua Bowyer
2 Dawit Tekie...10 Lael Daniel...6 Aidan Cooper-Zuccatti...18 Antoine Chretien
............15 Frank Brown...8 Frantz Bill
Subs:...0 Matthew Zaikos (gk)...3 Zeb Thompson...16 Joseph Ikhuiwu...19 Rizwan Thawyer...21 Tajai Simms
...22 unknown
team officials:...team head coach Patrick Lowe...assistant coaches Devon Porter, Gavin Harvey, and Ramon McIntosh
...manager Nicoletta Bonafede...therapist Maureen Vanwart
Vaughan Azzurri (white socks and shirts, red shorts, navy numbers)
.....................1 Liam McQueenie
15 Matthew Stinson (cpt)...23 Daniel Gogarty...6 Tyrone Downes...14 Kamal Miller
9 Dena Iezady...7 Jonathan Lao...5 Kyle Crichton...16 Malcolm Loukides
..........10 Mario Kovacevic...11 Joey Cicchillo
Subs:...12 Mark Rogal (gk)...2 Edward Lay...4 Arthur Casupanan...13 Luca Puntillo...17 Benjamin Futoriansky
...18 Andre Dyer...10 Austin Ricci
team officials:...team head coach Carmine Isacco...assistant coaches Luca Forno and Patrice Gheisar...manager Tony De Palma
equipment managers Joseph Amato and Kosta Poulos...therapist Maria Bianchi
Game officials:...referee Jeff Fearnall...referee's assistants Jessica Patton and Joe D'Onofrio...fourth official Justin Tasev
...(teal shirts, black shorts and socks)
1st Half:...game starts 7:00pm...SJ defends east end.
2 min...SJ Tekie cornerkick from left has VA Miller clear with header on right side of box.
4 min...VA Downes cornerkick from right is short and VA Downes gets pass back and crosses in and defender heads away at 12 yards in middle of box.
4 min...VA Lao rolls cross from 30 yards on right to center and defender steps over ball instead of playing it and VA Iezady blasts 25 yarder up middle over net.
7 min...SJ Bill 22 yard shot from left is between players and goalie catches on bounce.
7 min...VA Joey Cicchillo GOAL...VA Mario Kovacevic short run on left and rolls pass to center at 8 yards and Cicchillo standing even with left post puts foot out and redirects ball to right corner of net leaving goalie Tayjon Campbell sprawled in the center of the net.
15 min...SJ O'Connor crushes VA Downes with tackle just outside SJ box.
16 min...VA Jonathan Lao GOAL...Lao 22 yard freekick from right is low and into far left corner of net. It looked like it rolled through the player wall and may have been redirected off a defender.
18 min...SJ Bill receives chest pass and his 22 yard shot from left is over net.
19 min...SJ Tekie low 20 yard shot is wide left of net.
20 min...SJ Cooper-Zuccatti 35 yard cross from left has SJ Daniel chest ball from 15 yards that goalie catches.
23 min...VA Matthew Stinson GOAL...VA Joey Cicchillo cornerkick from right has Stinson leap in front of crowd of players and flick 10 yard header down middle just under bar. It appeared Stinson was the only one to jump on the play.
25 min...VA Cicchillo cornerkick from right has nearest defender on right head ball away.
26 min...VA Iezady 30 yard low freekick down middle hits player wall.
27 min...SJ #22 replaces Brown.
30 min...SJ Cooper-Zuccatti 35 yard shot from left is between players in box and wide right of net.
34 min...VA Stinson rushes to SJ 40 yards to intercept pass with head and charge to 20 yards and stinging blast has goalie push ball wide right for cornerkick.
34 min...VA players cornerkick from right is partially cleared by a header and VA Stinson bends 25 yard shot from left wide of net.
35 min...VA Stinson sliding tackle on SJ Daniel wins SJ freekick on edge of box.
36 min...SJ Daniel 20 yard freekick from right has goalie palm ball over bar.
36 min...SJ Bill cornerkick from left is popped up twice on headers but play is whistled down in box.
37 min...SJ Bill 25 yard shot up middle is smothered by goalie on dive to left post.
41 min...VA Dena Iezady GOAL...VA Malcolm Loukides crosses in from 35 yard line on left side line and Iezady charges behind defenders and heads ball from 12 yards over goalie and ball drops into net.
42 min...A VA player's long chip from 40 yards has VA Kovacevic head 15 yarder down middle that goalie catches.
45 min...half ends 7:45pm.
The VA players don't go back to the dressing room at halftime.
2nd Half:...starts 8:00pm.
halftime sub:...VA Futoriansky replaces Stinson.
45 min...VA Iezady and Kovacevic play give and go drop off pass and VA Iezady blasts 28 yarder down middle that goalie catches.
47 min...VA Dena Iezady GOAL...VA Jonathan Lao sends low cornerkick from left along end line and Iezady redirects ball in at 1 yard on left post.
51 min...SJ YELLOW card...Cooper-Zuccatti earns it for tripping VA Iezady at center line in a repeat offence for Cooper-Zuccatti.
54 min...SJ Diaby 35 yard freekick down middle is over player wall and caught by goalie.
57 min...SJ Bill gets by two defenders but finally is checked off ball at 12 yards on right.
58 min...VA Lao threads 30 yard pass from left but just a step ahead of charging VA Downes and over end line on right.
59 min...VA sub...Casupanan replaces Kovacevic.
60 min...SJ O'Connor low 30 yard shot up left is wide left of net.
60 min...SJ sub...Ikhuiwu replaces Chretien.
61 min...SJ Daniel drops pass for SJ Bill whose 20 yard shot is caught by goalie.
64 min...SJ sub...Thompson replaces Bowyer.
64 min...SJ goalie and VA Downes crash together and both and injured and down at 6 yards on right. SJ Thompson retreating into box heads ball on right post over net.
66 min...VA sub...Lay replaces Lao.
67 min...play finally resumes.
67 min...VA Cicchillo cornerkick from right has goalie step forward and swat ball away and picks up head injury in crash but play continues.
69 min...SJ Daniel slips on track around edge of field and crashes into the wall.
71 min...VA Joey Cicchillo GOAL...Cicchillo pass to VA Kyle Crichton at 20 yards and Crichton drops ball back to Cicchillo who bends 20 yard kick from right turns inwardly to top left corner of net.
72 min...VA sub...Puntillo replaces Downes.
74 min...VA sub...Dyer replaces Miller.
........SJ sub...Thawyer replaces Daniel.
75 min...VA Iezady is tripped off ball at SJ 10 yards in box.
76 min...SJ #22 gets foot in to try to breakup defender trying to shield back to goalie at 15 yards but results in ball tipping wide left for goalkick.
77 min...VA Lay rolls pass on left forward from 40 yards and VA Cicchillo blasts 20 yarder from left is over net.
78 min...VA Futoriansky receives pass from left and 10 yard shot from right is wide left of net.
80 min...VA Putillo cross from near right end line after deking defender from 15 yards has defender pop up header
at 8 yards and another defender clears.
81 min...VA Crichton rolls through ball to right to charging VA Puntillo who shoots wide left from 15 yards on right.
82 min...SJ sub...Simms replaces Diaby.
84 min...VA Lay 35 yard freekick from left hits player in wall and deflects away.
85 min...VA Andre Dyer GOAL...VA Lucas Puntillo on left end line from 15 yards rolls pass back and to center for Dyer to charge forward and shoot low 12 yarder through crowd of players and into right side of net.
88 min...VA Iezady bumps defender off ball at 28 yards on left, turns and fires shot over net.
89 min...VA Puntillo low 28 yard shot from right bounces to goalie.
91 min...game ends 8:49pm.
Final Score:.....Sanjaxx Lions......0.......Vaughan Azzurri......7......
Attendance was about 35 on this warm, wet evening. It had rained off and on for much of the day but there was no rain at all during game time. The game had been moved up 9:00pm from the original schedule months ago to this more reasonable time. I don't know if that was because North York Astros are no longer operating in the CSL and now there's more prime time opportunities. Lions yellow colour shirts give me flashbacks of the Astros though most of their existance.
Liam McQueenie earned the shutout for the Azzurri. He didn't have much to do except make a few routine catches because the Lions couldn't get past the defenders to get close enough for really dangerous shots.
Referee Jeff Fearnall gave out only one Yellow card that I counted (to Sanjaxx) and that was after the same Lions player (Aidan Cooper Zuccatti) had tripped a guy in almost the same place one minute earlier. He drew more criticism from assessors for playing three minutes of added time in this blowout score—an injury to the Lions goalie and VA Tyrone Downes in a collision easily accounted for that time alone. VA Joey Cicchillo and Dena Iezady were still both on the field trying for hat-tricks. That extra time was the least dangerous time as VA players couldn't get close enough to get a shot away.
Best non-scoring chances (hey what didn't go in?) were at 36 minutes when Lions Lael Daniel blasted a 20 yard freekick from the right that the goalie palmed over the net. 64 minutes had the Lions goalie and VA Tyron Downes crash together on a header from 7 yards near the right end line and the retreating defender Zeb Thompson who'd just been subbed on 20 seconds earlier headed the ball on the right post over the net to prevent a goal.
VA captain Matthew Stinson started as a right back rather than his usual midfield spot (he'd move up later) and looked very strong on runs down the wing and got away some powerful shots besides scoring on the header. He only played the first half and answered me after the game that he didn't continue because he'd picked up a few tweaks.
Lions continue to have defensive problems. I counted three goals from set pieces that weren't defended well. I couldn't believe that VA Dena Iezady was guarding the Lions left post and knocked in a cornerkick from one yard to the short side.
Vaughan Azzurri's record improves to 5 wins, 2 ties, 0 losses and trail only Oakville Blue Devils for first place in the twelve team league.
Sanjaxx record falls to 1 win, 0 ties, 7 losses with 4 goals for/28 against. Their next game is at home next Sunday to Pro Stars FC who were beaten 7-1 by Sigma FC last night. PSFC record is 0 wins, 2 ties, 5 losses for last in the league with 8 goals for/27 against. That might be tempting to go see—will the game be 7-7 or 0-0? The alternative is Woodbridge Strikers hosting Vaughan Azzurri.
Rocket Robin
robing@eol.ca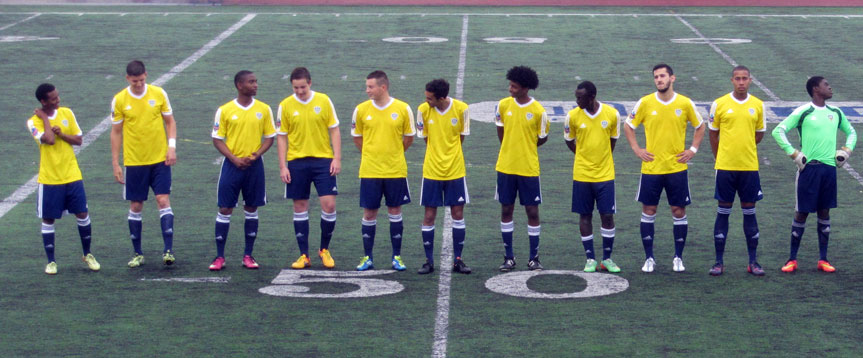 Sanjaxx Lions starters

Vaughan Azzurri starters

Lions Frank Brown (15) and Frantz Bill (8) take opening kickoff.


Lions cornerkick.


VA players close in on Lions player.


Lions Lael Daniel (10) takes freekick.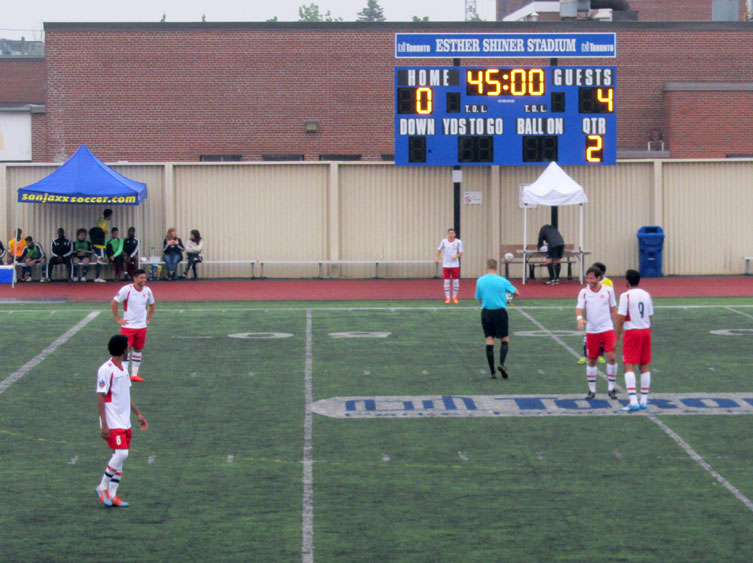 VA Dena Iezady (9) and Mario Kovacevic (10) take second half kickoff.


Lions Mohammed Diaby (5) takes long freekick up middle.


VA players line up for long freekick.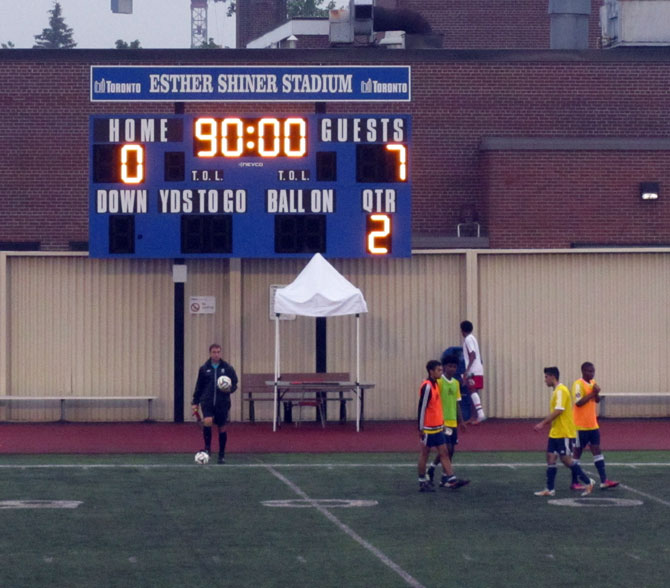 Final score at full time is shown.
back to 2015 League 1 Ontario Men's index
.
.