..............................................

Result of the Sunday September 21, 2014, MLS game between Toronto FC and Chivas USA played at BMO Field in Toronto at 3:00pm.
Toronto FC (all red, white names and numbers)
.......................12 Joseph Bendik
28 Mark Bloom...13 Steven Caldwell (cpt)...17 Nick Hagglund...2 Justin Morrow
11 Jackson...4 Michael Bradley...21 Jonathan Osorio...35 Daniel Lovitz
............9 Gilberto...27 Luke Moore
Subs:...1 Chris Konopka (gk)...3 Warren Creavalle (def)...5 Ashtone Morgan (def)...8 Kyle Bekker (mid)...14 Dwayne De Rosario (mid)
...15 Doneil Henry (def)...23 Dominic Oduro (fwd)
team officials:...head coach Greg Vanney
Chivas USA (white socks, shorts, names, and numbers, navy shirts)
......................1 Dan Kennedy (cpt)
25 Donny Toia...2 Bobby Burling...22 Eriq Zavaleta...4 Tony Lochhead
18 Martin Chavez (cpt)...30 Oswaldo Minda...15 Eric Avila...24 Nathan Sturgis
............7 Nigel Reo-Coker...20 Felix Borja
Subs:...23 Trevor Spangenberg (gk)...6 Matthew Dunn (mid)...8 Agustin Pelletieri (mid)...11 Leonardo Barrera (fwd)...16 Andrew Jean-Baptiste (def)
19 Ryan Finley (fwd)...34 Jhon Kennedy Hurtado (def)
team officials:...head coach Wilmer Cabrera
Game officials:...referee Edvin Jurisevic...referee's assistants Adam Garner and Mark Cahen...fourth official Jorge Gonzalez ...(yellow shirts, black shorts and socks)
Before the game it was announced that Joe Bendik was awarded the MLS Save of the Week for his save against Philadelphia(!) I would have thought it would be for his double save on a Penalty kick against Chicago Fire last week. If not he'll be a cinch to win two weeks in a row.
1st Half:...game starts 3:08pm...TFC defends south end on this mild, mostly sunny afternoon with gusty winds.
1 min...TFC Lovitz cornerkick from right has CUSA Sturgess pop up kick on clearance attempt at 8 yards and TFC Gilberto outjumps goalie to head ball from 2 yards just wide right of post.
2 min...CUSA Avila chip pass from 22 yards has CUSA Borja head ball that's tipped wide by TFC Morrow for cornerkick.
2 min...CUSA Chavez cornerkick from right is knocked around and cleared from box.
4 min...TFC Bradley 28 yard freekick from left is headed away in crowd of players at 6 yards on left.
5 min...TFCA Bloom cross from 20 yards on right has TFC Gilberto step in front of TFC Moore and pop header just wide right of post from 8 yards.
8 min...CUSA Chavez cornerkick from left has TFC Caldwell at 8 yards in middle head ball away for fast break out.
11 min...CUSA Chavez cornerkick from left has CUSA Burling on right head ball wide right from 10 yards.
13 min...CUSA Lochhead clears ball into box on rolled cross from left sent in by TFC Morrow from 25 yards. CUSA Minda was injured at CUSA 40 yard line earlier in the play.
15 min...TFC Lovitz cornerkick from right has CUSA Burling head ball away from 7 yards. CUSA Sturgis was injured in the box.
19 min...TFCA Caldwell retreats to break up through ball pass attempt from CUSA Reo-Coker into box as CUSA Borja couldn't control it.
21 min...CUSA Chavez is injured running into edge of signboards to keep ball in play at TFC 40 yard line.
22 min...TFC Jackson GOAL...CUSA Eriq Zavaleta makes partial clearance at 25 yards on right. TFC Mark Bloom at 30 yards near right sideline bumps ball forward. TFC Jonathan Osorio chests down and turns and pushes short pass forward from 25 yards to TFC Gilberto on edge of box on right who tries to run between two defenders and backheels ball to Jackson who shoots low 15 yarder that deflects off CUSA Donny Toia and into left side of net with CUSA goalie Dan Kennedy caught in center of net.
28 min...TFC Osorio cuts back and forth along edge of CUSA 18 yard box but taps weak shot forward with two TFC players who stop as they're offside. CUSA Chavez was injured earlier on the play.
30 min...TFC Lovitz rolls cross from 25 yards on left to middle of box and TFC Moore turns and fires 7 yard shot that hits the underside of bar and bounces back out and CUSA defender heads ball back towards goalie for him to catch near right post.
33 min...TFC Lovitz pushed over from behind by CUSA Toia at CUCA 22 yards on left with no call.
34 min...CUSA Toia high cross from 30 yards on right has goalie catch even with left post at 6 yards.
35 min...TFC Bradley 40 yard freekick from middle is chipped to left and TFC Lovitz heads from 30 yards into box but defender chests it and TFC Gilberto steals it, runs to left end line and rolls back to Lovitz who crosses from 20 yards on left and defender on edge of box cleared on deflection by CUSA Toia.
36 min...CUSA YELLOW card...Sturgis earns it for kneeing TFC Osorio in back at center line. Both go down for injury.
42 min...CUSA Avila even with left post gets to crossed pass on bounce from CUSA Toia from right that gets by CUSA Minda at 10 yards and shoots off-balance 10 yarder wide left of net.
43 min...CUSA Lochhead cross from 35 yards on left has TFCA Hagglund head ball away from 12 yards in crowd of players.
45 min...TFC Bradley 25 yard freekick from far left has goalie push wide left of post.
45 min...TFC Bradley cornerkick from left has goalie jump and punch ball forward. TFC Bradley pass up left to TFC Lovitz who wins cornerkick on deflection off CUSA Toia.
46 min...TFC Luke Moore GOAL...TFC Michael Bradley cornerkick from left to TFC Mark Bloom who heads from 10 yards on right across box to left and Moore in middle kicks in 5 yarder to left side of net.
47 min...half ends 3:55pm.
Halftime Entertainment: there's the usual pizza then Drumstick ice cream giveaway. This week there was also a Sony camera giveaway. There was a game of Loopyball with members of the Canadian Armed Forces wearing the bubble suits and kicking a beach ball around. That game ended in a 0-0 tie.
2nd Half:...starts 4:12pm.
48 min...CUSA Borja holds off TFC Bradley to get 18 yard shot on left high and wide left of net.
49 min...CUSA Chavez curves in cross from 30 yards on right that TFC Bloom at 10 yards on left heads ball behind end line to give up cornerkick.
50 min...CUSA Chavez cornerkick from left is low and TFC Bradley clears from 6 yards.
50 min...CUSA player's cross from 40 yards on right has goalie run forward to catch at 7 yards on left.
52 min...TFCA Bradley 25 yard freekick from right deflects off head in player wall and goalie palm ball over net.
53 min...TFC Gilberto GOAL...TFCA Lovitz low cornerkick from right has TFC Bradley at 10 yards flick ball with foot across box from right. CUSA Bobby Burling tangles with TFC Steven Caldwell both in middle of box and both fall over at 5 yards. Gilberto even with left post kicks in 4 yarder into middle of open net.
54 min...TFC Jackson shot from 12 yards on right is caught by goalie.
55 min...CUSA sub...Barrera replaces Avila.
56 min...CUSA Sturgis receives short pass from left and shot from 8 yards on left is blocked by defender.
58 min...TFCA Morrow loses balance on run into CUSA box on left.
60 min...TFC Gilberto rush into box to backheel on right and TFC Moore shot from 8 yards deflects for cornerkick.
60 min...TFC player's cornerkick from right drops into left side of box but defender clears.
62 min...TFC Jackson intercepts ball at 18 yards and 12 yard cross from right is caught by goalie.
63 min...CUSA sub...Finley replaces Borja.
64 min...TFC Morrow rolls ball into CUSA box from left but CUSA Zavaleta clears from 15 yards.
65 min...CUSA RED card...Nigel Reo-Coker earns it for pushing incident involving several players at CUSA 35 yards.
.........TFC RED card...Jackson earns it for his part in pushing incident.
67 min...TFC sub...Creavalle replaces Osorio.
70 min...TFC Lovitz cornerkick from right is over leaping TFC Hagglund at 12 yards on left but play whistled down for his jumping on defender's back.
72 min...TFC sub...Oduro replaces Moore.
75 min...TFC YELLOW card...Lovitz earns it for grab from behind on CUSA Chavez at TFC 50 yard line.
76 min...TFC sub...De Rosario replaces Lovitz.
82 min...CUSA sub...Dunn replaces Chavez.
83 min...CUSA Toia wins cornerkick on deflection off TFC Morrow on right at 18 yards.
83 min...CUSA Barrera short cornerkick with CUSA Sturgis and he gets ball tapped back to him and blasts 25 yarder from right that goalie sprawls on right post to push wide of post for another cornerkick.
84 min...CUSA Toia gets pass after another short cornerkick and takes two low 22 yard shots down middle that has first one blocked on edge of box and rebound is stopped by defender at 12 yards and TFC sets off on fast break.
85 min...CUSA Barrera crosses from 30 yards on left over to CUSA Finley who shoots low 22 yarder up middle that goalie catches in center of net.
89 min...TFC Caldwell clears low cross into box.
90 min...CUSA Finley fires 30 yarder from left well wide right of net.
91 min...CUSA Barrera 22 yard freekick from left edge of box is knocked around and TFC Bradley clears.
92 min...game ends 4:59pm.
Final Score:.....Toronto FC.......3..........Chivas USA...........0........
Attendance was announced as 22591 which was a sellout. There were quite a few seats that never filled in. There was lots of rain overnight and in the morning but the game was played in a mix of sun and clouds.
Man of the Match (who is always a TFC player) was announced as forward Gilberto. He scored the rather unimportant third goal but was a threat all day and had an assist so I wouldn't object to this reward.
The real turning point in the game for me was when TFC were able to score that second goal just before halftime to hold a very comfortable lead. The last few minutes of the game had few things to write about as most of the action was played in midfield. Chivas had a few 2 vs 5 rushes. TFC looked to counter on Chivas late cornerkick at the end which is probably a reason Chivas didn't push many players upfield.
Joe Bendik earned the shutout without having to do much. The two saves on a Penalty kick and subsequent rebound against Chicago last week are supposed to turn the TFC season around.
Steven Caldwell was back on defence and cleared a few cornerkicks and crosses. He took the captain's armband from Michael Breadley who served during Caldwell's injury.
Jonathan Osorio was also back from injure in the midfield and played 67 minutes. He survived a few bumps beut continued on.
Michael Bradley ended up playing some of the game in defence as Mark Bloom and Justin Morrow played so far forward on the wing for defenders.
Daniel Lovitz was a starter and known for good cornerkicks. Michael Bradley took almost everything else as Collen Warner was not in the linup through injury.

Chivas USA were without their star Erick "Cubo" Torres 14 goal scorer for a team that's only scored 23 all season. Next closest scorers are tied with two each! Torres was serving a two game suspension.
This was the 3rd Annual Canadian Armed Forces Appreciation Day. As one of the first 7000 fans through the gates today, I received a "Support Our Troops/Appuyons nos troupes" wristband. Scotty Newlands sang both the US and Canadian national anthems today for the first time this season. Some troops played a game of Loopyball at halftime. Videos were shown of the troops touring and playing at the KIA Training ground. A brigadier general supervised the coin toss. I was expecting a halftime flyover but there was nothing. Soldiers were asked to gather in Sections 107 and 108 after the game for further celebrations. TFC wore their regular red uniforms but the numbers and names weren't white but camoflage greens so it made it harder to see who they were.
I noticed that the audio from the pregame video package had muted the mention of Jermain Defoe scoring the team's first two goals of the season against Seattle. Defoe is still absent but expected to return to the team this week but there've been rumours that he wouldn't be coming back or will use the next transfer window in January to go back to England permanently.
This was the first win for TFC since their change in coaches to Greg Vanney and first win since August 9th in an away game in Columbus.
TFC remains in seventh position in the East as the teams ahead of them won or tied. It is very unusual for TFC that they had a Sunday game and knew all the weekend results.
Next game is a home game against Portland this Saturday the 27th. They beat Vancouver 3-0 last night. Vancouver fans migh be torn about who to cheer for the next game. If Portland wins they pull further ahead in the Western Conference playoff race. If TFC wins they pull ahead of Vancouver in the Concacaf Championship League qualifying which will be decided for next year by the Canadian team with the highest points total in the MLS regular season this year.
Rocket Robin
robing@eol.ca

stats from MLSsoccer.com
Match Information
MLS Regular Season at BMO Field
Attendance 22591
Weather Partly Cloudy 
 
Scoring Summary

Goals and Assists
23'     Jackson          Assisted By: Gilberto, Jonathan Osorio 
45'+2'  Luke Moore       Assisted By: Nick Hagglund, Michael Bradley 
54'     Gilberto 

Disciplinary
38'     Nathan Sturgis   YELLOW   Reason: Persistent Infringement 
66'     Nigel Reo-Coker  RED      Reason: Fight 
66'     Jackson          RED      Reason: Fight 
75'     Daniel Lovitz    YELLOW   Reason: Foul 

Records:
Toronto FC:  10-11-7  37pts.
Chivas USA:   6-17-6  24pts.               

Lineups

Toronto FC – Joe Bendik; 
Mark Bloom, Steven Caldwell ©, Nick Hagglund, Justin Morrow; 
Jackson, Michael Bradley, Jonathan Osorio (Warren Creavalle 68'), Daniel Lovitz (Dwayne De Rosario 76'); 
Gilberto, Luke Moore (Dominic Oduro 73')  

Substitutes Not Used: Chris Konopka, Ashtone Morgan, Kyle Bekker, Doneil Henry

Chivas USA – Dan Kennedy; 
Donny Toia, Bobby Burling, Eriq Zavaleta, Tony Lochhead; 
Eric Avila (Leandro Barrera 56'), Nigel Reo-Coker, Oswaldo Minda, Nathan Sturgis; 
Marvin Chávez (Matthew Dunn 82'), Félix Borja (Ryan Finley 64')

Substitutes Not Used: Trevor Spangenberg, Jhon Kennedy Hurtado, Andrew Jean-Baptiste, Agustín Pelletieri,
 
Stats:

Team Statistics

TOR                           CHV
 11     Shots                  10 
  4     Shots on Target         2 
  3     Shots off Target        7 
  4     Blocked Shots           1 
  7     Corners                 6 
 23     Crosses                14 
  1     Offsides                3 
  8     Fouls                  13 
  1     Yellow Cards            1 
  1     Red Cards               1 
502     Total Passes          367 
 88 %   Passing Accuracy       85 % 
 58.1 % Possession             41.9 % 
 40     Duels Won              41 
 14     Tackles Won            21 
  2     Saves                   1 
  9     Clearances             23 
 
Officials
Referee  Edvin Jurisevic 
Assistant Referee  Adam Garner 
Assistant Referee  Mark Cahen 
Fourth Official  Jorge Gonzalez 



Toronto FC starters


Chivas USA starters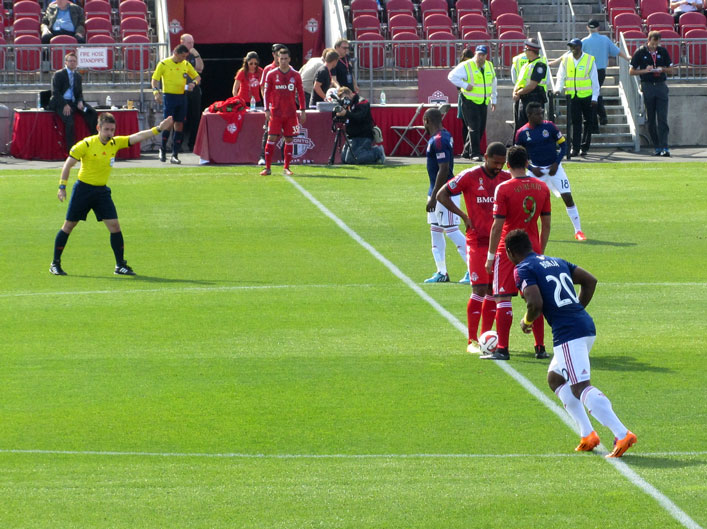 TFC Luke Moore (27) and Gilberto (9) take opening kickoff.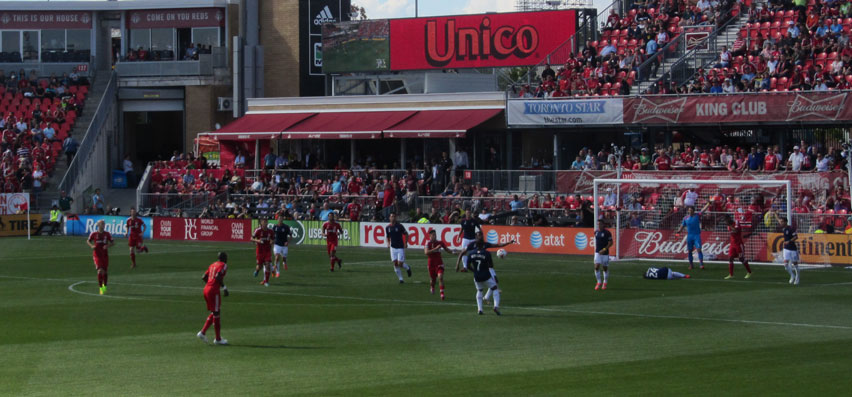 Chivas players clear ball from box with Chivas Nathan Sturgis (24) injured.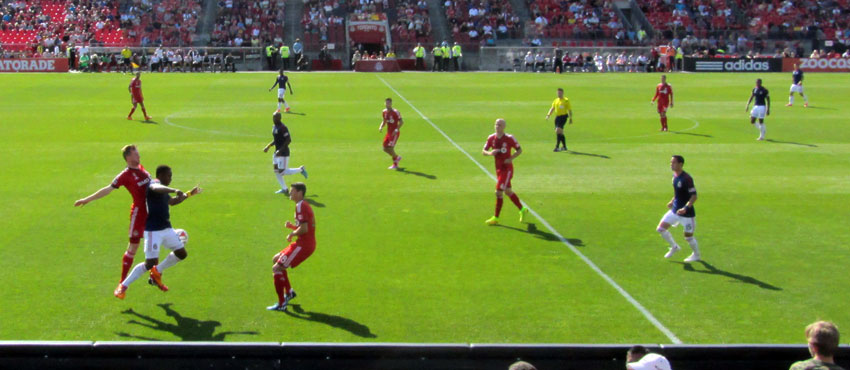 TFC Steven Caldwell (13) bumps Chivas Felix Borja (20).


TFC Luke Moore (27) with ball.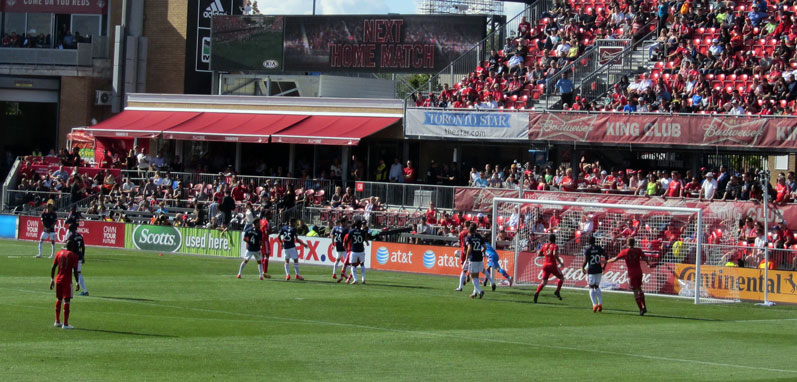 Chivas goalie reaches forward to catch cornerkick.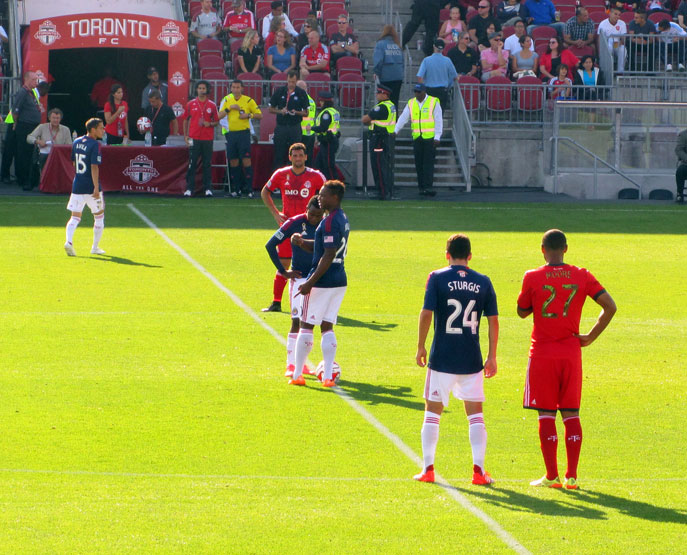 Chivas Martin Chavez (18) and Felix Borja (20) take second half kickoff.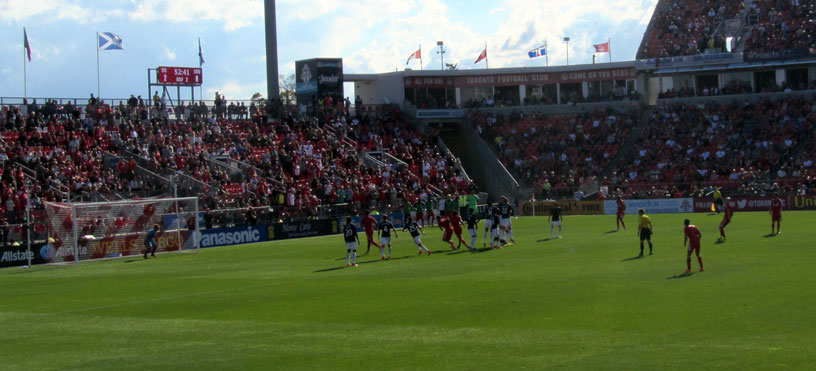 TFC Michael Bradley (4) freekick has goalie palm ball over net.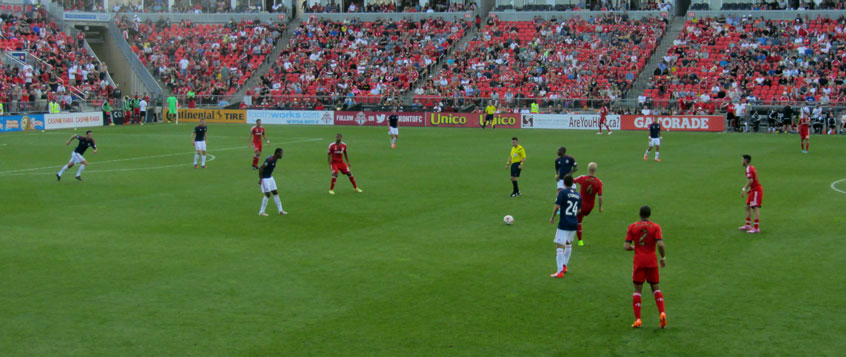 TFC Michael Bradley (4) threads pass forward.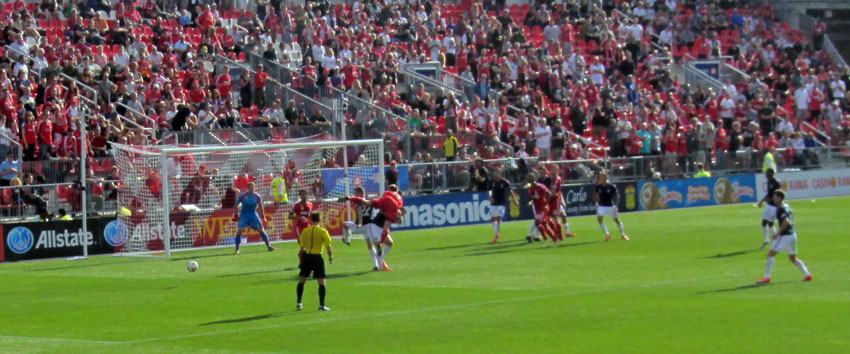 TFC Nick Hagglund (17) has play whistled down on cornerkick for jumping on defender's back.
back to TFC 2014 news and results
.
.