..............................................

Result of the Saturday March 22, 2014, MLS game between Toronto FC and D. C. United played at BMO Field in Toronto at 4:30pm.
Toronto FC (all black, white names and numbers, red trim)
.....................30 Julio Cesar
28 Mark Bloom...13 Steven Caldwell (cpt)...15 Doneil Henry...2 Justin Morrow
11 Jackson...4 Michael Bradley...21 Jonathan Osorio...23 Alvaro Rey
..............9 Gilberto...18 Jermain Defoe
Subs:...12 Joseph Bendik (gk)...5 Ashtone Morgan (def)...8 Kyle Bekker (mid)...14 Dwayne De Rosario (mid)...16 Bradley Orr (def)
...17 Nick Hagglund (def)...32 Andrew Wiedeman (fwd)
team official:...head coach Ryan Nelsen
D.C. United (all white, black names and numbers, red trim)
.....................28 Bill Hamid
5 Sean Franklin...32 Bobby Boswell (cpt)...2 Jeff Parke...3 Cristian
23 Perry Kitchen...14 Nick DeLeon...11 Luis Silva...8 Davy Arnaud
............7 Eddie Johnson...9 Fabian Espindola
Subs:...50 Andrew Dykstra (gk)...4 Nana Attakora (def)...19 Kyle Porter (mid)...25 Jared Jeffrey (mid)...27 Collin Martin (mid)
30 Conor Doyle (fwd)...33 Taylor Kemp (def)
team official:...head coach Ben Olsen
Game officials:...referee Silviu Petrescu...referee's assistants Joe Fletcher and Gianni Facchini...fourth official Jose Carlos Rivero
...(yellow shirts, black shorts and socks)
1st Half:...game starts 4:41pm...TFC defends south end on this cold, mostly overcast afternoon with a wind from the north.
1 min...DCU Silva cornerkick from left is short and DCU Espindola has cross attempt from 22 yards partially blocked and TFC Osorio clears from 12 yards.
2 min...TFC Jackson cross from 22 yards on right is cleared through box by DCU Boswell at 5 yards for cornerkick on left.
3 min...TFC Bradley cornerkick from left has defender head over box from 10 yards on left. TFC Osorio cross from 18 yards on right has TFC Defoe at 10 yards even with right post head ball wide right from 8 yards.
3 min...DCU Espindola is injured in center circle but gets back up to take pass.
6 min...TFC Rey runs down middle and threads ball from 22 yards forward for charging TFC Jackson but DCU Cristian clears ball away to right for throw-in.
7 min...TFC Bloom throw-in from 15 yard line on right has DCU defender head ball away from right side of box.
9 min...DCU Espindola 35 yard freekick from right is over players in box has goalie catch at 3 yards on left post.
13 min...TFC Bradley at 28 yards in middle taps pass for TFC Gilberto receives who shoots 25 yarder from right over net.
17 min...TFC Bradley knocks over referee on his run through center circle.
18 min...DCU goalie catches cross at 7 yards in crowd of players in box.
19 min...TFC Gilberto rushes up middle and taps pass to open TFC Defoe on left and his low 15 yard shot is blocked by sliding goalie at 6 yards. TFC Bradley in middle from 18 yards chips rebound high and wide right of net.
23 min...TFC Henry slides on edge of TFC box to block shot attempt by DCU Espindola. DCU DeLeon chips 18 yard cross from right that goalie catches at 6 yards.
23 min...TFC Jackson rescues ball on right end line and crosses into box where TFC Defoe stops and rolls 10 yard shot from right that diving goalie smothers on right post.
24 min...TFC Henry slides to break up pass along edge of TFC box. TFC Morrow prevents DCU DeLeon from getting away shot at 15 yards.
26 min...TFC Bradley 40 yard freekick from left is over players in box and bounces to goalie.
27 min...DCU Silva blasts 40 yarder down middle just wide right of net.
30 min...DCU Silva at 28 yards centers short pass from right over to charging DCU Franklin who pushes pass forward and to right for charging DCU Johnson who rescues ball near right end line but 6 yard shot blocked by sliding goalie and Johnson crashes into end wall.
30 min...DCU Espindola short cornerkick and ball eventually centered to DCU DeLeon who runs towards middle and cuts 28 yard roller between players and goalie smothers in center of net.
32 min...DCU Espindola on far right receives pass and cuts towards goal eluding TFC Morrow and chips 12 yard cross that deflects off TFC Rey and lands on top of net.
32 min...DCU Espindola cornerkick from right has defender on right edge of 6 yard box clear ball away on header.
34 min...TFC Rey is rolled short pass from TFC Bradley at 30 yards and bends 18 yard shot from left high and wide right.
35 min...TFC Bradley chips 60 yard freekick that goalie charges forward and catches just inside box.
36 min...DCU Silva 40 yard freekick is headed away at 15 yards by TFC Caldwell. DCU Cristian crosses in from left sideline and TFC Henry pops up header at 15 yards and DCU Boswell heads 20 yards down middle wide right of net.
37 min...DCU Espindola rush on left and cross has TFC Henry head ball behind end line for cornerkick.
37 min...DCU Silva cornerkick from left is partially cleared by TFC Caldwell header at 7 yards and DCU Franklin blasts 35 yard shot high and wide right.
40 min...TFC Jackson long rush on right and shoots 28 yarder well wide and high right of net.
41 min...TFC Gilberto rushes on right and rolls centering pass and TFC Defoe chips 5 yarder over sliding goalie that hits right post and bounces out for goalkick.
43 min...DCU Espindola can't win freekick on run to edge of box as he runs into TFC Caldwell.
44 min...TFC Rey cross from left is over head of TFC Defoe and DCU defenders head ball around then out of box. TFC Osorio shoots low from 28 yards through crowd of players and goalie smothers in center of net.
45 min...half ends 5:26pm. (no time added)

Halftime Entertainment:...The team still has Rachel Bonnetta as an MC and included her promoting Scott's Turfbuilder, drawing prizes to give Drumstick ice cream cones for a row of fans, a taped segment of ten questions with Dwayne De Rosario, and giving new uniforms away to two other fans all within the 15 minutes. The groundskeepers couldn't do much about the torn up field.
2nd Half:...half starts 5:42pm.
46 min...TFC goalie dives on loose ball at 6 yards tipped off TFC Jackson in box on DCU DeLeon shot from 25 yards on right.
46 min...TFC Defoe shot from 8 yards around defender bounces wide right of post.
49 min...TFC YELLOW card...Jackson inside DCU box earns it for bump on DCU Arnaud waiting for TFC freekick.
49 min...TFC Bradley 30 yard freekick from right has DCU DeLeon just inside box kick ball away.
54 min...DCU YELLOW card...Arnaud earns it for pushing TFC Osorio at DCU 40 yard line on sideline.
54 min...TFC Bradley freekick from 35 yards on right has ball headed away by DCU Boswell just inside DCU box. TFC Osorio rebound shot blocked from 18 yards.
56 min...TFC Bradley 25 yard freekick from left has goalie punch ball away at 5 yards in crowd of players and starts DCU fast break.
57 min...The sun comes out to a huge cheer from the crowd.
58 min...TFC goalie picks up bouncer as DCU Espindola falls over at 7 yards after receiving cross from right but pushing ball too far forward.
59 min...TFC Jemain Defoe GOAL...TFC Michael Bradley chips pass forward from 55 yards down middle that charging TFC Gilberto gets to at 22 yards and takes low 20 yard shot that diving goalie blocks at 6 yards. DCU Bobby Boswell boots ball across box but Defoe stops it and shoots 12 yard rebound low between two defenders into left side of net.
62 min...TFC sub...De Rosario replaces Gilberto.
62 min...DCU Silva chips 35 yarder from right over crowd of players in box and goalie catches wide left of net.
63 min...TFC Bradley cracks heads with DCU Arnaud at DCU 40 yards injurying both of them. Arnaud is down for quite a bit longer than Bradley but Bradley has his head stitched and bandaged and after the game has 13 staples applied to close the wound.
65 min...DCU sub...Porter replaces injured Arnaud.
66 min...DCU Silva on run up middle at 25 yards rolls ball forward and DCU DeLeon gets around sliding defender by running to left and he shoots from 8 yards near left end line that goalie on left post dives forward and tips ball up and TFC Bradley clears away from box.
68 min...TFC goalie catches 25 yard cross from left end line sent in by DCU Espindola.
70 min...TFC Bradley crosses to TFC Jackson who sends weak shot from 25 yards that bounces to goalie.
72 min...DCU Silva 45 yard freekick from left is over players in front of box and bounces wide right of net.
75 min...TFC De Rosario fed pass from TFC Defoe from 50 yards and runs forward on left from 35 yards to take 15 yard shot that retreating DCU Boswell gets partial deflection and diving goalie pushes wide left of net.
75 min...TFC Bradley low cornerkick from left is stopped and cleared by DCU DeLeon on left post.
77 min...TFC Morrow long throw-in from left at 10 yard line has defender in box head ball away. TFC Morrow crosses from left and defender heads away.
80 min...TFC Morrow cross from 35 yards on left has goalie catch on left post.
81 min...DCU sub...Doyle replaces Cristian.
81 min...DCU Porter high cross from 20 yards along left end line is well behind net.
82 min...TFC sub...Orr replaces Rey.
83 min...DCU Espindola low cross after run to left 15 yards along end line is cleared by defender.
85 min...TFC Henry is injured at TFC 25 yards but wins freekick in collision and clash of heads.
88 min...DCU Espindola sends cross in from 28 yards on right and flying TFC Henry heads away on edge of 6 yard box.
88 min...DCU Boswell bicycle kick from 22 yards is wide right of net.
89 min...TFC De Rosario cross from left has ball over head of TFC Defoe at 7 yards but TFC Orr gets to it and sends high cross from 15 yards over box.
90 min...A fan runs onto the field during a TFC rush led by TFC Defoe and he shanks 12 yard shot from right high and wide right of net. The fan is stopped after the whistle is finally blown.
92 min...TFC Jackson is checked off ball at 30 yards when he cuts towards goal from the far left while on a 3 on 2 rush.
93 min...DCU goalie takes 60 yard freekick that is cleared away by TFC Morrow header on edge of 18 yard box.
94 min...game ends 6:31pm.

Final Score:.....Toronto FC......1..........D. C. United...........0........
Attendance was announced as a sellout at 22591--their "first of the year" which was obvious but took me a minute to realize that although it was their first game they are expecting more (sellouts). Quite a few of the fans didn't take their seats until gametime or a few minutes after the game started. We had to cope with no subway running south of Bloor, restricted parking because of the Home Show exhibition and an AHL Toronto Marlies hockey game (team also owned by MLSE--owner of Toronto FC) taking place on the CNE grounds at exactly the same time.
The weather also made the day miserable with temperatures near the freezing mark and a strong, gusty north wind. The windchill made it feel like it was -4 degrees C. The field wasn't in the best condition and became chewed up as the game went on. I'd heard that if the temperature had been less than -3 degrees C, the game couldn't be played because the pipes to the washrooms would freeze. Last year's home opener was held at the Rogers Centre but it was never selected this year. The city has had a record breaking cold this winter and continuous snow on the ground since December 9th. Ironically Montreal who were having their home opener at the same time as Toronto postponed their game which was scheduled to be held INDOORS until Sunday because of the danger posed by snow accumulation on the roof of Olympic Stadium.
Man of the Match (who is always a TFC player) was announced as Jermain Defoe. He was today's hero scoring the lone goal on a rebound shot at 59 minutes. He has scored all three of the TFC goals in their two games to start the season. Their record improves to 2-0-0 for their best start in franchise history. His goal celebration was to run to the sidelines to wave to the fans. Last year's early hero Robert Earnshaw (no longer with the team) who resembles Defoe did a forward flip after each goal. Defoe was announced as the winner of MLS 'Player of the Week' for Week 2. Great debut both for the league and home debut.
The MLS settled with their game officials after two weeks of using replacements. I knew the referee and both assistants from their work over the years in the now outlawed Canadian Soccer League. The referee got bashed over in a collision with TFC Michael Bradley at 17 minutes.
The PA system was deliberately cut off after some cue notes for 'O Canada' and they let the fans sing the rest of the national anthem. That hasn't been done for a few years as attendance dwindled.
There was a huge cheer when Dwayne De Rosario came into the game as a substitute at 62 minutes replacing Gilberto soon after the lone TFC goal. This is his second cycle for the team and he still has a lot of fans. De Rosario started last week as Gilberto didn't travel to Seattle because of an injury.
TFC defenders Doneil Henry and Steven Caldwell made key stops and blocks to break up plays that left goalie Julio Cesar with not much to do except to catch a few crosses. The DCU shots were all from a distance. Only two shots on goal made Cesar's shutout an easy one. Cesar is the Brazilian national team goalie who TFC is borrowing on loan from Queen's Park Rangers of England. This is head coach Ryan Nelsen's former team two years ago and his list of contacts has probably helped save his job.
TFC midfielder Jackson showed past TFC play. He shanked a few shots and was caught ball hogging including a 3 on 2 rush when he was checked off the ball when he cut towards the net.
TFC wore new black uniforms which wasn't a surprise given a rollout a few weeks ago. I don't know how many more home games they will do this and keep the nickname 'The Reds'.
We were given a pair of white coloured mittens upon entering the stadium. They were sure welcomed by fans in this cold weather but they proved too small for my huge hands so I kept my own mittens on. On the way out we were given fridge magnet calendars. Both gifts were sponsored by Bank of Montreal. The program price held at $3.00 this year after being reduced from $5.00 after the first six years of the team. With my season tickets being reduced the Year 1 prices last year, I thought the price would be up for sure for the team to try to recover some money for the huge payouts the team made to buy their designated players.
I was using a new pair of binoculars I bought a few weeks ago to replace a ruined pair from last year's TFC-Columbus game played with a hard rain at different times during the afternoon. I found out the hard way that they were water resistant--not water proof as water seeped inside and couldn't be dried out by putting them inside a bag of rice and my warming them up in a low heating oven destroyed them. The new pair isn't officially mine because I was borrowing from a friend--the pair that I've ruined.
A fan ran onto the field holding a scarf over his head at 90 minutes as Jermain Defoe led a rush. The fan wasn't cornered until the whistle was blown after a break in the action and he walked into the police officers arms.
The next home game for TFC is Saturday April 12th at 4:00pm. Hopefully by then the weather will be much warmer.
Rocket Robin
robing@eol.ca

stats from MLSsoccer.com

Major Events

Scoring Summary
TFC – Jermain Defoe '60                  

Misconduct Summary
TFC – Jackson '50  YELLOW Foul 
DCU – Davy Arnaud   YELLOW Unsporting behavior 

Records:
Toronto FC:  2-0-0  6 pts.
D.C. United:  0-2-0  0 pts.   

Lineups

Toronto FC – Júlio César; 
Mark Bloom, Steve Caldwell ©, Doneil Henry, Justin Morrow; 
Jackson, Michael Bradley, Jonathan Osorio, Álvaro Rey (Bradley Orr '83); 
Gilberto (Dwayne De Rosario '63), Jermain Defoe

Substitutes Not Used: Joe Bendik, Ashtone Morgan, Nick Hagglund, Andrew Wiedeman, Kyle Bekker

D.C. United – Bill Hamid; 
Cristian (Conor Doyle '82), Bobby Boswell ©, Jeff Parke, Sean Franklin; 
Perry Kitchen, Davy Arnaud (Kyle Porter '66), Luis Silva, Nick DeLeon; 
Fabian Espindola, Eddie Johnson

Substitutes Not Used: Nana Attakora, Jared Jeffrey, Taylor Kemp, Collin Martin Andrew Dykstra

Stats:

TOR                       DC
14    Shots                6 
6     Shots On Goal        2 
13    Fouls               20 
2     Corner Kicks         4 
3     Offsides             2 
37.2% Time of Possession 62.8% 
1     Yellow Card          1 
0     Red Cards            0 
2     Saves                5 

Attendance: 22591

OFFICIALS
Referee Silviu Petrescu     
Assistant Referee Joe Fletcher     
Assistant Referee Gianni Facchini     
Fourth Official Jose Carlos Rivero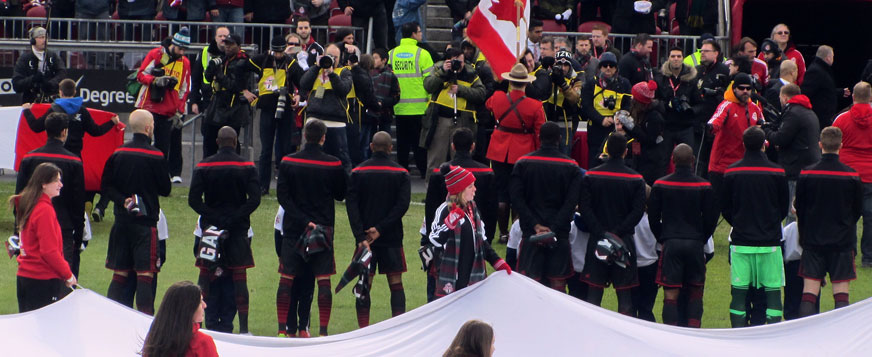 Toronto FC starters


United starters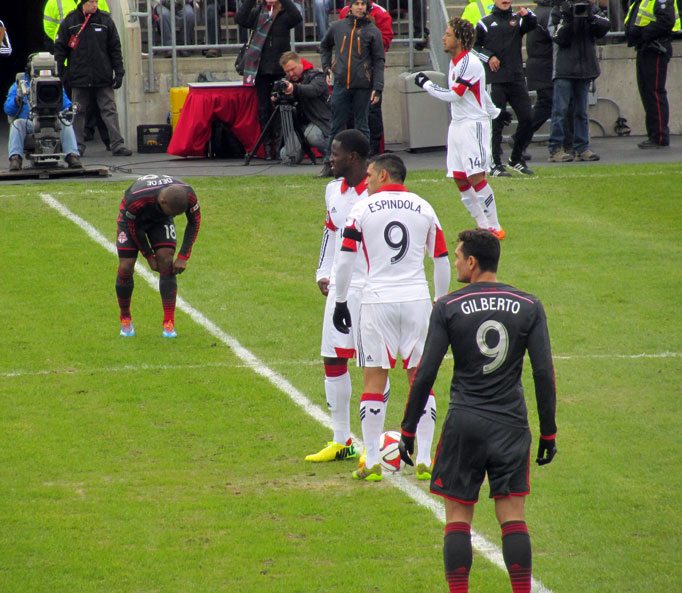 DCU Eddie Johnson (7) and Fabian Espindola (9) take opening kickoff.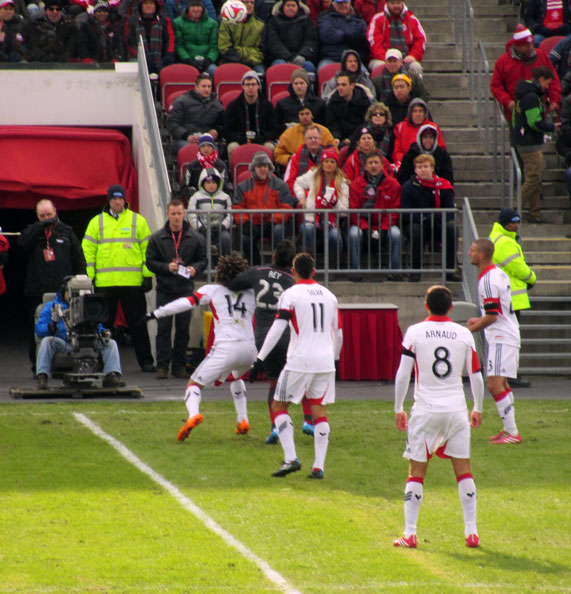 DCU Nick DeLeon (14) and TFC Alvaro Rey (23) battle for high ball.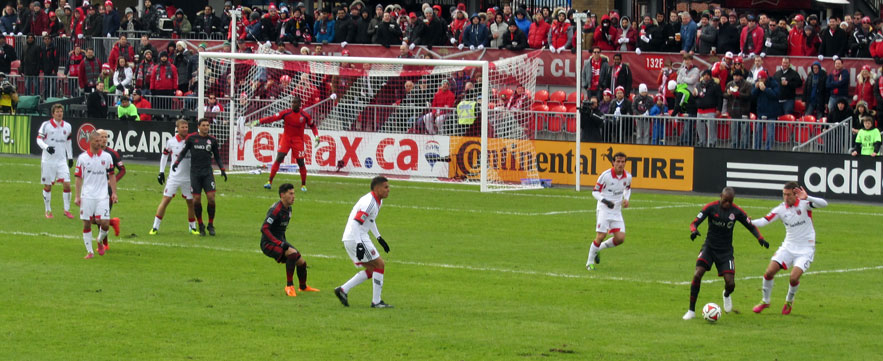 TFC Jackson (11) and DCU Davy Arnaud (8) just ouside DCU box.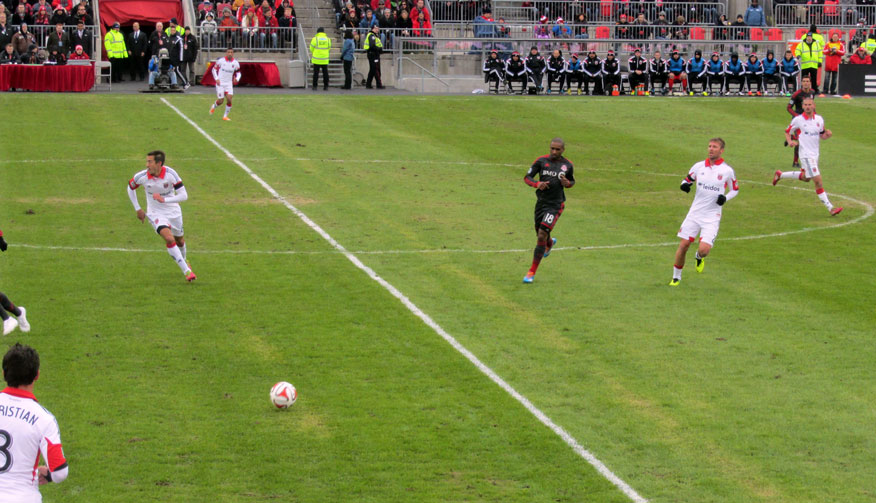 TFC Jermain Defoe (18) rushes for ball.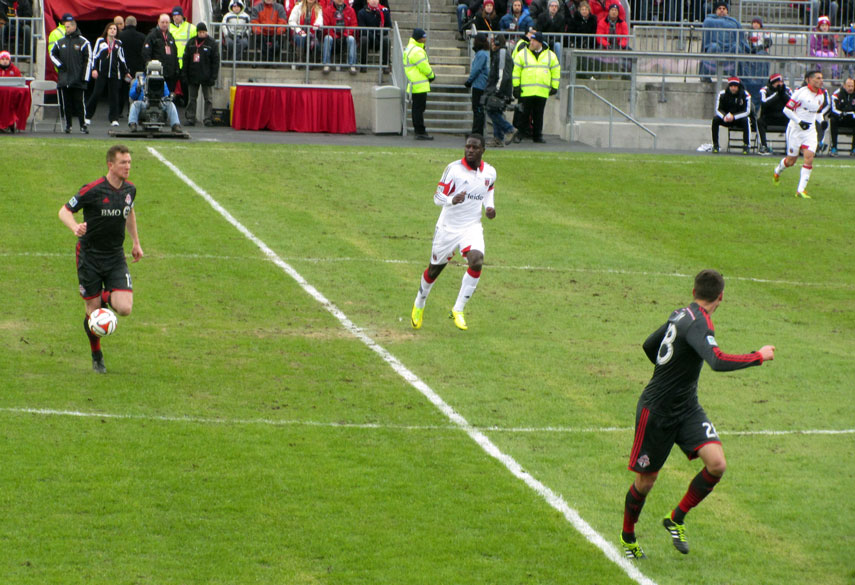 TFC Steven Caldwell (13) in center circle.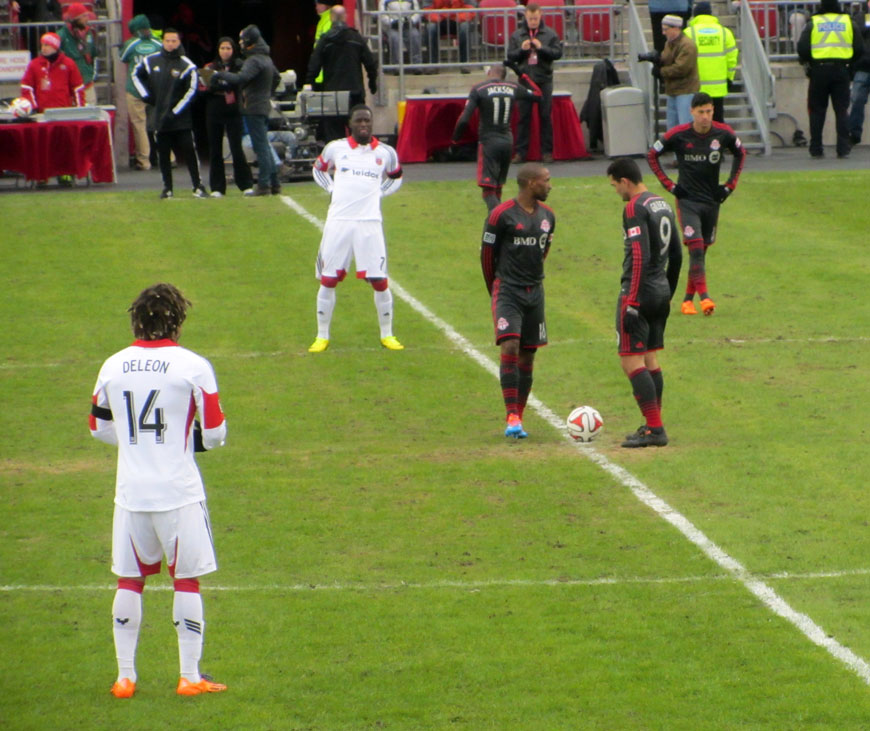 TFC Jermain Defoe (18) and TFC Gilberto (9) take second half kickoff.


TFC Michael Bradley (4) takes freekick.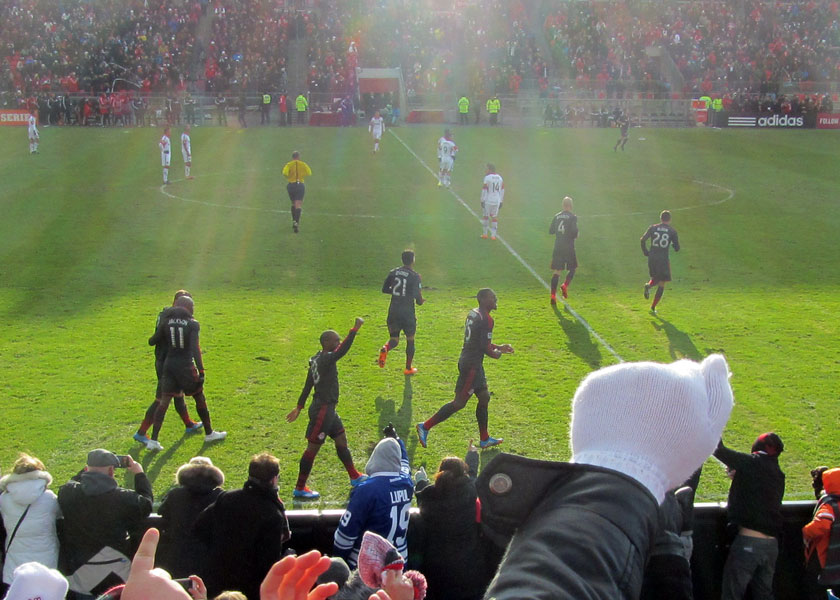 TFC Jermain Defoe with arm raised runs along sideline as part of his goal celebration.
back to TFC 2014 news and results
.
.