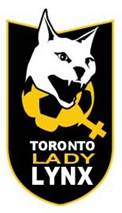 ..................... .............
Result and details of the Saturday June 14, 2014 W-League game between Toronto Lady Lynx and K-W United played at Centennial Stadium in Etobicoke at 7:00pm.

Toronto Lady Lynx (gray & black hoope socks, black shorts, gray shirts, black numbers)
...................26 Carissa Miller
3 Keshia Wallin...2 Page Culver...21 Vanessa Kordas...19 Olivia Lukasewich
8 Rio Speller Drews...22 April Syme...5 Madison Solow...16 Heather Lund
............13 Jordyn Listro...17 Monica Monsivais Deree
Subs:...1 Pat Koutalas (gk)...12 Courtney Chambers (fwd)...15 Kelsey Saleido (mid)...7 Jess Dillon...18 Rebecca Pongetti (mid)
...23 Shauna Gilpin (fwd)...6 Kendra Prince (def)
team officials:...head coach Duncan Wilde (who was away coaching the U20 Men's team).
K-W United (all black, white numbers)
......................1 Stephanie Bukovec
4 Elyssa Masters...3 Kelsey Tikka (cpt)...20 Leticia Skeete...21 Kira Bertrand
.......5 Julie Karn...2 Kelly Cook...19 Claudia Piazza
.......12 Nicole Lyon...18 Emily Brown...11 Suzanne Bouramond
Subs:...13 Alison Gondosch (gk)...14 Lia Foster (def)...23 Lucy Cunningham (def)...9 Cassie Briscoe (mid)...15 Ronnie Bosco (mid)
...8 Courtney conrad (fwd)...22 Colleen Beesley (fwd)
team officials:...head coach Stuart Neely
Game officials:...referee Joe D'Onofrio...referee's assistants John Turcotte and Tuha Nour...fourth official Manny Orellana
...neon yellow shirts, black shorts and socks)
1st Half:...game starts 6:59pm...TLL defend north end on this mild evening with a bright sun in the north west.
1 min...TLL Lukasewich 35 yard freekick from left bounces into right side of net but offside flag is up.
4 min...TLL goalie runs out to edge of box to grab through ball.
5 min...TLL Culver heads ball back to own goalie who bobbles and drops it but turns to smother ball at 12 yards.
6 min...KWU Piazza 22 yard low shot up middle is wide left.
12 min...KWU Cook 22 yard shot from wide right is shanked wide right of net.
13 min...TLL goalie catches KWU Masters high cross at 10 yards in front of crowd of players.
15 min...TLL Listro rush on right and rolls cross from 22 yards near end line that KWU Tikka kicks from 6 yards behind end line.
18 min...TLL Solow 36 yard freekick down middle is just over bar.
20 min...KWU Tikka 24 yard freekick from right is low and into player wall and ball is cleared.
24 min...TLL Listro high cross from 35 yards on right is headed high and wide left on 10 yard headers of TLL player and KWU Tikka.
26 min...TLL Syme header from 40 yards on right has goalie beat TLL Monsivais Deree to catch ball at 15 yards.
28 min...TLL Monsivais Deree cross from 25 yards on left has TLL Syme head ball forward from 15 yards up middle but easy for goalie to grab.
32 min...KWU Nicole Lyon GOAL...KWU Emily Brown sends short low pass across field from 20 yard line on left and Lyon cuts back low 22 yard shot from right into left corner of net past diving goalie Carissa Miller.
34 min...KWU Lyon blasts 20 yard shot from left just over net.
36 min...TLL Lukasewich and KWU Skeete battle from KWU 30 yards on left well over end line for KWU goalkick.
37 min...TLL Culver 45 yard freekick from down middle has KWU Skeete flick 20 yard header back to goalie.
38 min...TLL Culver 50 yard freekick from right has TLL Solow not able to keep ball in from 20 yards on left end line.
39 min...TLL Monsivais Deree long run down left and cuts cross from near end line back to center but cleared at 15 yards in middle of box.
43 min...TLL Wallin cross from 30 yards on right has TLL Monsivais Deree flick 16 yard header that goalie catches.
46:06 min...half ends 7:45pm.
2nd Half:...starts 8:02pm...the setting sun is still bright in the north west and now TLL players have to run into it.
halftime sub:...KWU Foster replaces Karn.
45 min...KWU Brown 16 yard shot is deflected for cornerkick.
46 min...KWU player's cornerkick from left has nearest defender clear.
48 min...KWU Lyon rolls 22 yarder up the middle which goalie dives to save in middle.
50 min...KWU Bouramond cross from 20 yards on far left is caught by goalie.
51 min...TLL Listro 20 yard cross from right bounces through box unplayed.
53 min...TLL Lukasewich 55 yard freeekick from left sideline has TLL player head ball in crowd of players at 20 yards and is caught by goalie.
55 min...KWU Tikka 50 yard freekick from right has goalie catch.
56 min...TLL Lund is fed bouncing pass through defenders over to left and 25 yard shot is wide left.
58 min...KWU Tikka 38 yard freekick down middle has TLL Culver leap to head at 20 yards but play is flagged down.
59 min...KWU Tikka cornerkick from left is over players in box and KWU player crosses from right that defender heads left and Tikka recross is cleared.
60 min...KWU Lyon tips ball through defenders at 20 yards but ball rolls to goalie.
63 min...TLL YELLOW card...Monsi earns it for argueing with referee while waiting for a TLL throw-in.
65 min...TLL sub...Gilpin replaces Monsivais Deree.
67 min...KWU Tikka 40 yard freekick from right sideline is over playes in box and bounces wide left.
69 min...TLL Gilpin chips 30 yard high shot up middle that's drops just over bar.
71 min...KWU sub...Conrad replaces Brown.
73 min...KWU Suzanne Bouramond GOAL...KWU Nicole Lyon chips pass from 22 yards on right that finds Bouramond on left and she takes 12 yarder on sharp angle into top right corner of net.
74 min...TLL player's 25 yard shot from right is saved by goalie at 6 yards.
75 min...KWU YELLOW card...Conrad earns it for something.
77 min...KWU Conrad rush down left for ball and rolls 25 yard shot.
78 min...TLL sub...Saleido replaces Speller Drews.
........TLL sub...Dillon replaces Culver.
81 min...TLL Solow 40 yard freekick from right has TLL Saleido make play to take shot.
81 min...TLL sub...Pongetti replaces Korolas.
........KWU sub...Brtiscoe replaces Lyon.
82 min...TLL Listro 30 yard cross from right has goalie make overhead catch.
83 min...KWU Foster is injured at TLL 30 yard line.
85 min...TLL Lund has goalie better to through ball pass at 6 yards on right.
87 min...KWU Bertrand 30 yard high shot from left has goalie catch.
88 min...KWU sub...Beesley replaces Boroumand.
90 min...KWU sub...Cunningham replaces Piazza. It looked like Cunningham had come on a minute earlier but was pulled back until she removed her earrings.
92 min...KWU Syme 25 yard shot from left is caught by goalie.
93:08 min...game ends 8:50pm.
Final Score:......Toronto Lady Lynx.......0......K-W United.......2....
Attendance was about 70 on this mild but cooling afternoon with a bright sun in the north west for the entire match.
Stephanie Bukovec earned the shutout for KWU in a game where she didn't have much to do. She was helped by defender Leticia Skeete (former Lady Lynx player) who made some key clearances. KWU defender/captain Kelsey Tikka took most of the cornerkicks and freekicks.
The Lady Lynx had few chances and now have scored only 5 goals in 5 games. Their defence was sound in limiting KWU to few in-close shots.
The game wasn't rough at all and referee Joe D'Onofrio gave out one Yellow card to each team that I counted.
Stuart Neely is the head coach of KWU Ladies which is double duty as he is also the Men's team head coach. Neely said his Men's team is playing a home game tomorrow so he'll be there. These are the same roles that Duncan Wilde occupies this year although he wasn't here today. The Lynx will be playing at home at Sheridan College in Oakville tomorrow at 4:00pm.
This was the first game of the season at this venue for the Lynx/Lady Lynx as the stadium is supposed to be undergoing renovations in time for the Pan Am games next summer. They've driven away the Lynx and the CSL teams Toronto Croatia and Serbian White Eagles. The Lady Lynx were able to secure a few dates here 'between renovation dates'. I didn't notice a single change. While there is no soccer scheduled for Toronto at these games, this stadium is supposed to get sports like field hockey.
Because their DJ wasn't here, the Lynx were not going to open up the press box but the maintenance guy opened it up for me and so it had a working scoreboard--although hard to see in the first half because of the bright sun—and announcements although I wasn't sure until I asked after the game if anyone could hear what I was saying.
Lady Lynx record falls to 2 wins, 1 loss, and 2 ties while KWU improves to 3 wins, 2 losses, 0 ties to pass Toronto by one point in the standings.
Lady Lynx next game is this Wednesday the 18th here at Centennial Stadium at 2:00pm against the 5 win, 0 loss, 0 tie Ottawa Fury.
Rocket Robin
robing@eol.ca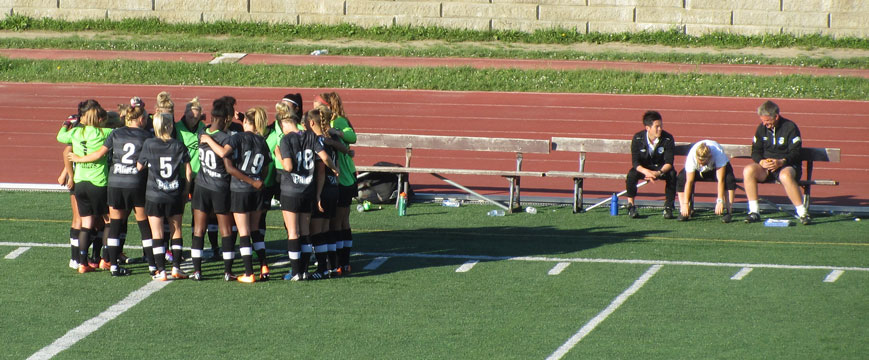 K-W United players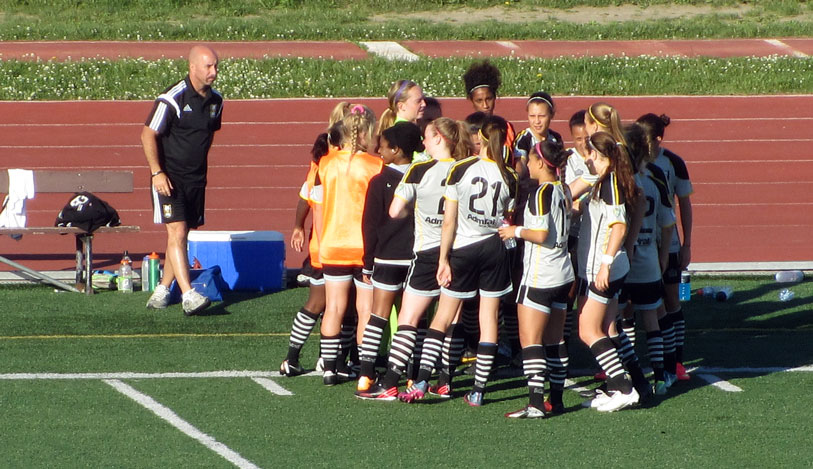 Toronto Lady Lynx starters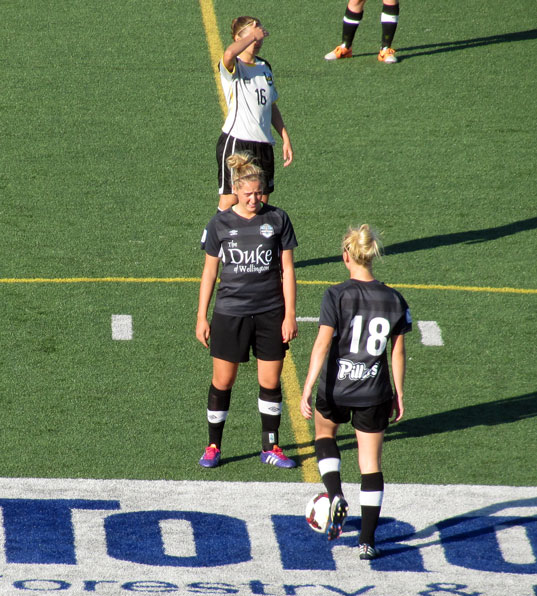 KWU Claudia Piazza (19) and Emily Brown (18) take opening kickoff.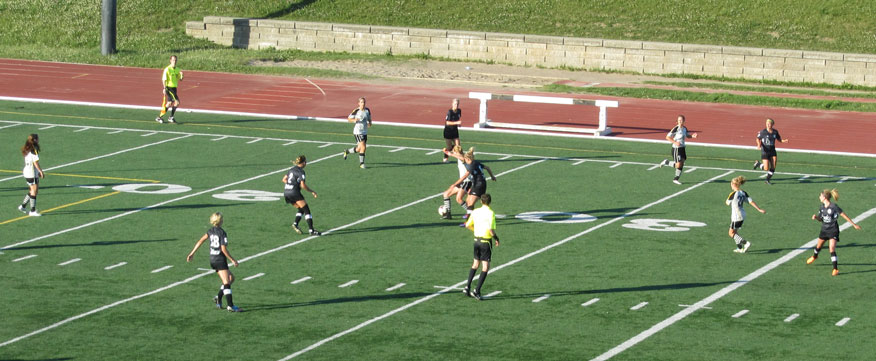 A battle for possession.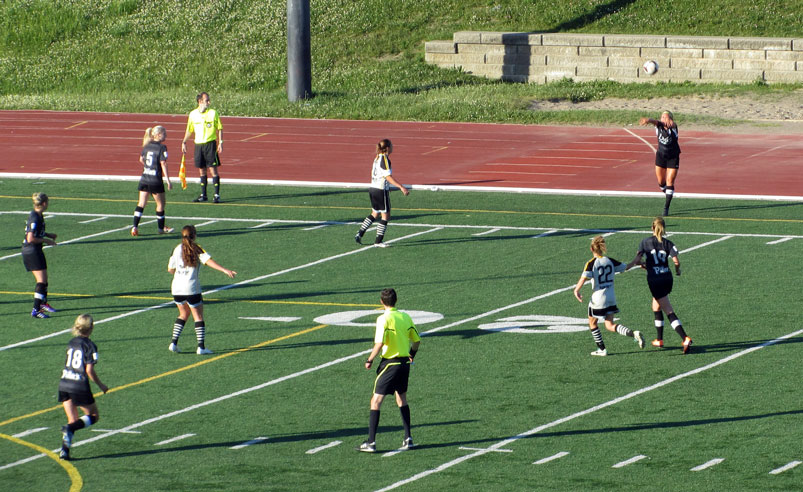 A KWU throw-in.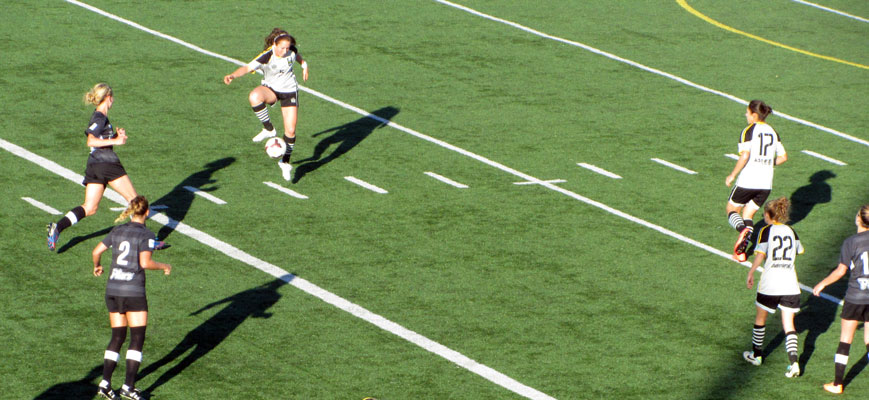 Lady Lynx Madison Solow (5) with ball.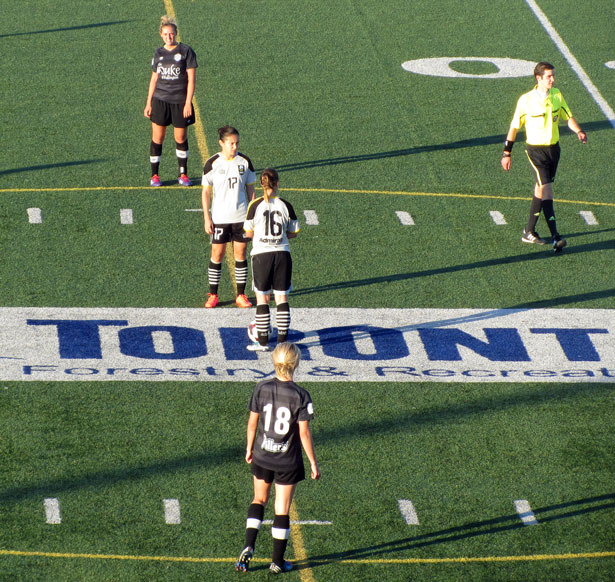 Lady Lynx Monica Monsivais Deree (17) and Heather Lund (16) take second half kickoff.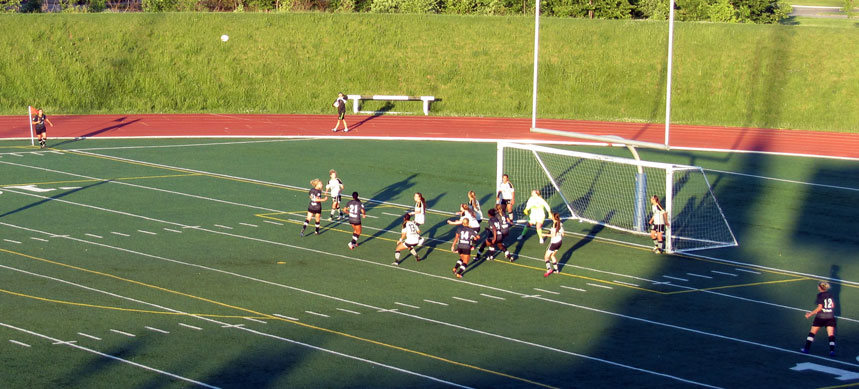 A KWU cornerkick.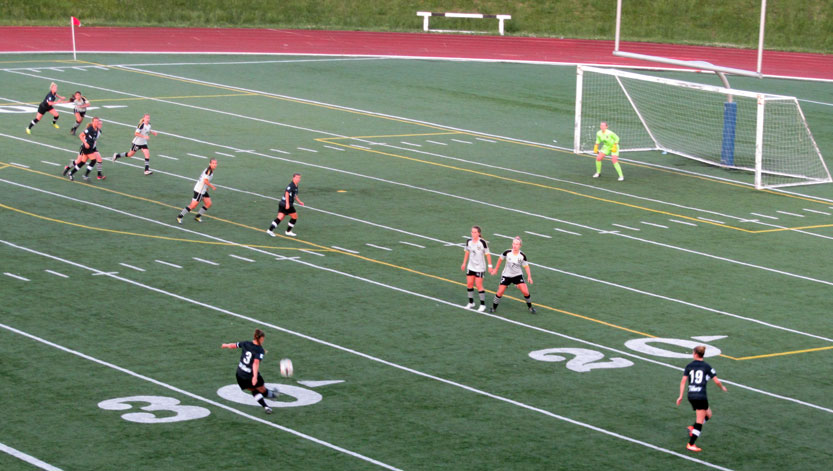 KWU Kelsey Tikka (3) takes freekick.
.
.