..............................................

Result of the MLS Reserves League game of Saturday April 6th, 2013 between Toronto FC Reserves and FC Dallas Reserves played at BMO Field in Toronto at 7:00pm (although the game started at 6:45pm).

Formation as I saw it for the Reserves game was:
Toronto FC Reserves (all red, white names and numbers)
...............24 Stefan Frei (cpt)
33 Ryan Richter...4 Doneil Henry...2 Logan Emory...5 Ashtone Morgan
35 Manny Aparicio...8 Kyle Bekker...17 Justin Braun...9 Emery Welshman
......28 Taylor Morgan...32 Andrew Wiedeman
Subs:...40 Quillan Roberts (gk)...26 Ashton Bennett (fwd)...38 Mark Anthony Kaye (mid)...?? Jevon Gayle...?? Chris Manella
...?? Michael Wagenknecht
Note: one of the unidentified players wore #55 and played the entire second half. I'd say it was either Mannella or Wagenknecht.
FC Dallas Reserves (blue socks and shorts, blue shirt backs, blue & white hooped shirt fronts, white names and numbers)
..................18 Chris Seitz
37 Alex Dominguez...21 London Woodberry...38 Christian De Luna...35 T J Nelson
23 Kellyn Acousta...27 Je-Vaughn Watson...16 Bobby Warshaw...28 Victor Ulloa
..............13 Bradlee Baladez...11 Fabian Castillo
Subs:...30 Kyle Zobeck (gk)...40 Richard Sanchez (gk)...34 Marco Carrizales (def)...?? Michael Ortiz

Game officials:...referee Justin Tasev...referee's assistants Gianni Facchini and Austin Cavello...fourth official Yusri Rudolph ...(neon yellow shirts, black shorts and socks)
1st Half:...game starts 6:44pm...TFC defends south end on this cold evening with the temperature dropping fast. There are storm clouds blocking out the sun but there is no rain during the game. Since the scoreboard is not operated during this game, all times are converted from my wristwatch.
3 min...FCD Castillo long run to left end line but a TFC defender slides in to cut off cross.
4 min...FCD Castillo cornerkick from left has ball deflected back to him and his recross is chested down by a defender for a fast TFC breakout.
7 min...FCD Castillo 30 yard freekick is caught by goalie.
9 min...TFC Braun crosses after rush on left to FCD 30 yards is headed away on edge of box.
10 min...TFC Bekker chips ball forward from FCD 35 yards and goalie flies forward to head ball away at 20 yards between two charging TFC forwards.
10 min...FCD goalie barely gets away clearance kick at 5 yards when rushed by TFC player.
11 min...TFC Taylor Morgan leaps to pop up header at 20 yards that goalie catches.
14 min...TFC Ashtone Morgan blasts 40 yard shot over crowd of players that's caught by goalie.
19 min...TFC sub...Kaye replaces Welshman who'd left the game two minutes earlier.
21 min...TFC Kaye rushes for long ball into FCD box but defender knocks it away.
22 min...TFC Henry clears FCD cross into box from 30 yards.
25 min...TFC defender clears long throw-in from right side into box.
26 min...TFC Aparicio 22 yard low blast from left has goalie dive to block at 6 yards.
27 min...TFC Bekker bends 30 yard shot from right is over crowd of players that goalie catches high on left post.
28 min...TFC Braun rolls pass forward from right and TFC Wiedeman in middle rolls 22 yard shot that goalie slides to block then cover at 8 yards.
29 min...TFC Bekker 25 yard freekick from left is caught by goalie on left post.
29 min...FCD Nelson 22 yard shot on rush on left is caught by goalie.
33 min...TFC Wiedeman blasts 25 yarder over net when TFC Taylor Morgan taps him back pass up middle.
35 min...TFC Taylor Morgan cross from right end line drifts behind net.
41 min...TFC Bekker can't win Penalty kick on run into left side of box and he gets knocked/falls over.
44 min...TFC Ashtone Morgan rolls 25 yarder from left aht goalie smothers.
45 min...TFC Henry leads away recross of cornerkick into box from left.
46 min...TFCR Mark Anthony Kaye GOAL...TFCR Ryan Richter rolls ball from 30 yards on right through crowd of players and Kaye slides to get away 12 yard roller before sliding defender can get to it up middle and beyond diving goalie Chris Seitz to the left post.
47 min...half ends 7:31pm.
2nd Half:...starts 7:48pm.
halftime subs:...TFC #55 is now in the game replacing Braun.
47 min...TFC Ashtone Morgan low kick into FCD box after some TFC pressure builds up but ball is cleared.
47 min...TFC Emory is hurt kicking ball at same time as an FCD player at TFC 30 yards. He grabs his foot and yells for help. After play is finally stopped well upfield, he complains that the assistant referee should have signalled play to stop earlier.
49 min...TFC Kaye and FCD Dominguez are both hurt in sliding tackle as both went in for ball at TFC 45 yards.
55 min...TFC sub...Bennett replaces Kaye.
56 min...FCD Ulloa is stripped of shot down middle on sliding tackle at TFC 15 yards.
58 min...TFC goalie is out of box to head away through ball before FCD players can close in.
60 min...TFC Taylor Morgan slips after running past fallen defender and another clears ball from FCD box.
61 min...TFC YELLOW card...Richter for hand ball preventing FCD through ball at TFC 50 yards. (TFC site says it was Henry who earned the card).
64 min...TFC Richter long run on right and long cross over box has TFC Bennett not able to control ball and he pushes it over end line.
65 min...FCDR RED card...London Woodbury is sent off directly by referee Justin Tasev after a tackle on TFCR Manny Aparicio at FCD 40 yards on rush up right side.
66 min...TFC Bekker 45 yard freekick from right has TFC Bennett miss ball at 20 yards on left while in all alone.
67 min...FCD Warshall knocks down and clears dangerous cross into FCD box.
69 min...FCD Castillo crosses ball from left on edge of box that FCD Baladez touches and FCD Watson blasts over net from 20 yards.
70 min...TFC Aparicio cuts shot from 20 yards down middle well over net when he's touched back pass.
71 min...FCD Castillo is checked off ball on left side of TFC box.
72 min...FCD player's work in a four pass play but finally play is called offside at 5 yards.
77 min...TFC Henry makes important sliding tackle on FCD Castillo after his long run into the TFC box.
78 min...TFC Bennett on 2 on 2 rush bends 20 yard shot well high and wide right of the net.
79 min...FCD Dominguez rolls pass cross from 25 yards and FCD Baladez rolls 18 yarder wide left of net.
80 min...FCD Baladez blasts low 12 yarder from left that diving goalie pushes over net.
80 min...FCD sub...Carrizales replaces Dominguez.
81 min...FCD Castillo cornerkick from left is caught by goalie.
84 min...TFCR Ashton Bennett GOAL...TFCR Andrew Wiedeman passes from 22 yards on right across box and Bennett finds clear space around defender and bends inswinging 18 yarder into right corner of net behind flying goalie.
86 min...TFC Bennett rushes on left and bends 25 yard shot well high and wide right of net.
90 min...FCD Carrizales taps pass to FCD Baladez who shoots through defenders and over net from 20 yards.
91 min...game ends 8:34pm.
Final Score:.....Toronto FC Reserves.....2.....FC Dallas Reserves.....0......
Attendance started off at about 30 and finished with about half that as the weather continued to get colder and windier to about 4 Celsius. This game was played within 45 minutes of the main MLS game ending. (Attendance at that game was declining since before Dallas scored their second goal and those people missed TFC's two goal comeback for a tie).
At 19 minutes Mark Anthony Kaye replaced Emery Welshman (who had not played in the main game). Welshman must have been injured as Kaye came in about two minutes after Welshman had to leave. Kaye is from the TFC Senior Academy team (thanks to one of the few fans for supplying me with that info).
The start of the second half had TFCR Logan Emory hurt in the ankle kicking a ball at the same time as an FCDR player and was upset that it took so long to stop play. Two minutes later TFCR Kaye and FCDR Alex Dominguez were both hurt in each other's sliding tackles as they crashed together. All players ended up continueing the game.
Both teams defenders coverered well; clearing dangers when the ball came into the box. Stefan Frei had only one great save to make at 80 minutes when FCDR Bradlee Baladez blasted a low 12 yard shot from the left that he dived and pushed the ball over the bar.
Ashton Bennett came in at 55 minutes replacing Kaye. While he did score at 84 minutes, he fired shots from about the same distance both before and after the goal well off target.
Rocket Robin
robing@eol.ca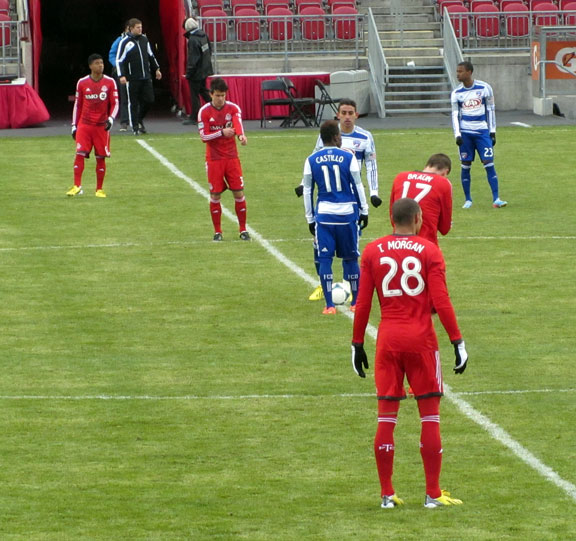 FCD Fabian Castillo (11) and FCD Bradlee Baladez (13) take opening kickoff.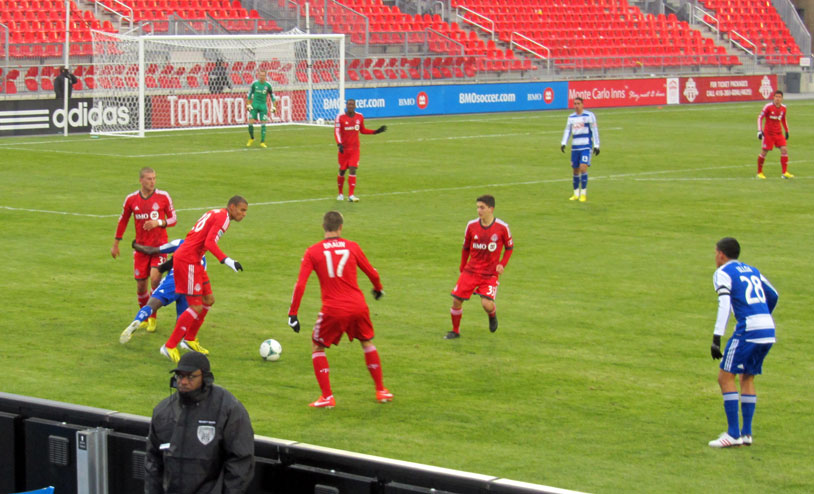 TFC Taylor Morgan (28) wins ball.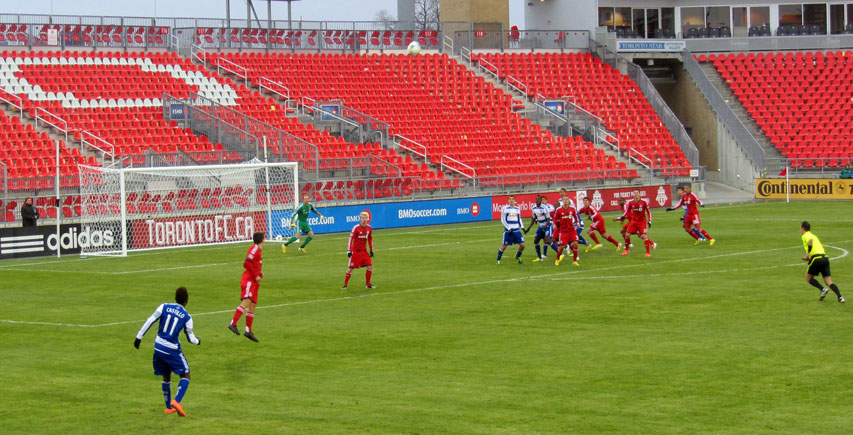 FCD Fabian Castillo (11) curls freekick into box.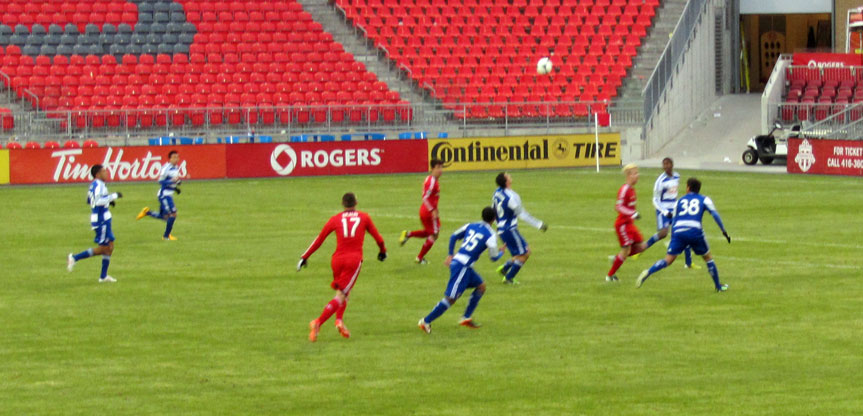 FCD Bobby Warshaw (16) is in the best position to make this defensive play.


Handshakes after the game.
back to TFC 2013 news and results
.
.