Result of the Saturday May 26, 2012 MLS Reserves League game 
between Toronto FC and Philadelphia Union played at BMO
Field at 7:00pm.

14 min...PUR Jack McInerney GOAL...McInerney bends 22 yard 
shot from left to top right corner of net beyond flying
goalie Quinlan Roberts.

36 min...TFCR Efrain Burgos Jr GOAL...TFCR Nick Soolsma run 
down middle and passes to TFCR Matt Stinson who taps over 
to TFCR Terry Dunfield who rolls ball to left over for Burgos 
who from left blasts 25 yard shot into top right corner 
of net beyond goalie Brian Rowe.

53 min...TFCR Efrain Burgos Jr GOAL...PUR defender gets 
foot up so TFC Oscar Cordon in center can't get to cross 
from right.  Ball deflects over to Burgos on left who has 
clear shot and takes 18 yarder into right side 
of net beyond flying goalie.

56 min...PUR Jack McInerney GOAL...PUR Christhian Hernandez
from 35 yards feeds McInerney down middle and he shoots 
15 yarder under sliding goalie.

65 min...TFCR Oscar Cordon GOAL...TFC Luis Boa Morte 
holds off defender up middle and rolls ball forward 
from 30 yards.  Cordon shoots 20 yarder up middle into 
low right side beyond diving goalie.

Final Score:.....Toronto FC Reserves.....3.....
Philadelphia Union Reserves......2.........

Attendance was about 300 on this hot evening taking
place just over half hour after the main MLS game ended.  
About 200 stayed until the end of the game.  Fans were 
squeezed into the east stands.

I had the lineups as:
Toronto FC Reserves
...........................40 Quinlan Roberts
27 Richard Eckersley...31 Dicoy Williams...20 Ty Harden...38 Tyler Pasher
.....15 Matt Stinson...23 Terry Dunfield...33 Efrain Burgos Jr
.....18 Nick Soolsma...14 Danny Koevermans...35 Luis Boa Morte

Subs:...halftime...13 Keith Makubuya replaces 18 Nick Soolsma 
...................16 Oscar Cordon replaces 27 Richard Eckersley
...................32 Jordan Hamilton replaces 14 Danny Koevermans
73 min...34 Chris Manella replaces 31 Dicoy Williams
75 min...36 Mario Orestano replaces 35 Luis Boa Morte

Philadlephia Union Reserves
....................88 Brian Rowe
.....5 Greg Jordan...15 Amobi Okugo...4 Christian Ibeagha
20 Jimmy McLaughlin...29 Antoine Hoppernot...31 Christhian Hernandez...19 Andreas Chronis
........12 Chandler Hoffman...9 Jack McInerney...17 Josue Martinez

Subs:...halftime...16 Jimmy McConnell replaces someone.
67 min...22 Colton Storm replaces 17 Josue Martinez
unused sub...32 Chase Harrison as a spare goalie.

Tyler Pasher looked like the best defender on the line with
him being to only one I noticed who did not make a mistake.
Luis Boa Morte had a strong game from a strong man who couldn't
be knocked off the ball.  He is a trialist from Portugal (and
an international for them until 2009) who last played for  
Orlando Pirates in South Africa.  He played in the midfield.

Danny Koevermans looked the poorest player on TFCR.  He had
played from 61 minutes in the main game and scored the
winning goal at 87 minutes and probably had to run the gauntlet
of post game interviews.  This must have been a let down for
him.  I'd have rather seen one of the younger players get a
longer look.   

Brian Rowe was the goaltender for PUR.  He was the backup goaltender
for Toronto FC earlier this year from the MLS pool after the injury
to Stefan Frei until the club signed Quinlan Roberts from their
Academy roster.  Frei could be seen on the sidelines at the MLS
game with crutches and still with his leg in a cast and a playoff 
beard.

Best non-scoring chances were at 9 minutes the the TFCR goalie 
made a save off PUR Jack McInerney and then two blocks 
on PUR Antoine Hoppenot while down on the ground and 
then was able to grabb the ball.  45 minutes had PUR Josue
Martinez crossed from the left over the box and a PUR player
crossed back and another player on the left post too bar over 
to knock it in.  55 minutes had PUR McInerney take a cornerkick
from the left that drops in the box and PUR Christian Ibeagha
shot over the net from 10 yards.   

Referee Justin Tasev kept the cards in his pocket rather than
take over the game except for one to each team.  TFCR Terry
Dunfield earned one at 30 minutes for kicking the ball away
after the whistle for a foul by TFCR Oscar Cordon.  PUR Amobi
Okugo earned one at 88 minutes for a tackle near the PUR right
cornerflag.  

Without a huge crowd and the hawk taken off the roof of the west end,
the seagulls flew around.  They were scared away by pinwheeled 
fireworks (the kind that scream into the sky) and the hawk being
brought over to the east stand.

Rocket Robin
robing@eol.ca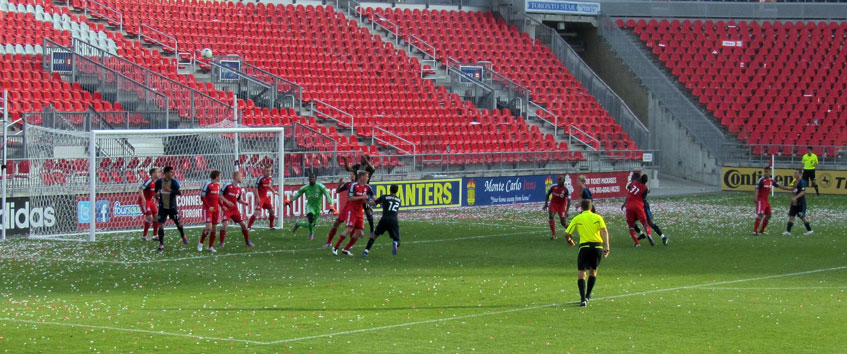 Ball popped up through TFCR box on PUR freekick.


PUR Christhian Hernandez (31) takes freekick.


TFCR defender Dicoy Williams charges out of box with to ball.


TFCR Nick Soolsma passes over to charging TFCR Matt Stinson.


PUR Andreas Chronis (19) closes in from the left.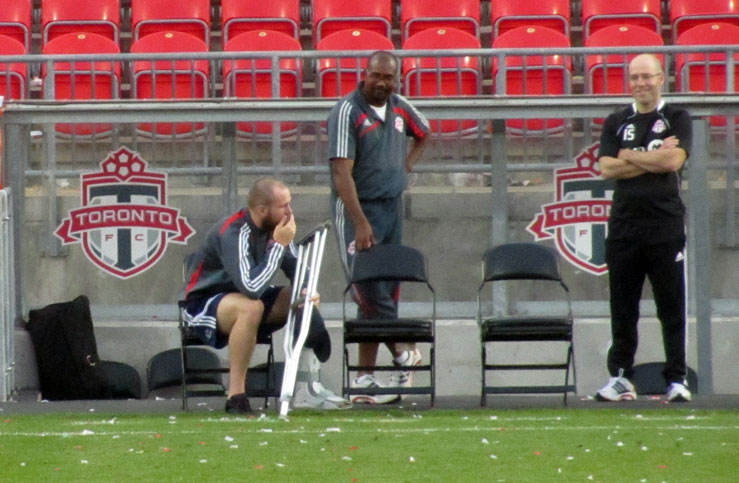 Injured TFC first team goalie Stefan Frei is still on crutches and a leg cast watches game from the dugout with a playoff beard.


PUR Christhian Hernandez (31) tries to get to ball.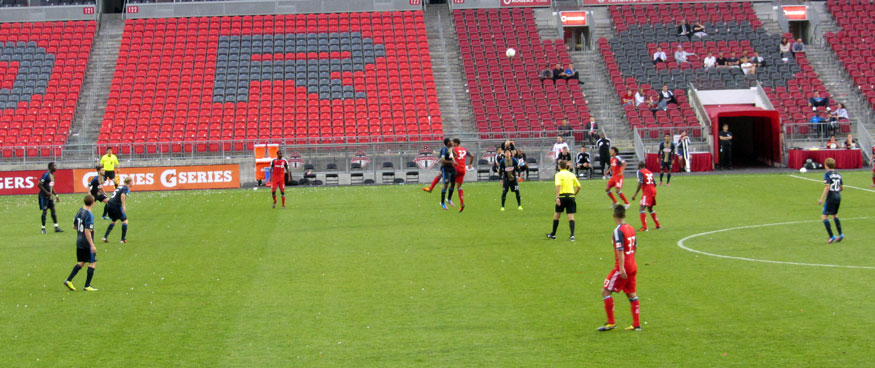 Ball is headed up.


PUR rush.


TFCR freekick.
back to TFC 2012 news and results
.
.