..............................................

Result of the Saturday May 5th, 2012 MLS game between Toronto FC and D.C. United played at BMO Field in Toronto at 4:00pm.
Toronto FC (all red, white names and numbers, black shoulders and sleeves)
........................30 Milos Kocic
27 Richard Eckersley...4 Doneil Henry...3 Miguel Aceval...5 Ashtone Morgan
........6 Julian de Guzman...22 Torsten Frings (cpt)...11 Luis Silva
.........19 Reggie Lambe...9 Ryan Johnson...8 Eric Avila

Subs:...40 Quillan Roberts (gk)...7 Joao Plata (fwd)...12 Adrian Cann (def)...20 Ty Harden (def)...23 Terry Dunfield (mid)...25 Jeremy Hall (def) ...33 Junior Burgos (mid)
team officials:...head coach Aron Winter
D.C. United (all black, white names and numbers)
......................28 Bill Hamid
14 Andy Najar...4 Brandon McDonald...21 Daniel Woolard...22 Chris Korb
13 Chris Pontius...2 Danny Cruz...7 Dwayne De Rosario (cpt)...24 Lewis Neal
..............23 Perry Kitchen...29 Maicon Santos
Subs:...31 Joe Willis (gk)...3 Robbie Russell (def)...6 Kurt Morsink (mid)...8 Branko Boskovic (mid)...9 Hamdi Salihi (fwd)...16 Josh Wolff (fwd) ...20 Stephen King (mid)
team officials:...head coach Ben Olsen
Game officials:...referee Mark Kadlecik...referee's assistants Greg Barkey and Philippe Briere...fourth official John McCloskey... (sky blue shirts, black shorts and socks)
1st Half:...game starts 4:07pm...TFC defend south end on this warm and sunny afternoon with a bright sun in the south and the wind also blowing from the south. There were times during the game when it became overcast.
40 sec...DCU Woolard 55 yard freekick down middle finds DCU Santos just inside box who heads ball back to DCU De Rosario who has 20 yard shot blocked by TFC de Guzman.
3 min...TFC Avila receives throw-in from left and turns and lofts 30 yard cross from left that's well high and wide right of net.
TFC Frings has retreated to play as central defender already!
6 min...DCU Pontius pushed off ball at 15 yards by TFC Frings on run up right after long pass up sideline from DCU Najar.
8 min...DCU Kitchen cross from 40 yards on right bounces wide left of net.
9 min...TFC Morgan rushes down left side and crosses from 25 yards near cornerflag into box where DCU McDonald pops up header at 6 yards and TFC Johnson leaps to get away header wide left of net from 10 yards while his back is towards DCU goal.
10 min...DCU Neal chips 30 yarder from left high and wide right of net.
14 min...TFC Johnson cross from 25 yards on left has DCU Woolard dive at 8 yards to head ball away for throw-in on left.
14 min...DCU goalie smothers TFC Morgan low 25 yard cross from left sideline near endline.
17 min...TFC Johnson low cross from 25 yards is behind charging TFC Silva at 10 yards and defender clears from box yards.
17 min...TFC Eckersley at 40 yards on right gives pass forward to TFC Johnson who crosses from 25 yards on right is popped up by defender's mid-air boot on right and retreating DCU Najar heads ball from 7 yards wide left for cornerkick to preventing TFC player from getting to header.
18 min...TFC Frings cornerkick from left is caught by goalie unthreatened in box.
21 min...DCU Santos is called offside on his header at 20 yards on the left.
22 min...TFC Morgan whiffs clearance at 22 yards and ball deflects back but wide right and goalie kicks ball out for throw-in rather than surrender cornerkick.
it's now cloudy.
23 min...DCU Kitchen header from 16 yards bounces to goalie after partial clearance of long throw-in from right by DCU Pontius has defender on right pop up header through box.
25 min...DCU Cruz rolls weak 28 yard shot up middle as he falls then stays down injured on tackle by TFC Avila.
28 min...TFC Avila turns and crosses 35 yarder from left into the box and DCU goalie charges left to catch defender's popped up header to prevent TFC Johnson from getting to it at 8 yards.
31 min...TFC Frings 55 yard freekick from left has TFC Henry pop up header with back to net from 20 yards and ball flies wide right of net.
31 min...DCU Santos on rush on right pushes 20 yard ball over end line on centering pass.
33 min...TFC Frings chests down and clears cross sent into TFC box from right by DCU Najar.
33 min...TFC Morgan gets pass on run on left wing and cuts towards goal and rolls 12 yard ball across edge of 6 yard box where DCU defender slides to knock ball away. TFC Johnson follow up rebound from 18 yards has flying goalie punch ball away to right of net where defender runs ball out of box.
34 min...DCU Santos 25 yard low shot up middle through crowd of players has goalie fly to catch at 5 yards in center of net.
35 min...TFC Avila gets touch-back pass from TFC Johnson and blasts 22 yard low shot that's wide left.
36 min...TFC Eckersley throw-in along right end line has TFC de Guzman roll pass unplayed through 6 yard box.
38 min...DCU goalie charges left to pick up through ball near edge of box ahead of TFC Johnson.
the sun is now out again.
43 min...TFC Aceval 30 yard freekick up middle is blocked in player wall and eventually cleared as blocked twice on edge of box.
44 min...DCU Kitchen 22 yard chip down middle in crowd of players is over net.
45 min...TFC Johnson cross from 30 yards on left has DCU Woolard head ball away on right to prevent TFC player header at 12 yards.
46 min...half ends 4:53pm.
Halftime entertainment:..there was a cake decorating contest for Mother's Day (which is next week when there is no game). Five teams had seven minutes to ice a cake with a TFC theme. I didn't notice where the contest even was until near the end when I saw through the jumbotron that it was in the north end zone. The winners used a simple '9' in a shirt outline for their Danny Dichio cake to win according to MC Rachel despite it not drawing the loudest round of applause from the apathetic audience. Elsewhere some t-shirts were thrown to the fans in the stands.
2nd Half:...starts 5:10pm. The sun is out again.
halftime subs:...DCU Boskovic replaces Neal.
..............TFC Plata replaces Silva.
45 min...TFC Plata high cross from 25 yards on left is headed away in center of box by two defenders.
46 min...TFC Frings cornerkick from left has goalie punch ball away at 5 yards in crowd of players.
47 min...TFC Morgan rush on left and cross from 25 yards has DCU Woolard knock ball down at 3 yards and DCU Korb clear ball away from box at 5 yards as TFC Lambe charges past him and TFC Johnson misses header.
49 min...TFC de Guzman 20 yard midair shot from right is batted down and picked up by goalie.
51 min...DCU YELLOW card...Pontius earns it for knocking over TFC Eckersley near center line sideline as TFC Eckersley makes pass.
53 min...TFC goalie makes bad clearance and DCU Cruz at 25 yards on right chip shot that deflects off TFC Frings at 20 yards and flies over goalie and lands on top of the net.
53 min...DCU player's cornerkick from right has charging DCU Pontius on left head 3 yarder across face of goal and bounce off TFC Eckersley at 3 yards back to goal line where TFC Lambe saves it (with arm) and ball cleared from box.
54 min...DCU Chris Pontius GOAL...DCU Brandon McDonald at 50 yards on right makes low pass to find Pontius in middle at 30 yards and his 22 yard blast up middle bends into top left corner of net beyond flying goalie.
56 min...DCU McDonald 55 yard chip from right is over players and bounces to goalie.
58 min...TFC Lambe 35 yard blast up middle has flying goalie block on left. TFC Plata rebound cross from 10 yards on left has defender block at 5 yards and ball deflect back for goalie to smother wide left of post.
59 min...DCU goalie catches 30 yard chip from right by TFC Lambe over charging TFC Johnson.
59 min...DCU Cruz rolls 20 yard cross from right that goalie dives forward to smother.
60 min...TFC Aceval cornerkick from right has DCU Santos head ball away from 6 yards. A partial rebound shot from TFC Plata from 20 yards on left is blocked. TFC Henry and TFC Frings crashed together at 6 yards.
64 min...DCU sub...King replaces Pontius. TFC Frings runs over to sideline to have his shoulder looked at.
64 min...TFC Avila low cross from 28 yards on left has defender head ball away from 12 yards on left.
65 min...DCU Najar is injured at DCU 40 yards.
66 min...TFC sub...Hall replaces injured Frings and he tosses captain's armband down for TFC de Guzman to play captain.
67 min...TFC player's 40 yard chip from left has charging TFC Johnson not quite able to turn header at 12 yards up the middle.
68 min...TFC Johnson cross from 30 yards at right sideline has DCU defender at 10 yards in middle pop up header that bounces behind end line on left.
68 min...TFC player's cornerkick from left is short and crossed in that goalie bobbles and catches in crowd of players.
69 min...DCU Santos is injured at TFC 40 yards.
70 min...DCU sub...Salihi replaces injured Santos. The weather is cloudy again.
71 min...TFC Aceval 40 yard freekick down middle is headed away from 15 yards by defender.
73 min...DCU Boskovic 30 yard freekick from extreme right has TFC de Guzman head away ball at 5 yards on near post.
74 min...DCU Hamdi Salihi GOAL...DCU Branko Boskovic cornerkick from right is cleared on left by header at 10 yards by TFC Reggie Lambe. DCU player charges forward down middle to head ball back into box from 28 yards and DCU Brandon McDonald flicks header forward from 18 yards that finds Salihi who sends in scissor kick shot from 8 yards is into left side of net.
76 min...TFC Eckersley low cross into box from right has goalie step forward and beat TFC Plata to ball at 8 yards.
77 min...TFC de Guzman high cross from 20 yards on extreme left has goalie catch without any challenge.
77 min...TFC Eckersley low cross from 30 yards on run on right has diving defender head ball away at 8 yards in middle of box.
78 min...TFC Eckersley low cross along right end line has defender clear from 6 yard box.
79 min...TFC Plata caught by second defender DCU McDonald after he ran by DCU Najar on run down left.
81 min...TFC Johnson tap back to TFC Hall for low 25 yard shot up middle that goalie smothers.
84 min...DCU waste a freekick at TFC 35 yards.
86 min...TFC Eckersley rolls 18 yard shot on right wide right of net.
87 min...TFC Plata can't draw a Penalty kick on dive in box after taking a 20 yard shot which was blocked.
87 min...TFC Plata has offside goal on 2 on 0 called back.
88 min...DCU Cruz cuts low 25 yard shot from right is wide left after eluding defender.
88 min...TFC YELLOW card...Morgan earns it for tackle from behind on DCU Cruz at TFC 50 yards.
90 min...TFC de Guzman recovers TFC Plata blocked shot and shoots 25 yard roller up the middle that's wide left of net.
93 min...DCU Woolard slides to poke ball from TFC Plata at 8 yards on left and knocks ball behind end line.
93 min...TFC Plata cornerkick from left has DCU goalie step forward and punch ball upwards. TFC Avila chips 15 yard shot from left to TFC Henry to head 6 yarder to left corner of net but DCU King behind goalie heads it behind line on left post.
93 min...TFC Plata low cross from left is cleared by nearest defender.
94 min...game ends 5:59pm.
Final Score:.....Toronto FC......0..........D.C. United...........2........
Attendance was announced as 18364. My section was filled but the vast majority were people I'd never seen before--probably a lot of resells and giveaways from the usual season ticket holders that I know. This was the first TFC game this season that I didn't have to wear a parka. The weather was warm and sunny with periods of clouds. The streetcar from Union station was again replaced by shuttle buses because of track repairs but I was tipped off earlier in the week when I came down here for the CSL press conference so today I came an alternate route.
Man of the Match (which is always a TFC player) was announced as defender Miguel Aceval. Another game of me thinking they should have passed on giving out this award. Before the game, Milos Kocic was presented with the Esquire Player of the Month for April for his community service work.
Toronto FC sets an MLS record for the worst start to a season by losing their first eight games. Fans were booing the team after the first goal. After the second goal, a group of fans started chanting "Let's go Blue Jays" for the baseball team which has a winning record at this point. They were countered by a group of fans in the end zone chanting "Toronto 'til I die" but with ten minutes to go the Blue Jays chant started up again which this time wasn't shouted down.
Bill Hamid earned the shutout for DC United. It was only his second start of this season. I remember he was Red carded very early in a game against Toronto FC last season and they pulled out a 3-3 tie with three goals by Dwayne De Rosario. I thought Joe Willis would be the goalie but in warm ups I saw him get hit with a ball in the face shot by goalkeeping coach Pat Onstad.
Julian de Guzman shadowed Dwayne De Rosario quite effectively this game preventing him from getting any shots or assists this game. The two of them are expected to play at this stadium for the Canadian National team next month in a friendly against the USA then World Cup qualifying.
Not known at the time was that the other Canadian MLS teams both won today. Vancouver beat the first place team in the West, San Jose; and Montreal won against the first place team in the East, Kansas City. The TFC front office and fans expect Toronto will still have the Canadian Championship and then the CONCACAF Championship to play for in the rest of the year but they could be knocked out from all of that as soon as this Wednesday where they have a 0-0 tie in the first leg of their bracket against Montreal.
TFC's playoff chances on www.sportsnetstats.com fell again to a 0.6% chance of making the post season.
The cover of the game program and the tickets had the unsmiling face of head coach Aron Winter. After the game I made some jokes the rest of the evening between friends of the program actually being a 'post game program'.
Rocket Robin
robing@eol.ca

stats from MLSsoccer.com

Major Events



Goals and Assists

DC  55'  Chris Pontius  (Brandon McDonald)
DC  75'  Hamdi Salihi   (Brandon McDonald)

Disciplinary

DC  52'  Chris Pontius  Foul  Yellow card
TOR 90'  Ashtone Morgan Foul  Yellow card



Lineups


 
Toronto - Milos Kocic; 
Richard Eckersley, Doneil Henry, Miguel Aceval, Ashtone Morgan; 
Torsten Frings (Jeremy Hall 67'), Julian de Guzman, Luis Silva (Joao Plata 45'), 
Reggie Lambe, Ryan Johnson, Eric Avila 


... Substitutes not used: Quillan Roberts; Adrian Cann, Ty Harden, Terry Dunfield, Efrain Burgos Jr.


 
D.C. - Bill Hamid; 
Chris Korb, Daniel Woolard, Brandon McDonald, Perry Kitchen; 
Danny Cruz, Lewis Neal (Branko Boskovic 45'), Andy Najar; 
Dwayne De Rosario, Chris Pontius (Stephen King 65'), Maicon Santos (Hamdi Salihi 71') 


... Substitutes not used: Joe Willis, Robbie Russell, Kurt Morsink, Josh Wolff



Referee: Mark Kadlecik
Assistants: Greg Barkey, Philippe Briere
Fourth Official: John McCloskey
 
Attendance: 18364



Match Stats

Toronto FC             D.C. United
 
16  Attempts on Goal     9
 4  Shots on Target      3
 7  Shots off Target     5
 5  Blocked Shots        1
 6  Corner Kicks         2
13  Fouls                9
27  Open Play Crosses    7
 4  Offsides             5
 1  Yellow Cards         1
 0  Red Cards            0
31  Duels Won           40
43% Duels Won %         56%
346 Total Pass         437
72% Passing Accuracy %  76%
45.6% Possession        54.4%



TFC starters


D.C. United starters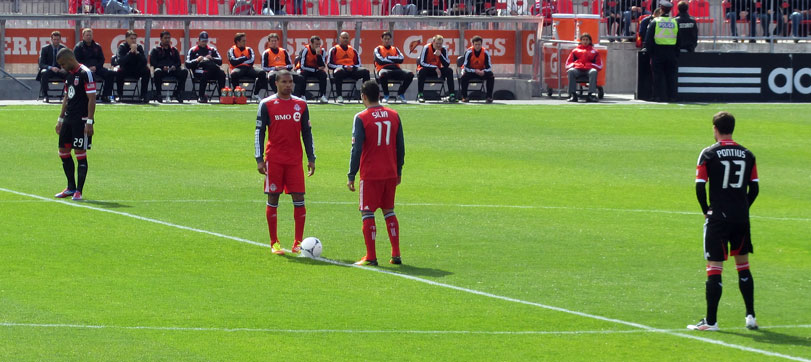 TFC Ryan Johnson (9) and Luis Silva (11) wait to kick off the game.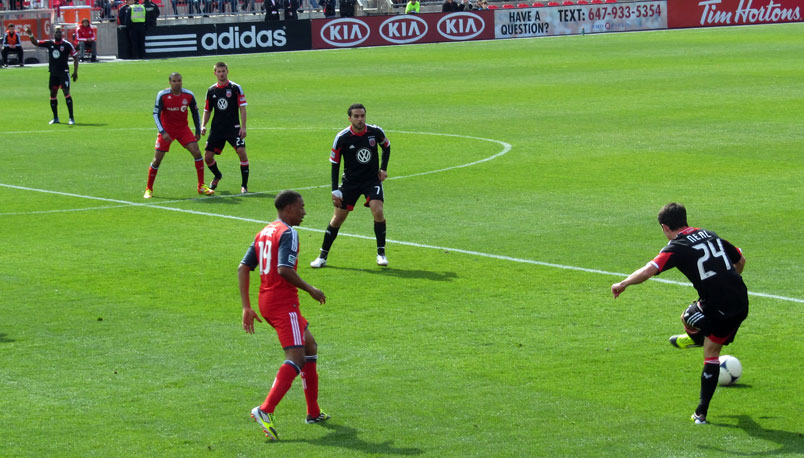 DCU Lewis Neal (24) rolls ball to DCU Dwayne De Rosario (7) as TFC Reggie Lambe watches.


DCU Maicon Santos with TFC Richard Eckersley (27) and Doneil Henry (4) marking.


TFC Miguel Aceval (3) takes freekick down the middle.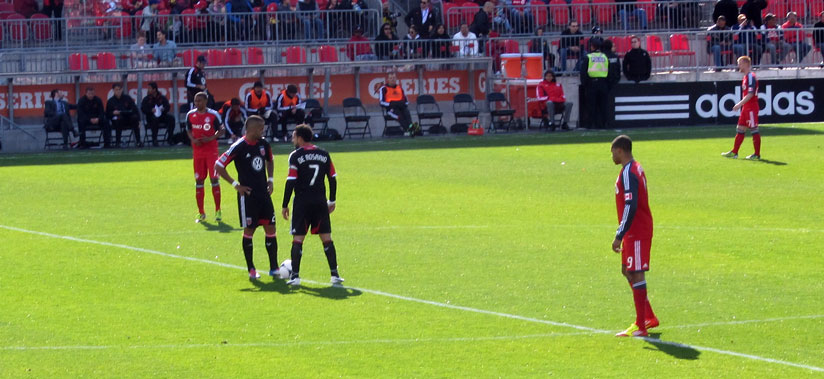 DCU Maicon Santos (29) and Dwayne De Rosario (7) start the second half (both are former captains of TFC)


A partially cleared TFC cornerkick.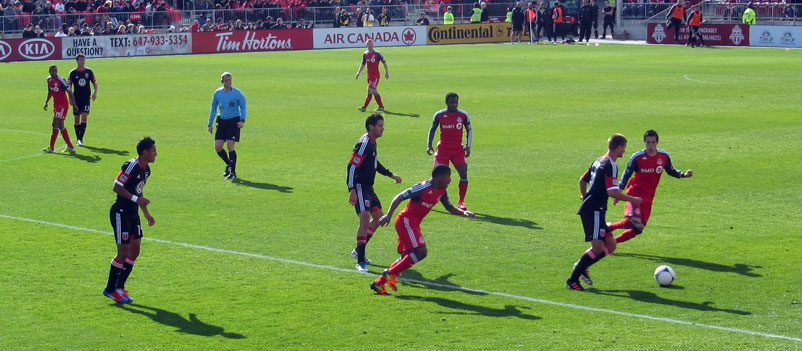 DCU Perry Kitchen (23) rush with TFC Eric Avila (8) shadowing him.
back to TFC 2012 news and results
.
.