............

Result of the Wednesday March 7th, 2012 CONCACAF Championship Quarter Final between Toronto FC and Los Angeles Galaxy played at The Rogers Centre in Toronto at 8:00pm. This was the first leg of the two game aggregate Quarter Final.

Toronto FC (all red, black shoulders and sleeves, white names and numbers)

........................24 Stefan Frei
20 Ty Harden...22 Torsten Frings (cpt)...3 Miguel Aceval...5 Ashtone Morgan
..........27 Richard Eckersley...23 Terry Dunfield...11 Luis Silva
...........9 Ryan Johnson...14 Danny Koevermans...7 Joao Plata

Subs:...30 Milos Kocic (gk)...4 Doneil Henry (def)...15 Matt Stinson (mid)...16 Oscar Cordon (mid)...19 Reggie Lambe (mid)...21 Aaron Maund (def)
team officials:...head coach/technical director Aron Winter...first assistant coach Bob de Klerk...director of player development Paul Mariner
director of team player operations Earl Cochrane

Los Angeles Galaxy (white socks and shirts, navy shorts, names and numbers)

........................12 Josh Saunders
5 Sean Franklin...29 Andrew Boyens...20 A J De LaGarza...2 Todd Dunivant
...........19 Juninho...23 David Beckman...18 Mike Magee
...........10 Landon Donovan (cpt)...7 Robbie Keane...14 Edson Buddle

Subs:...24 Brian Perk (gk)...9 Chad Barrett (fwd)...15 Dan Keat (mid)...16 Hector Jimenez (mid)...21 Tommy Meyer (def) ...26 Michael Stephens (mid)...35 Bryan Gaul (def)
team officials:...general manager/head coach Bruce Arena...assistant head coach Dave Sarachan...assistant coach Curt Onalfo...goalkeeping coach Ian Feuer

Game officials:...referee Courtney Campbell...referee's assistants Ricardo Morgan and Kedlee Powell...fourth official Kevin Morrison... (light green shirts, black shorts and socks)...all officials were from Jamaica.

1st Half:...game starts 8:08pm...TFC defend south end..the Jumbotron is in the north end. Weather was mild as this is an indoor stadium with the roof closed tonight.
2 min...LAG Keane give and go tap back to him as he runs in from left and he shoots roller from 20 yards up middle that's stopped by diving goalie who pushes ball wide right for cornerkick.
3 min...LAG Beckham cornerkick from right has ball headed out left side of box by TFC Koevermans at 7 yards. LAG Franklin recrosses from 25 yards on right and play is flagged offside as LAG Buddle all alone at 8 yards.
4 min...TFC defenders keep LAG players from getting ball into box with blocks and clearances ending with LAG Magee being called offside when he chips goalie from 10 yards.
5 min...LAG flagged offside for third time in game.
6 min...LAG Keane rolls pass up middle from 40 yards too far for forward for charging LAG player and goalie picks up just inside box.
7 min...TFC Eckersley long run up right side and sliding LAG De LaGarza stops his cross attempt just inside box.
8 min...TFC Plata wins cornerkick on rush up left when LAG Boyens deflects ball on his 20 yard cross.
8 min...TFC Frings cornerkick from left has defender head ball away from 5 yards.
9 min...LAG goalie shoots ball upfield and LAG Buddle heads it forward up middle from 25 yards that TFC goalie dives right to catch header.
10 min...TFC Plata runs into box to get long bounced pass from right and dribbles to 6 yards along left end line and LAG Franklin forces a cross and LAG Donovan kicks it behind end line for cornerkick.
10 min...TFC Ryan Johnson GOAL...TFC Torsten Frings cornerkick from left has defender at 5 yards in middle head ball across to left and Johnson volleys to kick in 6 yarder into center of net just under bar over arm of goalie Josh Saunders.
12 min...LAG Keane low weak 22 yard shot from left rolls to goalie.
14 min...TFC defenders prevent LAG Keane from getting shot away from 12 yards in middle of box.
15 min...LAG Beckham stumbles on right edge of box and loses possession when he stumbles on run.
15 min...TFC Plata on run on left sends low cross that just a step ahead of TFC Koevermans in middle and Johnson all alone on left sends 18 yard low shot that diving goalie blocks and rebound is over to left where defender heads away from TFC Plata for throw-in.
15 min...TFC Koevermans receives short throw-in from left and chips 28 yard cross that leaping defender at 15 yards pops up header through box wide right of goal on bounce for cornerkick.
16 min...TFC Dunfield cornerkick from right has LAG Boyens in crowd of players at 12 yards head ball from box.
16 min...TFC Luis Silva GOAL...TFC Torsten Frings cross from near 30 yard right sideline has TFC Silva head from 14 yards up middle that one- bounces at 3 yards and goes into net off inside of right post beyond the diving goalie.
18 min...TFC Eckersley gets back to 3 yards wide left of post to concede cornerkick on LAG player's 25 yard high cross from right breaking up LAG player rushing in for tap in..
18 min...LAG Beckham cornerkick from left is high and bends towards middle of net and goalie has to fly backwards to swat ball from goalline forward into box where defender clears behind endline.
19 min...LAG Beckham cornerkick from left is low and skips off foot of LAG player at 7 yards on left and defender behind him has ball deflect off him for another cornerkick.
19 min...LAG Beckham cornerkick from left has goalie make overhead catch at 3 yards in front of crowd of players.
21 min...LAG Beckham chip from 45 yards on left finds LAG Donovan at 18 yards on right and he crosses from 15 yards over to left post but TFC Frings is back to three yards to concede cornerkick bumping LAG Magee who was waiting to head ball into net.
21 min...LAG Beckham cornerkick from left has defender in crowd of players on left post head ball downward and out of box. LAG Franklin at 25 yards on left rolls pass back to LAG Beckham and his chipped shot from 20 yards is caught by goalie.
24 min...LAG Beckham long kick down middle from 60 yards finds LAG Keane on left side at 22 yards and he runs to near left end line and drops pass to LAG Buddle at 15 yards who spins to get away shot at 12 yards up middle but falls over and weak shot blocked. LAG Dunivant taps over rebound from left but collapses injured at 22 yards on left colliding with TFC Johnson and play carries on upfield as TFC Johnson crosses from right on edge of box over TFC Plata and ball bounces over end line.
28 min...LAG Mike Magee GOAL...LAG David Beckham chips ball from 23 yards down middle that finds LAG Landon Donavan near right end line. Donovan taps pass behind him when he can't get by TFC Ashtone Morgan and LAG Sean Franklin from 15 yards on right crosses ball and leaping goalie Stefan Frei at 4 yards on right post palms ball through box and ball lands at 6 yards on left side for Magee all alone to shoot low into right side of net past defender TFC Richard Eckersley.
30 min...TFC Dunfield long cross from 55 yards on left bounces through for TFC Johnson to charge to on right end line and he just has enough room to cross even though his momentum carries him over signs behind the end line but the ball bounces to goalie who picks it up with no TFC players nearby.
31 min...LAG Beckham freekick from 35 yards down middle over player wall and goalie leans right to catch ball.
32 min...TFC Frings high 55 yard freekick down middle well wide right.
33 min...LAG Franklin hooks cross behind him from right sideline and it bounces to TFC goalie to catch.
36 min...TFC Silva is injured on his sliding tackle which misses at center line. LAG Donovan runs downfield and rolls pass to left for LAG Keane who from 22 yards sends in low cross that has TFC Frings and TFC goalie make save before it reaches LAG Buddle at 5 yards and TFC Frings then clears ball from box.
37 min...LAG Beckham 35 yard freekick from left has ball over players' heads and bounce at 6 yards that falling goalie swats to right but LAG Donovan gets to end line and heads ball high into box where leaping LAG Buddle can't lean back far enough to get power on header and instead knocks it further across box where LAG Keane's shot is blocked by TFC Johnson and whistle is blown for pushing in box.
39 min...LAG Keane at 18 yards on left taps ball into center through two defenders but TFC Frings at 8 yards in middle of box stops ball and clears.
40 min...TFC Eckersley 40 yard chip from right has goalie catch over head ball wide left of net.
41 min...TFC Koevermans 25 yard roller blast though players is well wide left of net.
42 min...LAG Donovan cross from left has LAG player on right not able to control it at 10 yards on right and rolls ball weakly to goalie.
43 min...TFC Morgan long run up left and 35 yard cross is caught by goalie.
44 min...LAG Magee is tapped pass from left and he blasts 28 yard shot down middle and over bar.
46 min...half ends 8:54pm.

2nd Half:...starts 9:10pm.
46 min...LAG Beckham 30 yard freekick from right drops into box at 6 yards and defenders kick it around until TFC Dunfield clears it out left wide of box for cornerkick.
47 min...There's a delay clearing streamers before LAG cornerkick.
48 min...LAG Beckham cornerkick from left has goalie catch in a crowd of players.
49 min...LAG Franklin after charge down right wing has cross from 25 yards sent high and behind net.
51 min...LAG Beckham cornerkick from right has LAG Magee head 10 yarder over net down middle.
53 min...LAG Beckham 45 yard freekick has TFC Frings head ball away on edge of bar.
53 min...LAG Franklin twists header for cornerkick preventing TFC Koevermans and TFC Plata from getting to it.
54 min...TFC Frings cornerkick from left has LAG Beckham head ball away on left edge of box.
54 min...TFC Eckersley from 60 yards chips ball down middle and LAG goalie catches ball on bounce on edge of box.
55 min...TFC YELLOW card...Koevermans earns it for pushing at LAG goalie on last play as both teams' players pushed. LAG goalie pushed off with boot on thigh of Koevermansto prevent momentum carrying him outside box. Koevermans pulls up his shorts so officials can see the spike marks on his leg.
56 min...LAG Keane on rush cutting in from left passes forward to LAG Buddle who backheel ball to Keane for him to take 22 yard shot up middle just wide right of post.
57 min...TFC sub...Lambe replaces Plata.
60 min...LAG Keane receives long throw-in up left in all alone behind defenders and 15 yard sharp angle shot is across face of goal wide right of post.
63 min...TFC Koevermans 55 yard shot down middle catches goalie off line but shot is wide right.
64 min...LAG Buddle 20 yard shot from right has leaping goalie get fingers to it and tips it over bar but goalkick is given.
64 min...TFC goalie recovers to crashing into TFC Harden to smother ball as LAG Keane runs by them both at 16 yards.
66 min...TFC Harden heads ball back to goalie from 30 yards to reliever pressure.
67 min...TFC Johnson cross from left end line has ball batted down by leaping goalie and TFC Silva can't get away 6 yard shot as bumped by LAG Beckham who clears ball from box. TFC Eckersley ends up getting cross from 30 yards on right high and over to left edge of box where TFC Johnson heads across face of goal from 8 yards wide for goalkick.
68 min...LAG Donovan is tapped over pass by LAG Kean and his 22 yard shot just misses left post.
68 min...LAG Donovan near right end line crosses to middle edge of box has LAG Keane corral ball just outside of box and tap to LAG Magee on edge of box and pushes ball forward as he falls for LAG Franklin to kick 15 yard downward shot up middle that bounces off TFC Frings at 7 yards and goalie is behind it to make catch. TFC Dunfield is injured on play on edge of box.
70 min...TFC Silva 30 yard roller up middle is picked up by goalie on left post.
71 min...TFC Eckersley 35 yard shot from right is wide right of net.
72 min...LAG Beckham cornerkick from left has TFC Johnson head ball away. LAG Beckham gets ball again on left sideline and bends in 30 yard cross that goalie comes forward for but LAG Buddle steps in front of him but can't turn header from 6 yards and ball is headed wide left but ruled offside.
73 min...TFC Johnson is injured in face on collision with LAG Boyens getting forearm up at LAG 45 yards.
74 min...TFC goalie slides forward to 15 yards to pick up ball through ball pass.
75 min...TFC Morgan long run on left and cross has TFC player not able to turn header and ball just popped up at 12 yards and cleared.
76 min...TFC Johnson low 22 yard cross that TFC Koevermans slides up left and kicks wide left from 6 yards.
76 min...LAG Dunivant quick throw-in from 30 yard line on left is downfield and behind defenders but LAG Magee can't get to it and goalie catches ball on bounce.
77 min...TFC Morgan trips up on own at LAG 45 yards and is injured.
78 min...LAG Beckham chip from center line has LAG Keane on left side of TFC box checked off high bouncer before he can control it.
79 min...LAG Frnaklin 30 yard chip from right is well wide left of net.
79 min...TFC YELLOW card...Frei (goalie) earns it for complaining to referee about the long delay of letting TFC Eckersley return to the game.
81 min...TFC Dunfield cornerkick from right has defender head ball away. TFC player chips back into box from 30 yards down middle and goalie runs forward to catch at 15 yards.
83 min...TFC Silva cornerkick from left is low and through box on deflection.
83 min...TFC Aceval 45 yard shot hits LAG player's head at 35 yards and bounces to goalie.
86 min...LAG Beckham cross from 25 yards on right has TFC Frings head ball at 10 yards behind end line.
86 min...LAG sub...Barrett replaces Juninho.
.........LAG sub...Stephens replaces Boyens.
87 min...TFC sub...Maund replaces Silva. LAG Beckham picks up a beer can in the field of play that was thrown at him.
87 min...LAG Landon Donovan GOAL...LAG David Beckham cornerkick from right is an outswinger and has ball headed forward by leaping LAG Edson Buddle at 10 yards. Ball hits TFC Torsten Frings in the back at 4 yards and ball drops and bounces back to Buddle at 6 yards who kicks downward and has ball hit Frings on knee and roll through legs of TFC Maund for LAG Donovan to take 4 yard shot up middle over shoulder of sprawling goalie into left side of net about halfway up bar.
90 min...TFC Morgan cross from left cornerflag drifts behind net then back into play.
91 min...TFC sub...Stinson replaces Dunfield.
92 min...TFC goalie picks up ball just inside edge of box on through ball header meant for LAG Keane.
94 min....game ends 9:59pm.

Final Score:.....Toronto FC......2..........Los Angeles Galaxy...........2........

Attendance was announced as 47658, which had been announced as a sellout weeks ago. I saw some empty spots in the upper 500 section (and I don't mean the unavailable obstructed view section. Streamers which were discouraged by TFC officials for the last few years at BMO Field were encouraged this game in e-mails to fans and I heard later that streamers were actually supplied to patrons in the 500 sections. By the later stages of the game there was still streamers being thrown but now there were also people from the upper levels gliding paper airplanes onto the field. I remember then hearing one one announcement discouraging that practice. Also at the very end, someone through a beer can at David Beckham while he was lining up to take a freekick and was waiting for substitutions by both teams. He stepped onto the field and picked it up to show the referee's assistant.

I was very surprised that cans of beer were being sold. BMO Field sells nothing but plastic cups. I heard later that The Rogers Centre sells cans because the baseball fans surveyed said they wanted to be served faster and cans were quicker to sell as there was no pouring required. I suppose that practice will continue until a baseball player gets hit with a can.

I had an excellent seat, actually one row closer to the field than my BMO Field seats but these seats weren't as close to the sidelines as that stadium. There was a wider track between the first row and the side boards. The rise was flatter so I couldn't see below the players' thighs when they were running on the near sideline so I could see the moment when a ball rolled out of bounds. Actually what I liked best about this seat was it had ten seats to my left and nine seats to my right and I didn't have anyone go by me. That bothers me at BMO as I'm too close to the aisle. The washrooms had no long lines either and it was a lot closer (walking distance) to Union Station where I can catch a subway home.

I was waiting outside before the game when a pipe band led a parade of TFC supporter groups up the entrance. There was no national anthems played at the game which is a practice of all CONCACAF club games. The fans remembered to sing the Danny Dichio song at 23 minutes. I was able to buy a program to this game. It was thinner than last year's program but only cost $3.00 instead of $5.00. I suppose that was requested by we fans that took their marketing survey near the end of last season.

Toronto FC got off to a very fast start with two goals before even 20 minutes went by but the Galaxy then had the majority of good chances after that. David Beckham was effective with his crosses and cornerkicks the entire game. He almost scored on an in-swinger at 18 minutes.

With TFC defenders Adrian Cann and Decoy Williams both still carrying over injuries from last season left Torsten Frings playing in the role of central defender. I'm sure this is not the position TFC wanted back when this German international midfielder when they signed him as a designated player. He did play that position a few times at the end of last season. He was very effective tonight.

The second leg of this series will be played next Wednesday in Los Angeles. The Galaxy hold the advantage because they will be the home team and their two away goals which will be used as a tiebreaker giving them the series win if the next result is 0-0 or 1-1. Easiest way for Toronto FC to advance is to outright win the next game.

If TFC can play this well against the rest of the teams in the MLS (the Galaxy were the MLS champions in 2011) then they should have no trouble qualifying for the playoffs in the weak Eastern Division this season. The season has an uneven schedule this year so there will be more than double the times they play against Eastern teams.

Rocket Robin
robing@eol.ca

stats from www.concacaf.com and espn.go.com

•SUMMARY
 CONCACAF CHAMPIONS LEAGUE 
Quarterfinals, first leg 
Rogers Centre (Toronto) 
Toronto FC 2, Galaxy 2 
T -- Ryan Johnson 12 
T -- Luis Silva (Torsten Frings) 17 
LA -- Mike Magee (Sean Franklin) 29 
LA -- Landon Donovan 88 

Toronto FC: Stefan Frei; Richard Eckersley, Ty Harden, Torsten Frings, Miguel Aceval; Luis Silva (Aaron Maund, 88), 
Terry Dunfield (Matt Stinson, 92+), Ashtone Morgan; Ryan Johnson, Danny Koevermans, Joao Plata (Reggie Lambe, 58). 
Unused subs: Oscar Cordon, Doneil Henry, Milos Kocic.
 
Galaxy: Josh Saunders; Sean Franklin, Andrew Boyens (Michael Stephens, 87), A.J. DeLaGarza, Todd Dunivant; Landon Donovan, David Beckham, 
Juninho (Chad Barrett, 87), Mike Magee; Edson Buddle, Robbie Keane. 
Unused subs: Bryan Gaul, Hector Jimenez, Dan Keat, Tommy Meyer, Brian Perk.
 
Yellow cards: Koevermans 58, Frei 80. 

Referee: Courtney Campbell (Jamaica). Att.: 47,658. 

General Game Stats
                Toronto    LA Galaxy
Shots on goal       5           6
Shots wide          6           6
Fouls              11           2
Corner Kicks        6           9
Offsides            5           7
Possession         49%         51%



The pipe band lead the pre game parade of supporter groups.


Players march out together to field.


TFC starters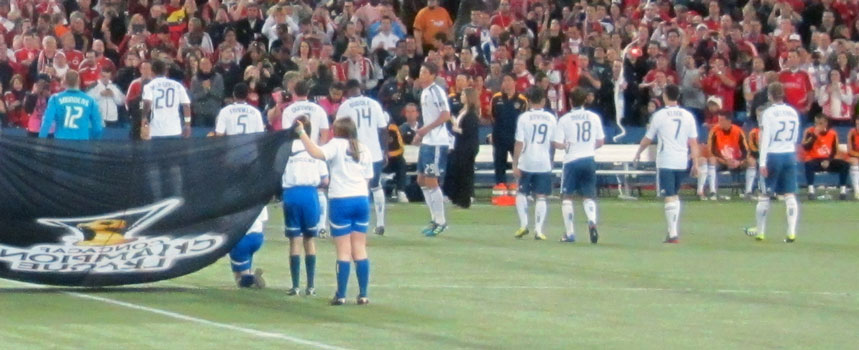 Galaxy starters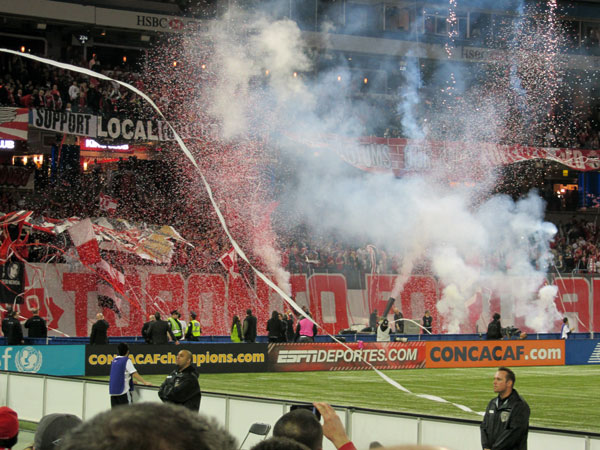 Pregame smoke and confetti blasting upwards as streamers came falling from the upper levels.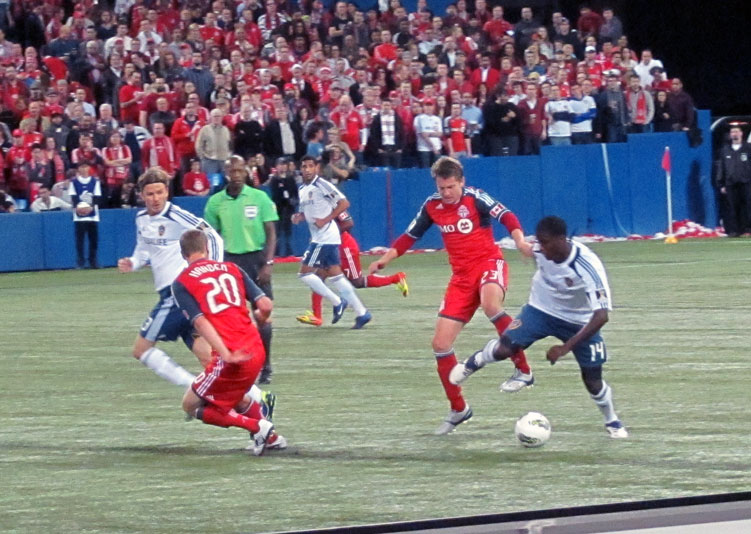 TFC Terry Dunfield tries to check Galaxy Edson Buddle from ball.


TFC goalie Stefan Frei has to fly back into net to swat away inswinging cornerkick from left that almost bends into net.


Galaxy David Beckham (23) freekick is over players standing on edge of box and requires save by goalie.


TFC Ashtone Morgan slides to clear another Beckham freekick.


TFC Terry Dunfield sends in cornerkick from right.


TFC players salute the fans after the game.

LAG David Beckham after being held back to give some post game interviews applauds the fans on his way off the field.
back to TFC 2012 news and results
.
.