-

............

Result of the Wednesday August 24, 2011 CONCACAF Championship League Group Stage game between Toronto FC and FC Dallas played at BMO Field in Toronto at 8:00pm.

Toronto FC (all red, black shoulders and sleeves, white names and numbers)

.................30 Milos Kocic
27 Richard Eckersley...20 Ty Harden...3 Andy Iro...25 Danleigh Borman
.........23 Terry Dunfield...22 Torsten Frings (cpt)...6 Julian de Guzman
.........70 Peri Marosevic...9 Ryan Johnson...7 Joao Plata

Subs:...24 Stefan Frei (gk)...4 Doneil Henry (def)...5 Ashtone Morgan (def)...15 Matt Stinson (mid)...21 Leandre Griffit (mid) ...28 Gianluca Zavarise (mid)...55 Eddy Viator (def)
head coach Aron Winter

FC Dallas (blue socks and shorts, white names and numbers, blue & white hooped shirts)

.................1 Kevin Hartman
17 Jeremy Hall...4 Andrew Jacobson...3 Ugo Ihemelu...5 Jair Benitez
6 Jackson Goncalves...2 Daniel Hernandez (cpt)...7 Daniel Cruz...11 Ricardo Villar
...........18 Marvin Chavez...20 Brek Shea

Subs:...30 Chris Seitz (gk)...8 Bruno Guarda (mid)...15 Fabian Castillo (fwd)...16 Bobby Warshaw (def)...25 Jack Stewart (def) ...28 Victor Ulloa (mid)...34 Ruben Luna (fwd)
head coach Schellas Hyndman

Game officials:...referee Javier Santos (Puerto Rico)...referee's assistants Antonio Lopez (Puerto Rico) and Dion Neil (Trinidad and Tobago) ...fourth official Neil Brizan (Trinidad and Tobago)...(yellow shirts, black shorts and socks)

1st Half:...game starts 8:07pm...TFC defends south end on this mild evening but with the threat of a storm in the distance.
1 min...TFC Dunfield cross from 30 yards on right has TFC Plata chest ball down on left edge of box but defender steps forward insuring that TFC de Guzman can't get away 18 yard shot up the middle.
4 min...FCD Hernandez 35 yard freekick on left has FCD Benitez called offside at 10 yards.
5 min...FCD Benitez long run up left and rolls cross from 15 yards on end line that FCD Shea turns and fires 10 yarder for goalie to dive and block and TFC Dunfield clears behind net.
6 min...FCD Villar cornerkick from left is headed into box and has TFC Iro clear ball on kick from 10 yards for throw-in on left.
8 min...TFC Frings suffers head injury at TFC 45 yards in collision with FCD Shea.
10 min...FCD Shea curls 22 yard cross from left that TFC Iro clears from box on high kick at 10 yards.
13 min...FCD Ihemelu long chip downfield from 65 yards has FCD Goncalves get high through ball at 20 yards but TFC Borman gets back to knock ball high right of own net at 15 yards.
14 min...FCD Jacobson cornerkick from right is partially cleared and FCD Cruz crosses in from 22 yard from right that goalie steps forward to catch on left side of box.
15 min...TFC Frings in injured at TFC 50 yards on knock with FCD Cruz.
.........FCD Chavez is injured at TFC 30 yards later in play on knock with TFC Harden.
17 min...FCD Jackson Goncalves GOAL...FCD Jair Benitez cross from 35 yards on left has Goncalves charge up middle even with TFC Danleigh Borman and chip goalie Milos Kocic at 6 yards on midair volley at 15 yards into left side of net.
Lightning starts off in the distance in the west.
20 min...FCD Cruz cross from 25 yards on left is high and caught by the goalie.
20 min...FCD Villar suffers head injury in collistion with TFC de Guzman at TFC 50 yards.
22 min...FCD Hernandez 35 yard freekick from right has TFC Borman duck and head ball away on edge of box.
22 min...TFC Marosevic gets to long pass up the middle but FCD Benitez charges back to check ball away from him inside the FCD box.
23 min...TFC Frings chips pass forward and TFC Johnson heads pop up from 25 yards but defender heads back for goalie to pick up.
23 min...FCD Goncalves is injured at TFC 40 yards.
25 min...TFC Frings 50 yard freekick from right has TFC Marosovic head ball down but FCD Shea clears ball on edge of box.
26 min...TFC Frings slides and kicks 10 yarder over net when TFC Marosovic crosses low 25 yarder into box from right. TFC de Guzman stole ball to set up the play.
28 min...FCD Shea blasts 15 yarder from left that goalie bats down behind net for cornerkick on left.
29 min...FCD Villar cornerkick from left has defender pop up header but has play whistled down for TFC freekick.
29 min...FCD Shea cross from 30 yards on left is cleared from box as over FCD Chavez head.
31 min...Play is stopped at 8:38pm as the sky is just starting to spit a few raindrops. It is announced over the PA system that there will be a 30 minute weather delay.
By 8:50pm a hard rain starts but there is no ligntning.
At 9:13pm we are called back into the stands. The ground and the seats are soaked and there's still thunder and a light rain (after a hard rain and lightning during the delay.
31:15 min...game resumes at 9:18pm.
34 min...FCD Benitez blasts 35 yard shot up middle just over bar.
34 min...FCD goalie drifts wide left to catch TFC Johnson cross from 30 yards on right.
35 min...FCD Villar runs across on left and 25 yard cross is into box has TFC Iro head away.
36 min...FCD Villar cross from 30 yards on right has TFC Harden head away from 15 yards inside box.
40 min...FCD Hernandez 40 yard freekick from left has FCD Ihemelu in crowd of players at 8 yards on left head ball downwards and ball bounces for goalie to grab.
42 min...FCD Hall is tapped back his short throw-in on the right and runs near end line cutting towards goal and rolls short pass to FCD Villar who rolls cross from 15 yards across 6 yard box but unplayed and TFC Marosevic able to clear on left side.
45 min...TFC Harden at 22 yards passes back to goalie down middle who has to rush clearance kick from 7 yards as two FCD players close in on him.
46 min...half ends 8:33pm with a steady rain still coming down.


2nd Half:...game doesn't restart.
The game is called off after a final announcement at 11:15pm but we'd been told to go home much earlier than that. The streetcars are not running but a few express buses are brought into service to empty what was left of the crowd. We got to watch lightning hit the CN Tower about five times. I ran into Blue Jays baseball fans at Union Station who got to see their game with the stadium roof closed. My subway was short turned.

After some confusion it was decided to replay the game at an unknown date and we were told to go home. The score would be reset at 0-0 and an entire 90 minutes would be played.

Interim Score:.....Toronto FC......0..........FC Dallas..........1...........

Attendance was not announced but the stadium looked only one third full on this mild evening. There'd been warnings all day about pending thunderstorms.

The game does not go into the record books and will be replayed from the start with the score reset as 0-0. So no goal for FCD's Jackson Gonsalves. FC Dallas had the edge in game play for the part of the game that was played.

Later announcements were made after I got home that there'd be a replay of this game the next day at 10:00am. Just bring your ticket and get free admission to the game and the Canadian National Exhibition. There was a real effort to have this game played tomorrow because of rescheduling problems. This wasn't so bad for Toronto FC because at least they stayed in town for their next MLS game against San Jose Earthquakes on Saturday evening whereas Dallas has a game on Saturday in Kansas City. If the game is tomorrow morning, I should be able to make this game. It's the second time that a TFC home match has had to be replayed. Vancouver Whitecaps held a 1-0 lead on TFC in a Nutrilite Canadian Championship match a few months earlier.

This is the third time this season that FC Dallas have beaten Toronto FC 1-0....or wait this game doesn't count. We'll see about tomorrow.

stats from torontofc.ca (television broadcast)

Match Stats
Toronto FC                          FC Dallas
 1		Shots			5
 0		Shots on Goal	        4
 3		Total Saves		0
 43%            Possession		57%
 6		Fouls			8
 3		Offsides		4 
 0		Corner Kicks	        3




TFC starters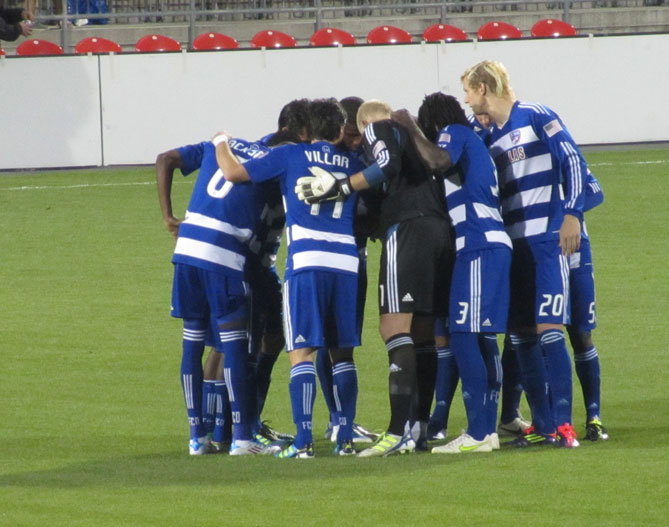 FC Dallas starters (no standing still as no national anthems are played)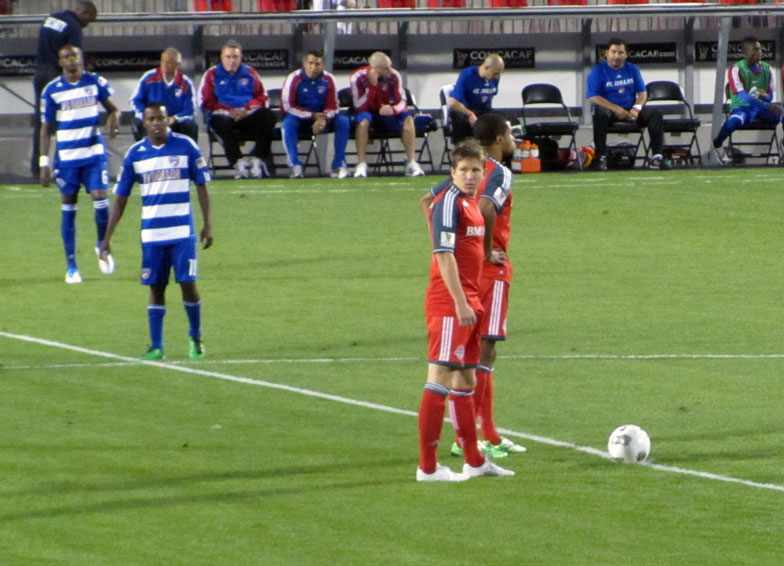 TFC Ryan Johnson looking upfield and TFC Terry Dunfield looking back get ready for opening kickoff.


TFC Torsten Frings and FCD Bret Shea jump for header.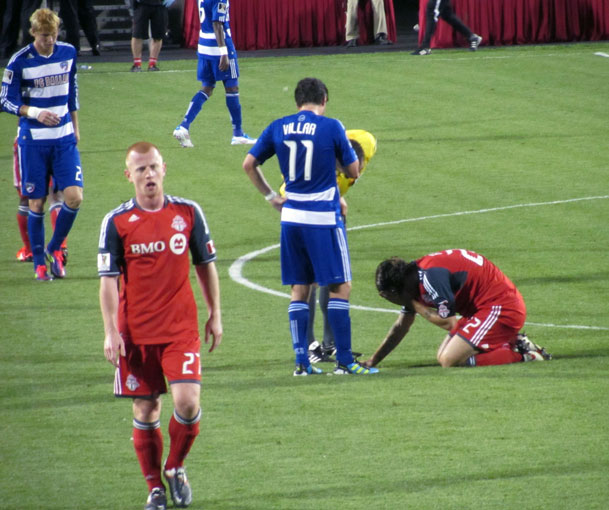 TFC Torsten Frings hurt in face.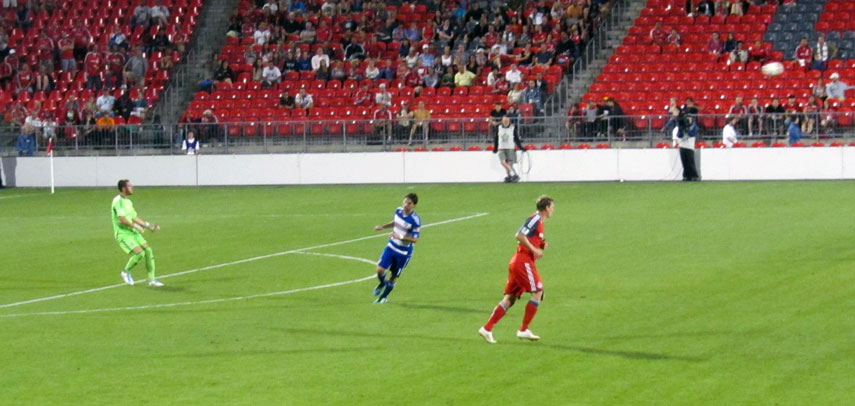 TFC goalie Milos Kocic's clearance.


FCD Daniel Hernandez freekick cross.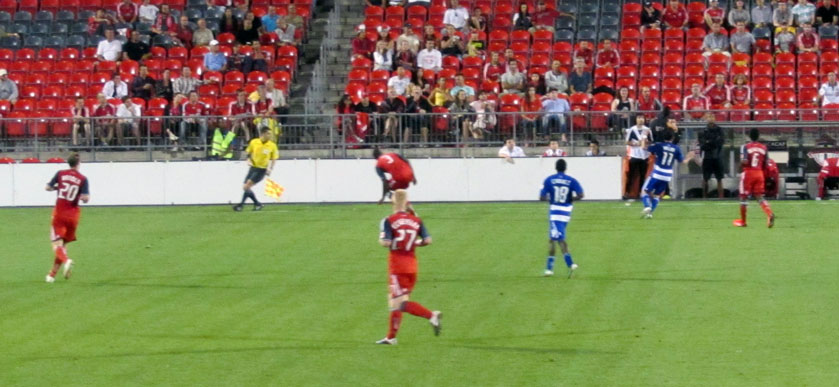 TFC Andy Iro tips ball out of bounds.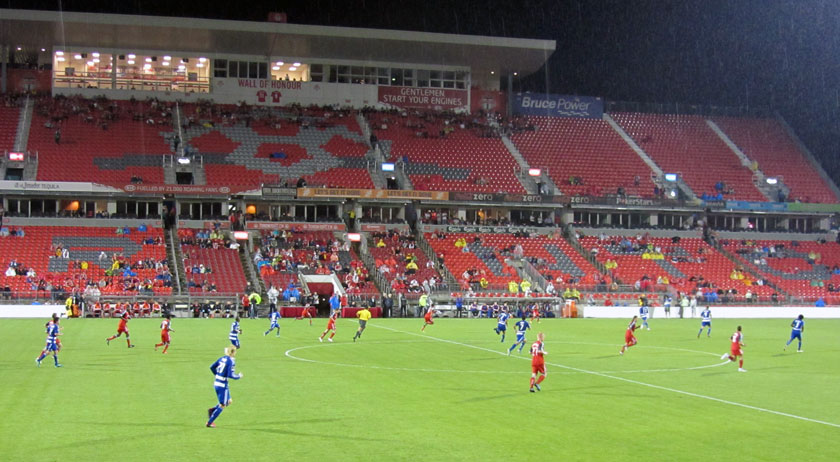 The rain has almost cleared the stands.
back to TFC 2011 news and results
.
.