Result of the Saturday October 1, 2011 MLS Reserves game between Toronto FC and New York Red Bulls played at Downsview Park in North York at 10:00am.

Lineups:

Toronto FC
........................56 Chad Bush
........26 Matt Gold...29 Kyle Davies...55 Eddy Viator
11 Nathan Sturgis...21 Leandre Griffit...28 Gianluca Zavarise...19 Mikael Yourassowsky
.............33 Javier Martina...34 Stefan Vukovic...13 Keith Makubuya

Subs:...36 Jay Chapman...38 Michael Petrasso...-- Tyler Pasher (these were all Academy players)...no back up goalie.

New York Red Bulls
.......................31 Alex Horwath
15 Matt Kassel...29 Rob Valentino...23 Mike Jones...39 Teddy Schneider 
21 Brian Nielsen...16 John Rooney...12 Tyler Lassiter...32 Marcos Paullo
26 Mohammad Mashriqi...6 Corey Hertzog

Subs:...13 Semso Nikocevic (fwd)...27 Ethan Decker (mid)...one other not used

6 min...TFCR Keith Makubuya GOAL...Makubuya blasts 25 yard shot up middle beyond diving goalie into low left corner of net.

11 min...TFCR Stefan Vukovic GOAL...TFCR Gianluca Zavarise pass from 22 yards cross which diving goalie forward misses and Vukovic boots from 8 yards 
low to center of open net.

32 min...TFCR Stefan Vukovic GOAL...TFCR Javier Martina rolls pass from middle at 25 yards to Vukovic alone on right and he rolls 15 yarder through 
goalie's left into left side of net.

46 min...NYRBR Mohammad Mashriqi GOAL...NYRBR Corey Hertzog rushes on left and crosses from 25 yards through box for #13 to kick low 8 yarder into 
open net.

Final Score:.......Toronto FC Reserves........3..........New York Red Bulls Reserves...........1...........

Attendance was about 25 for this morning game which was played before the MLS main game at BMO Field at 7:30pm.  The weather was cold and windy at this 
former military base and the north wind could really pick up whipping across the open airport landing strips.  The field turf had puddles just off the 
sides and endzones of the field after the previous night's rain.  There was no rain at game time but it was still overcast until just before halftime 
when the sun came out in the south which TFC had to run into in the second half.  Surprising to me was all the goals were scored INTO the wind.  

There were lots of clean sliding tackles on the wet turf.  Referee John Oliva gave out a few Yellow cards for holding and complaining about calls.   
John Rooney (brother of Manchester United's Wayne) earned one at 88 minutes for slashing at Gianluca Zavarise who'd tackled him off his feet 
at NY's 45 yards.  

TFC had to run into the strong wind in the first half and mostly kept the ball low to move the ball.  Neither goalie when they had to defend the south 
end learned punting the ball high would at best advance it 30 yards.  Both goalies came to the edge of their box or even outside to clear through balls. 

None of the TFC players playing in this game were even on the bench for the MLS game.  Chad Bush is the TFC Academy goalie and Stefan Vukovic also plays 
for the Academy in the Canadian Soccer League.  He is currently tied for the scoring race lead with two others at 17 goals and will likely win because 
the Academy still has three more games to play while those other scoring leaders have only one more game to play.  TFC Reserves coaching staff were made 
up of Academy head coach Danny Dichio and TFC assistant coach Jason Bent.  TFC goalkeeping coach Mike Toshack was warming up Chad Bush.

Starting Red Bulls Matt Kassel and Brian Nielsen were listed as subs in the MLS game but neither played.  Nielsen provided comic relief when 
at 30 minutes he ran to take a 40 yard freekick down the middle and slipped on this backside and the ball rolled harmlessly to the goalie.

Best non-scoring chances were at 24 minutes when TFC Kyle Davies passed back to the TFC goalie who was then rushed by two closing NYRB players and 
he cleared off one of them at 10 yards and the ball deflected just wide left of the post for a cornerkick.  43 minutes had TFC Keith Makubuya juke 
a defender and roll a 12 yard shot from right just wide left of post.  49 minutes had NYRB Corey Hertzog steal a TFC Eddy Viator pop up clearance and 
had a 15 yard shot pushed wide right by the diving goalie.  56 minutes had TFC Nathan Sturgis chip a 28 yard freekick down middle just over the bar.  
61 minutes had NYRB Stephane Auvray cross from 20 yards on the left through the box and NYRB Semso Nikocevic on the right booted a 7 yarder over the 
back fence.  69 minutes had TFC Vukovic chip a 15 yarder that the goalie batted down which TFC #38 got the rebound but a sliding defender poked the 
ball away before he got a shot.  79 minutes had Vukovic rush on the right and his low 18 yard shot was caught by the sliding goalie.  Two minutes later 
he was dribbling down the middle and a defender bumped him off the ball.  84 minutes had Auvray shoot around Viator at 18 yards and the shot was pushed 
wide left by the diving goalie.  

This was the first MLS Reserves game Toronto FC has won this year.  Both teams play in the six team East Division.  TFC record improves to 1-5-2.  
Red Bulls fall to 2-4-0.  

Rocket Robin
robing@eol.ca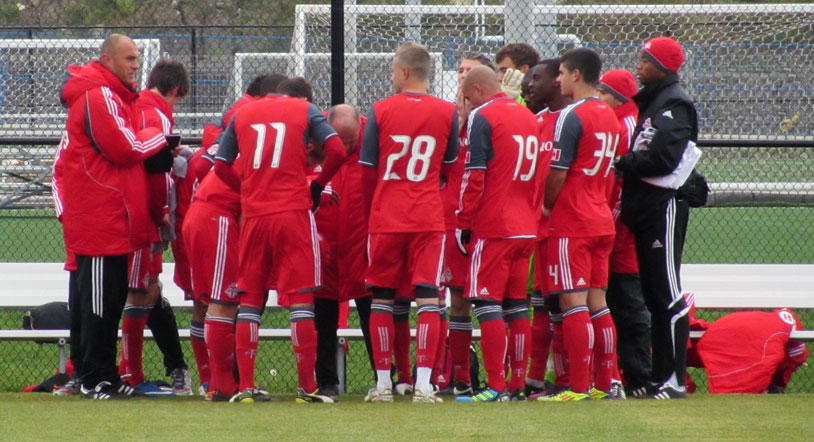 TFC pregame huddle.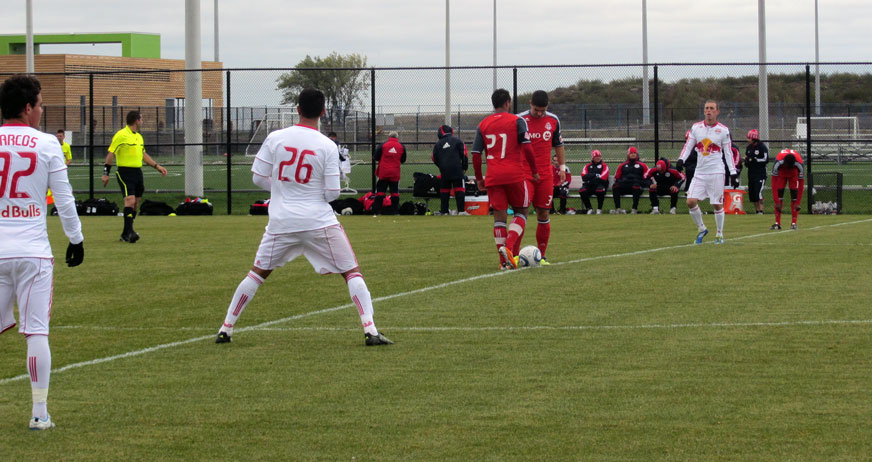 TFC Leandre Griffit (21) and Stefan Vukovic (34) take opening kickoff.


TFC Leandre Griffit with ball but TFC Javier Martina has fallen.


TFC Matt Gold (26) waiting for pass that won't get through to him.


TFC Javier Martina challenged by NYRB Teddy Schneider on sideline rush.

NYRB John Rooney rushes up wing.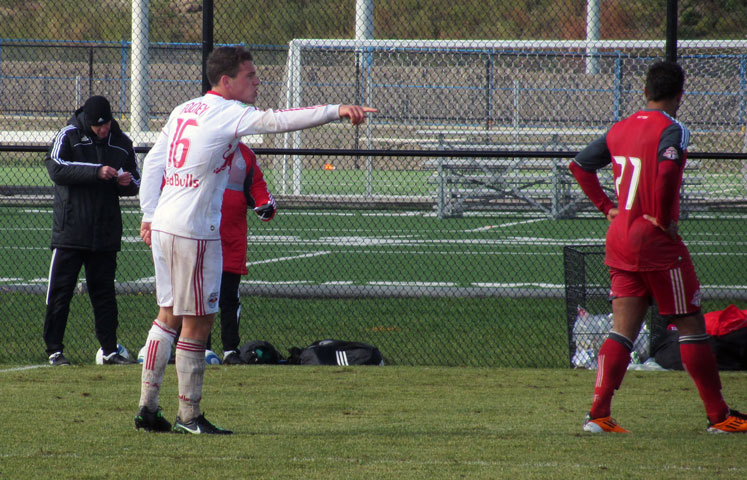 NYRB John Rooney pointing out directions.
.
.