Details of the Toronto FC Town Hall Meeting of Wednesday September 28th, 2011 at 6:00pm.
The meeting was held at the Rogers Club at BMO Field. 

By Rocket Robin (who writes updates on the CSL games on one of the other threads but I'm also a season ticket holder.  I didn't get the e-mail but 
thank the staff for getting me a place).

The meeting started at 6:12pm.  There were six chairs at the front occupied by:
1. Paul Mariner—director of player development (TA)
2. Earl Cochrane—director of team operations (EC)
3. Bob de Klerk—assistant head coach (BdK)
4. Aron Winter—head coach (AW)
5. Tom Anselmi—MLSE executive VP & COO (TA)
6. Paul Beirne—senior director business operations (PB) 

Paul Beirne introduced who was up at front.

TA starts with a statement.  It's a good opportunity to meet people.  A dialogue on a different level than
last year.  There's been two halves to the season.  He's confident we're heading in the right direction.

AW welcomes everyone.  The fans are the twelfth man on the team.  He likes being here to build to where we want to be.  The book we sent to the fans 
outline our pillars.  We have two definitions of winning—short term and long term.  Long term is the investment in youth development.   He doesn't 
want to make long statements which are outlined in the book...This is your evening!   One other thing, this is a great company to work for.  We have 
a commitment to succeed.   

Questions  (from different people Fan 1 to 14):
Fan 1. Why did Danny Koevermans only play one half last night?
AW Danny was tired so he was subbed off but he's OK.

Fan 2.  What have you noticed is the biggest difference between MLS and Europe?
AW We have to work with a salary cap.  The distance between cities.  The short period between games.
There are a lot of rules but Paul Mariner knows them.

Fan 3.  I hate Saturday night games because I have young children.  
AW likes to play in the afternoon.  
TA  They've been pushed into them for the television deal they have with TSN.  There may be a way to split the afternoon and night games in their 
ticket packages.  
PB There are 34 games in 34 weeks plus four NCC games BUT they will have to take four weekends off for FIFA dates.  All midweek games are at night.

Fan 4. Makes some good comments about the Academy players but how will they train 'overcoached' 13 year olds?  
BdK  Some of the Academy players may make the first team.  Three former Academy players looked good last night.  Ashton Morgan, Matt Stinson, 
Doneil Henry.  Ashton Morgan has just been named as a Canadian international.  
I ask:  Can Academy players brought up 'flip' back down to the Academy?  
BdK  It depends on the contract.
BdK There is enough talent in the area to have young 13 year olds to form a team.

Fan 5. Reads from a prepared speech—He says it's MLSE that's his source of frustration.  He's not blaming the players and staff.  He gave the Dwayne 
de Rosario example.  He feels he's been disrespected for five seasons.  He says MLSE overpriced the Concacaf tickets so many seats were unfilled.  
(whereas Seattle only charged $15 for seats).  He's heard five seasons of "We're do better".  MLSE has crushed my spirits.  The only gesture they've 
made is frozen next year's prices.  I'm out of blood!  MLSE has mismanaged the team through six coaches in five seasons.  The image that you give 
is "we've screwed up".  We have the highest prices in the league.  Please give us some respect!  
(huge round of applause).
AW  TFC and MLSE are one.  We're making a new start.  We've got to believe.  Sometimes it's MLS (meaning Major League Soccer) that makes the 
decision (as a reference to De Rosario).  I've only been here nine months.  He can't promise we'll be satisfied.

Fan 6 first compliments Academy.  He's become disillusioned.  He can't GIVE his tickets away!  
Asks TA:  Besides having a good team, how will we bring the 'buzz' back?
TA   He knows we're frustrated in Year 4 but now the team has made changes that he believes in. 

Fan 7  The 4-3-3 model.  Who do we have to bring in to make it work?  What is the long term plan to pull it off?
BdK  It must be created.  Plata and Avila are creative and attacking.  Youth 8-19 are needed to build this program.  They need good coaches.  Now our 
roster needs 'left footed defenders' yet only Andy Iro is that now—we need two or three more.  We need a '4' and '5'  Ashtone Morgan is one but 
he can't play 40 or 50 games in a season.  Only Plata can play in position '11'.  We have a decent midfield.

Fan 8  No night games in April please!  TFC should play more of a balanced schedule in that they'd always played three games more than most other 
teams from early on.  There's bad press in this city.  There's no player profiles.  We need three Eckersley's who play their heart out.  (Applause)

Fan 9  The Adrian Cann and Dicoy Williams injuries?
AW  We're bringing them back for preseason.  They should be ready.  We will try to keep the 'on-loan'
Eckersley and Plata.  

Fan 10  Please try to schedule away games together so fans can travel.  Vancouver-Seattle-Portland.
PB agrees.  It makes financial sense, there's less travel, it's easier on the players.
AW reading his notes—We travel 150,000kms. We've been 50 times in an airplane this season.  There's 56 games in 9 months.  We've been away 172 days.  
Because of recovery days there's only been 63 days we could train.  It hurts a rebuilding team.  

Fan 11  Requests that coaches not be so nice.  Get thrown out of games when the referee calls go wrong.  
AW  The refs decisions have cost us points.  He's found out it's not good to complain.  We need refs from Europe to train North American ones.
BdK didn't know the refs were so poor!  He tries to speak in Dutch but it seems the refs understand.  Aron tells him to sit down during games.  

Fan 12  There's been scheduling problems, fan fanatics are disappearing.  We want to win or at least be entertained!  It seems there are two extremes 
on the team.  We often recognize the ex TFC players!
(directed back at the comments about bad press by Fan 8) Why are we inconsistant?  We're either good or flat. 
AW  We don't have a big roster.  He could see a huge difference playing Chivas USA after playing Tauro FC.  We were flat as the players were tired.  
We need two players for every position.  
BdK  Entertain us?  We've got Plata, Eckersley, Avila but different players entertain for different types of fans.  We want our own 21 year old 
locals rather than getting some 32 year old from another league.

Fan 13 comes to see the 'quality', not just to grind out a win.
BdK says we need a balance (like his answer to the previous fan).

Fan 14 Plata's health?
AW  He's fit and may be on the bench for the Red Bulls game but after that will play the last three games.  

The meeting had to break up as there was another session starting at 7:30pm (those fans were kept in the downstairs lobby).

I had got my answer (from TFCA director Stuart Neely) before the town hall was called to order about the TFC Academy playing it's last CSL games—four 
still to play with the season ending and supposed to start playoffs in two weeks.  They will get their games in even if the playoffs are pushed back. 
Also no word on if they're be any Academy player grads this year but will wait until training camp in the spring.  

I still wanted to clear some other questions up.  About next season's tickets I was directed downstairs to talk to two officials who were doubling 
up checking attendance for the next session. 
My question about the Convenience Pack (17 reg season games plus 2 NCC games plus everything else that TFC plays) vs Standard Season Package (17 reg 
season games plus 2 NCC games).
If you buy only the Standard package will I still have the option of buying your OWN seat when they make Concacaf tickets available rather than being 
thrown to the back row?  Answer: Yes!
If you buy the Convenience pack will I have the option of opting out if you don't want to go like if a Manchester United exhibition game comes with 
$400 minimum price?  Answer:  Yes!

Now back upstairs to ask Paul Beirne:
Next Reserves game is scheduled the morning of the TFC main game!  Answer: subject to change.
More answers:  The TFC Reserves and the TFC Academy will play at the new Downsview facility. 
I asked: could they play indoors if something like the April storm blew over Downview April 17th and cancelled the DC United game after the players 
had arrived.  It was eventually played months later.
Answer:  Maybe they will play indoors but may be a restriction on number of fans that can be squeezed under the bubble.  
I asked:  TFC Academy games earlier this year used to be updated on the TFC website but that stopped.  Why?  
Answer:  We used to have Luke Wileman do it but the new guy doesn't have the time in their understaffed office.

Rocket Robin
robing@eol.ca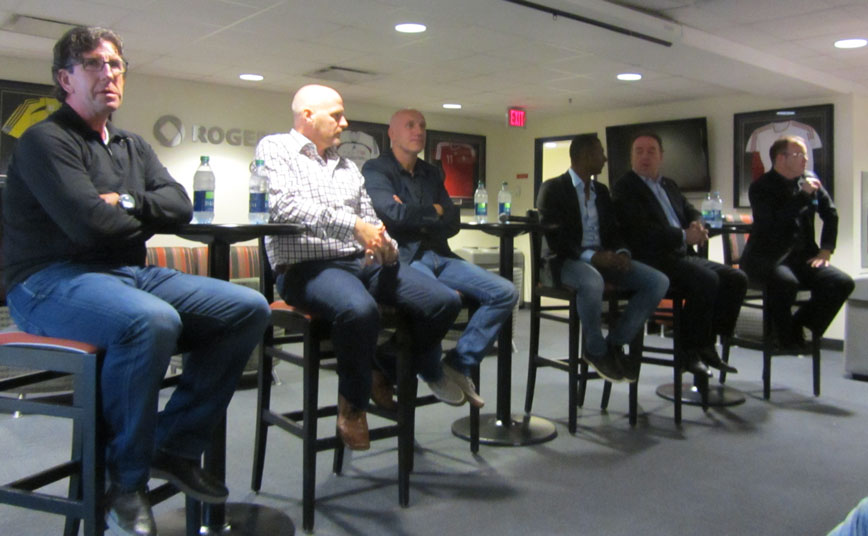 TFC panel (from left) Paul Mariner, Earl Cochrane, Bob de Klerk, Aron Winter, Tom Anselmi, Paul Beirne take our questions.
.
.