Result of the Tuesday June 21st, 2011 MLS Reserves game between Toronto FC and New England Revolution played at BMO Field at 9:00am.

30 min...TFC Demitrius Omphroy GOAL...TFC Keith Makubuya in rush in middle rolls pass from 30 yards to right where Omphroy shoots low 30 yard kick 
to low left corner past diving goalie Bobby Shuttleworth.

38 min...Revs Dominik Machado GOAL...Revs Diego Fagundez crossed from left and Revs Alan Koger headed from 5  yards which hit the bar and bounced down 
for Machado to knock in 5 yarder into center of net.

59 min...Revs Otto Loewy GOAL...Revs Zak Boggs is tapped over a pass from the left and and he centers a pass to a Revs player who sets up Loewy to blast 
a low 20 yarder into net past goalie Milos Kocic.

62 min...TFC Demitrius Omphroy GOAL...Omphroy on left blasts 22 yard freekick into player wall but he gets rebound in almost the same spot and has him 
shoot into top right corner of net.

86 min...Revs Ryan Guy GOAL...Revs Diego Fagundez cornerkick from left has charging Guy rush across from right between defenders and knock 3 yarder into 
center of net.

Final Score:...Toronto FC Reserves..........2............New England Revolution Reserves..........3......

Attendance picked up to about 30 (from 8 at the start) for all reserves game fans forced into the south stands.  At halftime the first of the school 
children made their way in to the east stands for the special open practice that was scheduled to start at 11:00am (right after this game).  By the time 
the game ended, I'd estimate there were about 2500 kids there.   That was comparable to the Toronto Lynx schoolday games of ten years ago...kids are 
still the same—their biggest "oohs and ahhs" go to goalie high punts and shots by players that are 30 feet over the net.   

Dave Barrie was the referee and gave out just a few cards for a game that resulted in a few players injured but hopefully not seriously.  At 25 minutes 
TFC Matt Stinson jumped at the TFC 45 yard line to avoid Revs Stephen McCarthy's sliding tackle but it was McCarthy who was injured and had to leave 
the game.  McCarthy earned a Yellow card on the play.  At 40 minutes Revs Andrew Sousa took a 40 yard freekick from the right that had the goalie Kocic 
fumbled on his jump,  the ball was cleared but Kocic landed on the already fallen Nathan Kelsey mashing his head on the ground.  Kelsey returned to the 
game after treatment.

I saw TFC management from the main team, the Reserves, and the Senior and Junior Academies.  First team players were also watching because they would 
be called in at 11:00am for the main practice.  Another message board poster said TFC head coach Aron Winter was there although I didn't notice.

One of the fun things to watch is how the Academy players hold their own against main team bench players.  Defender Jordan Murrell who is captain of the 
Senior Academy held his own (but the main team already has Academy grads Doneil Henry and Ashtone Morgan (who was used today) that just sit on the bench 
in MLS games (except Henry has started the last few games because of injuries).  Defender Brandon John was not used but spent almost the entire game 
running the end lines warming up.  Goaltender Angelo Cavalluzo was not used either but that was not unexpected as Milos Kocic needed the work as Stefan 
Frei has played every minute of all MLS games and Canadian Championship games (even the second leg game against NASL league team Edmonton when TFC already 
had a 3-0 aggregate lead).  

The TFC Reserves gave up the winning goal on a set piece near the end of the game.  Even from 110 yards away at the opposite end this play looked like 
a slow motion car crash.  The Revs are also a struggling team with only as many points as TFC but a game in hand.  I didn't see the Reserves play the 
Aron Winter system but more like two forwards of Keith Makubuya and Matt Gold.  Demitrius Omphroy took almost all the corners and freekicks for TFC but 
Ashtone Morgan took the ones from more than 40 yards.   Summing up the day at 72 minutes TFC Tristan Jackman crossed from the left to a charging Oscar 
Cordon on the right at 25 yards but the ball hit Cordon in the back of the head—one of those days!  

Rocket Robin
robing@eol.ca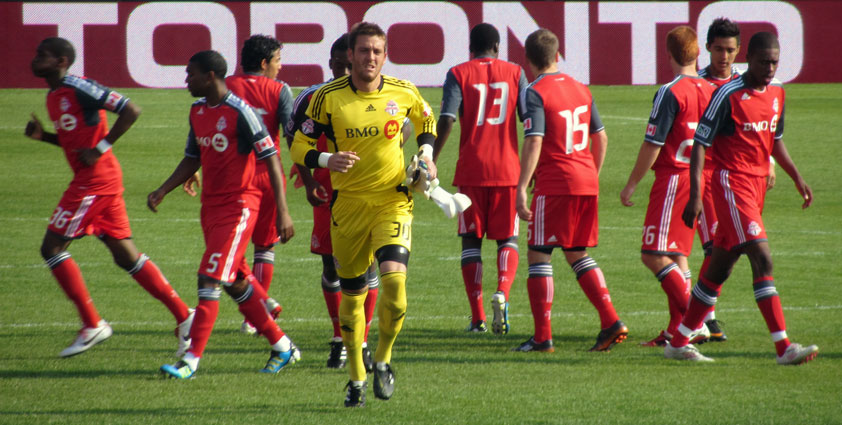 TFC starters


Revs freekick eventually taken by #23 Andrew Sousa.


Action in TFC box.


TFC Demitrius Omphroy takes a freekick.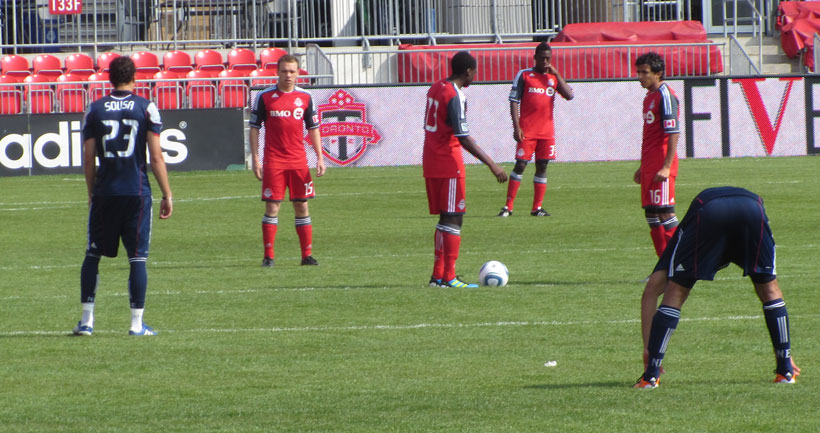 Second half kickoff with TFC Academy grads Matt Stinson (15), Keith Makubuya (13), Jordan Murrell (35) (actually with the current Academy team), and Oscar Cordon (16).


Revs Dominik Machado and TFC Oscar Cordon tug each other to get to ball.


Everyone's jumping for this ball in the Revs box.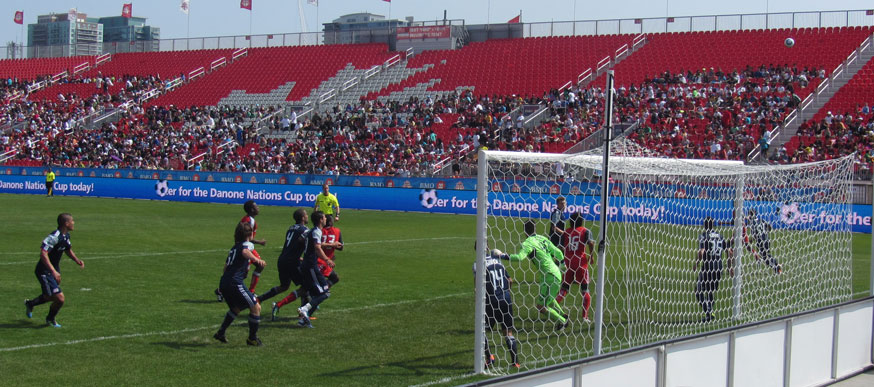 TFC freekick ball coming into the picture.
back to TFC 2011 news and results
.
.