............

Result of the Wednesday May 25th, 2011 game between Toronto FC and Vancouver Whitecaps played at BMO Field in Toronto at 8:00pm. This was the second leg of the Nutrilite Canadian Championship.

Toronto FC (all red, black shoulders and sleeves, white names and numbers)

........................24 Stefan Frei
27 Richard Eckersley...31 Dicoy Williams...12 Adrian Cann...19 Mikael Yourassowsky
........10 Alen Stevanovic...6 Julian de Guzman...22 Tony Tchani
........18 Nick Soolsma...29 Marcos Santos (cpt)...7 Joao Plata

Subs:...30 Milos Kocic (gk)...3 Nana Attakora (def)...8 Dan Gargan (def)...11 Nathan Sturgis (mid)...16 Oscar Cordon (mid)...20 Ty Harden (def) ...33 Javier Martina (fwd)
head coach Aron Winter

Vancouver Whitecaps (all white, navy names and numbers)

......................18 Jay Nolly
25 Jonathan Leathers...14 Greg Janicki...6 Jay DeMerit (cpt)...4 Alain Rochat
22 Shea Salinas...28 Gershon Koffie...7 Terry Dunfield...20 Davide Chiumiento
..............29 Eric Hassli...37 Camilo

Subs:...(I found no official stats)...1 Joe Cannon (gk)...2 Michael Boxall (def)...8 Wes Knight (def)...12 Jeb Brovsky (mid) ...13 Michael Nanchoff (mid)...15 Philippe Davies (mid)...16 Nizar Khalfan (mid)...17 Omar Salgado (fwd)...19 Blake Wagner (def) ...24 Brian Sylvestre (def)...27 Alexandre Morfaw (mid)...31 Russell Teibert (mid)...32 Kevin Harmse (mid)...33 Peter Vagenas (mid) ...50 Mouloud Akloul (def)
head coach Teitur Thordarson

Game officials:...referee Dave Gantner...referee's assistants Joe Fletcher and Philip Briele...fouth official Geoff Gamble... (yellow shirts, black shorts and socks)

1st Half:...game starts 8:18pm...TFC defend south end on this mild night with the threat of rain.
4 min...VW Hassli rolls ball up middle from 50 yards that finds VW Camilo gets through ball at 22 yards and rolls 15 yarder wide right beyond goalie and sliding TFC Williams.
5 min...It now starts to rain and gets harder as time goes on.
6 min...VW Leathers long throw-in from right near cornerflag has TFC Cann head ball away from inside box.
7 min...TFC Sevanovic crosses behind net from 20 yards on right.
7 min...TFC Tchani from 40 yards threads through ball up middle to TFC Santos who gets it at 20 yards and he pushes ball through two falling defenders and rescues ball before it crosses left end line and rolls 10 yard shot that defender VW Janicki boots over end line for cornerkick from 1 yard on left post.
8 min...TFC Stevanovic cornerkick from left has leaping defender head out of box at 4 yards.
10 min...TFC Tchani gets ball passed back to him on left and he blasts 30 yard shot well high and wide right of net.
11 min...VW Camilo cross from 30 yards on right has TFC Williams head ball out left side of box.
12 min...TFC Eckersley run on right and rolls cross into box from 25 yards but VW Leathers clears it from box as pass is behind charging TFC Plata.
16 min...VW Eric Hassli GOAL...VW Shea Salinas at 30 yards on right sends low pass to Hassli who blasts low 28 yard shot that deflects off foot of TFC Juliam de Guzman and bends just inside left side of post beyond diving goalie Stefan Frei.
17 min...TFC Tchani long pass from middle near center line finds charging TFC Plata on left at 20 yards shot sends short centering pass to TFC Stevanovic for 1 on 2 rush and sliding defender checks him off ball inside box and rolls for goalkick.
18 min...TFC Plata charges down left wing to 15 yards to pick up long cross from center line and he rolls centering pass to TFC Yourassowsky who has ball poked away by defender and he can't draw penalty kick when he tumbles over and ball rolls over line for goalkick.
20 min...TFC Plata charges down left wing to stop long ball from bouncing out and he crosses from 15 yards along left end line that VW Rochat heads from right over end line.
21 min...TFC Stevanovic cornerkick from right has nearest defender head away from box from near right post.
22 min...TFC Stevanovic 25 yard freekick from near right sideline has defender behind player wall get foot to it and clear ball out of box from 8 yards.
24 min...TFC Stevanovic short cornerkick from left has TFC Plata tap back to him breaking out and he takes shot from 22 yards down middle that defender clears from 15 yards.
24 min..VW Koffie blasts 40 yard shot down middle well high and wide left of net although whistle may have blown before he got away shot.
25 min...it has stopped raining.
25 min...TFC de Guzman chips ball from 25 yards down middle that has defender pops up header behind end line for cornerkick although play was ruled offside with TFC Plata behind defender.
26 min...VW YELLOW card...Dunfield earns it for running through TFC de Guzman at TFC 45 yards.
27 min...TFC de Guzman 50 yard freekick down middle has defender head ball from 12 yards inside box.
28 min...TFC goalie slides to right to smother through ball at 12 yards.
28 min...TFC Soolsma blasts 30 yard shot down middle well high and wide left of net.
29 min...it starts raining hard again.
29 min...VW Salinas cross from 15 yards on right has VW Salinas pop up header from right across the box and TFC Eckersley heads out wide left for throw-in.
29 min...TFC goalie saves shot along left end line from 15 yards.
30 min...TFC Yourassowsky run down left wing rolls pass forward to TFC Plata at VW 30 yards. Plata rolls ball forward to Yourassowsky who crosses in from 20 yards near left end line and TFC Santos surrounded by defenders shoots 5 yarder as he falls from near end line that deflects for cornerkick.
30 min...TFC Tchani cornerkick from left has VW defender head ball down from 5 yards and behind end line for another cornerkick.
30 min...TFC Tchani cornerkick from left has goalie catch near goal line.
34 min...TFC Eckersley from 40 yards on right sends pass upfield to TFC Santos in box at 12 yards on left but sliding defender knocks ball away.
36 min...TFC Yourassowsky 30 yard shot from left is well over net.
37 min...VW Salinas 25 yard low shot from right bounces to goalie.
37 min...VW Camilo gets ball up middle and slips and takes 18 yard roller that goalie picks up.
37 min...VW Chiumiento 30 yard shot up middle is just wide left of net.
39 min...VW Chiumiento chips 20 yard ball from near left end line that TFC Williams heads over end line for cornerkick.
40 min...VW Chiumiento cornerkick from left has VW Hassli deflect off foot away outside of box.
41 min...TFC Santos off balance 10 yard shot when bumped by VW DeMerit after run down left is high and wide left of net.
42 min...TFC Soolsma rush on right and cross from 25 yards on right sideline deflects off sliding VW DeMerit for cornerkick.
43 min...TFC Plata cornerkick from left is short and tapped back to him on edge of box by TFC Soolsma and VW defender breaks up play and clears ball.
46 min...half ends 9:04pm.

Halftime Entertainment:...there were no special events tonight probably because of the rain.

2nd Half:...there was an announcement during the halftime that the restart would be delayed by 30 minutes because of the lightning.
The players come back onto the field at 9:46pm to warm up after the extended break. The field is now quite waterlogged.
halftime sub:...VW Knight replaces Leathers.
starts:...9:49pm.
46 min...TFC Stevanovic cornerkick from right drops into box and TFC Soolsma (?) 10 yard shot is blocked by TFC Santos at 4 yards and VW defender clears ball from box.
47 min...TFC player's 40 yard chip from left into box in crowd of players has goalie charge forward and catch.
47 min...TFC YELLOW card...de Guzman earns it for a sliding tackle on VW Chiumiento at TFC 50 yard sideline as he was breaking out on run.
49 min...VW Dunfield and Camilo are both offside when defender pops up header at 20 yards as they were already behind him. Camilo's 15 yard shot down middle is saved by flying goalie anyway.
52 min...TFC Plata 22 yard freekick from left has nearest defender kick ball away but TFC de Guzman stops at 20 yards but slips and shoots wide right and defender stops wide of net and clears. TFC Cann gains possession and sends low cross from 10 yards near right end line that defender clears out of box.
53 min...TFC de Guzman cross from 25 yards on right has goalie punch ball away in front of crowd of players.
54 min...VW YELLOW card...Hassli earns it for his constant complaining about a non-call when TFC de Guzman got his had to a ball that would have sent a VW player on a breakaway at center line about two minutes earlier.
55 min...TFC sub...Martina replaces de Guzman.
57 min...huge bolt of ligntning crosses the sky.
57 min...VW Dunfield blasts 25 yard roller wide left of net.
58 min...TFC Soolsma run down right sideline to get to ball and he crosses from 25 yards near sideline that TFC Plata shoots from 4 yards near left end line and goalie catches on left post as he falls.
59 min...TFC Martina runs down middle for ball sent upfield and one-touch shot from 20 yards is well over net.
59 min...the game is halted again at 10:00pm.


Final Score*:.....Toronto FC......0..........Vancouver Whitecaps..........1........... * The result doesn't count as per rules of this tournament and the game will have to be replayed.

Play had been suspended between the half which added another 30 minutes to the game. The rain was constant during this time and lightning was off in the distance. The lightning got worse in the second half and play was again suspended at 59 minutes. During the second delay we were not allowed to return to our seats. It was a safety concern because the stands are made of aluminum. All kinds of rumours swirled about how much of a game has to be played before it becomes official. None of them were true...the entire game has to be replayed even if the score had been 5-0. (Vancouver would have gone through if this game was official because the first game had finished in a 1-1 tie).

Best tactics in the second half was to punt the ball long and near the sidelines because the middle of the field and the boxes were waterlogged and passes would stop dead along the ground. Another bad night of rain makes it not much fun for this wet fan...much like the last home game against Chicago Fire. I had put my notebook away in the first half and pieced together the action by watching it on television.

I had not taken any precautions for the rain. I had been to two games earlier in the day and the weather was fine. I drove home and had about an hour to get ready to take the subway downtown to see this game and the Weather Channel advised there'd be rain 'overnight'. To me that meant not in the evening. I didn't wear my boots or bring a garbage bag that I could punch holes in to use as a raincoat. (Umbrellas are not allowed in the stadium for TFC games--I suppose because they would block the view of the people behind you). There were plenty of empty seats for tonight's game. I suspect people had heard of the pending weather and the usual less of a walk up crowd for a midweek game left much of the corner sections empty. I didn't hear any announcement of what the attendance was.

I hung around until 11:00pm and still wasn't absolutely sure that the game had been called off. Worst news was the rumour--then confirmed after I returned home that the game would be replayed in its entirety from 11:00am the next day. Also whether the game would be played would not be announced until 9:30am that day. If I stayed home and waited for that annoucement, I wouldn't have enough time to get down there by the transit system so I'd have to drive. There was no guarantee that the replay would be televised. Fortunately for me and thousands of fans that had to work, the field was ruled unplayable and the game was postponed until July 2nd which conveniently was within a few days of the Whitecaps being in town anyway for a regular season MLS game and the date was free for both teams even though it's a weekend. It's also still a month before the Concacaf Championship starts with a play-in series against a team from Nicaragua.

stats from Rogers Sportsnet (1st Half only)

Scoring Summary:
  
VAN -- Eric Hasli Time 16
 

Misconduct Summary:
 
VAN -- Terry Dunfield (caution; Reckless Foul) 26
TOR -- Julian de Guzman (caution; Reckless Tackle) 47
VAN -- Eric Hassli (caution; Dissent) 54

Match Stats
Toronto FC            Vancouver Whitecaps
 3     Attempts on Goal      4
 0     Shots on Target       2
 6     Corner Kicks          1
 3     Fouls                 5 
 0     Yellow Cards          1
 0     Red Cards             0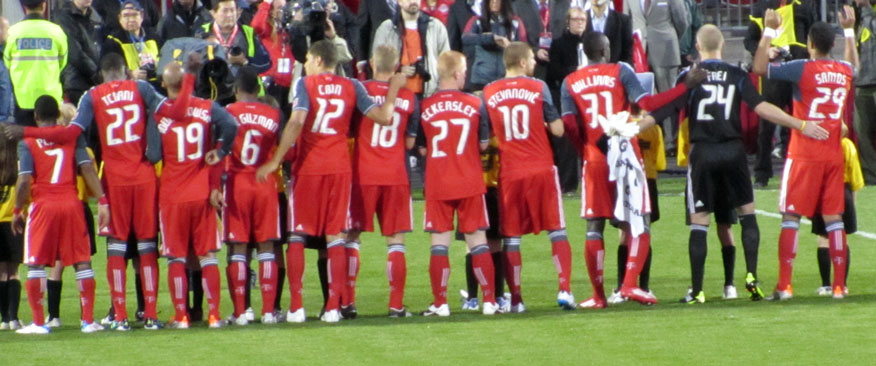 TFC starters


Whitecaps starters


TFC Richard Eckersley runs back to own end.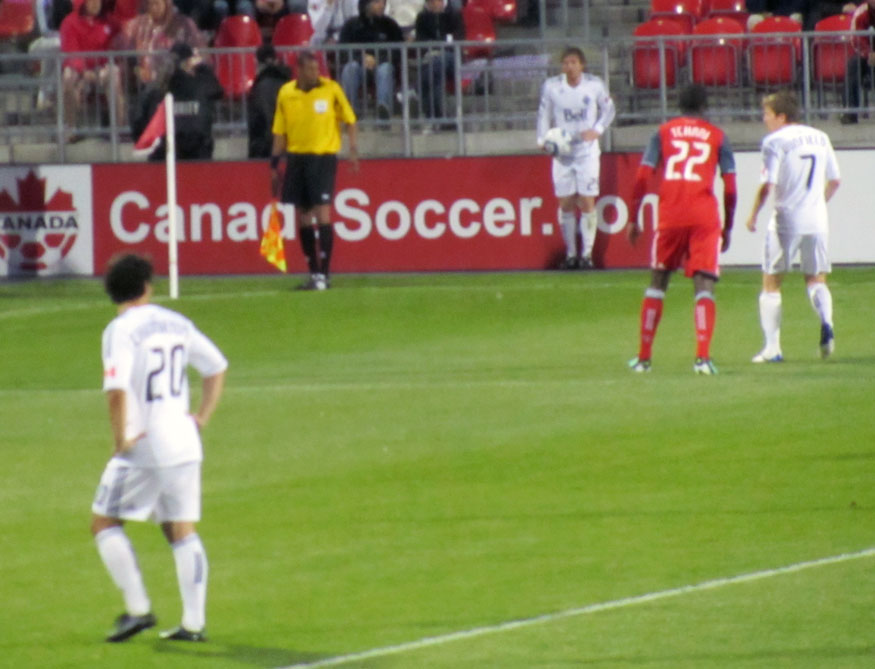 Whitecaps throw-in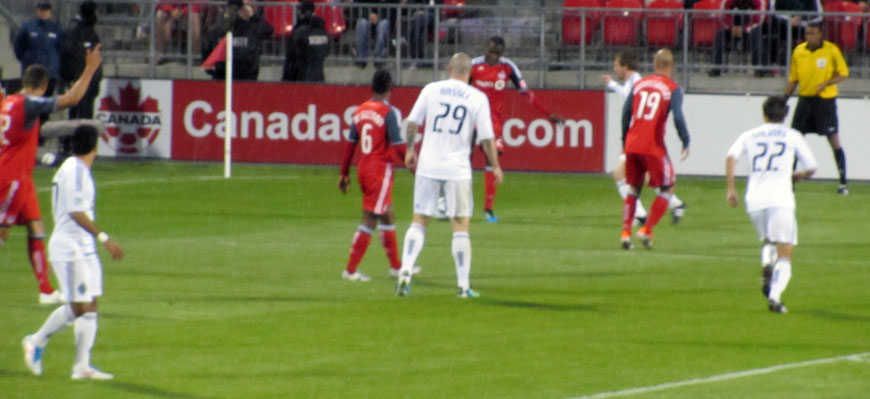 TFC Dicoy Williams clears ball from own end.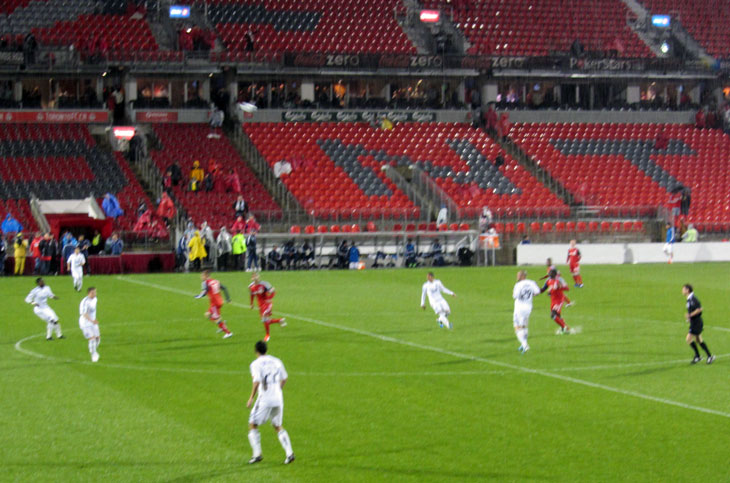 Start of the seoond half with what's left of the crowd.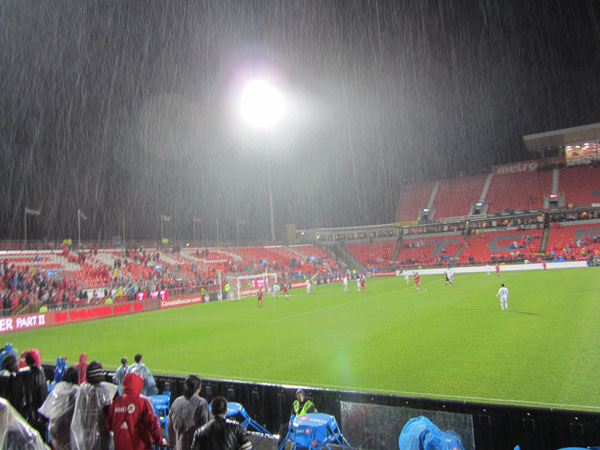 In the rain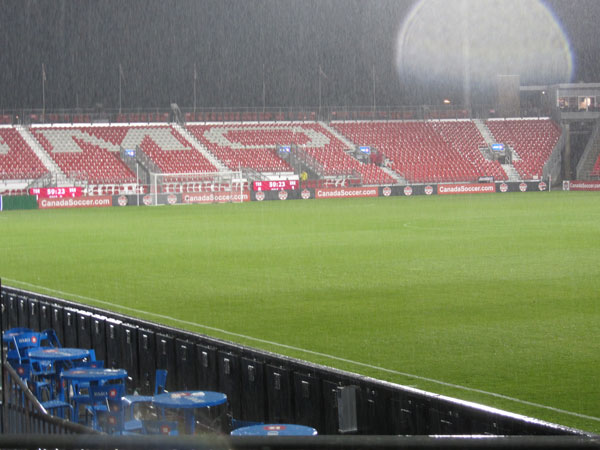 The rain cleared stadium.
back to TFC 2011 news and results
.
.