............

Result of the Saturday April 23rd, 2011 MLS Reserves game between Toronto FC Reserves and Columbus Crew Reserves played at BMO Field in Toronto at 6:30pm.

Toronto FC (all red, black shoulders and sleeves, white numbers, *no names on back of shirts)

.......................30 Milos Kocic
2 Demitrius Omphroy...4 Doneil Henry...35 Jordan Murrell...5 Ashtone Morgan
............26 Matt Gold...15 Matt Stinson...36 Tristen Jackman
............13 Keith Makubuya...11 Nathan Sturgis...34 Stefan Vukovic

Subs:...1 Angelo Cavaluzzo (gk)...37 Kaheem Christopher (fwd)
head coach Jason Bent

Columbus Crew (all yellow, black names and numbers)

.........................30 Andy Gruenebaum
24 Ben Sippola...16 Eric Gehrig...4 Andy Iro...23 Korey Veeder
6 Andy Adlard...22 Dejan Rusmir...19 Cole Grossman...13 Leandre Griffit
.................9 Justin Meram...10 Andres Mendoza

Subs:...25 Alex Riggs (gk)...32 Tommy Heinemann (fwd)...37 Chris Davis (mid)...38 Khai Celestin (fwd)

Game officials:...referee Carol-Anne Chenard...referee's assistants Marie-Josee Charbonneau and Lyes Arfa...fourth official David Barrie ...(all black uniforms, neon yellow trim) Update of officials names provided by Isaac Raymond

1st Half:...game starts 6:55pm...TFC defend south end on this warm evening. As the scoreboard is not operating, all times are converted from my wrist watch.
3 min...TFC Omphroy 40 yard freekick from right is over net and well wide left of net.
3 min...Crew goalie grabs through ball on left edge of box.
9 min...TFC Sturgis 50 yard freekick from left is caught by goalie.
10 min...TFC Stinson in middle passes to right for TFC Makubuya who blasts 18 yard shot that's caught low on right post by goalie.
16 min...Crew Meram blasts 25 yard shot that hits Crew Mendoza at 12 yards who, in effect, stops ball. Defender then clears from box.
17 min...Crew Andres Mendoza GOAL...Crew Justin Meram taps ball forward from 25 yards and Mendoza kicks 15 yard shot low to right side of net over diving goalie Milos Kocic.
18 min...TFC Gold low 20 yard shot has sliding goalie stop.
23 min...TFC Omphroy 35 yard freekick from right bounces wide left of net.
25 min...TFC Sturgis 30 yard freekick from extreme left has nearest defender head ball away.
27 min...TFC Tristan Jackman GOAL...Jackman from 25 yards blasts shot up middle that hits defender and deflects back and Jackman kicks rebound 20 yards into left side of net over diving goalie Andy Gruenebaum.
29 min...Crew player's 30 yard freekick from right has play whistled down in box.
31 min...Crew Mendoza good rush on left cutting to left but he's eventually checked off ball.
36 min...TFC Makubuya runs down right and 25 yard cross drifts over net.
37 min...Crew Ekpo cross from 20 yards on right has TFC Henry twist header out left side of box.
39 min...TFC Henry gets big foot in clearance to prevent Crew Mendoza from getting to pass at 12 yards in middle.
39 min...TFC Omphroy low cross from 25 yards extreme right and rolls through box and TFC Jackman sends 12 yard shot well over net.
40 min...Crew Sippola low 22 yard shot on rush is pushed to goalie as he slides to get ball away.
42 min...TFC Omphroy on rush 40 yard cross from right is caught by goalie.
43 min...Crew RED card...Andres Mendoza earns it for continously punching TFC Matt Stinson from behind at TFC 35 yards who'd just checked him off the ball and was running away with ball. Stinson was injured and TFC Jordan Murrell had been hurt earlier on the play at TFC 25 yards.
46 min...half ends 7:41pm.

2nd Half:...starts 7:54pm.
47 min...TFC Vukovic shanks 20 yard shot down middle on tap over pass.
47 min...Crew Gehrig back to prevent TFC Jackman from getting to ball on left end line so goalkick given.
50 min...Crew Grossman 50 yard freekick from left has Crew Iro head ball back into play from right end line but defender clears.
51 min...Crew Gehrig on sliding tackle stops TFC Vukovic rush on left.
55 min...TFC Stinson rush on right and cross from end line has defender concede cornerkick.
56 min...TFC Omphroy cornerkick from right is cleared out left side of box.
56 min...Crew sub...Davis replaces Rusmir.
57 min...Crew Davis cuts in on 1 on 2 rush and low 15 yard screened shot from left is smothered by goalie.
57 min...TFC Omphroy cornerkick from right has TFC Jackman leap in crowd of players and nod 6 yard header down and wide left of net.
58 min...TFC Stinson low 30 yard shot up middle has goalie dive to stop on right post.
60 min...TFC sub...Christopher replaces Makubuya.
63 min...Crew Davis rushes by TFC Omphroy on left but his 15 yard low cross is smotered by goalie as no Crew player has made a run into box.
65 min...Crew Chris Davis GOAL...Crew Cole Grossman 25 yard freekick near right edge of box has Davis charge forward up middle and dive to send 7 yard header into center of net over diving goalie.
74 min...TFC Jackman 22 yard chip through Crew box from left has TFC Sturgis cross 10 yard along right end line unplayed and out left side.
76 min...TFC Omphroy 40 yard freekick from right has TFC Vukovic leap and pop 8 yard header well over net.
80 min...Crew sub...Celestin replaces Adlard.
82 min...TFC Sturgis has Crew defender knock down cross on right but his 5 yard sitter is saved by another defender and sliding goalie and ball is cleared out left side of box.
85 min...TFC goalie dives forward for ball sent into box.
85 min...TFC goalie punts ball upfield that one-bounces to goalie.
86 min...Crew Grossman gets pass rolled forward up left and rolls 25 yard shot wide right of net.
87 min...Crew YELLOW card...Meram earns it for pull down tackle at center line.
89 min...Crew YELLOW card...Davis earns it when TFC Henry is injured on Davis's kick clearance at Crew 40 yards.
90 min...TFC Omphroy 45 yard freekick from right is cleared through left of box and TFC player ends play with chip over end line.
91 min...TFC Stinson rushes up middle and 25 yard roller up middle is wide right of net.
92 min...TFC goalie long punt bounces to Crew goalie wide right of net.
93 min...game ends 8:42pm.

Final Score:.....Toronto FC Reserves......1..........Columbus Crew Reserves...........2........

Attendance was around 200 at the start of the game and about 75 stayed until the end. The concession stands at the back of Section 108 were left open to keep people fed. No beer was sold so that is one reason that accounts for many in the 99 percent of the fans leaving after the MLS game.

There wouldn't have been any player on TFC that should have played in the main MLS game a few hours earlier as far as I was concerned. Demitrius Omphroy took most of the freekicks and cornerkicks and they weren't very dangerous. It's hard to say if goalie Milos Kocic was trying to imitate that long punt/play goal that TFC had against Portland in their first home game when Stefan Frei found Javier Martina. The punts came with TFC running out of time and a very favourable wind but both tries one bounced to the Crew goalie.

I had a problem identifying the 'high' number players. I heard after the game they came from this year's TFC Senior Academy team. Stefan Vukovic, Jordan Murrell, Tristan Jackman and Kaheem Christopher certainly held their own against the TFC main team reserves. Goalie Angelo Cavaluzzo is also from the Academy but did not see any action. I asked Paul Mariner, Aron Winter, Jason Bent and finally player Doneil Henry (I think it was him) to help me sort them out. I was still incorrect from what I posted to the message board when I got home. It showed me that all but Bent really don't know the players on their team yet. These players were just given their jerseys when they arrived for the game. Actually none of the uniforms had names on them, even those for established MLS team players.

Updated**The referee was Carol-Anne Chenard who had been a guest on radio station The Fan 590's 'The Soccer Show' on Thursday night to discuss her being named an official at the FIFA Women's World Cup.


TFC players warm up

Crew players warming up


TFC Demitrius Omphroy takes freekick.


TFC Keith Makubuya (13) is involved in action.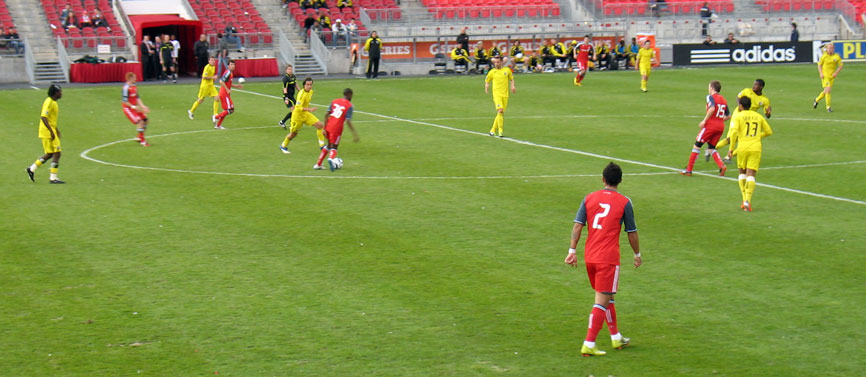 TFC goal scorer Tristan Jackman (36) on rush.


Crew cornerkick


TFC Matt Gold runs for ball.
back to TFC 2011 news and results
.
.