............
Result of the Saturday April 16th, 2011 MLS game between Toronto FC and D.C. United played at BMO Field in Toronto at 7:00pm.

Toronto FC (all red, black shoulders and sleeves, white names and numbers)

........................24 Stefan Frei
23 Jacob Peterson...20 Ty Harden...12 Adrian Cann...25 Danleigh Borman
.........6 Julian de Guzman...16 Oscar Cordon...22 Tony Tchani
........33 Javier Martina...29 Maicon Santos (cpt)...10 Alen Stevanovic

Subs:...30 Milos Kocic (gk)...3 Nana Attakora (def)...7 Joao Plata (fwd)...8 Dan Gargan (def)...18 Nick Soolsma (fwd) ...19 Mikael Yourassowsky (def)...28 Gianluca Zavarise (mid)
head coach Aron Winter

D.C. United (all black, white names and numbers)

......................28 Bill Hamid
22 Chris Korb...5 Dejan Jakovic...15 Ethan White...4 Marc Burch
27 Fred...19 Clyde Simms...10 Dax McCarty (cpt)...13 Chris Pontius
..............16 Josh Wolff...9 Charlie Davies

Subs:...20 Pat Onstad (gk)...8 Breanko Boskovic (mid)...11 Joseph Ngwenya (fwd)...21 Daniel Woolard (def) ...23 Perry Kitchen (mid)...24 Brandon Barklage (mid)...29 Blake Brettshchneider (fwd)
head coach Ben Olsen

Game officials:...referee Mark Kadlecik...referee's assistants Rob Fereday and Anthony Vasoli...fourth official Geoff Gamble...(neon yellow shirts, black shorts and socks)

1st Half:...game starts 8:16pm...TFC defend south end on this cold evening.
50 sec...TFC Martina on short rush crosses from right at 20 yards to TFC Santos on right who heads ball wide right from 8 yards.
2 min...DCU Pontius chips from 22 yards on left that has goalie bobble and save ball.
3 min...DCU Burch run on left near sideline and he rolls cross into box that TFC Cann clears out of box from 8 yards.
4 min...DCU Chris Pontius GOAL...TFC Cann pops up header at TFC 30 yards in middle and Pontius takes ball runs to goal slanting outside to left around TFC Peterson and cuts in low 16 yard shot into right corner of net beyond goalie Stefan Frei at 6 yards.
6 min...TFC Peterson 40 yard freekick from middle is wide right of net on the fly.
7 min...DCU Davies trips up on rush into TFC box when he bumps into TFC Cann at 15 yards.
9 min...DCU Charlie Davies GOAL...TFC Danleigh Borman at TFC 40 yards on right kicks ball across to center but ball is intercepted in center circle by DCU Davies who runs down center and passes to left from 25 yards as he's about to be squeezed by TFC Cann and TFC Peterson (Cann suffers rib injury in their bumping). DCU Josh Wolff gets ball at 22 yards on left and sends low 17 yard shot that goalie saves on great left footed save. Davies had continued charge up middle and runs through center to 8 yards where he blasts low shot into open net beating TFC Danleigh Borman by a step who was running towards net and couldn't stop and cut back to get to rebound.
11 min...TFC sub...Attakora replaces injured Cann about a minute after play resumes. Cann had been injured in collision with DCU Davies on the play that resulted in the goal.
12 min...TFC Peterson long throw-in from right is caught by goalie diving forward near right post.
15 min...TFC Peterson long blast down middle from 30 yards is caught by goalie.
17 min...DCU Davies rolls low cross from 20 yards on right that TFC Harden deflect with leg for cornerkick.
17 min...DCU McCarty cornerkick from right has TFC de Guzman head ball away from 6 yards on right. TFC goalie picks up DCU player's long header from 25 yards that is over players on edge of box and bounces wide right.
19 min...DCU McCarty 40 yard freekick down middle bounces wide left of goal for goalkick.
21 min...TFC Stevanovic rush for long through ball from TFC Borman from 60 yards and he stops ball near left end line and rolls 12 yard cross that DCU defender clears as no TFC player is near to make play.
26 min...TFC Martina gets pass from TFC Cordon at 45 yards and long run near right sideline has sliding DCU Burch pokes ball away at 10 yards for throw-in.
26 min...TFC player's long throw-in from right is headed and cleared out left side of box for a throw-in.
26 min...TFC Tchani lofts 30 yard shot from left line that lands on top of net.
31 min...TFC Peterson long throw-in from right has defender pop out center of box upfield.
32 min...DCU Wolff rolls ball from 35 yards too far forward for DCU Davies charging up middle and goalie grabs.
33 min...TFC Borman run and 35 yard chip cross on left has defender DCU White head ball away at 10 yards.
39 min...TFC Martina long run up right from 70 yards and he wins cornerkick on sliding tackle by DCU White at 8 yard line near right sideline.
40 min...TFC Peterson cornerkick from right is headed across box by TFC Stevanovic and TFC Attakora shoots from 5 yards on left across face of goal and wide right for cornerkick.
41 min...DCU YELLOW card...Pontius earns it for pulling down TFC Martina at start of run from 50 yards.
42 min...TFC Peterson 50 yard freekick from right has TFC Attakora at 6 yards on left leap and nod header wide left.
44 min...TFC Peterson 45 yard freekick from left has DCU Simms head ball wide left far throw-in.
46 min...TFC Cordon rolls pass from 30 yards to left to TFC Stevanovic who shoots well wide right from 22 yards.
47 min...half ends 7:59pm.

Halftime Entertainment:...The entertainment today Pizza Pizza's 'Meal or No Meal' contest. The player won the grand prize of 12 pizzas. That must be at least four times in a row that the contestant wins the top prize. It should happen only one out of five times (from the number of boxes available). I accuse the game of being fixed to get the audience into the mood.

2nd Half:...starts 8:14pm.
45 min...TFC Peterson 45 yard freekick from right sideline has DCU Simms on edge of box head ball away.
46 min...TFC Borman chips 55 yarder from left is headed forward from 30 yards by TFC Attakora and goalie picks up ball on bounce.
48 min...TFC RED card...Ty Harden earns a direct ejection for a sliding tackle trip at 30 yards on DCU Pontius running down the middle with Harden caught as the last man back. Pontius is injured on the play.
50 min...DCU McCarty 30 yard freekick from left is into head in player wall and cleared. TFC Peterson shoots over own net conceding cornerkick when ball lofted back into box.
51 min...DCU McCarty cornerkick from left has ball cleared on left edge of box.
52 min...TFC Tchani stops pass and turns and lifts 22 yard shot wide left of goal.
53 min...TFC sub...Gargan replaces Cordon.
55 min...TFC Martina cornerkick from right has defender clear.
55 min...TFC Santos 22 yard shot from left deflects for cornerkick after he slows down.
56 min...TFC Stevanovic cornerkick from left has DCU Simms clear. TFC Borman 45 yard cross from left has DCU Jakovic head ball away from just insdie box.
57 min...TFC Peterson ends TFC pressure rolling 25 yard shot up middle wide left.
59 min...TFC Borman cross from left 20 yards is over players in box trying for header.
59 min...DCU Korb cross from right near corner has TFC Gargan leap and head ball wide left for cornerkick.
60 min...DCU McCarty cornerkick from left has goalie catch in crowd of players.
61 min...TFC Gargan long throw-in has diving TFC Peterson head ball from 15 yards off defender's leg to clear.
63 min...TFC Santos rush on left and 18 yard shot is high and wide left of net.
63 min...DCU sub...Kitchen replaces Jakovic.
64 min...TFC YELLOW card...de Guzman earns it for check on DCU McCarty in center circle. TFC Stevanovic had been injured earlier in play upfield in DCU end.
65 min...TFC sub...Zavarise replaces Santos. (de Guzman become captain)
69 min...DCU Fred chips ball from 30 yards too far for DCU Wolff and goalie catches bounce.
70 min...TFC Gargan long throw-in from right is caught by goalie.
70 min...TFC de Guzman 40 yard shot down middle is well high of net.
72 min...DCU Chris Pontius GOAL...DCU Fred takes ball off TFC player at TFC 45 yards on right and sneds pass to open wing on left to Pontius who receives ball charging to it at 22 yards and he pulls up at 15 yards to let charging TFC Gargan run by him and he cuts 15 yard shot from left that curls just inside right side of net beyond flying goalie.
72 min...DCU sub...Boskovic replaces McCarty.
73 min...TFC Stevanovic hurt on sidekick shot attempt when he missed the ball at 25 yards.
76 min...TFC Gargan long throw-in from right has ball popped across box and TFC Peterson dives for header from 6 yards on left and DCU White slides to clear ball from goal line.
76 min...TFC de Guzman passes ball forward and TFC Zavarise 10 yard shot is blocked by sliding defender for cornerkick.
77 min...TFC Borman cornerkick from left has DCU Korb head away clearance from edge of box.
78 min...TFC Peterson 50 yard freekick from right is over players on edge of box and goalie catches ball on left post.
81 min...DCU Fred pushes forward pass on right to DCU Davies whose shot from 15 yards has goalie stop on right post.
83 min...TFC Tchani cross down middle to wide right on deflection . TFC Peterson saves ball and shoots along right line into right side of net.
84 min...DCU sub...Ngwenya replaces Fred.
85 min...TFC Peterson 40 yard freekick down middle is caught by goalie wide left of net.
87 min...TFC YELLOW card...Gargan earns it for pulling down DCU Ngwenya at TFC 35 yards while on rush up left.
88 min...DCU Davies gets to through ball at 45 yards and rushes up left wing cutting towards center. He holds off TFC Attakora charging to cut him off and gets away 10 yard shot that diving goalie pushes wide left of post.
89 min...DCU players work out cornerkick from left with DCU Davies still down injured/cramped in box. Since he can't be in the play, he wouldn't be putting his team offside.
89 min...DCU player sends in low cross from 25 yards near right edge of box and DCU Wolff is waiting for pass at 6 yards but TFC Gargan gets foot in to send shot against own goalie who dives to block and push ball right of post. Play carries on back to DCU end for goalkick.
90 min...DCU Davies treated in end zone for leg cramp.
92 min...game ends 9:01pm.

Final Score:.....Toronto FC......0..........D.C. United...........3........

Attendance was announced as 16313, which was down from Wednesday's all time record of 22453 even though this was a weekend game. It had rained for most of the morning and afternoon and I expected it would continue but the rain had stopped by game time and the pitch had drained so slipping and sliding was not a factor. The evening was very cold and windy though.

Another slow start for TFC for the third home game in a row. That cost them a goal against Chivas USA and they almost got punished against Los Angeles. Today they were down 2-0 within the first ten minutes.

D.C. United had the worst record in MLS last year. Last year they came into Toronto on September 11 and surprised TFC with a 1-0 win. This resulted in the firing of head coach Preki who'd been in charge since the beginning of the year and original general manager Mo Johnson. Although DCU has improved since then, I never expected tonight the linescore would be even worse.

Chris Pontius scored his first goals of the season with two goals tonight. Charlie Davies scored the other one to retain his lead with a league best of five goals so far this year. He played a complete game for the first time this season, in fact today was his first start of the season and the first time he's played more than 45 minutes. DCU had not scored a goal in the first half of a game this year nor won a game on the road--until tonight!

This was the first time this year that I'd seen more than a handful of any travelling fans. The Screaming Eagles were confined high in Section 104 or 105. United made sure they applauded them after the game. TFC players came over to applaud the Ultras and Red Patch Boys section fans in the south end at the same time. Davies celebrated his goal by dancing a jig at the same spot that caused cups of beer to be thrown onto the field. In the second half there was a column of smoke drifting northward across the playing field from this section of the stands. Flares were lit in by the North End Elite section at around the same time and that resulted in a large police presence later near the end of the game.

DC United has Canadian defender Dejan Jakovic (from Toronto) and tonight's backup goalie Pat Onstad on their roster. I remember Onstad playing on the Toronto Lynx back in 1997.

Man of the match (who is always a TFC player) was named as midfielder Oscar Cordon. He didn't make any mistakes in this his first MLS career start and I can't disagree with this choice. He only played 53 minutes and had some good runs and made some good passes.

MLS.com listed Toronto as having only one shot on goal. Today's tickets had a picture of recently traded Dwayne De Rosario adjusting his captain's armband on them. The team has not found a suitable replacement for him.

The day before it was announced that TFC had acquired defender Richard Eckersley on loan from Burnley in England. With this team it wouldn't be a surprise if he'd have been listed as a starter (like Borman and Tchani were in the trade with New York Red Bulls) even though the other hand the team says it takes awhile for players to learn the new system. Some fans behind me yelled out his name when they saw a red haired man walk along in the sideline picnic seats. Now that Adrian Cann has been injured (although Nana Attakora did a fine job taking his place) I'd expect Eckersley will start the next game.

Player intros at the beginning of the game had Oscar Cordon's picture (I suppose because he was present on photo day) but not for the acquired players Tony Tchani nor Danleigh Borman. Player bios in the game programs have not been updated.

One more game in this three game home stand comes on Saturday at 4:00pm against Columbus Crew.

stats from MLS.com

Scoring: 
DC -- Chris Pontius 1 (unassisted) 5 
DC -- Charlie Davies 5 (unassisted) 10 
DC -- Chris Pontius 2 (Fred 1) 73 

Comparison	TORONTO FC      D.C. UNITED
Shots              13                7
Shots on Goal       1                6 
Saves               3                1
Fouls               8               11
Offsides            0                2
Corner Kicks        4                4

D.C. United -- Bill Hamid, Chris Korb, Ethan White, Dejan Jakovic (Perry Kitchen 64), Marc Burch, Fred (Joseph Ngwenya 84), Clyde Simms, 
Chris Pontius, Dax McCarty (Branko Boskovic 73), Josh Wolff, Charlie Davies.

Substitutes Not Used: Brandon Barklage, Blake Brettschneider, Daniel Woolard, Pat Onstad.

Toronto FC -- Stefan Frei, Jacob Peterson, Ty Harden, Adrian Cann (Nana Attakora 12), Danleigh Borman, Oscar Cordon (Dan Gargan 54), 
Julian de Guzman, Tony Tchani, Javier Martina, Maicon Santos (Gianluca Zavarise 66), Alen Stevanovic.

Substitutes Not Used: Joao Plata, Nick Soolsma, Mikael Yourassowsky, Milos Kocic.

Misconduct Summary: 
DC -- Chris Pontius (caution; Reckless Foul) 42 
TOR -- Ty Harden (ejection; Denied Goal Scoring Opportunity (Foul)) 49 
TOR -- Dan Gargan (caution; Reckless Foul) 88 

Referee: Mark Kadlecik 
Referee's Assistants: Rob Fereday; Anthony Vasoli 
4th Official: Geoff Gamble 

Attendance: 16,313 

I don't have a plentiful choice of pictures from tonight's game because of the dark and the cold and shaky hands made most of my pictures blurry.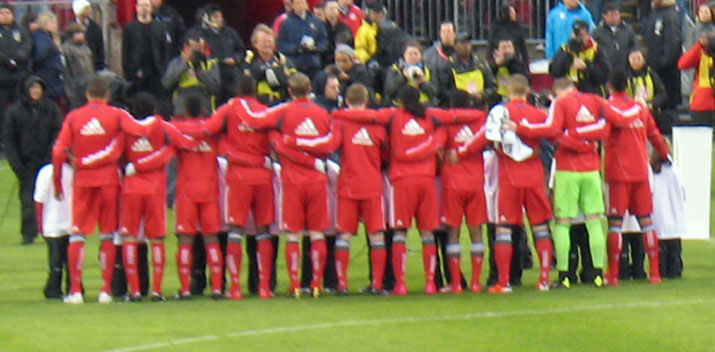 TFC starters


D.C. United starters


DCU Josh Wolff (16) and Charlie Davies (9) wait to kick off the game.


DCU players return after celebrating their second goal in front of the TFC fans in the south end.


On field action. blurry


Second half kickoff.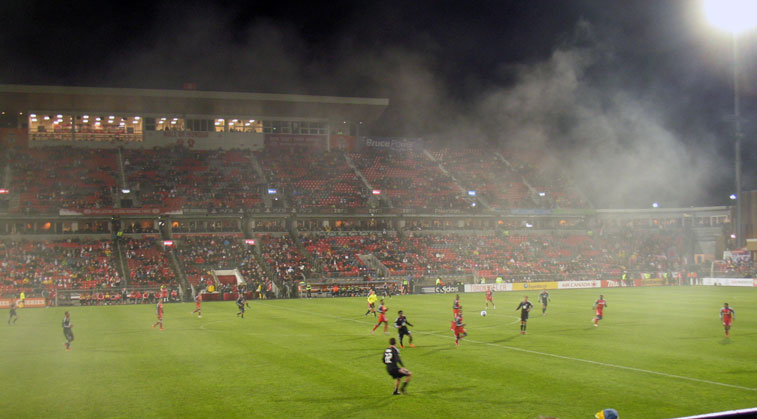 Smoke covers above the field coming in from the south end. I wonder if it was from fan anger and frustration?


DCU goalie Bill Hamid picks up the ball ahead of Javier Martina.
back to TFC 2011 news and results
.
.