Details of the Sunday April 17th, 2011 MLS--Toronto FC Reserves vs D.C. United Reserves game scheduled at Downsview Park at 11:00am.
This game was called off before it began because of a sudden blizzard of snow and high winds.
The teams were warming up in the high winds when the blizzard got much worse. Someone had left their gloves on the sideline and they started rolling end over end across the field. The players were in parkas so I couldn't make out exactly who they were. I believe Jason Bent was the coach for this game.
I have watched games from this site before as the CSL North York Astros have played a few games here and I've seen a game during a rain storm. There is no shelter at this place and only some aliminum stands facing the field which would seat about 20 people. I had strategically parked my car in the end zone behind the chain link fence so I could have taken some notes. It's an early lesson to me as I had brought my umbrella which would have turned inside out if I'd have opened it. I regret not bringing my mittens.
I was expecting the game to be delayed for maybe 30 minutes to see if the storm would end as suddenly as it began but the visitors from Washington couldn't wait around. Both teams got into separate buses and drove off at 11:00am. There was another group of teenagers holding a practice in the field beside this one and a stream of people were going into the hangars with track bags so expecting that this game would be simply moved indoors was not going to happen.
The weather did stay windy for the rest of the day. I drove to the game through a hailstorm of little pellets and drove away from there in snow flakes as big as 50 cent pieces.
This game may prove difficult to reschedule as each team comes to Toronto only once during the season. I'd assume especially TFC would have liked to play this game because after last night's 3-0 loss, it's time to see how good some of the bench players would perform. There definitely room for some changes to the first line team.
Notes: The next day, Monday, MLSE (owners of Toronto FC) announced that Downsview Park would become the training grounds for their Academy program in a big redevelopment program for the site.
Rocket Robin
robing@eol.ca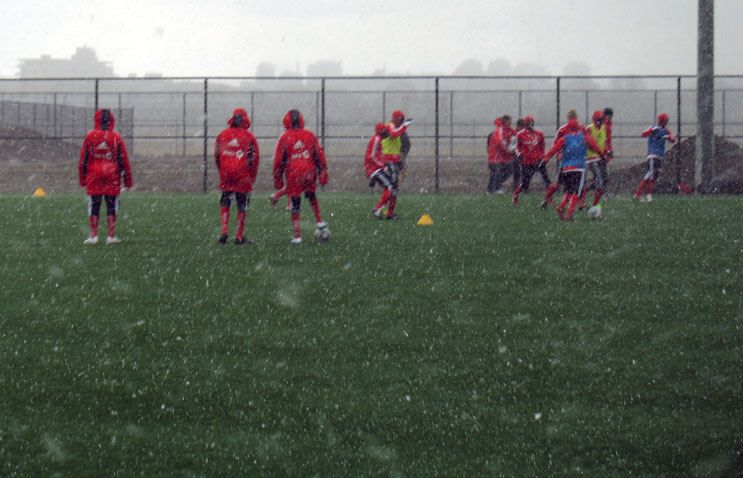 TFC players warm up for the Reserves game.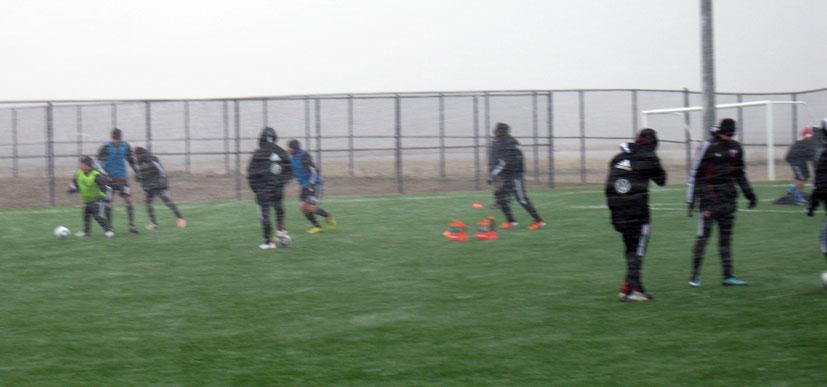 D.C. United players warm up in the snow for the Reserves game.
back to TFC 2011 news and results
.
.