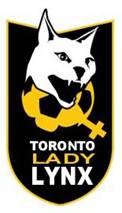 ................................................

Result of the Sunday May 29, 2011 W-League game between Toronto Lady Lynx and Laval Comets at Centennial Stadium in Etobicoke at 1:00pm.
Toronto Lady Lynx (black socks, shorts, and numbers, white shirts)
.........................1 Victoria Muccilli
17 Kayla Afonso...15 Rachel Melhado...2 Shannen Jainudeen...5 Oliva Colosimo
10 Alyscha Mottershead...12 Meghan Rauscher...4 Nicole Mitchell...13 Kinley McNicoll
..................22 Christine Exeter...9 Jesse Shugg
Subs:...3 Adrienne Ruhe Lischke (fwd)...6 Apolonia Kukla (def)...11 Carmelina Puopolo (fwd)...19 Adriana Leon (fwd)...21 Zakiya McIntosh (fwd)
team officials:...head coach Danny Stewart...assistant coach Bruce Malado
Both Melhado and Mottershead were listed as co-captains.
Laval Comets (all blue, white numbers and trim)
.........................1 Cynthia Leblanc
50 Joannei Labbe...24 Courtney Maitland...7 Pascale Pinard...15 Kathryn Acton (cpt)
17 Virginie Rousseau...19 Kylie Davis...22 Vanessa Mueggler...8 Constanca DeChantal-Dumont
................11 Vanessa Cordisco...16 Chloe Belhumeur
Subs:...4 Kelsey Wilson (def)...6 Mona Ouirzane (def/mid)...13 Amelie Tremblay (mid)...18 Eve L'Abbe (mid/fwd)...20 Virginie Levesque (mid)
...23 Claudiane Tremblay (def)
team officials:...head coach Lyonel Joseph
Game officials:...referee Ige Egal...referee's assistants Micahel Gallo and Brian Cheung...no fourth official...(all black uniforms, neon yellow trim)
1st Half:...game starts 1:08pm...TLL defends south end on this warm and sunny afternoon.
2 min...TLL Exeter cross from 20 yards on extreme right, TLL Shugg ducks with defender and ball finds TLL McNicoll for open header from 5 yards just wide right of net.
4 min...LC Davis cuts 22 yard shot down middle that's just over bar.
12 min...TLL Exeter rush to end line on right and rolls centering pass for TLL McNicoll but 5 yard shot is blocked by defender and pushed wide right for goalkick.
14 min...TLL Colosimo throw-in from right has TLL Exeter turns and shoots 20 yard roller across box and just wide left for goalkick.
18 min...TLL Mottershead feeds pass through but step ahead of sliding TLL Mitchell at 10 yards.
19 min...TLL goalie beats LC Davis to through ball on edge of box.
20 min...TLL Afonso quick 15 yard shot from left is wide left of net.
the next minutes is all midfield action.
28 min...TLL Melhado gets foot in from behind to break up rush down middle at 15 yards. Another defender blasts clearance off forwsard that deflects back to goalie who smothers it at 3 yards.
36 min...TLL Exeter pops up header from 18 yards that goalie catches.
36 min...LC Cordisco cross from 15 yards on end line on right has defender head away.
38 min...TLL McNicoll 45 yard freekick from right lands at feet of crowd of players and cleared at edge of box.
41 min...LC Davis gets pass on left, rounds goalie but crosses back into box and defender clears.
42 min...TLL sub...McIntsoh replaces Rauscher.
42 min...TLL McIntosh 50 yard freekick from left has goalie catch.
43 min...TLL Exeter 30 yard cross from right has TLL McNicoll receive pass at 5 yards and kicks ball that looked it hit sprawling goalie in face and ball is cleared.
45 min...TLL Mottershead 45 yard freekick from left is just a step in front of charging TLL Jainudeeen trying to head in from 3 yards on right post.
46 min...half ends 1:54pm.
2nd Half:...starts 2:16pm.
halftime sub...TLL Leon replaces Shugg.
45 min...TLL McNicoll gets away 20 yard shot from left deflects off defender wide right.
46 min...TLL Colosimo cornerkick from right has charging TLL Jainudeen just step behind getting body on 1 yard tap-in and bounces for goalkick on left.
47 min...TLL McNicoll long throw-in from right has TLL Leon blast 12 yarder up middle that's blocked by defender and cleared.
54 min...TLL McIntosh 28 yard cross/shot from right is wide left for goalkick when no player charges for it.
56 min...TLL McIntosh cross from 25 yards on right is cleared by defender. TLL Exeter crosses 20 yards along right end line is bounced to goalie.
57 min...LC goalie clearance hits TLL Leon at 20 yards and deflects wide left for cornerkick.
57 min...LC sub...Tremblay replaces Davis.
60 min...TLL Mottershead 32 yard freekick from right has defender clear from box.
62 min...TLL McNicoll long throw-in from right has TLL Exeter head across box but no one to play it.
65 min...TLL sub...Puopolo replaces injured Leon.
66 min...LC sub...Levesque replaces DeChantal-Dumont.
69 min...LC Labbe follow up shot from 30 yards on right is over net. LC Rousseau has shot blocked in box by sliding defender.
71 min...TLL sub...Ruhe Lischke replaces Colosimo.
72 min...TLL McNicoll 50 yard freekick from right has defender clear inside box on header.
74 min...LC Tremblay 35 yard cross from left as goalie catch on bounce.
75 min...LC Belhumeur tap back for LC Mueggler to blasts 30 yard shot from right that's caught by goalie.
80 min...TLL Mottershead 40 yard chip down middle bounces to goalie as no players charge for it.
81 min...TLL goalie saves tripped ball from 10 yards.
83 min...TLL Ruhe Lischke pushes through pass up right just step ahead of TLL McIntosh and goalie dives out to smother.
84 min...LC sub...Ouirzane replaces Rousseau.
86 min...TLL McNicoll couldn't bend in 18 yard shot up middle and ball high wide left of net.
88 min...LC Acton slides to break up TLL Puopolo rush on left into box and concedes cornerkick.
89 min...TLL cornerkick from left has goalie palm up and catch when it drops back down surround by players.
92:34 min...game ends 3:03pm.
Final Score:......Toronto Lady Lynx........0........Laval Comets........0........
Attendance was about 80 on this mild, sunny afternoon.
There weren't too many scoring chances by either team. I'd have 8 minute gaps in my notes because neither team could put the ball in the opposing teams box. I felt the Lady Lynx had the edge in play and really limited the Comets shots on net with blocks and checks from behind to take the ball away from the Comets players before they could decide whether to shoot, pass, or cross. Lynx defenders were Kayla Afonso, Rachel Melhado, Shannen Jainudeen, and Olivia Colosimo.
Victoria Muccili earned the shutout for the Lady Lynx while Cynthia Leblanc did the same for the Comets.
Referee Ige Egal didn't give out any cards in the game as it wasn't very rough.
Best scoring chances included only 2 minutes from the start when TLL Christine Exeter crossed from 20 yards on the extreme right, TLL Jesse Shugg being covered closely by defender ducked the ball and TLL Kinley McNicoll in the center of box headed the ball from 5 yards just wide right of the net. At 45 minutes (1st half), TLL Alyscha Mottershead took a 45 yard freekick from left that's just step in front of charging defender TLL Shannen Jainudeen who just missed connecting on header from 3 yards on the right post. At 46 minutes (2nd Half) TLL Olivia Colosimo took a cornerkick from the right has the charging Jainudeen just a step away from getting her body to a 1 yard tap-in wishing the ball would deflect off her chest or hip but the ball bounced through for a goalkick on the left. Last chance was at 89 minutes when Nicole Mitchell took a cornerkick from the left that had the goalie palm the ball up in a crowd of players but catch it when it dropped back down.
I asked Lady Lynx head coach Danny Stewart after the game about the condition of forward Kodee Williams. She scored the goal in the season opening 2-1 loss to Rochester Ravens but then suffered a leg injury at 23 minutes of the next game against Hamilton Rage on Wednesday and had to be carried off the field. She was on the bench with an ice pack after the game but tests have now revealed a suspected ACL. She is listed as a 2nd year student at University of Wisconsin.
Lady Lynx adapted to her absence this game with forwards Jesse Shugg and Christine Exeter although Exeter tended to play back on the wing and actually came back to make some tackles to break up Comets runs.
Lady Lynx are now on the road for their next five games and won't play at Centennial Stadium again until Wednesday July 6th. This season opening home stand had them end with a 1-1-1 record.
Comets started their season the day before with a 2-1 victory in London over the Gryphons.
Rocket Robin
robing@eol.ca


Lady Lynx starters


Comets starters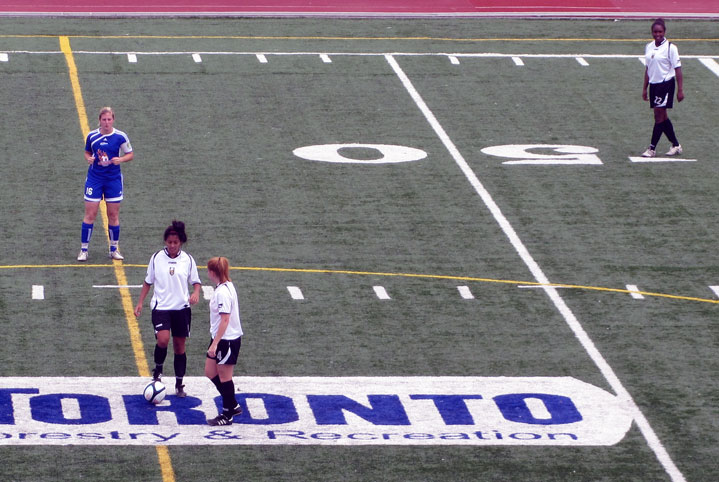 Lady Lynx kickoff with Jesse Shugg (9) and Nicole Mitchell (4).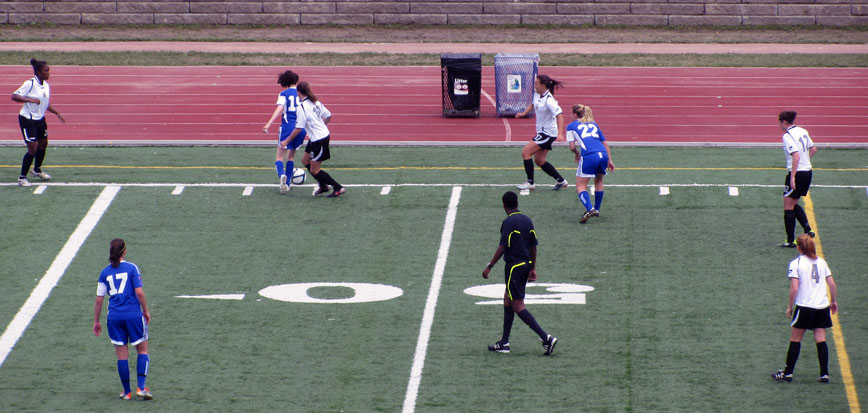 This ball is still in play because the yellow lines are the soccer boundaries.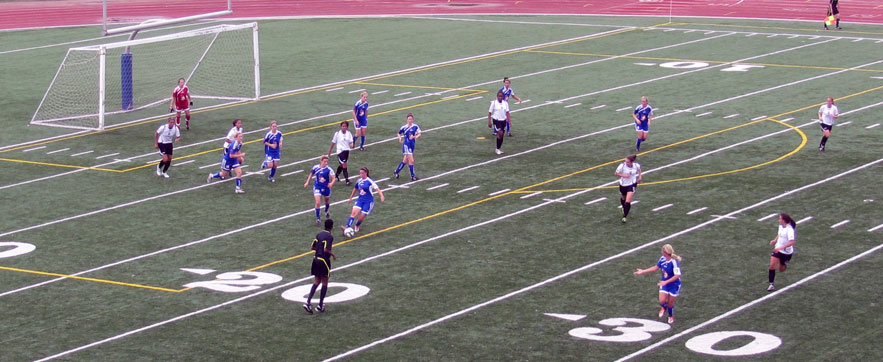 Comets rush away after freekick cleared.


Lady Lynx Alyscha Mottershead freekick.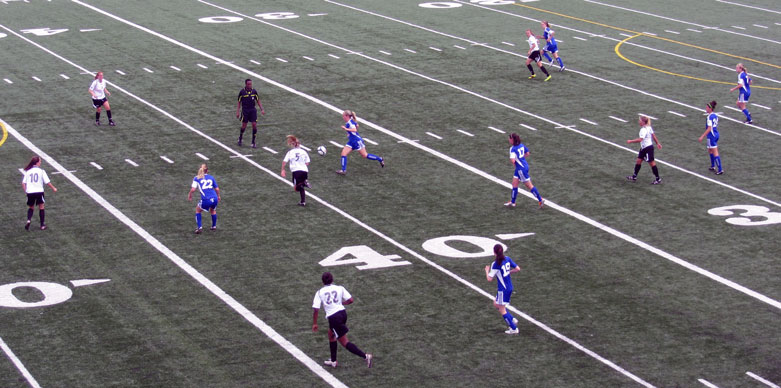 Comets Pascale Pinard (7) breaks up middle.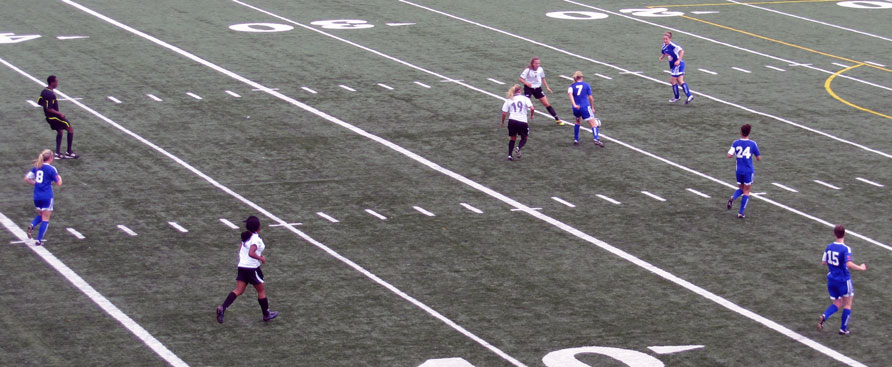 Comets Pascale Pinard keeps possession.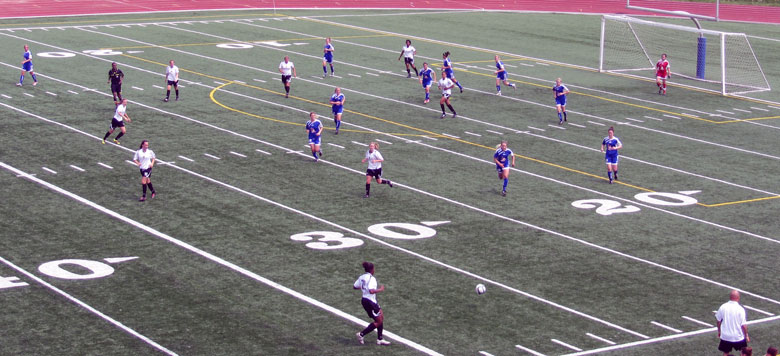 Lady Lynx Christine Exeter ready to cross back into box.


ball sent into Comets box.
.
.