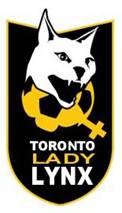 ...................................................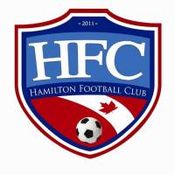 Result of the Wednesday May 25, 2011 PDL game between Toronto Lady Lynx and Hamilton FC Rage played at Centennial Stadium in Etobicoke at 2:00pm.
Toronto Lady Lynx (black socks, shorts, and numbers, white shirts)
.........................1 Victoria Mucilli
17 Kayla Afonso...15 Rachel Melhado...2 Shannen Jainudeen...5 Olivia Colosimo
12 Meg Rauscher...10 Alyscha Mottershead...4 Nicole Mitchell...13 Kinley McNicoll
................23 Kodee Williams...22 Christine Exeter
Subs:...3 Adrienne Ruhe Lischke (fwd)...6 Apolonia Kukla (def)...9 Jesse Shugg (mid)...11 Carmelina Puopolo (fwd)
...19 Shannon Fisher (def)...21 Zakiya McIntosh (fwd)
team officials:...head coach Danny Stewart
Hamilton Rage (white socks and shorts, sky blue shirts, black numbers)
..........................1 Justin Bernier (cpt)
12 Amanda Robinson...14 Oliva Mbala...21 Alauna Pierce...16 Chelsea Spencer
3 Angelica Vremevich...8 Diamond Simpson...2 Shanika Thomas...6 Sam Valliant
...................7 Chiara Greco...10 Christabel Oduro
Subs:...4 Rachel Conway (mid)...9 Janet Ligouri (mid)...11 Danya Barselowa (--)...14(?) Natalie Martineau (fwd)...15 Tara Dawdy (def)
19 Nikiki Samuel (fwd)...20 Hallie Price (def)
team officials:...head coach Joe Moscato
Game officials:...referee Afsar Khan...referee's assistants Michael Bradley and Adamo Conflitti...no fourth official...(neon yellow shirts, black shorts and socks)
1st Half:...game starts 2:01pm...TLL defend south end on this mild and overcast afternoon.
4 min...Rage Valliant low cross from 20 yards on right bounces to goalie.
5 min...TLL Rauscher pops 15 yard header wide left when she receives freekick pass from 40 yards on right.
12 min...TLL McNicoll rush on left and cross from 22 yards near left end line has charging TLL Williams squeeze through defenders but deflect ball wide left from left post.
15 min...Rage Vremevich cross from right has two shots stopped on edge of box.
18 min...Rage Greco rolls ball forward from 30 yards to Rage Oduro who has shot from 15 yards down middle deflects off defender.
19 min...Lady Lynx Kinley McNicol GOAL...McNicol on rush on left has defender catch her but she pulls around, stops and bends 22 yard shot from left that curls into the top right corner of the net over goalie Justin Bernier.
21 min...Rage Mbala 40 yard freekick from right is caught by goalie.
22 min...Rage YELLOW card...Spencer earns if for knock at Rage 38 yards.
23 min...TLL Williams is injured at Rage 37 year sideline.
25 min...TLL sub...McIntosh replaces Williams who's carried off field with leg injury.
26 min...Rage Simpson passes ball back and Rage Vremevich blasts 15 yarder down middle over net.
28 min...Rage Oduro low cross from 15 yards on right is cleared by defender. Rage Oduro then rolls 15 yard cross along right end line for goalie to grab.
30 min...TLL McIntosh chases through ball over middle but charging goalie clears at 22 yards.
31 min...TLL Exeter is on rush on left but pushes ball over endline.
35 min...Rage Greco rolls pass forward and right for Rage Oduro to cross and defender clears for throw-in.
37 min...TLL Mitchell curls 35 yard cross from left that bounces to goalie.
38 min...Rage Oduro cross wins cornerkick when deflected off defender along end line.
38 min...Rage Greco cornerkick from right is partially cleared and Rage Robinson 25 yard shot down middle is over net.
38 min...TLL YELLOW card...Jainudeen earns it for tackle at TLL 35 yards.
40 min...Rage Mbala 35 yard freekick from right has leaping goalie swat away ball in crowd of players.
41 min...TLL McNicoll gets ball on pass in alone but tangles in her legs. Her 10 yard shot is blocked by a defender and she rolls rebound wide left.
42 min...Lady Lynx Zakiya McIntosh GOAL...TLL Christine Exeter pushes ball forward on right from 30 yards and McIntosh from 25 yards cuts in and shoots low 15 yarder from right just inside the left post.
45 min...Rage Diamond Simpson GOAL...Simpson gets ball at 15 yards and has time to shoot around players and bends shot into left corner of net.
47 min...half ends 2:48pm.
2nd Half:...starts 3:03pm.
45 min...TLL McNicoll run on left and cross is just a step ahead of charging TLL Exeter at 8 yards.
46 min...TLL McNicoll blasts 25 yard freekick near middle over player wall but well over net.
51 min...Rage Olivia Mbala GOAL...Chiara Greco cornerkick from left is a tap over to Christabel Oduro who taps back to Greco to cross in ball. The ball is partially cleared to Mbala who rolls shot from 12 yards that changes direction and deflects off a defender into right corner of net beyond sprawling goalie Victoria Mucilli.
53 min...TLL McNicoll shoots 15 yarder just over net when pass rolled over from right having other players miss.
55 min...Rage Vremevich rescues ball on right endline and 20 yard cross has Rage Valliant one-touch 12 yard shot over net.
58 min...TLL McNicoll long throw-in from left bounces to goalie.
59 min...Rage Greco cross from right 30 yards to Rage Simpson for 18 yard shot from left that's caught by goalie.
60 min...Rage Oduro rolls 22 yard cross from left that goalie picks up.
61 min...TLL Exeter holds off defender on rusn down center and 10 yard shot from right is caught by goalie. Rage Mbala was injured at center line at beginning of play.
63 min...Rage YELLOW card...Oduro earns it for mouthing off after call at Rage 45 yard line.
64 min...TLL sub...Kukla replaces Rauscher.
69 min...TLL McNicoll 30 yard freekick from right has defenders head ball away.
72 min...TLL McIntosh on run down right rolls cross from 15 yards that goalie dives on to prevent TLL Exeter poking at ball at 10 yards in middle.
74 min...TLL McNicoll long throw-in from 35 yards on right bounces to goalie ahead of TLL Exeter.
75 min...Rage goalie charges out to beat TLL Exeter to through ball at 25 yards.
77 min...Rage Greco and Rage Oduro tap out cornerkick on left has Rage Oduro cross and goalie catches.
80 min...TLL sub...Shugg replaces McIntosh.
81 min...Rage Oduro kicks across face of box when Rage player rounds goalie at 12 yards but loses ball.
82 min...Lady Lynx Christine Exeter GOAL...Exeter heads ball up the middle from 20 yards over goalie leaping at 12 yards when a Rage clearance hit another defender at about 35 yards on the left and flew up and over to Exeter all alone to send in this powerful header.
83 min...Rage sub...Ligouri replaces Greco.
84 min...TLL Shugg on left gets tapped back pass at 10 yards and rolls shot just wide right of post.
87 min...TLL Colosimo intercepts clearance and 22 yard shot is caught by goalie.
89 min...TLL sub...Ruhe Lischke replaces Colosimo.
90 min...Rage Robinson 45 yard cross from right sideline has goalie catch.
92:56 min...game ends 3:51pm with a light rain falling.
Final Score:......Toronto Lady Lynx........3...........Hamilton FC Rage..........2.........
Attendance was only about 40 on this mild afternoon but that had now clouded over. This was the special annual School Day game and was second game of a double header with the men's Lynx and the Rage men playing in the morning. That game had drawn about 200 students and family but with school day being over by the time this game ended, the buses had pulled away before this game started. This was the smallest attendance of any of these school day events the team has held and needs more promotional effort to bring the numbers back to the 2000 these events have known a few years ago.
Afsar Khan was the referee today and gave out three cards in this foul filled game.
Unlike the male Rage team, Hamilton has had a woman's team since 2005 as the Avalanche. The team still wears sky blue shirts whereas the new man's team wears all navy colours. The roster is full of names from last year's team but Lynx official Duncan Wilde told me before the game that a few Lady Lynx players had been recruited for the team. Best player is all star goalie Justin Bernier who was a call up for Canada's national team camp last year. Defenders Christabel Oduro and Olivia Mbala were with the 2010 Lady Lynx. Striker Natalie Martineau (who was once on my home page in a picture taken with me presenting her as the Fan Favourite MVP) was on the Lady Lynx until 2006 with a stop in Rochester in between was left on the Rage bench today and didn't get into the game. Rage head coach this year is Joe Moscato whose sister (Canadian national team player) Carmelina also is listed on the team site as having a position with the team. Carmelina is also a former Lady Lynx player and was even playing in 2003 when they were still known as the Toronto Inferno. Midfielder Chiara Greco (a Rage owner's daughter) was on the Inferno roster for a short time before this team was formed.
For the Lady Lynx this was a great recovery from the season opening 2-1 loss on Sunday against Rochester Ravens. Now it can be measured that the Ravens have improved tremendously from the year before rather than the Lady Lynx getting worse. Having some spots open up on their team has allowed Christine Exeter to be a starter. She played well and adapted to having striker partner Kodee Williams (who scored their lone goal in Sunday's game) being subbed at 25 minutes after receiving a leg injury that required her to be carried from the field. Zakiya McIntosh came off the bench on short notice and scored their second goal before the half was over. Forward Adrienne Ruhe-Lischke got into the game at the 89 minute mark. She was the W-League U-19 Player of the Year and Lady Lynx MVP in 2007.
Rocket Robin
robing@eol.ca


Lady Lynx starters


Rage starters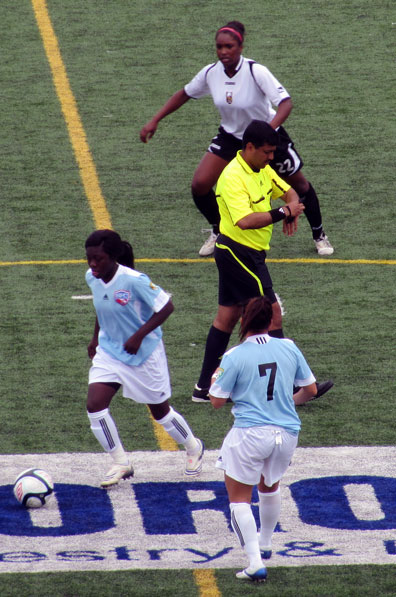 Rage take opening kick off.

Crowd of players include Rage Angelica Vremevich (3), Diamond Simpson (8) and Lady Lynx Meg Rauscher (12)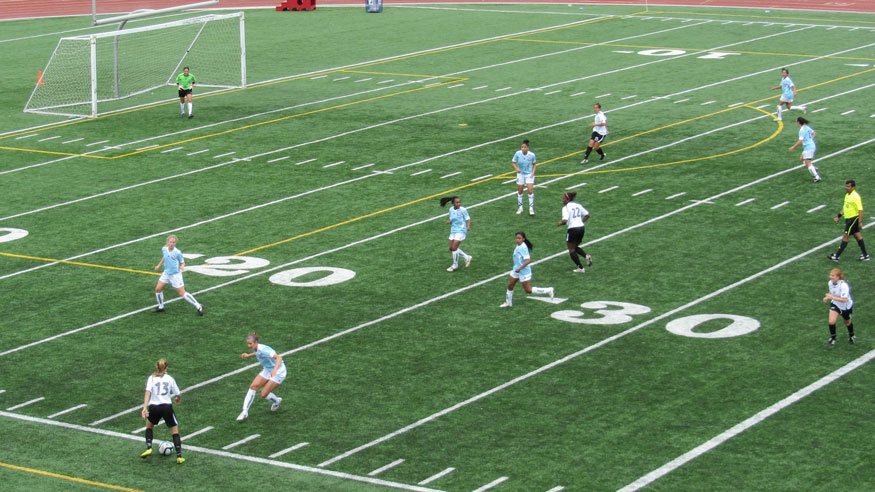 Lady Lynx Kinley McNicol (13) on sideline waiting to pass.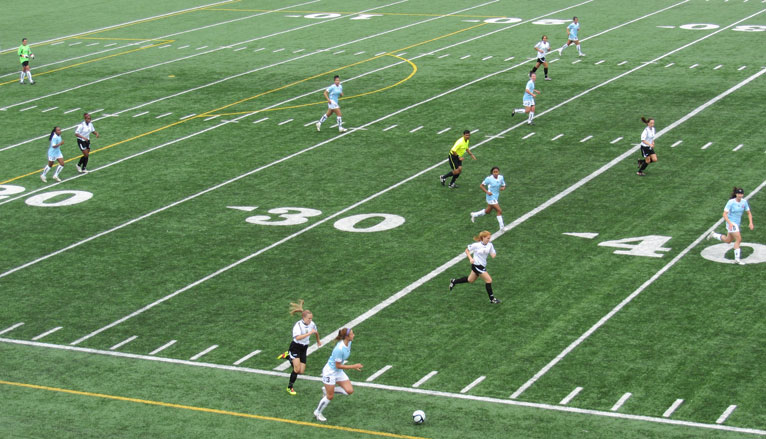 Rage Angelica Vremevich (3) runs on sideline.


Ball at Rage 25 yard line.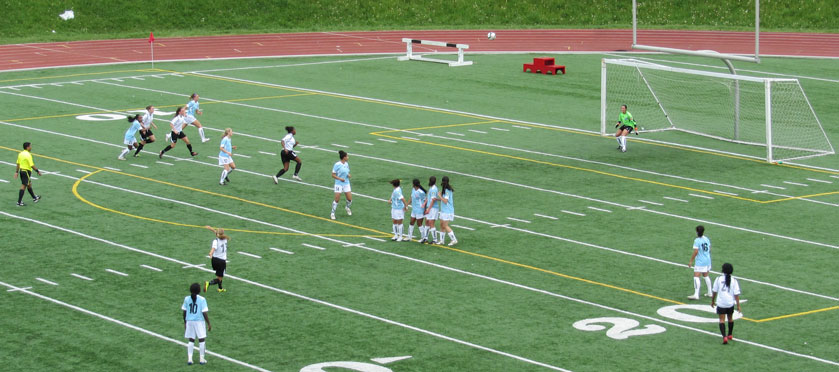 Lady Lynx Kinley McNicol (13) takes freekick off wall.
.
.