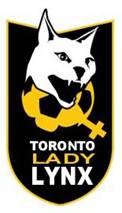 ..........................................

Result of the Sunday May 22, 2011 W-League game between Toronto Lady Lynx and Rochester Ravens played at The Ontario Soccer Centre in Vaughan at 1:00pm.
Toronto Lady Lynx (all black, white numbers and trim)
.......................1 Victoria Mucilli
22 Christine Exeter...15 Rachel Melhado...2 Shannen Jainudeen...5 Olivia Colosimo
12 Meg Raucher...10 Alyscha Mottershead...4 Nicole Mitchell...13 Kinley McNicoll
................20 Kodee Williams...21 Zakiya McIntosh
Subs:...9 Jessie Shugg...11 Carmelina Puopolo...17 Miranda Dufresne...18 Kayla Afonso...19 Shannon Fisher
team officials:...head coach Danny Stewart
Rochester Ravens (all amber, black numbers)
.......................1 Jessica Dulski
25 Amanda Sudore...7 Liesel Toth...11 Ashley Grove...24 Beth Allport
8 Brianna Tata...17 Erica Henderson...18 Brittany Godin...5 Cary Rivett
...............20 Chelsea Kuss...15 Haley Marks
Subs:...00 Allie Weiser (gk)...3 Ashley Hughes (mid)...9 Eileen Coyle (fwd)...10 Mandi Hochheimer (fwd)...13 Annmarie Farone (mid)
team officials:...head coach Adam Schwartz...assistant coach John Berardicurti...owner Doug Miller
1st Half:...game starts 1:06pm...TLL defend south end on this mild, overcast afternoon with a light rain falling.
first seven minutes...no shots on net or even anything into the box.
7 min...TLL Raucher cross to right and TLL McIntosh pops up 15 yard shot that goalie catches.
8 min...RR Toth 45 yard freekick is over players and is caught by goalie.
10 min...TLL McIntosh partial cross from 20 yards on right is caught by goalie on right.
10 min...Ravens Chelsea Kuss GOAL...RR Brianna Tata 50 yard freekick from left has Kuss knock ball down at 15 yards and slide 12 yard ball under charging goalie Victoria Mucilli at 8 yards.
13 min...TLL Exeter makes two big stops on 2 on 1 rush with kick and then heads away a clearance on a 10 yard rebound.
17 min...TLL Exeter 30 yard header bounces to RR goalie on right.
18 min...TLL McIntosh leaps over defender to head 22 yard bouncer to goalie.
24 min...RR Kuss run on right and low cross has defender clear.
26 min...TLL McNicoll long throw-in from left has defender clear and then another block TLL Mottershead 30 yard shot up middle.
26 min...RR Kuss run on right and shoots 22 yard roller well wide left.
31 min...TLL goalie charges left to beat RR Rivett to through ball.
32 min...RR YELLOW card...Grove earns it for grabbing player on rush up left.
It now starts to rain harder.
33 min...TLL McNicoll 30 yard freekick from left flies wide right of net.
35 min...TLL Exeter pushes pass forward up right and TLL Williams cross from right 20 yards is behind net.
38 min...RR Toth 45 yard freekick from left has TLL Mottershead pop header up at 10 yards for goalie to catch.
40 min...TLL Mitchell 35 yard low blast through crowd is well wide left of net.
41 min...RR Toth 35 yard shot from left bounces to goalie.
42 min...RR Toth 45 yard freekick from left has defender head away ball on edge of box.
43 min...Ravens Chelsea Kuss GOAL...RR Haley Marks and Kuss are on a 2 on 2 break and TLL Shannen Jainudeen gets in sliding tackle to stop run but only partially stops ball and Marks rolls ball forward for Kuss to poke 8 yarder up middle into right side of open net.
46 min...half ends 1:52pm.
2nd Half:...starts 2:05pm...it's raining even harder.
halftime sub:...TLL Afonso replaces McIntosh.
46 min...RR Kuss is called on hand ball on run to edge of TLL box.
48 min...Lady Lynx Kodee Williams GOAL...TLL Kinley McNicol crosses from 30 yards on left that finds charging Williams ton one-touch poke 6 yarder to right corner of net past goalie Jessica Dulski.
49 min...Lynx Exeter 25 yard shot from middle is smothered by goalie.
52 min...TLL Raucher on breakaway has sliding goalie knock away ball at 10 yards.
56 min...TLL McNicoll cornerkick from left is partial cleared up middle has TLL Mitchell blasts 25 yarder just wide left with TLL 20 missing redirecting shot with foot poke at 8 yards.
60 min...TLL goalie beats RR Henderson to through ball up middle on edge of box.
It now stops raining.
64 min...TLL sub...Shugg replaces Raucher.
.........RR sub...Hughes replaces Tata.
66 min...TLL goalie catches bounced cross from left.
70 min...TLL Williams cross from right wins cornerkick on deflection from RR Kuss defender on right.
71 min...TLL Colosimo cornerkick from right has RR Kuss block on edge of box.
72 min...RR Rivett on right low cross to RR Henderson at 30 yards and shot is caught by goalie.
73 min...RR sub...Coyle replaces Marks.
........RR sub...Farone replaces Rivett.
77 min...TLL Exeter flick header from 35 yards up middle has goalie charge to pick up on edge of box.
79 min...RR Coyle rush on right and cross rolled through box has RR Henderson have shot blocked.
81 min...TLL sub...Dufresne replaces Williams.
........RR sub...Hockheimer replaces 20.
82 min...RR Coyle cross from right has RR Hughes knock down and 20 yard shot through crowd is caught by goalie.
82 min...RR goalie runs to dive and win ball on crash with TLL player.
83 min...TLL Coyle has two shots blocked on edge of box up middle.
87 min...TLL sub...Fisher replaces Colosimo.
89 min...TLL Exeter long throw-in from left causes trouble but doesn't get away kick on edge of box.
93 min...game ends 2:53pm.
Final Score:.......Toronto Lady Lynx........1............Rochester Ravens...........2.........
Attendance was about 80 on this mild overcast afternoon with a light rain starting at game time and it getting harder at about 30 minutes until the rain stopped and the sun came out at about the 60 minute mark.
Referee Rami Arbaji had a very quiet game with only one card given out today.
The Lady Lynx have gotten off to slow starts in previous seasons but always had lots of chances and just couldn't finish. This game they didn't have many chances at all. Their only other good chance was at 52 minutes when Meg Raucher got away on a breakaway but goalie Jessica Dulski swatted away a ball at 10 yards (very similar to the save Toronto FC's Stefan Frei made in the game against Chicago which won him the MLS save of the week). There's been a big change over of players. Best player I thought was Kinley McNicol for her crosses of cornerkicks and freekicks. The defence was competent and most Ravens shots were from outside the box and caught by the goalie. Goalie Victoria Mucilli also was not afraid to come to the edge or outside the box to make clearances. Head coach again this year is Danny Stewart.
Their next game is on Wednesday May 25th at 2:00pm for a special School Day game (doubleheader with Toronto Lynx playing at 11:00am) against Hamilton. This was the only time this season that the two Lynx teams play home games anywhere else but Centennial Stadium in Etobicoke. Today the men's team played later in the afternoon and lost to FC London 1-0.
This was the first game of the season also for the Ravens. Their record last year was only 2-9-1 so this is a great start to this season. The team now wears amber coloured uniforms so look much like a Kodak film box (not an owner of the team but is the city is the international home for the corporation). They share their stadium with the Western New York Flash of the WPS League. Canadian international players Christine Sinclair, Christine Chapman, and Kelly Parker and Brazilian international Marta play for that team and drew over 8000 fans later this night in a home game against magicJack 3-0.
Rocket Robin
robing@eol.ca


Lady Lynx starters


Ravens starters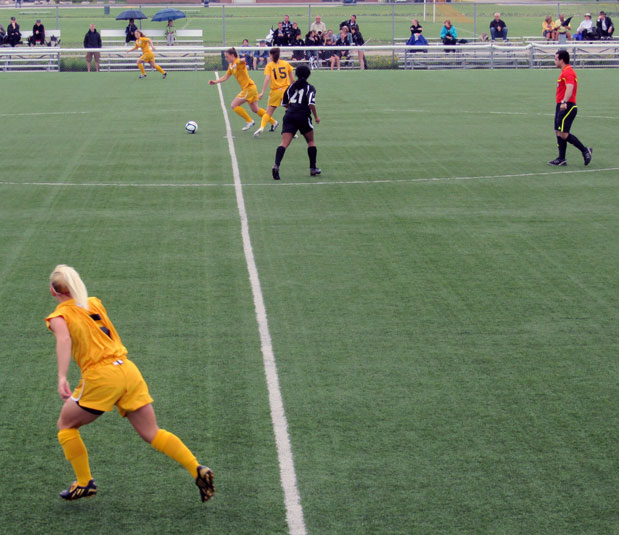 Ravens kickoff to start the game.


Ravens after having just scored at the 10 minute mark.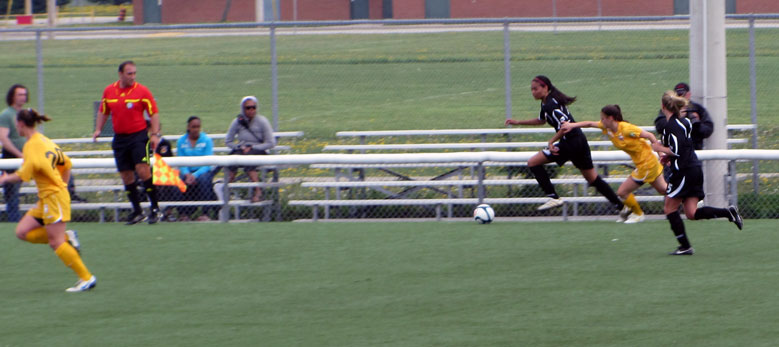 Ravens rush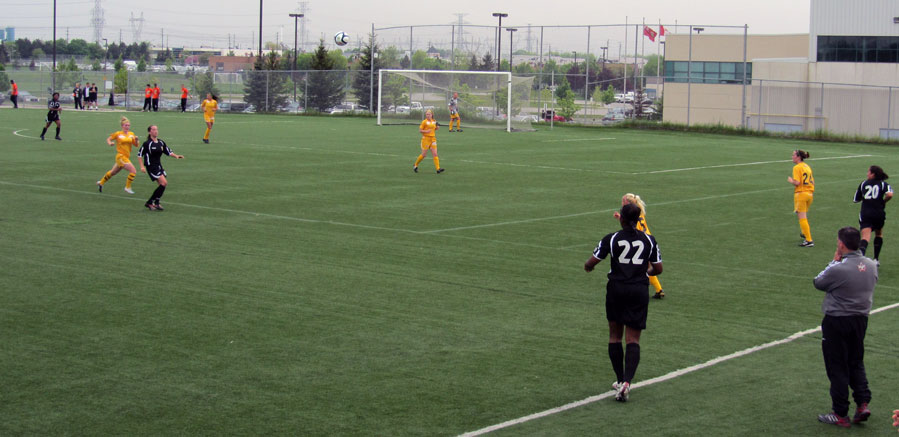 Lady Lynx Christine Exeter has just taken this throw-in.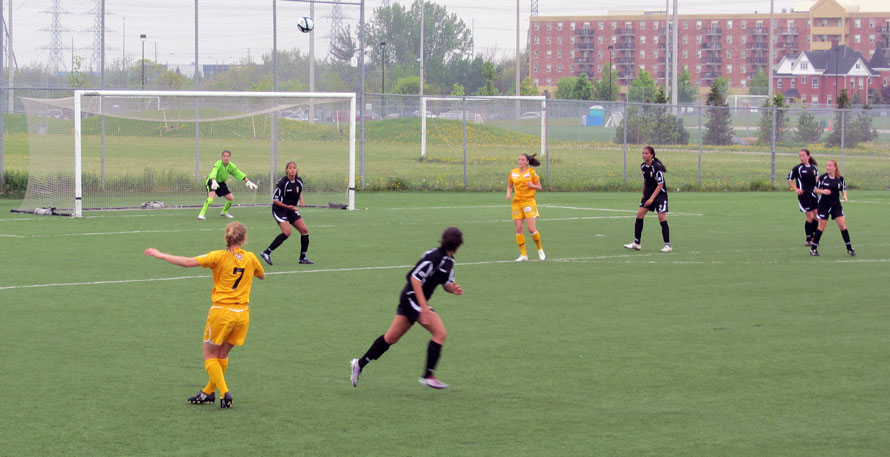 Lady Lynx defender clears.


Ravens Liesel Toth takes freekick.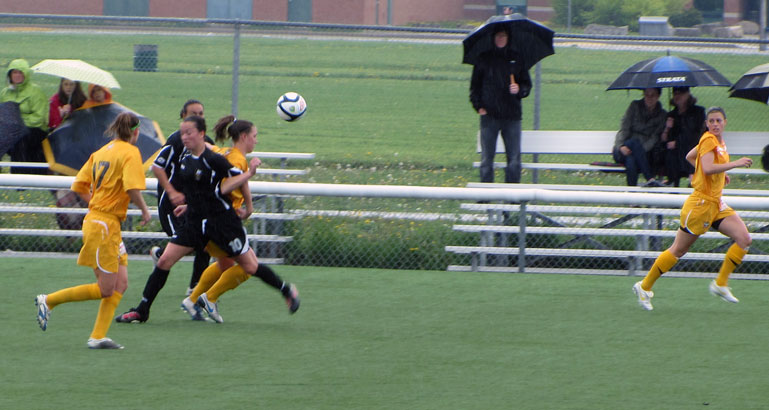 ball in crowd of players
.
.