...................................

Result of the Thursday September 29, 2011 CSL game between Toronto Croatia and TFC Academy played at Centennial Stadium in Etobicoke at 8:00pm.
Toronto Croatia (blue socks, white shorts and numbers, red shirts)
.........................13 Antonio Ilic
7 Halburto Harris...4 Sven Arapovic...3 Josip Keran...15 Ainsley Deer
22 Daniel Niksic...14 Augustin DeMedina...23 Tonci Pirija (cpt)...8 Hayden Fitzwilliams
...............18 Bozenko Lesina...10 Tihomir Maletic
Subs:...1 Sandi Matika (gk)...5 Jonatan Bustamante (mid)...6 Mario Kulis (def)...9 Hugo Herrera (fwd)...11 Marin Vucemilovic Grgic (mid) ...19 Niko Pesa (fwd)...21 Nicholas Goddard (def)
team officials:...head coach Velimir Crljan...assistant coach Miodrag Akmadzic...manager Ivan Kulis...assistant manager Perica Arapovic...physio Michael Robinson
TFC Academy (white socks and shirts, red shorts, black numbers)
........................30 Chad Bush
44 Deon Rose...47 Evan Brandon John...5 Tyler Pasher...3 Nathan Kelsey (cpt)
.........8 Michael Petrasso...6 Christopher Mannella...10 Sergio Carmargo
.........16 Omari Morris...9 Stefan Vukovic...18 Michael Bilak
Subs:...12 Quillan Roberts (gk)...11 Tristan Jackman (fwd)...14 Charles Dakar (def)...20 Jay Chapman (mid)...43 Michael Wagenknecht (mid) ...46 Dylan Carreiro (fwd)
team officials:...head coach Danny Dichio...assistant coach Michael Stefano...goalkeeping coach Paolo Ceccarelli...physio Carlo DiNardo
Game officials:...referee Gianni Facchini...referee's assistants Armando Periera and Brian Butler...fourth official David Barrie...(neon yellow shirts, black shorts and socks)
1st Half:...game starts 8:03pm...TC defends south end.
4 min...TFCA Pasher freekick from 22 yards near right cornerflag is over head of TFCA John near left post 5 yards.
6 min...TFCA Bilak 30 yard shot down middle through crowd of player is low and wide left of net.
7 min...TC Josip Keran GOAL...TC Tihomir Maletic cornerkick from right has Keran on left leap and head in 5 yarder to left side of net.
12 min...TC Deer cross from 25 yards on left has goalie drift right to make catch.
13 min...TC Maletic cornerkick from right has play whistled down in box while still in air.
14 min...TFCA defender gets back to clear TC rush in box.
15 min...TC Deer rush to ball on left and low 25 yard cross is picked up by goalie.
17 min...TFCA Bilak cornerkick from right has player win freekick when bumped off ball at 22 yards on left.
18 min...TFCA Vukovic 25 yard freekick from left hits bar near left and defender heads away from 8 yards in middle.
19 min...TC Pirija blasts 35 yard shot down middle well over net.
23 min...TFCA Petrasso 30 yard freekick is low and nearest defender clears.
26 min...TC Maletic 30 yard roller up middle has diving goalie push ball wide left of post.
27 min...TC Maletic cornerkick from right has ball knocked over end line from left for cornerkick.
28 min...TC Lesina rush down middle over end line on right.
31 min...TFCA Bilak 40 yard kick from left is well over net.
36 min...TFCA player's 25 yard shot from left has goalie fall left to stop near post.
37 min...TC Lesina is fed ball up middle and goalie slides out to edge of box to poke ball away. Lesina runs right over him.
37 min...TFCA Pasher 40 yard shot from left is caught by goalie.
41 min...TC Deer rush from low cross from left wins cornerkick as defender boots ball from 5 yards over end line.
41 min...TC Pirija cornerkick from left has goalie catch ball and quickly punt it upfield to start rush.
44 min...TC Arapovic checks TFCA Bilak at TC 15 yards on right for goalkick.
45 min...half ends 8:48pm.
2nd Half:...start 9:04pm.
Halftime subs:...TFCA Carreiro replaces TFCA Vukovic (Bilak moves over to play center)
...............TFCA Chapman replaces Pasher.
...............TC Vucemilovic Grgic replaces Morris.
45 min...TC Maletic gets ball at 10 yards on left and goalie slides to make point blank stop.
48 min...TFCA Pasher on left pushes through ball to TFCA Bilak but goalie out to 15 yards to pick up ball before Bilak can get to it.
51 min...TC Lesina bumped off ball twice including knock over on left side of box pushing ball over end line as he's knocked over.
52 min...TFCA goalie slides out to grab ball on edge of box while TC Lesina on 1 on 1 with defender.
......TFCA John is injured on play at TFCA 30 yard line and is down for three minutes.
57 min...TFCA Mannella 45 yard freekick has TC Harris head ball behind end line for cornerkick when surrounded by two TFCA players.
58 min...TFCA Pasher cornerkick from left is rolled out and TFCA Petrasso cross in has defender on right head away.
59 min...TFCA Pasher 30 yard freekick from right sideline has nearest defender kick ball away.
61 min...TC Bozenko Lesina GOAL...TC Daniel Niksic on right pass forward from 30 yards and TC Halburto Harris rushes in to 6 yards and low cross from right through box between defender and goalie Chad Bush has Lesina on left post tap in 3 yarder into open net.
62 min...TC Harris at 22 yards on right has cross blocked for cornerkick.
62 min...TC Maletic second cornerkick from right has leaping goalie punch ball away.
64 min...TFCA Jackman can't win Penalty kick on right when he's pushed over in TC box.
66 min...TC sub...Pasher replaces Petrasso.
66 min...TC Lesina gets pass on right for TC Maletic who arcs cross back to him but goalie comes out to edge of box to catch.
67 min...TFCA sub...Wagenknecht replaces Pasher.
68 min...TC sub...Herrera replaces Lesina.
69 min...TC players work out cornerkick from left but don't make it into box.
70 min...TC goalie charges out to 30 yards to beat TFCA Bilak to through ball.
73 min...TC Maletic rolls short centering pass for TC Herrera who rounds defender at 12 yards and rolls shot to right corner that diving goalie pushes wide right. TC Maletic recovers ball but is rolled offside.
76 min...TFCA Michael Bilak GOAL...TFCA Dylan Carreiro from 40 yards on left sends forward pass to charging TFCA Sergio Carmargo who sends low cross into center of box for Bilak who has 6 yard shot that goalie Antonio Ilic gets a hand to to stop and Bilak gets to rebound on right end line and takes 5 yard shot that goalie stops one yard behind goal line on short side.
77 min...TC YELLOW card...Herrera earns it for check at TFCA 50 yard line.
79 min...TC sub...Pesa replaces DeMedina.
80 min...TFCA YELLOW card...Rose for pushing down TC Niksic on rush at 30 yards.
81 min...TC Maletic 35 yard freekick from right has defender at 15 yards head ball away.
83 min...TC sub...Kulis replaces Niksic.
84 min...TFCA Carreiro cornerkick from right has TC Maletic as the nearest player head the ball away.
86 min...TC Kulis gets back to check TFCA player run inside TC box.
87 min...TFCA Wagenknecht 25 yard shot up middle through crowd of players is wide right of net.
88 min...TC goalie charges out to slide and stops through ball pass.
91 min...TC Maletic taps over ball on rush to TC Herrera and goalie slides out to stop.
92 min...TFCA Chapman given through ball up middle but taps ball from 8 yards too far wide right for TC to get to.
93 min...TC Goddard is waiting to come into game but game ends.
94:01 min...game ends 9:53pm.
Final Score:......Toronto Croatia.........2...............TFC Academy..........1...........
Attendance on this cool evening was about 125 which was good considering this game was only announced a week ago. It made up for a game postponed from July 17th. There were fans of TFCA but they were parents and family of players rather than from supporter groups.
This game had a great setup in that it involved two out of three players tied for the CSL scoring lead at 17 goals—Tihomir Maletic of Croatia and Stefan Vukovic of the Academy (Richard West of Brampton City United is the third player). Maletic played well with the assist and a few cornerkicks but only had one good chance on this own. Vukovic had one great chance but was subbed out at halftime.
TFCA looked much better in the second half with three subs made at the break. Midfielder Jay Chapman, and forwards Tristan Jackman and Dylan Carreiro came in for midfielder Christopher Mannella, and forwards Stefan Vukovic and Omari Morris.
Best non-scoring chances were at 18 minutes when Vukovic took a 25 yard freekick from the left that hit the bar near the left post and a defender headed away the rebound from 8 yards in the middle. 26 minutes had Maletic take a 30 yard roller up the middle that the diving goalie pushed wide left. At 37 minutes TC Bozenko Lesina fed the ball up the middle and the goalie slid out to the edge of the box to poke away the ball without Lesina falling over him. First minute of the second half found Maletic getting the ball at 10 yards on the left and the goalie slid to make a point blank stop. 48 minutes had TFCA Tyler Pasher on the left push a through ball to the middle but the goalie came out to 15 yards to pick up the ball before TFCA Michael Bilak could get to it. 73 minutes had Maletic roll a short centering pass for TC Hugo Herrera who rounded a defender at 12 yards and rolled a shot to the right corner that the diving goalie pushed wide right but Maletic rescued it on the end line but was called offside. Last chance at 92 minutes had TFCA Jay Chapman given a through ball up the middle between two defenders at 20 yards and he ran towards goal but tapped a pass from 12 yards too far wide right for TFCA Michael Patrasso to get to. This play had tie game written all over it if he'd only taken the shot himself instead of passing!
I only remember referee Gianni Facchini giving out one Yellow card to each team tonight and he wasn't baited into giving out any Penalty kicks although both teams gave it a try with players being softly pushed over.
I asked TFC Academy head coach Danny Dichio why he only played Stefan Vukovic for the first half of tonight's game. He answered that they plan to have Vukovic in the Toronto FC Reserves game on Saturday morning at 10:00am at Downsview Park against the reserves of New York Red Bulls. We both think that's strange to have BEFORE the main MLS game at 7:30pm that night but he said it was some kind of scheduling restriction from the league.
The loss tonight for TFC Academy (7-13-2) officially eliminates them from the playoffs. They still have four games including this Sunday with SC Toronto but the other three will be played while the playoffs continue without them. The other three games are against fellow teams that are also out of the playoffs. This gives Stefan Vukovic a chance to capture the scoring title and cities like London and Windsor a chance to see the Academy team. Toronto Croatia (17-3-5) were going to finish second in the league no matter what the outcome of tonight and Saturday's final game against Windsor Stars.
The rescheduling of this game from July 17th was questionable back at the time—given as a stadium scheduling problem. One owner of a rival team said it was because Toronto Croatia had just returned from their tournament in Croatia (the country) and were short of players who stayed behind for a bit of R&R. The two teams had met eight days earlier also at this stadium (TFCA played some of their 'home' games here) and Academy scored a 2-0 upset. Maletic was the player who was away longest (TC exec Joe Pavicic tonight said he missed six games in total) and that may cost him the scoring title with Vukovic still having four games to play.
Rocket Robin
robing@eol.ca


Croatia starters


TFC Academy starters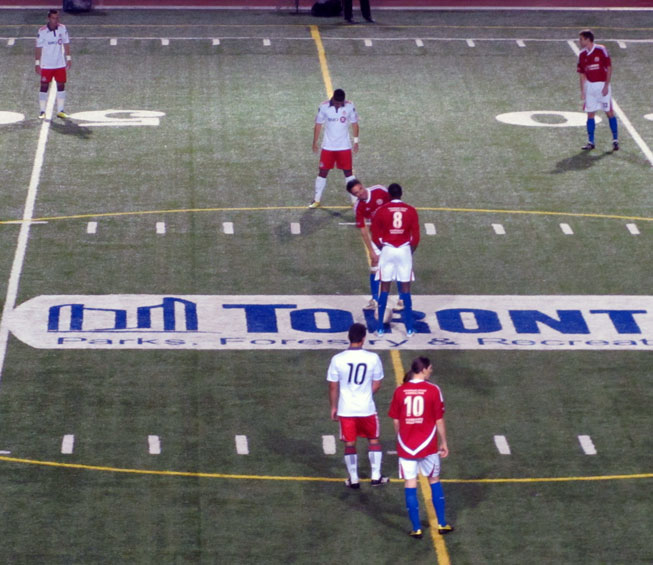 TC Hayden Fitzwilliams (8) and Bozenko Lesina (18) take opening kickoff.


A TC cornerkick.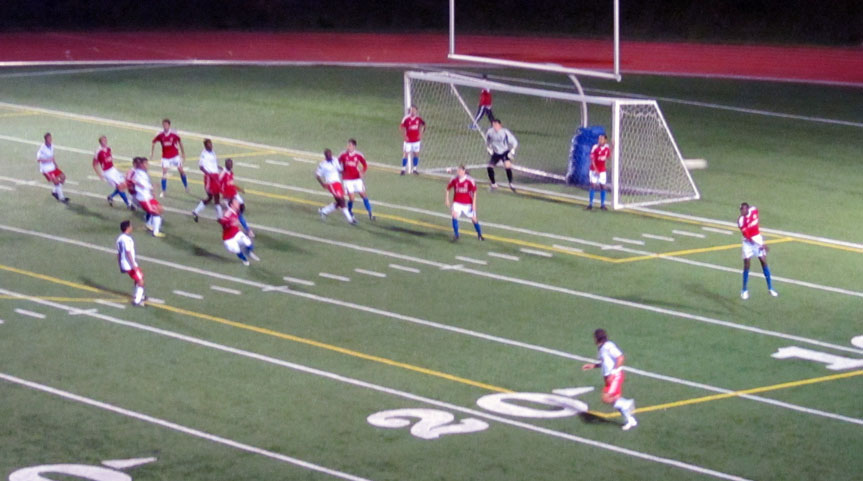 A TFCA cornerkick.


TFCA freekick which TC goalie Antonio Ilic pushes wide.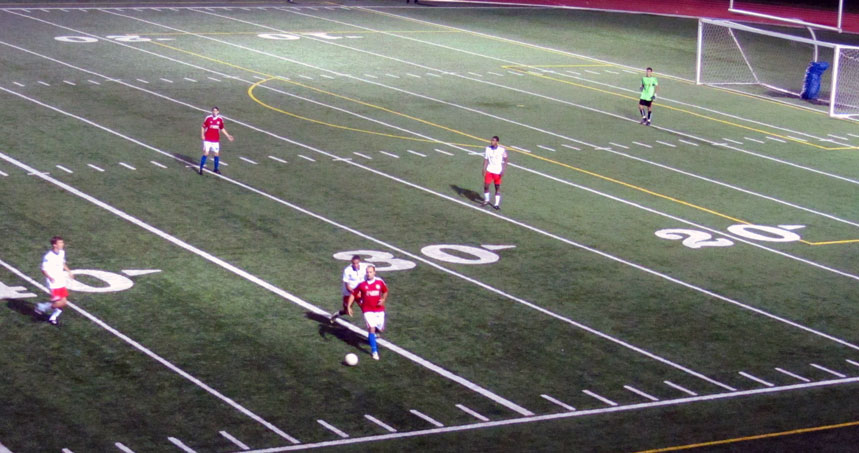 TC Hugo Herrera with ball.


TFCA cornerkick.
.
.