........................................

Result of the Sunday September 25, 2011 CSL game between Brampton City United and Windsor Stars played at Victoria Park in Brampton at 3:00pm.
Brampton City United (black socks, white shorts and shirts, blue numbers)
..........................00 Roy Blanche
12 Kevin McIntosh...4 Cameron Medwin...5 Giovanni Annisi...3 Denny Velastegui
10 Oswald Adu...6 Andrew Da Silva (cpt)...7 Jose Moreira...8 Judah Hernandez
.............11 Jeremy Shepherd...9 Marcos Nunes
Subs:...1 Kodzo Awitor (gk)...2 Tarik Robertson (mid)...14 David Ferreira (def)...15 Quante Abbott-Hill-Smith (def)...16 Yousif Walied (mid) ...17 Jonathan Singh (mid)...18 Michael Odhomer (def)
team officials:...head coach Armando Costa...assistant coach Joan J Barreto and Pernell Mason...manager Michael DiMatteo
Windsor Stars (white socks and shorts, sky blue shirts, black numbers)
..........................84 Justin Danelon
8 Chris Hart...21 Emilio Giorgi (cpt)...4 Filip Rocca...19 Mike Vjkic
5 David Kadoic...22 Christian Mayorga...17 Corey Vickers...7 Jeff Hodgson
..............14 Stephen Ademolu...16 Gino Berardi
Subs:...8 Ciprian Codea (mid)...10 Alexander Rickett (mid)...11 Mohamad Safieddine (mid)...13 Eric Kiebert (def)
team officials:...head coach Stefano Vagnini...assistant coach Jeff Hodgson...manager Gino Berardi...director Filip Rocca
Game officials:...referee Matt Arduini...referee's assistants Jeff Fearnall and Brian Butler...fourth official Alexis Vaughan...(all black uniforms, neon yellow trim)
1st Half:...game starts 3:10pm...BCU defends east end on this warm afternoon with a bright sun in the west.
1 min...WS goalie dives to take ball off BCU Nunes at 5 yards on left.
4 min...BCU Da Silva slips as he kicks 35 yarder down middle wide right of net.
9 min...BCU player's 30 yard shot from left is high and wide right of net.
10 min...BCU goalie moves to edge of box to grab through ball bouncing towards him.
11 min...BCU Da Silva cross from middle at 40 yards to BCU Shepherd who runs and crosses 22 yarder from right that's behind net.
12 min...BCU Adu on left rolls 20 yard pass forward over endline.
13 min...BCU Hernandez on rush on left has WS Hart slide to poke ball for cornerkick.
14 min...BCU Hernandez cornerkick fromleft has WBS Mayorga head ball away from box. BCU Da Silva gets 12 yard shot from left that's well over net as BCU Adu had already fallen over.
16 min...BCU Shepherd flicking kick and turns to kick low 18 yarder that's caught by goalie.
19 min...BCU Moreira 40 yard freekick from left is blocked by body in player wall at 30 yards.
20 min...BCU Hernandez shot along right end line is stopped by sliding WS Hart.
21 min...BCU Hernandez cornerkick from left is headed away.
23 min...BCU Oswald Adu GOAL...BCU Kevin McIntosh gets to ball sent into box from 30 yards on left. He has ball at 12 yards on right and backheels ball across box and Adu blasts 12 yarder down middle low to right side of net.
24 min...BCU Shepherd low 25 yard shot from right is blocked by defender at 3 yards on right post.
30 min...BCU Shepherd pushes pass forward at 25 yards on right to BCU Adu who crosses 15 yarder over head of BCU Nunes.
30 min...BCU Da Silva is injured when pushed over at WS 50 yard line. He leaves field to have his forearm taped.
36 min...WS Ademolu dekes players at 30 yards for clear chance and kicks 20 yard chip over bar.
37 min...BCU Hernandez charges for pass on right and low cross deflects off defender. BCU Nunes turns back for it and shoots 12 yarder low that goalie saves.
40 min...BCU Nunes on 1 on 1 has WBS Giorgi slide to poke ball away at 20 yards.
42 min...WS Vjkic passes forwsard to WS Vickers on left for 20 yard low shot that diving goalie pushes wide left.
42 min...WS Mayorga cornerkick from left has pass back to WS Vjkic but cross is blocked by defender at 25 yards.
47 min...half ends 3:57pm.
The WS players stay on the sideline during halftime rather than walk back to the dressing room maybe to conserve energy.

2nd Half:...starts 4:15pm...now WS have to run towards the sun.
45 min...BCU Shepherd on 2 on 1 break with BCU Nunes shoots low 16 yarder that goalie smothers.
46 min...BCU Marcos Nunes GOAL...BCU Jeremy Shepherd crosses in right to Nunes who shoots 15 yarder from right into top left corner of net over sprawling goalie Justin Danelon.
47 min...BCU Hernandez blasts 15 yarder from left low that goalie blocks. BCU Nunes blasts 18 yard rebound down middle that goalie stops. BCU Nunes is injured from stretching for kick.
48 min...WS Rocca pushes BCU Hernancez off ball on run at 12 yards. Hernandez is injured on the play.
51 min...BCU Hernandez on left rolls cross to BCU Shepherd whose 15 yard shot is saved by goalie.
52 min...BCU Annisi blasts partial clearance from 20 yards on right through box and just wide left of net.
54 min...BCU Adu mid air shot from 30 yards down middle is wide right of net.
56 min...WS Ademolu rush through middle and taps over pass for WS Mayorga to blast 22 yarder that goalie palms over net for a cornerkick.
57 min...WS Stephen Ademolu GOAL...WS Mike Vjkic cornerkick from left into crowd of players in box has leaping Ademolu head in 5 yarder behind goalie Roy Blanche.
59 min...WS Vjkic cornerkick from left has leaping BCU Adu head ball out of box.
60 min...BCU Hernandez on rush down left crosses from 20 yards on extreme and BCU Nunes heads 8 yarder over net.
63 min...BCU Marcos Nunes GOAL...BCU Oswald Adu from 55 yards on right sideline pokes ball forward and Nunes races from 45 yards cutting in towards middle and shoots low 15 yarder to left corner of net.
64 min...BCU sub...Ferreira replaces Moreira.
65 min...BCU Annisi is injured on edge of BCU box.
67 min...WS YELLOW card...Moreira earns it for delaying BCU freekick at WBS 50 yards.
73 min...BCU Hernandez and BCU Adu rush downfield from 55 yards but defender checks BCU Adu off ball at 10 yards.
77 min...BCU sub...Abbott-Hill-Smith replaces Da Silva.
83 min...BCU Oswald Adu pushes ball forward for BCU Marcos Nunes who's in alone up middle and diving goalie at 12 yards grabs his foot as ball rolls wide left.
83 min... WS YELLOW card...goalie Justin Danelon earns it for above play. Referee Matt Arduini also awards BCU a Penalty kick.
84 min...BCU Marcos Nunes blasts Penalty kick low and well wide right as goalie dives correctly. Nunes missed his chance at a hat trick.
85 min...BCU sub...Walied replaces Shepherd.
.........BCU sub...Singh replaces Moreira.
86 min...BCU sub...Odhomer replaces Adu.
87 min...BCU Judah Hernandez GOAL...Hernandez gets ball in open on left from 50 yards and rushes towards middle on run and chips 18 yarder over goalie and into top right corner of net.
88 min...BCU YELLOW card...Hernandez earns it for kicking ball into WS net after offside flag was up on botched play passing across box from 20 yards. BCU Walied was injured earlier in the play at BCU 50 yards.
93 min...game ends 5:03pm.
Final Score:.........Brampton City United............4..............Windsor Stars...........1.............
Attendance was about 100 which was a bit better than two weeks ago because this time they had boys from the Brampton Academy (and their parents) play a halftime exhibition game.
I could see this whole game laid out before it started when I saw although the Stars roster had 15 names after all the scratch outs, the team played with 11 players and NO SUBS. As expected they held their own in the first half and tired as the second wore on although BCU didn't exploit this by emptying their full bench until after the third goal. Windsor had played a home game the night before at 7:00pm—a 4-1 win against the 2010 CSL champions Brantford Galaxy and now playing today after a four hour bus ride. Two goal scorer from that game David Kadoic played but two goal scorer Aaron Byrd didn't make the trip. Stephen Ademolu was their best player today making some solo runs through defenders but usually stopped by the final defender before he could get away a shot. Today reminded me of the bad old days of 2008 when the Windsor Border Stars made trips to the GTA and Montreal with not enough players.
BCU didn't play particularly well today and probably set a new record for the number of times they were called offside. Marcos Nunes, Jeremy Shepherd and Judah Hernandez were all guilty. I was surprised that Hernandez lost his temper a minute after he scored his goal. Putting up with all the offside flags he drew the whole game he earned a Yellow card at 88 minutes for kicking a ball into the net after another offside flag drew a whistle. League leading scorer Richard West injured two weeks ago has not returned to the line up.
Best non-scoring chances were at 36 minutes when WS Stephen Ademolu deked players at 30 yards for a clear chance and kicked a 20 yard chip over the goalie and the bar. A minute later BCU Judah Hernandez charged for a pass on the right and a low cross deflected off a defender. BCU Marcos Nunes turned back for the ball and sent a 12 yard low shot that the goalie saved. 42 minutes had WS Mike Vjkic pass forward to Ademolu on left for a 20 yard low shot that the diving goalie pushed wide left of the post. Start of the second half had BCU Jeremy Shepherd on a 2 on 1 break with Nunes take a low 16 yard shot himself that the goalie smothered. The next minute Nunes scored but a minute after that Hernandez blasted a low 15 yarder from the left that the goalie blocked and Nunes blasted the 18 yard rebound down the middle that the goalie also stopped. 56 minutes found WS Ademolu rush through the middle and tap over a pass for WS Christian Mayorga to blast a 22 yarder that the goalie palmed over the net. The resulting cornerkick resulted in the Stars only goal. 60 minutes had Hernandez on a rush down the left cross from 20 yards near the end line over to Nunes who headed over the net.
Today's results throughout the league has BCU pulling into a tie for seventh place with an 11-9-3 record. They are in a tie with Mississauga Eagles with a game in hand but more important 6 points ahead of Brantford Galaxy with a game in hand with Galaxy having only two games still to play. Stars record falls to 4-14-5 and they just play through their final games.
Rocket Robin
robing@eol.ca


BCU starters


Stars starters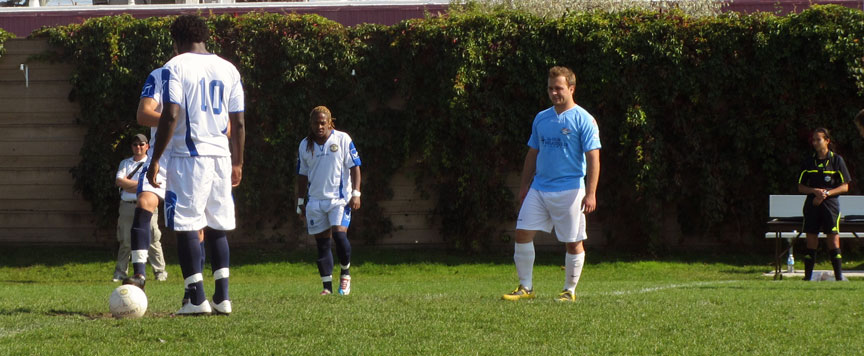 BCU Oswald Adu kicks off game.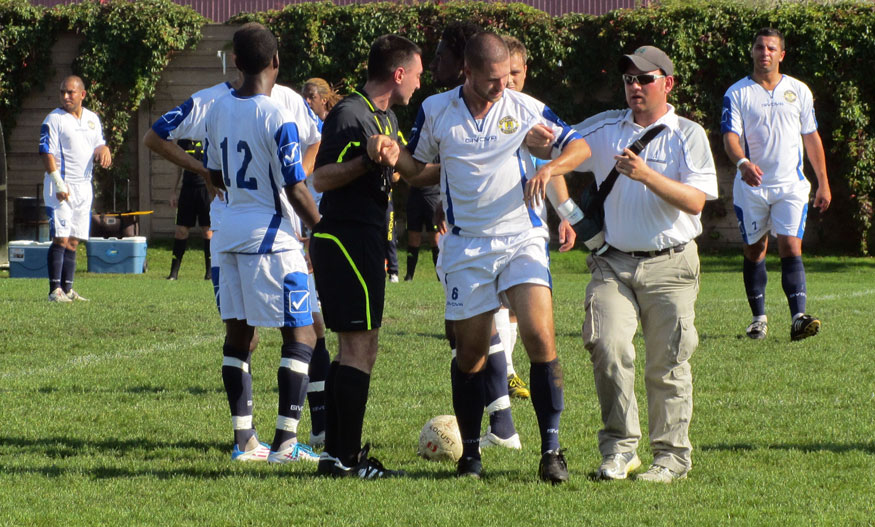 BCU Andrew Da Silva is injured and helped off field.


BCU Marcos Nunes (9) on rush.


Stars Stephen Ademolu with ball.


Stars Stephen Ademolu rushes in as BCU Denny Velastegui (3) and Oswald Adu (10) close in.


BCU Marcos Nunes (9) sends this Penalty kick wide.


Stars Jeff Hodgson plays keep away.
.
.