............

Result of the Wednesday April 22nd, 2009 MLS game between Toronto FC and Chivas USA played at BMO Field in Toronto at 7:30pm.
Toronto FC (all red, white names and numbers)
................24 Stefan Frei
16 Marvell Wynne...15 Adrian Serioux...4 Marco Velez...11 Jim Brennan (cpt)
............2 Sam Cronin...33 Carl Robinson...20 Amado Guevara
..............19 Chad Barrett...9 Danny Dichio...8 Pablo Vitti
Subs:...1 Greg Sutton (gk)...3 Nana Attakora-Gyan (def)...5 Kevin Harmse (def)...7 Fuad Ibrahim (fwd)...10 Rohan Ricketts (mid)...13 Johann Smith (mid)
32 Emmanuel Gomez (def)
team officials:...head coach John Carver
Chivas USA (white socks, shorts, names and numbers, navy shirts)
.......................22 Zach Thornton
8 Mariano Trujillo...4 Shavar Thomas...12 Carey Talley...13 Jonathan Bornstein
16 Sacha Kljestan...15 Jesse Marsch...5 Paulo Nagamura...23 Bojan Stepanovic
..............7 Alecko Eskandarian...99 Eduardo Lillingston
Subs:...21 Lance Parker (gk)...3 Jim Curtin (def)...19 Jorge Flores (mid)...20 Atiba Harris (fwd)...24 Gerson Mayen (mid)...27 Michael Lahoud (mid)...77 Chukwudi Chijindu (mid) team officials:...head coach Preki
Game officials:...referee Ricardo Salazar...referee's assistants Joe Fletcher and Philippe Briere...fourth official Steve DePiero...(yellow shirts, black shorts and socks)
1st Half:...game starts 7:37pm...TFC defend south end on this cold, overcast evening with some pregame drizzle. There's a strong wind from the north.
1 min...TFC Barrett flicks short pass to TFC Vitti who bashes by defender up middle from 20 yards and his 10 yard shot from right is knocked wide by sliding goalie as Vitti couldn't get another touch on ball.
1 min...TFC Frei's long throw-in from right is cleared by nearest defender.
2 min...TFC Serioux pops header back to own goalie from Chv player's 60 yard freekick to edge of box.
4 min...Chv Kljestan 30 yard cross from right is caught by TFC goalie at 3 yards in front of Chv Lillingston.
8 min...Chv goalie picks up TFC Guevara's roller from 25 yards on left into box.
9 min...TFC Velez has to clear to touch to prevent 2 on 1 break on back pass.
11 min...TFC Barrett charges forward on right wing to get to bouncer near 20 yards and beats defender on wide line and crosses low from right end line but cleared by another defender in box.
12 min...Chv player rolls cross from left to charging Chv Eskandarian but ruled offside at TFC 8 yards.
15 min...TFC Dichio on run pushes off defender knocking him over then he's clipped on shin inside box by Chv Thomas but no call given.
15 min...TFC player's long throw-in from right is headed away in box by nearest defender.
17 min...TFC Serioux long throw-in from left is whistled down in Chv box.
22 min...TFC Cronin pass from 25 yards up the middle rolls it right and charging TFC Barrett gets to it before rolling out and low cross is partially cleared by defender in box.
22 min...TFC Cronin cross from right at 20 yards finds TFC Vitti in box on left who chests it down then slips and ball is cleared.
23 min...TFC Dichio flicks pass on right but TFC Vitti is ruled offside in box.
24 min...Chv Eskandarian beats defender on right and passes over to Chv Lillingston but blasts 12 yard shot into right side webbing of net.
25 min...TFC Dichio wins cornerkick when he pushes Chv Thomas into path of high cross from left side by TFC Brennan.
25 min...TFC Gueraro cornerkick from left has TFC Dichio leap with Chv Thomas who gets head to ball first it's cleared away.
27 min...Chv Bornstein on give and go on left wing crosses over box from near end line and defender clears.
27 min...TFC Guevara pushes ball too far away for charging TFC Vitti and goalie picks it up on edge of box.
28 min...TFC Barrett cross from left at 30 yards on rush drifts over wide right of net.
29 min...Chv Stepanovic injured at TFC 30 yards by sliding tackle from TFC Robinson. The stretcher bearers come on but they are waved off and Stepanovic walks off for treatment.
33 min...Chv Talley 30 yard freekick from left is twice hit into player wall and hits TFC Robinson.
33 min...Chv Bornstein blocks cross attempt from charging TFC Barrett as they both run on right side for ball deep into Chv end.
34 min...TFC Wynne long throw-in from right has Chv defender head ball away from inside of box.
35 min...TFC Cronin blasts 30 yard loose ball up middle and well over net.
35 min...TFC Amato Guevara GOAL...TFC Danny Dichio heads ball across box and Guevara bumps with Chv defender Mariano Trujillo and takes low shot of loose ball at 8 yards into low left side of net beyond diving goalie Zach Thornton.
37 min...TFC YELLOW card...Dichio earns it for a sliding tackle from behind on Chv Nagamura injurying him at Chv 35 yards.
41 min...Chv Kljestan 22 yard freekick from left is bent in for goalie to catch on right side of net.
43 min...TFC Brennan run up left wing but launches ball to right of net well high and wide left of net from 25 yards.
44 min...TFC Barrett threaded up middle between defenders and low 15 yard shot is tipped wide left by sliding goalie at 8 yards.
45 min...TFC Guevaro cornerkick from left is caught by goalie in crowd of players.
47 min...half ends 8:24pm.
Halftime entertainment: They play the Pizza Pizza box pick up run through obstacle course for the first time this season.

2nd Half:...starts 8:40pm...the weather is colder and windier than the first half.
halftime sub:...Chv Chijindu replaces Lillingston.
45 min...TFC Barrett rolls cross from left corner but ball is cleared from box.
46 min...TFC Brennan cross from left 25 yards floats over for goalie to catch just under bar.
47 min...TFC Wynne long run on right but he crosses over box and ball bounces out left side of box.
48 min...TFC Serioux long throw-in from left has TFC Dichio head ball behind him towards net from 6 yards but deflects off defender Chv Thomas for cornerkick.
49 min...TFC Guevara cornerkick from left has goalie punch ball over net from 5 yards.
49 min...TFC Guevara cornerkick from left has goalie punch ball up but it's knocked behind net.
49 min...TFC Guevara cornerkick from left has goalie catch in crowd of players in box.
51 min...TFC Barrett long run on left but he rolls ball into box that's easily cleared.
52 min...TFC Vitti long cross from 30 yards on right headed out of box by Chv Trujillo to TFC Guevara who crosses from left that's over players in box and wide right for goalkick.
54 min...TFC Brennan rush up left and cross misses everyone in box and bounces low to goalie.
56 min...Chv YELLOW card...Eskandarian for bump tackle at TFC 45 yard line on TFC Wynne injurying him.
57 min...Chv Talley 35 yard freekick from left has TFC Serioux pop up header at 8 yards and goalie catches.
59 min...Chv sub...Lahoud replaces Eskandarian.
61 min...TFC Guevara 50 yard freekick from right is into box and bounces for TFC Dichio to head 8 yarder to sprawling goalie who pushes it wide left.
61 min...TFC Guevara cornerkick from left is knocked around and TFC Brennan cross along end line is cleared.
62 min...TFC Guevara is pushed ball and his 35 yard shot up the middle is well over net.
65 min...Chv sub...Mayen replaces Trujillo.
67 min...Chv Mayen long freekick from 65 yards on right has header knocked back to TFC goalie.
71 min...TFC Barrett is tapped over 40 yard freekick from left and his low blast is stopped on edge of box.
77 min...TFC Brennan sliding poke away to break up a rush by Chv Mayen on the right deep in the TFC end.
78 min...Chv YELLOW card...Kljestan for straight-arm bump to side of head on TFC Vitti in center circle.
79 min...TFC Brennan throw-in from left has Chv defender Marsch chest ball behind own net.
79 min...TFC sub...Ibrahim replaces Vitti.
80 min...TFC Guevara cornerkick from left has goalie punch ball away.
81 min...TFC Serioux big take away on edge of TFC box preventing shot by Chv Nagamura from 8 yards.
83 min...There's a flare thrown onto the field in the south east corner of the field far from the action.
85 min...Chv Kljestan on left pushes ball too far ahead for Chv Chijindu and ball rolls over end line on left for goalkick.
86 min...TFC goalie slides to catch Chv Nagamura low cross from left end line after he'd deked TFC Robinson.
87 min...Chv Chijindu long run on right has TFC Velez stick to him and his cross into TFC box is cleared.
88 min...Chv Bornstein cross from 25 yards has TFC Robinson head ball back to goalie from 8 yards.
88 min...TFC Guevara cramps up. A stretcher is brough to the TFC 35 yards line and Guevara is carried off.
90 min...TFC sub...Ricketts replaces Guevara.
91 min...Chv Marsch 50 yard blast up middle drifts high and wide right of net.
92 min...TFC Dichio can't get to TFC goalie's 90 yard freekick before it crosses end line.
93 min...Chv Talley cornerkick from right has TFC Robinson as nearest defender boot away near right post.
93 min...Chv Talley 45 yard cross over players and caught by goalie.
94 min...game ends 10:29pm.
Final Score:.......Toronto FC.......1..........Chivas USA..........0...........
Attendance was not announced but the league showed 19915. The stands eventually filled in during the game but it started with lots of empty spaces probably when people got here after work.
The evening was very cool and windy for all three games this year. I wore my parka yet again.
TFC warmed up on the south west side of the field this game so it was tougher for me to see the starters up close.
TFC were missing midfielder Dwayne DeRosario due to a hamstring pull. He may be out for another week. Depending on what report I read, Chivas USA were missing between seven and nine men from their roster.
Chivas earned no cornerkicks in the first half so there were no streamers thrown at them.
At 84 minutes a lit flare was thrown onto the field. This was not mentioned in the television broadcast. Later reports mentioned there were two flares thrown and one landed got caught in the wind and flew into Section 113 of the endzone and burned a fan. Two teenagers were arrested being pointed out by fans so they could be apprehended.
Each of TFC's three home games this year have had Joe Fletcher as an assistant referee. This was the second game in a row that Steve DePiero as the fourth official. TFC coach John Carver was not on the sideline this game as he was fined for comments he made after the last game about the officials. Reports said he was up in the pressbox. Assistant coach Chris Cummins was on the bench.
The Carlsberg Man of the Match (who is always a TFC player) was forward Chad Barrett. He had chances to score but couldn't but at least the last road game he scored his first of the season. Barrett was caught offside many times in the game as was Danny Dichio. I would have given it to goalscorer and playmaker Amado Guevara.
Next up for TFC is another home game. This one is Sunday April 26th against Kansas City Wizards. TFC won their season opener in Kansas City 3-2 and hadn't won since until tonight's game. This game should be the first home game played where I don't have to wear a parka because some mild weather is coming over the weekend. Breaking news is TFC head coach John Carver resigned his position for personal reasons.
Rocket Robin
robing@eol.ca


Chivas USA (4-1-1) vs. Toronto FC (2-2-2) 
April 22, 2009 -- BMO Field 

Scoring Summary: 
TOR -- Amado Guevara 3 (unassisted) 36

Chivas USA -- Zach Thornton, Mariano Trujillo (Gerson Mayen 66), Carey Talley, Shavar Thomas, Jonathan Bornstein, 
Paulo Nagamura, Sacha Kljestan, Jesse Marsch, Bojan Stepanovic, Eduardo Lillingston (Chukwudi Chijindu 46), 
Alecko Eskandarian (Michael Lahoud 60).

Substitutes Not Used: Jim Curtin, Jorge Flores, Atiba Harris, Lance Parker

Toronto FC -- Stefan Frei, Marvell Wynne, Adrian Serioux, Marco Velez, Jim Brennan, Amado Guevara (Rohan Ricketts 91+), 
Sam Cronin, Carl Robinson, Pablo Vitti (Fuad Ibrahim 80), Chad Barrett, Danny Dichio.

Substitutes Not Used: Nana Attakora-Gyan, Emmanuel Gomez, Kevin Harmse, Johann Smith, Greg Sutton

 Toronto FC Chivas USA 
total shots: 6 (Amado Guevara 2)  3 (3 tied with 1)  
shots on goal: 3 (3 tied with 1)  1 (Sacha Kljestan 1)  
fouls: 10 (Pablo Vitti 3)  11 (4 tied with 2)  
offsides: 6 (Chad Barrett 4)  2 (Alecko Eskandarian 1,
 Sacha Kljestan 1)  
corner kicks: 7 (Amado Guevara 7)  1 (Carey Talley 1)  
saves: 1 (Stefan Frei 1)  2 (Zach Thornton 2)  

Misconduct Summary: 
TOR -- Danny Dichio (caution; Reckless Tackle) 38
CHV -- Alecko Eskandarian (caution; Reckless Tackle) 57
CHV -- Sacha Kljestan (caution; Reckless Foul) 79

referee: Ricardo Salazar
Referee's Assistants: Joe Fletcher; Philippe Briere
4th official: Steven DePiero
time of game: 1:52
attendance: 19,915
weather: Cloudy -and- 43 degrees

All statistics contained in this boxscore are unofficial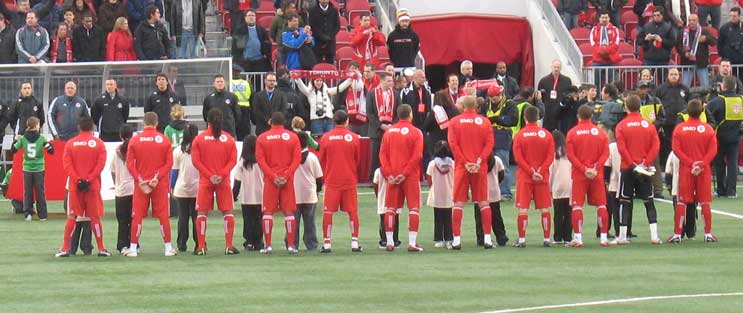 TFC starters


Chivas USA starters


TFC's Marvell Wynne breaks out.


Chivas player rolls ball over TFC end line.


TFC's Pablo Vitti at center line.


midfield action
.
.