Result of the Wednesday June 3, 2009 PDL game between Toronto Lynx and Forest City London played at Ontario Soccer Centre in Vaughan at 11:00am.
Toronto Lynx (yellow socks and shirts, black shorts and numbers)
...................1 Nils Binstock
18 Michael McNamara (cpt)...4 Matthew Smith...5 Cameron Alksnis...2 Adrian Butters
16 Sergio DeLuca...20 Branko Gavrik...7 Dane Roberts...21 Fabrizio Savarino
...............11 Jean Tshimpaka...9 Daniel Revivo
Subs:...25 Brandon Heembrock (gk)...6 Stephen Soutar (def/mid)...10 Michael Luk (mid)...13 Lukas Risto (mid)...14 Sherif El-Masri (fwd)...15 Macca Wilde (fwd)...17 Jordan Webb (mid)
team officials:...head coach Duncan Wilde...assistant coach Billy Steele...goalkeeping coach Glenn McNamara...team doctor Dr Frank Markus...medical co-ordinator Dr Robert Gringmuth
Forest City London (all white, black numbers)
...................00 Jeff Jelinek
20 Todd Rutledge...15 Jovan Ivanovich...18 Anthony Perez...3 Anthony DiBiase
2 Johnny Morris...12 Thomas Beattie (cpt)...14 Haris Cekic...7 Alan McGreal
...............9 Carlo Haworth...11 Kevin Zimmerman
Subs:...1 Scott Cliff (gk)...6 Alan Harrington (mid)...17 Mike Jonka (mid)...21 Ali Dadikhuda (mid)...22 Omar Apodaca (def)...24 Camillo Gonzalez (mid)...25 Steve Hepton (def)
team officials:...head coach Mark Parent
Game officials:...referee Hassane Rifai...referee's assistants Claude Henoud and Afsar Khan...fourth official Alexis Vaughan...(all black, neon green trim)
1st Half:...game starts 11:05am...Lynx defend south end on this warm day with a bright sun in the south.
2 min...Lynx DeLuca injured near center line sideline.
6 min...Lynx Gavrik has ball checked off him before he can get 10 yard shot on right.
9 min...London goalie catches Lynx McNamara 60 yard freekick from right.
11 min...Lynx Roberts pushes ball forward and Lynx Revivo wins cornerkick on right.
12 min...Lynx Savarino cornerkick from right has play whistled down in box.
12 min...London goalie catches ball sent into box.
16 min...London DiBiase follows partial clearance with 30 yard skyball well over net.
17 min...London McGreal 30 yard blast is over net.
19 min...London Cekic 50 yard shot up middle is caught by goalie.
20 min...London defender gets back to break up Lynx Tshimpaka on rush up middle at 20 yards.
22 min...London Zimmerman pushes pass forward for London Haworth who on 1 vs 1 with defender blasts 10 yard shot from right into webbing of net.
23 min...London Dibiase freekick 40 yards from left has London Ivanovich pop 8 yard header well over net.
24 min...London Cekic 25 yard freekick near right sideline has Lynx McNamara slide and gives up cornerkick.
25 min...London DiBiase cornerkick from right and DiBiase gets a 15 yard shot saved by the sprawling goalie. London Cikic low 20 yard cross through crowd has goalie push wide left for cornerkick.
26 min...Lynx goalie catches cornerkick from left in crowd of players.
27 min...Lynx sub...Webb replaces Savarino.
28 min...London DiBiase 45 yard low freekick has London player deflect wide left from 15 yards.
29 min...London DiBiase cornerkick from right has goalie leap to grab in crowd of players.
30 min...Lynx McNamara 35 yard freekici down middle has London defender dive to head ball away at 15 yards.
31 min...London YELLOW card...Beattie earns it for sliding tackle on Lynx Roberts injurying him.
32 min...Lynx player's 35 yard freekick from right sideline is headed away on edge of box.
33 min...Lynx Webb 20 yard blast from left on 1 on 1 has ball go high and wide right.
34 min...London Haworth nice run up right but runs over end line.
35 min...Lynx Tshimpaka injured near center line.
37 min...Lynx sub...Luk replaces Tshimpaka.
40 min...Lynx YELLOW card...Roberts for check on sideline.
43 min...Lynx Webb rush on left and crosses through 6 yard box ahead of Lynx Revivo.
44 min...London Morris 35 yard shot from left is over crowd of players and high and wide right of net.
44 min...Lynx Gavrik wins cornerkick on blocked cross.
48 min...Lynx player's cornerkick from right has defender clear from box.
48 min...half ends 11:53am.
Halftime:...Lynx stay on their bench for break while London go back to the dressing room.
2nd Half:...starts 12:10pm.
Halftime subs...Lynx Soutar replaces Revivo
.............London Jonka replaces Haworth.
45 min...FC London Kevin Zimmerman GOAL…FCL Anthony Dibiase cornerkick from right has a player head flick ball from 5 yards on right across box and Zimmerman heads in 4 yarder on left into left side of net beyond goalie Nils Binstock.
47 min...London Zimmerman 15 yard shot up middle is saved by sprawling goalie.
48 min...Lynx Luk 30 yard freekick down middle has Lynx player miss jump for header and goalkick results.
49 min...London McGreal rolls pass upfield and London Zimmerman shoots 18 yarder that's blocked and smothered point blank by goalie.
51 min...London goalie chases down cross into box from left.
52 min...Lynx Roberts pushes ball over end line on rush down right.
53 min...London Jonka 25 yard roller from left is wide left of net.
57 min…Lynx Jordan Webb GOAL…Webb gets pass from Lynx Adrian Butters and runs through four defenders while running even along edge of box from left and cuts low 18 yard shot from center into left corner of net beyond diving goalie Jeff Jellinek.
58 min...London Perez injured at center line.
60 min...Lynx Webb gets away on right and pushes ball further ahead for Lynx Roberts to shoot 15 yarder on right well over net.
62 min...London Cekic centered pass from left and one-touches 20 yard blast well wide right of net.
64 min...London Cekic chips ball and London Beattie connects on leaping header from 12 yards has flying goalie push wide right but offside flag was up anyway.
65 min...London player's freekick from left sideline has nearest defender block.
66 min...Lynx Roberts 35 yard freekick from left is caught by goalie under bar.
67 min...London Zimmerman 15 yard screen shot from right rolls to goalie wide right of net.
69 min...London YELLOW card...Ivanovich earns it for pushing Lynx player leaping for ball at London 50 yard line.
70 min...London sub...Gonzalez replaces Morris.
70 min...London goalie catches skyball sent in from 25 yards.
72 min...Lynx Luk 40 yard freekick from right rolls up and Lynx players can't get away shot. Lynx Soutar from 30 yards from left gets away shot that's blasted well wide right of net.
73 min...Lynx sub...El-Masri replaces Roberts.
75 min...London YELLOW card...Gonzalez for tackle on Lynx 35 yard sideline.
76 min...Lynx sub...Risto replaces Butters.
77 min...Lynx YELLOW card...Soutar earns it for tackle in center circle.
77 min...London DiBiase 55 yard freekick is headed wide for throw-in on right.
78 min...London McGreal 12 yard shot from right is rolled across goalmouth.
79 min...Lynx Gavrik cross from left line lands on top of net.
80 min...Lynx sub...Wilde replaces Luk.
81 min...Lynx Webb cornerkick from left has Webb called offside when the ball is passed back to him.
82 min...London sub...Apodaca replaces Zimmerman.
84 min...Lynx player takes 25 yard freekick from extreme right and has defender head down and another London player clears.
84 min...Lynx YELLOW card...Risto earns it for injuring London Gonzalez near left sideline.
85 min...London player's 40 yard freekick from left sideline is whistled down in Lynx box after ball is put into net.
86 min...London Apodaca given offside pass on right at 10 yards.
86 min...London Ivanovich heads ball back to own goalie to avoid through ball break for Lynx.
87 min...Lynx Webb 30 yard freekick up middle is blasted into wall and ball is cleared.
88 min...Lynx McNamara cornerkick from left has ball cleared by defender in box as goalie had fallen.
89 min...London Rutledge 30 yard skyball from right is well over net.
90 min…FC London Red card…Thomas Beattie picked up his second Yellow card for something (probably complaining) by referee Hassane Rifai.
90 min...Lynx YELLOW card...Wilde earned a card on the same play.
93 min...London DiBiase 60 yard freekick has goalie catch ball taking it off the head of leaping London player.
93 min...game ends 1:58pm.
Final Score:………Toronto Lynx……..1………..Forest City London……..1……….
Attendance was about 1000 with the stands full of children from schools around the GTA area. This venue was rescheduled on less than a day's notice when the City of Toronto admitted that the resurfacing of Centennial Stadium in Etobicoke would not be completed in time for the game.
Lynx started off slow. They are competent defensively but have no finishing moves up front. Head coach Duncan Wilde berated them at halftime (they chose to stay on their bench rather then go back to the OSC building about 200 yards away) for only getting 'one shot on goal'. They seemed to play better in the second half but subbing in midfielder Jordan Webb in halftime was a key move in getting that tying goal. Lynx goalie Nils Binstock had to be sharp to earn his team the point.
FC London used forwards Carl Haworth and Kevin Zimmerman as their scoring threats and Anthony DiBiase took most of their free kicks and cornerkicks. Midfielder Haris Cekic had some dangerous shots on net.
This was the home opener for the Lynx. There had been no pre-season press conference this year so I had to see the roster to see who I recognized from last year. Goalies Nils Binstock and Brandon Heembrock, defender Konnor 'Michael' McNamara, forwards Jean Tshimpaka and Daniel Revivo (minus his florescent orange shoes) were returnees as was midfielder Dane Roberts. Sergio DeLuca I recognize from this years in the CSL league. Forwards Macca Wilde (the coach's son) and Sherif El-Masri had moved up from the Under- 20 team.
Neither bench liked the calls of referee Hassane Rifai. Lynx didn't like how long it took to signal in a sub or how slow FC players were to leave the field when subbed near the end of the game. The FC bench didn't like the cards and freekick calls going against them for their players' challenges.
The Lynx pick up there first point and score their first goal of the season. Their record is two losses and one tie in three games. The team had not put out a game report on their road trip last weekend. Head coach Duncan Wilde answered me after the game they didn't travel with a deep bench and the extra roster spots were filled with some of their Under 20 players. Both games were 2-0 losses to 2008 division winners (both opponents were in separate divisions last year) Chicago Fire and Michigan Bucks. Wilde has always wanted the Lynx to start as late as possible so the team can have more time to blend their players just coming home from their college teams. There was a guy watching the game today in street clothes told by the fourth official to stand back from the sideline who said he was just signed today by the Lynx. The US teams in their division have played about six games each because of commitments about playing enough games for qualifying for the US Open Cup. London's record improved to two wins and one tie in their three games in this their inaugural year.
I didn't read my e-mail from last night as I was busy and drove to Centennial Stadium as I expected the game to be held there. The turf is laid down but the numbers on the field are still being glued on. There was a heavy smell of solvents in the air. The stands are concrete and there are no seats or benches to sit on. Fortunately I met Trevor a super fan who used his cell phone (I don't own one) to phone the Lynx office and find out about the change in location. He came by bus so I gave him a ride. Only forty minutes to get there! It would have been easy to get up Martin Grove Ave but on the way up that street a truck had jackknifed and was blocking all three lanes going northbound. Another detour but we pulled in with about ten minutes to spare.
Next Lynx game is Sunday June 7th at Centennial Stadium at 4:00pm against Cincinnati Kings. The CSL league has a game scheduled Friday night between Serbian White Eagles and Italia Shooters so we'll see if city workers have the stadium ready.
Rocket Robin
robing@eol.ca


Lynx starters


London starters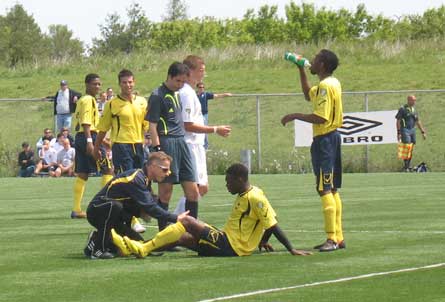 Dr Gringmuth treats an injured Lynx player.


Lynx player on rush.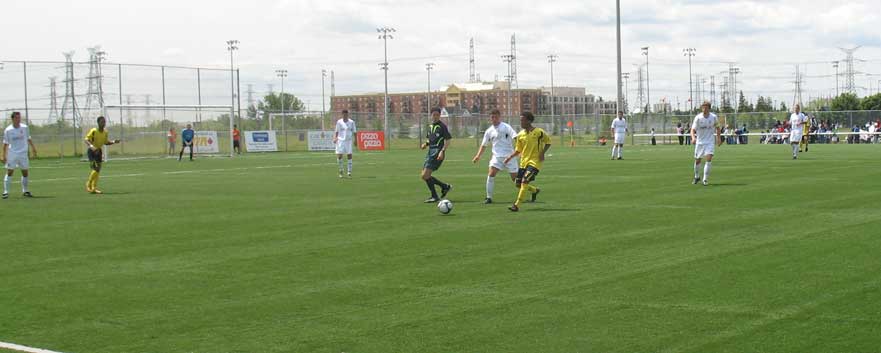 Lynx Dane Roberts on run.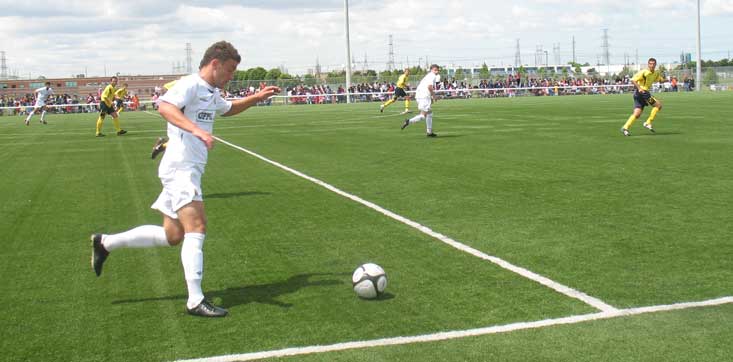 London player keeps ball in play.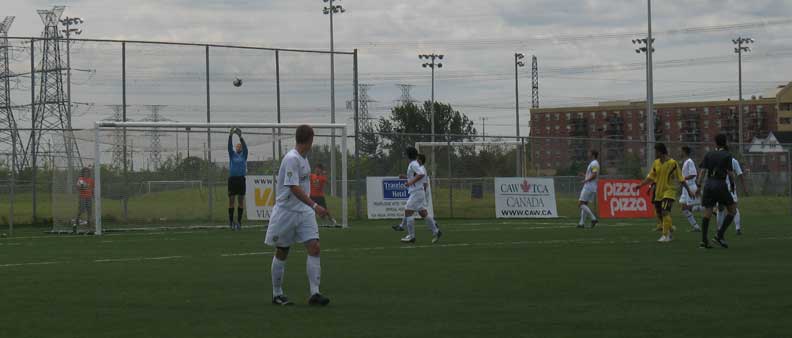 London goalie jumps to catch shot.
.
.