Result of the Saturday July 18, 2009 W-League game between Toronto Lady Lynx and Quebec Amirals played at Hershey Centre in Mississauga at 5:00pm.
Toronto Lady Lynx (all black, yellow numbers and trim)
................1 Justine Bernier
24 Courtney Clarke...4 Lexi Marton...13 Clare Rustad...11 Allysha Chapman
15 Jen Agueci...22 Victoria Frederick...5 Hayley MacDonald...17 Erica Henderson
..........9 Nathalie Urbas...7 Stefania Morra
Subs:...2 Jamie Schroter (def)...6 Adrienne Ruhe Lischke (fwd)...12 Tiffany Cameron (fwd)...14 Tessa Dimitrakopoulos (fwd/mid)...19 Stephanie Conley (def)...20 Giselle Mangal (fwd)...27 Kayla Afonso (def)
team officials:...head coach Danny Stewart...assistant coach Paul DeAbreu...goalkeeping coach Joe Nucifora...team doctor Dr Frank Markus...medical co-ordinator Dr Robert Gringmuth
Quebec City Amiral (all white, goalk numbers, black trim and small names)
...............22 Marie-Pier Bilodeau
25 Christina Di Ielsi...8 Myrian Bouchard...16 Marie-Claude Villeneuve...5 Marjorie Ferland
6 Catherine Scott...20 Marie-Michele Vallee...17 Francine Brousseau...3 Maryka Meunier
...........11 Stephanie Frenette-Blais...12 Melissa Lesage
Subs:...18 Noemi Duguay (gk)...7 Laura Chenard (mid)...10 Caroline Vaillancourt (fwd)...14 Josee Belanger (fwd)...21 Maroua Chebbi (mid) ...23 Brittany Robinson (def)
team officials:...head coach Fabien Cottin
Game officials:...referee Peter Pendli...referee's assistants Jeff Simai and John Williams...fourth official Ljubisa Vrljes...(yellow shirts, black shorts and socks)
1st Half:...game starts 5:01pm...Lynx defend south end on this mild late afternoon with a strong wind from the west...as there was no scoreboard, all times are converted from my wristwatch...there was no national anthem played at the game.
1st min...QA Brousseau 40 yard freekick from right is caught by goalie.
2 min...QA Brousseau 30 yard shot up middle just under bar.
9 min...Lynx Agueci rush to get ball behind defender and cross from 15 yards on right endline is caught by goalie.
10 min...QA goalie picks up through ball on left side of box.
14 min...QA Lesage 10 yard shot from right near end line after running away from goalie to gane control is caught by goalie.
17 min...Lynx goalie beats QA Lesage to through ball on right.
23 min...Lynx Morra pushes ball through defenders and Lynx Urbas 12 yard low shot is saved by sliding goalie at 8 yards on left.
25 min...Lynx Rustad 45 yard freekick from right is cleared by defenders in box.
27 min...Lynx Urbas throw-in from right upfield has Lynx Agueci cross in 20 yarder but ball lands on top of net.
29 min...Lynx Chapman clears through ball off head of QA Frenette-Blais injurying her at Lynx 35 yards near sideline.
30 min...Lynx Frederick 45 yard chip bounces through crowd to goalie.
31 min...QA Vallee 30 yard blast down middle is well wide right of net.
33 min...QA Meunier slides for 22 yard shot that she send wide left of net.
34 min...Lynx Agueci charges with ball on right and crosses from 20 yards on endline that's behind net.
37 min...Lynx Rustad cross from 45 yards on left has bounce to Lynx Agueci who one-touches too far at 10 yards to control ball.
38 min...Lynx Agueci 25 yard roller from extreme right is rolled through box wide left of net.
41 min...Lynx Frederick run up middle but rolls pass too far for Lynx Morra at 15 yards and goalie grabs ball.
43 min...Lynx Clarke throw-in from right is passed over for Lynx MacDonald to blast 15 yarder that goalie dives to catch on right post.
45 minn...half ends at 5:46pm.
Halftime:...both teams decide to stay on the sideline rather than go back to their dressing rooms.

2nd Half:...starts 6:01pm...the wind is now quite gusty from the west and the temperature is cooling off.
halftime subs:...QA Chebbi replaces Meunier.
46 min...QA Brousseau rolls ball through crowd of players on pass to wide right and QA Frenette-Blais cross from 20 yards is wide left for goalkick.
47 min...Lynx Rustad 50 yard freekick down middle has defender head ball from edge of box. Lynx MacDonald 35 yard chip from left bounces wide right of net.
49 min...QA Villeneuve 45 yard freekick from left is cleared by defenders on edge of box.
51 min...QA Brousseau 30 yard freekick from right is caught by goalie.
53 min...Lynx Agueci rush with ball on right and low 25 yard shot is smothered by goalie on roller.
54 min...QA Chebbi cornerkick from right has Lynx Urbas head ball away from QA Lesage waiting for header.
57 min...Lynx Urbas taps ball over to Lynx Morra who lofts 22 yard shot wide right of goal.
59 min...Lynx sub...Cameron replaces Agueci.
60 min...QA Brousseau 40 yard chip up middle has goalie catch ball on bounce ahead of QA forwards.
60 min…Lady Lynx Tiffany Cameron GOAL…LL Stefania Morra takes cornerkick from right over head of Nathalie Urbas on right side of net. LL Clare Rustad heads ball from 7 yards on left that goalie Marie-Pier Bilodeau saves but Cameron kicks in 6 yard rebound over fallen goalie.
62 min...Lynx Morra cornerkick from right is behind net.
63 min...Lynx Frederick receives pass from right and shoots 25 yard shot up middle wide left of net.
64 min...Lynx sub...Ruhe Lischke replaces Morra.
68 min...Lynx MacDonald and QA Ferland hurt in collision when their heads crash at QA 40 yards. QA Ferland is hurt the worst.
74 min...QA Lesage injured on edge of QA box.
75 min...Lynx player's long throw-in from right has goalie charge left to get loose ball on second throw-in in a row.
77 min...QA sub...Vaillancourt replaces Frenette-Blais.
78 min...QA Di Ielsi heads crossed ball from 20 yards on right has defender clear off QA Di Ielsi's head for goalkick.
79 min...Lynx Henderson blast from 28 yards on left is just wide left of post.
81 min...Lynx Frederick cornerkick from left has Lynx Henderson head from 5 yards on right off top of crossbar.
83 min...QA sub...Chenard replaces Scott.
84 min...Lynx Cameron gets Lynx Ruhe Lischke tapped breakaway and goalie cuts her down falling at 15 yards but there's no Penalty kick call.
85 min...Lynx Henderson 20 yard end line cross from left is caught by goalie.
86 min…Lady Lynx Tiffany Cameron GOAL…Cameron given chipped through ball on left wing and rushes in from left where she curls shot from 18 yards into right corner of net behind goalie who was 12 yards off her line waiting to cut off a direct shot from left side.
87 min...Lynx goalie charges out to smother ball wide left of net.
88 min...Lynx sub...Mangal replaces Henderson.
90 min...Lynx Mangal gets to rolled pass to redirect a shot wide left of 15 yard roller.
90 min...Lynx sub...Afonso replaces Urbas.
92 min...QA Bouchard 40 yard shot is well wide right of net.
94 min...QA Chebbi 25 yard freekick from right is caught by goalie.
95 min...game ends 6:51pm.
Final Score:………Toronto Lady Lynx………2……………Quebec City Amirals…………0………….
Attendance was about 150 on this mild afternoon with a strong wind from the west (the field aligns north-south) through out the game.
Tiffany Cameron proved very efficient as a substitute as she scored the first goal within two minutes of coming in. Her second goal was very satisfying as just two minutes earlier on a breakaway that also started on the left side the goalie cut her down at the 15 yard mark with a sliding scissor kick which caused Cameron to fall over and the ball get away but referee Peter Pendli didn't give her a penalty kick.
Justine Bernier earned the shutout for the Lady Lynx making a few key saves. The defence really neutralized star player Melissa Lesage who played for Laval Comets last year and in a Brazilian women's league. Goalie Marie-Pier Bilodeau and midfielder Catherine Scott also played last year for the Comets as did Emilie Mercier (a midfielder not listed in today's game). The Comets will also not make the playoffs this year.
The Amirals was originally awarded the franchise name "Arsenal" but were threatened with legal action as the English soccer club has the rights to that name in Canada. Maybe Samuel de Champlain didn't do the paperwork back in 1608 when he founded the city or he left the cannonballs and gunpowder out in the rain.
Lady Lynx had four players back that were away the last few weeks with Canada's under-20 team—defender Lexi Marton and forward Tiffany Cameron were in today's game and midfielder Caroline Szwed and defender/forward Bryana McCarthy were not on today's roster.
This was the final game of the season for the Lady Lynx. They finish with a record of 6 wins, 4 losses, and 4 ties and they are currently in a tie for fourth of the eight team Great Lakes Division.
Today was like this season's playoff game for the Toronto team. The Amirals are a first year team but made the playoffs this year. The road to the final four would have led through them and Ottawa Fury which was also a team Lady Lynx defeated within the last week. I congratulated head coach Danny Stewart and we compared notes about the season. A slow start and games they should have won. I counted a tie against London which they dominated. Stewart said they won and drew Buffalo Flash which was another team that finished ahead of them this year (and another first year team). I remember the Buffalo game giving up the tying goal at about the 94 minute mark.
There was no sound system at the Hershey Centre field (this game was moved from Centennial Stadium because of the City of Toronto's workers strike) so Lady Lynx officials decided to postpone giving out their season player awards until Tuesday. I couldn't get an answer as to if Clare Rustad had won the Media's Choice as MVP.
I said to her while she was signing autographs for a bunch of kids "I don't know if you won the Media MVP award but as I seem to be the only one who comes out to watch the games, I think it will probably be you!" She said that would be great and thanked me. The director of operations gave me a USL ball to take home for my service. I had a flashback and realized I've never owned a regulation soccer ball before.
I had driven here from the MLS Toronto FC vs. Houston Dynamo game in downtown Toronto which had just ended after 3:00pm. It had taken 45 minutes just to get out of the parking lot, through a few streets and onto the expressway away from there. I got a break as the Lady Lynx game had been rescheduled to 5:00pm otherwise I would have missed the first 15 minutes.
Rocket Robin
robing@eol.ca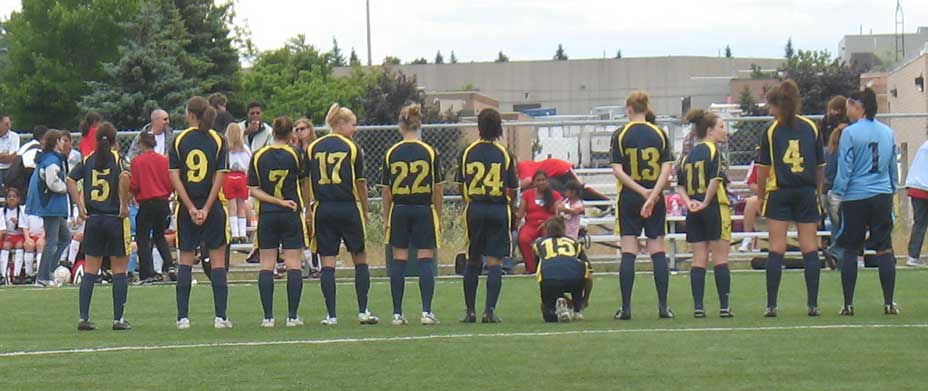 Lady Lynx starters


Amirals starters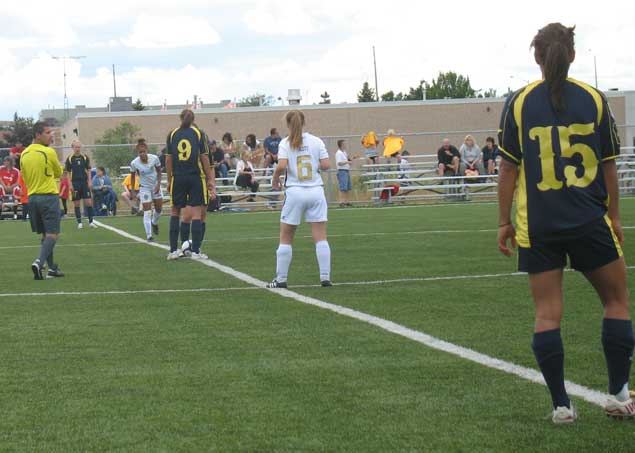 Lady Lynx kickoff the first half


Lady Lynx Jen Agueci heads ball in center circle.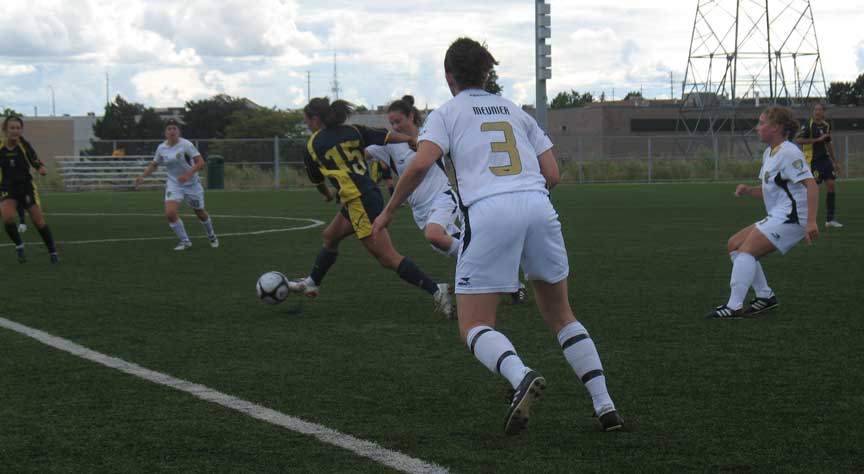 Lady Lynx Jen Agueci on rush.


Lady Lynx Victoria Frederick taps ball over to Hayley MacDonald.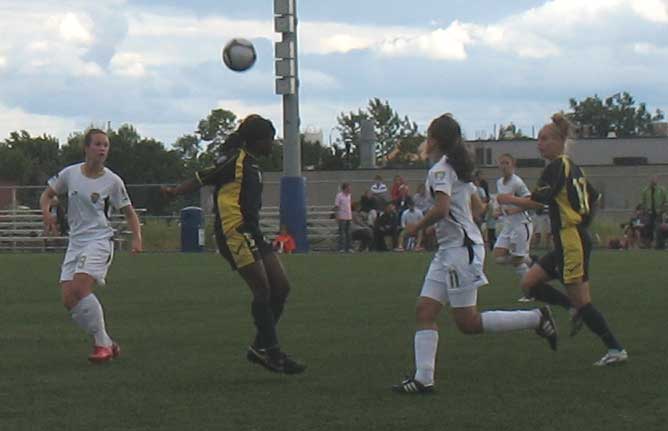 Lady Lynx header.
.
.